In this article I'm going to introduce you to 18 lucrative affiliate programs that cater specifically to bloggers. Most of these programs it doesn't matter if you are a seasoned veteran, or a brand new affiliate.
But rather than looking up every company you can think of and comparing their affiliate programs, it's a heck of a lot easier to find the best ones if they've already been researched and vetted.
And that's what we have for you here! We've gone through and picked the best of the best so that all you have to do is sign up for the ones that fit your audience. Working from home as a blogger just got easier!
Here are the niches we looked at. Click to instantly drop to your niche.
How to Pick Affiliate Programs?
Through our research, we were looking for 4 main deciding factors:
Quality & Service – When we are referring our valued audience to a company or a product, we of course want to make sure it's something we can be happy to put our name to. We are looking for any combination of the following: quality products, good value for the price, excellent customer service, generous warranties, and great reviews.
Commission Percentage – We want to make sure we put our time into promoting products that will give you the most bang for our buck. I prefer to promote high-ticket programs and recurring programs.
Cookie Duration – The longer our affiliate cookies stay on each person's browser, the better our chances are of earning a commission from that person. (This will also range per industry.)
Affiliate Support – There is a wide range when it comes to affiliate support. We like to see programs that offer high converting blogs you can promote, exclusive promotions you can offer your audience, freebies that help to convert people, and things like that.
We've taken 6 niches for mom bloggers and found 3 of the top affiliate programs in each one. Here they are along with why we chose them…
Furniture Niche
Joybird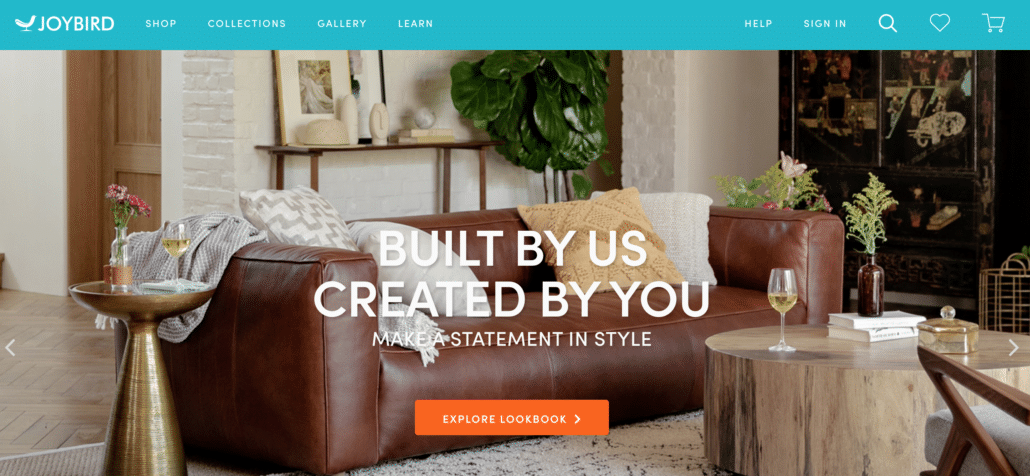 Commission: 15%
Cookies: 60 days
Where to Sign Up: ShareASale
Note: This one also fits into the home decor category below.
Joybird is a very unique company with a generous affiliate program (especially in this niche). The potential to make some incredible money is very real with this one, especially if your audience is in the higher income bracket.
They offer furniture that is all made-to-order, making it a great solution for people who really want to customize their home decor and not have to settle for cookie-cutter solutions. These are high ticket items, such as $2000 sofas, that can generate some sizable commissions.
Their furniture is also family and pet-friendly because it is spill-resistant. They offer living room, dining room, and bedroom furniture, as well as outdoor furniture.
Another thing that makes this company so great is that their products are risk-free since they offer a 365-day home trial period, free returns within 14 days, and a lifetime warranty. This also means better conversions too!
Wayfair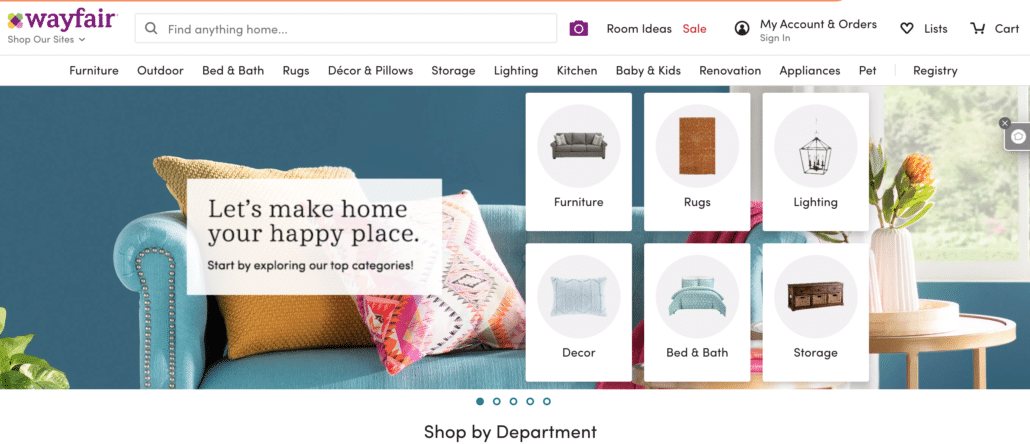 Commission: 7%
Cookies: 7 days
Where to Sign Up: CJ Affiliate

 Note: This one also fits into the home decor category below.
On the flip side, Wayfair is a budget-friendly option that will appeal to the average shopper, making this an obvious choice as one of the top affiliate programs for bloggers.
They offer about 2 million products in the following categories: furniture, outdoor, bed & bath, rugs, decor & pillows, storage, lighting, kitchen, baby & kids, renovation, appliances, and pets. Items are affordably priced. For example, sofas are usually less than $1000. They also have a registry option.
Wayfair affiliates get their own affiliate account managers to help them make the most of the program. The average order size is $300.
Horchow.com (Neiman Marcus)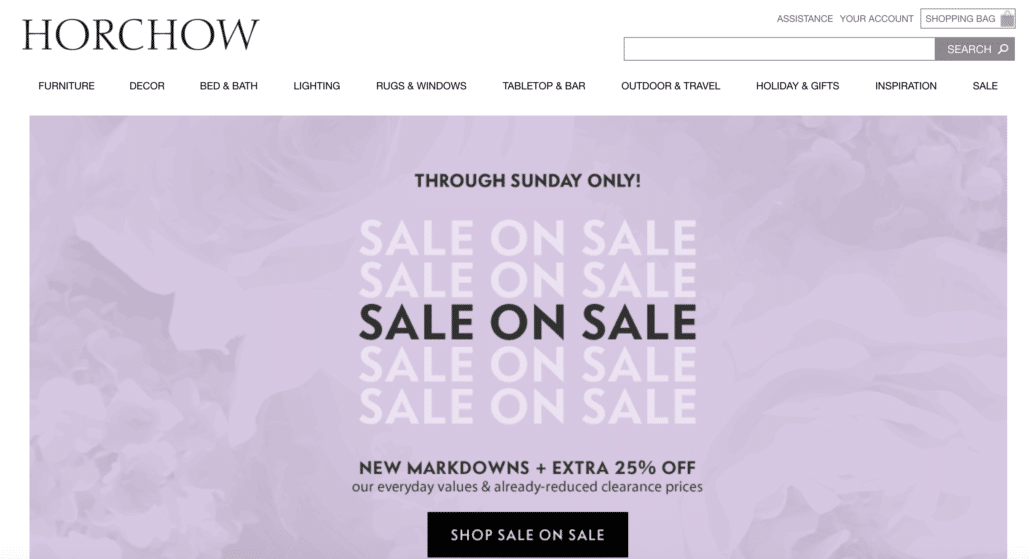 Commission: 7.99%
Cookies: 14 days
Where to Sign Up: FlexOffers or Viglink

Note: This is yet another one that also fits into the home decor category below.
Horchow.com offers unique products for the home in the following categories: furniture, decor, bed & bath, lighting, rugs & windows, tabletop & bar, outdoor & travel, and holiday & gifts.
This affiliate program is the cream of the crop in high-end luxury furniture and home decor, so if your audience has the money, this is a great one to promote because you'll make boo koo bucks. Just to put this in perspective, an average sofa on this site costs $8000 and a pillow is upwards of $125!
MMO Niche
This is for blogs that teach people to make money with online businesses. Doesn't matter if you teach Pinterest, Instagram, Facebook ads, finals or whatever else. These affiliate programs will help your audience.
Legendary Marketer
Legendary Marketer is an online business training platform. They call themselves the Netflix of online marketing. They put out an insane amount of content..
Even better than other content however, is their community. If you are looking for a community that supports and helps everyone inside of it, this is a great place to be.
You can read my full review of Legendary Marketer here.
Home Decor Niche
Designer Living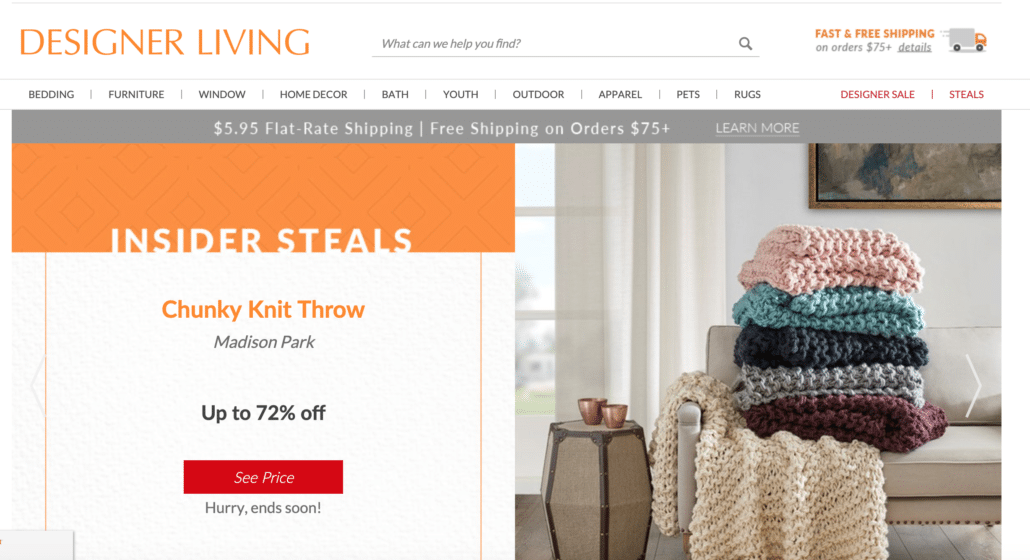 Commission: 10%
Cookies: 30 days
Where to Sign Up: Impact Radius
Note: This also fits into the furniture category above.
Designer Living provides access to some of the top home goods brands, such as Bombay, Madison Park, INK + IVY, and Natori. Offering 10,000+ products, categories include: bedding, furniture, window, home decor, bath, youth, outdoor, apparel, pets, and rugs.
You're bound to find something your audience would enjoy since their products fit into various budgets and styles. The average order comes in at $120.
Affiliates are offered tons of creatives, real-time tracking, and exclusive deals to offer their audience. They also offer their customers a price-match guarantee, which can help affiliates with conversions.

Sign Up For Designer Living Here

Belle & June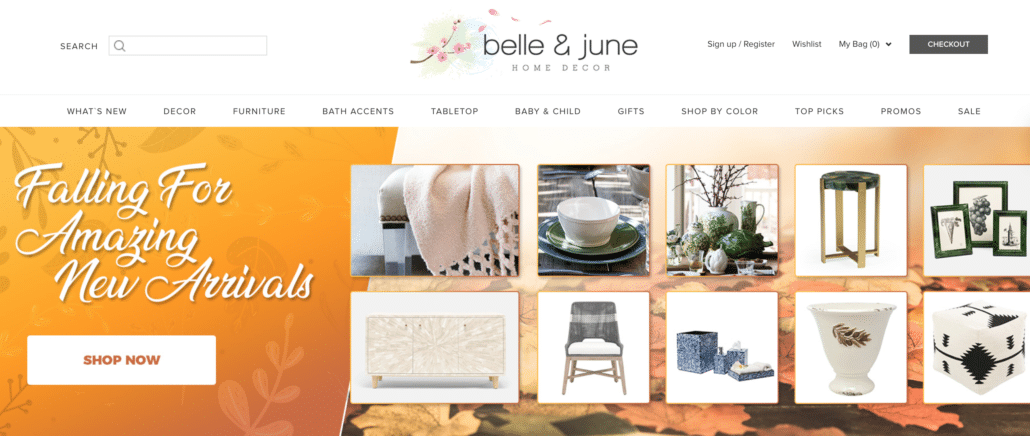 Commission: 12%
Cookies: 30 days
Where to Sign Up: ShareASale or CJ Affiliate
Note: This also fits into the furniture category above.
Belle & June is a home decor boutique that offers over 7000 products by top designers in the following categories: decor, furniture, bath accents, tabletop, baby & child, and gifts. Some of the brands offered include Arte Italica, Costa Nova, Mode Living, Pacific Connections, and Zentique, to name a few.
Some of the reasons we think this is one of the top affiliate programs for bloggers is because they add new products every month and many of their products are only available online. Plus, the average order is $250-$500 and their commissions are pretty high at 12%.
Canvas Vows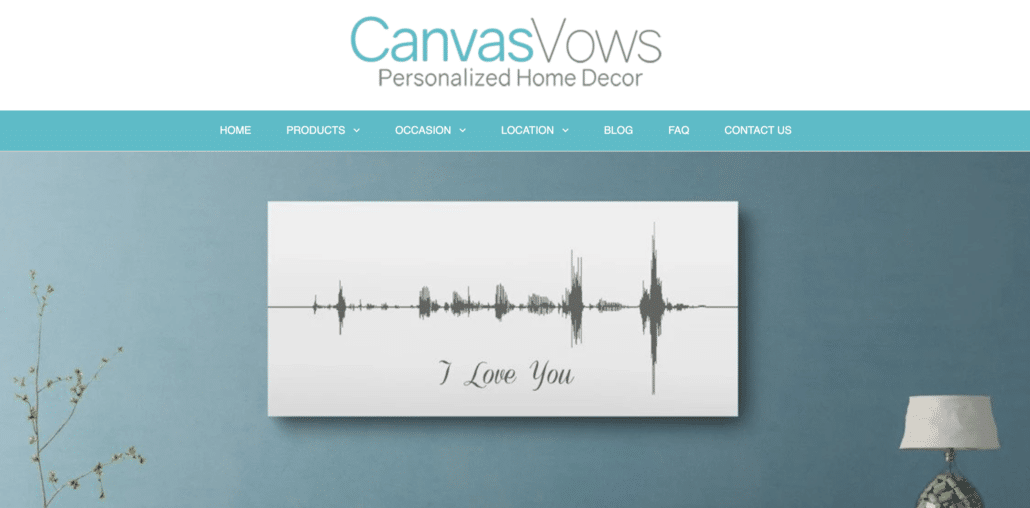 Commission: 25%
Cookies: 120 days
Where to Sign Up: ShareASale or LeadDyno
This one wins a spot in the top affiliate programs for bloggers because of its uniqueness and generous commission plan. At a whopping 25%, you probably won't find an affiliate program in the home decor niche that beats it, not to mention their amazing 120 day cookie!
They offer personalized canvases that make unique gift ideas for weddings, anniversaries, baby showers, birthdays, etc. The average sale is $130 and the highest priced product is $400.
Fashion Niche
Runway Catalog
Commission: 10%
Cookies: 30 days
Where to Sign Up: ShareASale
This is a great one if you have an audience that loves the latest trends from top designers but they don't have the wallets for it. Runway Catalog offers luxury fashion at a more affordable price, including the current and previous season's collections. They also give ease of access to designer clothing and accessories that are difficult to find, such as Dolce & Gabbana, Gucci, Chloe, Alexander Wang, and YSL.
Runway Catalog provides exclusive promotions for affiliates, as well as contests and giveaways. They are also known to work with high-performing affiliates to offer early access to pre-sales, compensated collaborations, customized banners, and more.

Sign Up For Runway Catalog Here

Tara Lynn's Boutique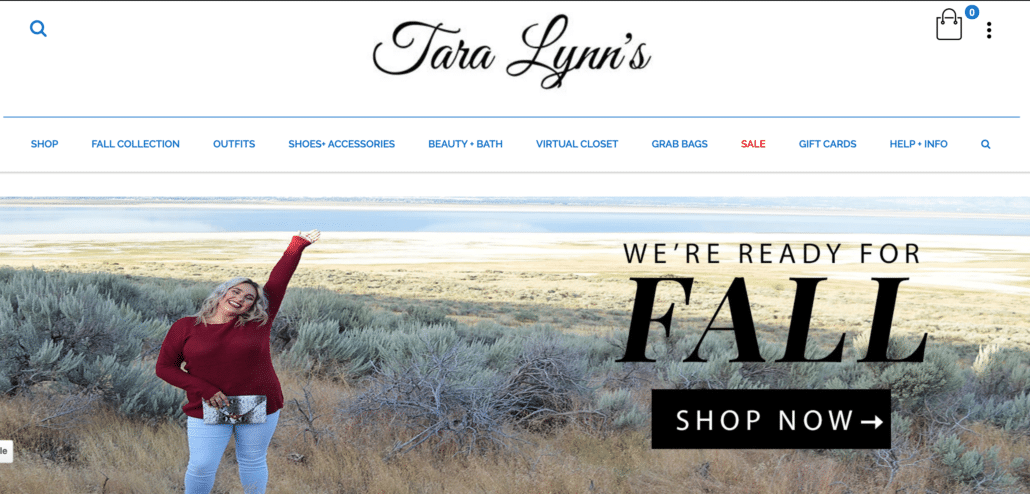 Commission: 15%
Cookies: 30 days
Where to Sign Up: ShareASale
The main reason Tara Lynn's Boutique hit our list of top affiliate programs for bloggers is because of the wide range of sizes they offer. With sizes ranging from XS to 6XL, every woman can find clothing that makes them feel and look great. This is a very unique feature that you can offer your audience.
What's even better is that many of their items are custom-made, one-of-a-kind pieces. And you absolutely can't beat their 15% commissions and 30 day cookies. They often offer their affiliates social media giveaways and exclusive coupons.
There is even the opportunity to earn 25% commissions and exclusive promotions for your audience with their Brand Rep Program.
Amaryllis Apparel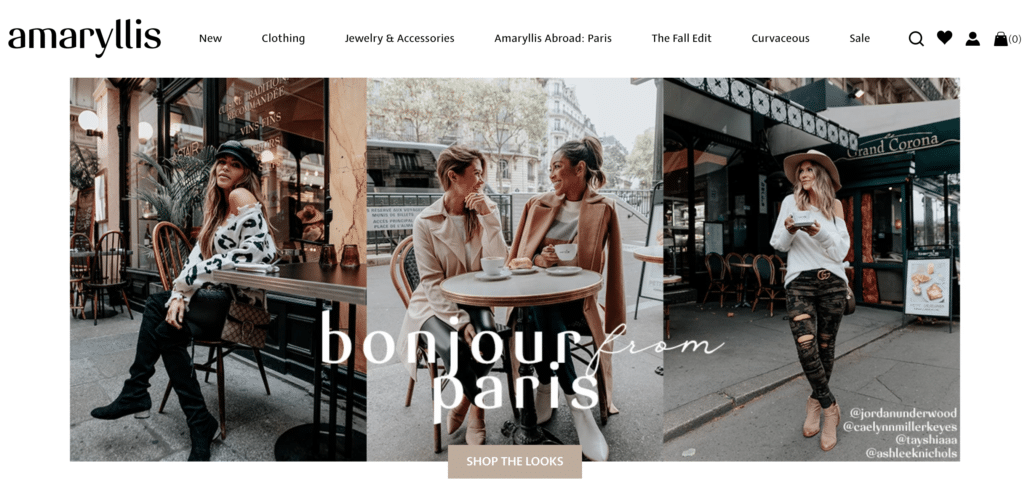 Commission: 15%
Cookies: 10 days
Where to Sign Up: Rakuten Marketing
Although their affiliate cookie kind of sucks, Amaryllis Apparel does offer great commissions for the fashion industry, and there are some stunning and unique items that you can offer your audience.
They offer affordable and chic clothing and accessories that tout the latest trends that are "comfortable, wearable, versatile and above all – unique." New designs are released each week, so it's easy to keep things fresh.
Categories include tops, bottoms, sweaters, dresses, rompers & jumpsuits, outerwear, and swim, as well as some really fun options that include desk-to-date, curvaceous, and Amaryllis abroad: Paris.
DIY & Crafts
Blueprint
Commission: 4%-75% depending on what is purchased, plus $15 for referring new affiliates
Cookies: 5-30 days depending on what is purchased
Where to Sign Up: ShareASale
Blueprint offers tailored project kits and on-demand step-by-step lessons by experts in the areas of sewing, crocheting, cake decorating, baking, cooking, drawing, painting, photography, writing, paper crafting, jewelry making, woodworking, home & garden, and even fitness, yoga, and dance.
The Blueprint affiliate program is pretty enticing, especially the 75% commissions you'll receive for new customers. This is a fun program to promote to help inspire creativity in your audience.
Cricut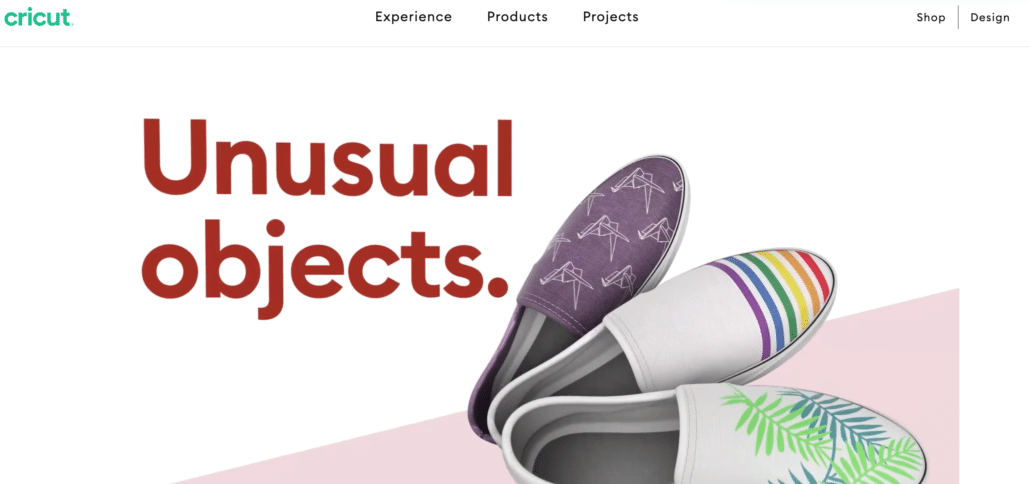 Commission: 8-12% plus $10 for each affiliate you refer
Cookies: 45 days
Where to Sign Up: ShareASale
This company sells Cricut® machines, hundreds of ready-to-make projects, 50,000+ images to cut, and related project supplies for amazing DIY projects. If your audience consists of scrapbookers or members of the maker movement, they will love this.
They even have an award-winning affiliate management team from Acceleration Partners to help you succeed. You'll receive weekly promotions and incentives. They provide recommendations for your site to help you maximize your sales.
HOT TIP: You can create pins and link directly to their affiliate-linked blog posts because they convert like crazy.
Scrapbook.com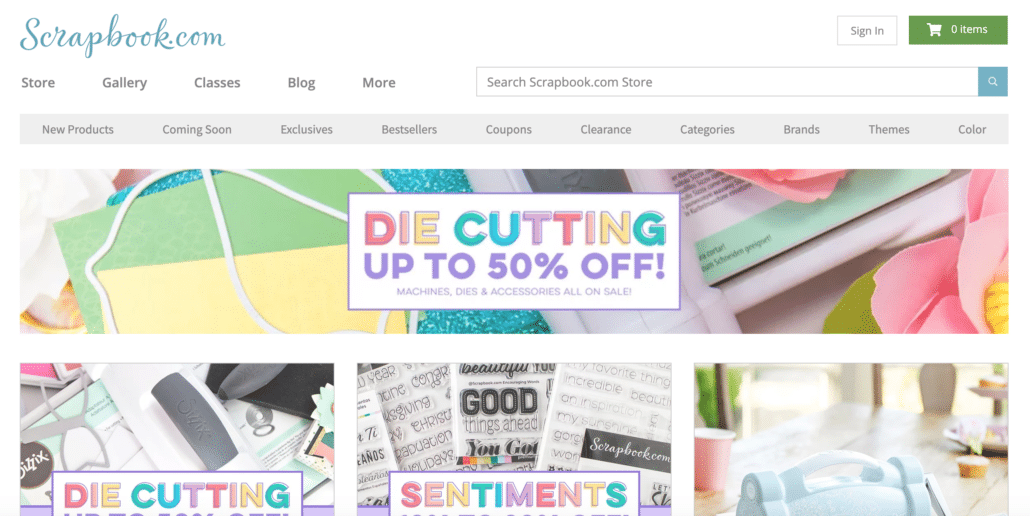 Commission: 10%-20% or 23¢ hit commissions
Cookies: 30 days
Where to Sign Up: Scrapbook.com
Top online scrapbooking and paper crafting supplier offering over 50,000 products, including adhesives, albums, books, card making, cut outs, die cutting, embellishments, kits, paper, paint, markers, planners, stamping, stationary, stickers, storage & organization, templates, tools, and more. If your audience is into paper crafts, this is their one-stop shop.
Scrapbook.com offers its customers a 60-day money-back guarantee on all purchases. Many of their products are exclusive to Scrapbook.com, and they get the newest products before any other stores
They have a dedicated affiliate management team to help ensure your success as an affiliate, and they offer monthly contests, giveaways, product reviews and bonus opportunities.

Sign Up For Scrapbook.com Here

Parenting
Care.com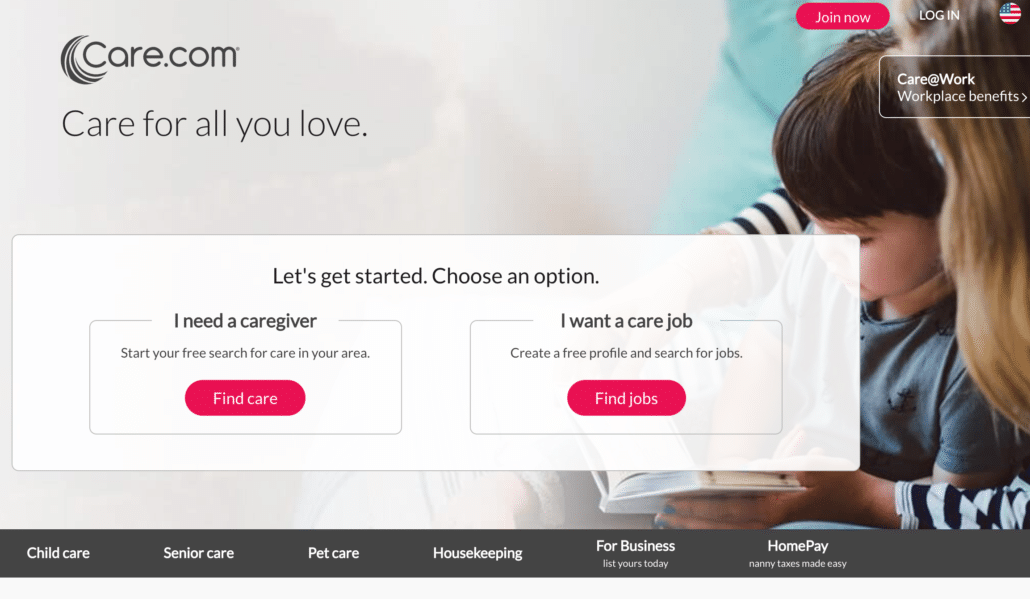 Commission: $15-$85 per paid membership + $1 per lead on free memberships
Cookies: 30 days
Where to Sign Up: CJ Affiliate
Care.com is the largest marketplace online for finding babysitters, nannies, and other care providers like tutors, housekeepers, and dog walkers. With the premium upgrade, members can access references, background checks, reviews, and that's where you'll earn the bulk of your commissions.
Top performing affiliates can enjoy customized bonuses. Affiliate bonuses are also given when someone signs up for the 3 or 12 month memberships.
Net Nanny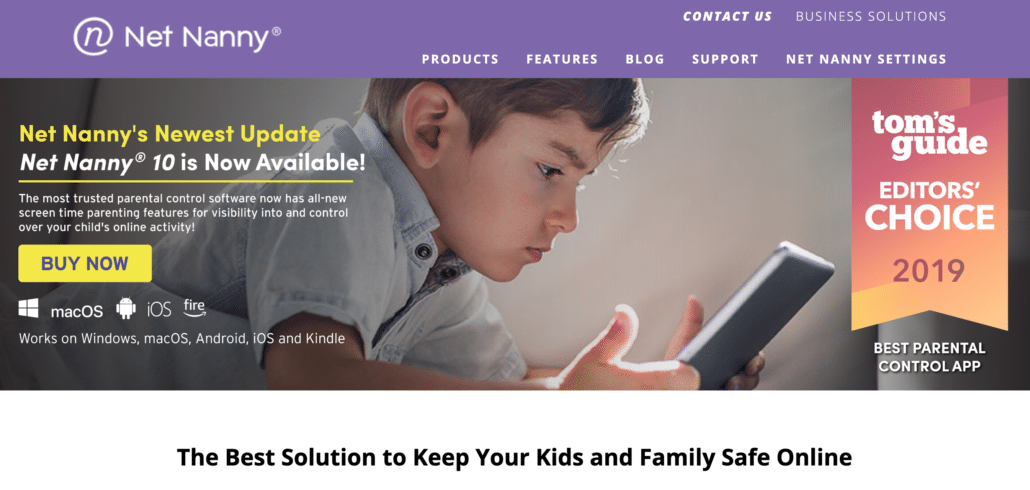 Commission: 25%
Cookies: 60 days
Where to Sign Up: ShareASale
Net Nanny hits our list of top affiliate programs for bloggers because it solves a huge problem that jeopardizes the safety of our children. While the internet allows us to have everything we could ever need to know at our fingertips, it also does the same for our kids, and that means, they are seeing things they shouldn't see.
Net Nanny is the most trusted parental control software available. It filters out inappropriate content, protects against predators, and it can even be used to manage time spent online. As an affiliate, you are allowed to use direct links and PPC, which makes it a super easy thing to promote.
Bouncie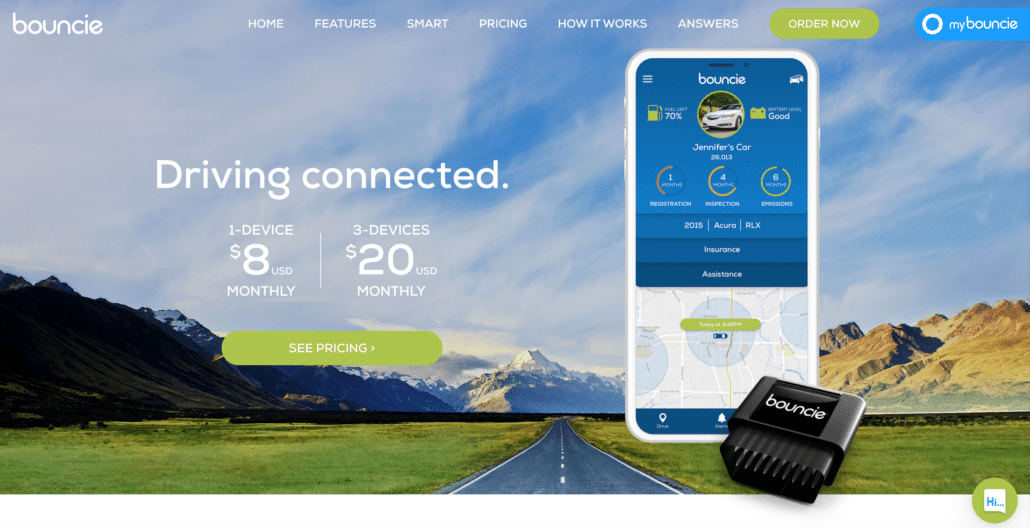 Commission: 15%
Cookies: 30 days
Where to Sign Up: ShareASale
Bouncie is another child safety product that meets the standards for our top affiliate products for bloggers list. This time, it focuses on keeping teen drivers safe and accountable.
It's a tracking device for cars that monitors the car in real time. It allows parents to view the location, speed, and driving habits of their teen as it's happening.
Affiliates receive 15% commission per device, and 40% of orders are for multiple devices. Affiliates who refer large orders receive a bonus of upwards of $100.
Baby Products
Sleep Sense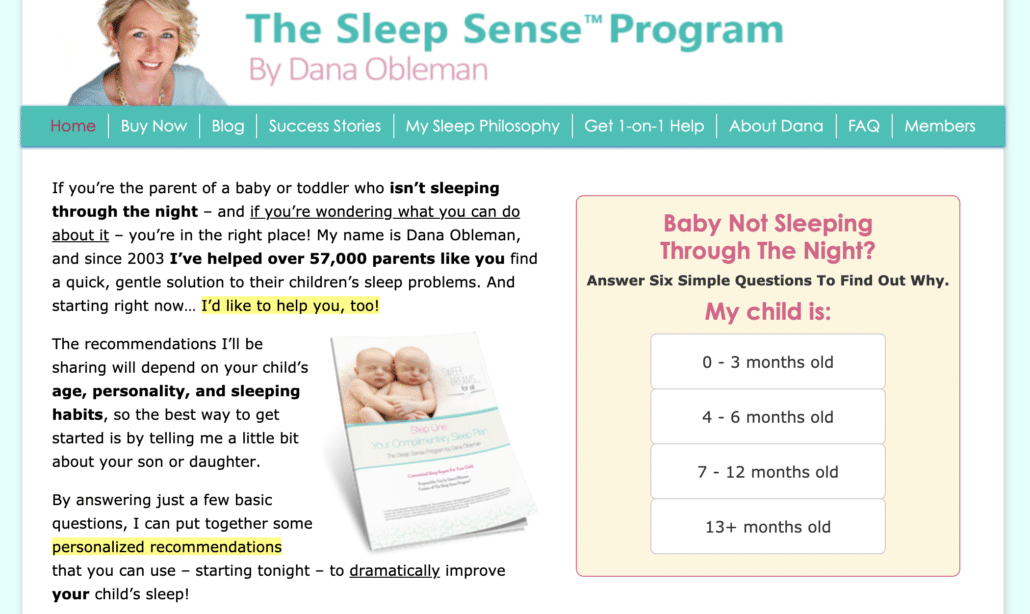 Commission: 35%
Cookies: 60 days
Where to Sign Up: InfusionSoft
Check out these commissions, huh? The reason they are higher than the other top affiliate programs for bloggers on this article is because of the industry. This product is a digital coaching product that helps people solve their children's sleep issues.
Digital products are awesome as affiliate products since they don't have a lot of overhead to cover, so it's always a gem when you can find one in your niche.
This one comes from Dana Obleman, who has helped 57,000+ parents sleep better by solving their kids' sleep problems. We all know that parents of babies and toddlers tend to be exhausted, especially if their child doesn't sleep well, so you'll be serving your audience well to offer them this one.
The product includes step-by-step instructions, 24-day video trainings, a hotline with access to conference calls with Dana, and more. It's even customized for each child based on age and personality.
As an affiliate, you can earn up to $45.15 per sale. They offer affiliate training resources, and the best part is that they have high conversion rates and low return rates.
Ergobaby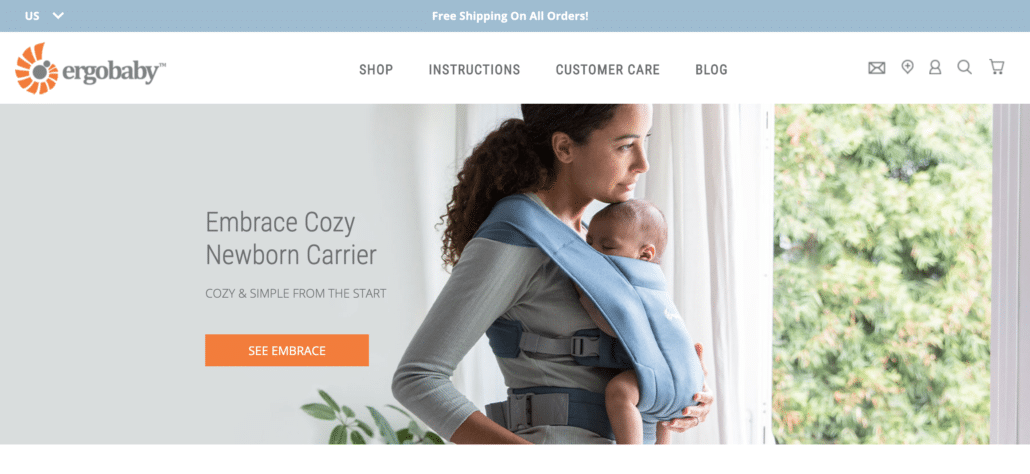 Commission: 4%
Cookies: 30 days
Where to Sign Up: ShareASale
Ergobaby offers over 30 baby carriers in four different categories, each of which are designed for comfort (both baby's and parent's) and ease of use. It's the go-to brand when any parent thinks of baby carriers, but they also have accessories and even strollers. They offer a lifetime guarantee on their products, which is pretty amazing.
While the commissions are pretty low for this affiliate program, it is an easy sale to make since most parents already want an Ergobaby carrier. The average sale is $117 with a very low return rate.
Patpat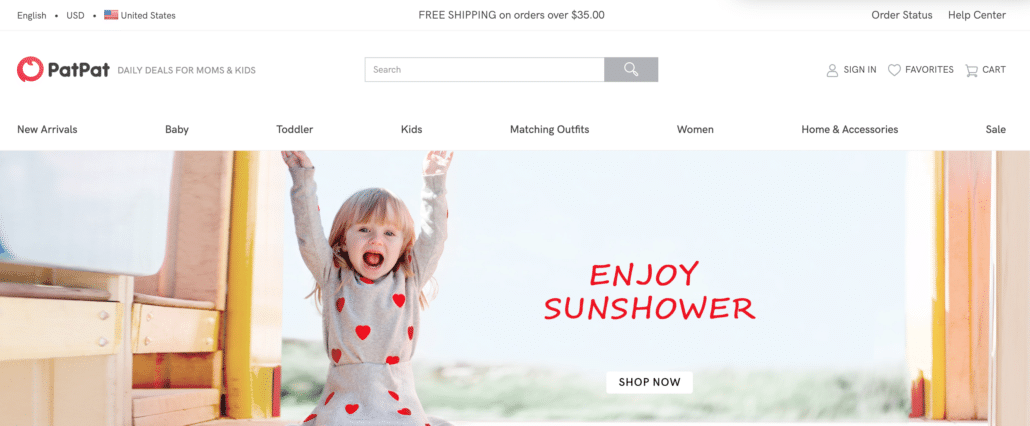 Commission: 12-15%
Cookies: 45 days
Where to Sign Up: ShareASale
PatPat is a shopping deal site/app offering the following categories: men, women, teens, babies, toddlers, and children. It's a great place for moms to find great deals on fashionable, functionable clothing and accessories for themselves and their families without spending a lot of time and money. This is the best place to shop if you want to create a memory and have a photo taken of the whole family in matching outfits.
Items ship from manufacturer to consumer so that your audience can get the lowest prices for high-quality products. The average order is $49, and they have a dedicated affiliate marketing management team to help their affiliates succeed.
What Are Your Favorite Affiliate Programs?
There you have it: 18 of the top affiliate programs for bloggers. Keep looking out for more posts where we'll share even more affiliate programs to help you succeed as an affiliate marketer. Please comment below and let us know what your favorites are.