If you're into graphic design or digital art, you may be wondering which is better – Adobe Illustrator or Procreate.
The truth is, these tools are good for different things. Illustrator is ideal for creating logos and other vector-based designs. Procreate is more of an artist's tool, best for hand-drawn digital art.
If you're still trying to decide which tool is best suited for you, here's a look at how Adobe Illustrator vs. Procreate stack up against one another.
Adobe Illustrator vs. Procreate: A Look at the Features
Adobe Illustrator and Procreate are both design tools. Adobe Illustrator is vector-based design software that's perfect for logos, icons, and graphics. Procreate is mainly used for digital illustration and animation.
If you need to create digital designs that you can use in various sizes and formats, Adobe Illustrator is the clear-cut winner. This is because Illustrator is vector-based which means you can easily resize your work without compromising quality.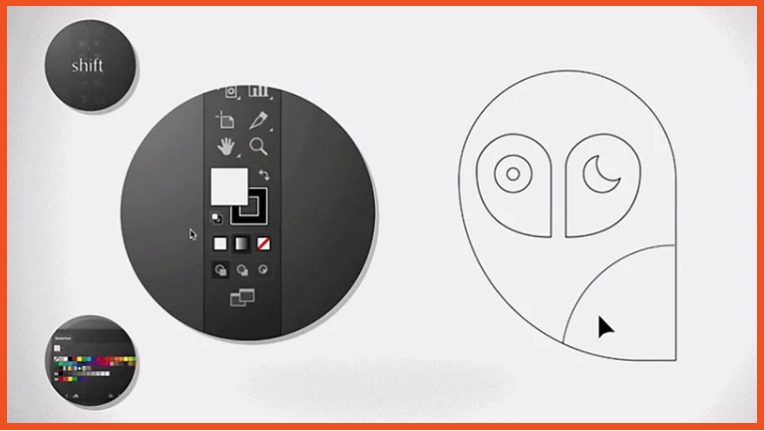 Procreate, on the other hand, is an app that allows you to hand-draw digital art. It is raster-based and converts layers into pixels. However, that doesn't automatically mean that Procreate isn't as good. 
Unlike Illustrator, you can create animations with Procreate. You also have a wider variety of brushes available to you.
Both programs have layer support, CMYK, and RGB color profiles, and support text.
Currently, a significant pitfall for Procreate is that it's only available to iPad users. Illustrator, on the other hand, is available for Mac, Windows, and mobile devices.
Since Illustrator introduced its iPad app in late 2020, it has become a competitor of Procreate. The advantage of Illustrator is in the way it stores designs. It is vector-based, which means it won't lose quality when scaled.
Procreate stores its images in pixels which can become distorted when trying to make the image larger. But, even so, Procreate has more hand drawing design options, is easier to learn, and is far more budget-friendly than Procreate.
Winner: Tie
Ease of Use
If you're looking for the program that's easiest to use, it's Procreate. Procreate is beginner-friendly and comes with a lot of support. This makes it easy to start using right away. 
The most significant learning curve comes when learning to draw on a screen versus sketching on paper. If you're used to sketching on paper, you'll have to learn the sensitivities of hand drawing on the iPad.
Overall, the interface of Procreate is very intuitive. Plus, Procreate has an extensive handbook with tutorials on anything else you'd like to know.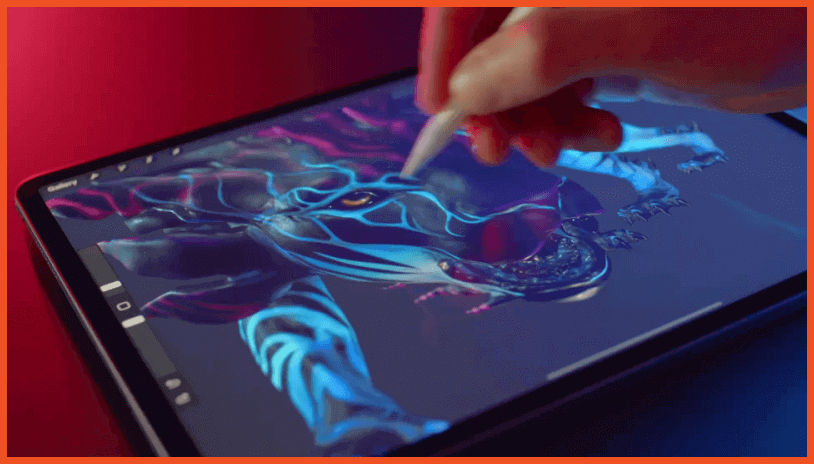 Illustrator is mainly used on desktop computers and has a far greater learning curve. For example, you have to use commands to create with Illustrator on the desktop rather than hand drawing. In addition, there are a lot of options and buttons on the screen that can feel overwhelming to new users.
Luckily, Illustrator has many tutorials online, but it will still take a significant chunk of time and learning to master the program.
Late last year, Illustrator came out with an app for iPad that competes with Procreate. The iPad is very similar to the desktop version – only it allows you to draw designs with an Apple pencil.
In a nutshell, Procreate is meant for digital art, while Illustrator is ideal for vector-based designs used as website logos, on printed items, and in related media. Unfortunately, this makes the comparison of the two hard to make.
Winner: Procreate
Portfolio Options
If you're looking for a digital art program that allows you to display your work in a portfolio, you're in luck. Both of these pieces of software allow for portfolios. 
In Procreate, you can create a gallery to store all of your work, past and present. You can then share individual or multiple pieces of your art across dozens of apps. Procreate also has a feature called ProcreateFolio that enables you to share art with the community.
Illustrator comes with a free portfolio if you purchase a creative cloud subscription. Adobe Illustrator portfolios allow you to build customized layouts. Their portfolios are great for professional designers who need a place to send potential clients.
If you're serious about a portfolio and aren't interested in building a website of your own, Illustrator has the better option.
Winner: Illustrator
Other Important Factors to Consider
Pricing
When it comes to pricing, there is a clear winner. Adobe Illustrator costs $20.99 per month. Procreate only costs a one-time fee of $9.99.
However, even though Procreate is substantially less expensive than Illustrator, the program has one problem – it's only available on iPads. So, if you're not an Apple user, Illustrator will be the only option out of the two.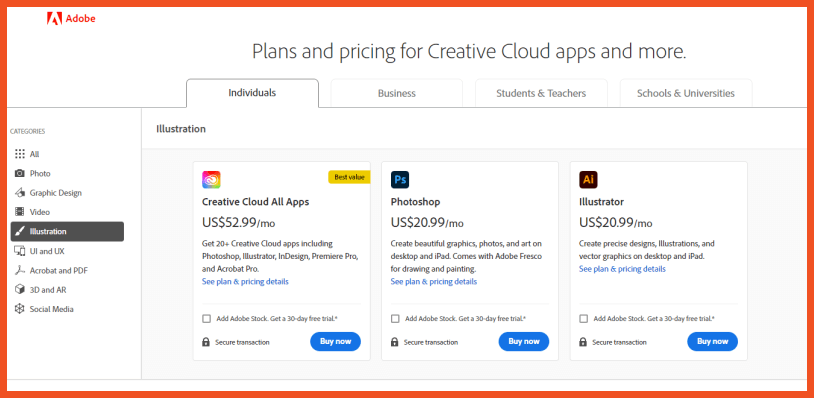 If you buy the Adobe Creative Cloud suite, it will run you $52.99 per month but contains 20+ apps, including Illustrator, and allows for a portfolio.
To compare the prices, Adobe Illustrator will run you $251.88 per year, Adobe Creative Cloud Suite would be $635.88, and Procreate is only a one-time $9.99 fee.
Winner: Procreate
Reliability
As a designer, the reliability of a program is essential. Luckily, both of these programs are incredibly reliable. Both Illustrator and Procreate update their interfaces with the latest design trends and features.
Procreate is an app that you can download on your iPad. Illustrator is software that you download and use on your Mac, Windows, or mobile device. 
You can store designs from both programs on a cloud system, so you'll never have to worry about the programs crashing and wiping out all of your hard work.
Winner: Tie
Customer Service
Both Illustrator and Procreate offer customer support. Illustrator has an extensive tutorial section, and Procreate has a "handbook" on its website. Both have forums and email support options.
Procreate even has an option to get in touch with the developers and give them feedback or suggestions.
Winner: Tie
Logo Creation
If you do freelance designs as a side hustle or need to create logos, Illustrator is the way to go. Illustrator has advanced design tools and is vector based so your creations won't lose quality even when scaled. On the other hand, Procreate is an advanced paint app, so logo creation will be far more complex.
It can take a long time to master Illustrator, so you'll have to put in the work to learn the program and practice before your designs will be market-ready.
Winner: Illustrator
Illustrations
You can achieve hand-drawn digital art with either of the two options. Procreate specializes in digital art, being the most extensive paint app available. Illustrator can also be downloaded on your iPad and used with an Apple Pencil.
The most significant difference is the illustrations drawn with Adobe Illustrator are vectors, so you can scale them. On the other hand, Procreate will convert the images drawn on their app into pixels that don't scale well.
Winner: Procreate
Which is the Better Option?
As you can see from the comparison, the tools can be used differently, have different learning curves and price points.
Here's a rundown of the pros and cons of each piece of software.
Pros and Cons of Adobe Illustrator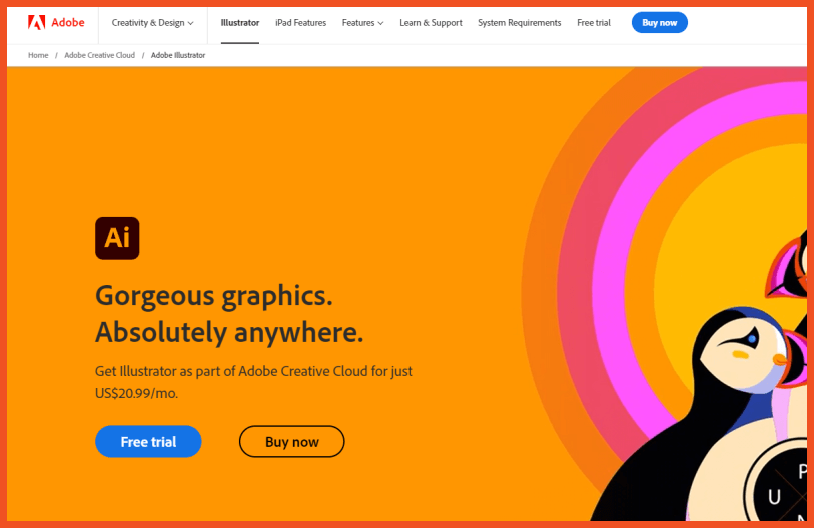 Adobe Illustrator has been around since 1986 and is an industry-standard for logos. The vector-based design capabilities of Adobe enable you to scale your designs up and down without ever losing quality – which is a huge advantage.
The recent Illustrator iPad app that came out in late 2020 was a massive game-changer for designers who like to add hand-drawn elements to their work. The app allows for drawings with an Apple pencil.
Adobe also keeps its program up to date, constantly adding new features.
Pros of Illustrator:
Vector-based design that doesn't lose quality when images are scaled

Can make web and print graphics or logos

Compatible with all devices

Advanced design tools
Cons of Illustrator:
You can't buy the license outright, and it requires a monthly subscription

Steep learning curve
Pros and Cons of Procreate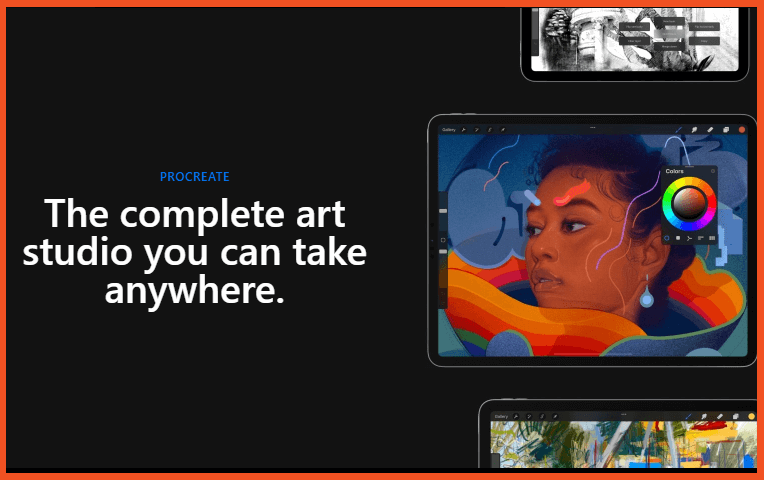 Procreate is the tool you need if your main intention is to create hand-drawn digital artwork. This app works flawlessly with an iPad and Apple Pencil. It gives you all the tools you need to develop hand-drawn pieces.
You can put your work in a gallery and share it with the Procreate community. And since Procreate is so inexpensive, it's a great place to start if you're working with a tight budget or are new to design and simply want to test your skills.
You can always upgrade to Illustrator at a later time if that's what you wish to do.
Here's a complete look at the pros and cons.
Pros of Procreate:
Excellent software for hand-drawn digital artwork

Most advanced mobile painting app

200+ brushes to choose from

Supports animation

Inexpensive

Easy to learn
Cons of Procreate:
Only available on iPad

Not suitable for creating logos
Frequently Asked Questions
Is an iPad suitable for Adobe Illustrator?
Illustrator is part of the Adobe Creative Cloud, and you can use it on your iPad. If you want to hand draw vectors, you can do so with the Apple pencil. Adobe Illustrator has different brush styles to choose from, and you can even taper the blob brush to achieve a more hand-drawn style.
The coolest thing about the iPad app is that all hand-drawn images will be vector-based, so you scale them up and down. You can also import your designs from photoshop onto the app.
Is Procreate better than Illustrator?
Procreate and Illustrator are different. Procreate is raster-based, while Illustrator is vector-based. As a result, designers more frequently use Illustrator to create logos and graphics that they need to scale up and down in size. Procreate is more often used by digital artists who hand-draw their art.
If you need a hand-drawn vector, you can use Illustrator on your iPad and draw with an Apple pencil. Both are good options; however, if you're new to making digital art, you may want to start with Procreate as it's easier to learn and far less expensive.
Is Procreate a good app for graphic design?
Procreate is a good app for hand-drawn digital art, but not necessarily for graphics. Procreate is raster-based, so images are not easily scaled up and down in size. If you plan to do graphic design for a living, Procreate shouldn't be the only app you're using.
Can I make logos on Procreate?
While it's possible to hand draw logos with Procreate, Adobe Illustrator is a far superior software for creating logos and business graphics. The images you make on Procreate won't be able to be enlarged without losing quality.
Is Procreate only on iPad?
Right now, Procreate is only on iPad. However, they do have a sister app called Procreate Pocket for iPhones. Procreate Pocket costs $4.99. This app is similar to the original version allowing you to sketch and create digital art from your iPhone.
Right now, Procreate is not available for Android.
Final Verdict
It's not really fair to compare Illustrator and Procreate apples to apples because they are very different tools. Procreate is best for hand drawing digital art and animations. Illustrator is best for creating vector-based graphics that can easily be scaled.
If you're an artist wanting to create original hand-drawn pieces, Procreate is the way to go. On the other hand, if you're an aspiring designer who needs to prepare graphics or logos, Illustrator is your best bet.
Of course, if you like the features of both programs you can always buy and use both. After all, Procreate is a minimal investment of only a one-time $9.99 fee.