Online Social Media Jobs That Pay $30/Hour
Availability to start this week
Make $25-$35 Testing New Apps
Just need access to phone/tablet
5+ hours per week available
In this article we are going to look at the three primary ways I started making money as an affiliate marketer with no starting capital.
Each one of these methods requires no money to start.
First off let's address a major mindset issue I see in new affiliates.
We often look at successful affiliate marketers and tend to think that they've always been that way. But that is the industries biggest lie!
They all started somewhere!  And in many cases, that meant they started affiliate marketing with no money in the bank.
How do I know? Because I started with NO real knowledge, NO idea what I was doing, and yes, NO money.
None of that mattered though, and in just 6 years I did over $3 million in commissions.
(I explain a lot of that I explain in the video below).
So yes! It's not only possible, it's how pretty much every affiliate marketer starts out.
And this post will go over the three ways I was able to do it when I first started.
Important Note
While it isn't free, this 15-day affiliate marketing challenge costs $7 and is the best $7 you will ever spend. It comes with over 10 hours of action-oriented training and at the end of it you will have an affiliate business set up and ready to go.
It is built in a step-by-step way so you have a lesson and a task to accomplish every day for 15 days.
So personally, while not free, I highly recommend joining the challenge.
New to Affiliate Marketing? Take the quiz to find the best method for you!
Affiliate Marketing With No Money
Okay, now let's dig into the topic of how to start affiliate marketing with no money. And to do that, it's important to first understand the nature of affiliate marketing, which is getting people to click on your links.
The way you do that is through what we call traffic. The more traffic you have, the more people you're going to get to click on your links.
The most common way this is done is through affiliate marketing websites, like these examples here.
But that takes a lot of time, so we will focus on faster methods.
When you're just starting out, you generally don't have any traffic, so affiliate marketing with no money really becomes affiliate marketing with no traffic. And there are only two ways to get traffic: paid methods and organic methods.
My favorite free traffic sources are in the video below.
Almost every traffic-generating platform on the internet has a paid way to access traffic, and paying for traffic is pretty easy. For example, on Facebook, you can just set up an ad and tell them you are willing to spend $100.
You set up some demographics of who you want to target and then you see how many people you can get to look at your offer for that $100.
But a lot of people don't have money to throw at ads, especially when they are just starting out in affiliate marketing. That's where organic traffic comes in, and here's how it works:
Platforms, like Facebook, YouTube, and Instagram need content. They can only run if people are putting out valuable content that other people are interacting and engaging with.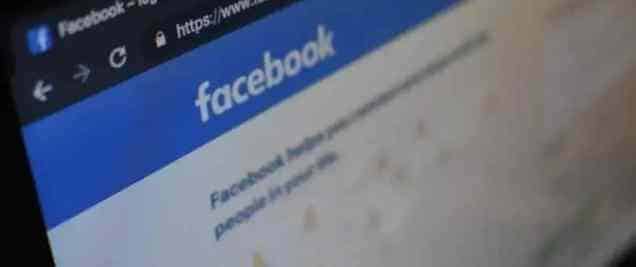 To get organic traffic, we become content providers for these platforms. We're putting out the content and then we're convincing them that our content is worthwhile and that they need to show it to people so that they send us traffic.
YouTube and Google are search engines, so to get organic traffic from them, we need to convince them that when people search for something, our stuff should show up.
We need them to think OUR content is going to give the user the best solution to their search question.
For example I have a video that shows up when people search "how to make money with affiliate marketing."

For Facebook and Instagram, it's not so much about showing up when people search something, but it's really about making relationships and giving people the info they want but may not even know they want.
So, when someone pops open their phone and starts meandering around on social media, we want them to see our stuff, but we don't want to pay for it with an ad; we want to do it organically.
3 Ways To Start Affiliate Marketing With No Money
The three platforms I mentioned above – Facebook, YouTube, and Instagram – are three of the best ways to do affiliate marketing with no money.
So let's look at how to use these platforms to acquire a large organic reach, and to get people to see and then eventually click the affiliate offers you're making.
Affiliate Marketing on Facebook
Doing affiliate marketing on Facebook is one of the best ways to get started with affiliate marketing with no money, and here's why.
Facebook lets you have 5000 friends.
That gives you a free audience of 5000 potential people that you can start affiliate marketing to.
You're not going to spam them and you're not going to inbox them affiliate links. You're going to build relationships and provide value to those people.
Don't forget, Facebook is a social networking platform so by using the strategy I'm going to lay out for you, you are giving Facebook what they want.
You'll be building networks and you'll be rewarded for it with organic traffic. This is the most natural way I can think of for gaining affiliate customers – and isn't that what the word "organic" is all about?
So, Here's the 4-Step Process…
1. Create a Profile
If you don't already have one, create a Facebook profile (I am talking about a personal profile, not a business page).
2. Build Meaningful Connections
Then, you'll focus on building connections with people who would benefit from your affiliate offers.
The easiest way to do that is to search for groups in your niche. For example, if I was an affiliate of my own affiliate marketing course, I would type in "affiliate marketing" or "online marketing" or "internet marketing" or "making money online" and find Facebook groups that are about that niche.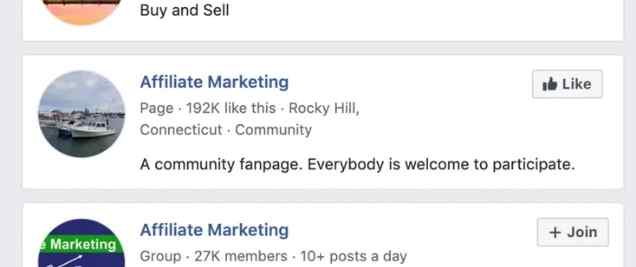 Join the best groups you come across (the ones with a lot of people in them and a lot of interaction). Start interacting with the people inside of these groups and start friending them.
Strive to add 50-100 people a day as personal friends (that's easier to do than you think).
The important part about this method is that you're adding people as friends and you're being perceived as an authority through your engagement and interaction.
The relationships you build here are what will make the next part of this process successful.
3. Post Value Consistently
Next, you'll want to post consistently on your Facebook profile. Consistently means at least once a day, but I'd say 2-3 times a day is even better.
Make sure you are posting valuable content for your Facebook friends. That might include cool little things about making money online or anything that will establish you as an authority figure in your niche.
4. Promote Affiliate Offers
For every 2-5 value posts that you make, promote an affiliate offer. This is where you can really tell if you've done it right so far because without first building relationships and authority, affiliate posts will seem spammy to people.
This step will work like a charm, however, if you've done the other steps properly because they will seem natural to your Facebook friends.
The way you create these posts makes a big difference as well. I always show examples from Momen Khaiti when I am explaining this method because he does it so well.
He posts a lot of things. He's interacts. He networks essentially by commenting and by posting things that people can comment on and then every couple times, he does something like this…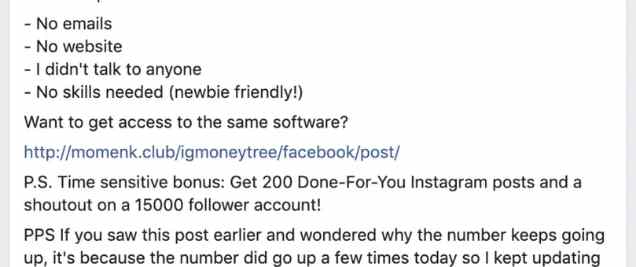 You can see that he tells a story, he adds his affiliate link, and he asks a question.
And you can see that he's got tons of comments from people who are interested in his offer.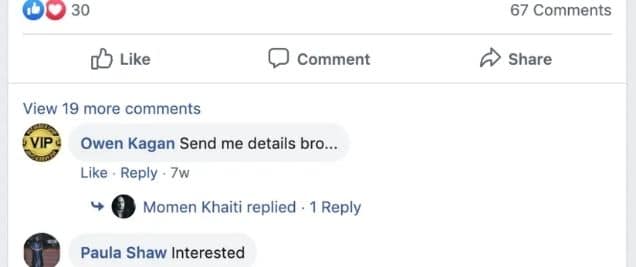 Now these people aren't just interested out of the blue. They are people that know who he is, they've seen him posting a lot in groups and on his personal profile, and they have probably interacted with him on his profile.
He's built a network beforehand – and this can be done in just a few weeks or months – so that when makes an affiliate offer, it just works for him because he's done the networking beforehand to establish the relationship and to establish himself as somewhat of an authority in that space.
Make sure you are promoting the right offers. If you were doing this with a book on Amazon you will make $.10 for each sale and will never make real money.
Focus instead on high-ticket or recurring programs were one sale can see you for a week.
I've seen people get started with affiliate marketing with no money and still make $10,000 in their first month with this method.
Affiliate Marketing on YouTube
Affiliate marketing on YouTube is my personal favorite way to start affiliate marketing with no money. It's such a cool platform because I can put out a video today and I can still be making money off of that same video years from now.
It's also free – YouTube does all of the hosting and everything. All you need is some kind of phone or device that can capture video and you are a YouTuber.
It's really important that as an affiliate, you're putting out the right kind of YouTube videos. If you just throw out a bunch of YouTube videos about random stuff, you're probably going to struggle to make affiliate commissions.
Typically, the affiliates that do well on YouTube are making very specific videos: reviews, demos, and tutorials.
So let's say I sign up to be an affiliate for ClickFunnels. I can go on YouTube and search for "Clickfunnels Review" and all these videos come up that people have made.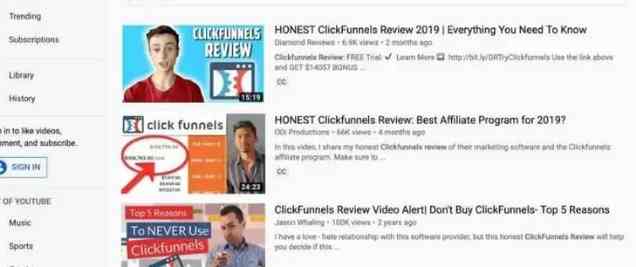 If you look at the descriptions, you can see that they are adding their affiliate links, and if you look at the videos, you'll notice that they're referring people to the description to access the affiliate links. This person has even offered some bonuses for anyone who purchases using his link…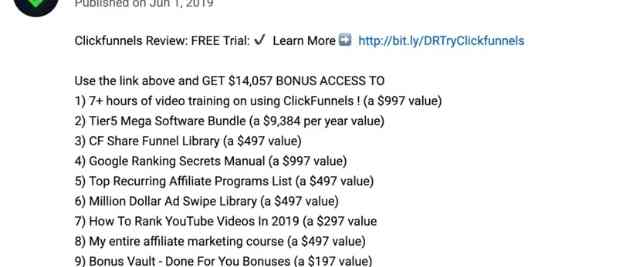 Here are a few cool tips that you can use to help you find the right content to make reviews about:
1) Review What You Love – The easiest thing to do is to find products you're already using and make reviews about them. I assume if you're choosing a niche that you're at least somewhat immersed in that niche and you're probably using software and products in that niche. Just go and make reviews about the products you're already using.
2) a – review, b – review, c – review – Type in space dash space and then review ( – review) in YouTube and then move your cursor back to the beginning and start typing in letters one at a time. What pops up are the things that people are searching for, which can give you some great ideas.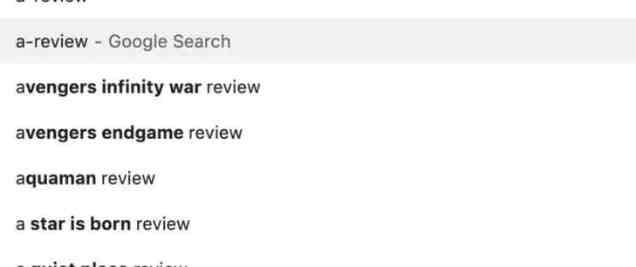 3) Uber Suggest – This free tool was developed by Neil Patel. It's gives us a bunch of keyword ideas that often work really well as content ideas for your videos. If you type in ClickFunnels, for example, you can see that "ClickFunnels pricing" is one of the suggestions that comes up.
That is a great keyword to make a video about because if someone types that in, you know they are interested in purchasing ClickFunnels.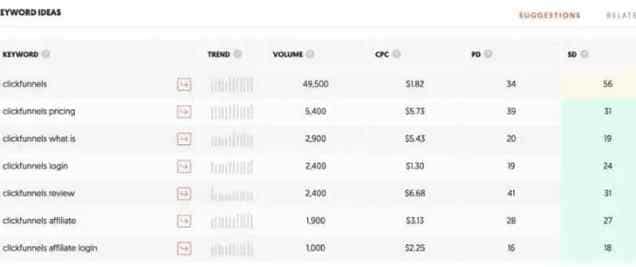 And you can see how many people are searching for that term as well. In this case, we can see that there are 5400 people a month looking to understand the ClickFunnels pricing structure because it can be a little bit confusing.
All you have to do is make a video about that, put your affiliate link in the description, and you have the potential to make money.
So, affiliate marketing on YouTube is pretty awesome, but it's important to remember that not every video is going to rank or make money. You've got to be consistent and put out many videos and over time, and then certain videos will do better than others.
Affiliate Marketing on Instagram
Affiliate marketing on Instagram is another incredible way to do affiliate marketing with no money. Right out of the gate, you need to know that Instagram is all about building an audience first and then making affiliate offers.
On YouTube, we can build an audience while we're making affiliate offers, but Instagram is more like Facebook because you're going to build an audience first.
The way you build an audience on Instagram is by picking a niche, posting, using relevant hashtags, and doing all of that basic stuff. Honestly, I highly suggest buying a course like this one for $10 so that you can start out succeeding with Instagram right away, but you don't have to.
Here's how affiliate marketing on Instagram works…
Build an Audience
Be very consistent posting on Instagram and using hashtags and all that kind of stuff to build up a little audience of people. That is actually very easy to do on Instagram (a lot easier than on other platforms).
Affiliate Link in Description
Then you're going to add your affiliate link in the description just like this right here…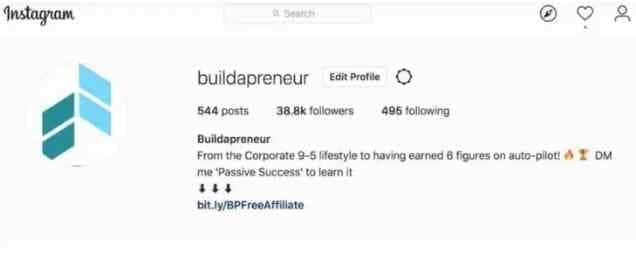 Make Posts That Point to the Link
Next, you want to make posts that point to that affiliate link. You could do something like:
Want to make money online? Link in the description.
Free training for making money online. Link in the description.
Promote Your Link on Instagram Stories
The other way you can promote it is in your Instagram stories. Just pop open your phone and do a story to your followers. If your niche is weight loss, for example, you could say something like: "Hey guys, I've got a cool offer for you! It's a really neat challenge this guy's running where you can lose 50 pounds in 50 days. There's a link in my description, just go ahead and head over there."
Instagram is all about giving your audience what they love, and therefore they will love you for it. Be yourself and show personality in your posts because that will make you stand out and it is also what makes people relate to you. When you do that first, you'll naturally be able to slide in some offers and they won't even feel like offers to your audience.
2 Keys That Allow You to Make Money With Affiliate Marketing
Time and consistency are the two keys that successful affiliate marketers have mastered. All three of the methods described above take time. If you don't have money, what you do have to have is time. It's going to take you being consistent on whatever platform you decide to go for over time, but it is totally possible.
Almost every affiliate marketer started out like this. They didn't have any money and they were doing it the ways I explained above. They stayed consistent, gave it time, and now they get to enjoy the rewards.
Once you start to make money with affiliate marketing, then you can reinvest some of the money you're making into paid strategies like ads and purchasing equipment like microphones, computers, and cameras. But for now, just get out there and start with one of these strategies for doing affiliate marketing with no money.