So you're here looking for the best recurring affiliate programs to promote in 2021?
You're in the right place. 
Over the last three years I've spent every waking moment promoting recurring affiliate programs. I've built up a monthly revenue of over $50,000 doing so.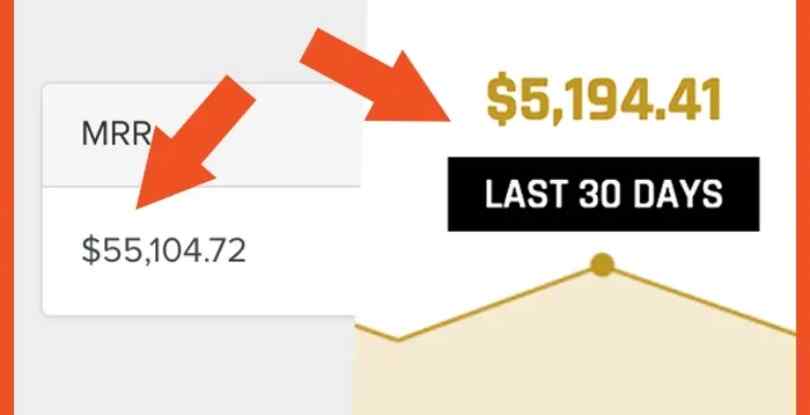 These are the programs I'm using to do it.
I sprinkled in a few high-ticket affiliate programs as well since it never hurts to just get a large chunk of money upfront.
What is a Recurring Affiliate Program
A recurring affiliate program is a product referral program that offers ongoing commission from customers when they make future purchases. It's common for affiliates to earn ongoing commission when they promote software subscriptions, online courses billed monthly, subscription sites with gated content, and more.
For example, say you join a recurring affiliate program to promote a software that costs $250/month. If they have a 20% commission rate, then you'll get $50/month for each subscriber you refer as long as they continue to use the software.
Here is a software I haven't promoted in over a year – but the payments just keep coming.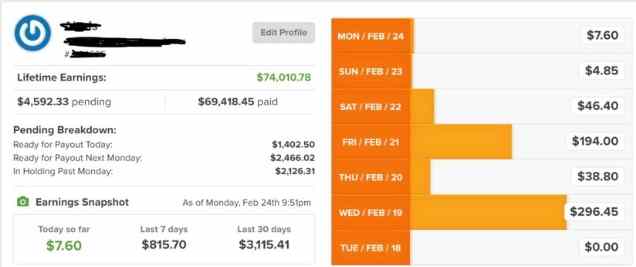 By focusing on recurring programs your growth will start out slow, but explode once it starts growing.
Say you get two people in month one with each person generating $50 a month in revenue.
The next month you get two more. That means in month three you will generate $200, even if you don't do any work.
But you aren't just going to add two people each month. Because you are getting better and your content is starting to get more visitors, etc.
So by month six you are getting six new people to sign up each month.
By month 12 you are averaging 10 signups every month and your recurring commissions from previous months are between $2,000 and $3,000.
Can you see why this is so appealing and so lucrative? A few years of consistently promoting recurring affiliate programs can literally provide a retirement income for many affiliate marketers.
(Visually it would look something like this)
The best part is that the company does all the work to retain customers and you can head off to a Thai beach.
No customer support. No midnight calls about broken servers.
Nothing.
Just pure recurring revenue.
If you run paid ads you can even run ads with sites like ZeroPark at a loss, but still be profitable in the long run as the commissions continue to pour in.
Yes, affiliate marketing truly is awesome.
Please note: This model assumes you are promoting a high-quality company that retains customers.
Want to know which affiliate marketing method works best for you? Answer the short quiz below:
Best Affiliate Programs for Recurring Income
Tailwind

Legendary Marketer

Active Campaign
ClickFunnels
Elegant Themes
SEM Rush
Snip.ly
Lead Pages
LongTail Pro
Answer Base
Drip
Freelancer.com
SEO Clerks
Instato
Socialoomph
AShop
Techable
Improvely
Shopify
Liquid Web
Tubebuddy
NinjaOuteach
Propeller Ads
Olark
ClickBank
Tailwind
Category: Social Media, Online Business, Pinterest
Commission Rate: 15%
How it works:
Tailwind is easily the number one tool for finding success on Pinterest. Every single business that is using Pinterest should be using Tailwind.
Tailwind automates Pintrest growth and took my own business from hundreds of impressions to hundreds of thousands per month. Most of that was done on autopilot.
All you have to do is promote Tailwind to anyone that is trying to grow a business and Tailwind will pay you 15% for life for every referral you send.
They also have one of the best stick rates (how long someone stays with a company) I've ever seen.
Tailwind is hosted in ShareASale
Legendary Marketer
Category: Online Business
Commission Rate: 50%
How it works:
Promoting Legendary Marketer uses one of my favorite business models. All you have to do is promote their front and free products like their business builder challenge.
They will upsell from their various other products that can benefit business owners in different situations.
They have products ranging from zero dollars up to $6,000, as well as recurring products that pay every single month. You can see the full list of products you can promote in this review.
I love companies that have a large combination of products that you can promote ranging from free, to recurring, to high ticket.
To join, just join the free business builder challenge and you will get access to everything you need.
[maxbutton id="71″ url="https://buildapreneur.com/recommends/business-builder-challenge/blog/review" text="Join The Challenge" ]
Category: Email automation/CRM
Commission rate: 20-30%
How it works:
Active Campaign is easily the best recurring affiliate program in the email marketing space in my opinion. All you have to do to get started with Active Campaign is create an account, then you're ready to start introducing others to the software and earn commissions.
Active Campaign pays you monthly for every new referral. Commission rates start out at 20% but move up to 25% after you bring in $100 of new monthly business in the past 3 months, or have $500 worth of active accounts.
The commission rate jumps to 30% when you bring in $500 worth of new monthly business in the past 3 months, or have $2,000 worth of active accounts.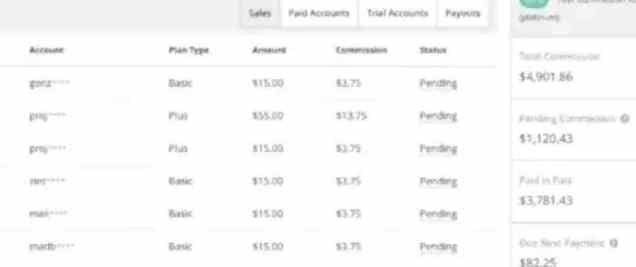 There are a lot of other autoresponders that offer 30% recurring commissions right off the bat, but the issue I have had with them is they struggle at retaining customers. This means that they keep losing people that I send their way, which really kills the whole passive vibe.
Active Campaign likely has the best reputation of any autoresponder in existence, and once you get going it's pretty easy to get up to the 30% rate and stay there.
The key reason they are so good to promote is you will lose almost no one once they sign up.
Category: Sales funnels
Commission rate: 40%. They also will give you a dream car once you have 100 active users using the software under your link.
Here was mine.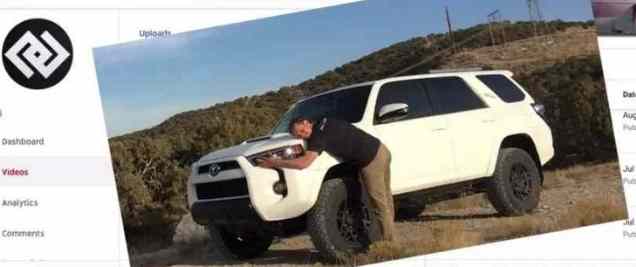 There are 3 steps to qualify for ClickFunnels free car reward:
Sign up and get 100 active ClickFunnels Members.
Stay above 100 active members and ClickFunnels will start sending you a $500/month check for your car payment.
Get 200 active members and ClickFunnels will increase your reimbursement to $1000/month for your dream car.
How it works:
ClickFunnels is easily the best recurring affiliate program on planet earth right now for a myriad of reasons.
The biggest reason is the way their cookies work across multiple products. So ClickFunnels has products ranging from $5 books to $5,000 year long coaching packages.
An affiliate can refer someone to buy s book, and then get a huge payday when that referral buys the coaching package down the road.
The recurring piece of that is the actual core product, ClickFunnels. This is a software that ranges from $97 to $297 a month.
As discussed above, an affiliate can send someone to buy the book, and if they sign up for the software down the road that affiliate will get 40% recurring commissions off that purchase.
Another thing that makes ClickFunnels so appealing is all the free training they provide. Even if you're new to affiliate marketing, they provide you with everything you need to learn the ins and out of the business, then succeed as their affiliate.
You can see for yourself with their Affiliate Bootcamp program.
Watch my webinar if you want to know how.
Category: Web themes
Commission rate: 50%
How it works:
Elegant Themes is a WordPress theme platform with a great recurring affiliate program for people looking to teach others how to build websites and build online businesses.
They offer a 50% commission rate on each theme sold, which is much higher than most affiliate programs and definitely the highest from a web-theme site.
You can also get commissions on yearly renewals, so you can earn more money as your referrals pay their renewal fees for certain themes.
This is super lucrative because once someone has their site built, they are extremely unlikely to switch and move it somewhere else. This is something to always look for in recurring affiliate programs.
You want programs that are hard to switch away from once a user has signed up.
Their affiliate program is free to join and you earn based on your commission type. They provide a variety of banners and textual links you can use to help promote the themes as well.
Category: SEO
Commission rate: 40%
How it works:
SEMRush is a powerful SEO and competitor research tool that top marketers use. It's an easy software to recommend, because it has a wide variety of features to help you with all sorts of SEO and marketing goals.
SEMRush's affiliate program is called BeRush. Join up and you can earn 40% recurring commission for SEMrush subscription sales.
It's easy to promote because it is well known and has one of the best reputations among the SEO community. There is also plenty of free training out there once someone signs up to help them along the way and keep your recurring commissions coming in.
BeRush has a speedy sign-up process as they pre-approve all applications. They provide you with marketing material in a variety of languages, as well as a "first cookie wins" attribution model with 10 years of cookie life. That's a long life!
Category: Social conversion
Commission rate: 20%
How it works:
Snip.ly is a custom call-to-action tool that lets you add your own CTA to any page on the web.
That's a cool tool for anyone to use if they want to market their business, and they also happen to have one of the simplest, most intuitive affiliate programs I've ever seen.
All you have to do is sign up for affiliate access, then refer customers using your unique affiliate link. Then you'll get a 20% commission on all subscriptions from the customers you refer.
Category: Landing pages
Commission rate: 30%
How it works: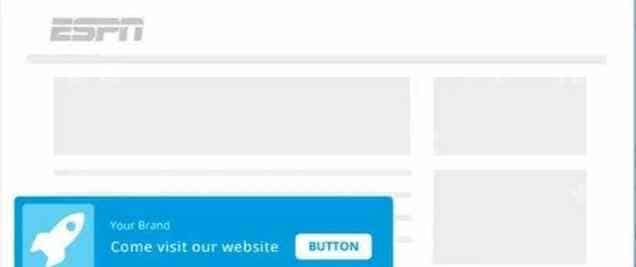 In order to qualify as a Lead Pages affiliate, you must first become a customer. This is different than a lot of affiliate programs and a little frustrating to me. Once you are a customer, then you can apply to the program and receive a response within 2 days. Once approved, you'll have access to their affiliate welcome series to help you get started and succeed as an affiliate.
Lead Pages offers a 30% recurring commission on all sales generated as long as your referral remains a customer. They offer 9 different membership levels, so your payout per referral will depend on what level they sign up for.
Personally if I had to choose between Leadpages and ClickFunnels, I would choose ClickFunnels because they offer higher commissions, and if you look at the Google Trends images below, Leadpages is trending down and ClickFunnels is trending up. This means ClickFunnels is growing and becoming more well-known, while Leadpages is shrinking and losing market share.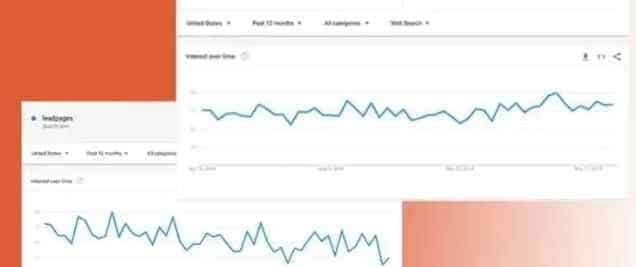 Category: SEO
Commission rate: 30%
How it works:
LongTailPro is a popular keyword research tool, and if you use it, you qualify for their affiliate program.
LongTailPro has a great recurring affiliate program — for each sale you make, you get 30% commission from the sale price and recurring revenue when customers subscribe to their monthly or annual plans.
Signing up for LongTailPro's affiliate program is easy, all you have to do is create an account and you're good to go. You can then use their affiliate links, banners and other marketing collateral to promote the tool.
Category: Q&A Software
Commission rate: 50% for the first month of service and 15% for continued payments.
How it works:
AnswerBase is a Q&A software that helps businesses create their own Q&A forums for their website. Become an affiliate and promote the software to others, and you can receive ongoing commission from your referrals when they sign up for the service at $19, $49, or $249/month.
AnswerBase works through ShareaSale, so you have to apply there to get approval. Then you can start promoting their referral links and receive commission for customers who click through and sign up within 180 days of referral.
Category: Email marketing
Commission rate: 30%
How it works:
I mentioned above that I prefer Active Campaign, but there is another recurring program called Drip. Drip has a referral partner program perfect for thought leaders with an audience looking for the latest software recommendations. All you have to do to become a referral partner is fill out a quick form with details about your business.
If you use Drip's Form Widget, you probably already noticed the "Powered by Drip" link at the bottom of it: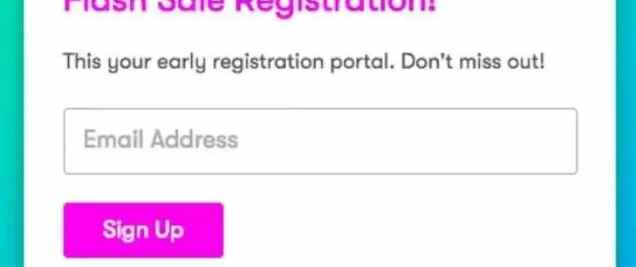 If people visit your site, click that link, and become a Drip customer, then you qualify for a referral commission if you're a Drip Partner.
Not only is this nice, but it shows that the company cares about affiliates and wants them to succeed. Anytime a company does little things like this it is a good sign that they like their affiliates and will help them.
Drip is a good backup for Active Campaign's referral program because Active Campaign can be a little picky. If you don't get selected to promote their affiliate program, Drip is a great second choice.
Category: Freelancing
Commission rate: 10%
How it works:
Okay I get it. That is a tiny percentage, even if it is recurring. But it is also an incredibnly useful program and people tend to use it a lot and spend huge amounts on it once they get going.
Freelancer.com is an online community to hire and be hired as a freelancer. Join their affiliate program, and you can earn commission by referring new users to the platform. Your commission consists of the total project fees from the new user, which is usually 10% of project cost. You can receive these bonus payouts for the first 100 days of the Referred User's Account ownership.
In order to qualify for the Freelancer.com recurring affiliate program, you must have an active account and comply with the terms and conditions of the program.
Don't worry though, it is free to have an active account.
Category: Freelancing
Commission rate: 10%
How it works:
SEOClerks is a platform to buy and sell SEO services. They have a great affiliate program also. Refer a new member, and you'll earn 10% of all sales for the life of the customer. It doesn't matter if they make a purchase now or 3 years from now, you'll get a commission.
All you have to do to qualify for the affiliate program is sign-up. If you're also a freelancer on the platform and your referral purchases your own services, then you'll get 100% of your own affiliate sales!
Category: Social media
Commission rate: 25%
How it works:
Instato.io is an Instagram Bot that helps you automate your Instagram strategy, including tasks like following, liking, commenting, posting, and more.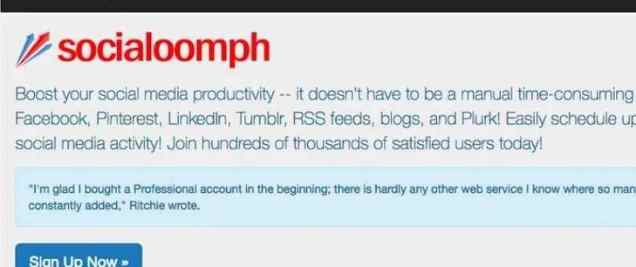 If you use Instato, then you can sign up for their affiliate program to earn recurring commission when you refer new customers. They provide you with an affiliate link, and when new customers use that link to discover Instato and sign up, you'll get a 25% commission on their subscription every time they pay.
You can read my full review of Instato here.
Category: Social media
Commission rate: 40% + 5% second generation
How it works:
Socialoomph is a social media scheduling and monitoring tool for platforms like Facebook, Twitter, Pinterest, and more.
Their affiliate program is one of the best out there. All you have to do is refer people to sign up for a free account. Once they upgrade to the Professional plan, you get a recurring commission of 40% of their subscription fee. Then, if one of your referrals also becomes an affiliate, you'll get an additional 5% of their commissions.
Joining the Socialoomph affiliate program is easy — all you have to do is sign up, access your affiliate link, and use their provided marketing collateral to help promote the tool to your audience.
Category: eCommerce
Commission rate: Variable
How it works:
AShop is an online payment processing tool for ecommerce businesses. If you use the software on your website, you can also become an affiliate, earning commissions by promoting AShop to your site visitors or newsletter subscribers.
AShop will pay you $50 for every sale that comes from your affiliate links. The recurring income opportunity they offer is from second tier commissions. Whenever one of your referrals in turn becomes an affiliate themselves, you'll get 3% commission on all their orders.
Signing up for the AShop affiliate program is a 5-minute process. Once you sign up, they'll automatically generate a link with your affiliate ID that you can use to promote AShop to your audience.
Category: Online courses
Commission rate: 30%
How it works:
Teachable is a popular platform that business owners use to create and host their own online courses.
Their affiliate program is one of the best out there in terms of commissions. They pay out 30% on sales that happen within 90-days of clicking through your affiliate link. It's also a recurring commission, so as long as the referral stays a customer and keeps paying every month, you'll get a commission every month.
Something unique about Teachable's affiliate program is that they created optimized funnels you can use to target and market to your audience, selling the software to them. All you need to do is use your unique affiliate code and their premade visuals.
Category: Analytics
Commission rate: 50% on first payment and 10% recurring
How it works:
Improvely is an advanced analytics tool that helps you track your digital marketing efforts and detect fraud. It's a popular tool for marketers who want deeper insights into their audience's on-site behavior and more: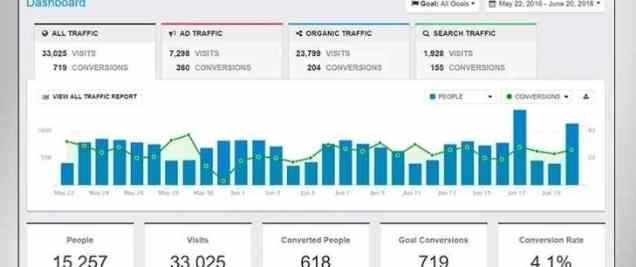 Improvely's affiliate program makes the list because they offer a 50% commission on your referrals' first payment, and an ongoing 10% monthly commission for the first year of their subscription. There's potential to earn up to $1400 in commission from one referral.
Improvely's referral program is set up on ShareASale, so you'll need to sign up there to qualify. Then you'll get access to their affiliate text links and banners to paste into your website or blog.
Category: eCommerce
Commission rate: 20%
How it works:
Shopify is probably the most popular ecommerce platform out there. But it has plenty of competitors, so affiliates can work to encourage their audiences to switch.
To qualify for Shopify's affiliate program, you need to apply for the Shopify Affiliate Program and they will consider your application. If approved, you get access to all their affiliate resources, including education, support, tracking, reports, and more.
You can earn $58 on average for each user you send who signs up for a new plan, and $2000 for each Plus referral. Shopify offers bounty payments worth two months of your referrals' monthly subscription fee, paid out over 2 months.
Category: Web hosting
Commission rate: Variable
How it works:
Liquid Web is a web hosting services offering a variety of products, such as managed WordPress, private cloud, managed WooCommerce hosting, and more. Liquid Web affiliates have plenty of opportunities to promote and earn commissions.
With Liquid Web, it's possible to earn up to $1500 commission per sale, depending on the product. You can generate commissions by adding affiliate links to your blog, referring your business associates, or referring your clients.
Liquid Web offers 2 ways to become their affiliate, by creating a CJ Affiliate account, or using their in-house platform: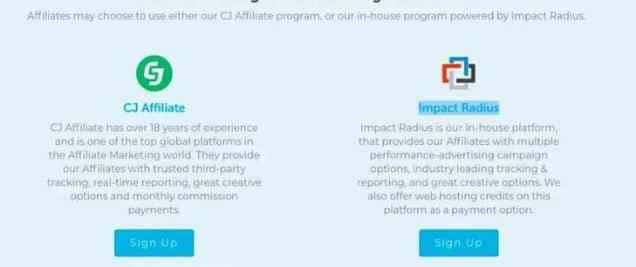 There are a few reasons I love hosting, but the biggest one is the barrier to people leaving. If you are reading this post, and have a website, how often have you changed hosts? The answer is typically never.
Remember, the best recurring affiliate programs have high barriers to leaving and high customer satisfaction rates. Liquid Web has both.
Category: Social media
Commission rate: Up to 50%
How it works:
Tubebuddy is a chrome extension that helps people manage their YouTube channels. Join their affiliate program to promote the software and you can earn up to 50% recurring commission on every new customer you refer who signs up for a paid plan.
And even if your referrals don't upgrade their accounts, you can still earn a free Star or Legend license to Tubebuddy for referring them. So if you run your own YouTube channel, this is a great affiliate program to get value out of either way.
There is not a lot of competition in the space and so virtually anyone that wants to make money on YouTube should be using Tube Buddy or VidIQ.
Category: Influencer marketing
Commission rate: 20%
How it works:
NinjaOutreach is a powerful software that helps with blogger research and outreach. Their affiliate program is also appealing because they offer 20% monthly recurring commissions for every customer you refer.
As an affiliate, you can promote 2 main products: their software, and the Ninja Academy, a 12-week course that teaches users how to build an effective influencer marketing strategy. Promoting the software itself is what earns you a recurring commission, as they offer 4 subscription plans billed monthly.
All you have to do to become a NinjaOutreach affiliate is register. But it helps if you have some knowledge and experience with the software to better promote it to your audience.
Propeller Ads
Category: Advertising
Commission rate: 5% on referral revenue
How it works:
Propeller Ads is an advertising platform that connects advertisers with publishing platforms and publishers with advertisements to monetize their websites.
Join the Propeller Ads referral program, and you can get 5% from publishers' revenue who registered via your referral link. This is a lifetime commission, so you can keep earning for years from publishers you refer.
You can sign up for the Propeller Ads referral program by reaching out to them through their contact form. Then you can effectively sell referral links by recommending the platform to your friends and co-workers, using banner or text links, blogging about the software, promoting on social networks, and more.
Category: Live chat
Commission rate: Up to 25%
How it works:
Olark is a live chat tool that helps you connect with and help your site visitors through chat conversation. It helps businesses provide support in real time, acquire leads and increase sales. The tool comes with a variety of great marketing features that you can sell to your audience as an Olark affiliate.
Join the Olark referral program and you can earn up to 25% revenue share for new referrals and earn commission on renewals for up to one year. There's no commission for referrals that sign up for a free account, but you will receive revenue share whenever they upgrade.
All you have to do to become an Olark affiliate is fill out their application form. Then the sky's the limit on how much you can refer and earn as an affiliate.
Category: All categories
Commission rate: Variable
How it works:
Okay, ClickBank isn't technically an affiliate program, it's a marketplace. But I thought it was important to add to the list because it's such an easy way to find recurring affiliate programs.
ClickBank has a searchable database of affiliate programs based on keyword or category. If you click "Advanced Search" next to the search bar on the main page, you'll discover a bunch of extra fields you can use to narrow down your search. One of them is "Billing Type."
Check the "recurring" box and all the results you see will offer some kind of recurring commission. ClickBank also provides a lot of other info about the products to help you determine its potential, like average earnings per sale, average percent rebill, etc.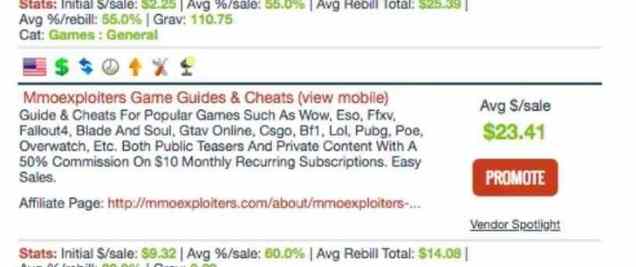 ClickBank is a great place to find other recurring affiliate programs that might not have made it onto this list!
Wrapping up
I hope this post had enough interesting recurring affiliate programs to get you started! It's far from an exhaustive list. More and more companies are starting to offer recurring commissions to attract and incentivize new affiliates. Target these programs and you can build ongoing affiliate income without any of the extra effort in promotion.
As always, if you want to learn how I am able to generate a full-time income with affiliate marketing (and win a few cars to boot) check out my webinar. It's the perfect resource for beginners who want to learn fast and become competitive in the affiliate marketing business.