Online Social Media Jobs That Pay $30/Hour
Availability to start this week
Make $25-$35 Testing New Apps
Just need access to phone/tablet
5+ hours per week available
Are you looking to get paid to type?
If you're a fast and accurate typer, you can use those skills to make money with a data entry or live chat job.
While these jobs aren't normally the highest paying, they are readily available and can still pay up to $25 an hour.
My current three favorite methods for getting paid to type however, are these three.
Still looking for more options? No worries we have 15 more below.
If you're ready to turn your typing skills into cash, you should check out these top sites where you get paid just to type.
Sites that Pay You to Type
1.WriteApps
2. Aberdeen
2. MicroWorkers
3. Quicktate
4. SpeakWrite
5. TranscribeMe!
6. Accutran Global
7. Xerox
8. SigTrack
9. Lionbridge
10. mTurk
11. Babbletype
12. Casting Words
13. ClickWorker
14. WeLocalize
15. Rev.com
1. WriteAppReviews
Write apps is my favorite way to get paid to type for two reasons.
First and foremost it's fun.
Second it can make more money than most of the others.
WriteApps reviews mobile apps.
Since hundreds of apps go live every day, they hire you to do this for them.
All you do is download the app, play with it for a bit, then write about your experience.
You get to review all kinds of fun apps and can make good money still.
You can sign up for WriteAppReviews here.
1. Aberdeen
Aberdeen is a company that offers closed captioning, subtitling, and translation services to broadcasting companies.
To do this, Aberdeen hires and pays people to type these up for them.
Captioners must be able to type at least 180 WPM and caption in real-time. To work as a captioner, you must also have real-time captioning software, three phone lines, and backup internet.
Aberdeen has a fully remote position for real-time broadcast captioners and on-site positions for Junior Closed Captioners. The on-site positions come with competitive pay and a 401k option.
Hourly Pay:

Not Listed

Hours

: Sunday – Monday, 4 pm to 2 am
2. MicroWorkers
Microworkers.com is a site that allows users to register and complete jobs for money. These jobs are usually on the smaller side (hence the name "Microworkers") and can include jobs where you get paid to type.
Typical typing jobs you'll find on Microworkers include collecting data and entering it into spreadsheets, translating robot commands to natural conversation, and transcription.
I found an older Reddit thread where users were discussing MicroWorkers strategy and pay. Unfortunately, it looked like the average pay was in the $5-$7 per hour range. Payment will vary, though, depending on the jobs you take, your skill level, and how quick you are.
Hourly Pay:

All jobs pay a different amount 

Hours:

Flexible
3. Quicktate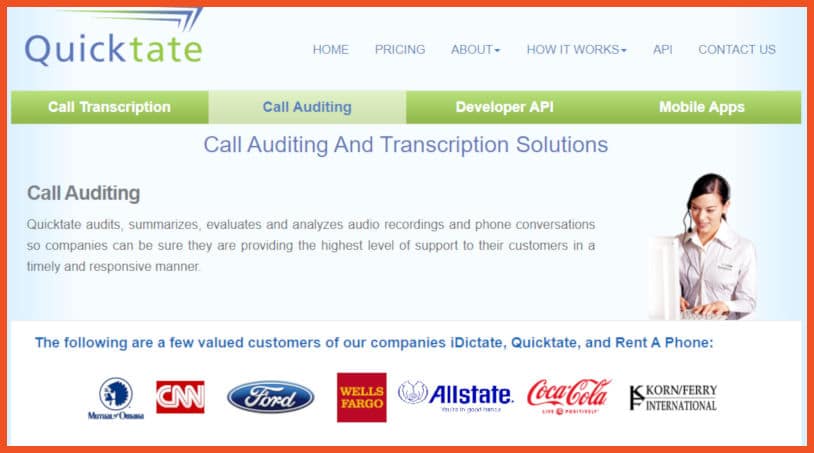 Quicktate hires contractors to transcribe phone calls, videos, and audio clips for their clients. 
These contractors get paid to type exactly what they hear.
To qualify to work with Quicktate, you'll need to pass a test to demonstrate your typing abilities. If you pass the quiz, you'll also need to pass a background check. (There's a $20 fee for the background check.)
Hourly Pay:

Pay ranges from $0.0025 – $0.0050 per word

Hours:

Flexible
4. SpeakWrite
SpeakWrite hires contractors to transcribe audio from police departments, law offices, protective services, and more.
To qualify as a transcriptionist with SpeakWrite, you need to accurately type at least 60 words per minute. You'll also need a Windows-based PC, Microsoft Word, and a foot pedal.
The application process consists of passing a quiz and completing training.
Hourly Pay:

Pay is $0.0050 per word

Hours:

Flexible, at least 15 scheduled hours per month
5. TranscribeMe!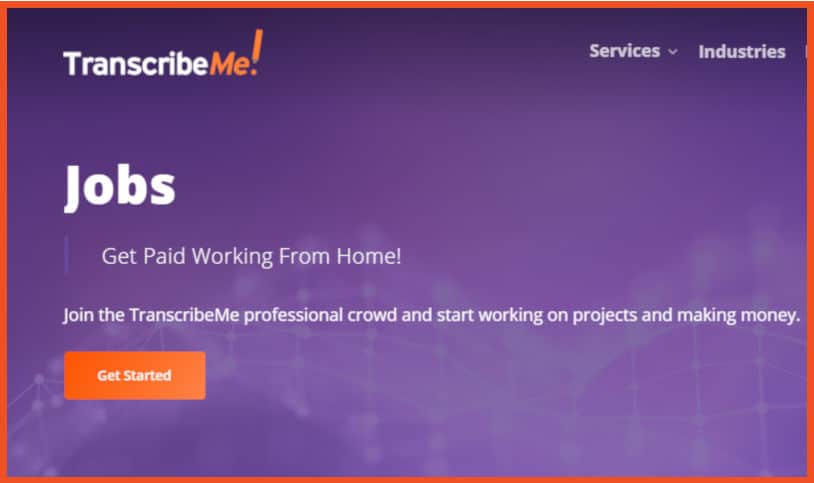 TranscribeMe! Hires contractors to transcribe short, 2-4 minute audio clips. They also claim to offer some of the highest pay in the industry and 100% flexible jobs.
To qualify, you'll need to have a computer, access to stable internet, and be able to pass their entrance exam. You do not need to have special equipment or prior experience.
Hourly Pay:

$15-$22 per audio hour 

Hours

: Flexible
(Note: audio hour is the amount you earn for transcribing one hour of audio – your actual pay will come out to much less.)
6. Accutran Global
Accutran Global hires experienced contractors to help with the transcription of conference calls from professions including medical, legal, financial, and more.
This company currently hires State Board Levels CARTs. Besides this certification, you'll also need voice writing software and equipment, Windows 10, and a quality pair of headphones.
Hourly Pay:

Pay is based on the length of the conference call, starting at $75 for up to an hour conference call

Hours:

Not specified
7. Xerox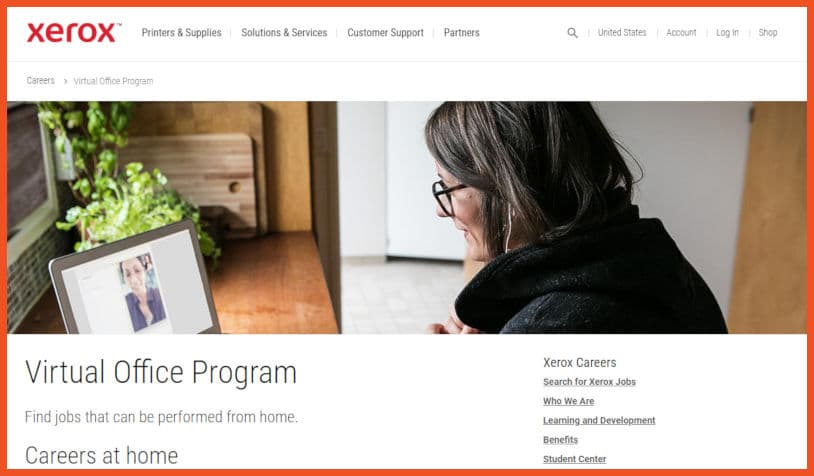 Xerox has a virtual office program in which they hire qualified military spouses and veterans to work from home. One of the work-at-home jobs they offer is data entry and verification.
To find a job you're interested in, you'll need to use their website's job search feature. (Data entry jobs are not always available.)
Hourly Pay:

Varies

Hours:

Varies – Part Time to Full Time
8. SigTrack
SigTrack occasionally hires contractors to help input voter registration information into their database.
To qualify, you must be a United States resident, have Windows 10 or higher, MACOS 10.13 or higher, and reliable internet.
This is one of the more legit jobs where you get paid to type because you are working for the government.
Getting signed on tends to be a little harder because of the secure nature of the information.
Hourly Pay:

Depends upon speed and accuracy

Hours:

Flexible
9. Lionbridge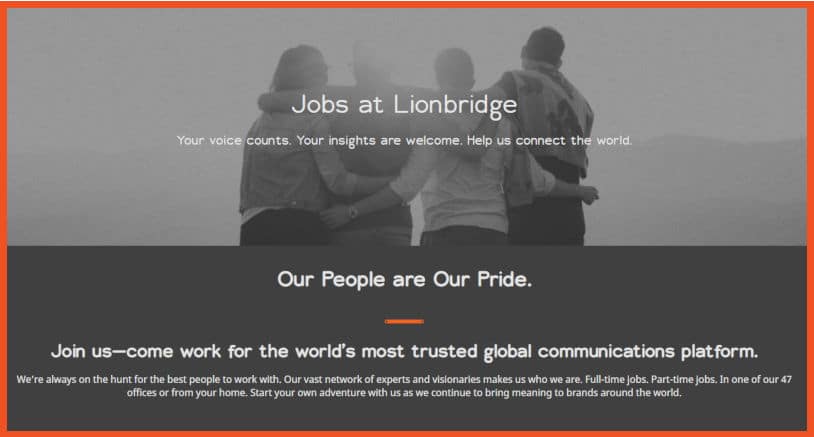 Lionbridge hires contractors to fill many work-at-home jobs, including their online data analyst positions. Online data analysts research and verify information.
To qualify for a position that pays you to type, you will need to pass an entrance exam.
Pay is said to be around $12-$14 per hour with hours up to 20 per week.
Hourly Pay:

Not listed

Hours:

Flexible, up to 20 hours per week
10. mTurk
mTurk is a company run by Amazon that pays its users for completing tasks called "HITs." HIT stands for Human Intelligence Task and is a small virtual task that needs to be completed by a human.
Many different HITs are available on mTurk, with some of the most popular being categorization research and data entry,  image processing, and data verification. The pay at mTurk varies by job, but since most jobs are small, the payment is also small.
The good thing about mTurk is you can work when you want, as much as you want. So, if your regular work has dried up, you can use mTurk as a backup for now.
I browsed some Reddit threads to see what avid mTurk workers were making, and it seems like $6-$12 is the norm, with workers occasionally (not consistently) earning up to $20/hr.
Hourly Pay:

Varies by task and your speed

Hours:

Flexible
11. Babbletype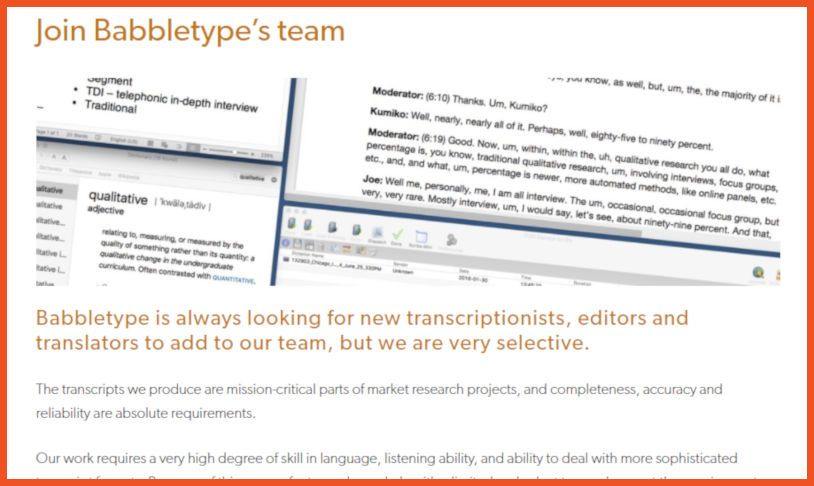 Babblytype hires freelancers to transcribe documents used for market research projects. Because Babblytype values accuracy so much, they're only willing to work with transcribers who are committed and focused.
To become a transcriber for Babbletype, you'll have to watch their introduction video, take a transcribing test, complete an assessment, and then make it past the interview.
Candidates must be able to work at least one hour per day, four days per week. Sometimes there are bulk loads of work, and transcribers are expected to help complete it.
Hourly Pay:

depends upon your speed and accuracy

Hours:

1 hour per day, four days per week
12. Casting Words
Casting Words hires freelancers to transcribe all kinds of audio and video clips. These freelancers get paid to type everything they see and hear. Signing up is very easy, and they don't seem to have as many requirements as the other sites. In fact, if you're over 18 and live in a supported country, you're pretty much good to go. 
Some users will receive short assessments they have to take after filling out their profiles.
The pay you receive depends on your rating. If your work is rated a 0-4, your job will be rejected, and you won't receive payment. Work rated a 5 gets the base pay for the job, and everything above a 5 qualifies for extra pay.
Hourly Pay:

0.085 – $1.00 per audio minute

Hours

: 100% Flexible
13. ClickWorker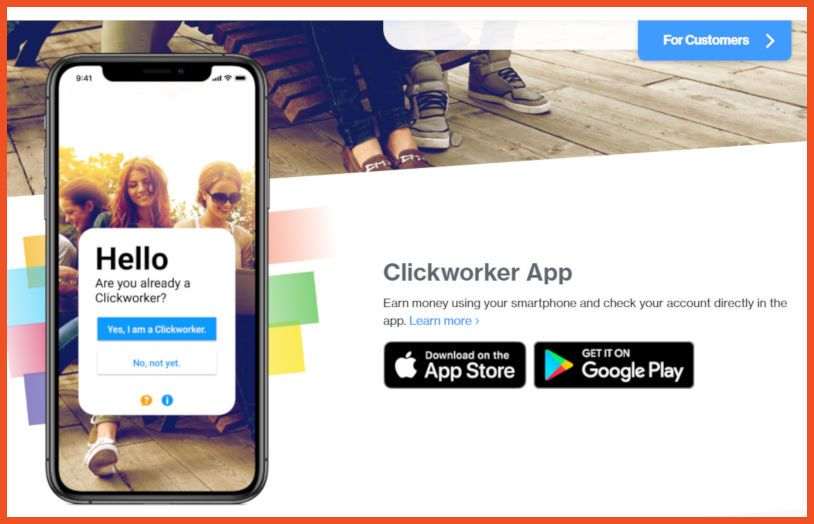 Clickworker is very similar to mTurk. This company hires workers to complete micro-tasks, including correcting text, verifying data, and categorizing data.
The main benefit of Clickworker is that it has an app. So, if you're looking for work you can do off of your phone, this is about as good as it gets.
Hourly Pay:

Dependent on the job

Hours:

Flexible
14. WeLocalize
If you're looking for a unique or fun way to get paid to type, you'll like this company. WeLocalize hires freelancers to transcribe song lyrics. 
To qualify, you must be fluent in English, able to transcribe 50 songs per week and have the ability to understand song lyrics and jargon. You must also sign a non-disclosure agreement.
Pay is rumored to be $4 per song. This means if you're an accurate transcriber, you could earn a decent hourly wage through this company.
Hourly Pay

: Per song, hourly pay depends on your skill and speed

Hours:

Flexible, but must transcribe at least 50 songs per week
15. Rev.com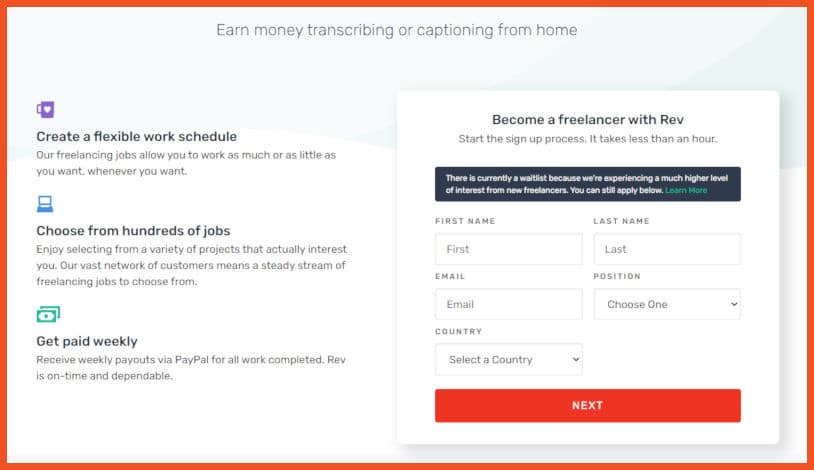 Rev.com is one of the most popular sites that pay freelancers for typing-based jobs. Rev has two job openings for typists: transcriber and captioner.
Rev pays transcribers $0.30 – $1.10 per audio/video minute, and pays captioners $0.54-$1.10 per audio/video minute. Work is completely flexible. You can pick up jobs whenever you want.
To get started, you'll need to sign up, take an English and grammar quiz, and then submit a sample of your work. If approved, you'll start working right away.
Hourly Pay:

Varies; pay is $0.30-$1.10 per audio/video minute

Hours:

Flexible
Top Questions About Online Typing and Data Entry Jobs
How Much Money Can I Expect to Earn Typing Online?
Online typing and data entry jobs are not high-paying. You can expect to earn anywhere from $6 to $12 per hour from most of the jobs on this list. More experienced transcribers with fast and accurate typing speeds may be able to earn more.
It's essential to understand that the pay per audio or video minute will not be your hourly pay. 
Let's say, for example, pay per audio minute is $1.00. It takes you 4 minutes to transcribe that one minute of audio. This makes your pay $0.25 per minute or the equivalent of $15 per hour.
Are These Jobs Only for Freelancers?
You can find data entry jobs that will hire you as a W-2 employee. However, most on this list won't. (The exception is Xerox and Aberdeen.)
Most online typing jobs hire freelancers as independent contractors. This means you'll receive a 1099 at the end of the year for income tax purposes and will be responsible for paying self-employment taxes. 
If you're worried about the tax aspect of freelancing, consult an accountant. An accountant can advise you on how much money to hold back for taxes and how to send in and report self-employment taxes.
Can Students Apply for Work from Home Typing Jobs?
Yes. If you're a college student and are looking for flexible work you can do anywhere, you can absolutely sign up for work from home typing jobs.
Most of these jobs only require you to be 18, a US resident, and an accurate typer. Other than that, you'll need a Paypal account to receive payment.
If you're looking for more jobs you can do as a college student, check out our list of 97 side hustles.
How Can I Earn More From Typing Jobs?
Since most typing or transcription jobs are paid per project, the best way to increase your income is to become a faster and more accurate typer. Luckily, the more practice you get, the more your typing skills will improve.
You can also look into transcription certification programs, but you need to be very selective when doing so. There are many scams, so be sure to check on the legitimacy of any company you sign up with.
Get Paid to Type: What You Should Know
If you want to get paid to type, there are many transcription and data entry jobs you can apply for. It's good to remember, though, that these jobs aren't always high-paying and may not be suitable as full-time income sources.
If you want to give these jobs a go, sign up for a few places so that you always have work available to you. This way, you can see if you'll be able to pull in a liveable income on data entry jobs.
And remember, the faster and more accurate you type, the more money you'll be able to earn.
Looking for more ways to earn money?
Check out the video below to learn how I went from $0 to $3,000,000: