Online Social Media Jobs That Pay $30/Hour
Availability to start this week
Make $25-$35 Testing New Apps
Just need access to phone/tablet
5+ hours per week available
In the world of affiliate marketing, credit cards are a pretty lucrative niche, with most of these offers paying affiliates between $25 and $150 for a single sale.
Take that Amazon.
Plus, you can help people out by genuinely helping them navigate a confusing market for the credit cards.
In this article, I'll go over five of the best credit card affiliate programs available today and go over how I picked them..
Take note that credit card affiliate programs are HARD to get approved for due to legal worries and current US laws.
How to Choose A Credit Card Affiliate Program?
Feel free to jump to the list above, but this is obviously not a complete list of every program there is. There are a few specific things you need to look for when choosing a credit card affiliate program.
Want to know which affiliate marketing method works best for you? Answer the short quiz below:
High-Paying Commissions
Obviously, if you're going to put your time into promoting something, you want it to be something that can earn you some decent money. The great thing about the credit card affiliate programs I am suggesting below is that their commission payouts are worth it.
Financial products range considerably in terms of how much they can earn you as an affiliate. A simple credit card approval can earn you $25-$150, while things like personal loans can earn you a few hundred.
Looking for high ticket affiliate programs? Check out my video below:
Enticing Offers for Your Audience
Another thing you need to be looking for as a credit card affiliate is affiliate programs that have desirable offers specifically for your audience. Everybody is looking for something different when they sign up for a credit card. Some people want points, some people want cashback, some people want travel, etc.
Whoever your audience is, figure out what they care about the most. Find that program. Make a crazy commissions.
When you do credit card affiliate marketing with the companies I am suggesting below, you get to promote products that do one of the following things:
Solves a problem for the customer, such as helping them raise their credit
Helps them earn rewards and special perks that make that credit card enticing
Affiliate Support to Increase Conversions
One of the things I absolutely love about these credit card affiliate programs is that they don't leave you on your own to figure out how to promote them and optimize them for better conversions.
I love that these programs offer one or more of the following:
Creatives that credit card affiliates can use and that are designed to improve conversions
Credit card affiliate marketing managers who will help you on a one-to-one basis to improve your results
Technology that helps make promotions easy and more effective
Email swipe file so you can easily plug them into your autoresponder (I use Active Campaign)
I have yet to find an affiliate program that offers recurring commissions, but if you find one of those – jump on it
The Best Credit Card Affiliate Programs
Credit.com
Bankrate
Commission Soup
CreditCardBroker.com
OpenSky
BankAffiliates.com
MyFico is a credit score website similar to Credit Karma.
They make their money by selling credit cards to leads that you send them.  You get paid $5 per lead (not sale), which results in an extremely high EPC.

The reason I like them is simplicity for the average affiliate marketer.
If you are an affiliate in the credit card space you've likely realized there is A LOT of regulation in the finance industry and it makes getting approved to promote credit cards EXTREMELY difficult.
MyFico is a great thing to promote because you can sign up on ShareASale in just a few minutes and not get rejected by credit card affiliate programs (who have a lot of rules to follow).
I fully understand this isn't an actual credit card to promote like the rest are, but for the average blogger this is your best chance at promoting something in the credit card space.
You can sign up for the MyFico Affiliate Program with ShareASale.
Flex Offers is an affiliate broker site. Basically they partner with hundreds of affiliate programs and you can manage everything in their backend.
There are lots of sites like this, but none have access to different credit card affiliate programs like Flex Offers.

They have specific widgets and API integrations just for credit card programs that make it so you just plug in one piece of code and everything just works.
You don't worry about updating, compliance, etc.
[maxbutton id="71″ url="https://buildapreneur.com/recommends/flex-offers/blog/6-Lucrative-Credit-Card-Affiliate-Programs-to-Promote-in-2021″ ]
Credit.com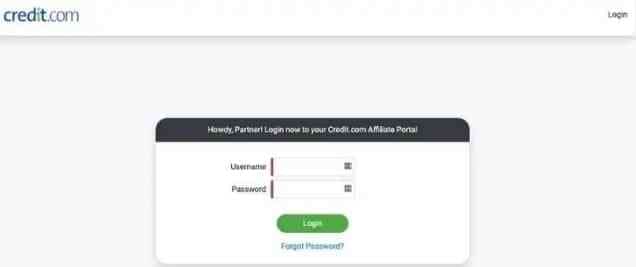 Credit.com is pretty much a one-stop shop for everything relating to finances. They offer credit cards, loan, personal finance, and the ability to improve your credit.
When it comes to using Credit.com for your credit card affiliate programs, there isn't much you won't find here. They offer over 60 different cards, including the leading credit card providers like Visa, MasterCard, Discover, Chase, Capital One, American Express, Barclay, and Credit One.
They Boast the largest payouts in the credit card niche, although they don't post them on their website so it's hard to know what you'll make ahead of time.
Their credit card offers convert really well and they have such a large assortment of cards so you are sure to find something your audience would be looking for, including:
Airline Miles
Cash Cards
Rewards Points
Gas Cards
Balance Transfer
Merchandise Cards
Secured Cards
Business Cards
Student Cards
One thing to note here is that you can't promote individual credit cards on Credit.com. Your affiliate link will direct people to Credit.com in general and then people can browse all of the products they offer.
[maxbutton id="71″ url="http://affiliates.credit.com/Login" text="Sign Up for the Credit.com Affiliate Program" ]
Bankrate Credit Card Affiliate Network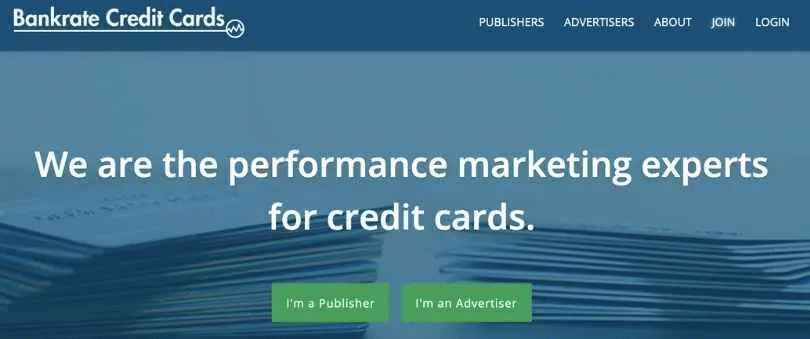 Bankrate Credit Card Network gives affiliates access to some of the best credit card companies, including Capital One, Chase, Citi, American Express, Discover, and more.
You'll have access to their in-house affiliate management team as well as their award-winning creative content. And, you can promote their credit card affiliate programs through:
In-Site Tools – Insert rate charts, credit card search engines, banners, and text links into your site with their JavaScript code.
Co-Branding – Interactive credit card tools that is always updated.
Data Feeds – Integrate credit card content and rate reports directly into your website using XML, RSS, or API feed. You can even customize it to match the look and feel of your website.
Commissions range depending on what you are promoting. Unfortunately, they don't disclose their commissions up front, so it's difficult to know how much you can earn with this one.
[maxbutton id="71″ url="http://bankratecreditcards.com/" text="Sign Up for the BankRateCreditCards.com" ]
Commission Soup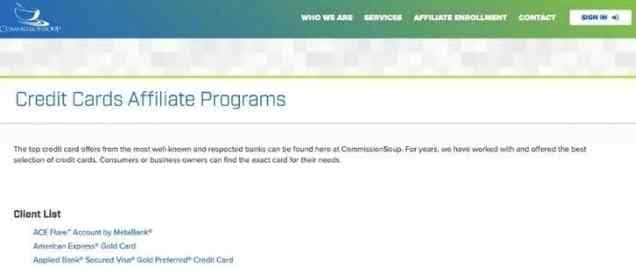 Commission Soup is a performance-based affiliate marketing network that gives you access to the following credit card affiliate programs and more:
Capital One
First Premier Bank
Credit One Bank
American Express.
Commissions range depending on the product you are promoting.
You'll have access to Commission Soup's affiliate marketing team, and you'll be assigned an account rep who will help you determine the best marketing strategy for you and help improve your performance.
Plus, their proprietary technology helps affiliates optimize ad placement, monitor compliance, and track and improve performance.
[maxbutton id="71″ url="https://www.commissionsoup.com/programs/cat/credit-cards/" text="Sign Up for the Commission Soup Affiliate Program" ]
CreditCardBroker.com


With over 25 different financial products available to promote, you can certainly find something to offer your audience. They offer the following:
Secured and unsecured credit cards
Loans
Credit reports
Stock trading accounts
Merchant accounts
Commissions range depending on the credit card or financial product you choose. You'll receive commissions once your leads become approved customers (you don't receive any commissions for leads).
To qualify for their credit card affiliate programs, you'll need to have an established website that generates a large amount of traffic. This isn't the easiest affiliate network to get approved by, but it's worth it if you do!
Commissions can be quite high with this one, especially since you aren't limited to just credit cards. For example, you can earn a $325 commission for selling a personal loan.
[maxbutton id="71″ url="https://creditcardbroker.com/" text="Sign Up for the CreditCardBroker Affiliate Program" ]
OpenSky by Capital Bank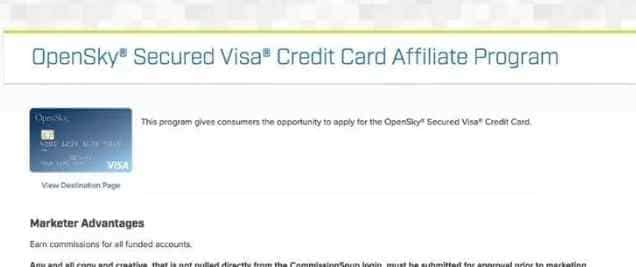 This is the perfect credit card affiliate program to promote if your audience struggles with bad credit. Since it's a Secured Visa Credit Card, it doesn't require credit history to get approved for it.
What that means is that you choose your credit line by securing the card with a one-time refundable deposit.
This card doesn't come with many rewards or perks because it was designed to help people with bad credit to start developing good credit again.
There is an annual $35 fee to have this card, but for people who wish to bring their credit scores up, it's a small price to pay.
This credit card affiliate program is offered through Commission Soup or Credit.com.
[maxbutton id="71″ url="https://www.commissionsoup.com/programs/opensky–secured-visa–credit-card/" text="Sign Up for the OpenSky Affiliate Program" ]
BankAffiliates.com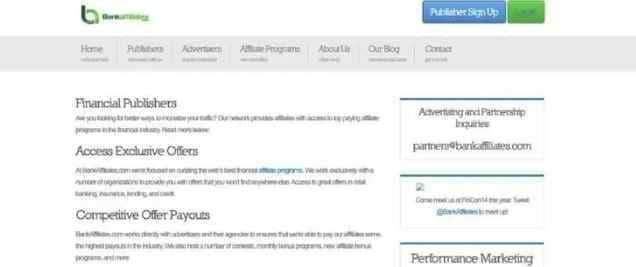 BankAffiliates is a performance-based affiliate network that offers financial products and services, including credit, lending, insurance, and retail banking.
They provide access to a lot of exclusive offers that are not available elsewhere. And, they claim to have some of the highest commission payouts in the industry.
Some of the financial affiliate programs they offer include:
Personal Capital
The Street
CreditRepair.com
Options House
Discover
Lexington Law
Credit Sesame
Lending Club
Lendio
SmarterBank
One really nice thing is that they offer contests, monthly bonus programs, and new affiliate bonus programs. They have an affiliate management team that can recommend offers for your specific audience and help you optimize your offers for better conversions.
This CC affiliate program is unique because you can earn commissions for each person you get to call as well.
Since people often want to speak to someone before signing up for a financial service, this is a great way to avoid abandonment, increase conversions, and receive even higher commissions. Obviously the people on the phone are sales people and will do everything they can to convert your lead.
[maxbutton id="71″ url="http://www.bankaffiliates.com/publishers/" text="Sign Up for the BankAffiliates Affiliate Program" ]
Best Way to Promote Credit Cards as an Affiliate
You don't have to be in the financial niche to promote credit cards as an affiliate. For example, I promote credit card affiliate programs all the time and I am in the business niche.
All you need to do is look for the best credit card affiliate program for your audience, whoever they are.
There are so many different credit cards that you'll be sure to find one for your audience. If your audience is college students, there are many student cards for them. Or if you are in the travel niche, there are plenty of cards for that. Even if you are in the sports or dog training niche, you can find credit cards for those audiences.
You just need to get creative with it.
Let's say you provide graphic design services. You could promote a business credit card on your website since most of your clients are probably business people. You might promote it on a Resources page where you offer all of your favorite stuff for small business owners.
Here are some of the best ways to promote credit cards:
List your favorite credit cards on a resources page on your website
Add a banner to your sidebar
Write monetized articles on your blog that are relevant to credit cards, such as ways to manage your money, etc.
Do email marketing around credit card offers
Promote them on social media
The key here is to make sure you aren't promoting credit cards out of left field. Almost everyone uses and wants credit cards, but that doesn't mean it will make sense to them if you promote it when you normally don't promote that stuff.
As long as you tie it in with what you usually provide your audience, it will make sense to them and feel like an authentic suggestion.
Next Steps
It is worth noting that credit card affiliate programs can be a little bit picky. If you are a brand new affiliate, you may need to start with some of these programs for beginners first.
Thanks for checking out these credit card affiliate programs. I hope you can use this information to make even more as an affiliate marketer.
My guess is if you are interested in the lucrative niche of credit card affiliate marketing, then you are also probably interested in other high ticket affiliate programs. Click on the image below to learn about 17 of my favorites.