The 3-step system I used to make 7-figures of Affiliate Commissions in my first 3 years as an affiliate marketer.
Wondering how to monetize a blog? You're in luck. Blogging is one of the best ways to make money online because there are so many different ways to do it.
Which strategy is right for you depends on your niche, your audience, how much traffic your blog gets, and other factors.
Here are 5 of the most popular ways you can monetize a blog, and a little advice on which strategy to choose:
How to monetize a blog for online income
1. Promote products (as an affiliate)
Affiliate marketing is one of the most lucrative ways to make money online for people like you and me. All you have to do to become an affiliate is promote third-party products on your blog using special trackable links. Then when your audience clicks through and makes a purchase, you get a percent of the profits.
The easiest way to find products to promote is by using an affiliate network. ClickBank is the easiest place to find products. Just use their search features or categories to browse products related to your blog niche. They also provide important information about the value of a potential affiliate product, like average commission, repurchase rate, and more:
Here is a list of my favorite high-ticket affiliate products and a list of my favorite recurring affiliate programs.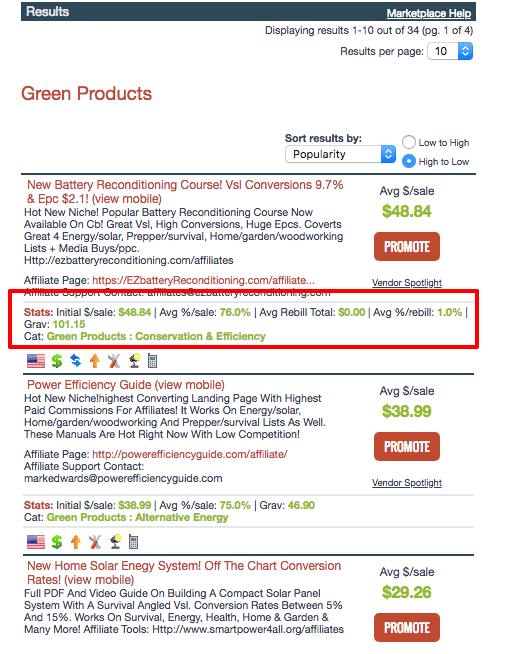 Big ecommerce businesses like Amazon and Walmart also have popular affiliate programs you can explore.
Once you've selected an affiliate product, you'll enter into a contractual relationship with the business selling it. Read the fine print and make sure you understand what percent of the sale you're entitled to, and when the sale has to occur to qualify for commission.
They'll provide you with an active affiliate link, then it's up to you to create great blog content to promote the product. That doesn't mean creating a sales pitch — you'll want to continue creating your usual blog content, just include product recommendations as a way to offer even more value potential for your audience.
Creating a marketing message for affiliate products is an art. Over time you'll discover what kind of content and products lead to the most clicks and sales from your audience. Use these insights to optimize your strategy in the long term.
Better yet, if you're a true beginner to affiliate marketing, I recommend learning more from Buildapreneur's YouTube channel: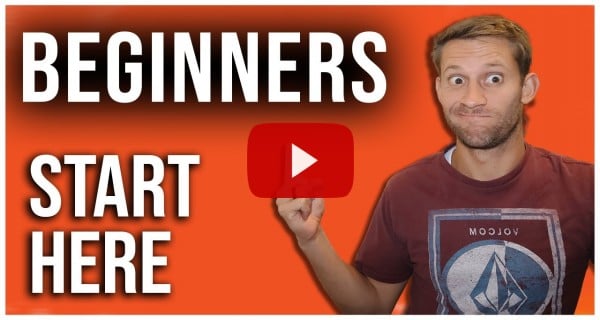 2. Sell ebooks
Selling ebooks is an easy blog monetization strategy that's great for beginners. All you have to do is create some kind of premium content related to your blogging niche, then publish it on an ebook platform. Kindle is the most popular option.
You'll want to create content specifically designed for your blog audience, so use them as your main source to brainstorm ideas. Go through your blog comments, personal communications, and other information you know about your audience to determine what topic areas related to your niche they need the most help with. For example, someone running a niche blog about city farming could write an ebook about recipes made with garden ingredients, or how to maximize your plot use in every season.
Once your book is published, you can start promoting it to your blog audience. Keep track of your audience's behavior and over time you'll discover what kind of content and promotion strategies work best to encourage them to buy. Turn this information into an optimized sales funnel for your ebook.
If you want to make good money selling ebooks from your blog, then you'll want to publish new ones regularly. Individual ebooks usually run about $5 or less. But if you're promoting 15 or 20 different books around the web, you can generate a steady stream of decent revenue.
3. Create online courses
Online courses are a great way to earn money from your blog audience. Like with an ebook, you'll want to build your courses around topics that your audience need extra help with. For example, since I'm a freelance writer, I could create an online course to teach my blog audience all about cold pitching strategies.
Online courses are also a monetization strategy Spencer uses. Here's one of the courses he sells on this site: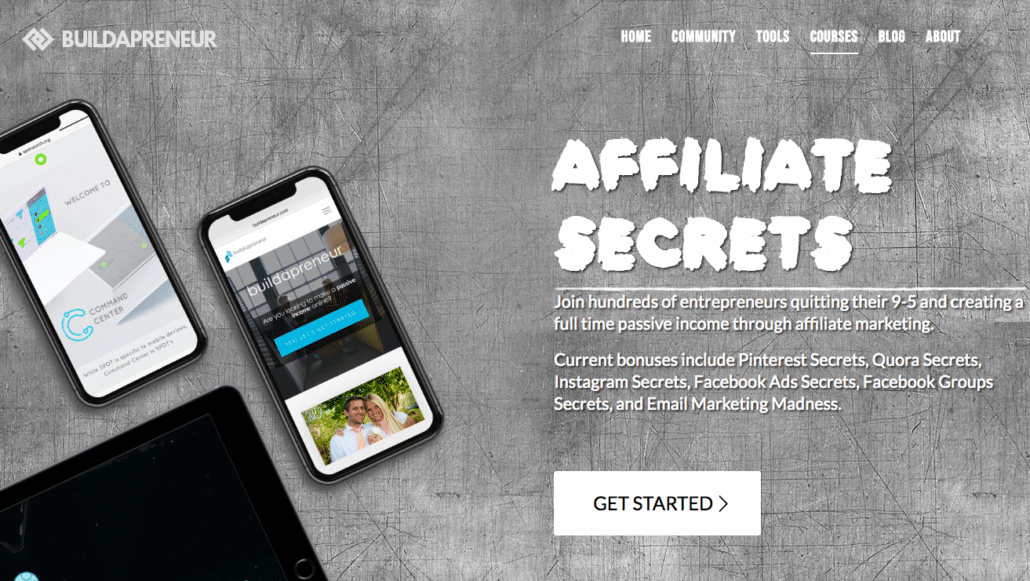 Online courses need to offer more value than your regular blog content. They should have actionable advice as well as worksheets and guidelines for accomplishing specific tasks related to the topic.
You can build your course as an email course that you send out to your audience as autoresponders, or you can use a platform like Teachable to create and host your digital course.  Then you can incorporate slides, audio and video components to make your course more valuable.
If you want to expand your courses' reach and market to audiences beyond your blog, you can use a platform like Udemy to get more visibility.
Pro tip:
Get more ongoing income from your course by creating an online community to go with it. Charge users a monthly subscription to access the community. Then they can give and receive advice related to your niche. Pairing up an online community with your course creates more value for your audience, encouraging them to convert. And it helps you earn more money in the long run.
4. Allow sponsored content spots (as an influencer)
Businesses in the digital marketing world are constantly looking for niche bloggers to work with to promote their brand and products. You can get into this area by allowing sponsored content spots on your blog as an influencer.
Unlike affiliate marketing, where it's all up to you to promote products, influencer marketing is about collaborating with brands to create relevant content that speaks to your audience.
On the popular recipe blog Cookin' with Mima, for example, Mariam partners with cooking brands such as Blue Apron, Country Crock, and Gourmet Garden to create content her audience loves: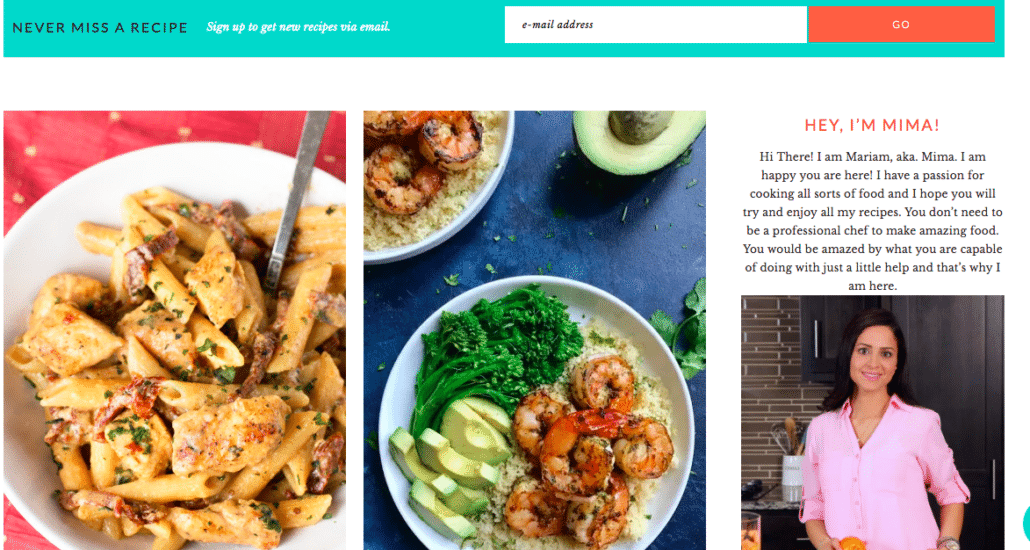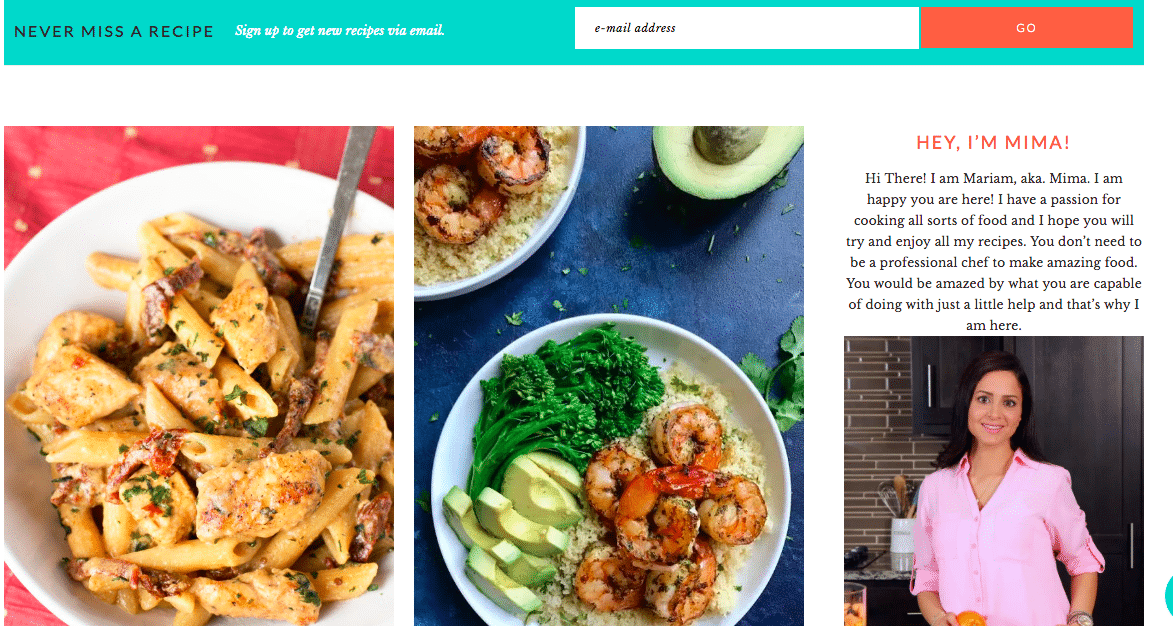 Becoming a blogging influencer is easy if you sign up for influencer marketing networks like Klear or Upfluence. List your blog on these sites so it's visible to potential businesses who want to collaborate on creating sponsored content.
You can earn a lot of money allowing sponsored content spots on your blog, as long as you don't compromise the quality of the message you deliver to your audience. If your content is filled with sponsored product plugs instead of valuable tips and advice, your audience might become less engaged.
5. Sell ad space
If you're a beginner learning how to monetize a blog, selling ad space probably isn't the first option you should look into. But it is an important one to have on the back burner for when you build up your site traffic.
Signing up for Google Ads is the most common way bloggers sell advertising space on their site. It's easy to qualify for the program, but not so easy to earn big money from it unless you have high traffic levels. If you do have a lot of traffic, showing banner and in-post PPC ads can bring you ongoing income, as long as they don't take away from your audience's user experience.
Here's an example of a banner ad that appears on the high-traffic content site Buzzfeed: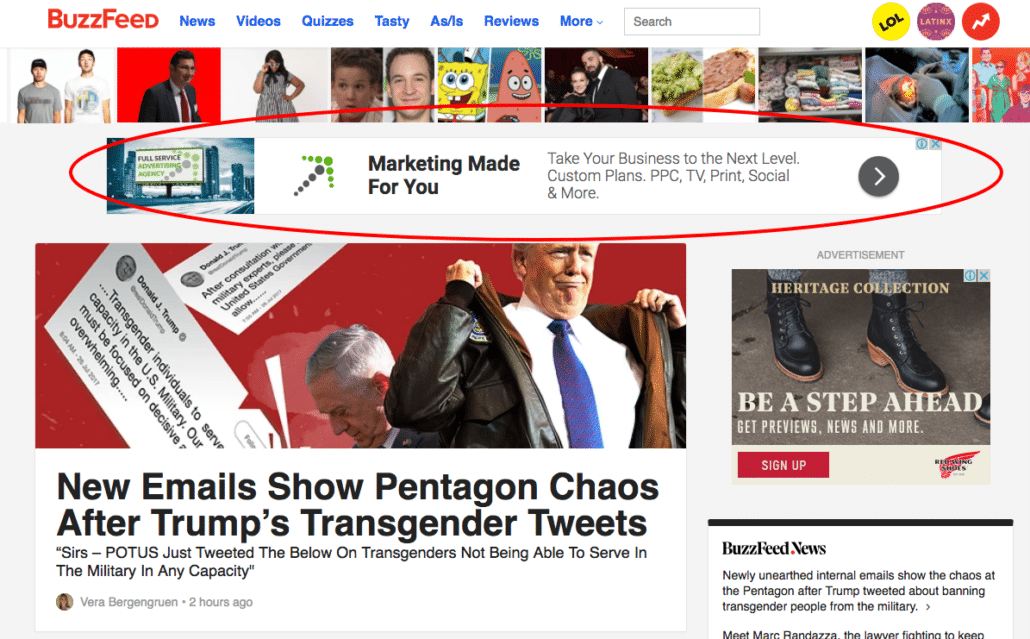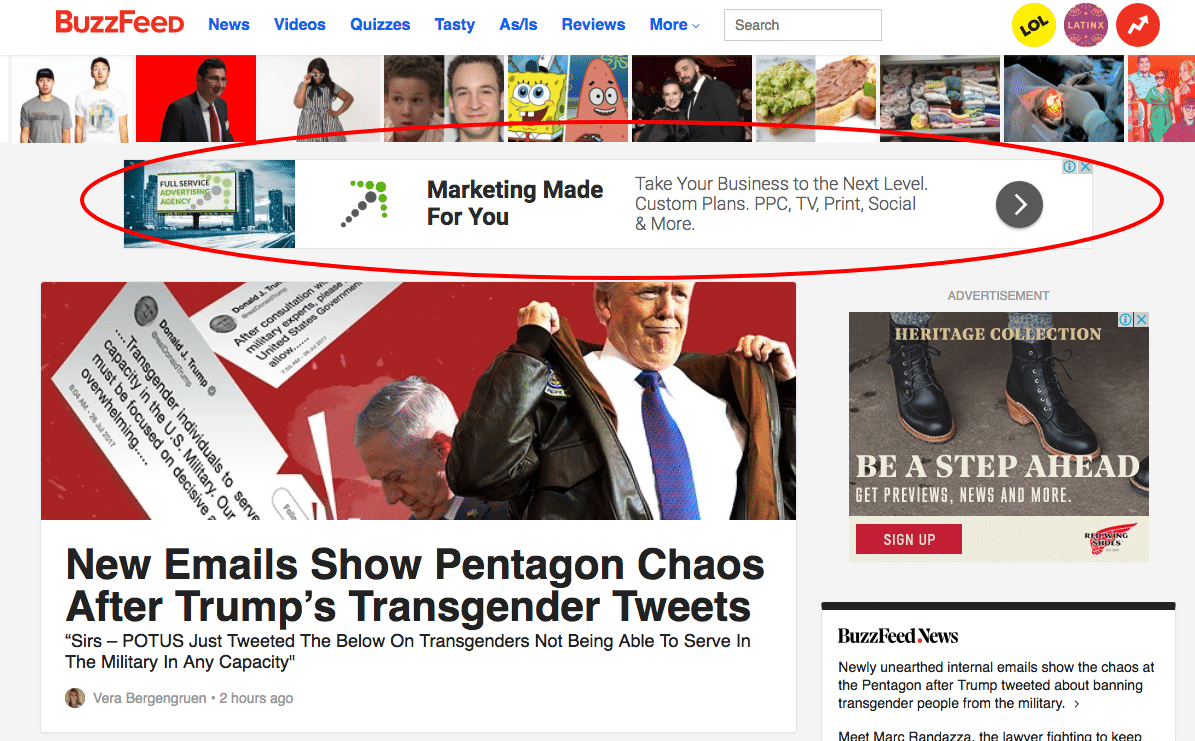 Negotiating an advertising deal directly with a business is another strategy that can usually get you a more competitive deal than working through Google Ads. Reach out to businesses that are perfect for your blog niche to display relevant, high converting PPC ads.
Which strategy should you choose?
If you really want to know how to monetize a blog and earn money with it, then you shouldn't focus too much on which strategy to pick. Instead you should decide which strategy to try first. Almost every successful blogger I've seen uses a combination of monetization strategies to build income streams from their blog. And they actually all complement each other quite well.
For example, you can start out by creating ebooks, an online course, or both. Then you can become an affiliate for some of the businesses you recommend on your blog and in your digital products. Next start allowing sponsored content spots on your blog. That will help you grow your traffic even more as the businesses you partner up with share your content. Once you've built a strong traffic base, you're ready to sell ad space.
That's just one example of how to ramp things up. There are lots of ways to try and mix different monetization strategies for success. Get started now to learn the real potential for yourself.
Looking for more ways to earn money?
Check out the video below to learn how I went from $0 to $3,000,000: