3 Ways To Make Money Online
You don't have to be a tech whizz or teach yourself HTML to understand how to build a sales funnel in 2020 and start marketing online. In fact, Spencer has a great video that shows you how to create a lead funnel in 10 minutes or less: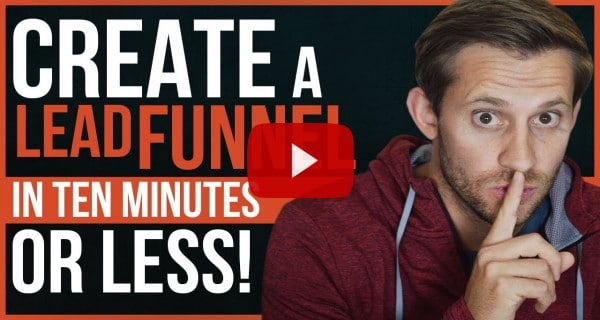 Intrigued?
The rest of this post will go into more detail on how to create your first lead funnel so you can start earning money online.
What's a lead funnel and why you need it
Assuming you're a complete beginner (that's where we all start out!), let me first explain what a lead funnel is and why you need one to make money online.
So you have a product or service that you want people to buy. Your leads are a specific group of people who would be interested in purchasing from you. For example, if you run a children's clothes ecommerce store, your target leads could be mothers with young children. If you run a financial consulting business, your ideal leads could be people who want to do a better job of saving for retirement, etc.
Publishing your products/services on your website and sharing them with your target audience isn't going to be enough to get them to buy. You need to take time to convince and nurture them to become paying customers. That's what your lead funnel is for.
A lead funnel is essentially the sales process you use to convert your target audience into paying customers. At the most basic level, it involves:
Capturing the contact information of your target leads (usually email)

Nurturing them as prospects so they see the value of your products and services (usually through email marketing)

Converting your prospects into paying customers from your business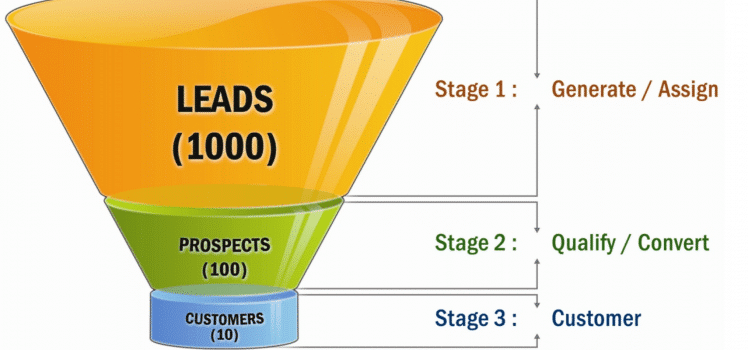 Your lead funnel can really be as complex or simple as you want it to be. But I've found that some of the simplest funnels are often the most effective at converting leads into paying customers. And simple is a great place to start when you're just beginning your online business!
Creating a 2-page lead funnel in ten minutes (or less)
You can create your lead funnel using WordPress or another HTML tool, but you'll likely spend hours messing with your text, fonts, layouts, etc. If you want to build your funnel quickly, I recommend using a tool that's specifically designed for funnel building instead of general webpages. ClickFunnels is my tool of choice.
When learning how to create a lead funnel, you really only need two pages, a squeeze page and a thank-you page.
Squeeze page
Your squeeze page is the place where you'll capture contact information so you can start marketing to leads. It's at this point that they'll convert from leads into prospects.
Now, very rarely will leads want to give up their contact information for nothing. On your squeeze page, you'll need to promote some kind of valuable resource you offer in exchange for their email. This is called a lead magnet. It's something you give away for free on your squeeze page to drive conversions. I'll go into more detail about how to create an effective lead magnet below.
So your squeeze page will simply promote your lead magnet and have a sign up form for visitors to convert, plain and simple. If you use a tool like ClickFunnels to create your squeeze page, you can choose form their pre-existing templates. Then you just type in your promotional text and customize the page how you want. Spencer walks you through it all in the video. You'll be done in minutes.
Thank you page
Once your leads convert on your squeeze page, you'll next direct them to your thank you page. Your thank you page helps make it clear that visitors have completed the sign up process successfully. It can say something as simple as:
Thanks for signing up! Check your email for your copy of [lead magnet].
Your thank you page is also an opportunity to promote another offer to nurture your leads further. For example, you can suggest related content they might like, or prompt them to subscribe to your blog as well.
Here's an example of a great thank you page from Optimizely that utilizes some of these strategies: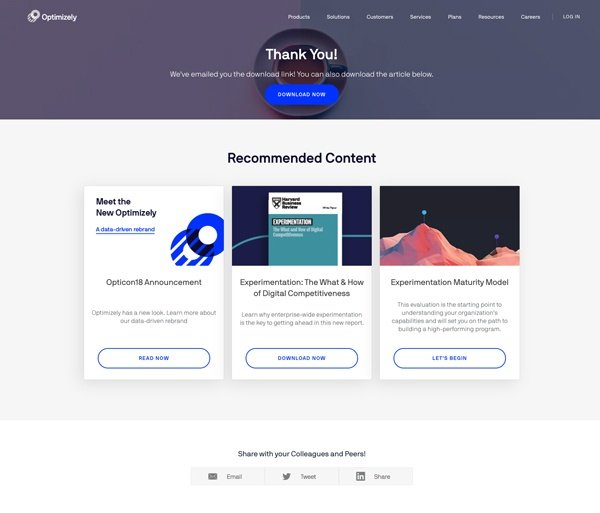 When you use Clickfunnels, you'll have a thank you page set up with whatever template you pick. Just make changes to the text and you're good to go.
Creating the right lead magnet
Creating your lead funnel pages is really the easy part. The more challenging and most important part is creating the right lead magnet to encourage your audience to convert.
Your lead magnet can be a lot of different things, such as a:
Book

Slide deck

Mini course

Webinar

Worksheet

Template

Free tool

Free evaluation

Checklist

Etc.
It must be something valuable that your target audience would be interested in accessing instead of simply searching for the same information elsewhere on the web. So make sure it's comprehensive and sufficiently unique.
A big mistake a lot of marketers make is creating a lead magnet that a wide range of people would want outside of their target market. The best example I can think of is when marketers run enter-to-win sweepstakes for a new iPhone or other cool gadget. That kind of promotion would attract a lot of sign ups, but how many of those are from their target audience? They usually end up marketing to massive email lists full of people who aren't interested in their products/services. That's not worthwhile.
So focus on creating a lead magnet that is as closely related to your product/service as possible. That will attract an audience of leads who you can actually nurture to convert through email marketing.
5 elements of an effective squeeze page
Aside from your lead magnet, your squeeze page is going to the most important factor that affects conversions in your lead funnel. Not only do you need to create a compelling offer, you need to really sell it on your squeeze page.
Here are a few of the most important elements you should include for success:
1. Continuity
You want to reassure your audience when they land on your squeeze page that they've come to the right place. The best way to do this is by having continuity between your traffic channel and landing page. For example, if you used a Facebook ad to attract traffic, use similar wording on both the ad and the landing page to encourage continuity.
2. A compelling headline
The next thing you need is a prominent, compelling headline. Don't simply make this the title of your lead magnet. Instead focus on illustrating the benefits of your lead magnet to your audience. This is an important point when learning how to create a lead funnel.
3. A supporting subheadline
Next you'll need a subheadline that expands on the benefits of your lead magnet. Offer more detail about what the offer includes and why it's worthwhile to sign up.
Here's an example of a great headline/subheadline combo from a Fisher Investments squeeze page: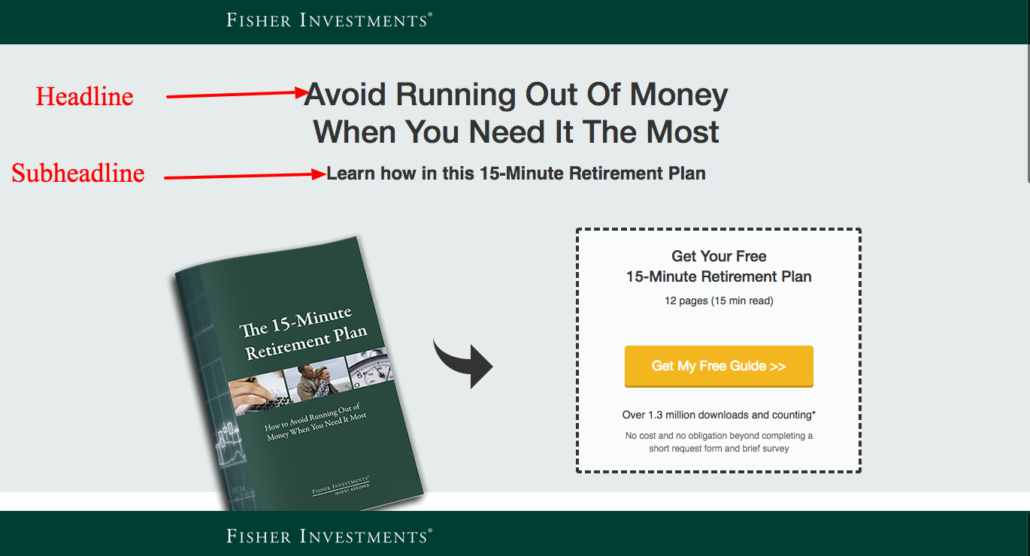 4. Supporting media
Next you'll want some kind of supporting media to flesh out your squeeze page and provide more in-depth information on what the lead magnet is about. You can do this with text bullet points, images of your lead magnet, and even custom videos selling your audience on the lead magnet.
But you don't have to go all out. In the same Fisher Investments example, they use simple graphics and a few key points to explain what their lead magnet is about:

5. A call-to-action  
The last thing you need when learning how to create a lead funnel is a call-to-action (CTA). Your CTA needs to be prominent, asking your audience to click through and sign up. Use wording on your CTA that implies a sense of urgency (e.g. "Act now!").
Here's an example of a prominent and urgent CTA from Business Insider: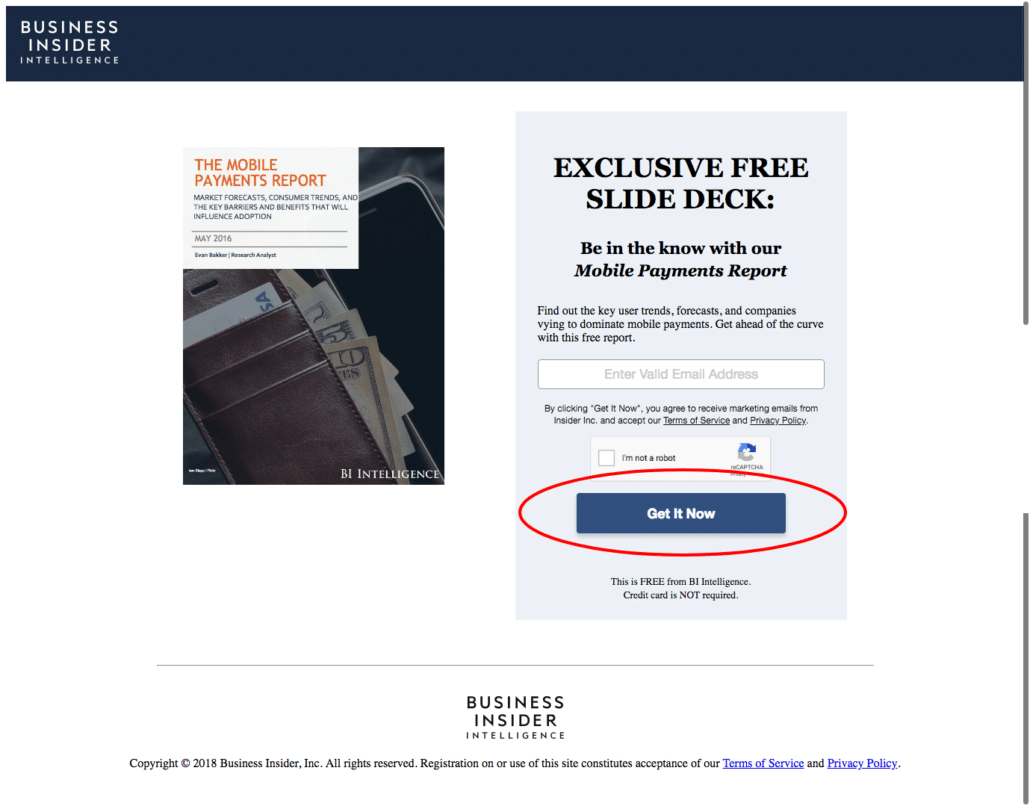 KISS: Keep it simple, stupid
Spencer offers one last important piece of advice in his video walkthrough on how to create a lead funnel, and I'll repeat it here: Keep it simple, stupid (KISS).
Many marketers feel compelled to make lengthy, complex lead funnels that are ultra-targeted. But I'm a firm believer that the more touch points you have, the more opportunity there is for leads to fall out of your sales funnel.
If you create a really relevant lead magnet and build a few simple but compelling pages to sell it, that's really all you need to succeed. So start with something simple. Then as your traffic grows and you garner some hard data about your conversion rates, you can introduce new funnel elements to A/B test against the original. Use these insights to further optimize a simple, targeted lead funnel to grow your online income.