3 Ways To Make Money Online
Affiliate marketing is one of the most popular and profitable ways to earn online income. But what exactly is affiliate marketing? Here's what the dictionary says: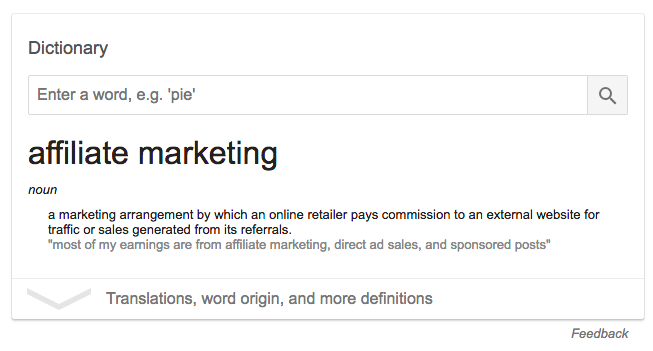 That brief definition just about sums it up. It's that simple, and tons of people are taking advantage of affiliate marketing to earn money online. No matter if you want to do it on the side or quit your day job to become a full-time affiliate marketer, there's a clear path to success.
If you want even more great insights on how to do it, I recommend checking out my video tutorial that goes with this post. Then you can also check out my free course on the topic: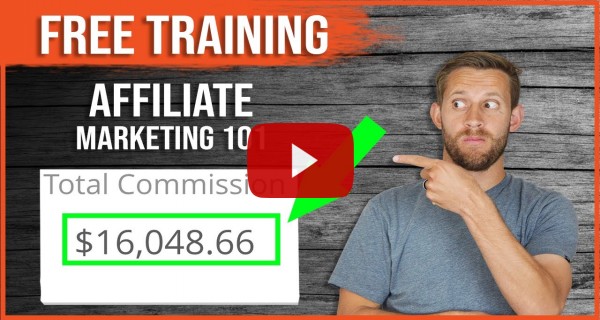 But for now, I'll explain the four key points you need to follow to become a successful affiliate marketer.
Key One: Traffic
The first thing you need before you can ever become a successful affiliate marketer is traffic. In this case we're not talking about what you see on your morning commute. Traffic is the volume of people who visit your website. More site traffic is almost always a good thing because the more traffic you have, the more people you can show your affiliate offers.
So how do you get traffic to your website? Well, telling all your friends and family "Hey, check out my website!" will get you a small surge of traffic temporarily. But that's not what you need. You need a consistent stream of new and returning site visitors. You can attract them using marketing channels.
There are a wide variety of strategies you can use to get site traffic, such as:
Blogging

Social media marketing

Search engine optimization (SEO)

Email marketing

Guest blogging

Engaging in online communities

Advertising

And more  
Beginner marketers might think it's best to use as many of these strategies as possible to get traffic. But that's a common mistake. Different marketing strategies require a lot of investment. Try to use too many at one time and you'll stretch yourself thin. Instead it's better to pick one channel and get really good at it. Once you use that channel to become a successful affiliate marketer, you can consider expanding in to other areas.
You'll also find the certain traffic sources work better for certain niches. For example YouTube does a great job for gamers, and Pinterest does a great job for DFY projects.
Want to know which affiliate marketing method works best for you? Answer the short quiz below:
Key Two: A Sales Funnel
The next thing you need to succeed at affiliate marketing is a sales funnel. By definition, a sales funnel is a buying process that companies lead customers through to encourage them to purchase.
It's a common mistake for affiliate marketers to think they don't need one. But attracting traffic and sending them right to the affiliate links on your site is a mistake. Very few people are convinced to buy that way. And even if they do decide to click through and buy, that person might never visit your site again. Why spend so much energy attracting new traffic to your website then just letting them go?
Build a sales funnel
What you need to do is start by building a simple sales funnel. In essence, you're going to want to capture their email address. That's all you need so you can start emailing them affiliate product offers. So instead of sending traffic to one offer on your site, you can send them offers again and again long term. That way you're much more likely to get your visitors to purchase one or more affiliate products.
You can create a simple or complex sales funnel to capture their contact information. But I've found the simplest ones can be the most effective when you optimize them correctly.
The easiest way to capture site visitors' contact information is using a lead magnet. A lead magnet is some kind of valuable content you offer beyond your normal blog posts and site content. You offer this for free, but people have to fill out a contact form to get it.
Here's a great example of a lead magnet and contact form in action from Simple Green Smoothies: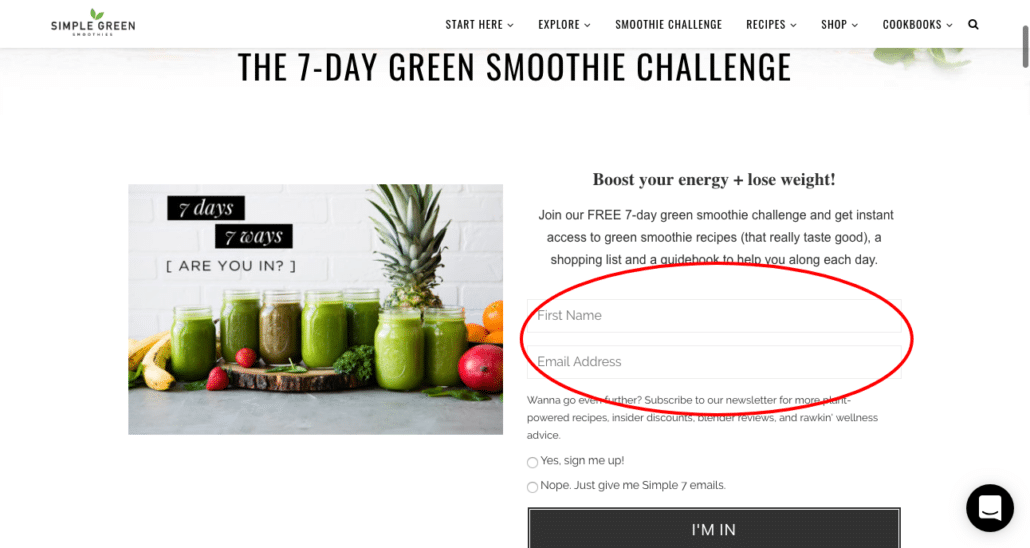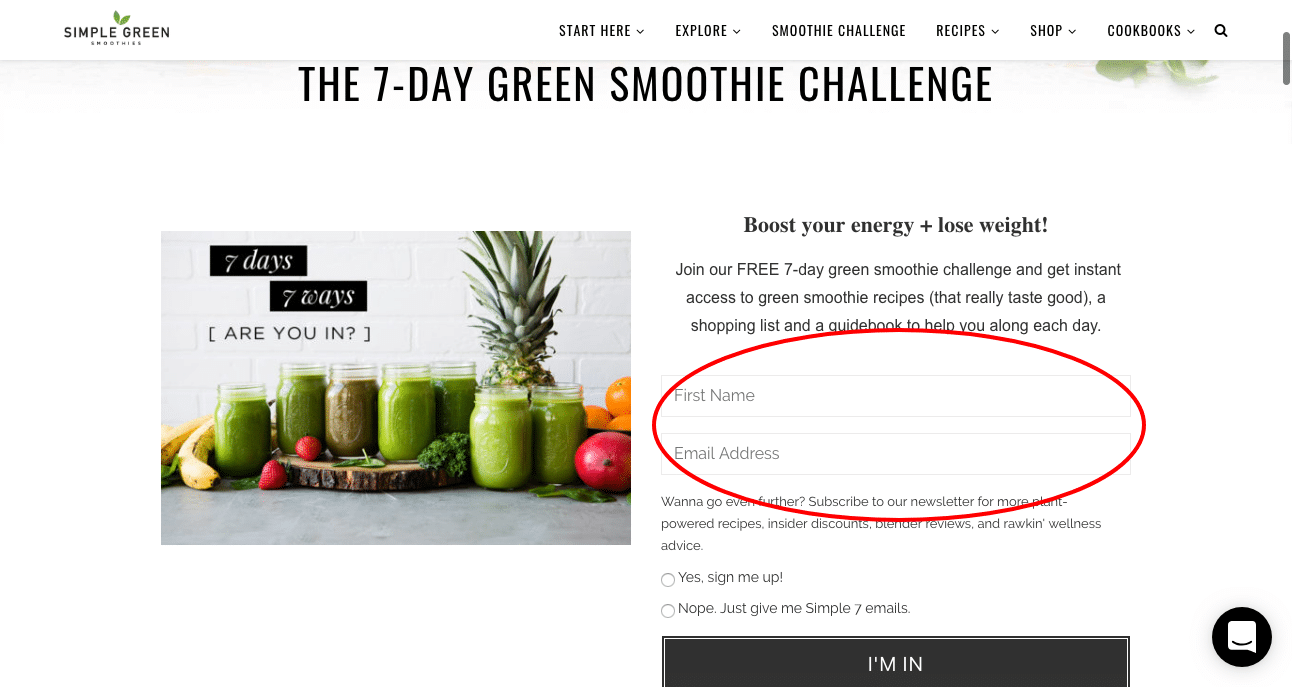 Lead magnets can be just about anything from ebooks to special reports, a template, free tool, checklist, free ecourse, and more. Just make sure it offers unique value to your audience that they can't easily find elsewhere on the web.
And if you need extra help putting this all together, here's another great post about creating your first lead funnel.
Key Three: Multiple Affiliate Products
Once you start building a list of leads for your affiliate business, you're ready to start marketing products to them. Notice I said products — plural. Promoting only one affiliate product to your audience is a bad idea, especially if you really want to earn money in this business.
Hopefully, you'll have built a target niche audience who have roughly similar interests. But the truth is one product isn't perfect for everyone. If you promote only one product to your audience, then a large number of them may never convert. But if you promote a variety of related products, your audience can pick and choose the ones that are best for them. This increases the chances that more of your audience will click through and convert, or better yet, click through and convert on more than one product. That means more profits for you.
Ways to find affiliate products
There are two main ways to find affiliate products to promote online:
Reaching out to businesses directly to promote their products

Using an affiliate network
In the beginning, I recommend using an affiliate network to find products. They're designed for beginners and provide important information about an affiliate product's potential to earn you money. Start by checking out ClickBank's searchable database of affiliate products to see what's out there in your niche: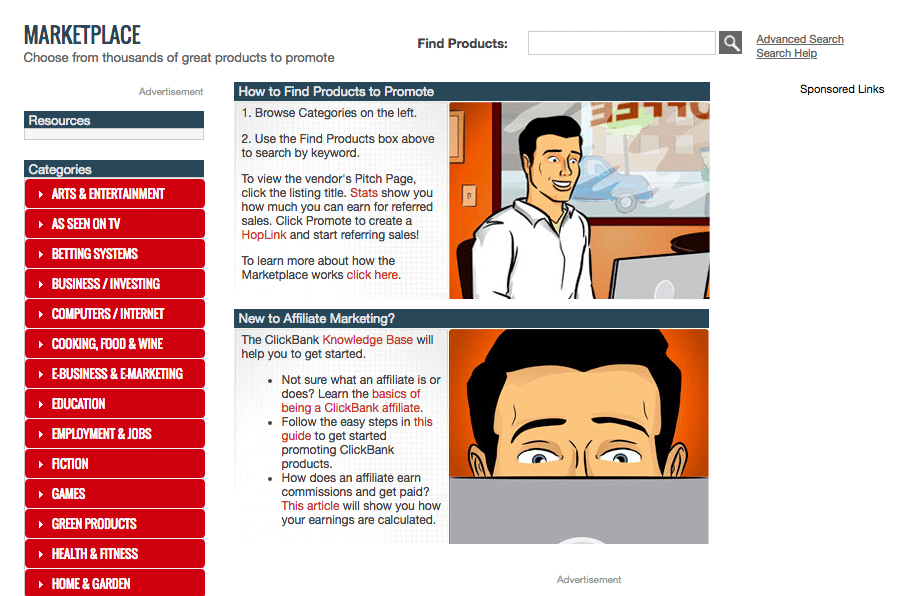 Here's a list of a few other popular affiliate programs you can check out as well.
When you get more experience and confidence, you can work on creating deals with businesses directly to promote their products. This will usually lead to a higher commission rate for you, meaning more $$$.
You can evaluate potential affiliate products to promote by looking at several factors:
Relevance to your niche audience

Commission rate

Overall earnings potential

Etc.
Some affiliate products are inherently more valuable than others, and it's not all about commission rate. Probably the best kind of affiliate product you can promote are ones that have recurring commissions. This is common with digital products that have a subscription.
So when you refer someone from your audience and they sign up for a monthly subscription, you get a commission every month. Spencer talks more about product types and recurring commissions in his free ecourse.
Key Four: A Good Autoresponder Sequence
Once you have a diverse variety of affiliate products to promote, the last thing you need is a good autoresponder sequence. You already got people to sign up for your mailing list using your sales funnel. Now you need to start marketing to them through email.
An autoresponder sequence is a series of emails that you have planned out in advance. You'll then use your email marketing software to deliver these emails to your email list over time. It's all automated, so that's how you can make passive income — earning money from affiliate purchases even when you're not working.
A good autoresponder sequence will deliver a healthy mixture of both value and offer emails. How many emails you send and how frequently will really depend on your audience and the kind of content you're sending out. You'll want to try out different strategies and test their performance using your email marketing software.
Kinds of Autoresponder Emails
Here are examples of some different kinds of emails you can send in a sequence:
One: Welcome and thanks for signing up

Two: Educational content related to a niche topic

Three: Problems people face related to a niche topic and why they matter

Four: Explain potential strategies to solve a niche problem

Five: Explain in more detail how to solve a niche problem with the help of affiliate product

Rinse and repeat with other related niche topics
It's important to remember that a good autoresponder sequence isn't all about promotions. Your main goal is to build a relationship with your audience by providing them with valuable content that matches their interests. Then when you do plug your affiliate products, they'll be much more likely to convert and buy because they trust you and value your opinion.
Wrapping up
Now that you know the four keys to affiliate marketing, you're ready to get started growing your own affiliate business! It really is as simple as it seems, as long as you follow the right steps. Again, I recommend you also check out Spencer's video on the topic and his 7-hour free ecourse to learn more. Spencer makes his living as a professional affiliate marketer, so he knows all the tricks and tips for success.
Looking for high ticket affiliate programs? Check out my video below: