You've heard that it's possible, so now you're wondering how to make money on Pinterest.
But there is one problem – you don't want to be a blogger! All that writing simply doesn't appeal to you (or maybe you are just a terrible writer).
This method I'm going to show you requires NO blog – in fact it doesn't even require you to have a product to sell.
In fact, for this method you don't have to have a website, a business, or anything else like that.
If you want to know how to make money on Pinterest but you don't have a blog, then the key to your success comes down to affiliate marketing.
What is Affiliate Marketing
If you're familiar with the word affiliate marketing, it is essentially where you promote other companies products and get paid when someone purchases.
They will give you a special link kind of like this one.
https://affiliatesecrets.co/refID?buildapreneur
That idea will be specific to you, and anyone that clicks that link is now tracked as your referral.
Pinterest rocks affiliate marketer's worlds because it actually allows affiliate links to be shared directly on a pin. And just so you know how rare that is…
Facebook does not allow direct links to affiliate products in posts.
Instagram is unclear on policies, but often removes accounts that do.
Even websites have a harder time ranking when they don't cloak their affiliate links (which means they hide the link and use a URL that doesn't look like an affiliate link).
The reason for this is a lot of people who do affiliate marketing spam social media and ruin it for everyone else. But affiliate marketing, if done right, is a reputable and lucrative business (which is what we're going to show you how to do).
Huge companies like Amazon, Etsy, and Bass Pro Shops have affiliate programs, and plenty of smaller companies do as well.
Looking for more ways to earn money?
Check out the video below to learn how I went from $0 to $3,000,000:
Ways to Make Money on Pinterest With Affiliate Links
There are many different ways you can promote your affiliate links on Pinterest in order to make money on Pinterest. We'll look at some of them here, but just remember to get creative with this.
These are all different ways that companies will let you promote their products.
Promote the Home Page – You can pin a link that goes directly to the home page of the company you are promoting. This is great if you are promoting something general, like "A great place to get healthy foods for less."
Link to a Product Directly – You can link to a product directly if you want to promote something specific. Rich pins are great for this because you can include the price right in the pin, and pins with prices have been shown to get more engagement.
Link to a Course – If you can find some courses to offer your niche, people love that. You can use an affiliate link that goes straight to the landing page of the course.
Link to a Service – Some service companies even offer affiliate programs, and you can link to those as well. Some examples might include web design, business coaching, and marketing services.
Link to a Freebie – Most companies these days offer some kind of freebie that their prospects can opt in for, and a lot of them make these freebies available to their affiliates. That way, if someone opts in for the freebie, the company will track that referral and pay you down the road when they sell then something!
Take our side hustle quiz to find the best side hustle for you and enter to win a free $2500 training:
The Steps: How to Make Money on Pinterest Without a Blog
Now let's dig into the steps you can take to start making money on Pinterest even if you don't have a blog…
1. Choose a Niche
You can't expect to gain much traction by just posting random affiliate links on your personal Pinterest boards. You'll want to set up a business Pinterest account and then choose a niche that you want to focus on.
You can see my niche pretty easy just by looking at the first page.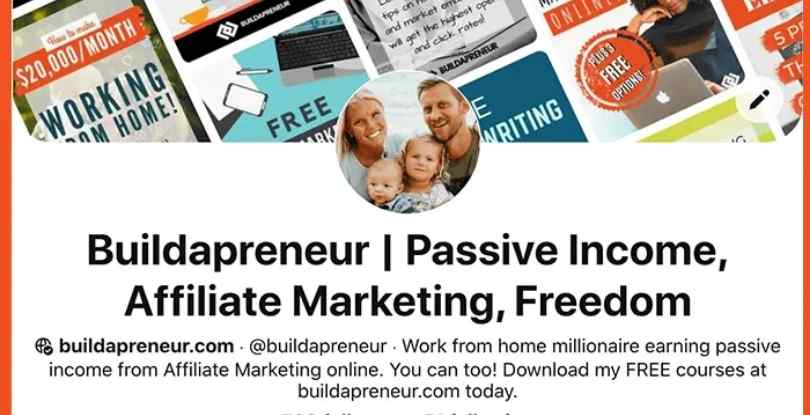 Think about what you are good at and what you enjoy. You'll certainly be more successful if you choose a niche that you can have fun with.
Remember that some niches do better on Pinterest than others. These ones are the ones that do the best.
DIY & Crafts
Food & Recipes
Kids & Parenting
Home Decor
Travel
Health & Fitness
Fashion
Hair & Beauty
Working From Home
Personal Development
Art & Design
Gardening
Weddings
2. Find Affiliate Programs in Your Niche
Now, it's time to start looking for money-making opportunities that you can promote on Pinterest, i.e. affiliate programs.
We've created a list of 60 affiliate programs for bloggers (but in many cases, you don't have to be a blogger to promote these), so depending on your niche, that can help you get started.
If those options don't work for you, it's time to do some research. Make a list of all the companies that sell products in your niche that you can think of.
Visit their websites and look for an affiliate link where you can sign up for their affiliate programs. Typically it is in the bottom somewhere, like this.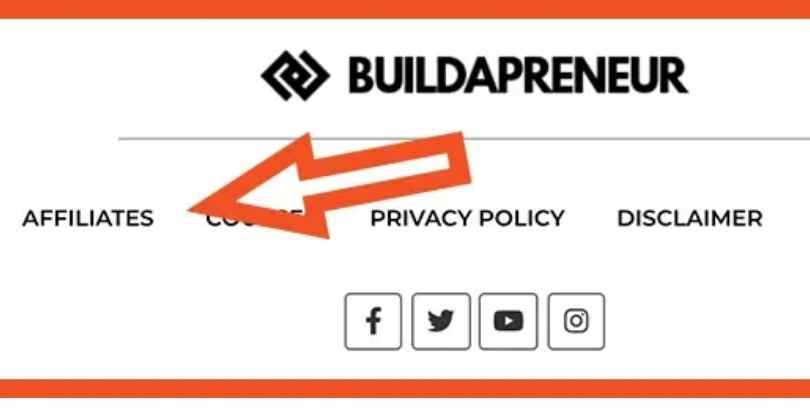 You could also perform a Google search by typing in:
company + "affiliate program"
company + "referral program"
or any variation of those words
If you don't know where to start as far as companies go, do some research by typing in:
your niche + "affiliate program"
Learn How to Find Affiliate Programs in More Detail Here

Click Here
Once you've found the affiliate programs you like, go ahead and apply.
Note that you probably won't get approved by all of them. Some require their affiliates to have a website. Some want you to have a track record of success. But others won't care about any of that. Just apply for several and take it one step at a time.
Some companies will approve you right away, while others can take several days. So while you are waiting, start working on your strategy to make money.
3. Create Pinterest Boards & Pin Other People's Stuff
Before you start pinning a bunch of affiliate links, you need to create a strategy that involves creating almost a wonderland for everything that your niche loves and wants to learn about. Plan out at least 20 topics that your niche would enjoy and then create a board for each one.
For example, if your niche is Health & Fitness, you might include the following boards: weight loss, yoga, supplements, healthy recipes, etc.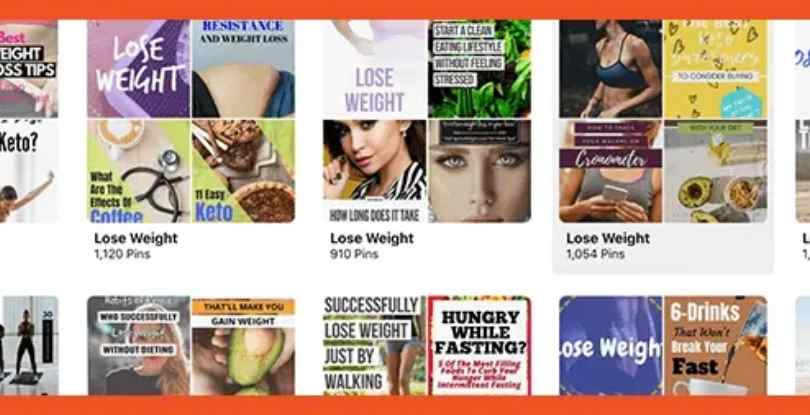 Do a little keyword research by typing a topic into Pinterest and seeing what other pinners are using, and look at the auto-suggests that come up. Name your boards accordingly and be sure to add a keyword-rich description.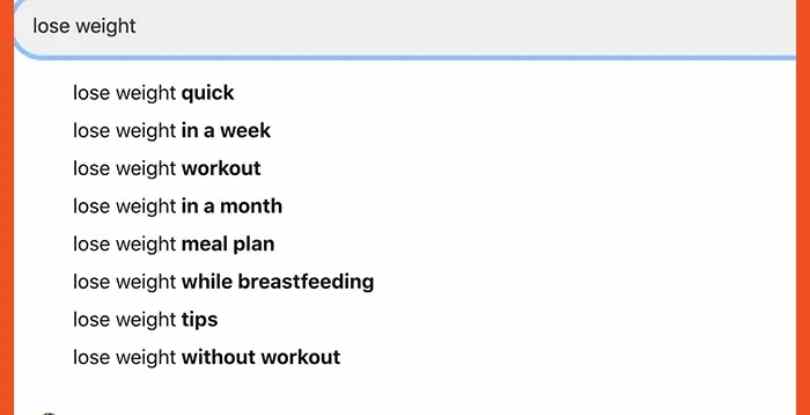 Once you've got your boards set up, start curating them by adding pins that make sense for those boards. Pin 5-10 posts on each board of other people's stuff to start building out your boards.
Here, you can see that we pin a combination of our own stuff and some curated posts as well…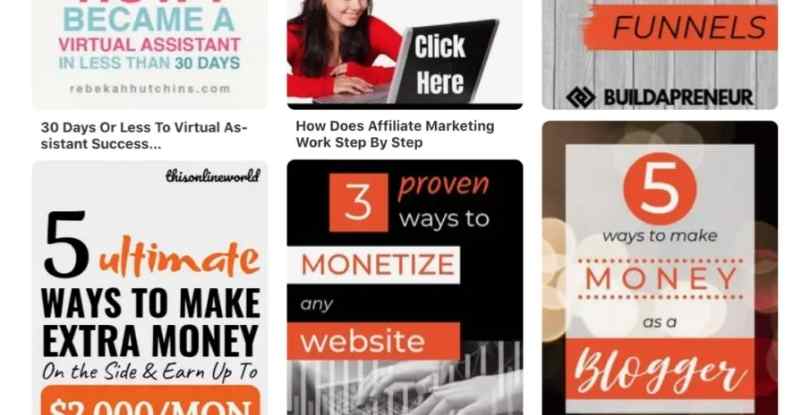 4. Create Graphics for Pinterest
Now, before you can start making money with your affiliate links, you'll need to have images to pin. Some companies will supply graphics, but you will usually have more success if you create your own unique graphics.
Fortunately, there are a lot of ways to create professional-looking graphics without knowing how to use professional design software.
Canva is probably the most used software for Pinterest marketers and it is so simple to use (plus their free plan will often suffice).
When you go to create a design in Canva, select their Pinterest option and it will automatically set you up with the right size graphic, and it even has templates and drag and drop elements, plus tons of free fonts and images.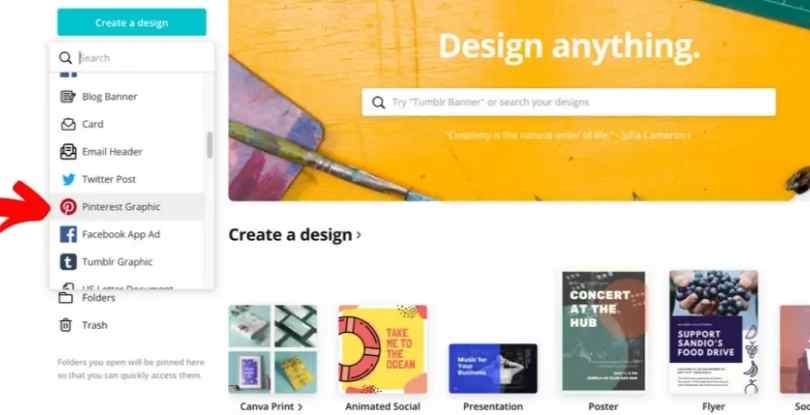 5. Create Multiple Graphics for Each Affiliate Offer
Pinterest does frown on duplicate content, just like Google does, so you can't just go pinning the same graphic over and over and over again. You'll want to follow these guidelines to get the most exposure to your pins, and make the most money.
Create 5 different graphics for each affiliate offer.
Make sure they differ in things like images, colors, and headlines.
Post one of each graphic to each board spread out over time (not all at once).
After 4 months have passed, you can repin the same pins all over again.
6. Brand Your Stuff
Try to create a certain look that all of your pins will have so that you start to develop some branding for yourself. Those who enjoy your pins will learn what your pins look like and will open them and repin them. This could mean using the same fonts or colors or using the same border on each one.
Take a look at what others are doing, note down what you like most, and start coming up with your own look. Here, you can see that our pins stand out because we are using consistent colors and fonts…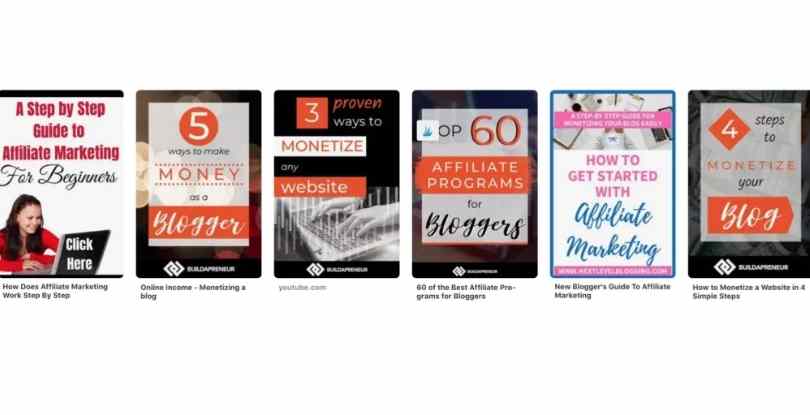 7. Pin Your Graphics With Your Affiliate Link
Now, you know how to make money on Pinterest and you are ready to make it happen! All you need to do is create a pin by uploading your graphic, writing a keyword-rich description, and adding your affiliate link. Then, pin it to all of your relevant boards for each particular pin.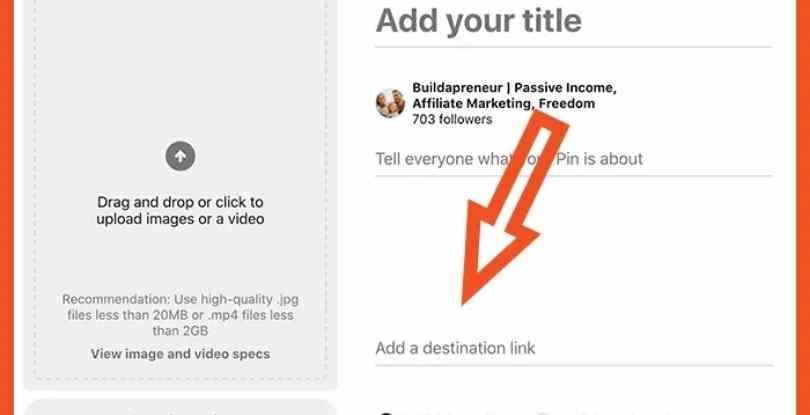 But don't stop there. You can't expect to pin it once to a few boards and make hundreds or thousands of dollars each month. You'll need to keep repinning your pins using the different graphics you made for each one. And that's where Tailwind comes in…
8. Use Tailwind to Schedule Your Pins
Tailwind is essential for anyone who wants to know how to make money on Pinterest and is serious about making it happen. With Tailwind, you can set your pins on autopilot. You can set them to go out in certain intervals and to repin in loops so you don't have to keep doing it manually.
With Tailwind, there is a free trial, but it will only allow you to pin 100 pins for free. After that, you'll need a paid plan, but it is very worth it and will save you hours and hours of work.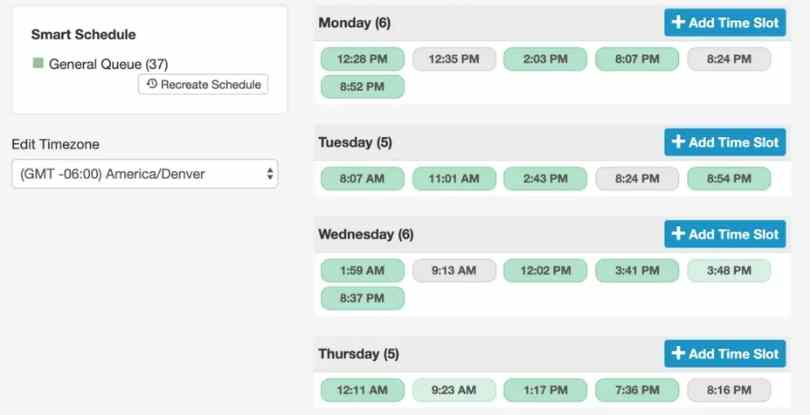 Another thing that makes this tool so incredible is that it analyzes the engagement on your pins and sends out your content at the times throughout the day when your audience will see them and engage with them the most.
9. Join Group Boards & Tribes
Now that you've got your feet wet with pinning on Pinterest and using Tailwind to automate it, you'll want to start broadening your reach, and the best way to do that is with group boards and tribes.
There are hundreds and probably even thousands of group boards so you're sure to find many of them in your niche. They are simply boards that have multiple pinners.
This means that the board could get thousands of views a day, and you can add your pin to it, even if you don't own it.
All you have to do is search Pinterest for a list.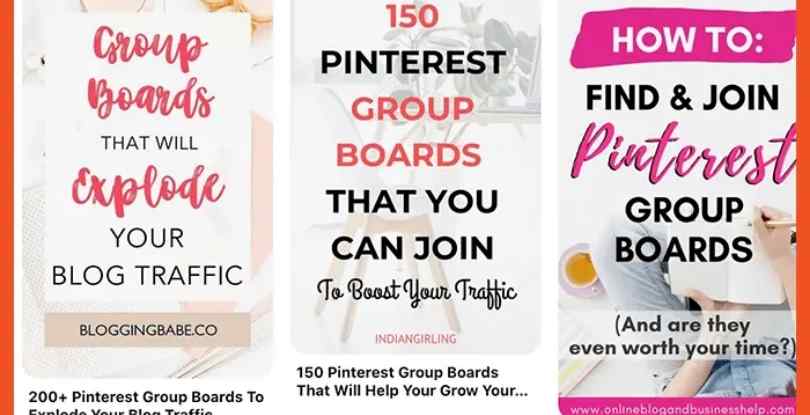 Typically, there is a rule that for every pin you add, you'll need to repin one or two pins from the group board. That's the magic of it – it gets everyone pinning your stuff just like you are pinning other people's stuff.
Tribes are pretty much the same thing as group boards but they are within Tailwind instead of being directly in Pinterest. You can join 5 tribes during your free trial and then you can upgrade for more.
You can also search for Tribes on Tailwind based on category and subcategory. For example, this search for "motivation" in the "lifestyle" category brings up 133 results. They are basically group boards.
You can see that it shows you the number of members and the activity the tribe generates. Go for tribes that have at least 3 bars.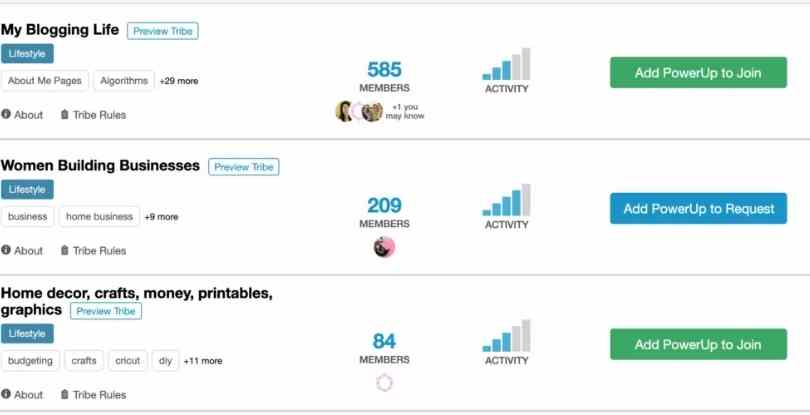 Now You Know How to Make Money on Pinterest Without a Blog
So, there you have it – we just presented our quick guide for how to make money on Pinterest without a blog. Now you have a roadmap that you can follow, one that actually works.
New to Affiliate Marketing? Click the links below to learn more about it:
Why Affiliate Marketing and Moms Go Together Like PB&J
How to Do Affiliate Marketing Without a Website: My Secret Methods for 2019
Is Affiliate Marketing With No Money Possible? 3 Ways to Start Today
We also put out a ton of content about affiliate marketing on our YouTube channel, so click on over there. Subscribe and hit the bell so that you'll be notified when we release a new video.
Happy Pinning!
Get Started With Affiliate Marketing Today for Free!
Take our free affiliate marketing training where I show you the inner workings of my affiliate marketing business.
Save Your Spot!