3 Ways To Make Money Online
We live in the most incredible time ever to exist on planet earth. I mean, think about it…
Literally millions of people are earning a full-time income without ever leaving their homes. From YouTubers to Instagram influencers to affiliate marketers, the opportunities are everywhere online.
My corner of the internet is definitely affiliate marketing. There is no easier way to earn such an incredible income by promoting other people's products.
You don't have to worry about inventory or overhead. You just need to promote it to the right people and collect your commissions.
But affiliate marketing can feel daunting if it if foreign to you. That's why I put together this Affiliate Marketing for Dummies article. That way, you can understand how to start affiliate marketing as a beginner.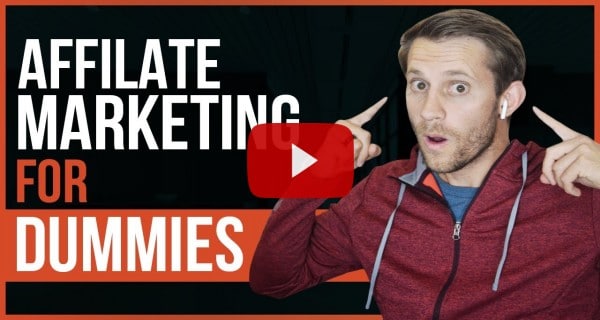 Why I'm Telling You About Affiliate Marketing for Dummies
So first, why should you listen to anything I say? Basically, I'm the affiliate marketing guy.
Within 3-4 years, I have won two cars, created a full-time passive income, taught multiple courses, and done interviews with some really big names, all from affiliate marketing. It's pretty much my life at this point.
Teaching others what affiliate marketing is and how they can make money with it is a huge passion of mine. If you have an interest in affiliate marketing, there are two quick steps you should take to ensure your success:
Subscribe to My YouTube Channel – I put out videos constantly that explain how to succeed with affiliate marketing, and I promise you, they are full of good stuff.
Take My Free Webinar – I take you inside of my affiliate marketing business so you can actually see how my business is working and how I'm making my full time income. This insider look is the key to faster success for you.
Now, let's get to it!
What is Affiliate Marketing?
Affiliate marketing is basically a relationship between you and a company. The company spends 10-20-30% of it's budget on marketing.
So as an affiliate marketer, you send customers directly to the company and then they don't have to spend that budget on ads. When the customer buys, you get anywhere from 1% commission (for the really bad affiliate programs) to 40-50% commission (for the really good ones).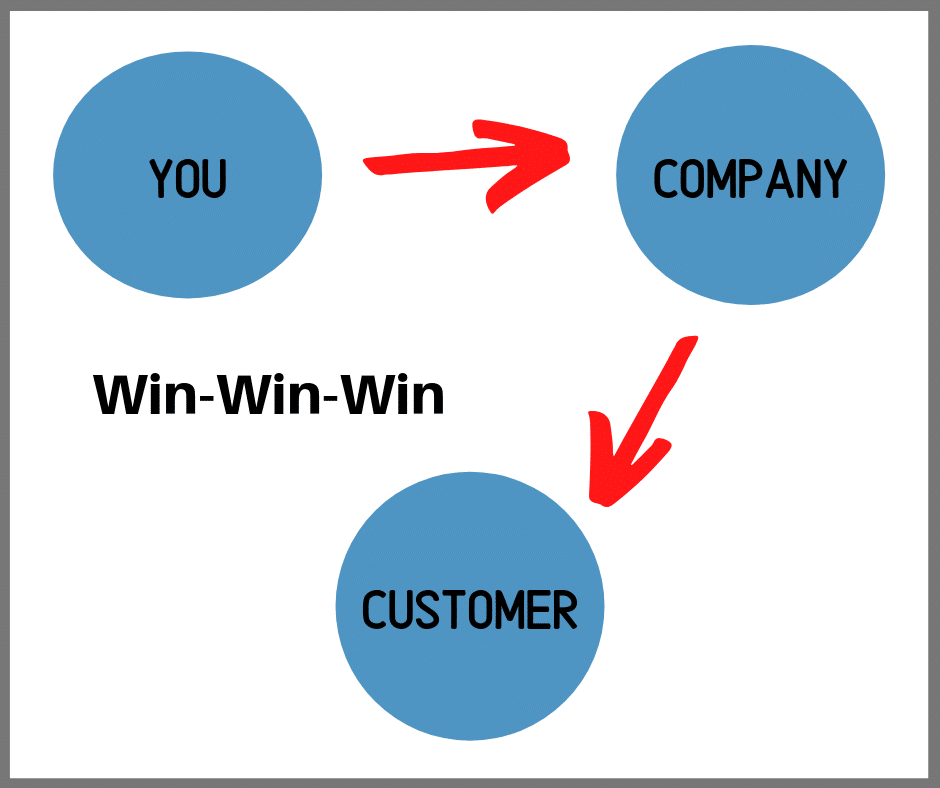 It's a win-win relationship between the company and you (the affiliate). But if you do it right, it's a win-win-win because the customer also benefits when they get a product that positively impacts their life.
Now, as an affiliate, you get a special link and anyone who purchases from that link is connected to you. Here's an example of what one might look like: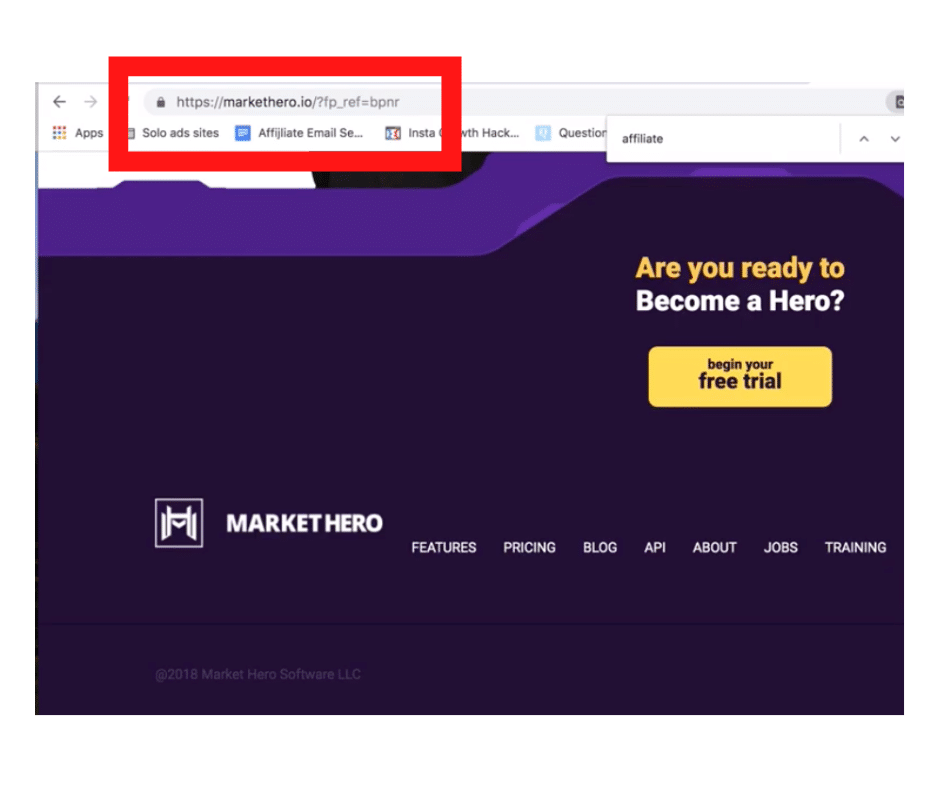 Each company's links look different from one another. For example, here's what Active Campaign's affiliate link structure looks like: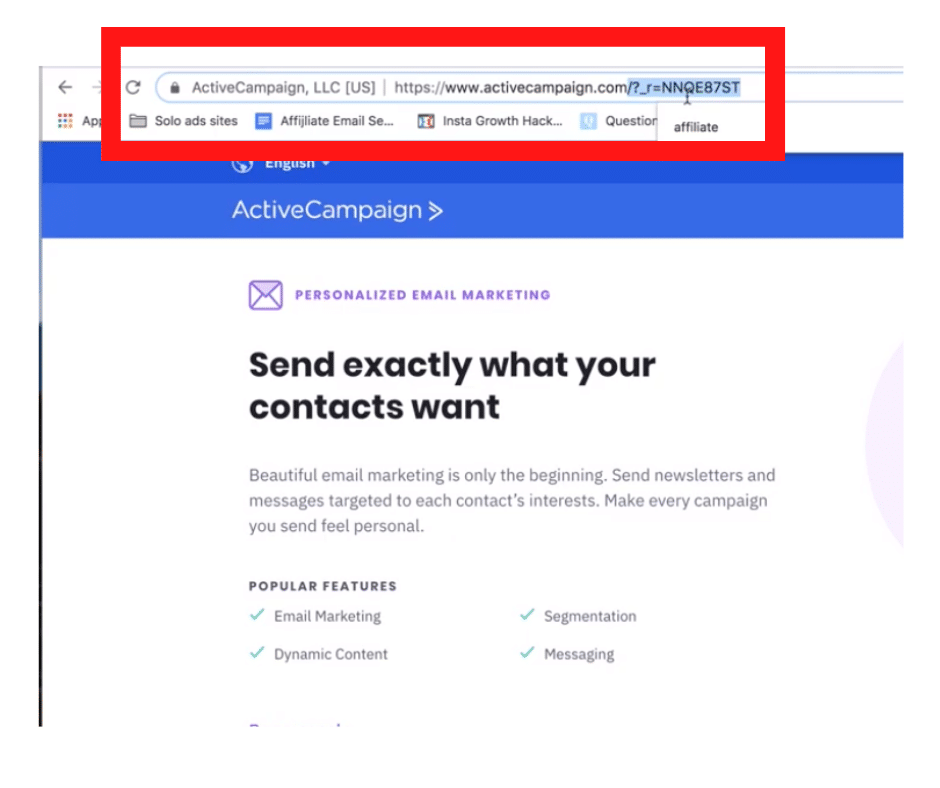 No matter what the link looks like, it is going to be specific to you. And you get paid a commission whenever anyone visits that company's website through your affiliate link and then signs up or makes a purchase.
Many companies even use cookies, which means that if someone uses your link to visit a site and doesn't make a purchase at that time but then they visit the site later using the website's main URL, the cookie will remember your link and you will still be credited with the referral. Cookies are set up for a certain period of time which is determined by the company.
Want to know which affiliate marketing method works best for you? Answer the short quiz below:
How to Find Affiliate Programs
Affiliate programs are literally everywhere, and if you haven't already heard of them, it isn't because they don't exist within your world; it's just that your focus has been elsewhere.
You can find affiliate programs from individual companies or from affiliate networks (or a combination of the two).
>> Here's my list of the 20 Best Affiliate Programs for Recurring Income <<
Individual Affiliate Programs
The easiest way to find affiliate programs is to look to the companies that you know, use, and love in your daily life, because 90% of them have an affiliate program.
The thing is, you probably already tell people about these companies anyway, so you may as well get paid for it!
You like Uber? Great! Uber has an affiliate program, and if you promote ways to make money, it's the perfect affiliate program for you!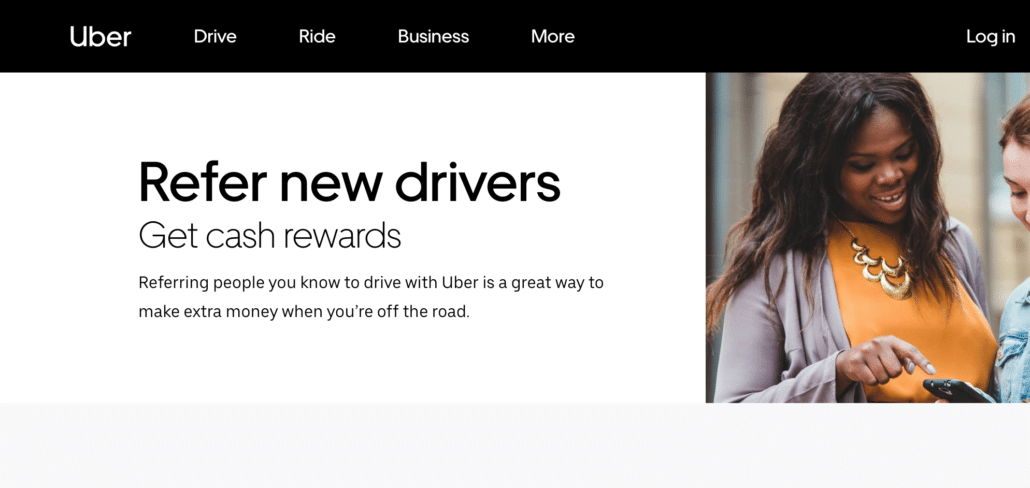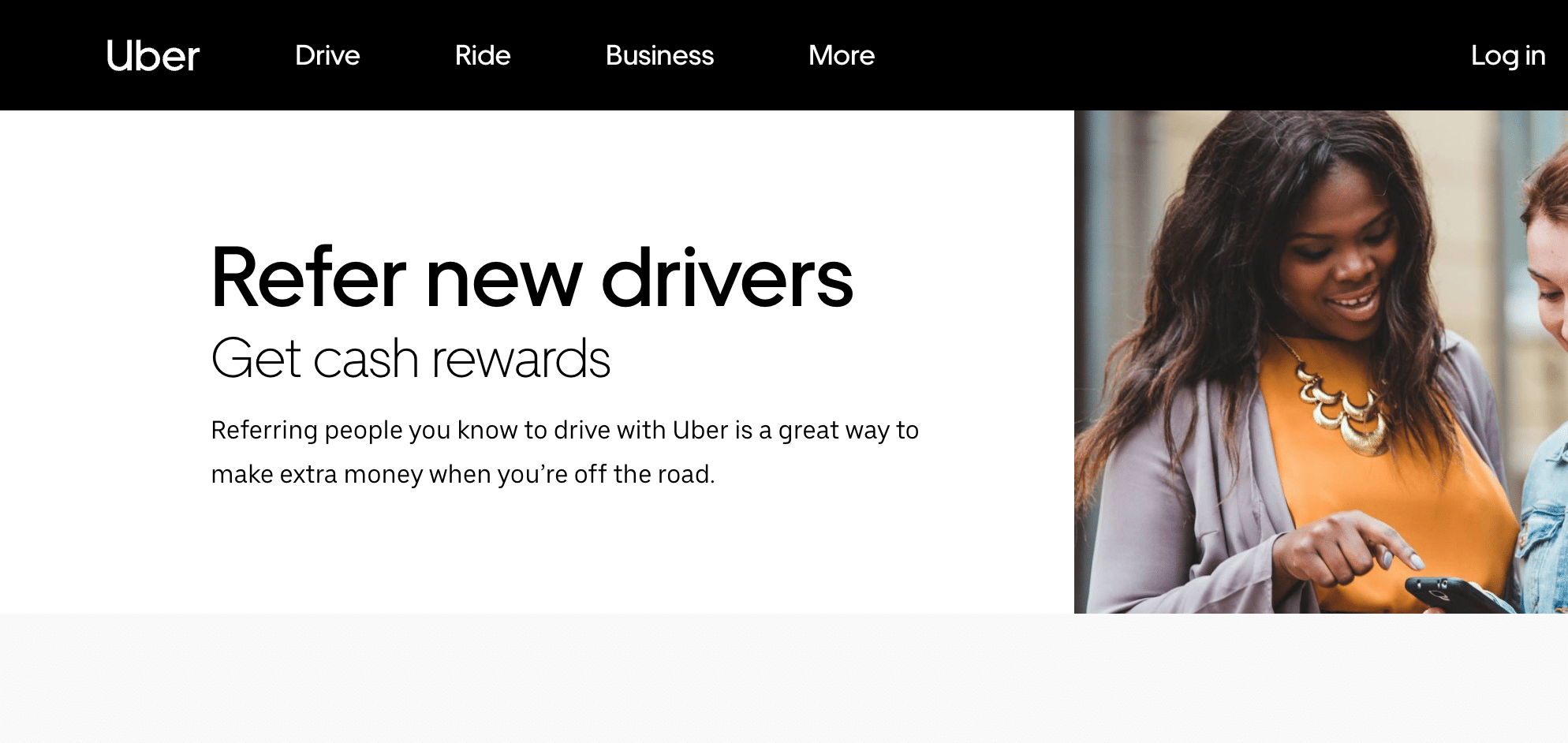 Is Airbnb your thing? They have an affiliate program, too. If you enjoy travel and want to build an affiliate business around it, Airbnb is a great company to promote.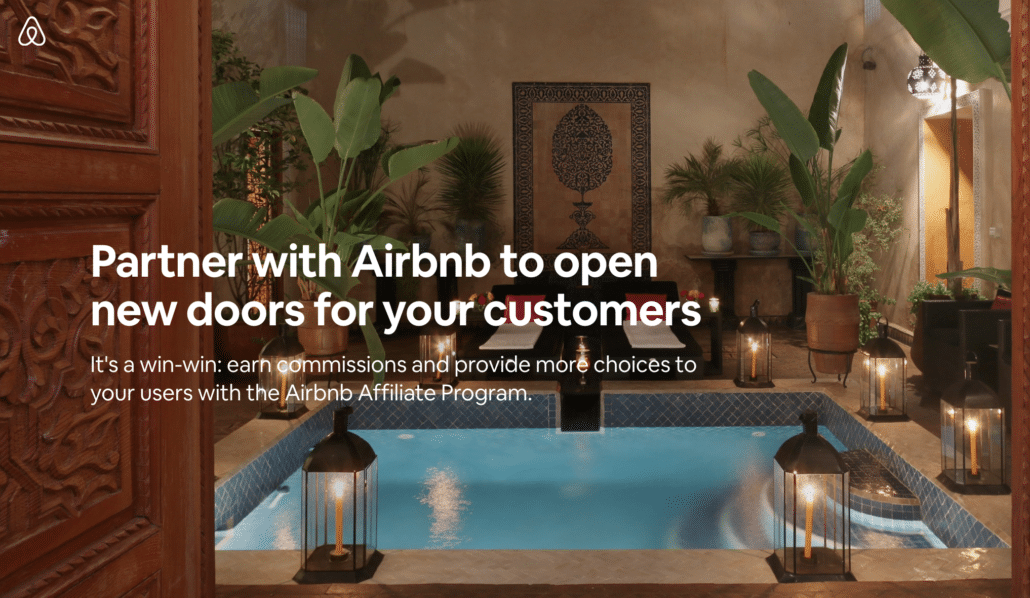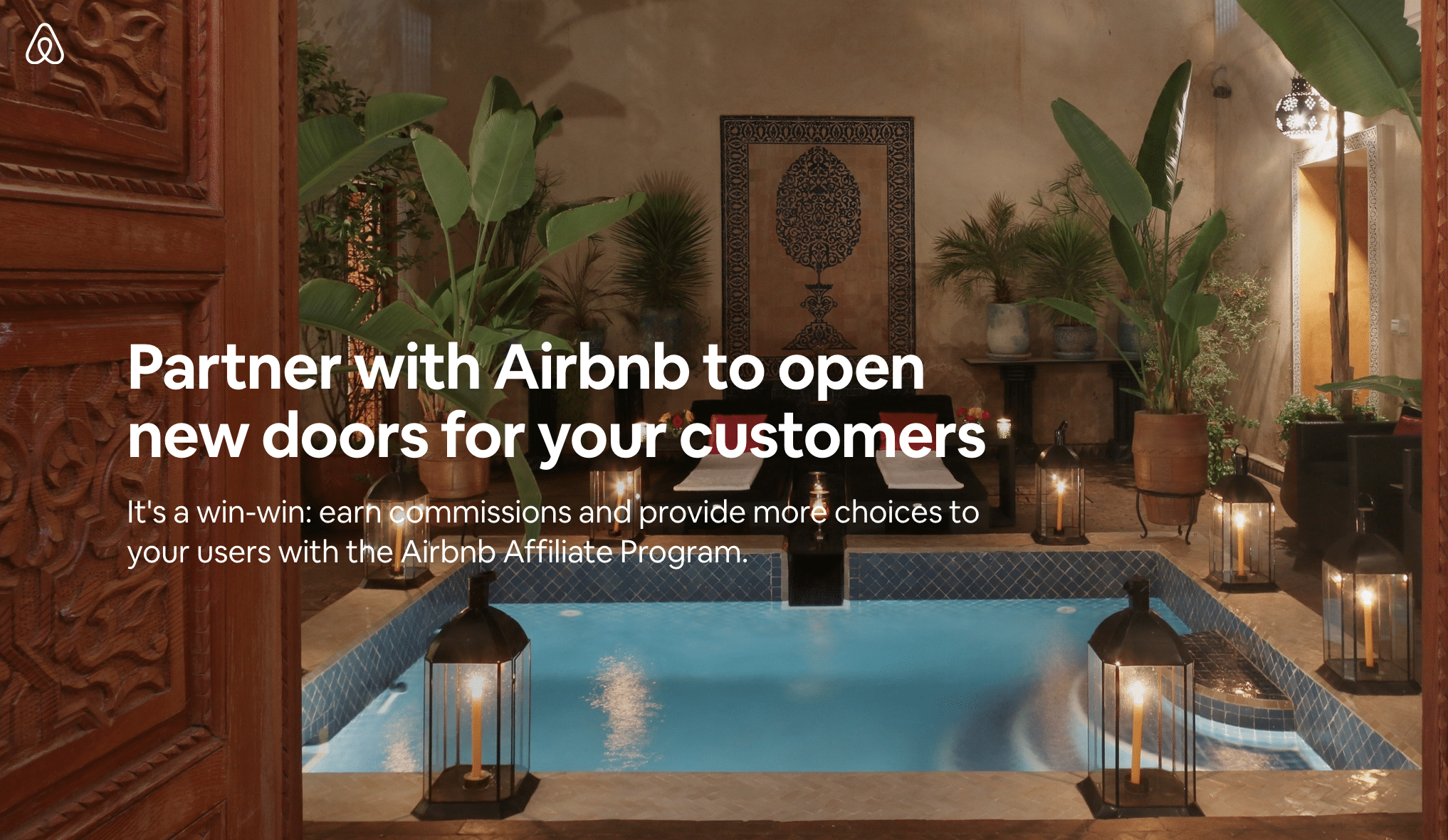 Maybe you use one of those meal delivery services and you swear by it. Most of them have got you covered because they also have affiliate programs. Do you shop on Amazon all the time? They also have an affiliate program.
Just visit the websites of the companies you love and look for a link that says something like: "Become an Affiliate" or "Affiliates" or "Affiliate Program" or "Referral Program."
It's usually in the footer, but if you can't find it, you can do a search on the company's site by typing Control F on a PC or Command F on a Mac.
Here are my top individual affiliate programs:
Affiliate Networks
Affiliate Networks can help you save time because they house hundreds of different affiliate programs on one site. You can search for a specific company or search by a topic to find the companies they promote that have affiliate programs, and then you sign up right within the affiliate network site.
Some of the best affiliate networks include: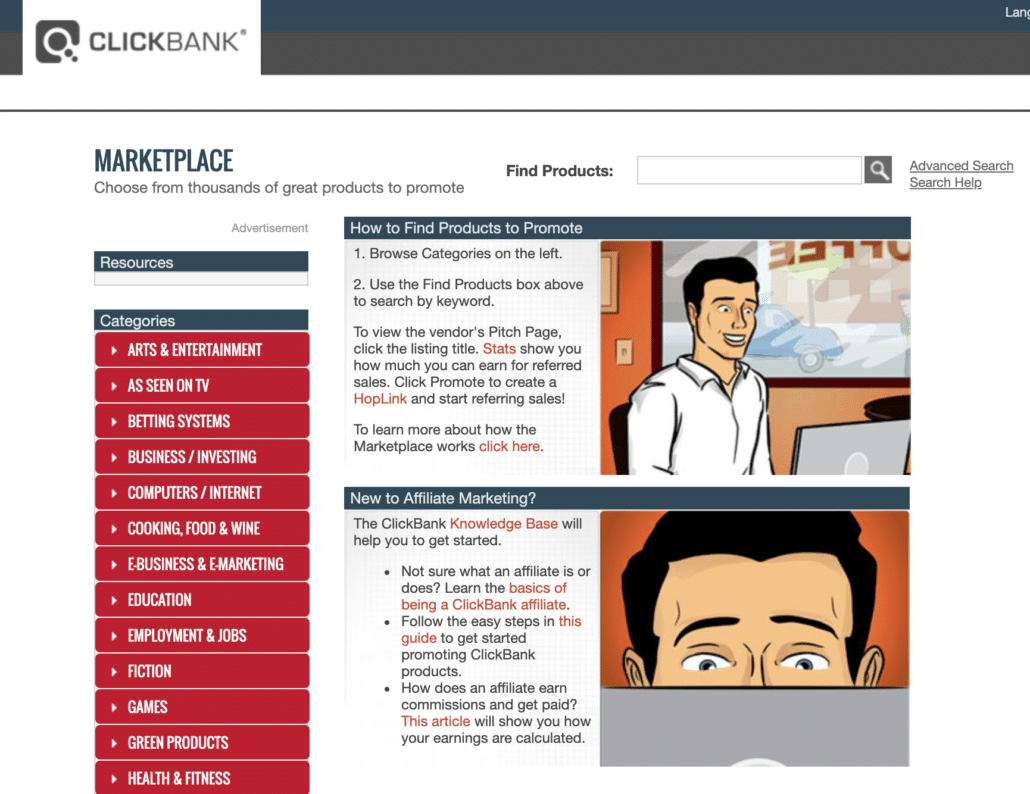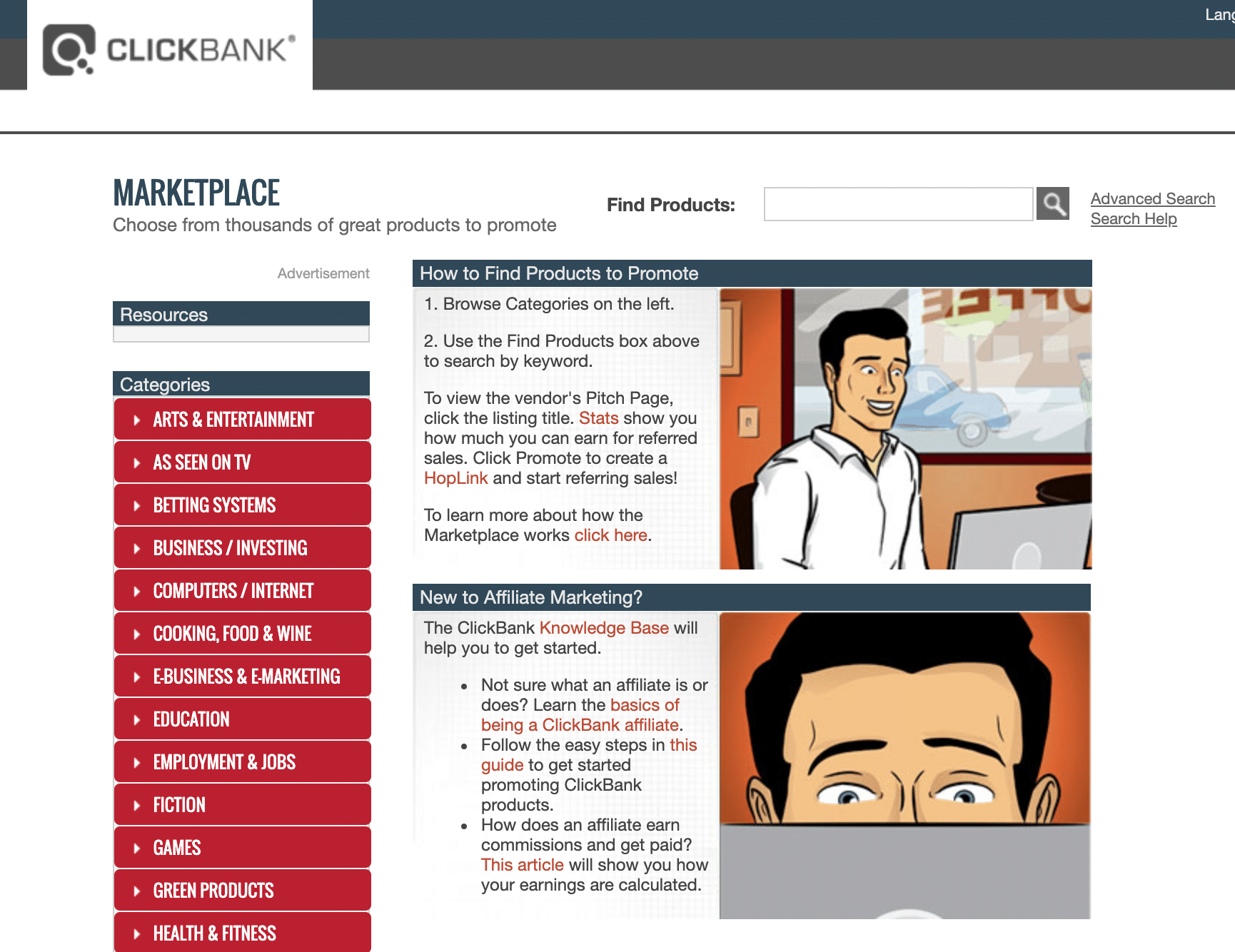 Google Search
A good old-fashioned Google search is also a great way to find affiliate programs. Try typing in one of the following to discover some companies you'd like to promote: 
company + "affiliate program"

company + "referral program"
How to Sign Up For Affiliate Programs
Once you find the affiliate programs that you want to promote, you'll need to sign up, and it's important to know that there are different levels as far as what companies require from you.
Some companies require you to have a website and a track record, which means they will have a manual process for approving your application.
Others are like, "hey it's no skin off our backs if you don't succeed. You don't make any money and we don't lose any money," and those companies typically have an auto-approval process.
As you start applying for affiliate programs, you'll come across a mix of the two, and I suggest you track the ones you have applied to and note down their process for approval so that you know where you stand with each company.
How to Start Affiliate Marketing With a Niche
It's important to point out that you can't just go around promoting everything and anything that you like. It has to make sense and it has to speak to a group of people who are excited about the things you are promoting.
That's why it is important to develop a niche.
Come up with a niche that you have an interest in. Maybe you love high tech stuff or football or dogs. All of those are niches. Other niches might be healthy cooking, bullet journaling, fishing, camping, weight loss, or investing.
The cool part about niches is that they come along with an audience of people who love everything that has to do with the niche. It's easy to market to people who are passionate about your niche because they actually want to learn about new products and solutions within the niche.
For example, my niche is affiliate marketing, so I promote software, courses, resources and tools that will help my audience to be successful at affiliate marketing.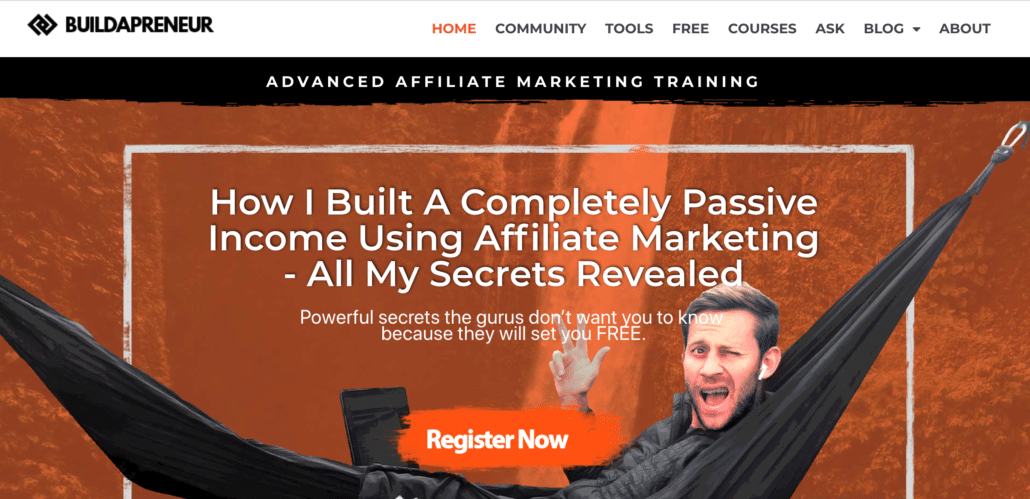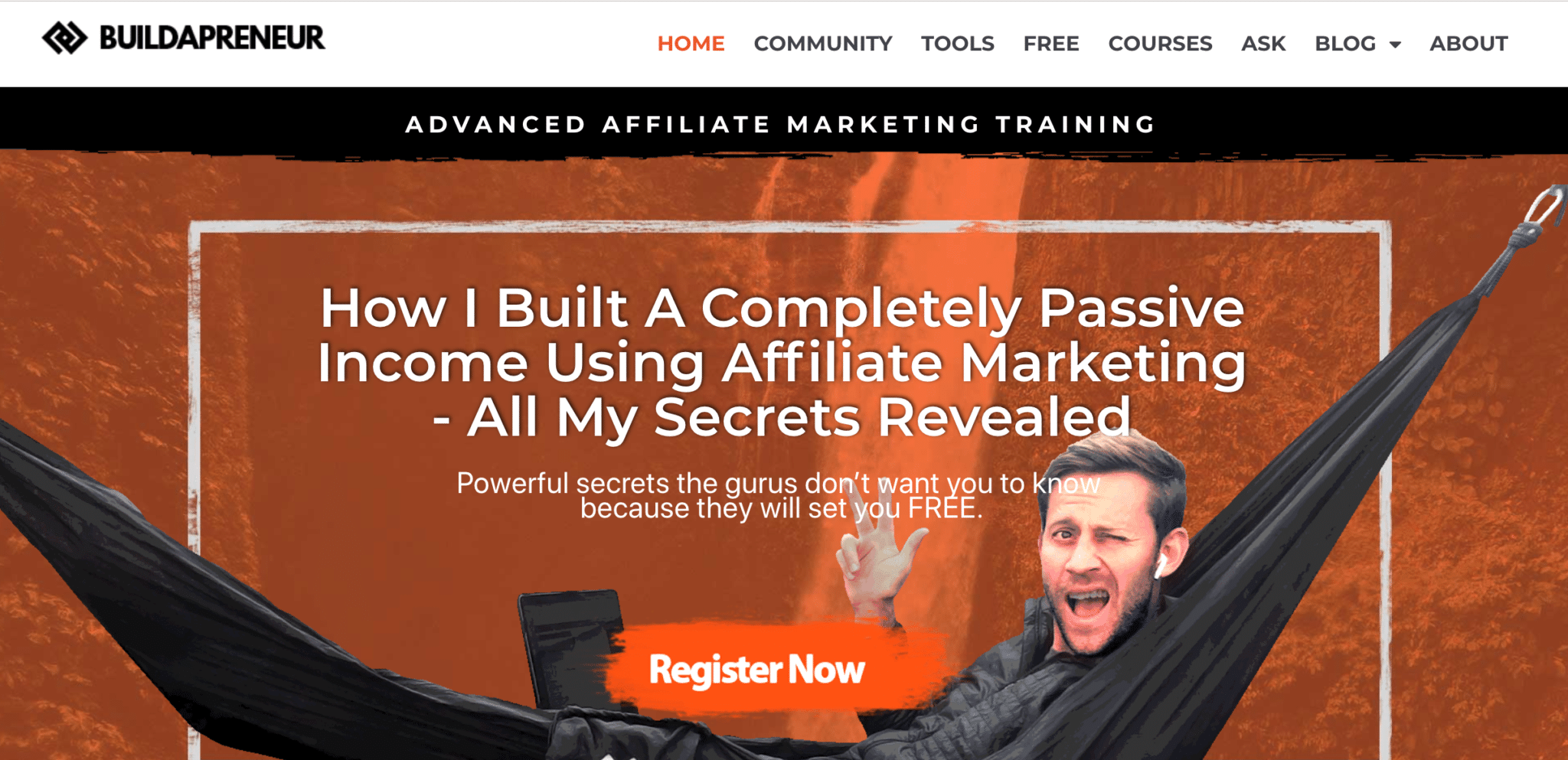 How to Make Money With Affiliate Marketing
Once you've signed up for some affiliate programs and you have your links, it's time to start promoting. While the ways to do that are almost endless, I've included some of the best promotion ideas to start affiliate marketing for beginners here.
Now, obviously the most important thing is that you can get a lot of people to click on your affiliate links. Making that happen basically comes down to search and audiences:
How to Make Money With Affiliate Marketing Through SEARCH
When you are promoting through search, you will promote to people that are looking on the internet to resolve a problem they have.
For example, someone might type in "best software for email marketing" and as you can see, my video is the third one that comes up in the search results on YouTube.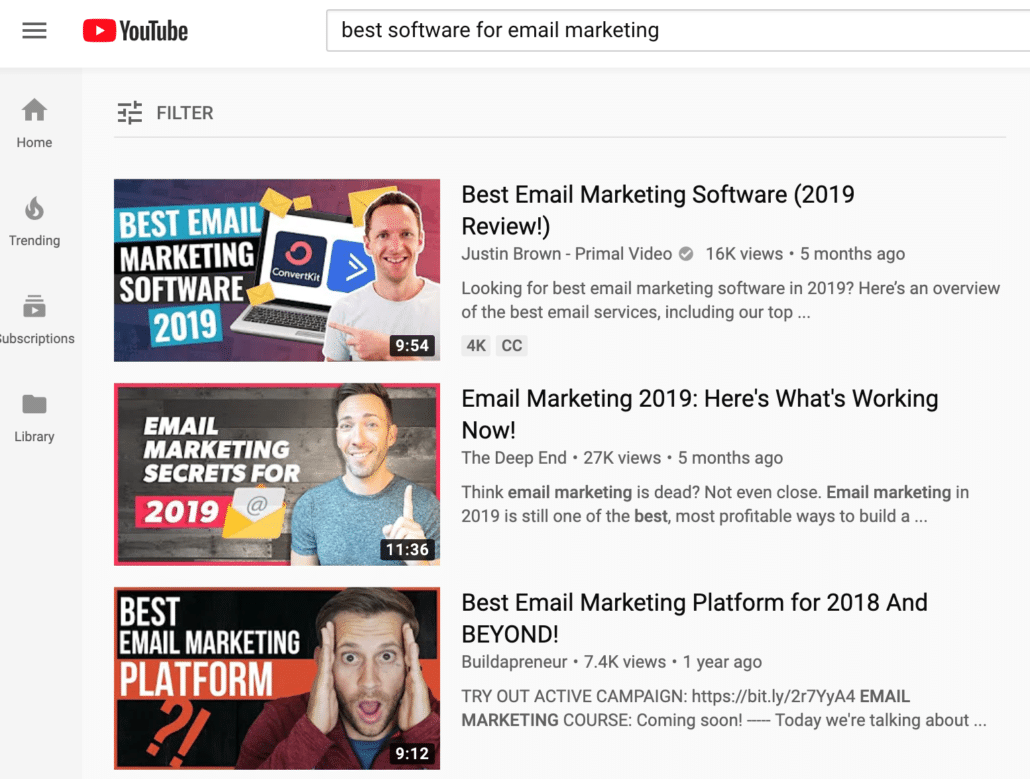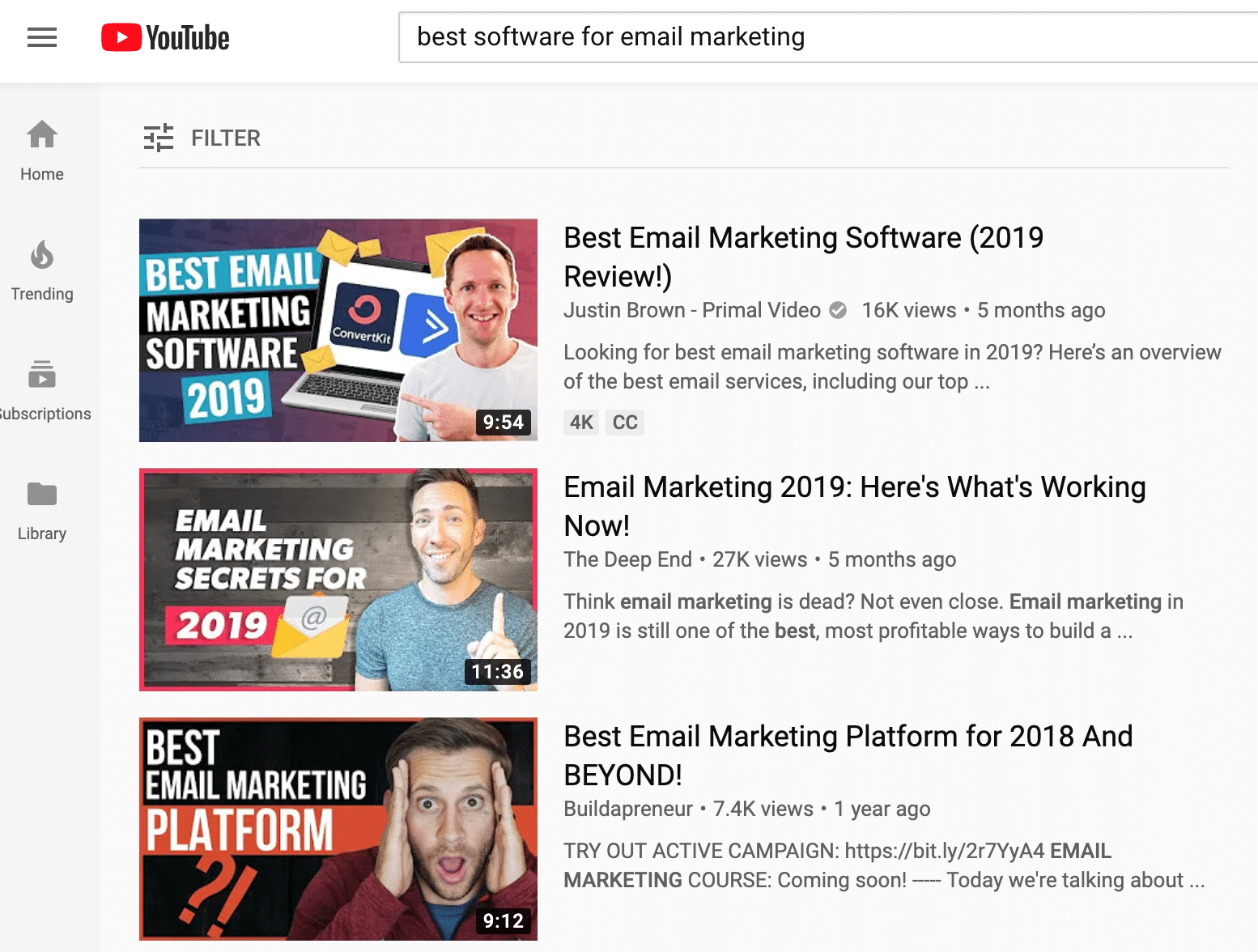 Now, you can see that right in the description, I have included a link to Active Campaign. That is my affiliate link and it is the company I am promoting for that search topic.
For the people who are searching for that topic, I am solving their problem by giving them my affiliate link. These people are looking for software for email marketing, and I've done a lot of research on this.
I've signed up for like every email marketing platform there is and I really hated half of them and I really loved this one. So I can help people skip that 6 month journey of figuring out what the best one is and I can just show them.
With this type of promotion, it's all about finding the right keywords to go for. If you're making content and no one's looking for that content, you are promoting your stuff to no one, but if you choose a keyword that is too competitive, you'll be hard-pressed to land in the top search results.
Promoting through search requires an understanding of the algorithm of the search engine you are using. For example, I understand how to rank in YouTube.
It's too much to go into for the scope of this article, but learning about SEO (search engine optimization) is essential if you want to promote this way.
How to Make Money With Affiliate Marketing Through AUDIENCES
At this point, probably everyone has heard about Instagram followers who create an audience of people centered around a certain niche. They learn what their audience wants and then they refer them to solutions. You can be an influencer too!
Whether it's on Instagram, Facebook or any other platform, you create an audience of people and then you tell them about products and tools that they'll love. Of course, you'll give them your affiliate links to promote them.
For example, I have a Facebook Group called Automation Nation where I promote passive income systems for entrepreneurs.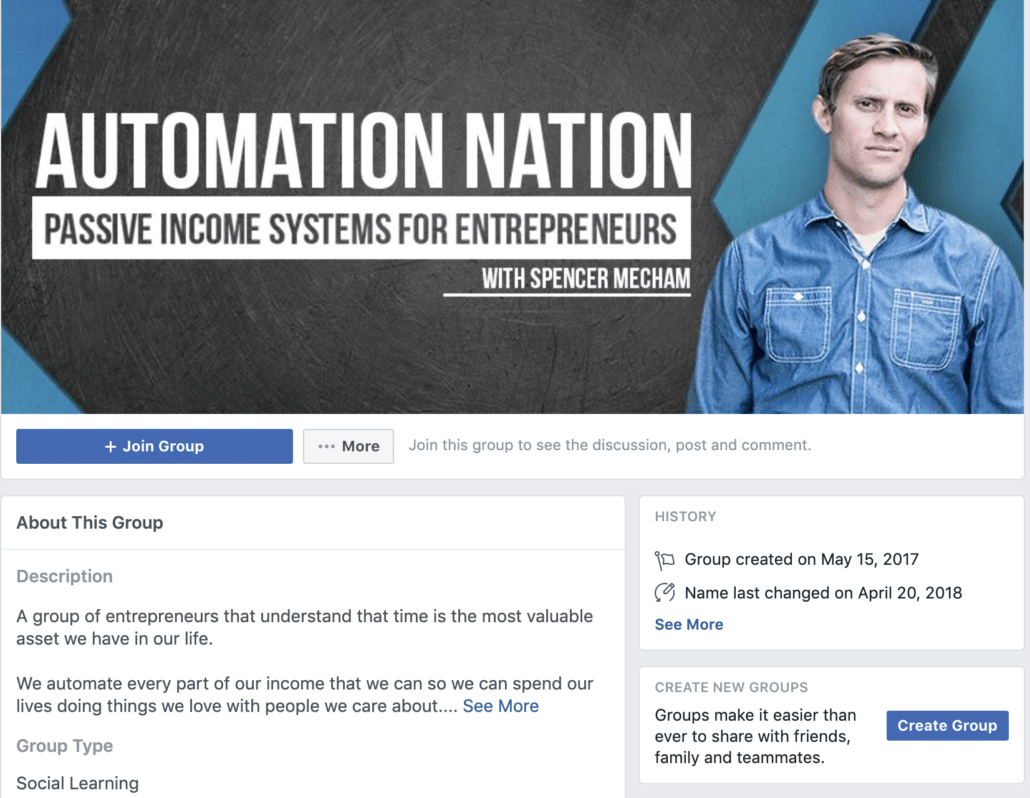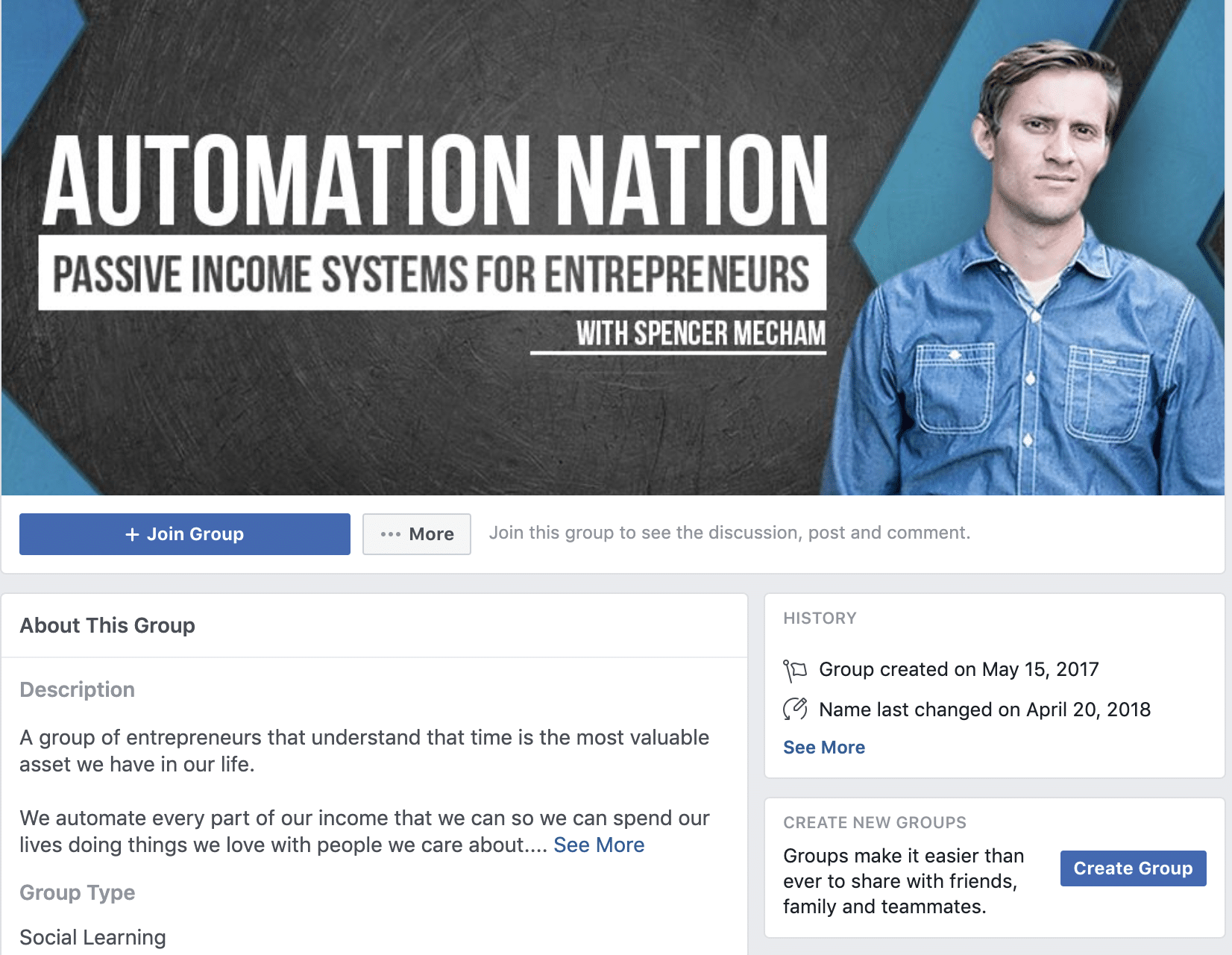 In my Facebook Group, I promote new affiliate links each day or week. I write posts, I do Facebook Lives, and I am always in the know, discovering the best new ways to create income and sharing the best of the best with my group. And they love me for it! I save them a lot of time, money, and wasted energy.
Start Building Your Audience Today!
Building an audience is not super hard. You can make friends with 5000 people on Facebook in a matter of a few months. Join Facebook groups that are related to your niche and start making acquaintances.
To do this, it is important that you are active in the groups.
Take an interest in others. Be helpful to them first without promoting your affiliate products. After you've befriended them and helped them, you can then start sharing your affiliate products where it makes sense.
You can say, "I just found out about this cool product. Let me know if you're interested and I'll shoot you a link and help you with the buying decision."
Don't forget to add links to your own site (if you have one) and to some of your affiliate links in your Facebook profile. As you make acquaintances, they'll check out your profile and are likely to click on some of the links.
Affiliate Marketing to Hot vs Warm Audiences
When you are researching and planning out what content you are going to make, there are two types of audiences you want to be promoting to:
Hot Audiences
A hot audience contains people who are directly looking for a certain product. These people already know about this product you're promoting and you're helping them make a buying decision.
They've heard about the product and they think it might be able to help them in their business or personal lives but they aren't sure they want to buy it yet.
They are searching the internet for reviews, what it is, how it works, and how much it costs. You make content that answers their questions, and then you give them the opportunity to purchase it with your affiliate link.
Here's an example, ClickFunnels is a product I promote, and as you can see when you search for "What is ClickFunnels?" my video comes up first in YouTube.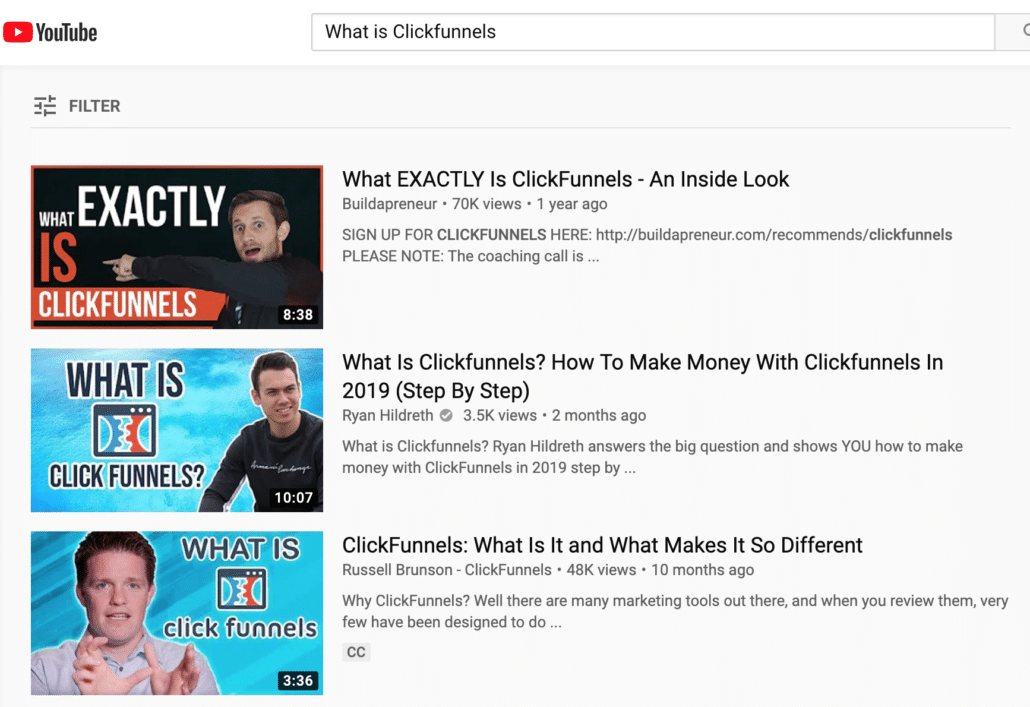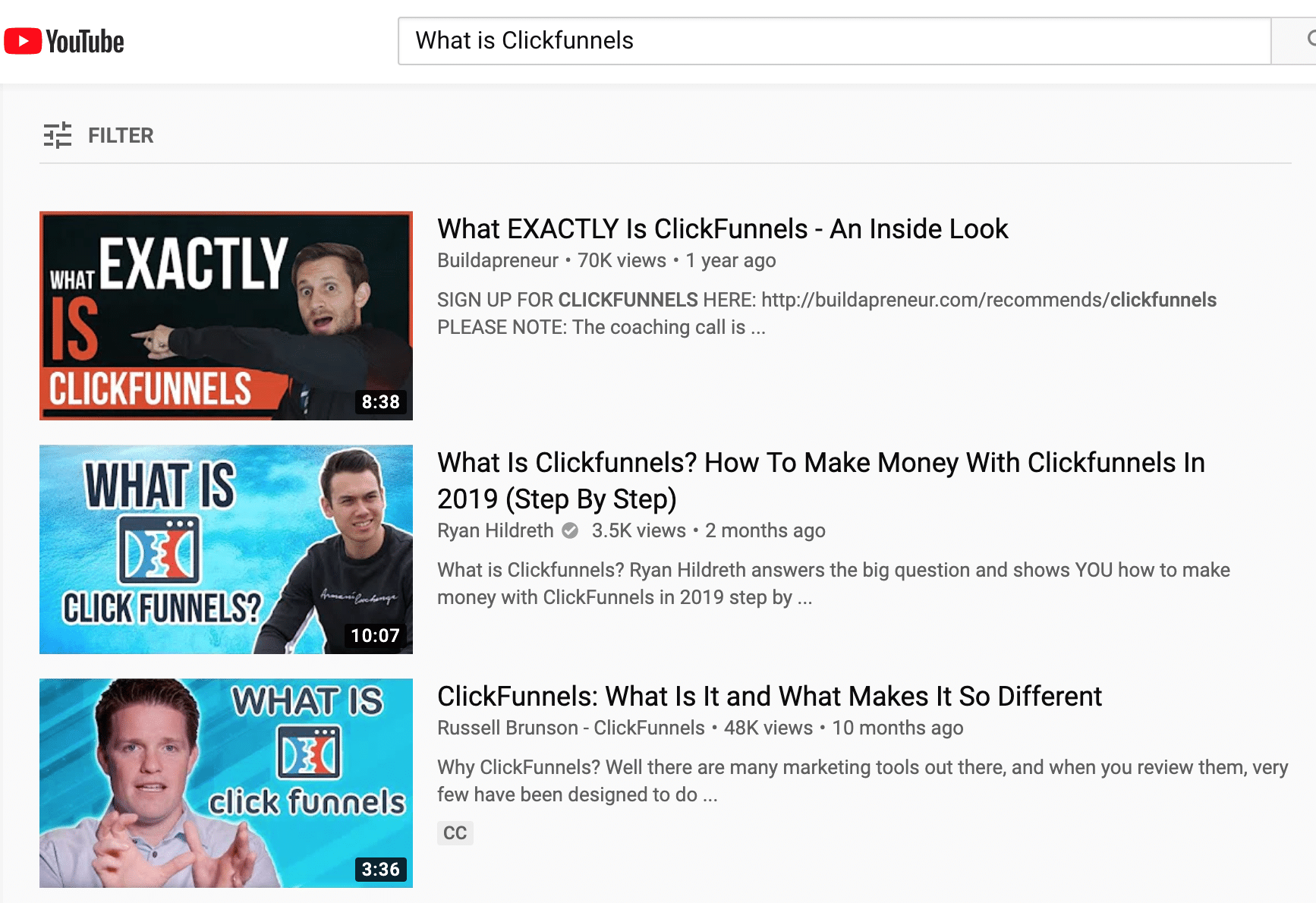 You can see that I added my affiliate link right into the description, and of course I also mentioned in the video that if they think ClickFunnels is right for them, then they can click the link below and sign up.
Warm Audiences
A warm audience consists of people that aren't necessarily looking for a specific product, but they do have a problem, they do have a credit card in their hand, and they are looking to solve it.
The "Best Software for Email Marketing" example above is a perfect example of promoting to a warm audience. The people who watch that video want to sign up for an email autoresponder but they don't know which one to choose.
So, in my video, I show them some comparisons and I help them make the buying decision. I promote high quality products that I genuinely believe are the best products.
I also created a free affiliate marketing course on email automation that I can promote to them to help them as well.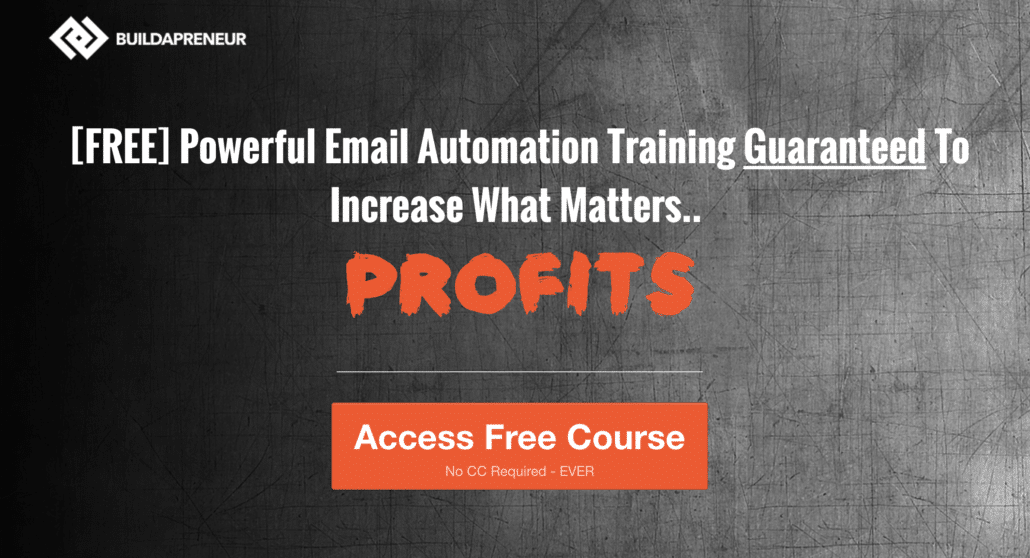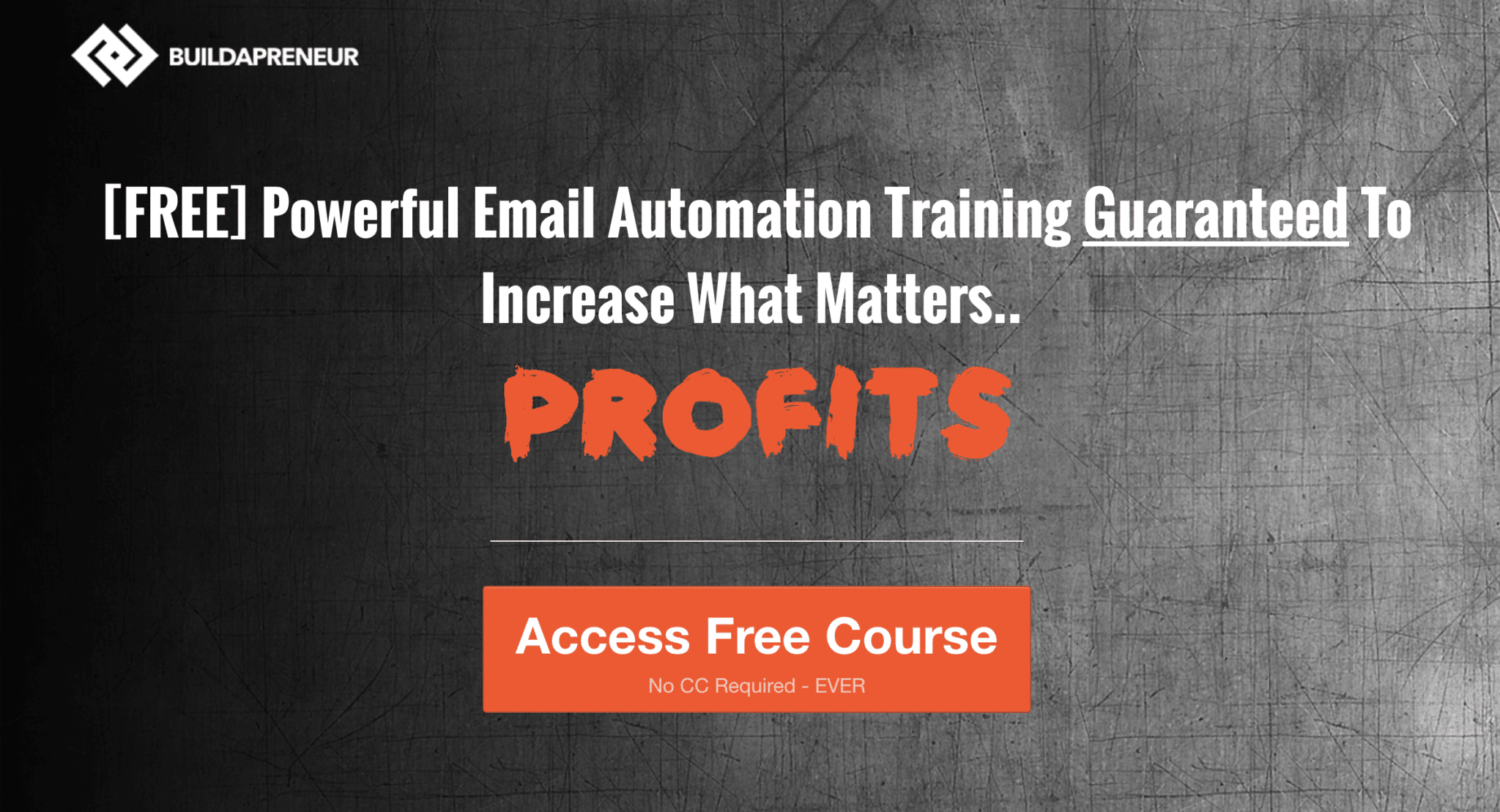 Learn More About How to Start Affiliate Marketing Today
I've made it really easy for you to gain the info and resources you need to succeed as you start affiliate marketing. Here are your next steps:
Watch My Free Webinar – This is the best place to get started because I take you inside of my business and show you exactly what I'm doing so that you can save a ton of time and get up and running quickly.
Take My Free Affiliate Marketing Course – For a more in depth dive on how to start affiliate marketing for beginners, this is the course to take!
Grab the Beginner's Guide to Affiliate Marketing – I've also created a step-by-step guide to affiliate marketing for you, and again, it's free!
Looking for high ticket affiliate programs? Check out my video below: