So you want to learn online marketing, huh?
Lucky for you, there's no shortage of gurus touting their courses and promising the world for something-something-97 dollars.
The problem, of course, is figuring out which program to invest your money into when it comes down to the wire. With courses seemingly coming out of the woodwork, that's only getting harder.
To help you narrow down your options, we'll be taking a closer look at Legendary Marketer to find out if their training is really worth your investment.
What Is Legendary Marketer?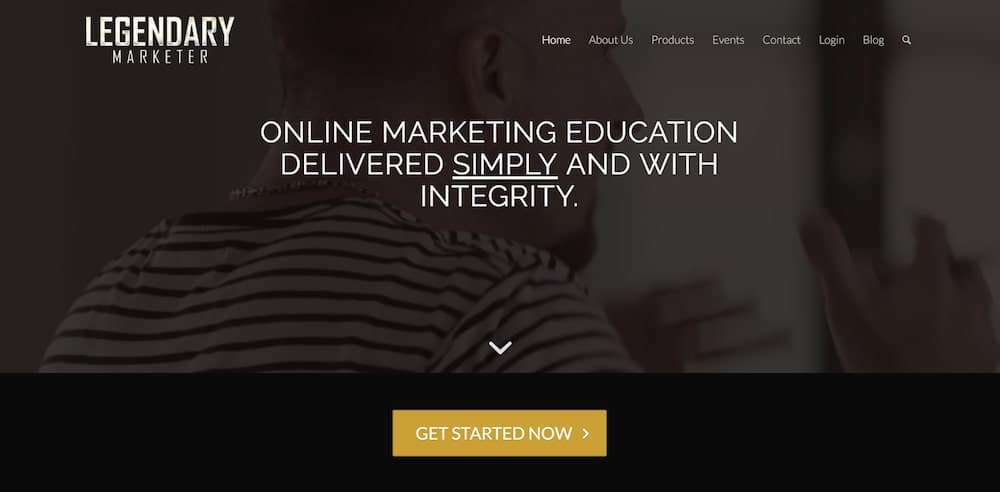 Legendary Marketer is created by David Sharpe, and it's essentially a series of training material around building a successful online business.
This training comes in the form of written articles, video content and live events. It also covers various aspects of online business, such as affiliate marketing, coaching, consulting and even selling your own digital products.
While this sounds like any other online membership or training course you can find online, Legendary Marketer does a few things distinctly differently from the competition.
Thing #1: They have a TON of products
The Legendary Marketer website currently features 6 different products, though many more are available through upsells and other private channels.
Admittedly, this isn't the first brand to pump out informational products at a dizzying rate, but in this case, many of their products seem to overlap.
For example, Legendary Marketer sell their "Traffic Rolodex Bundle" for $247, and they sell their "Invisible Influencer" program for $997 (not listed on the product page).
Here's the problem: Both products are focused on traffic generation, so why are they two separate products? And why is one so much more expensive than the other?
I guess this overlap is inevitable with so many products on their belt, but that doesn't make it any less confusing for the consumer.
This also leads me onto the next point…
Thing #2: They're very "funnel-focused"
A marketing funnel is a series of steps that a prospect goes through in order to be converted into a customer.
There's nothing wrong with using funnels in your marketing. In fact, you should be using them. When executed properly, they're extremely effective at converting prospects.
Of course, some funnels are more aggressive than others and Legendary Marketer holds nothing back in that regard. As you've no doubt realized by now, there's a reason they have so many products.
After purchasing one of their products (typically the Marketers Club ($30/month), you'll eventually be sold on another of their courses or events to continue building your business using their processes and systems.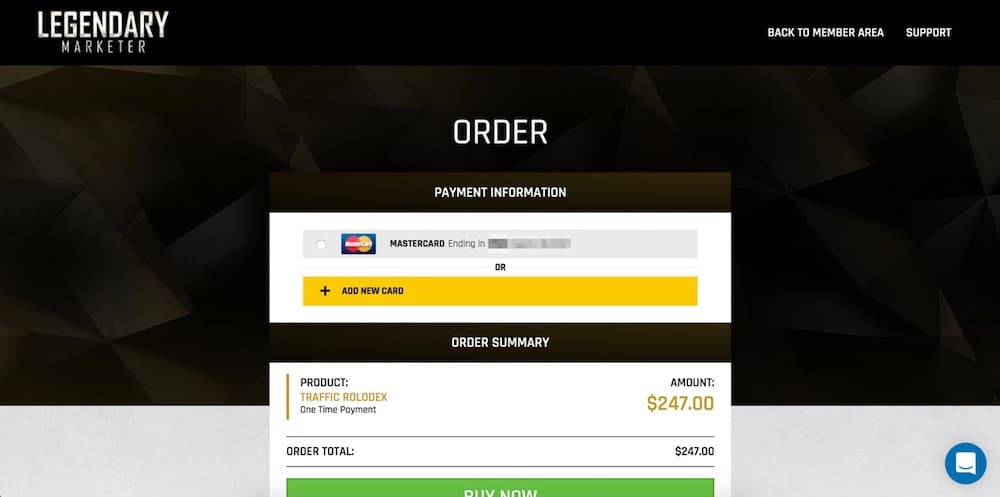 Again, this isn't necessarily unethical marketing but it does raise questions about customer expectations during that first purchase, as few will realize how deep the rabbit-hole goes.
Thing #3: Affiliate commissions are conditional
When it comes to promoting products for the purposes of affiliate marketing, most companies will fall over themselves to give you a commission on referrals.
Well, not so much with Legendary Marketer. They do have an affiliate program and much of their training revolves around promoting their products, but it's not quite as straightforward as most.
Not so long ago, you wouldn't be able to promote their products as an affiliate until you purchase those products yourself.
On the one hand, promoting products you don't own or have never used could be considered unethical. But on the other hand, they almost force you down a path where buying all their products is necessary to effectively implement what they teach.
Fortunately, the team behind Legendary Marketer changed this to a more favorable (but still questionable) affiliate model, whereby you pay $29.95 a month for "maximum payouts and tools".
The biggest difference between these plans would be the increase in commission. While the Basic plan will net you 5-30% on all referred sales, the Pro plan bumps that up to 20-60%.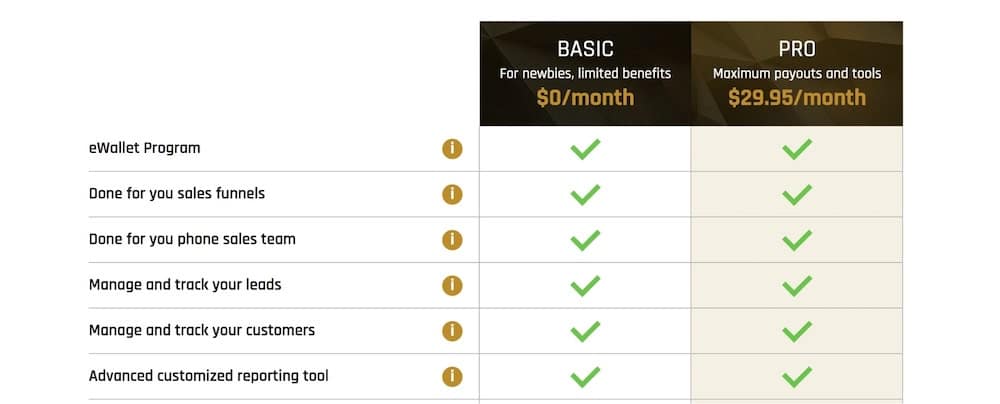 Of course, when you consider that most affiliates will be paying a monthly fee to promote Legendary Marketer products, you can't help but question the legitimacy of their reviews.
Let's Talk Products
Let's face it, it hasn't been an entirely positive start for Legendary Marketer and I haven't even covered the products yet.
Brace yourself, the road ahead is bumpy.
The Legendary Marketers Club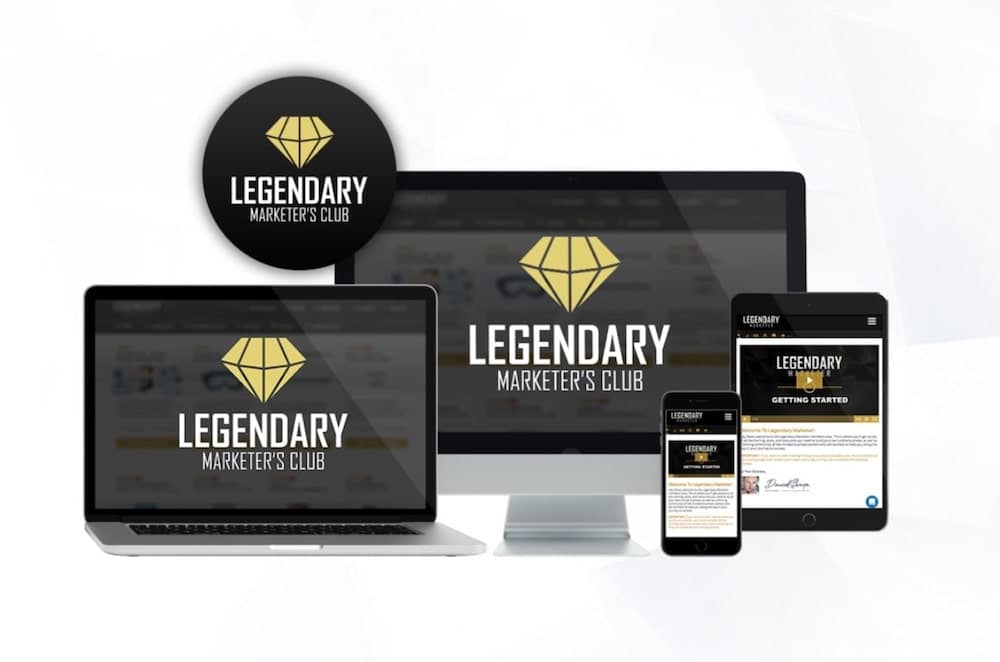 Dubbed "the Netflix of online marketing training", this one is comprised of different mini-courses designed to help entrepreneurs grow and scale their online businesses.
You'll also gain access to weekly live classes, each delivered by someone on the Legendary Marketer team. The subject of these classes aren't clear beforehand, so you will have to register and show up to each one to find out. (Weird, I know)
If you happen to miss a live training, you'll find the replays in one of the mini-courses (or modules), so you don't have to attend live but you will miss out on the chance to get your questions answered.
Speaking of the mini-courses, at the time of writing there are only 7 available but each contain anywhere from 4 to 21 video lessons. Combined, you're looking at over 30 hours of content covering many different verticals of online marketing.
As for the production quality of the lessons, most of the content is filmed in front of a live audience and ticks all the right boxes in terms of topics covered and how it's delivered. The speakers clearly know what they're doing.
Personally, I'm not a huge fan of the "fly-on-the-wall" approach to course material as it makes the content feel recycled. Does that take any value away from the content? Not really, it's just me being nitpicky.
Overall, you'll find all the usual marketing basics are well covered here. If you're just getting started with online business, you'll get more than your money's worth with this one.
Access to the Legendary Marketers Club is a $30 per month subscription, which also makes it the cheapest product on offer.
Traffic Rolodex Bundle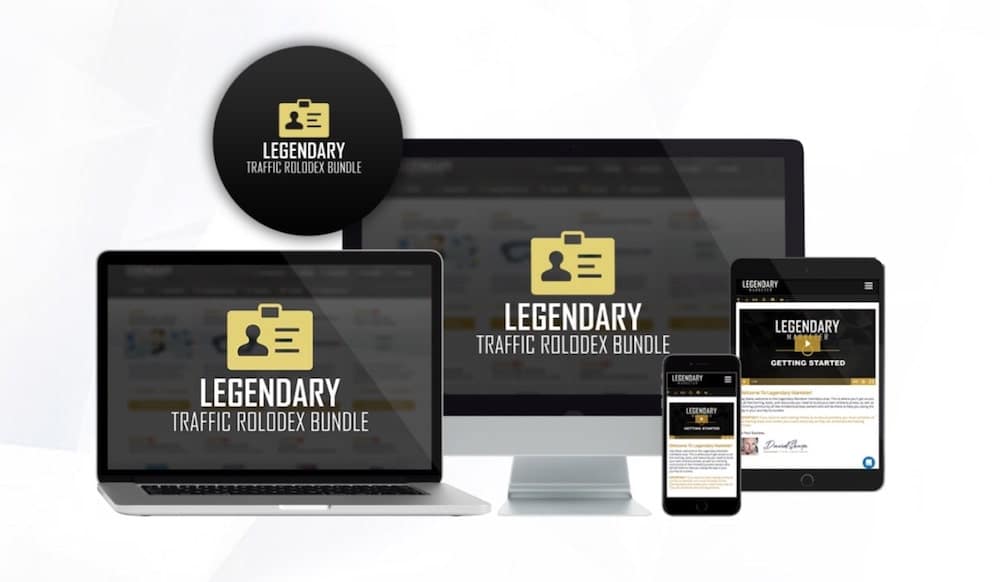 This training is designed to help you drive traffic to your website or landing page, and is made up of 8 different modules surrounding the most popular/effective traffic-generation methods.
Here, you'll learn how to drive traffic from Google, Facebook, Twitter, Instagram, Youtube, and Google Display Network. You'll also get a crash course on building landing page that pass compliancy checks across advertising platforms.
There are a few issues with this one, however.
Traffic is an essential ingredient to the success of any online business. This stuff isn't an optional add-on, so it makes little sense to break this out into a separate product. (This ties back into the "aggressive upsell" tactic I mentioned earlier.)
Most of the content is based on running paid traffic campaigns through the likes of Facebook, Instagram and YouTube. Anyone looking to utilize free traffic channels will be disappointed with this one.
The training focuses on promoting the Legendary Marketer product suite which then results in affiliate commissions for you. While you can use what you learn for other types of campaigns, they seem more interested in selling their products through you than anything else.
Overall, if you have the budget and you're looking to utilize paid channels for affiliate marketing purposes then it's a worthwhile purchase, otherwise I recommend passing on this one.
The Traffic Rolodex Bundle is $247 as a one-time payment, which is still relatively inexpensive compared to the rest of the products on offer from Legendary Marketer — though the upfront cost of paid traffic is another factor to consider.
Affiliate Marketing Business Blueprint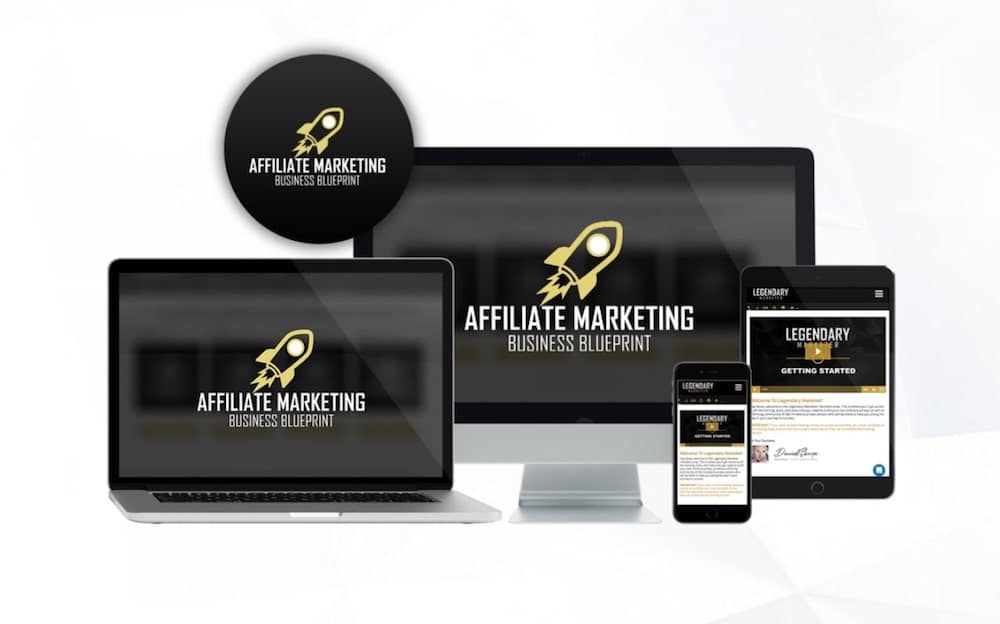 Affiliate marketing is easily one of the most popular online business models in 2019 as it offers a very low barrier to entry with great potential to scale — a combination you'll struggle to find with other models.
This training takes you through the basics of affiliate marketing, such as:
What affiliate marketing is
How affiliate marketing actually works
How to pick out products to promote
Actionable advice on getting started
How to start earning your first commissions
Once again, while you can apply these lessons to other affiliate opportunities, much of the training revolves around promoting Legendary Marketer products, and if you remember from earlier, you'll need to pay a monthly fee to get the best commissions.
You can start to see how their training interconnects in a way that makes it hard to resist the next offer, but whether you agree with this type of marketing is up to you (and your wallet).
The Affiliate Marketing Business Blueprint is $2,500 as a one-time payment. Regardless of your budget, this is a hefty investment and I think you'll find more well-rounded affiliate marketing courses at a fraction of the price just about anywhere else online.
Digital Products Business Blueprint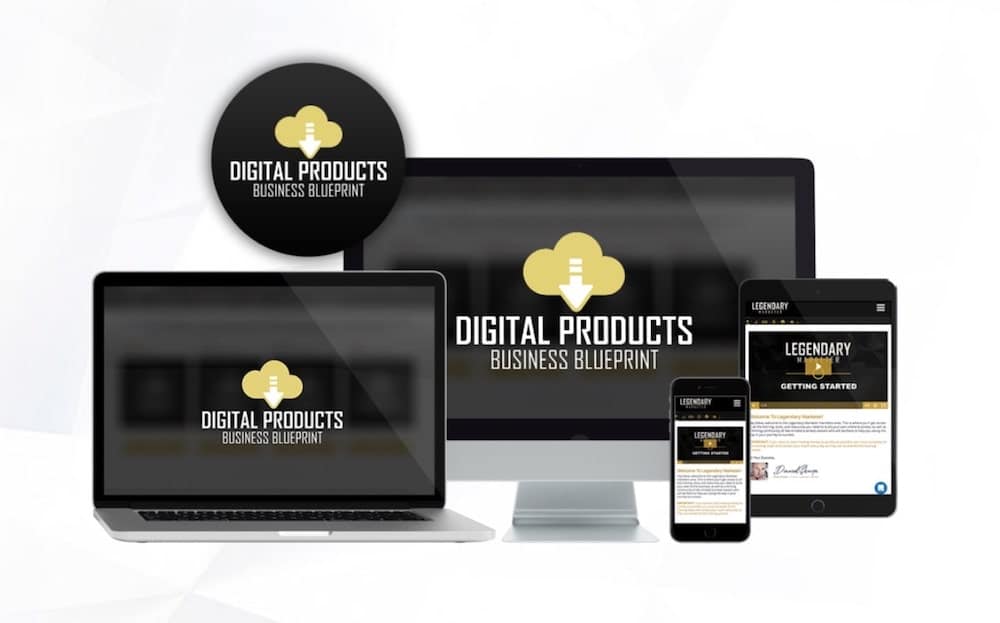 This training is about creating digital products such as written ebooks, video content and audio files to sell through a course or membership-style portal. (That's right, you can do away with the nightmares of shipping and logistics.)
Make no mistake, this is still a powerful and very much underutilized method of monetization. While most online marketers focus on promoting other products for a cut of the profits, this approach allows you to keep 100% of every sale.
This training is broken into two core stages:
Channeling your knowledge and passion into a full-fledged information product, including what medium to choose and how to structure the information in a way that makes sense.
Getting that information product in front of your target audience, including topics such as which marketing channels to use and how to find that "sweet spot" in terms of pricing.
Speaking of pricing, the Digital Marketing Business Blueprint is $2,500 as a one-time payment which, once again, is a pretty hefty investment for any online training course.
Coaching & Consulting Business Blueprint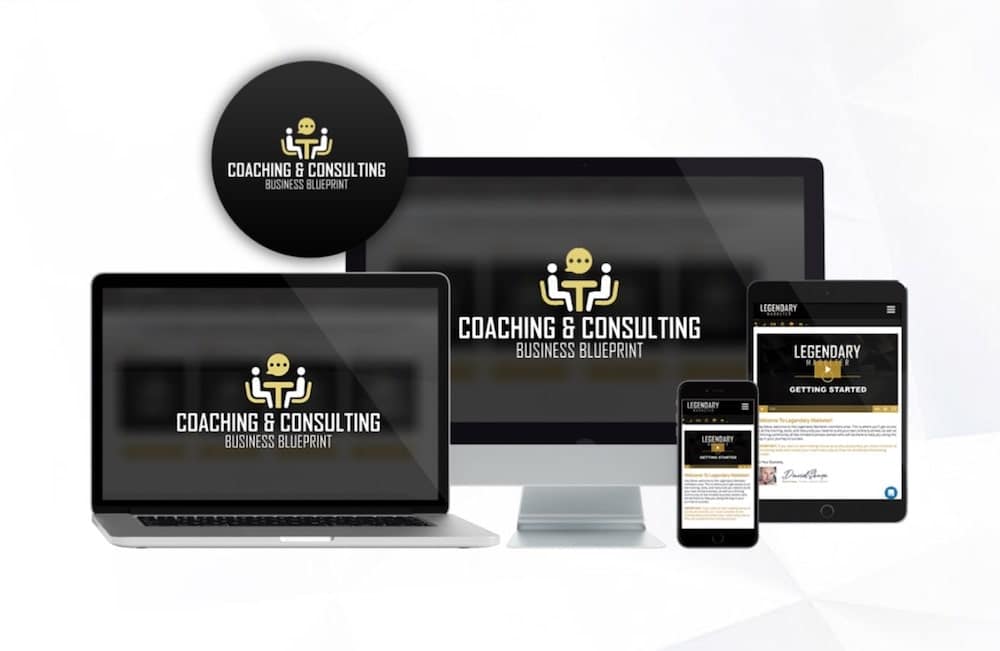 Not ready to jump on the affiliate marketing bandwagon? Don't have a desire to create and sell digital products? Well, you're not out of options yet.
If you have the time, knowledge and experience to offer, then becoming a coach or consultant will allow you to build a highly profitable service-based business without having to sell to the masses.
This training will show you:
How to identify a specific niche for your coaching and consulting service
How to find qualified leads that will benefit from your service
How to develop a winning pitch and close potential clients
How to find the best industry platforms and tech to run your business
How to choose an invoicing platform to collect payments from clients
How much will this one set you back?
You guessed it, the Coaching & Consulting Business Blueprint will set you back another $2,500 as a one-time payment.
While this business model is much less scalable than the previous, there's no denying that becoming a successful coach or consultant will easily produce a return on that investment. With that said, this one is still relatively overpriced.
Events & Masterminds Business Blueprint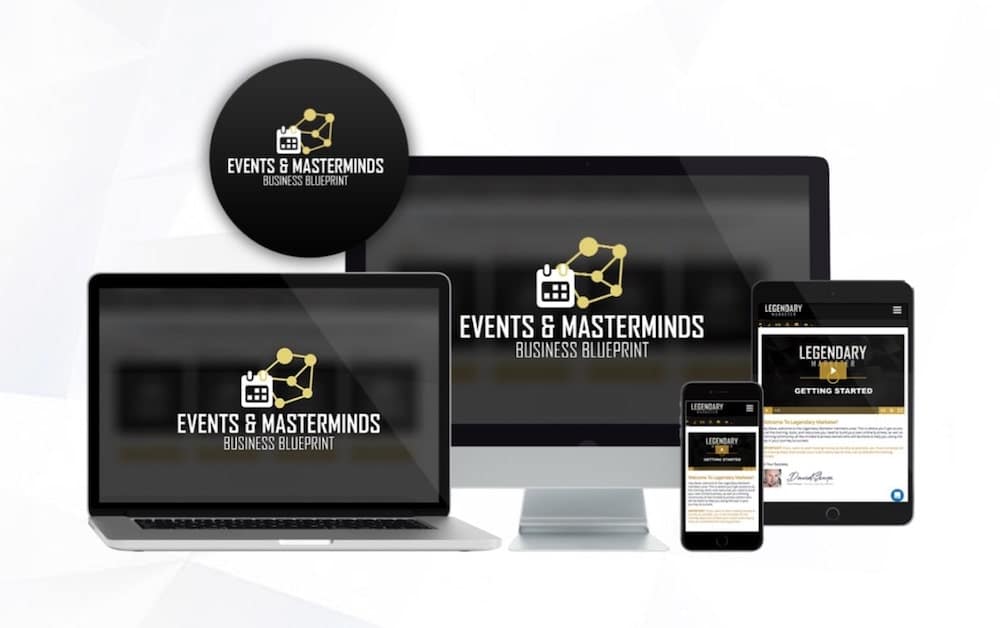 This is the last training on the list, but by no means the least significant.
Despite the growing popularity surrounding online ventures, events and masterminds have remained a profitable business opportunity for those who prefer a more "in-person" approach.
Like the courses mentioned above, this one can be applied to pretty much any industry such as digital marketing, self-improvement, health and fitness, and many, many more.
In this training, you'll learn:
How to plan your event the right way (avoiding common pitfalls)
How to slash overheads and increase profit margins
Who to hire and where to host your events
How to create a productive atmosphere for your attendees
How to get people to keep coming back (and paying)
It's also worth mentioning this is primarily based on live, in-person events, so those looking to host virtual summits or regular mastermind group calls will find little value in this one.
Gaining access to the Events & Masterminds Business Blueprint will require an investment of $2,500 as a one-time payment.
Note: Legendary Marketer have other products that aren't listed on the website but are offered as upsells through their core products. This review only covers the core products found here.
The Facebook Group Community
You didn't expect me to finish this review without mentioning the Legendary Marketer Facebook group, did you?
The good news is, regardless of which (or how many) products you buy, you'll be allowed to join the Facebook community with over 16,000 other Legendary Marketer members.
When you first join the group, you'll be asked to provide your account email address for verification purposes:
It can take a few days to get approved, but once inside you'll be able to:
Discuss course lessons and takeaways
Get help on related sticking points
Gain insights into other business ventures
Network with other members
Despite videos, downloadable PDF's and endless bonuses, a bustling community is often the most overlooked perk you gain from a purchase like this. You'll find it's also often the most valuable to your business long-term.
Conclusion
To finish things off, let's go back to the title of this article; "Is Legendary Marketer a clever scam or worthy business investment?"
This is a highly subjective question and you can expect a different answer from just about everyone you ask. (Though it's best not to ask affiliates, if you know what I mean.)
As for me? Honestly, it's hard to place in either category.
The content they promise is real, well-produced and delivered by people who clearly know the topic, so there is value to be had. And yes, the series of upsells following a purchase is annoying and perhaps pushes ethical boundaries — but it's not a scam, it's just aggressive marketing.
The problems that I keep going back to, and the reason I can't recommend Legendary Marketer, is that the content is aggressively broken up and sold as individual trainings at a heavily inflated price.
If you're still tempted to try Legendary Marketer for yourself, you can click here to check out their range of products. There's also a 30-day refund policy, so you have very little to lose.
PROS
Content covers all major areas of digital marketing
High-quality content presented by experienced marketers
Generous affiliate commissions (on the paid affiliate plan)
Access to an engaged Facebook community group of like-minded entrepreneurs
30-day refund policy on all products
CONS
Content is heavily broken up and sold as individual products
Affiliate training is too focused on promoting Legendary Marker products
Some video content is recycled from live recordings
Commissions on Legendary Marketer products scale based on free/paid membership
Most of the products are overpriced for what they are