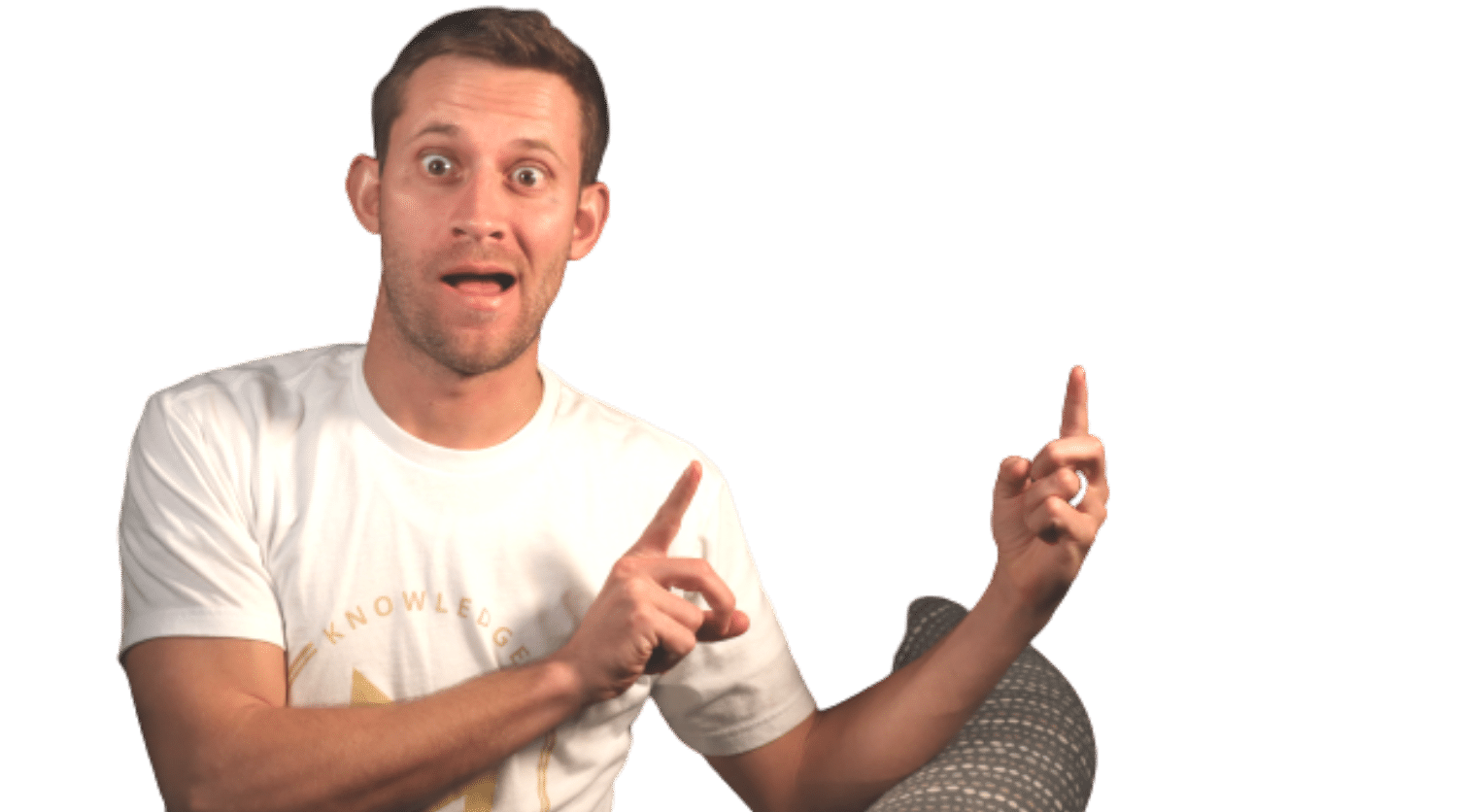 Looking To Start An Affiliate Marketing Blog?
The Target affiliate program is something that a lot of affiliate marketers have been looking at as an alternative to the Amazon affiliate marketing program. Especially with a terrible updates Amazon just made to the program.
Personally I'll be honest – I just don't love either of them.
I prefer high-ticket or recurring commission products.
But everyone has their own thing. 
So I've decided to plug my nose and put together a review for you so that you can see the benefits and disadvantages of the program, as well as a comparison to Amazon.
Deep Dive: Target Affiliate Program Review
The Target affiliate program can be a viable affiliate program depending on what you are promoting and how much traffic you get to your site. The biggest upside is that it's a trusted retailer, so conversions are often higher than many less known companies.
Let's break this Target affiliate program review into a few different topics (and you can jump to any of them by clicking these links):
Target Affiliate Program Commission>>
Benefits of the Target Affiliate Marketing Program>>
Disadvantages of the Target Affiliate Program>>
Target Affiliate Program vs. Amazon Associates Program>>
My Suggestion & Some Next Steps>>

Target Affiliate Program Commission
The Target affiliate program commission structure is divided by category. Unfortunately, affiliates can't earn commissions on every category that Target sells. Currently, there are four categories for which you can earn commissions:
Apparel & Accessories

Home & Outdoor Living

Baby Gear & Furniture

Health & Beauty
Although, the commission rates offered are average for the industry, I consider them to be pretty low, ranging from 1% to 8% depending on which category and how many sales you refer per month.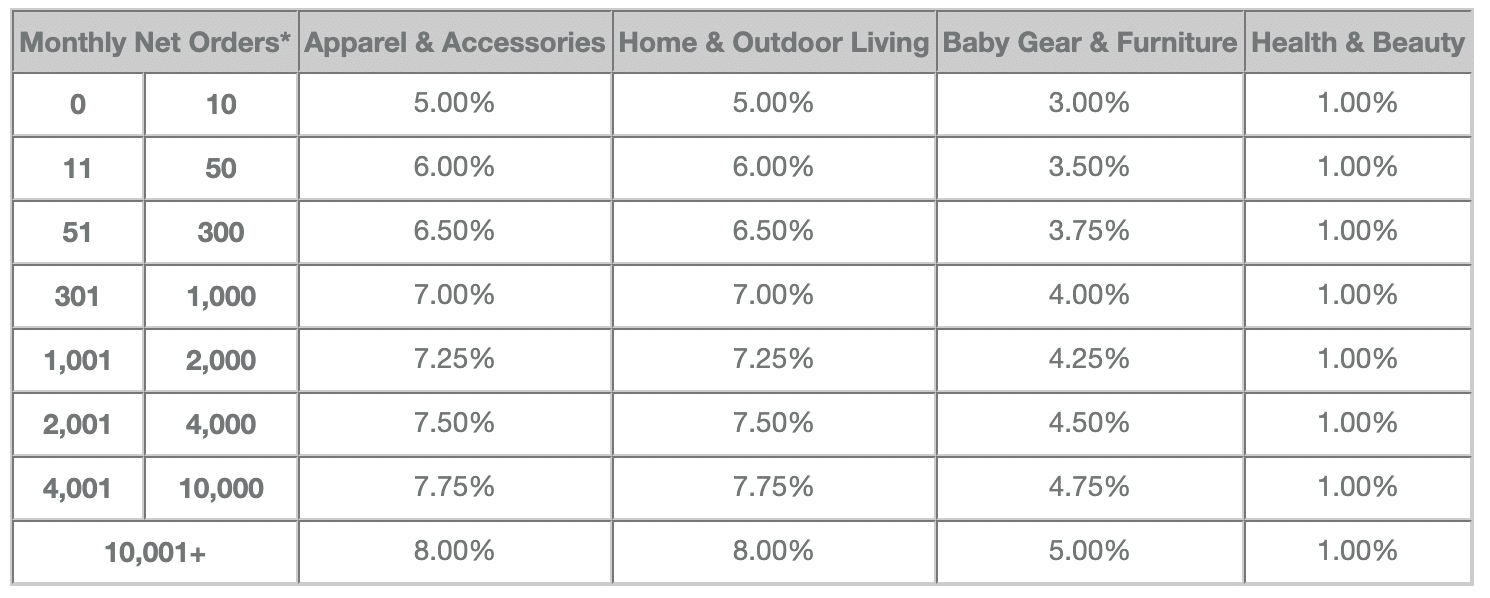 The good thing is the more orders you refer, the higher your commission rate will be (with the exception of Health & Beauty, which only earns 1% across the board).
There are some interesting bonuses that come into play when people you refer start a wedding, baby or college registry, or when they sign up for a REDcard. These bonuses range from $4 to $8 per signup.
For the full commission chart, click here.

Benefits of the Target Affiliate Marketing Program
There are several benefits of the Target affiliate marketing program that can make it worth promoting for some affiliates. Here's a brief list of the benefits and then we'll dive into them in more detail below…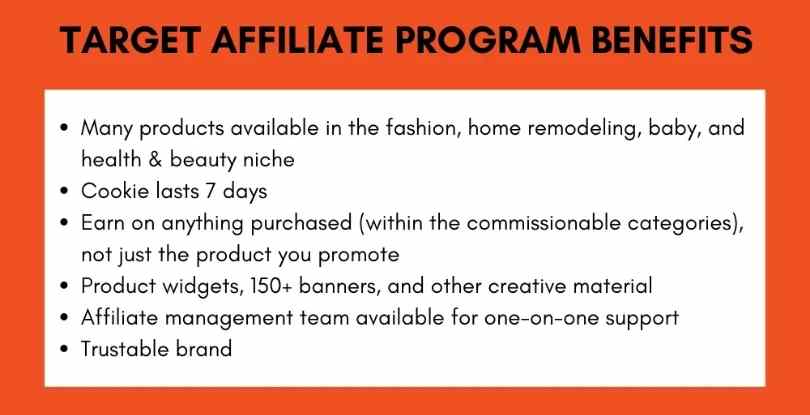 Range of Products
Even though the Target affiliate program isn't open to all products that Target sells, there are still a lot of products available to promote. If you are in the fashion, home remodeling, or baby niche, you'll have a heyday.
I wouldn't suggest bothering if you are in the health and beauty niche since the commission is so low.
Cookie Duration
Target's cookie duration is 7 days, which is not great compared to most affiliate programs, but it's much better than Amazon's 24 hour cookie.
It's also nice that you'll receive commissions on any purchase made during those 7 days (within the commissionable categories), not just on the product you promote.
Creative Material
Target has a nice supply of creatives available for affiliates to use to promote their products. These include product widgets, 150+ banners, and other creative material. 
Affiliate Support
One of the things I really like about the Target Affiliate Marketing Program is that they provide their affiliates with access to an affiliate management team for one-on-one support. You can work with them to improve your conversions and you never have to feel lost and alone.
This is great for beginners, and something Amazon does not offer.
Brand Trust
Probably the biggest benefit of the Target affiliate program is the fact that it's a trusted brand that people know and like. This greatly helps with conversions and can make your job as an affiliate marketer much easier.
<<<Like what you're hearing? You can join the Target Affiliate Program here>>>

Disadvantages of the Target Affiliate Program
No Target affiliate program review would be complete without also looking at the disadvantages. Here's a quick list of the disadvantages before we look at them in more detail…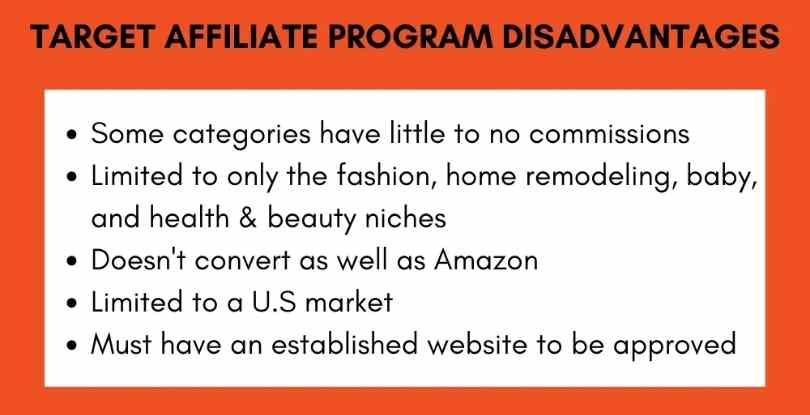 Low Commissions
Some categories in the Target affiliate marketing program have little to no commissions. Take Health & Beauty, for example, which is set at 1% no matter how much volume you bring in. To me, that's just not worth the effort. 
Limited to a Few Niches
Then, of course, there is the fact that many of the categories that Target sells receive no commissions at all. Being able to use this program is therefore limited to a few niches (fashion, home remodeling, baby, and health & beauty).
Conversions
While Target is a household name and that certainly helps with conversions, it simply doesn't convert as well as Amazon. These days, Amazon is what people think of for online shopping, and there's really no getting around that.
U.S. Market
Target is a U.S. store, which makes it difficult for websites with an audience outside of the U.S. to use the Target affiliate program.
Experience
In order to be accepted into the Target affiliate program, you need to have an established website that generates a decent amount of traffic. This will certainly leave all newbies out. And if you're trying to do affiliate marketing without a website, you won't be able to with Target.
<<<Still want to sign up for the Target Affiliate Program? Click here>>>

Target Affiliate Program vs Amazon Associates Program
I have been known to put down the Amazon affiliate marketing program because there are so many other affiliate programs that bring in much higher commissions.
I'd much rather spend my time promoting a program that will earn me $100 per sale and has a 30 day cookie window than I would on one that earns 3% of a $30 product with only a 24 hour cookie. That's how you have big pay days, like I did with these $25K affiliate marketing examples.
Having said that, let's compare the Amazon Associates program to Target's affiliate program and evaluate if Target is a good contender…
Commission Comparison
As you can see by the comparison chart below, the commissions are all over the place between Amazon and Target and they depend on what you are promoting.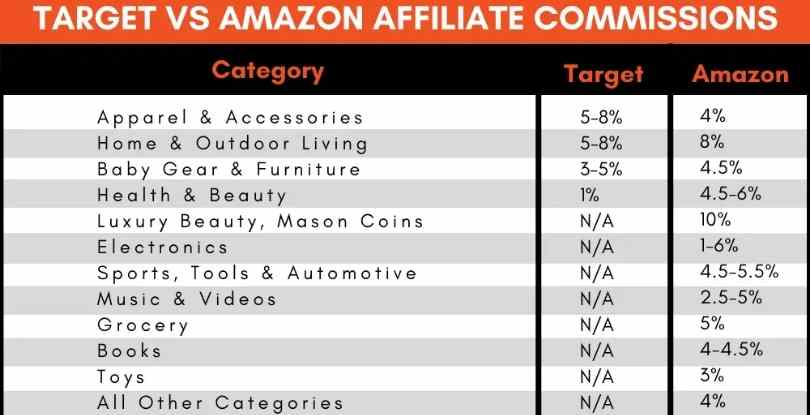 Obviously, if you are in the health and beauty niche or if you are in a niche that Target doesn't offer commissions on, Amazon will be the better way to go. But for apparel and accessories, you are better off promoting Target.
Amazon's commission structure is a lot more complicated than that though, so here's a link for you to learn more straight from them.
Once again, here's the link to Target's commission chart.
Product Comparison
Nothing can really compare to the wide range of offerings that Amazon provides. And what's nice is that the only thing you really can't promote as an Amazon affiliate is gift cards.
If, however, you are in one of the niches that Target offers commissions on, it might be a good choice for you.
Conversion Comparison
As I mentioned above, your conversions are likely to be good with Target, but not as good as Amazon just because Amazon is the king of online shopping.
But both are trusted brands and some people might like that they can purchase something and pick it up at their local Target store if they want to get it right away.
Cookie Comparison
When it comes to cookies, Target wins because their cookie is 7 days compared to Amazon's 24 hours.
In both cases, you will earn commissions on whatever is purchased in that time period (as long as it is in a category that generates commissions).
One thing in Amazon's favor is that if a customer adds an item to their cart but doesn't purchase right away, you have 90 days to receive the commission if they do purchase it in that amount of time.
Affiliate Management Team Comparison
Target is the winner here as well because they give their affiliates access to real live affiliate managers. You can work with them on a one-on-one basis to get your questions answered and to increase your conversions.
Amazon doesn't have anything even remotely close to that.
My Suggestion & Some Next Steps
While I definitely like the Target affiliate program more than the Amazon affiliate marketing program, I tend to promote affiliate programs that offer much higher commissions. It gives you a much greater return on your time and effort.
Here are some articles I've put together that will help you find affiliate programs that are more worth the effort:
High Ticket Affiliate Programs – With these programs, you'll generate much higher commissions on each sale.
Recurring Commissions for Recurring Income – What's even better than higher commissions? Recurring income that comes in every single month. Do the work once and get paid over and over again! 

Looking for high ticket affiliate programs? Check out my video below: