The 3-step system I used to make 7-figures of Affiliate Commissions in my first 3 years as an affiliate marketer.
PROS
Modern drag and drop website/landing page builder
Content management system for publishing content
Create events with webinar integration
Supports memberships, courses and other info products
Proven, pre-made funnels with 1-click setup
Full checkout including different payment models & 1-click upsells
Conditional automations throughout the platform
Built-in email marketing for broadcasts and sequences
Includes affiliate portal to recruit your own promoters
Assessments for surveying and quizzing your audience
An abundance of help videos and other documentation
CONS
No visual automation workflows for email marketing
Form functionality is relatively basic
Hard to find consistency between site and landing page templates
No native webinar solution
Might be difficult to migrate away from Kajabi in future
Building an online business is hard.
I'm not just talking about getting your website and products out into the wild, but also creating those business assets in the first place.
Whether it's figuring out complicated tech, spending hours on design, or simply struggling to get your setup working as intended, these tasks can literally make or break your success.
The good news is, thanks to the rise of 'all-in-one' solutions, starting an online business doesn't have to be complicated in 2019.
So today, we'll be taking a look at popular all-in-one platform used by some of the best marketers in the industry; Kajabi.
What Is Kajabi?
Kajabi is an all-in-one marketing platform for building an online business quickly and easily from scratch.
It offers a comprehensive suite of marketing tools required to run your business, such as website creation, email marketing, membership portals, a landing page builder and whole lot more.
But while the range of applications found with Kajabi is impressive, it's not the full extent of its allure.
Like any all-in-one platform, each tool within its ecosystem is designed to work seamlessly with the next, resulting in a tightly integrated system that will always be more reliable than a web of independent solutions.
Who Is It Targeted To?
While there are many ways to use Kajabi to create an online business, there's one type of audience it ultimately serves.
Information marketers.
Whether you sell information products or coaching, Kajabi's suite of tools are built for producing, marketing and selling your knowledge.
In fact, Kajabi refers to itself as a "Knowledge Commerce platform" according to their about page:
"we created the world's only Knowledge Commerce platform to help people get their knowledge out there and find success"
Website
The starting point for any new online venture is to have a web property you can call home, and that's exactly what this area of Kajabi is all about.
Here you'll find several tools, including:
A website designer
A page builder
A blog builder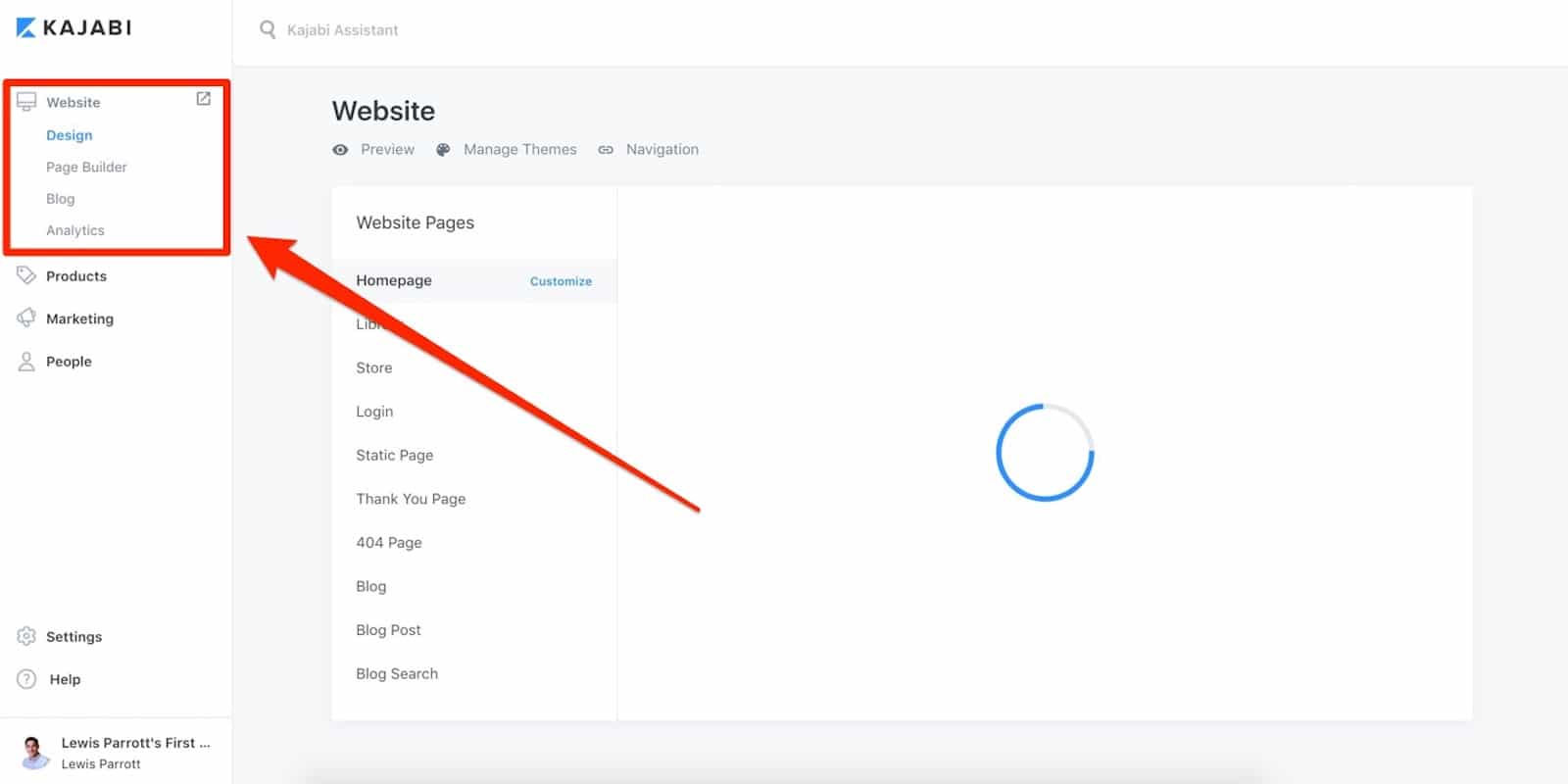 Website Designer
A website is made up of a collection of core pages.
These typically include a homepage, individual landing pages, a login page, a number of blog posts and maybe even an ecommerce store.
Kajabi presents each of these website elements like so: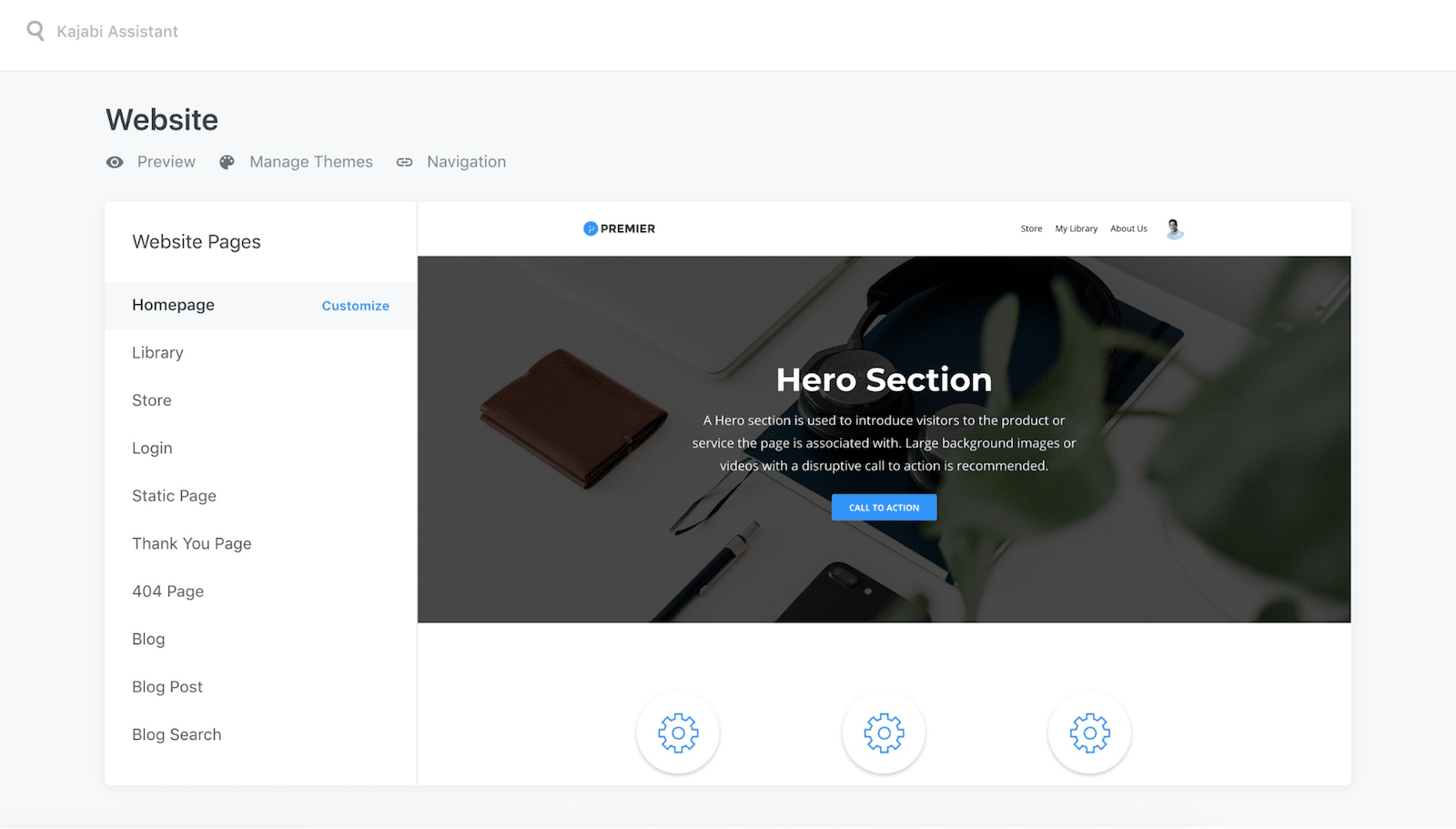 This is basically an overview of your site.
You can navigate to each specific section of your site to preview it, and clicking further into the settings will allow you to customize it.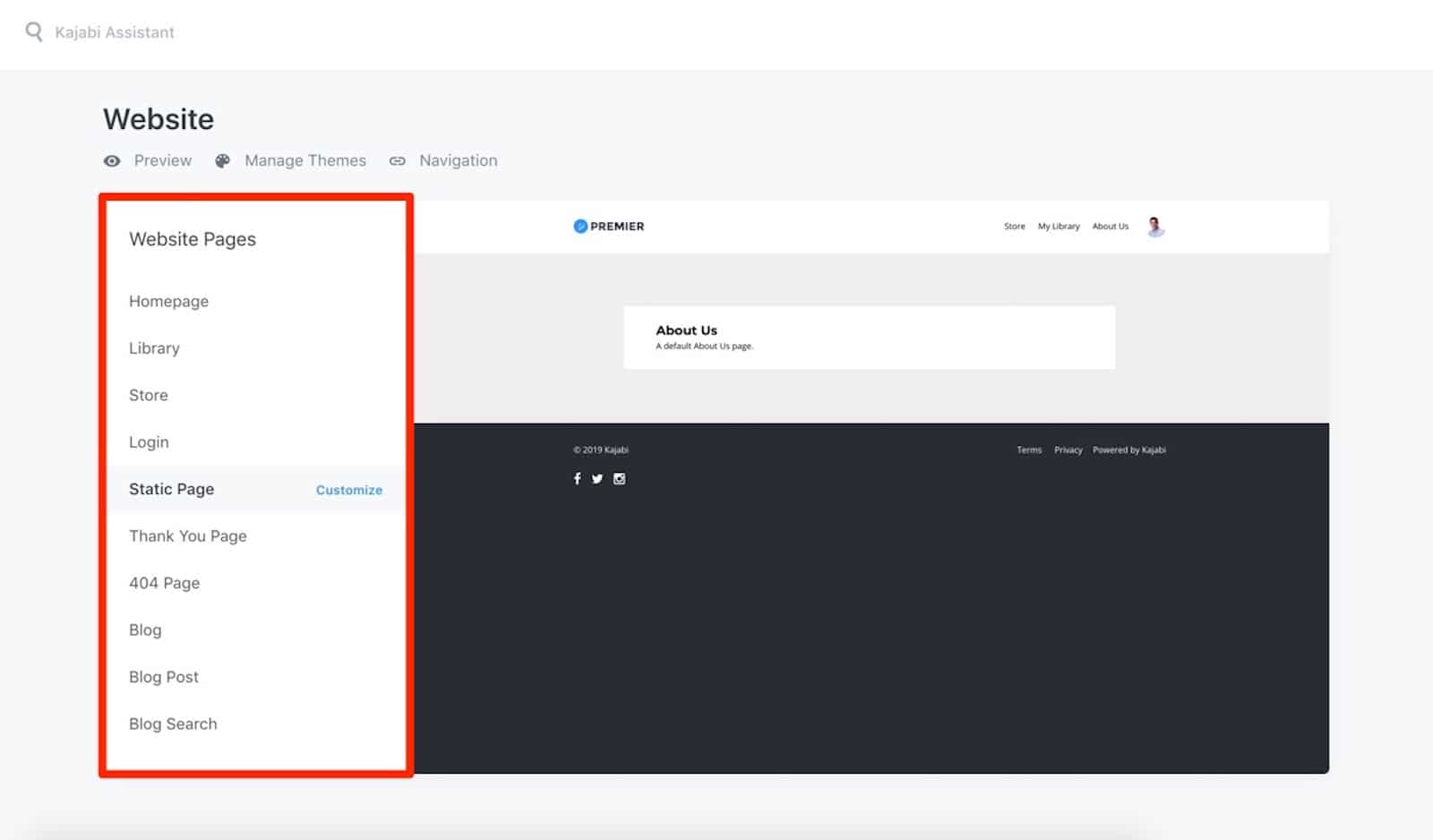 The customizer itself is like most other page builders you'll find, with a few notable differences.
For one, clicking and making changes to specific elements is butter-smooth, as is navigating the sidebar menus.
Reordering the different sections of the page is both fast and intuitive, and adding new sections couldn't be easier.
Kajabi supports a slew of different section types, including countdown timers, image galleries, testimonials, videos and more.
Each section will have its own set of customization options such as animations, events and appearance. It's not quite as flexible as Elementor or Divi, but the sheer ease-of-use and professional finish makes this a very viable competitor.
You will find a few bonus features here though, such as enabling popups triggered by exit-intent or on-click events.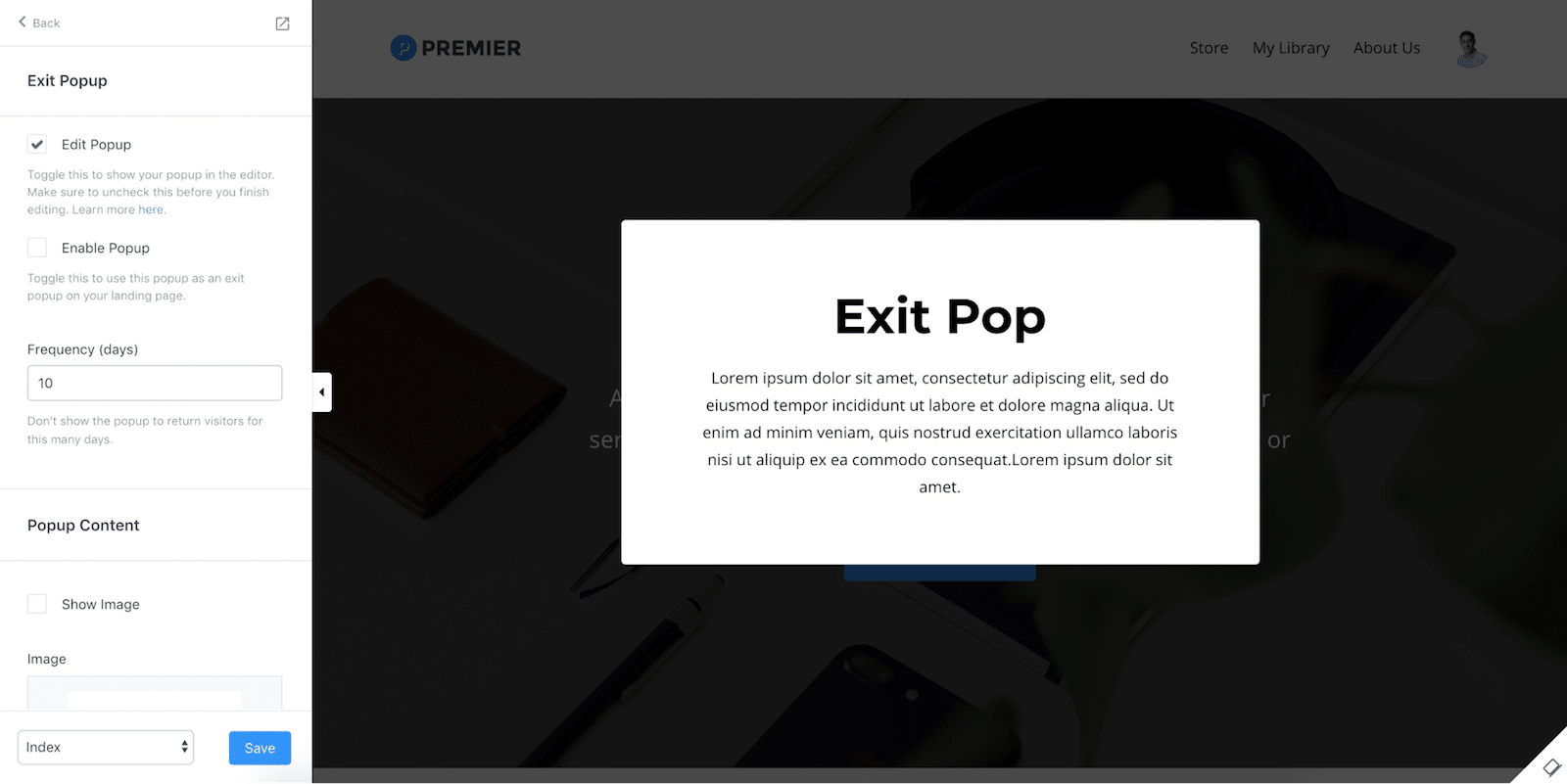 Speaking of appearance, Kajabi will give you the option to change your theme at any time.
This is essentially just a different layout that uses alternate typography and color scheme settings. There's really not much in the way of variation.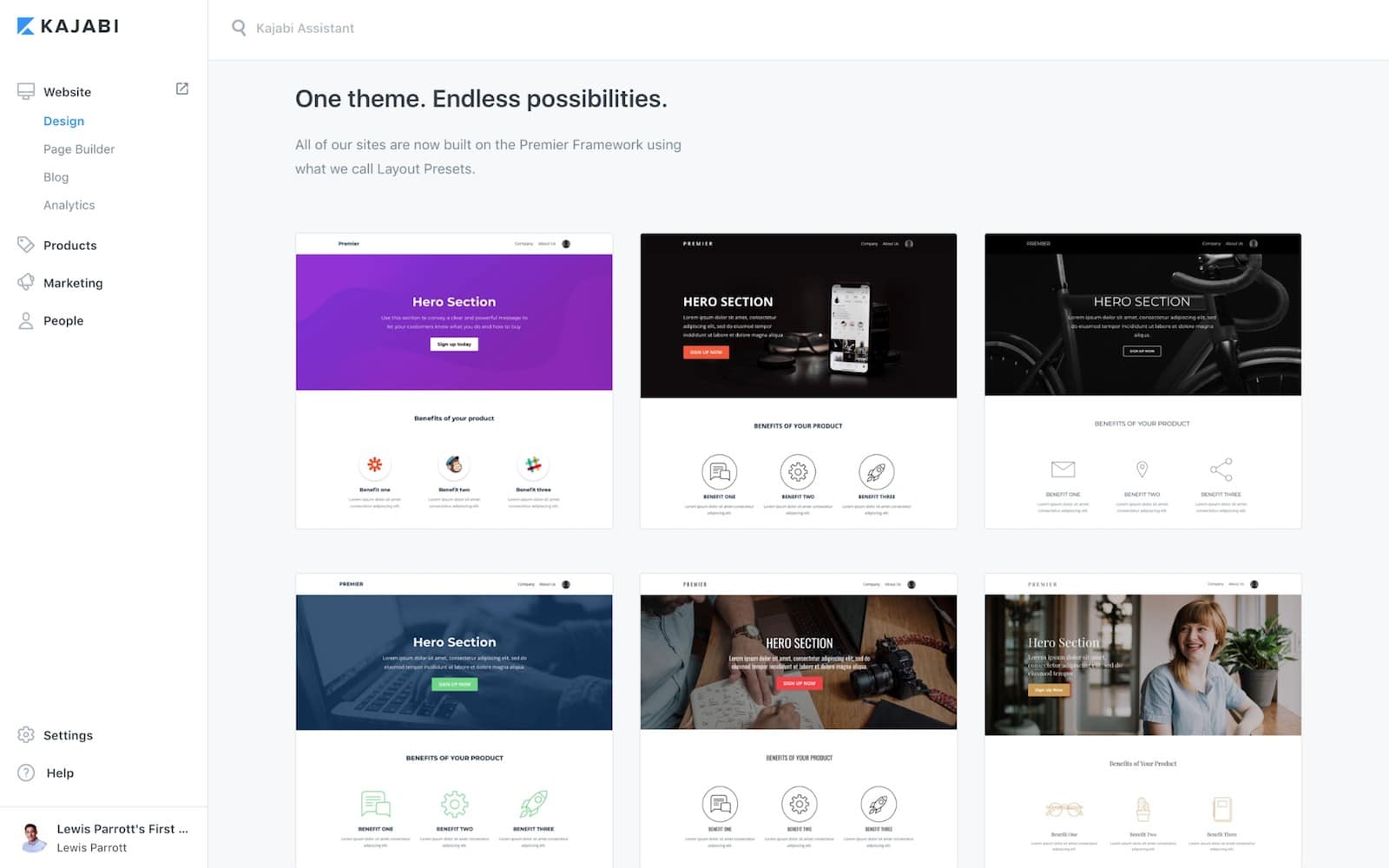 So yeah, I found the theme options to be of little use, especially since you can make these changes yourself when editing any page on your website. In fact, changes to typography and color schemes will even apply globally.
Overall, the website builder is
Page Builder
The page builder is for individual pages and landing pages which can be used for lead magnets, webinar registrations, free trial offers and more.
You'll find this tool has many similarities to the website designer, though it does rely on a more template-focused approach.
When creating a page, you'll be asked to select from a dozen or so pre-design templates.
These cover a wide range of use-cases and different design styles, but finding something that stays consistent with your website might be challenging.
While you can modify a template to fit with the rest of your site, there's unfortunately no quick way to apply the same style settings.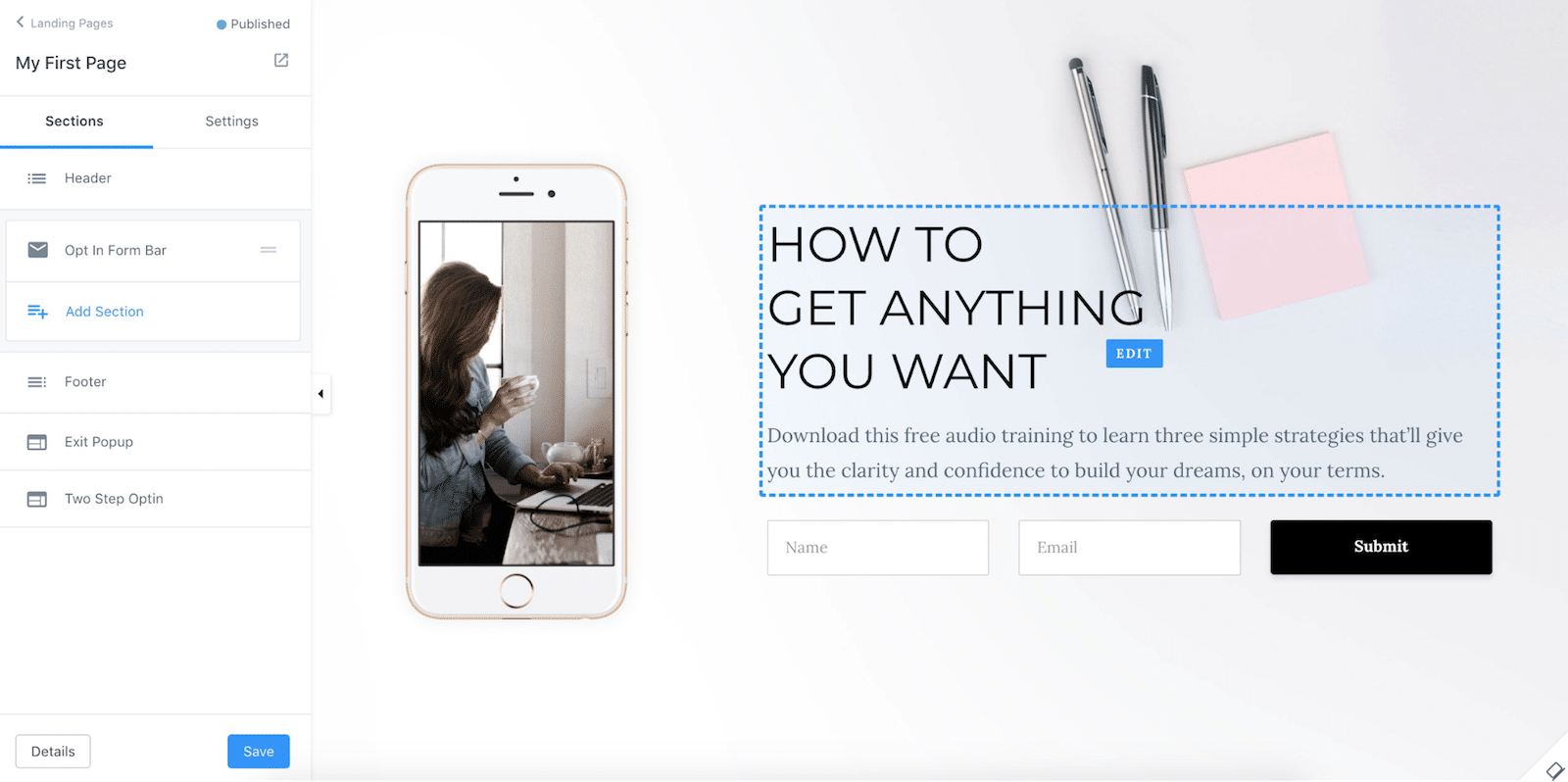 The page editor itself is just as nimble as the website editor, and you'll even find a few template-specific options to help boost conversions, such as enabling 'two-step' optin.
Overall, aside from the consistency issue I found the page builder just as impressive as the site builder.
Blog
Content marketing is the backbone of SEO in 2019, which is why Kajabi features a built-in blog as part of its suite.
After settling on the appearance of your website (and blog) in the previous section, here's where you'll quickly add new articles to your blog feed.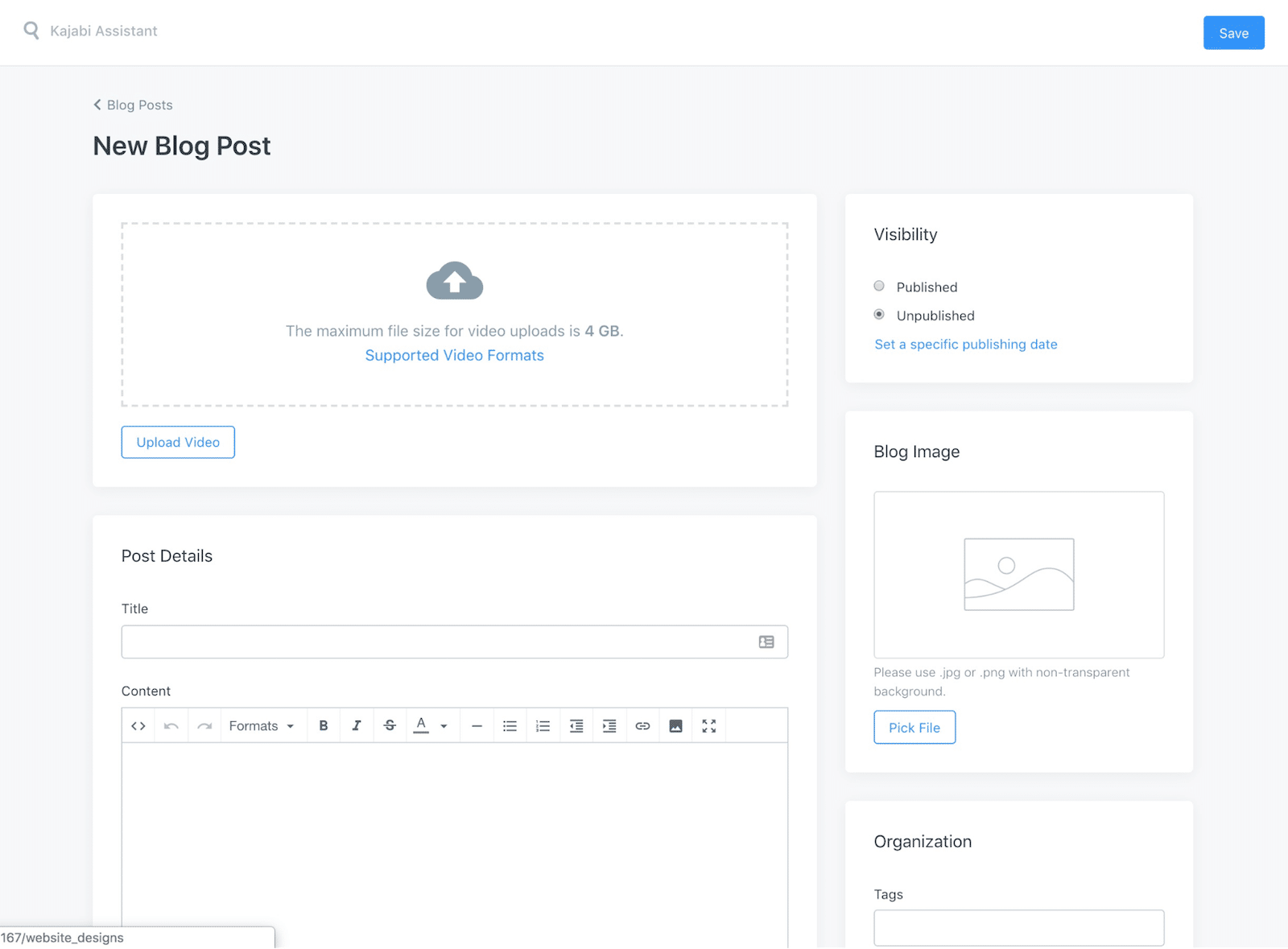 If you've ever used WordPress, this is a simplified version of the CMS.
This interface will allow you to add a video, a featured image, SEO titles and description, tags and, of course, your actual blog content.
You can also preview your article before hitting the publish button.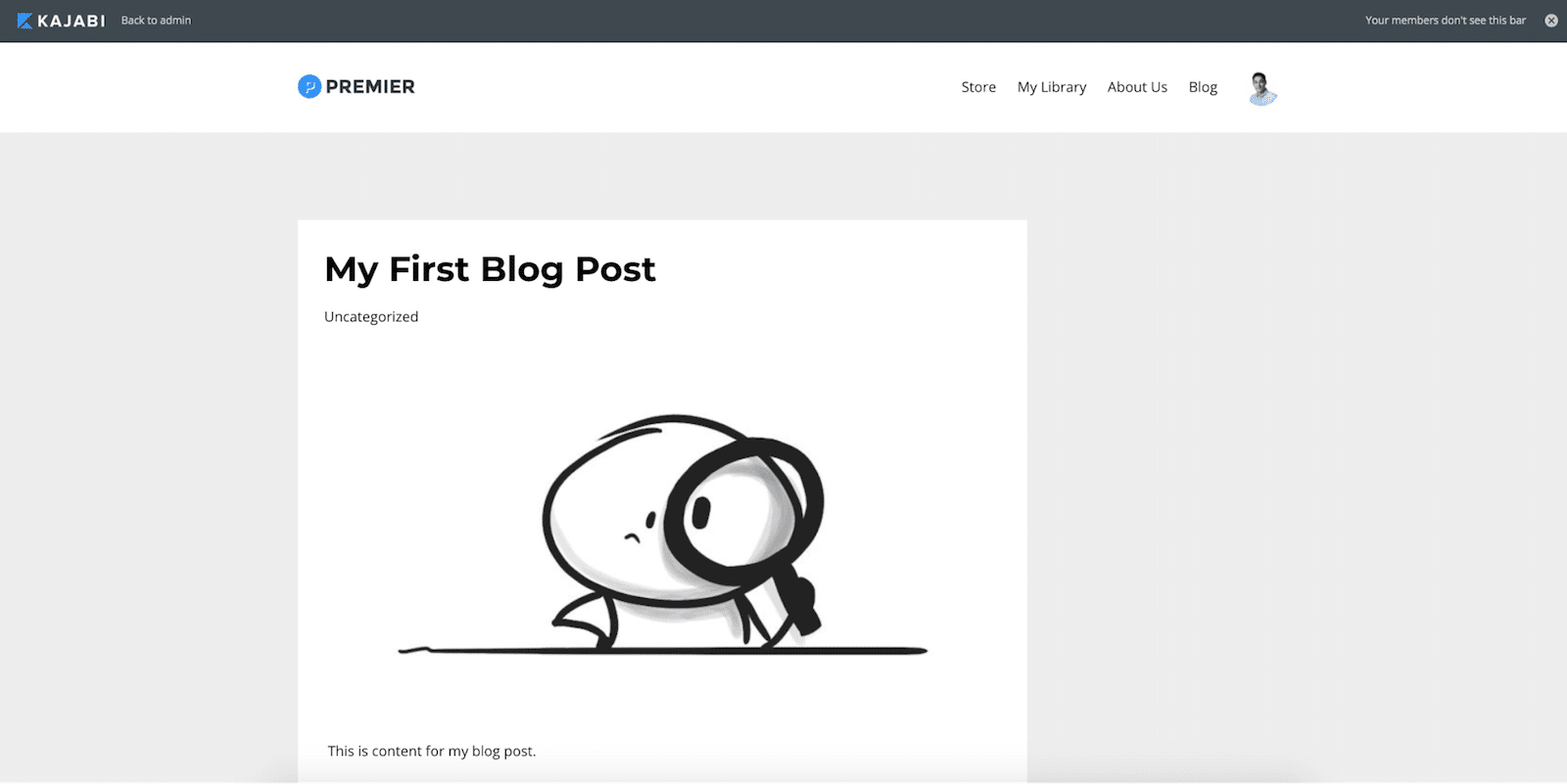 Overall, Kajabi offers a simple but efficient approach to blog management, a trait that seems to be consistent throughout the platform.
Products
Regardless of what type of online business you're running, you'll need a product to promote if you want to make some moolah.
Product creation is a big part of Kajabi's offering so let's talk about that next.
Product Creation
Kajabi recognises that not all products are created equal.
Some people like to sell information in the form of a community or training course, while others choose to create an ongoing membership.
This platform has you covered in any case.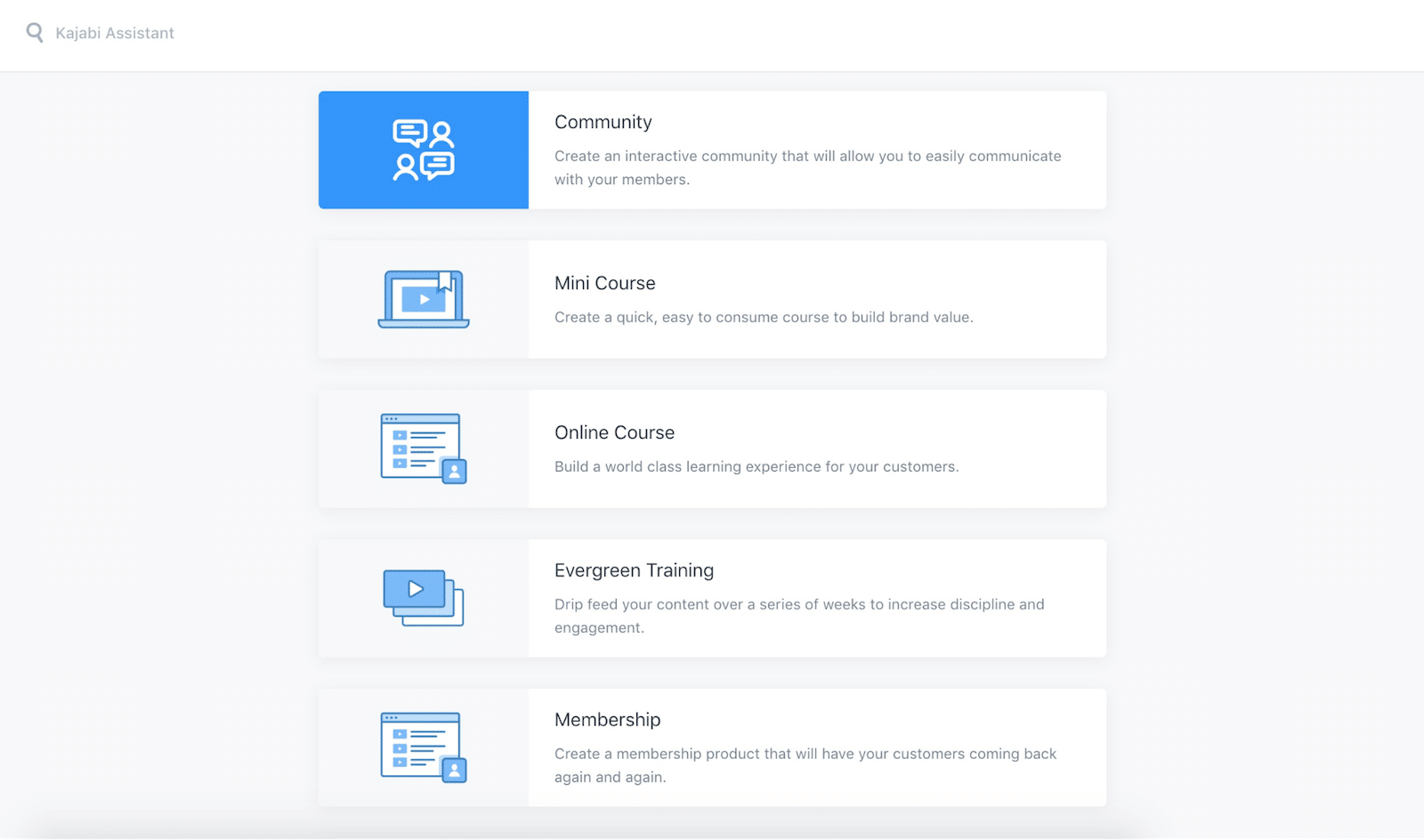 Depending on which type of product you click, Kajabi will create a general outline for that product.
For example, clicking 'Online Course' will automatically redirect you to the course builder with pre-generated modules and lessons.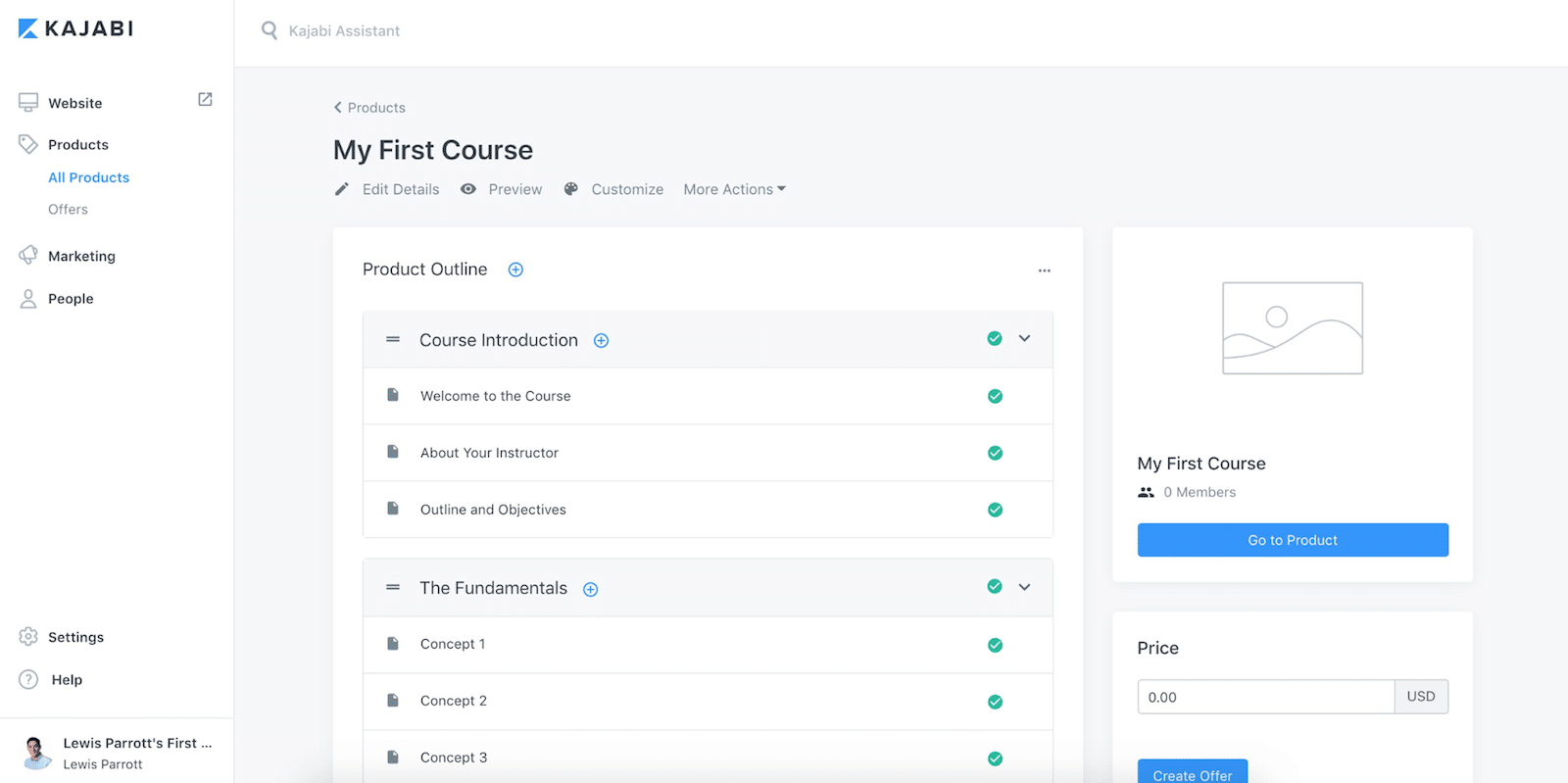 From here, you can click into any course item to make changes, including adding written content or videos, attaching downloadable files or even applying automations.
Automations allow you to perform actions when a specific lesson or module is complete, such as subscribing them to a new sequence or sending a product offer.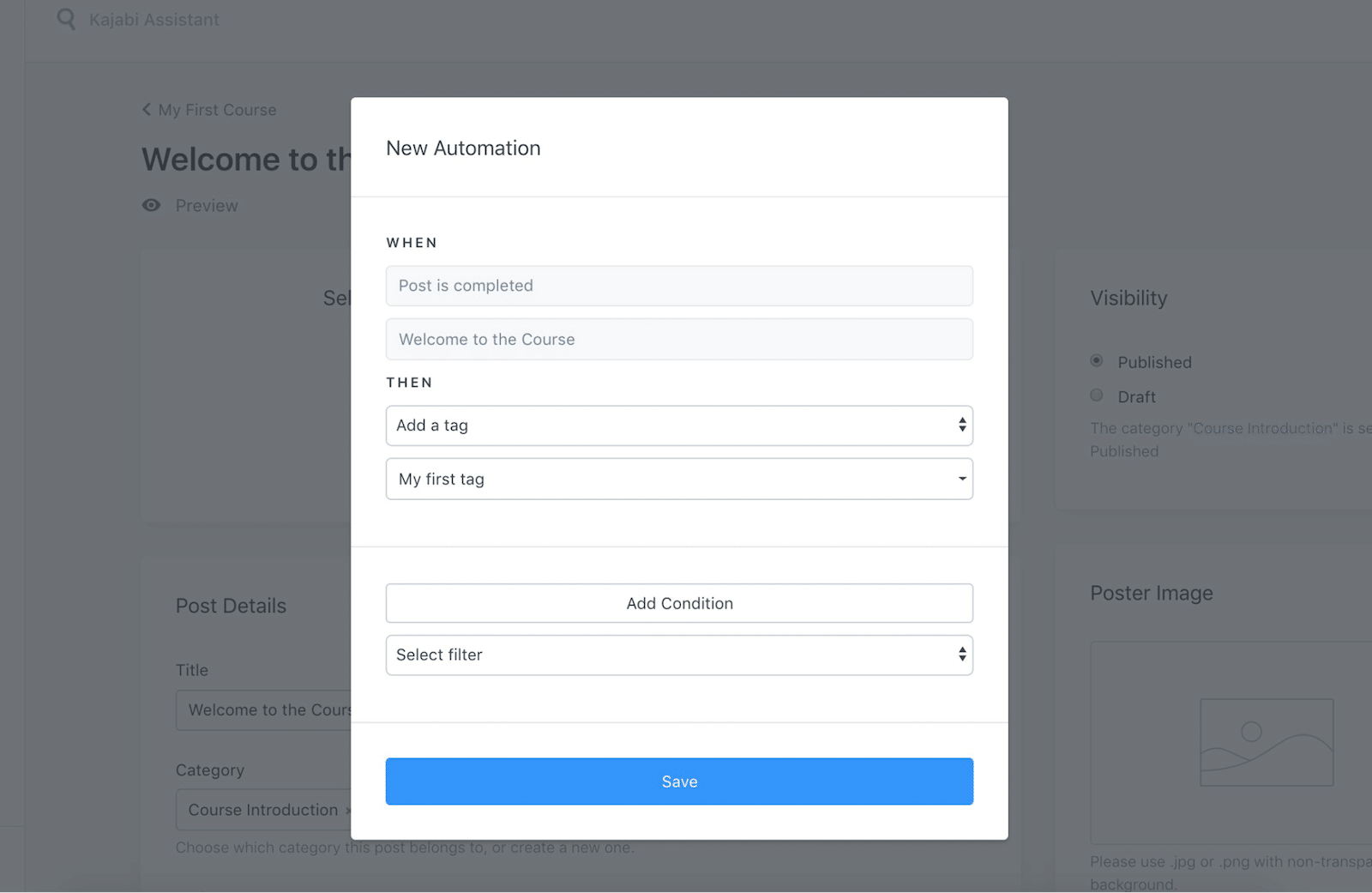 And remember, this is just the course product type. The others are just as clean and comprehensive.
It's easy to be deceived by Kajabi's minimal interface, but there's plenty of advanced functionality under the hood.
Product Offers
With your product created, you now need a way to actually sell it.
The first step is to create what Kajabi calls "an offer", and this includes everything from pricing to bundling and even upsells.
For starters, you'll need to set a price: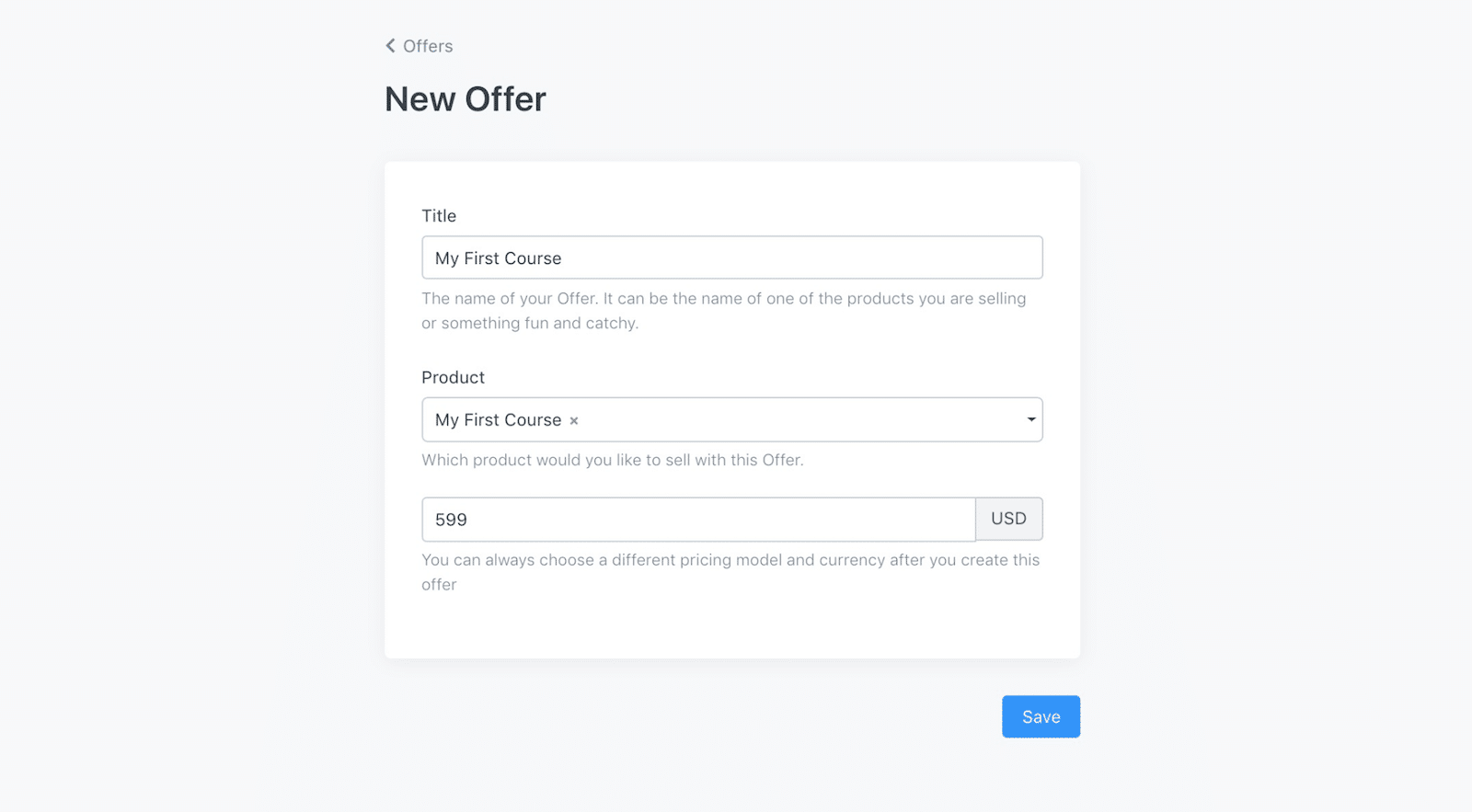 From here, you'll be taken to the offer page where you can make more significant changes to the offer itself.
For example, you can change the payment model to installments, recurring subscription or even free.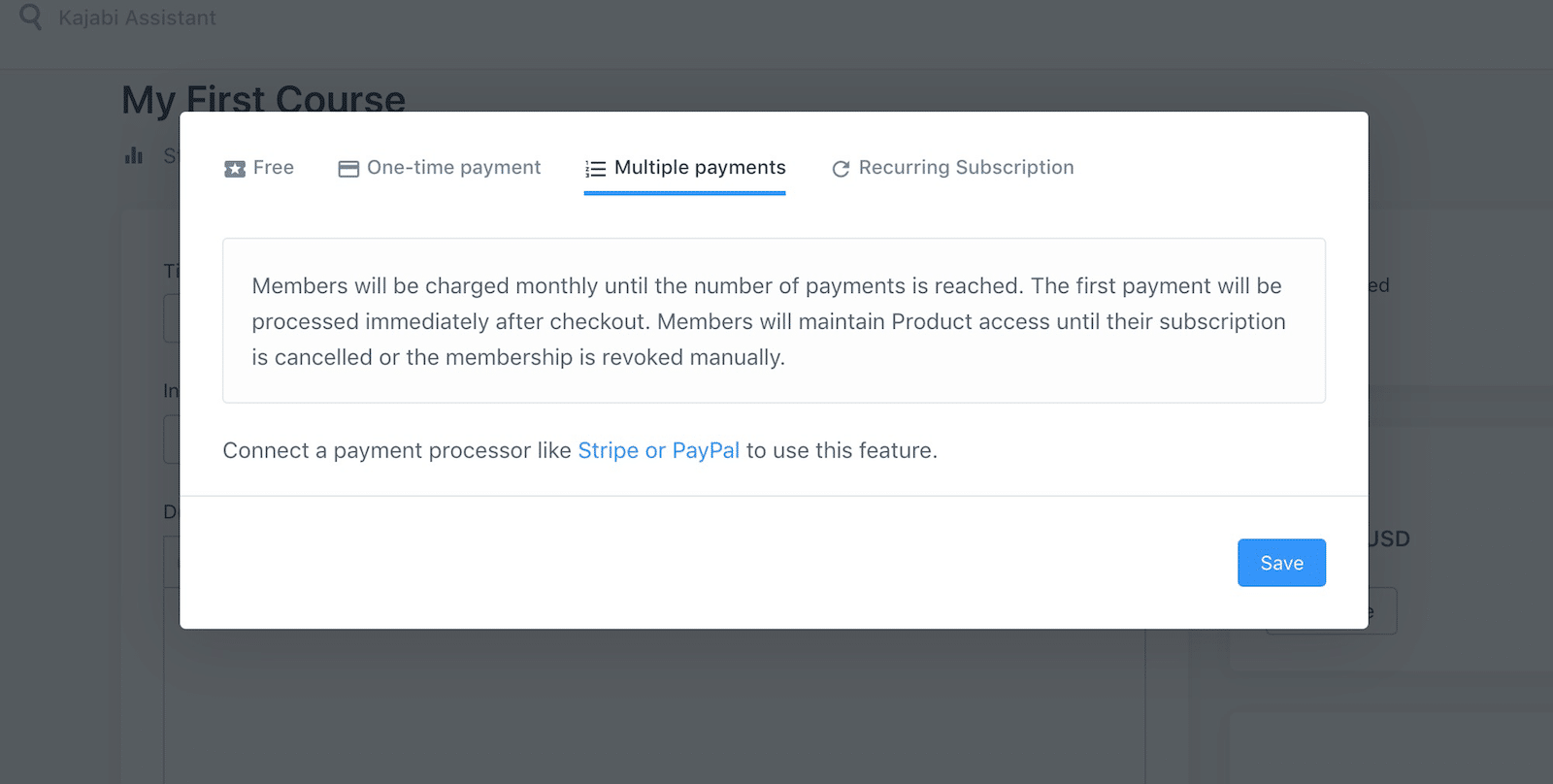 You'll also be able add multiple products to an offer which is useful when selling a bundle to your audience.
One of the more powerful features inside Kajabi includes 1-click upsells, allowing you to squeeze more revenue by presenting another offer immediately after an initial sale.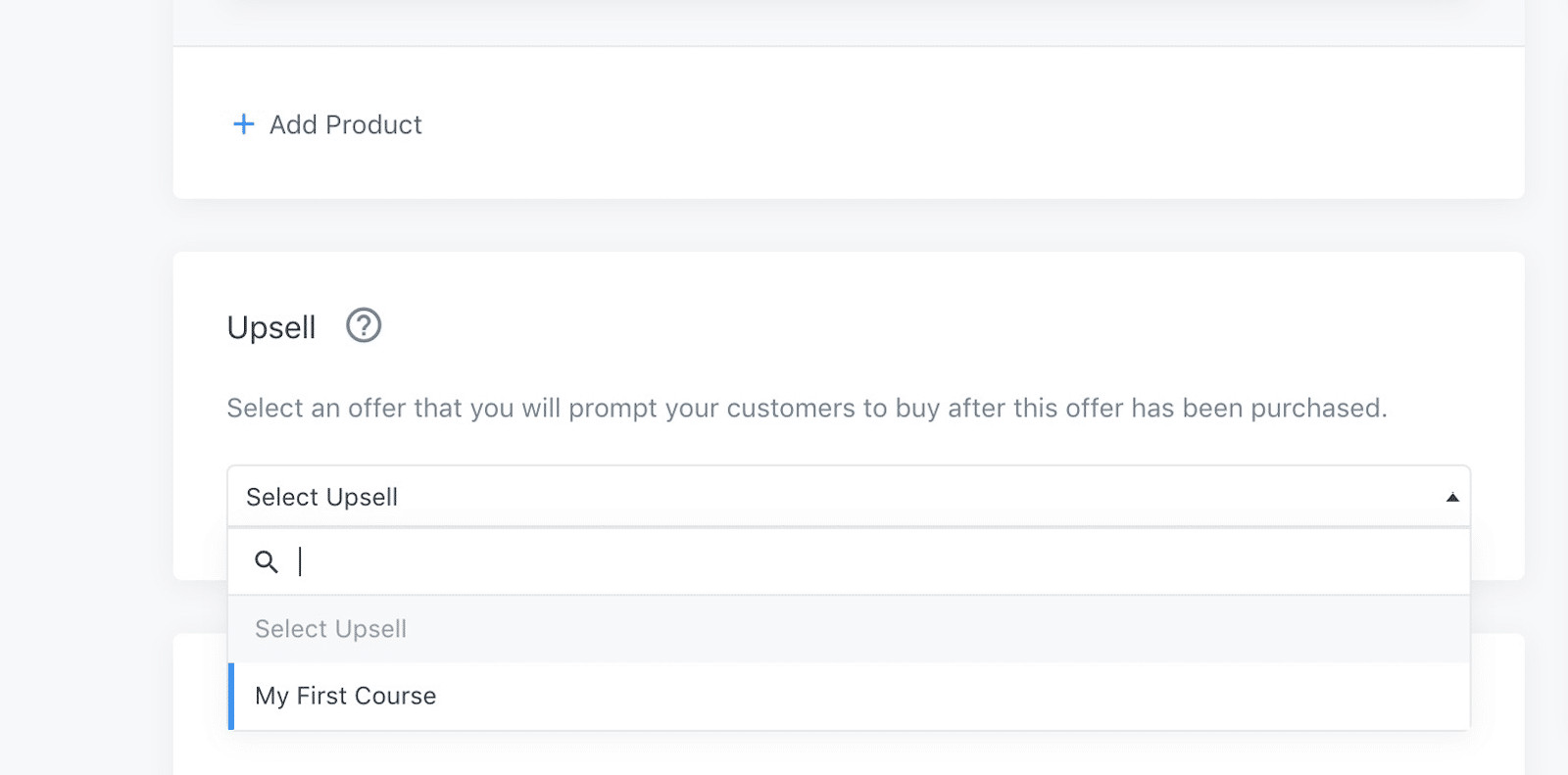 This feature alone can boost sales by 56% or more.
If that doesn't impress you, maybe the automated cart-abandonment emails will. If a prospect leaves the cart mid-purchase, Kajabi will hunt them down on your behalf.

Speaking of automation, this interface even supports automation conditions that allow you to tag, subscribe, unsubscribe or send an email based on a successful (or even unsuccessful) sale.
If you can't make money using the tools available here, you're doing something very wrong.
Marketing
You have a website, a product to sell, and an irresistible offer in place, but there's still one thing missing.
Yep, customers.
Selling online can be daunting, especially at the thought of creating complex funnels and email sequences to nurture prospects.
Of course, Kajabi wouldn't be an all-in-one platform without a selection of marketing tools to help you with all that.
Pipelines
Pipelines are essentially sales funnels.
Sales funnels are made up multiple components which are typically a series of emails and pages designed to close a sale.
While many platforms will have you create a funnel from scratch, Kajabi also has pre-made, proven "blueprints" for you to import right away.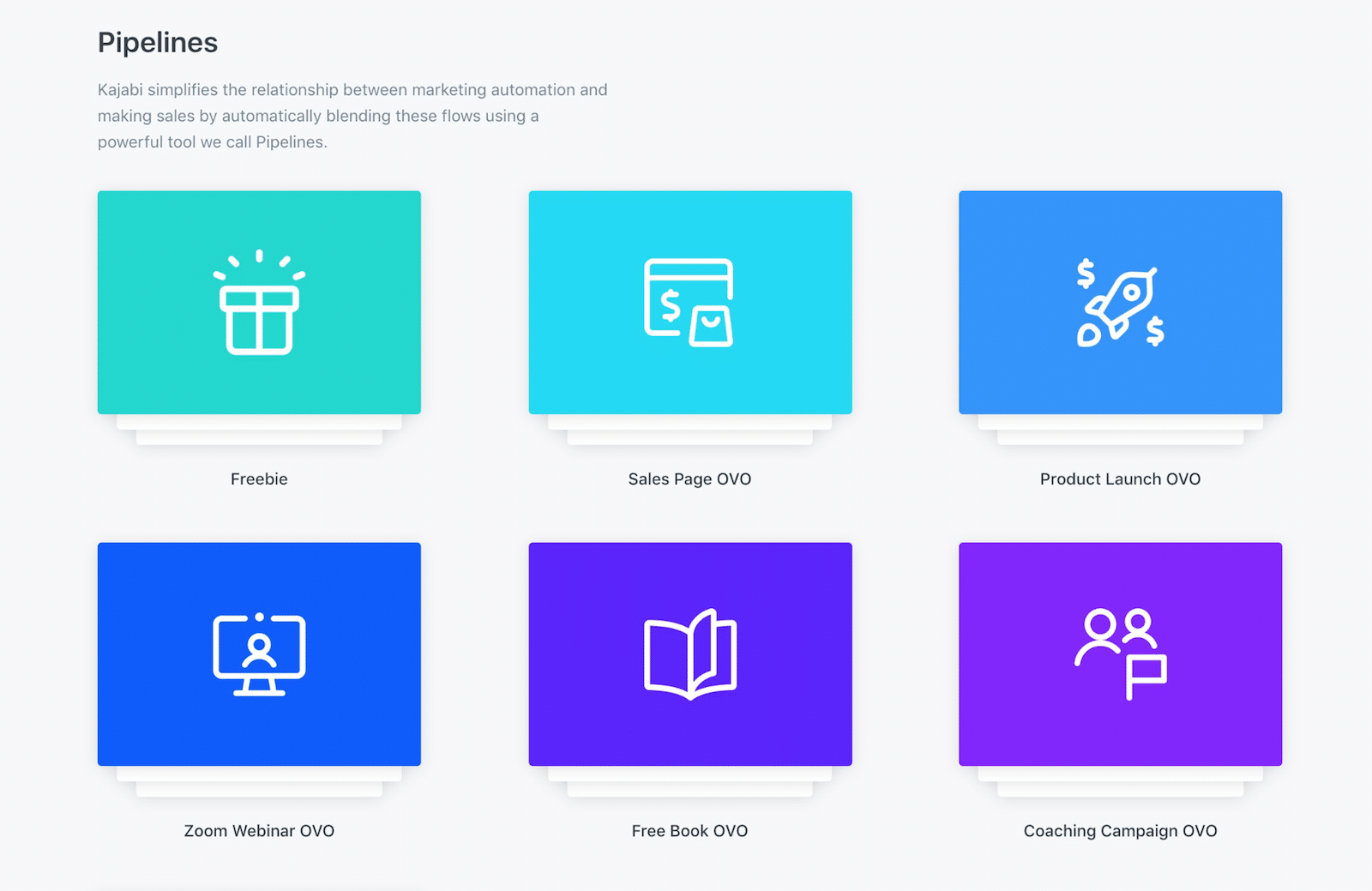 Clicking any of these blueprints will give you some insights on what they entail, along with a video explaining how it works.
For example, this is what I see when choosing the 'Product Launch' blueprint:
Once again, the amount of effort Kajabi goes through to educate its users here is admirable, and we haven't even got into the pipeline builder itself yet.
Creating your pipeline will first take you to a basic setup screen where you'll provide things like contact info, your company logo, email settings and sending times.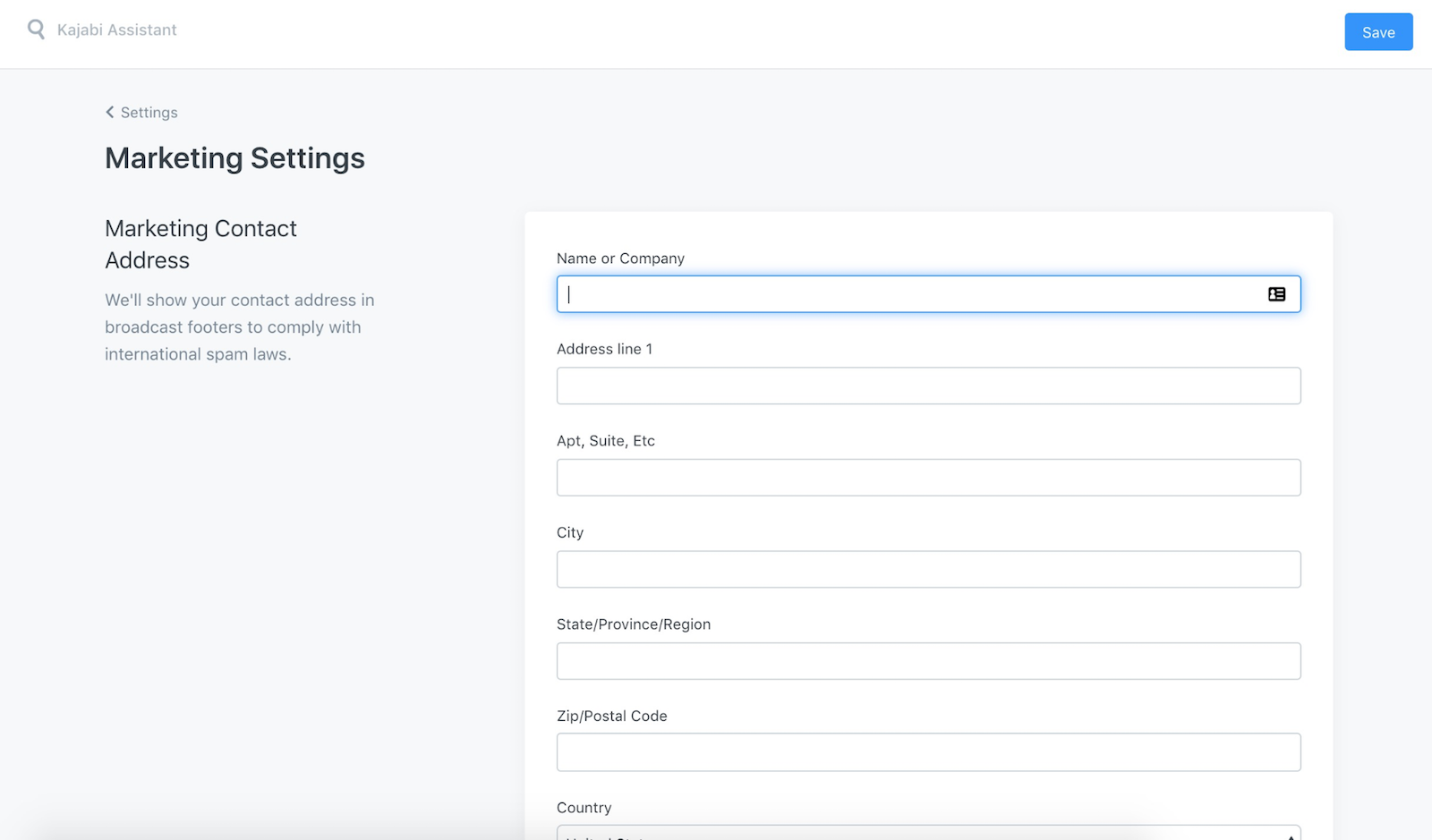 You'll then select which product offer (created previously) to base your pipeline on before generating it.
This is where the magic happens. Kajabi will take a few minutes generating every component of your new funnel, complete with pre-designed templates and email copy.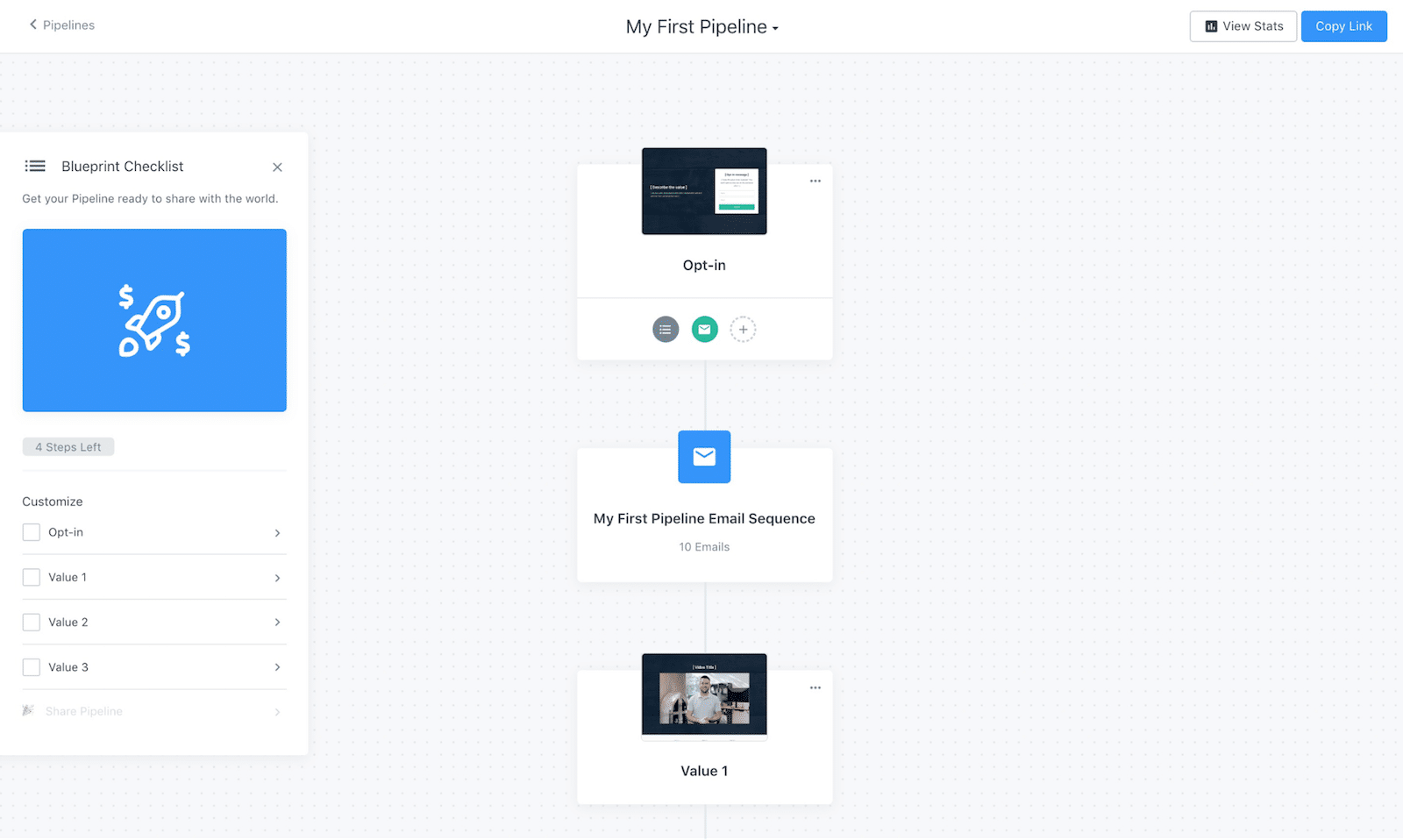 Hovering over the different components will give you a clear and concise explanation of how users will get to it, what it's used for, and how to get the most out of it.
You can open up any of these to make changes to page appearance or copy, as well as add new sections and elements in a similar fashion to the website or landing page builder.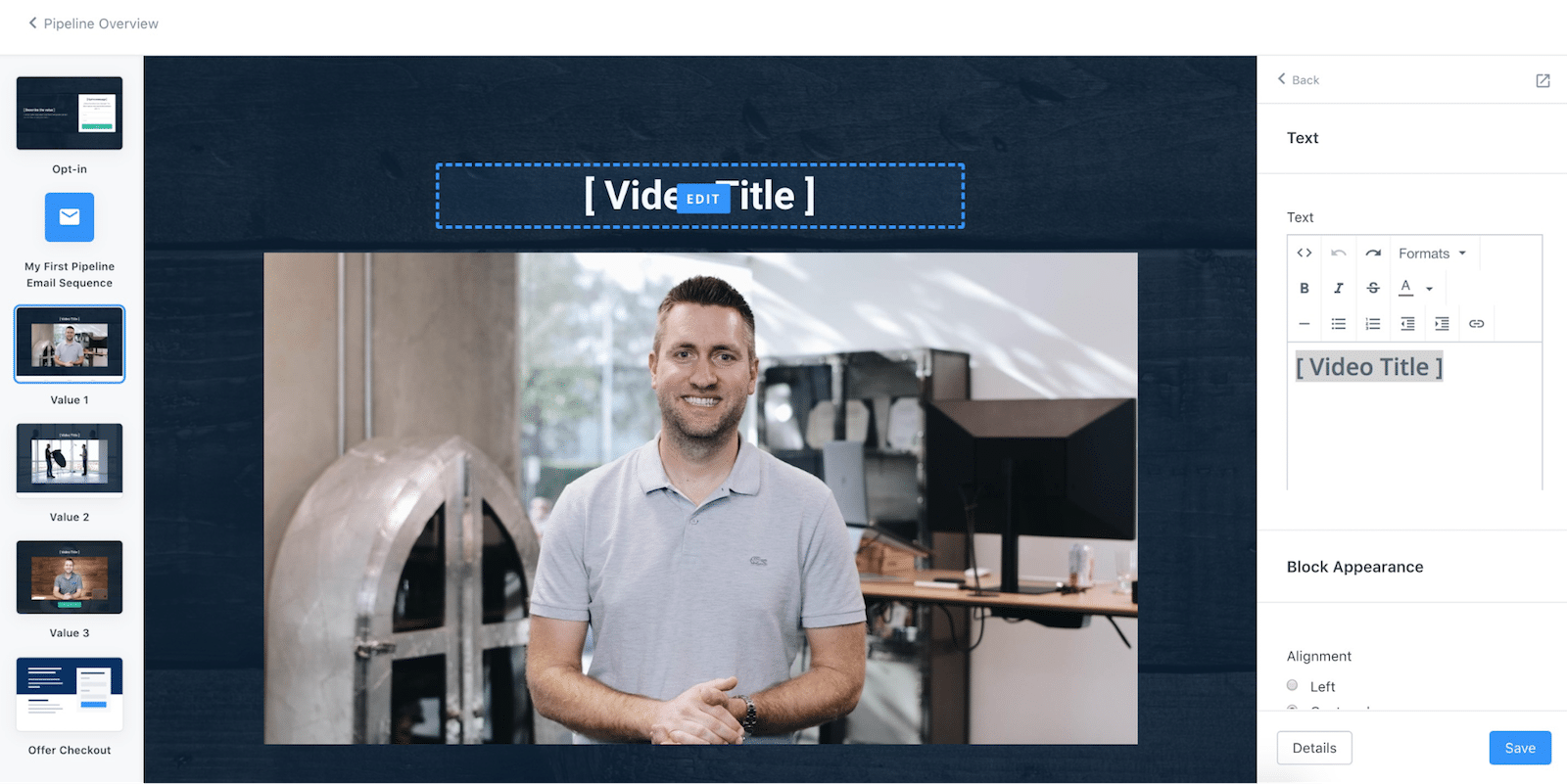 I've seen my share of funnel builders, but I've never seen anything quite as easy and streamlined as this.
Email Campaigns
We all know how powerful email marketing is, so let's talk about Kajabi's email capabilities.
If you've already created a pipeline, you'll find that sequence already listed under this menu item but you can also create separate campaigns here as well.
A campaign can be either a single broadcast email or a sequence of emails, otherwise known as an autoresponder.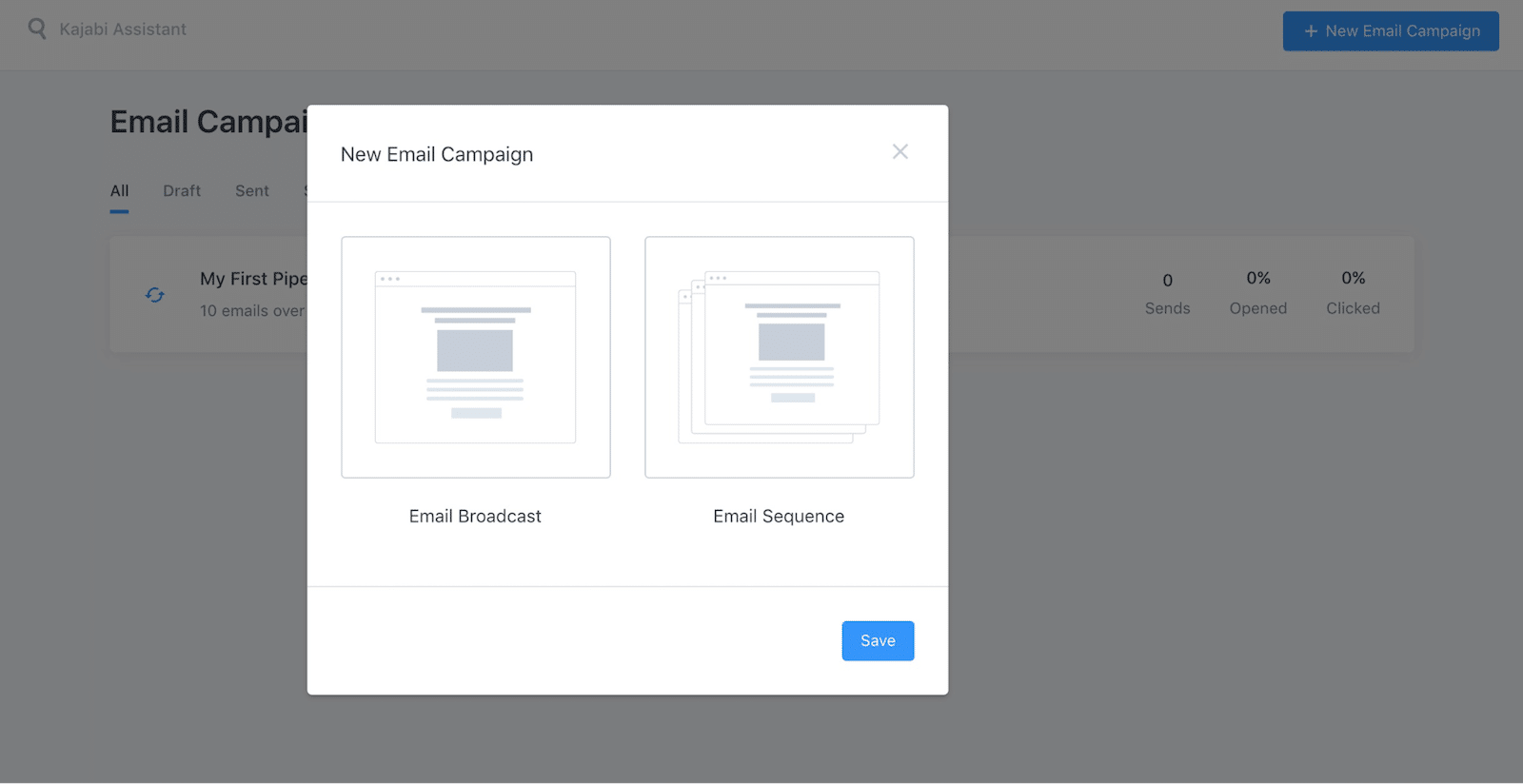 After naming your broadcast, you'll first need to decide what segment of your audience to send it to.
You can send to everyone on your list, only your customers, or even segment on-the-fly with a custom filters.
Next you'll craft the email itself.
Unfortunately you won't find any professionally designed email templates here, just a standard text editor.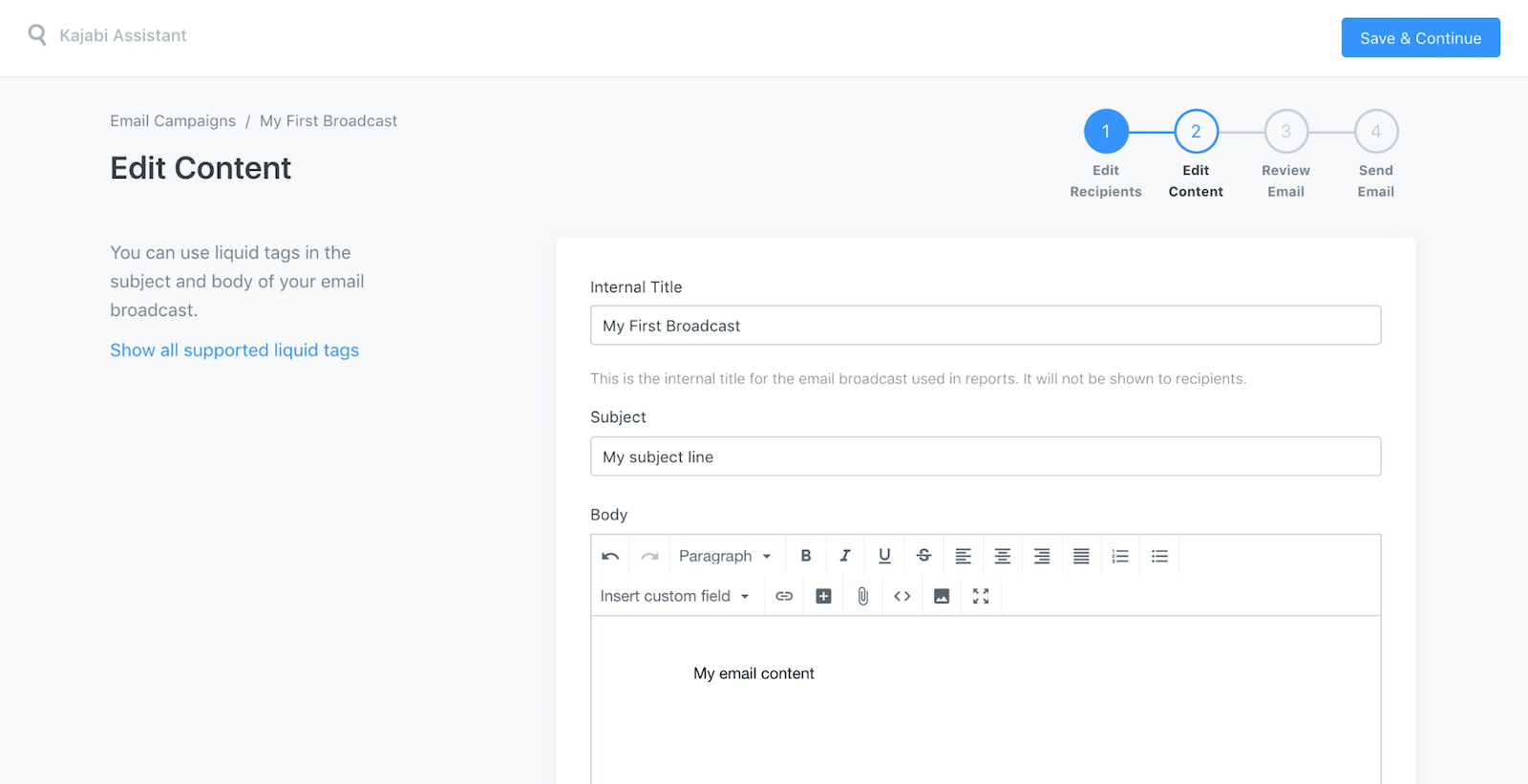 Automations can also be added at this stage. Again, these including adding tags, subscribing or unsubscribing contacts, and sending specific offers.
But the real power is in leveraging sequences to automatically deliver a series of emails to prospects.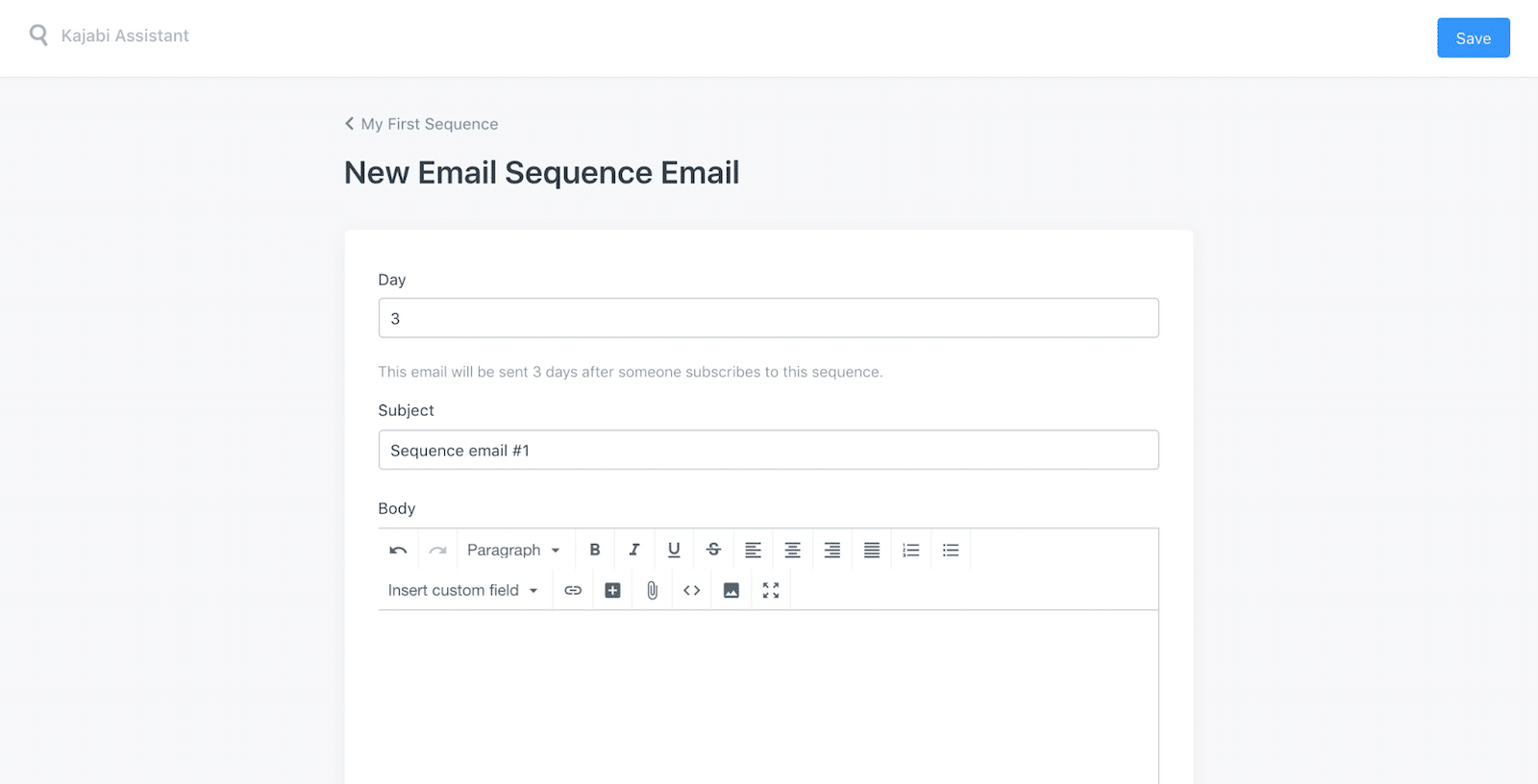 You can keep adding as many emails as you see fit, and each will use a similar interface to the broadcast editor.
This time, however, you'll see the order and delay between each email to get a linear overview of how the sequence plays out.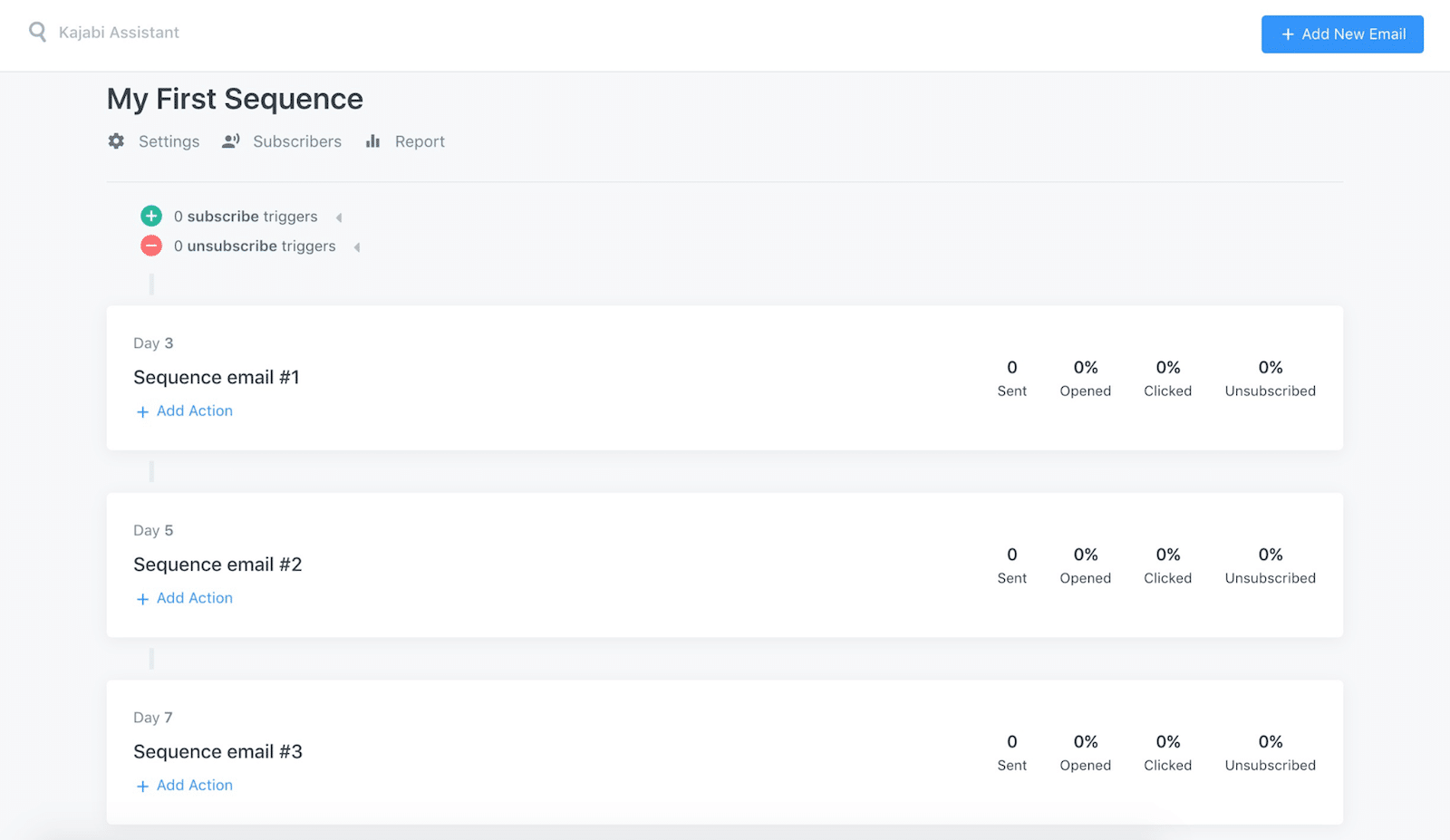 While you can use the same automation system used throughout Kajabi for your sequences, don't expect ActiveCampaign or ConvertKit level of automation.
Overall, it's plenty good enough for most people looking to use email marketing in their business, but it certainly doesn't compete with dedicated solutions.
Forms
It's one thing to send emails, but you can't collect subscribers and leads without first creating forms.
Here you'll find any forms that are part of an active pipeline, but you'll also be able to create new forms from scratch.
After naming your form, you can go ahead and modify the basic form fields, add new fields, apply any automations, and trigger a double opt-in step if necessary.
Again, there won't be any fancy form templates here — but you can style the forms once selected in the Kajabi page builder.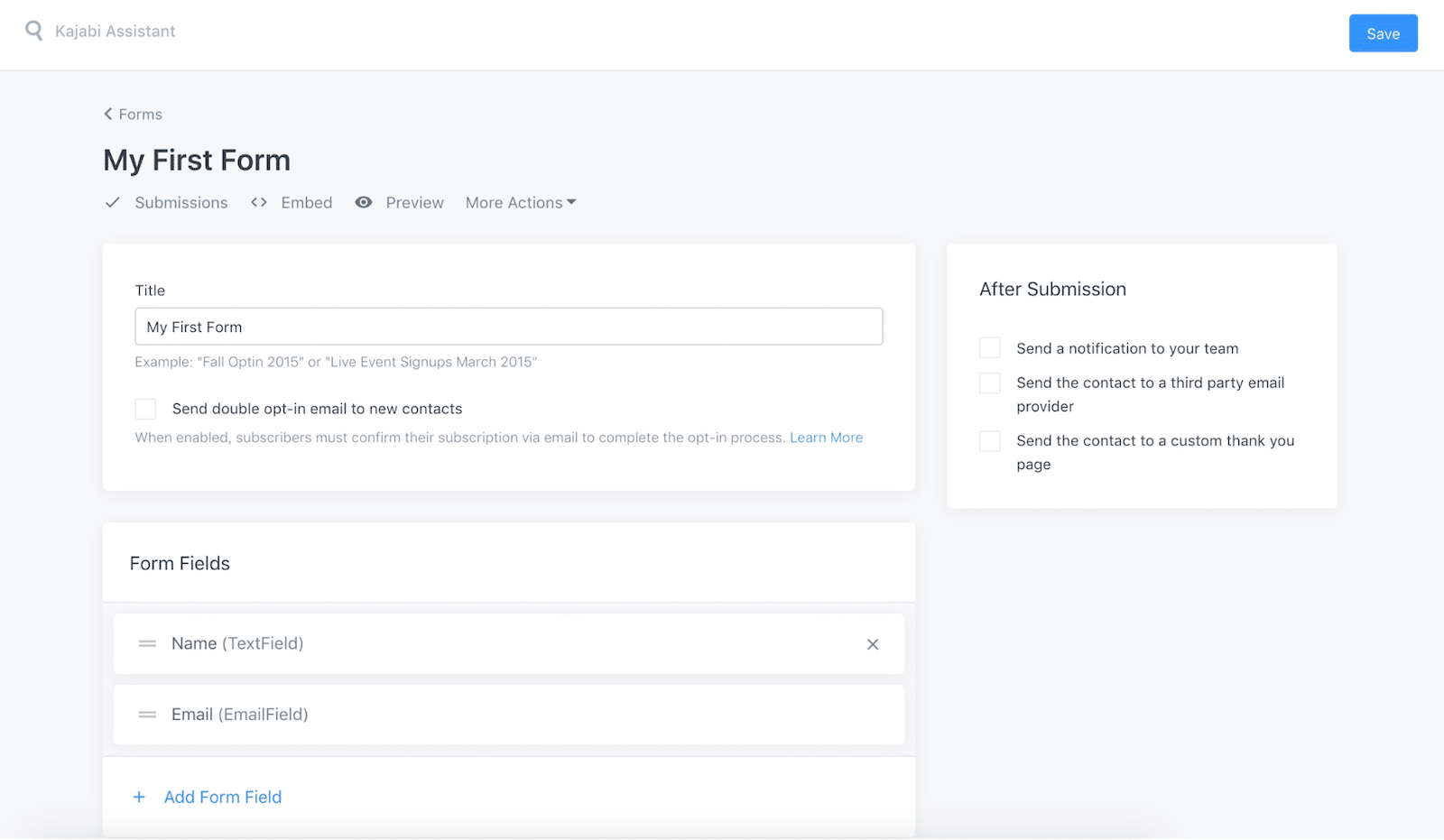 Another option is to embed the form on an external webpage.
This may defeat the purpose of an all-in-one solution for some people, but it opens up opportunities to collect leads on platforms you don't own.
Embedding opens up some new options as well, including some basic style customization and the ability to display as a popup.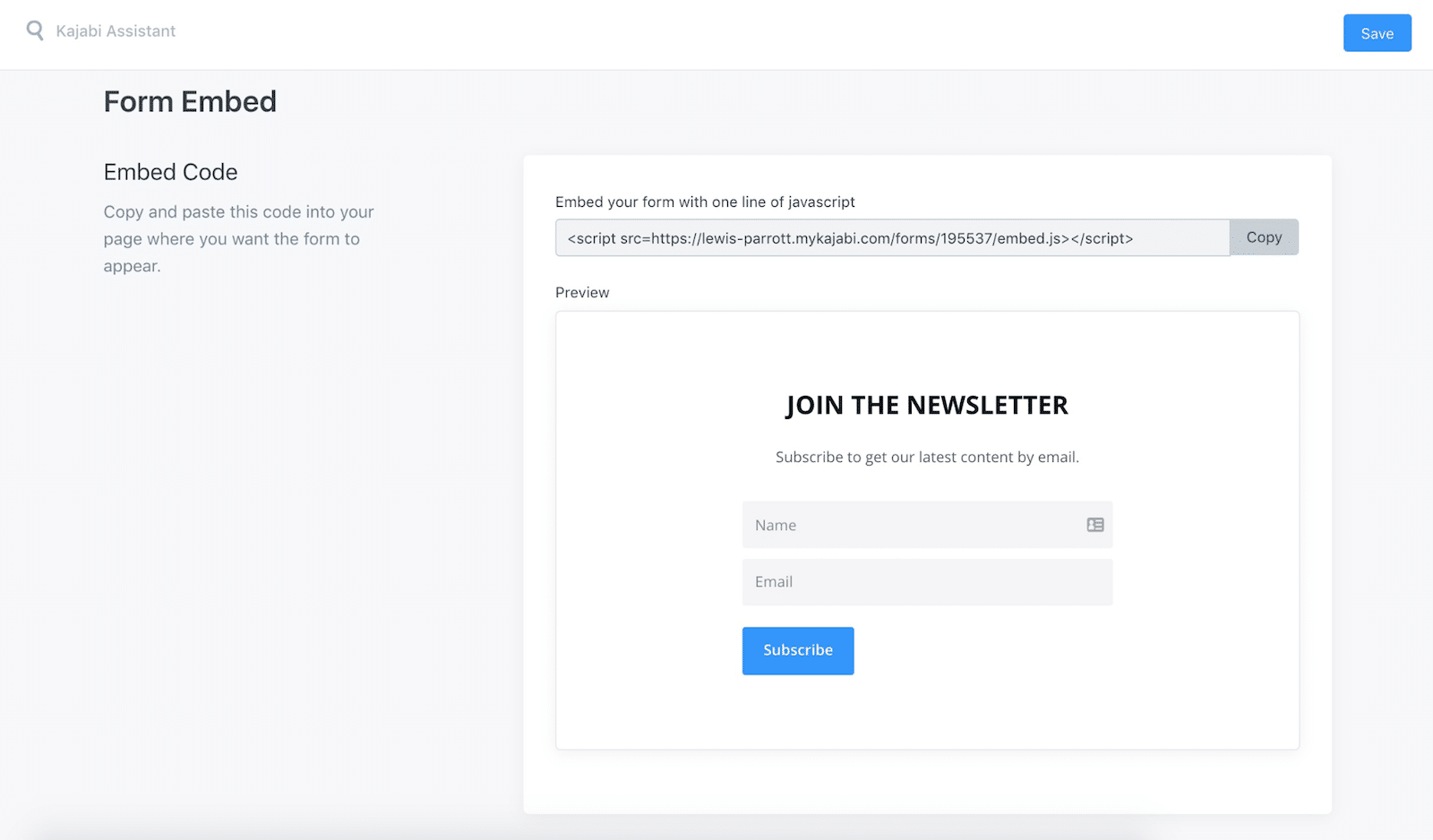 Like the email marketing aspect of Kajabi, this isn't going to replace dedicated lead generation tools like Thrive Leads or Convert Pro, but it gets the job done.
People
This could be considered an extension of the email marketing side of Kajabi, as this is where you'll find and manage your email subscribers alongside your customer data.
You can also add new contacts from this interface, whether that be manually adding a single person or importing multiple people via a CSV.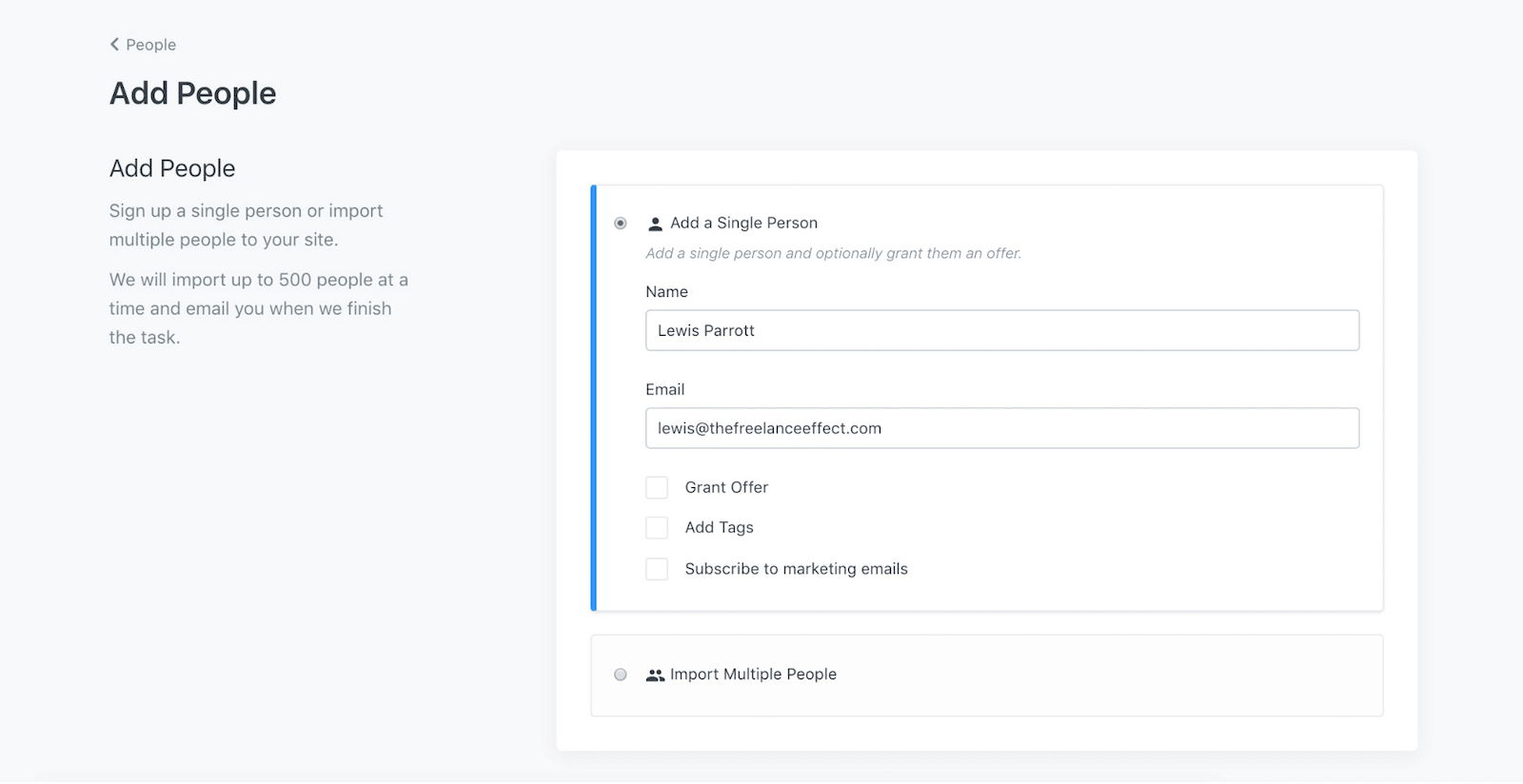 Anyone added here will have their own profile page containing a few data points and management options.
For example, you can check how long they've been a subscriber, which purchases they've made, their revenue contribution and any internal notes left about them.
You can also edit their details, add tags and even grant them access to your Kajabi products if need be.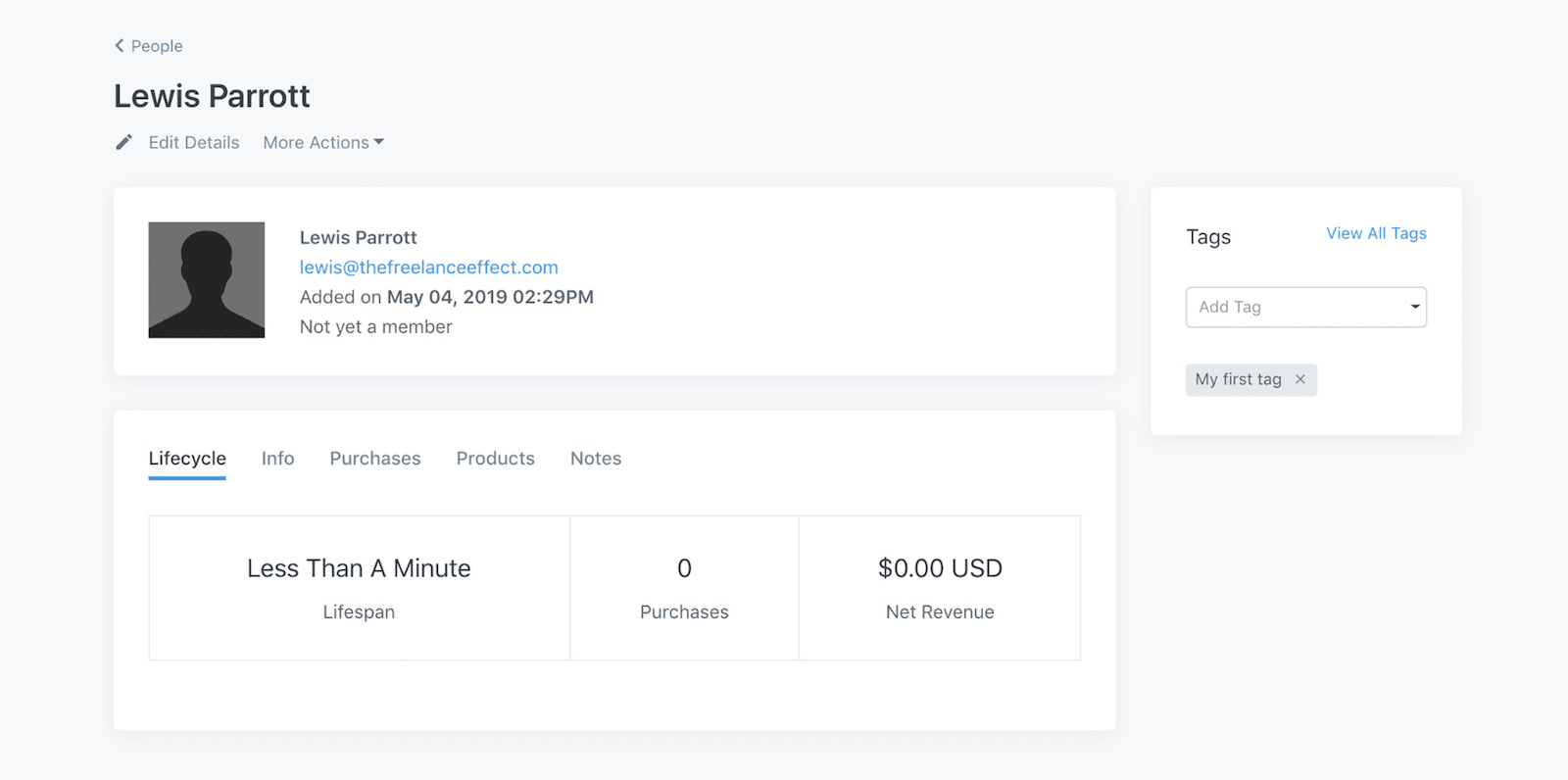 Assessments
Assessments are an extension of the 'People' interface and they allow you to survey or quiz your users and visitors.
If you have a course or membership area, you may want to quiz your users as part of the learning experience. If you have a website (which you should), you may want to collect data from website visitors in the form of a survey.
Assessments can be used for both use-cases.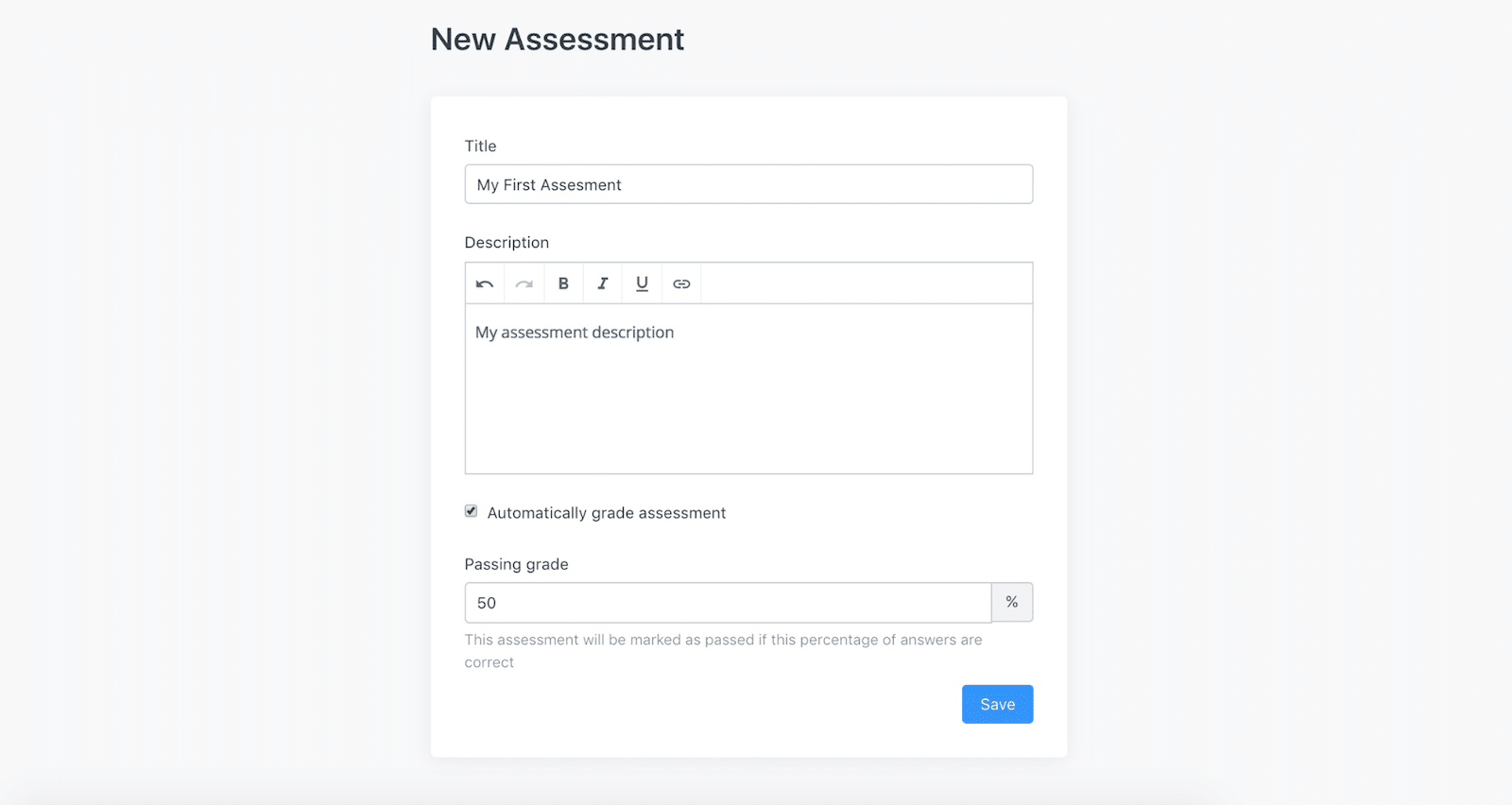 After naming your assessment, you'll begin adding questions.
Questions can be in the form of free text, multiple choice, file uploads or multiple selection, and you can also grade answers automatically.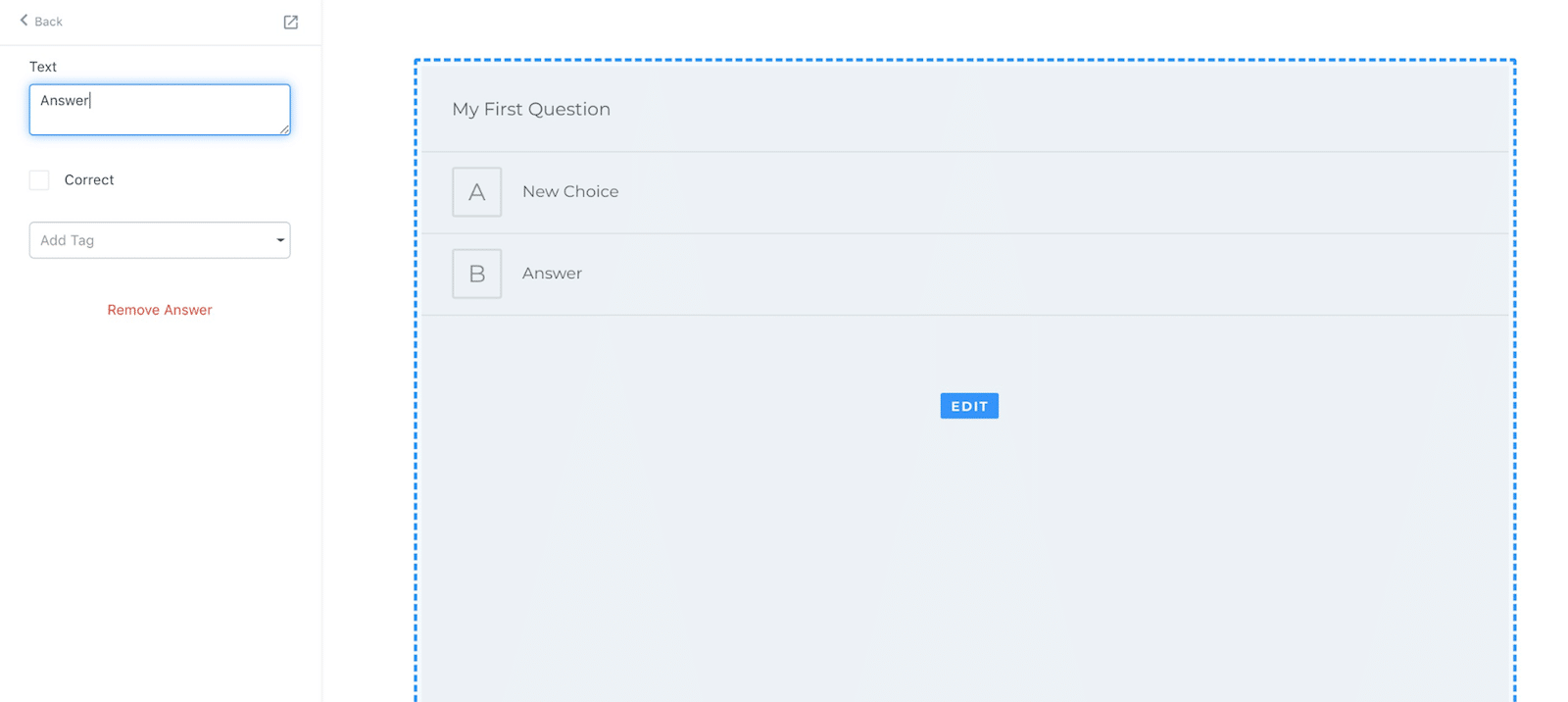 By now, you won't be surprised to know you can segment users based on their answer, and also trigger automations based on the completion of an assessment.
Whether you embed this assessment on one of your Kajabi pages or attach it to a Kajabi course, all submissions will be viewable from within this interface.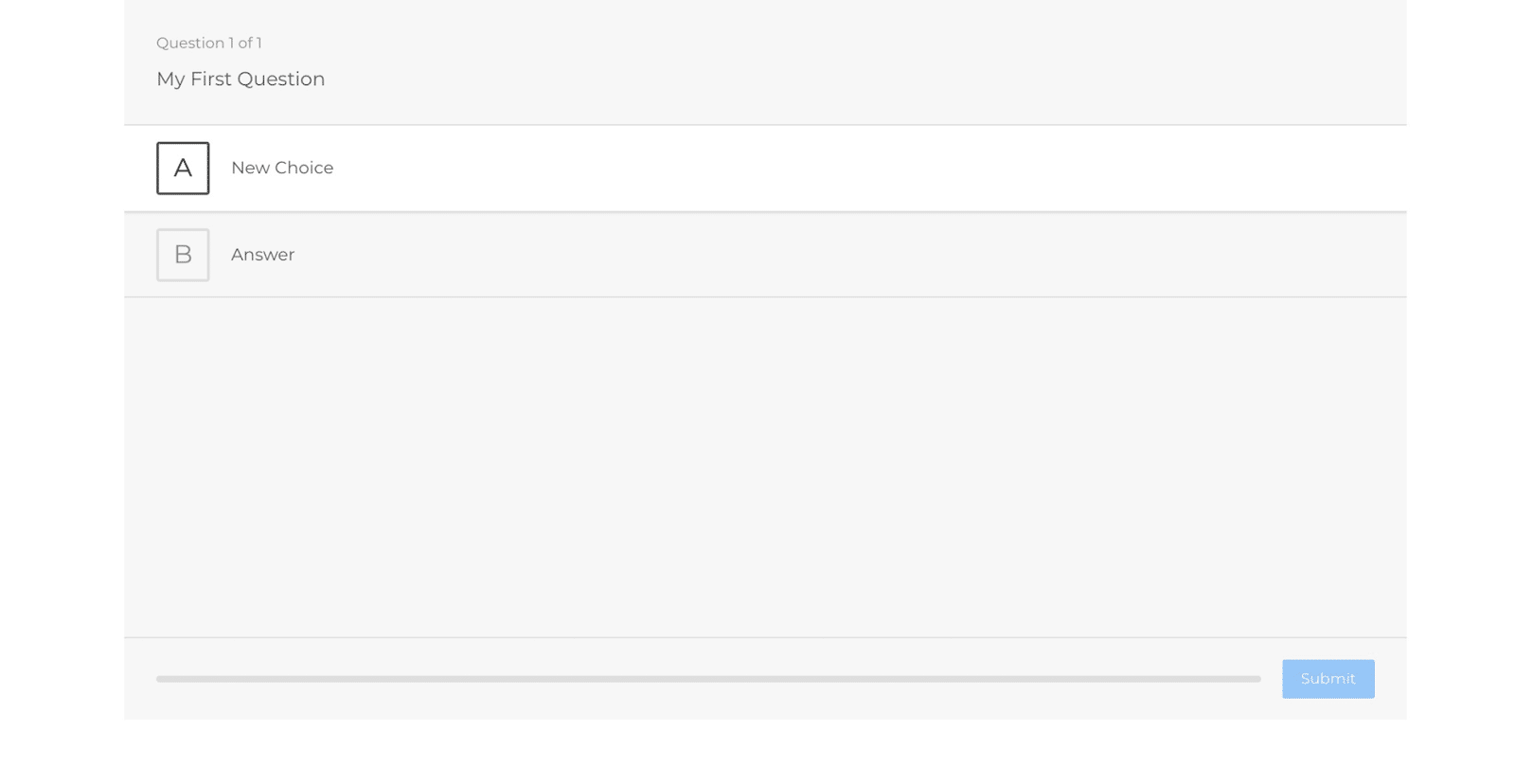 This is no doubt a very easy and flexible approach to surveys and quizzes, but it certainly lacks visual customization.
Pricing
I don't know to tell you that Kajabi's suite of tools is one hell of an offering, you've seen just what's possible here. But it comes at a price.
Kajabi provides the best value on an annual plan, and that'll set you back $119/month at the most basic level.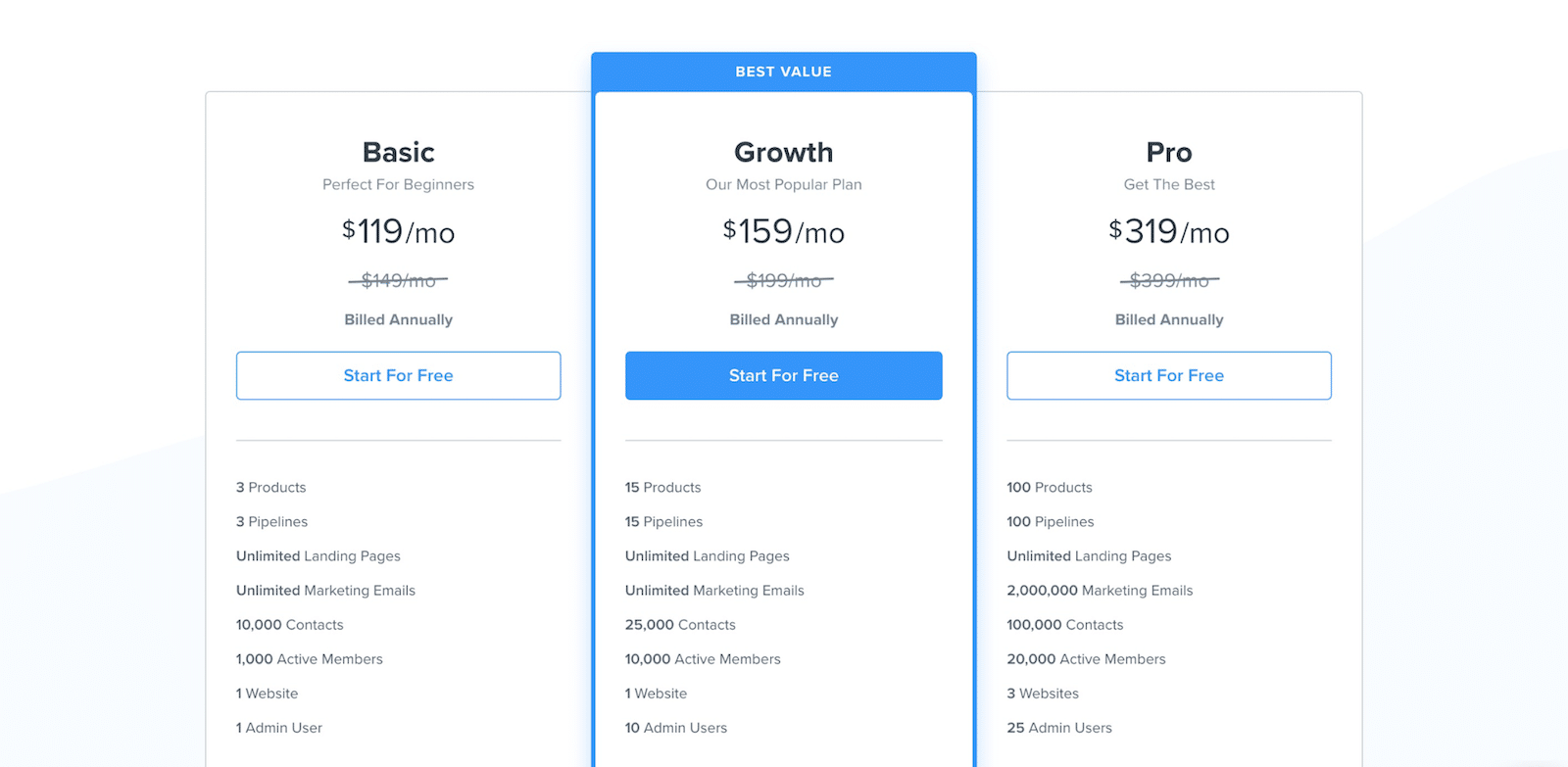 You'll need to move up as you grow your product offering, contacts and active members, but it's good enough to get started.
The basic plan does, however, come with light branding and a few stripped out features which include affiliates and automations.
If these features are integral to your marketing strategy, may be better on the $159/month plan if budget allows for it.
Conclusion
Kajabi isn't the only all-inclusive solution on the market, but it's undoubtedly one of the front-runners in this industry.
Not only does this give you a fast and intuitive suite of tools that integrate seamlessly with one another, but each are capable, well-developed applications that will actually help you grow your business.
When you consider the cost of acquiring these features individually across multiple platforms, you'll wonder why you didn't start using Kajabi sooner.
Not convinced? Click here to try Kajabi free for 14-days.