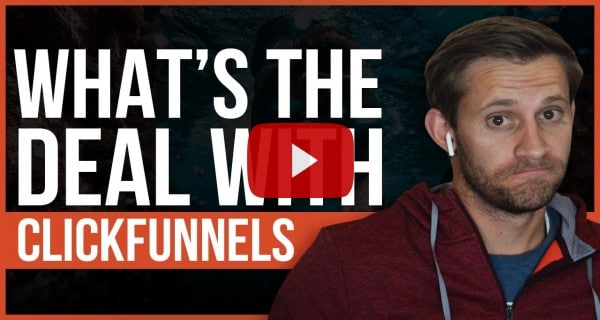 Are you an online entrepreneur? Or maybe just wanting to be one.
Well unless you've been living under a rock, you've probably started to hear about ClickFunnels by Russell Brunson.
It's. Everywhere.
I started seeing Facebook ads for the software back in 2017. I was a young online entrepreneur (though I suppose I still am now), and I wasn't aware of all the tools and technologies out there that could help you attract and convert customers online.
I decided to sign up for a 14-day free trial of ClickFunnels (they wore me down), planning to use it to its fullest. I even wrote a ClickFunnels review on my blog at that time, discussing my initial thoughts about the tool. At the time I was lukewarm towards the software.
Now it's a way down the road and I literally can't stop talking about ClickFunnels. I'm that annoying guy at parties that has a one-track mind and no matter what direction you try to steer the conversation, I'll drag you back to ClickFunnels.
So it's no surprise people keep asking me "What is ClickFunnels?" "What makes it so special?" and  "Is it worth its somewhat steep price tag?"
Well, I've used this tool for a while now, and I'll be honest with you:
I think it's worth every penny.
I now personally know literally dozens of people who have started using ClickFunnels, not sure about what benefits it might bring.  Fast forward and they ended up earning tens of thousands of dollars every month within the first year. Even more surprising to me – I am now one of them.
Shhh…don't tell my parents. They still don't know.
So I figured it's time to write a new, even more, in-depth review of ClickFunnels, explaining its full value to entrepreneurs like you and me. I plan to cover the following (yes you can click to your desired section):
What is ClickFunnels?

ClickFunnels key features

ClickFunnels Pricing

ClickFunnels Marketplace

ClickFunnels Membership Sites

ClickFunnels Affiliate Program

Competitor Comparisons

And more
At this point you've probably figured out how I really feel about the value of ClickFunnels. But, just because I like this tool and use it doesn't mean I won't give an honest review. There are some things about it I don't love. I'll be sure to mention them throughout this ClickFunnels review.
Now let's begin!
What is a Sales Funnel?
In order to give a complete ClickFunnels review and really illustrate the value of the product, I need to first explain what a sales funnel is. Because ClickFunnels doesn't just help you build web pages.
Tons of tools can do that for a whole lot cheaper. Instead, it helps you build sales funnels. And that's way more important for those businesses that actually being profitable.
By the way – I'm going to assume you want to be profitable throughout this post. If that's not you feel free to use another tool.
A sales funnel is actually a process that businesses send their audience through to encourage them to become paying customers, and maximize their value once they become a customer.
When people shop online, they don't simply visit a website, see a product, and make a purchase. They instead spend time researching niche topics, identifying potential solutions to their problems, comparing products, etc. Business that facilitate and nurture this research process are able convert more people into paying customers.
As you may already know through trial and error, attracting traffic back to your website is a huge investment. No matter if you market through social media, your blog, paid ads, etc., you have to invest a lot of time and money to reach your audience. And the vast majority of people who visit your site will never convert into paying customers.
That is unless you use a sales funnel. A basic sales funnel includes some key elements to help your audience convert:
A capture page

— This is a landing page with the goal of gathering your audience's contact information so you can market to them through email. Most marketers do this by offering valuable content (e.g. an ebook, template or resource) in exchange for contact information.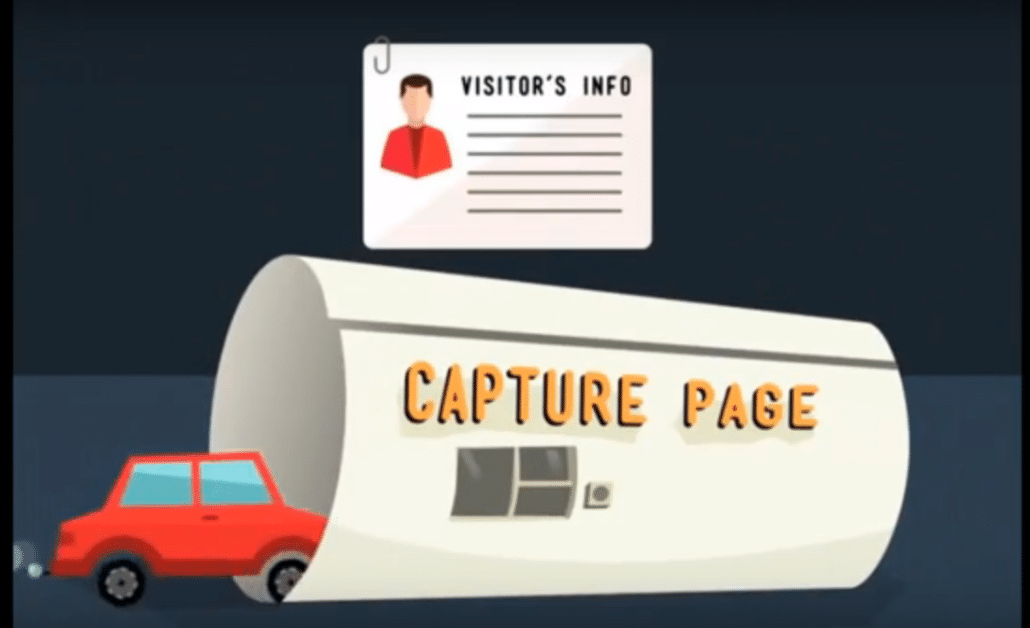 A sales page

— This is a highly optimized page that highlights all the benefits of your product or service. Instead of prompting new site visitors to make a purchase decision immediately, you can take time to nurture them through email before directing them to your sales page to convert.

Follow up —

After someone converts into a paying customer, you can follow up with a thank you page or triggered email campaign. This is an opportunity to upsell and cross-sell other products to increase their lifetime value as a customer.
Businesses develop a sales funnel and nurture their leads by creating targeted content for each stage of the process. It's a marketing strategy that must be optimized to ensure audience members don't fall out of the funnel.
There are a lot of different kinds of content and delivery methods you can use to build a strong sales funnel that converts. Rather than just guessing at what your audience needs at different points in the sales funnel, it's better to use proven strategies that drive people to take action online. That's the big value of a tool like ClickFunnels.
Now onto my full review of ClickFunnels and everything it has to offer.
What is ClickFunnels?
ClickFunnels is an online sales funnel builder. It makes it easy to build targeted web pages to capture leads and convert audiences into paying customers for your online business. It's a powerful tool built specifically for entrepreneurs who want to succeed online.
Here's an overview of some of the many features that make ClickFunnels the most essential arrow in my current software arsenal:
Build a powerful sales funnel in under an hour
ClickFunnels has all the code you need to build a functioning funnel in an hour or less. And you don't have to mess around with any complex HTML or settings to do it. You simply select a funnel type and follow the steps ClickFunnels provides to create your funnel.
There are three main funnel types to choose from:
Collect emails

Sell your product

Host webinar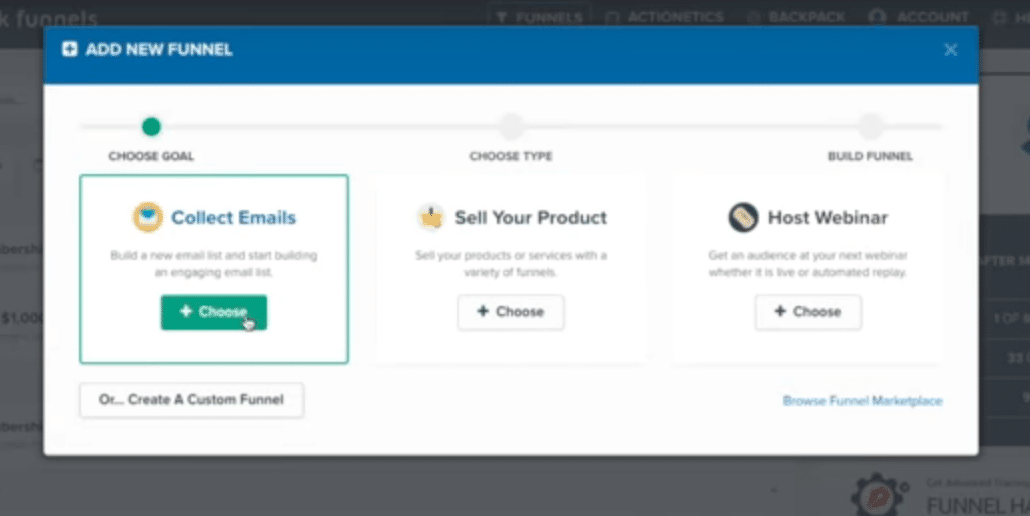 A lot of tools that make it easy to create web pages online also limit the functionality and design options to choose from. That's not the case with ClickFunnels. It has a 100% customizable drag and drop builder, so you can create exactly the kind of pages you envision without any coding.
When you choose a funnel type, it will provide you with a basic funnel and templates for each step. A "Collect Emails" funnel would include an Optin page and Thank you page, for example. But you can add in your own steps and customize them however you want. For example, if I wanted to capture emails but also try to upsell a product, I can add in my own sales page to the funnel as well.
When you add in a new funnel step, you can select what kind of page it is (e.g. sales). Then Clickfunnels will provide you with templates designed for that specific kind of page. The templates they provide are scientifically proven to convert.
Pick a template you like, and then you can customize it using their drag and drop editor. When you sign up for Clickfunnels, they'll put you through a tutorial on how to use it. But it's actually really intuitive and easy to figure out anyway.
Each section of the page includes elements that you can customize, such as your headline, subheadline, body text, call-to-action, etc.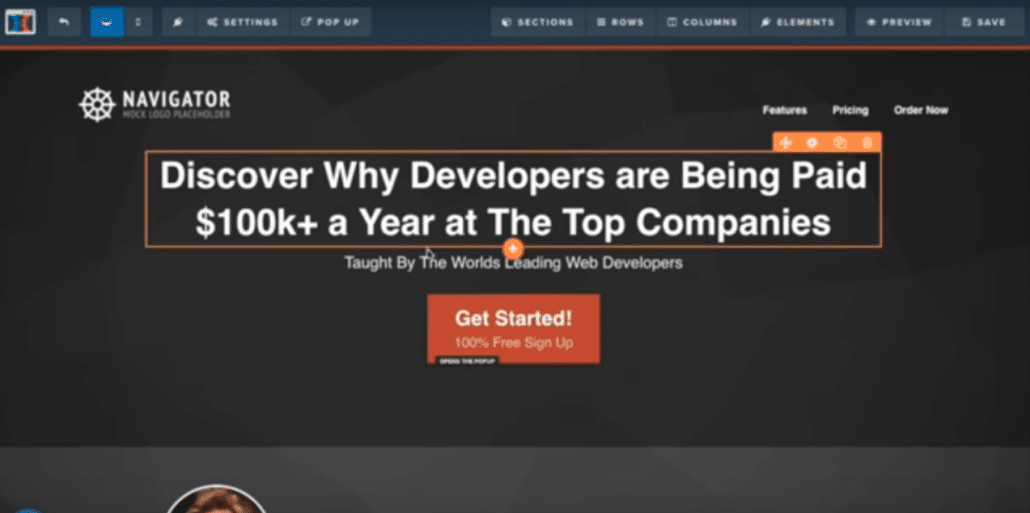 I can create a custom landing page in a few minutes by simply adding my logo and changing the body text of the page. But I'm just as likely to get sucked in for hours, playing with the customizations and tweaking things to perfection.
If the template's existing elements aren't enough for your purposes, you can also add new ones. You can change color, font, size —anything you want. Your final page could look a lot different from the original template. But I don't think you need to stray too far from the template's original design, since it's already proven to drive conversions.
That's why Clickfunnels is a great tool for entrepreneurs who don't have the HTML or coding skills to build their own webpages from scratch. You still get to be the designer and you don't have to hire someone else to try and build it for you based on your idea.
I said I would be honest in this review, so I will mention that working with the templates can sometimes be a little bit quirky. You click on something or move things around to make changes and sometimes what worked for you yesterday might not work today. You just have to be patient and tinker with it for a few minutes and in the end you can always get the results you want.
Test and optimize your pages
Another feature I want to mention in this review is the ability to A/B test. So when you go to a page in your funnel, such as your optin page, you'll see there's an option to "Start Split Test."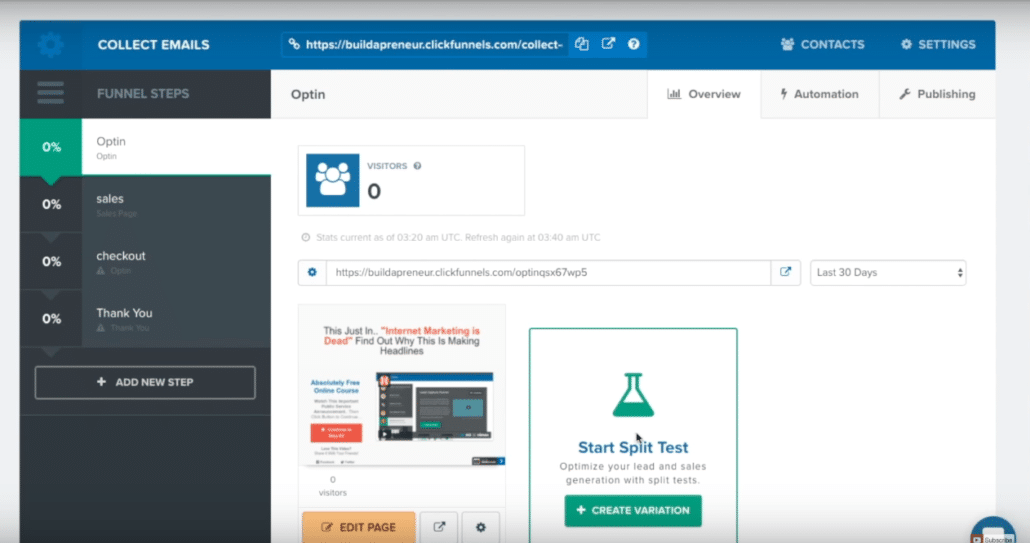 When you click this button, you'll be given the option to create a duplicate page or start a new page from scratch. I usually just create a duplicate page and make some minor tweaks to it.
Once you create a variation, ClickFunnels will automatically serve one version to 50% of your site visitors and 50% to the other. That way you know exactly what page elements are driving conversions.
Easily set up or buy domains
ClickFunnels is also easy to integrate into your website so the funnels you build can appear on your own domain. So if you already have a domain, you can add ClickFunnels in as a secondary domain.
Or you can use the ClickFunnels WordPress plugin to implement it straight into your site. Then you can build pages using ClickFunnels tools right from your site. And the people visiting your pages will have no idea that they're even on ClickFunnels.
They'll think you built those fancy landing pages all on your own!
If you don't have your own domain yet for your online business, you can get one right through ClickFunnels. So instead of going to GoDaddy or some other domain hosting service, ClickFunnels will take care of that for you all in one place.
I won't show you how to set up a domain in this review, but I assure you it's very easy to do and ClickFunnels offers detailed instructions if you need any help.
Take advantage of third-party integrations
Another great thing about ClickFunnels is the integrations. You can do just about everything you need to manage your sales funnel using ClickFunnels' internal tools. But if you already use some third-party technologies, they likely integrate well into ClickFunnels. Just go to Account>Settings>Integrations to see the list of possible integrations you can use with Clickfunnels.
For example, you can set up your email autoresponders for your funnels using ClickFunnels Actionetics tool. Or you can integrate a third-party email marketing tool like ActiveCampaign. When you first set up your account with ClickFunnels, you'll need to set up with Actionetics or a third-party email marketing tool so that you can start sending outbound email messages using ClickFunnels.
ClickFunnels also has integrations with various online billing tools, such as Stripe. I'm set up with Stripe on ClickFunnels. All you have to do is log in to Stripe from your ClickFunnels dashboard and you're good to go. Now you can accept online payments from your sales funnels!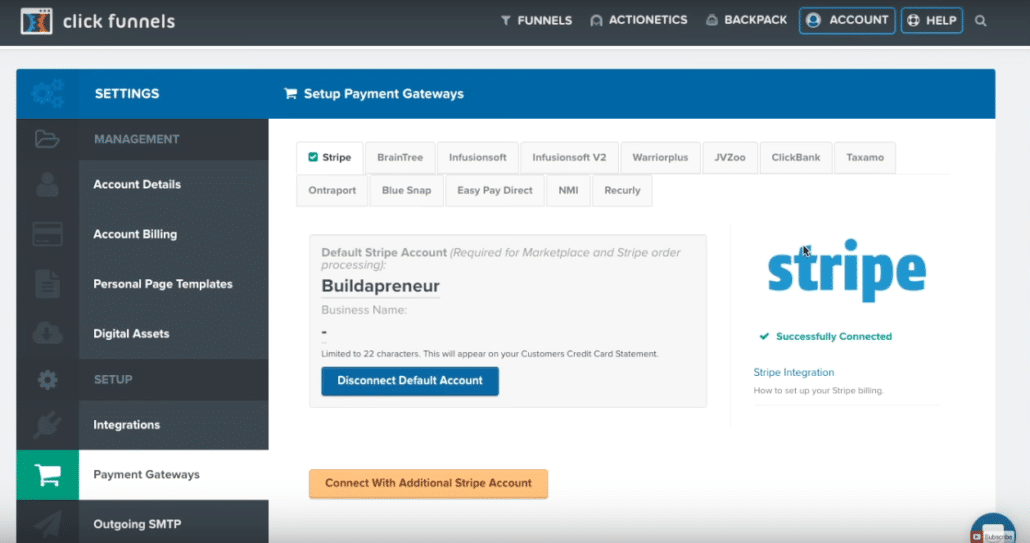 Many online review say ClickFunnels does not work with PayPal, but luckily that has recently changed. They recently added functionality to incorporate PayPal directly into any of your funnels. Who doesn't love a company that listens to their customers.
So you can build funnels not just to capture your audience's contact information and market to them. You can also sell them products directly using your sales pages and billing integrations.
Choose a "Sell Your Product" funnel type and you can customize the way you sell to your audience as well. Set it up so visitors can make one-time purchases, recurring subscriptions, etc.
Under the Integrations tab of account settings, you'll also see other options for integrations, such as webinar tools or text/SMS integrations. So if you want to work a webinar into your funnel, or market to your audience through text message, it's easy to do so with ClickFunnels.
Build ClickFunnels membership sites
Another thing I really love about this tool is that it can help you build a ClickFunnels membership site. Add a Membership Portal page as one of your funnel steps and it provides you with a lot of cool templates to deliver membership content.
For example, you can give visitors access to certain content, like course material. So people can buy and have access to different parts of your website.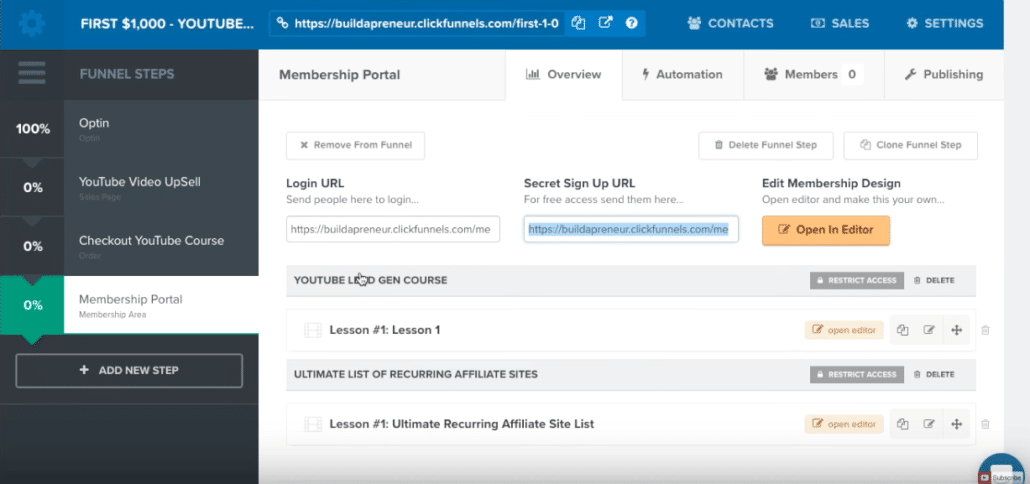 You can build your membership site elements off a template as well. Just choose what kind of membership content it is (e.g. a course), then customize it like you do all your other pages.
I'll admit, using ClickFunnels to set up membership site elements isn't always intuitive. It's a more complex task than the regular pages in your funnel, so it's not always possible to figure this part out without help. But they have customer support available to help with any questions you might have.
Once you get the hang of it, building membership portals becomes easy. And think about how much more complicated it would be to build a membership site from scratch using HTML. You'd for sure have to hire someone to do it and pay a premium price for a premium website. Creating a ClickFunnels membership site is way easier.
Use the ClickFunnels Marketplace
ClickFunnels offers a lot of free funnel templates that are scientifically proven to improve conversions. But if you want more variety, just turn to the ClickFunnels Marketplace. To the best of my knowledge, the ClickFunnels Marketplace is the only online marketplace where you can purchase premade sales funnels.
Their pre-built templates are tested by real online entrepreneurs and are proven to work. You can browse categories of funnel templates relevant to your needs, like a product launch, squeeze page, two-step tripwire, webinar, etc.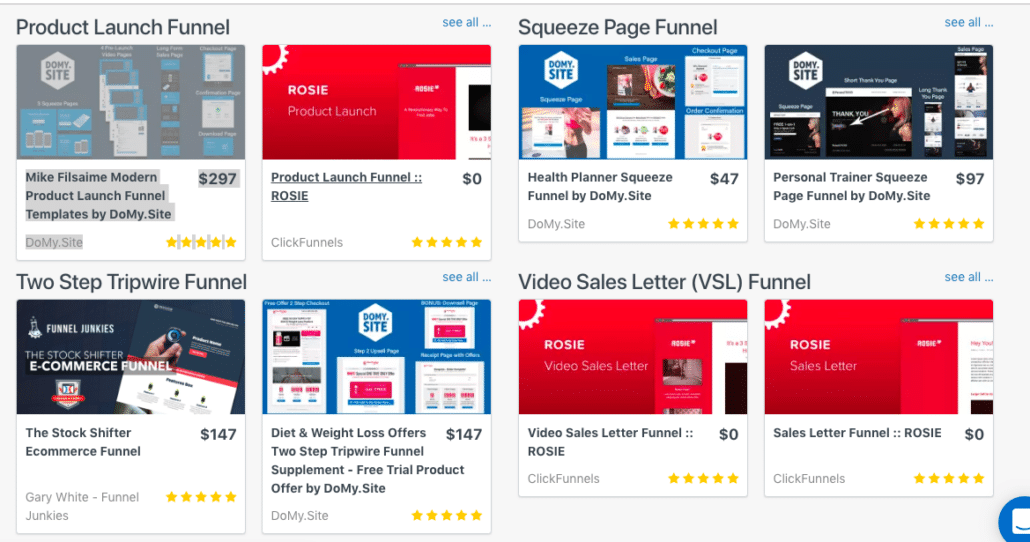 Some of the templates are generalized, while others cater to specific industries, such as personal training or health. If you can't find the perfect funnel you're looking for, you can also use the ClickFunnels Marketplace to find an expert to make a custom-designed funnel template for you.
Take advantage of Share Funnels
Share Funnels are another unique feature that I need to mention in this ClickFunnels review. Say you've created the perfect sales funnel that's helping you rake in new customers. You can easily share it with your audience or other members of the ClickFunnels community using Share Funnels.
All you have to do is:
Select your funnel

Click on Settings

Click on Share Funnel

Copy and share the funnel URL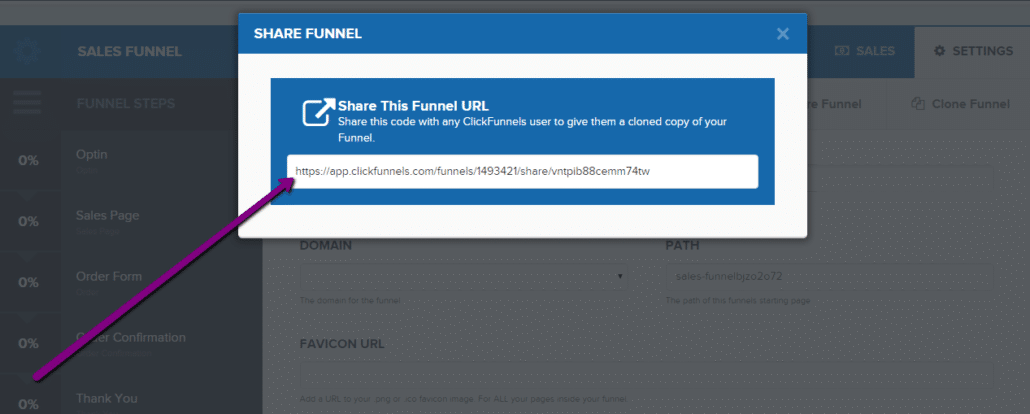 There are lots of reasons Share Funnels are so great. For one, you can easily share your successful funnels with other online entrepreneurs. They, in-turn, can share their funnels with you. These can serve as templates to help you build an even better funnel for your business.
Share Funnels are also a great way to earn money as a ClickFunnels affiliate. Share your successful funnel with an audience you're trying to convert into a new ClickFunnels customer. It's a great piece of marketing collateral — real proof that you've actually earned a lot of money building your own custom sales funnels.
I'll talk more about being a ClickFunnels affiliate later in this post.
ClickFunnels Pricing
As I mentioned earlier, ClickFunnels offers a 14-day free trial, no credit card information required. You can do a lot with the tool during those two weeks if you put in the time and effort to use all of its features to build your funnels. That's what I did when I first started out, because I needed to know if it was really going to be worth the steep price tag to use it long term.
If you use your 14-day free trial to the fullest, I'm sure you'll realize the value also. Then you can sign up and use it for a few months to see how your new custom sales funnels perform with your audience. At that point you can start to see how ClickFunnels pays for itself!
ClickFunnels offers two main pricing levels: $97/month for the ClickFunnels software, or $297/month for the Etison Suite, which includes ClickFunnels, Actionetics, and Backpack. Here's an overview of what each level provides:
| | | |
| --- | --- | --- |
| Option | ClickFunnels | Etison Suite |
| Pricing | $97/month | $279/month |
| # Of Funnels | 20 | Unlimited |
| # Of Pages | 100 | Unlimited |
| # Of Visitors | 20,000 | Unlimited |
| # Of Contacts | Unlimited | Unlimited |
| Custom Domains | 3 | Unlimited |
| Billing Integrations | 1 per type | 3 per type |
The Etison Suite also comes with a bunch of other features that you just can't get with normal ClickFunnels, such as a visual email builder, email analytics, advanced segmentation, etc. If you're just starting out, you probably have no idea if you need these extra features or not. You can always start with the normal ClickFunnels and upgrade to the Etison Suite once you start seeing positive results and want to scale.
I'm not gonna lie, ClickFunnels is more expensive than a lot of the other landing page builders you see out there. But you'll see how ClickFunnels Pricing is 100% worth it when you compare it to the competitor options.
ClickFunnels vs Competitors
I think it's important to also discuss some alternative technologies in this ClickFunnels review. In order to understand what ClickFunnels is and why it's such a valuable tool, you need to compare it to the other solutions out there that can help you build targeted sales funnels.
Here are a few of the top alternatives to ClickFunnels:
1. ClickFunnels vs LeadPages

LeadPages was one of the first tools out there to help build your own custom landing pages. As a result it's a legacy solution that a lot of businesses still use to build their sales funnels.
LeadPages is designed for both beginner and advanced marketers. They offer two different landing page editors, one with step-by-step instructions for beginners and another with more customization for advanced users.
LeadPages integrates with all major marketing automation tools such as your email marketing software or CRM platform. So it's possible to use the tool to build, manage, and optimize your own sales funnels. However, it requires a lot more expertise or guesswork to build high converting funnels with a simple landing page builder.
The big difference between LeadPages and ClickFunnels is that LeadPages helps you build custom landing pages, while ClickFunnels helps you build custom sales funnels. The ClickFunnels templates will show you what kind of important steps to include in your funnel with each page you create. LeadPages leaves it up to you to build your own funnels, using their platform to create each step.
LeadPages has more than 130 free landing page templates to choose from. They don't offer anything like the ClickFunnels Marketplace, but you can also purchase additional templates from Themeforest and use them on the platform.
LeadPages Pricing
LeadPages offers three main pricing plans:
Standard:

$25/month

Pro:

$48/month

Advanced:

$199/month
The low cost of the standard plan makes it an attractive option for businesses on a budget. But the cheaper option also sacrifices many of the features that make it easy to build effective sales funnels with LeadPages.
2. ClickFunnels vs InstaPage

InstaPage is a landing page platform designed to help businesses maximize conversion rates from their advertising and inbound marketing efforts. Its unique selling proposition is that it's designed for teams. So if you're not a solopreneur, you can use InstaPage to collaborate on landing pages with your teams.
InstaPage focuses on making it easy share, review and provide feedback on landing page design using their software. That said, they offer nothing similar to ClickFunnels' Share Funnels features. InstaPage tries to set itself apart by catering to teams, but it doesn't offer much in the way of unique features to deliver on that proposition.
InstaPage is mostly used by enterprise-level businesses who like the platforms web based editor. It offers more than 200 templates and a drag-and-drop editor, much like ClickFunnels. Unfortunately you can't currently do anything like build a ClickFunnels membership site using InstaPage. Most businesses end up building their own membership sites from scratch or hiring someone else to do it for them.
InstaPage does offer advanced analytics features to help you monitor the performance of your pages and funnels. You can easily A/B test different page elements as well, like with ClickFunnels.
InstaPage Pricing
InstaPage offers two pricing options: $99/month for core features (including analytics and unlimited A/B testing), or a custom quote for enterprise businesses. While their core pricing plan is similar to ClickFunnels, you miss out on a lot of important features that ClickFunnels provides.
3. ClickFunnels vs Infusionsoft

Infusionsoft isn't just a landing page builder, it's a full marketing automation solution. Designed for small businesses, it's a popular option for solopreneurs who want a tool with more features beyond funnel building.
Infusionsoft includes a variety of tools you need for online marketing and sales, such as:
CRM

Email automation

Online sales and payments

Analytics

Quotes and invoices

Sales pipelines
Infusionsoft offers a landing page builder with all the layout and style options to build the kind of pages your business needs. It might not be as intuitive as other options, but it can help you build highly optimized pages and integrate them into your overall marketing strategy. It can also help you create customized opt-in forms so you can capture leads and nurture them into customers.
Probably the biggest benefit of using an all-in-one marketing solution like Infusionsoft is cross-functionality. Infusionsoft has its own email marketing technology, so you can create rules to segment and add subscribers to lists after they visit certain landing pages, purchase a product, etc.
That said, entrepreneurs interested in the additional tools Infusionsoft offers can just as easily meet that need with the ClickFunnels Etison Suite. This includes Actionetics (marketing automation, email and messenger marketing technology), Pypeline (CRM software), Backpack (for affiliate marketing), and more. ClickFunnels offers the best of both worlds by allowing you to build your MarTech suite using third-party integrations or internal tools.
Infusionsoft isn't for brand new online entrepreneurs that don't know all the ins and outs of digital marketing. In order to get the most out of the tool, you need to fully understand and utilize its various features to optimize your sales and marketing efforts. Unlike ClickFunnels, Infusionsoft allows you to create optimized sales funnels, but it won't show you how to do it.
Infusionsoft Pricing
Infusionsoft offers 4 pricing options:
Essentials:

$199/month

Deluxe Sales:

$299/month

Deluxe E-Commerce:

$299/month

Complete:

$379/month
Compared to ClickFunnels pricing, Infusionsoft is the most expensive option. You're paying for packaged value.
The ClickFunnels Community
I mentioned earlier in this review that some aspects of ClickFunnels can be quirky and counterintuitive. But you have nothing to worry about when you're new to the tool because there's always someone who's encountered the same issue before and is willing to help.
The best place to go to get help is our Facebook group community. It's full of people just like you (new to building sales funnels) as well as veteran entrepreneurs who have made a lot of money using ClickFunnels. Post a question on the Facebook group and within 10 minutes you can usually get an answer.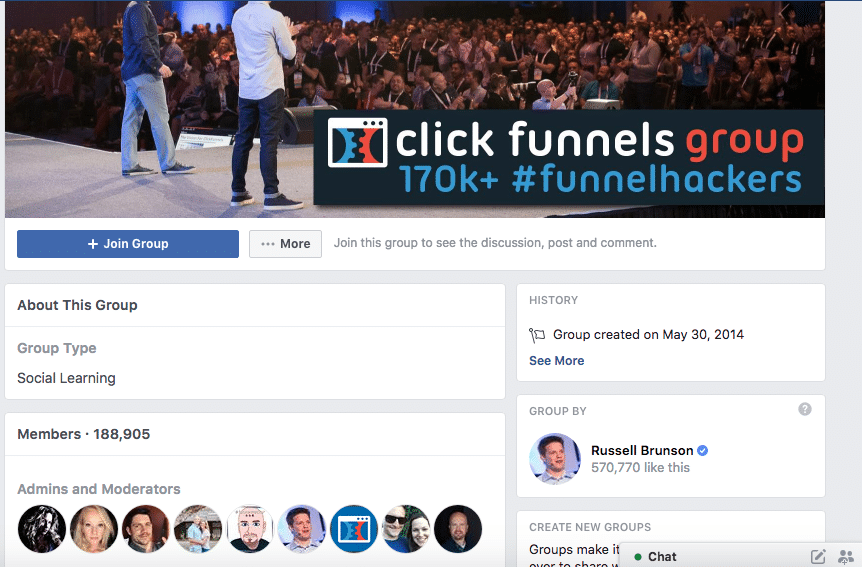 The official ClickFunnels Facebook group has more than 188,000 members. It's a social learning group aimed at allowing entrepreneurs to help other entrepreneurs.
The ClickFunnels Affiliate Program
This wouldn't be a complete ClickFunnels review if I didn't mention their incredible affiliate program. And you don't have to apply to sign up for it. You are automatically a ClickFunnels affiliate as soon as you become a customer.
Their affiliate program is super valuable because it offers something called a recurring commission. That means when someone discovers ClickFunnels through you and signs up, you get a cut from ClickFunnels every time they pay their subscription.
How big is the cut?
Forty percent.
That is huge in the affiliate marketing world. Think about it: assume you refer even one person to ClickFunnels and they use the tool for 5 years. That's $97 x 40% x 5 years x 12 months each = $2328.
$2328 from one referral. WOW.
With the ClickFunnels affiliate program you can promote a lot of different products, not just their main tool. Go to your affiliate dashboard and you'll see there's links for certifications, books that they sell, funnel courses, etc.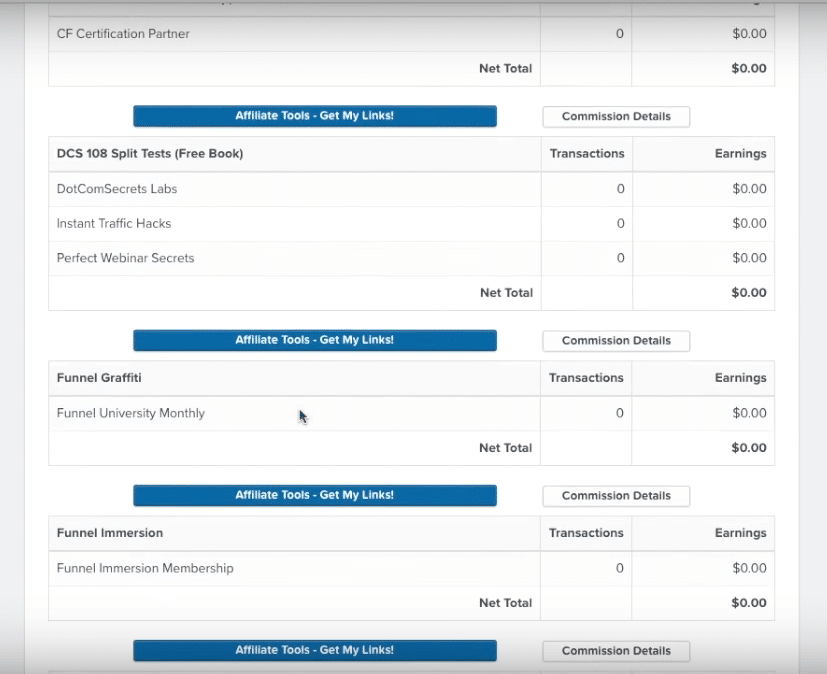 It's very easy to use these links to promote affiliate products by sending them out to your audience. I, for example, offer a free course that teaches people sales funnels, how to use ClickFunnels, and everything they need to know to get started. There's no requirements to sign up, it's just a free course. And I offer it for free because it includes my affiliate links, so I can earn commission when my audience clicks through and starts purchasing ClickFunnel products.
Besides offering a 40% recurring commission, ClickFunnels does a lot to encourage their affiliates to succeed. Like… they go way above and beyond any affiliate program I've ever seen.
Check out whatsyourdreamcar.com. It's a website that ClickFunnels' founder Russell Brunson set up specifically to incentivize product affiliates. And as the name suggests, yes, they will buy you a new car if you refer 100 new ClickFunnels users.
That was a huge incentive for me (obviously!) so I worked hard as an affiliate in the beginning. Despite the fact that I've been using ClickFunnels for less than 2 years myself, I'm already a top affiliate. And yes, I won my dream car!
The best part about the ClickFunnels affiliate program is sticky cookies. Essentially ClickFunnels gives you commissions on ANY product a customer you refer purchases.
For example, say your referral buys the software, then down the road buys their $1,000 course, and even further down the road buys a $2,500 package. You get 40% of everything that referral purchases. And with as many high-quality products as ClickFunnels has, you're in for some stellar commissions.
The End of My Epic ClickFunnels Review
Congratulations on making it through my epic ClickFunnels Review! At this point you probably have a much better idea of why this tool is so valuable for me and my business.
I know I sound biased when I talk about ClickFunnels, but I'm offering a real perspective on how it has help me succeed as an entrepreneur and affiliate marketer in such a short amount of time. If you try ClickFunnels out and take full advantage of its features and opportunities, I'm sure you'll see what a powerful tool it can be for you as well.

Seriously, just give it a chance. There are literally hundreds of online millionaires that credit Russell Brunson and ClickFunnels for their success. To discredit that would be a serious mistake indeed.
And of course, don't forget to get access to my free course, Sales Funnel Secrets, where I show you the ins and outs of actually getting a funnel set up and running.