Online Social Media Jobs That Pay $30/Hour
Availability to start this week
Make $25-$35 Testing New Apps
Just need access to phone/tablet
5+ hours per week available
The advancement of the internet made it easier for the average Joe to create a full-time job without leaving the house.
People all over the place are leaving behind a traditional J-O-B for better opportunities presented by the online world, and affiliate marketing is still a ruling force behind much of it. 
I should know. I did it!
But so did so many others.
In fact, recent statistics show that affiliate offers help generate up to 30% of all sales brought in by a supplier or advertiser.
It's a great gig, but if you're gonna do affiliate marketing, you need to make sure you use a disclaimer on your blog. It will save your butt. 
In this article, we'll go over how an affiliate disclaimer template should look and what you need to know about its content. 
What Is An Affiliate Disclaimer?
Transparency is an important factor that needs to be taken into consideration with affiliate marketing. That's where an affiliate disclaimer comes in.
It's not just an ethics thing when it comes to running a blog that promotes affiliate offers.
For affiliate marketers in the United States, it's now required by law to have an affiliate disclaimer. This also accounts for certain countries outside of the US. 
An affiliate disclaimer is a piece of content on your website that gives the visitor an overview of the fact that you earn a commission through your affiliate links.
It doesn't matter if it's a high-ticket offer or if you'll be earning pennies. The affiliate disclaimer needs to be there regardless.
It allows you to be transparent with your visitors, letting them know that if they click on a link and proceed with a sale, you'll earn money in return. 
Next, we'll take a look at a few affiliate disclaimer templates to help you understand what to mention in the content and where to place it. 
Affiliate Disclaimer Templates You Can Use
1. Ultimate IT Guys
2. Nom Nom Paleo
3. DisclaimerTemplate.net
4. Privacy Terms
Ultimate IT Guys is a website dedicated to helping its readers find the best IT equipment for their business. They also offer a range of services directly to their audience.
They help a variety of business types set up IT systems, including schools, security companies, and more. 
Among the services offered by Ultimate IT Guys, you'll find that they also promote a variety of products through affiliate links. A majority of the affiliate products shared on the website directs the visitor to Amazon.
Additional affiliate links to other platforms can also be found on their website.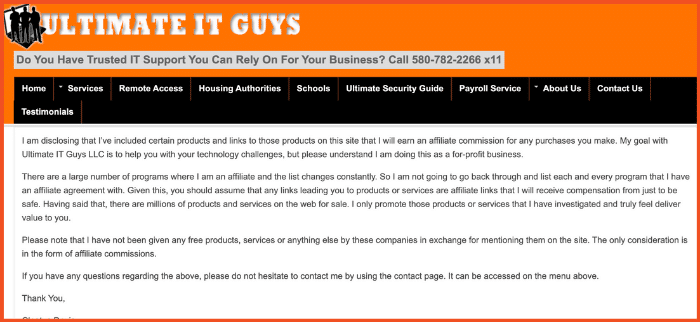 As you can see, Ultimate IT Guys share links to their affiliate disclaimer, as well as a separate Amazon affiliate disclaimer at the bottom of the website. This means the visitor is able to easily access these pages – regardless of where they are on the website. 
The Amazon affiliate disclaimer provided on the website is also perfectly in line with the requirements mentioned by the Amazon Associates Program. It is short, to the point, and clear on the fact that commissions are earned when referring people to products on Amazon. 
Next up is a website called Nom Nom Paleo. This blog was designed to provide its audience with a range of different recipes – with everything falling perfectly in line with the popular Paleo Diet. 
Scroll to the bottom of the website, and you'll see an affiliate disclaimer added in quite an interesting way. 
Instead of providing a long page filled with content that explains what affiliate links are and why the blog is earning, the blog owner decided to make the message short, easily visible, and get straight to the point.
A cartoon graphic is added, which represents the brand of the website – this makes it easily recognizable. 
The message simply tells the visitor that affiliate links are placed on the website, and if they click on these links, the blog owner may earn fees (commission) on a referred sale. 
The message is added to the footer of the website, making it visible on every page, whether the visitor is reading about a Paleo recipe or finding out more about what the diet is all about.
This one isn't a fixed template that you can use as inspiration to writing a disclaimer for your website. Instead, it's a free generator that creates the disclaimer for you. 
This is one of the easiest ways to get your earning disclaimer up on your blog. 
Simply visit the Disclaimer Template Generator page and fill out the short form. During the process, be sure to enter the correct business name and URL that represents your business.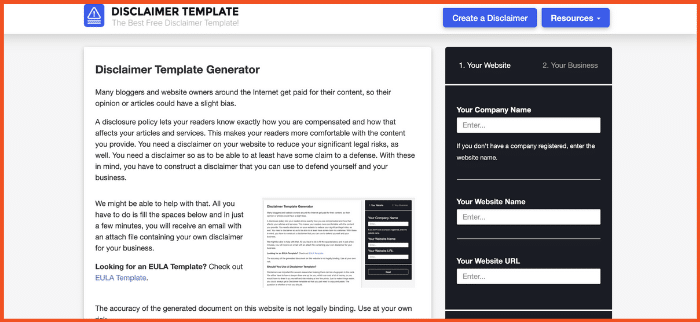 Once this is complete, you'll be able to access your earnings disclaimer. Simply copy the code onto your website. 
When you do decide to use DisclaimerTemplate.net to generate your affiliate disclaimer, make sure you understand that it provides a more thorough piece of content.
This isn't the best option for adding a short disclaimer to the header or footer of your website. Instead, it's a great option for setting up a disclaimer page (which is important to have in addition to the shorter one – and I suggest linking the shorter one to the page). 
Another excellent option for an affiliate disclaimer template is to use a platform called Privacy Terms. It can help you set up more than just your disclaimer – you can also generate your privacy policy and terms of service on this website.
These additional pages are important to include on your website. Visitors need to understand exactly how their information will be used, how cookies are stored in their browser, and other related information. 
Privacy Terms has 20 different types of disclaimers that you can use, including an affiliate disclaimer template. It is relatively quick and easy to set up your disclaimer with this platform. It's also free to generate the initial disclaimer.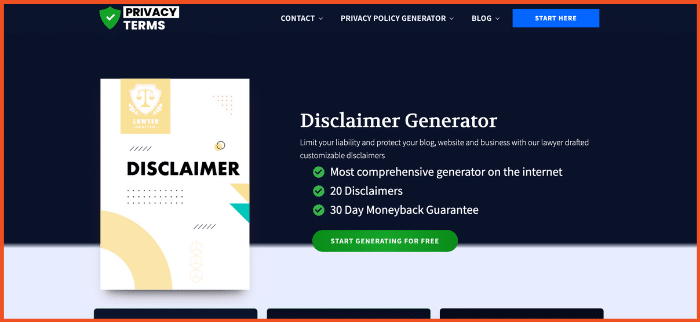 This generator creates a lengthier affiliate disclaimer, so be sure you add this one to a separate page on your blog. Link out to this page in a section of your website that is clearly visible, no matter where the visitor has navigated to.
The footer of your website is always a great idea when linking out to an affiliate disclosure on its own page. You could also add a short note at the bottom of your posts and link out to the page there. 
You can decide how you want the disclaimer to be generated. There are a few affiliate disclaimer templates that you can take advantage of here, depending on the specific programs that you promote on your blog.
There is a disclaimer that adds content related to the Amazon Associated Program too, if that is something you need. 
The Legalities Around An Affiliate Disclaimer
Just a few years back, you could set up an affiliate website and start promoting content without explicitly telling visitors that you're earning a commission. Today, however, things are no longer as simple.
The first announcement that specified the requirement of a disclaimer related to affiliate marketing was published in 2013.  
It's important to note that these requirements are not only for better transparency on your affiliate marketing websites. It is also a legality today, which means if you aren't disclosing the fact that you earn through affiliate links on your website, there is a chance you may face legal actions in the future. 
The Federal Trade Commission in the USA released an announcement that specifies the importance of an affiliate disclaimer. This particular statement accounts for people who are targeting an audience in the United States. 
The FTC Act Section 5 specifically prohibits unfair and deceptive acts within any type of practice. This includes an online website that promotes products and services through affiliate links.
Failure to mention to your visitors that you're earning a commission is considered deceptive by this particular act. This means you're violating the law. 
NOTE: Even if you're not located in the United States, you might still be required to implement an affiliate disclaimer on your website. 
To play it safe, I say, just include an affiliate disclaimer. It's easy to do and visitors like when you're transparent with them.
The Basics Of An Affiliate Disclaimer Template
When setting up legal documents and contents for a website, many people tend to get a lawyer involved. When a lawyer creates a legal disclaimer or terms for a website, it ultimately adds more value to the content.
Unfortunately, this leads to excessive expenses from your side. And it's typically not necessary.
As I've demonstrated above, it's more than possible to set up an affiliate disclaimer yourself, especially when you use templates.
Want to know which affiliate marketing method works best for you? Answer the short quiz below:
Rules to Follow
There are a few rules that you should follow when compiling an affiliate disclaimer. These include:
Keep your affiliate disclaimer short and to the point. This makes it easier for the visitor to read and understand. 

The disclaimer should be clear and easy to understand. Simply mention that you're earning commission from affiliate links.

Don't hide the disclaimer away on a separate page, such as the About Us page or the Terms & Conditions page of your website. Have a separate Affiliate Disclaimer page.
Try to place a shorter disclaimer as close to any type of affiliate link you promote on your blog as possible so that you're in line with laws. This is usually done at the top or bottom of an article or in the footer.
Conclusion
Affiliate marketing presents an excellent opportunity to earn money from home, but failing to comply with legal requirements could lead to problems in the future. Setting up an affiliate disclaimer is one way to avoid this.
You can use an affiliate disclaimer template to make this process faster and easier. Make sure the template you use complies with the law. We shared some of the best affiliate disclaimer templates and examples that you can work from above.
Learn affiliate marketing secrets. Click here to get started.