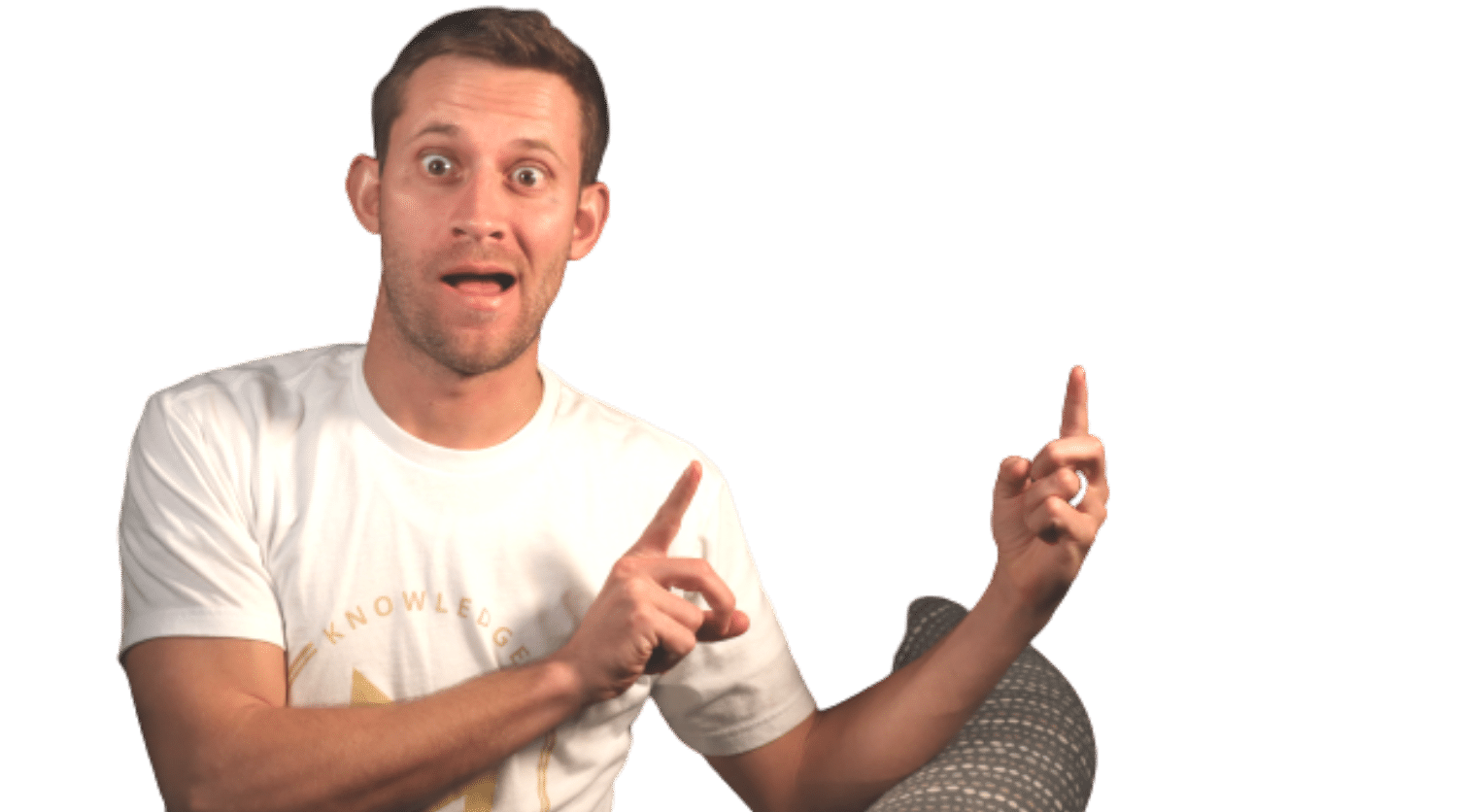 Looking To Start An Affiliate Marketing Blog?
If you know anything about email marketing, you've probably heard of Mailchimp. With more than 14 million customers, Mailchimp is the world's largest marketing automation platform.
One of the major things that attracts people to Mailchimp is the fact that it's free for your first 500 subscribers. But that's not the only factor you should consider when choosing the right email marketing solution.
I used Mailchimp for a while when I was first starting out, so I'm very familiar with it. I've also used a number of other tools, so I know how it measures up to the competition.
In this Mailchimp review, I'll go over the platform's most important features. You'll also learn why it's a great tool for some people, and not the best option for others.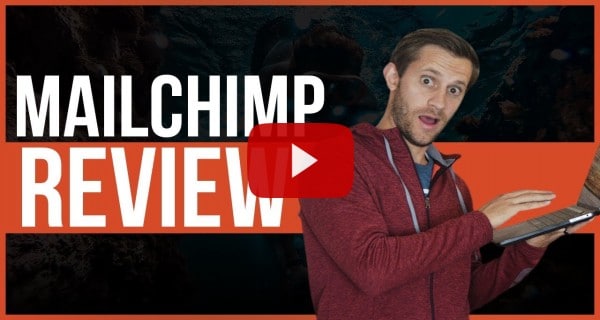 Here's an overview of Mailchimp's functionality and key features. I'll also discuss how they measure up to the competition overall.
Interface
Mailchimp is designed for beginners. Many of the top email autoresponders out there expect their users to have some understanding of how email marketing and marketing automation work in general. Mailchimp doesn't.
That's why their interface is probably the simplest and most intuitive in the industry. By simply using their interface, people who have never marketed online before can learn the processes and options to start doing it.
Mailchimp has easy options to help you create your first lists, add people to existing lists, and build email campaigns. That said, the simplicity of their options can sometimes leave more advanced marketers in the dark.
For example, from their dashboard you get two options: send an email or create an ad.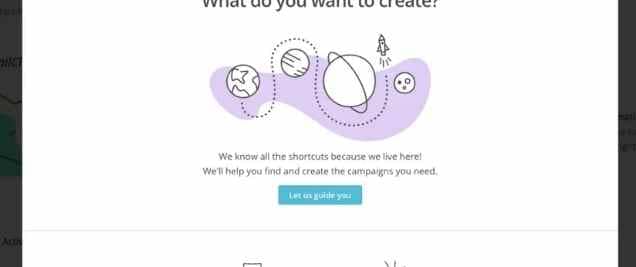 I want to do something more advanced — create an automation. But you don't see any clear option for this. First you have to click "Create an Email" then navigate to the Automated option. That's pretty confusing.
Mailchimp tries to keep their interface as simple as possible by minimizing the number of options they present people on a single page. This can actually make it kind of confusing when trying to figure out what to click on.
Automations
I think Automations are the most important feature to mention in this Mailchimp review. You can use automations to send out emails to only certain subscribers. Emails are "triggered" to go out based on an event or activity.
For example, you can use automations to trigger an email to go out on a person's birthday. Or you can set an email to go out when someone downloads an ebook, makes a purchase, or does something else on your website.
Automations are a really important feature because they can help you automatically personalize your email marketing message to individual subscribers. This can help you better engage your contacts and drive business goals.
Mailchimp offers standard automation features and introduces new marketers to them using easy templates. These are for things like welcoming new subscribers or saying happy birthday. That's fine, but customization is really important.
So if you create your own automations, you can create custom rules and conditions for how these emails function. You can schedule longer waits between emails or set conditions based on subscriber behavior.
These are very helpful features to optimize your campaigns and ensure they go out to the right subscribers. That said, their automation interface isn't very visual. This is a problem because automations can become complex and hard to manage.

Having a clear visual representation of how they map out is extremely helpful.  
Here's what Mailchimp's automation interface looks like: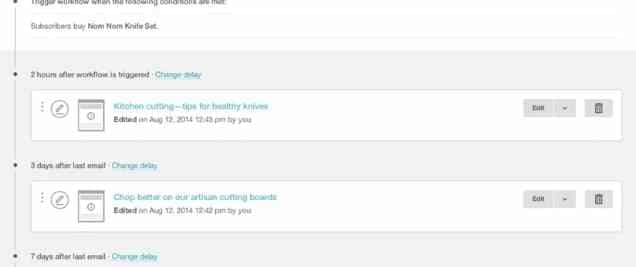 To give you an idea of what a good visual automation interface looks like, here's how it looks on Active Campaign: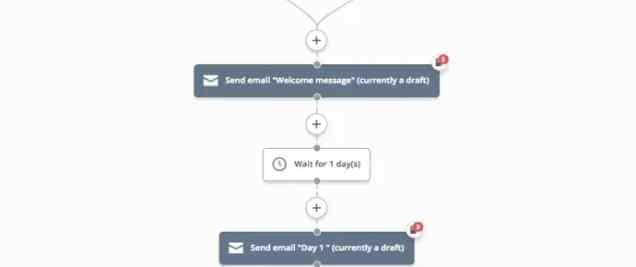 With Active Campaign automations, everything is mapped out. You can see different paths a subscriber can take if they meet certain conditional criteria.
You can also see how many people are in an automation sequence and track some performance data from your automations. Mailchimp just doesn't have that same visual functionality.
Email Builder
The email builder is one of the best features I want to mention in this Mailchimp review. They make it super simple to design nice emails, even if you have no idea what a nice email looks like!
You can start out with their featured layouts and templates. You can browse options based on the type of email you want to send, such as follow up, announcement, or selling products.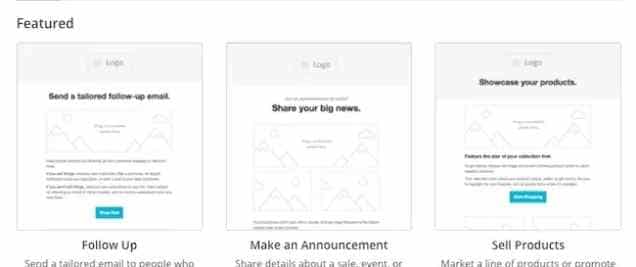 Pick a template, then go to their drag and drop editor to customize it. It's really easy to make basically any changes you want to the template to make it your own.
You can choose certain styles, add/replace different content types, change colors, etc. It's really a great email builder compared to the other options out there.
Form Builder
I should also mention form building in this review. You need to create signup forms in order to build your email list. Mailchimp has a very nice form builder with all the customizations you could want. You can customize text, fields, and visual elements. You can also customize what happens when people fill out the form.
Mailchimp's form builder is like their email builder but it can be a little confusing because the configuration and design options change depending on the kind of form you're creating.
List Management
Like all email marketing software, Mailchimp has you create lists that you use to silo subscribers. Then you can use "tags" to segment subgroups of people in a list and deliver different marketing messages to each.
That's all good and helpful, except that Mailchimp makes it very difficult to group and categorize contacts across these lists.
Other modern email marketing platforms treat contacts on the individual level, then allow you to segment them into lists and further segment them using tags. This is extremely helpful if you end up with the same subscriber on multiple lists.
Mailchimp would treat these signups as duplicates, while other email autoresponders would understand they're the same contact.
Prioritizing tags over list segmentation is also important if you want to use behavior-based tags to segment, such as targeting subscribers who clicked on a call-to-action in one of your emails.
A/B Testing
A/B testing is another important feature I want to mention in this Mailchimp review. Mailchimp has great split testing functionality, which is important for optimizing your email campaigns.
A/B testing involves creating slightly different versions of an email and testing to see which performs better with your audience.
Mailchimp lets you test subject lines, from names, email content, and send time. Then you can select what portion of your audience you want to test with: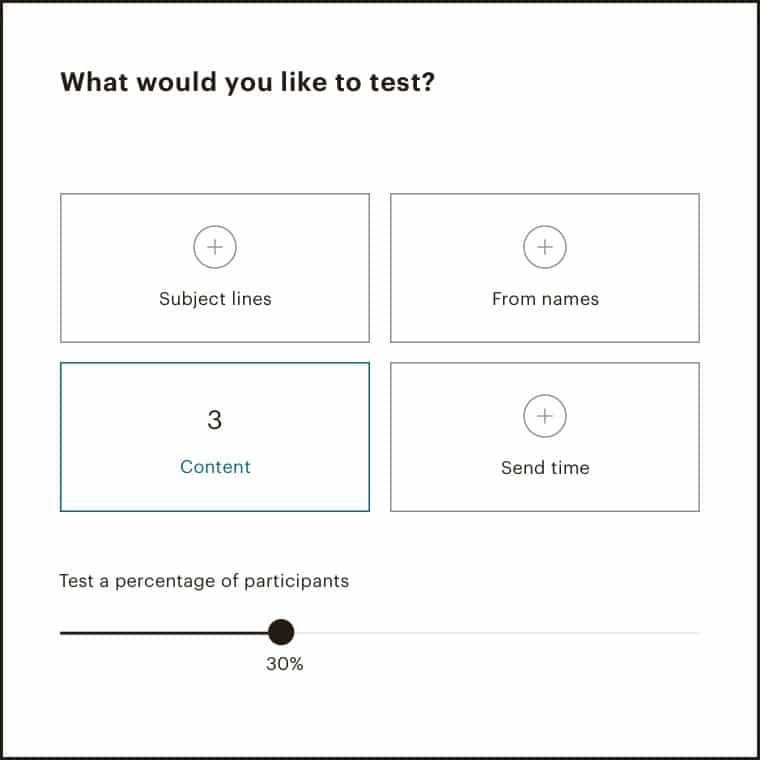 So if you select 30%, then Mailchimp will automatically send out the email variant to 30% of your audience. Then you can compare performance metrics to learn which version did better with your audience.
Mailchimp's basic A/B testing functionality works great. And if you want to do more advanced multivariate testing, you can create up to 8 campaign variations using Mailchimp Pro.
Integrations
No Mailchimp review is complete without mentioning integrations. Mailchimp is top of the line in this area. Many hundreds of third party services integrate with the platform.
This is particularly important if you want to sync your marketing initiatives across platforms and smooth out the customer journey. Mailchimp has a helpful directory you can search to discover all the possible integrations available.
Reporting
Mailchimp's reporting is one of the best features I want to mention in this review. Their graphs are beautiful and focus on making it really easy for beginners to understand performance: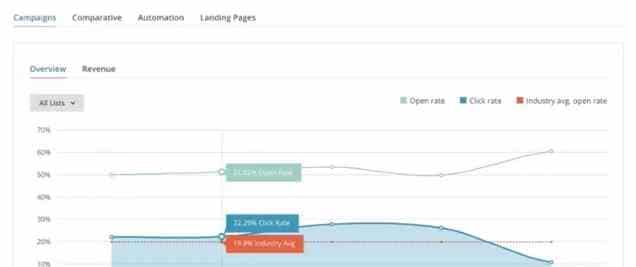 At the same time, they offer all the advanced data you need to gain deeper insights from your campaign performance. Their basic plan also gives you access to automation reports, so you can understand how your audience responds to different email sequences.
If you opt for one of their paid plans, you can also easily gain advanced insights with comparative reports. This shows you how your campaigns perform compared to each other.
Customer Service and Support
Customer service is another important point to mention in this review. You can easily contact Mailchimp customer support by email or live chat if you need help with anything. But one thing that makes Mailchimp really stand out from competitors is documentation.
Before you even contact customer support for help, you can refer to their helpful guides. They have tons of walkthrough content that show you how to use different aspects of the platform. So you can often answer your own question using their guides without contacting customer support at all.
Deliverability
Deliverability is important to mention in this Mailchimp review because it has a huge impact on performance. Not all email marketing tools are created equal. And depending on which one you use, it can affect whether your emails make it to people's inboxes or their spam folder.
Mailchimp's email deliverability is fairly good, but not best in class. Email Tool Tester did a comparative analysis of email deliverability, and Mailchimp scored a respectable 82.6%. MailerLite, Drip, Constant Contact and ActiveCampaign all scored better.
2019 Mailchimp Review: Key Points
There's no denying that Mailchimp is a powerful tool used by millions of happy customers. It has a great email builder, testing capabilities, performance reporting, integrations and more. But a lot of email autoresponders have these features.
Simplicity is probably the best thing about Mailchimp. It makes it easy for complete beginners to click through and figure out how to use a marketing automation system.
But for people who want to do more advanced things, Mailchimp's simplicity can be more of a hindrance than a help. Advanced functionality is there, but Mailchimp doesn't make it easy to create and track advanced automations.
It's for that reason that I currently use Active Campaign, choosing it over Mailchimp and several other autoresponders. Mailchimp is a really great tool and you wouldn't go wrong by using it. But if you want to prioritize automation like I do, Active Campaign is your best bet.
Here are links to both autoresponders, so pick the one that's right for you!
ACTIVE CAMPAIGN: https://goo.gl/vLUBFi
MAILCHIMP: http://Mailchimp.com