3 Ways To Make Money Online
Do you enjoy shopping?
Not everyone does, but it's something that everyone still needs to do. 
The dislike of shopping paired with the pandemic has caused personal shopping services to explode over the past couple of years – which is excellent news if you're looking for a way to earn extra money.
If you consider yourself a quick and savvy shopper, you can turn your skills into a side hustle.
Here are ways to get paid to shop in 2023.
Ways to Get Paid to Shop
1. Get Paid to Mystery Shop
2. Get Paid to Grocery Shop
3. Get Paid in Cashback
4. Become a Personal Errand Runner
5. Bonus Idea: Get Paid to Shop with Credit Card Rewards
Get Paid to Mystery Shop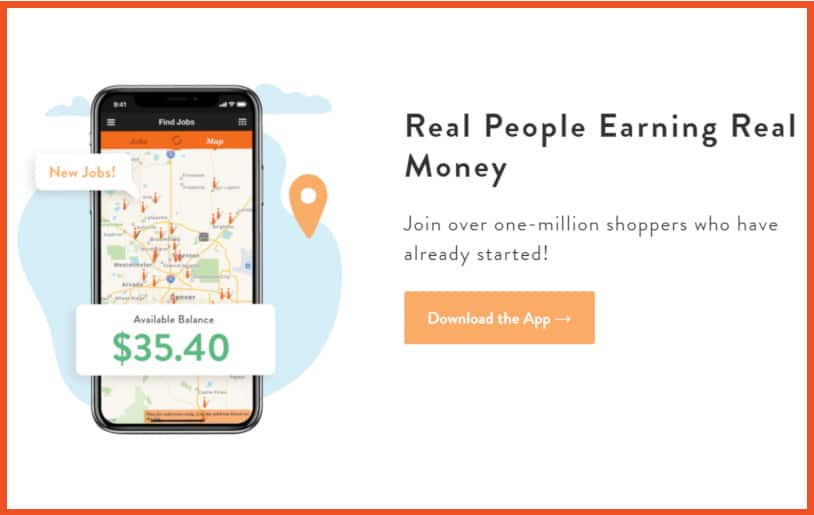 How would you feel if a company told you they'd pay for your purchases if you let them know how friendly their staff was and how clean their store was?
You'd probably take them up on their offer. Right?
Well, that's essentially what mystery shoppers do – earn free stuff (and sometimes get paid) to report on customer service and cleanliness.
Hiring mystery shoppers is a way for business owners to get an honest opinion of how their business is seen and how their employees treat customers.
As a mystery shopper, you can be paid in free products, cash, or discounts.
Here are a few places to sign up for mystery shopper jobs:
Best Mark – Best Mark contracts mystery shoppers to evaluate restaurants, retail establishments, auto services, and banks. To qualify as a shopper, you'll need to be at least 18 years old and have internet access.
Field Agent – Field Agent is an app that you can download to find mystery shopping opportunities in your area. You'll be alerted on the app when jobs are available.
Jobs range from taking pictures of a product to completing surveys.
Market Force – Market Force is a mystery shopping company that allows its shoppers to download an app and complete jobs on the go. Positions range from evaluating customer service to giving feedback on product selection.
Market Force also has a division dedicated to movie theaters. This means you can get paid to go to the movies and report on the staff and theater. There's also a gig that will pay you to count the number of people viewing certain movies.
Get Paid to Grocery Shop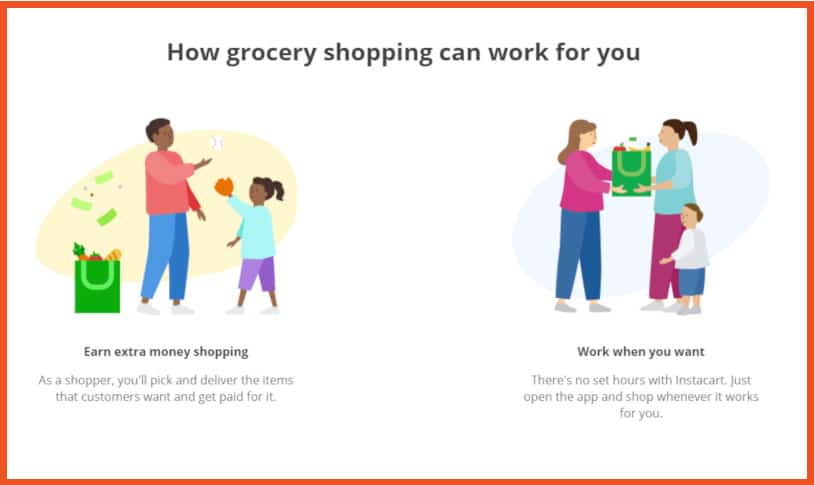 While mystery shopping is a fun way to earn free products and cash, if you're looking for a more reliable income, you may prefer grocery shopping.
The "get paid to grocery shop" companies generally pay in the $15-$20 range and hire employees on a contract basis. This means if you work for them no taxes are taken out of your pay, and you'll receive 1099 at the end of the year.
One of the best things about grocery shopping jobs is that they are entirely flexible. You can use these gigs to make extra cash even if you're working a full-time job.
Here are some companies to look into if you're interested in grocery shopping gigs:
Instacart – Instacart contracts shoppers to shop for and deliver groceries to customers.
As a shopper, you'll download an app to get access to jobs. When a customer in your area places an order, you'll see it on the app. You then choose the orders you want to fulfill.
There are no set hours you have to work.
The hourly pay for a shopper will vary depending on the job and the tip a customer provides. Instacart does guarantee that shoppers will earn at least $7 for each "shop and deliver" order they complete.
Shipt – Shipt also contracts shoppers to shop for and deliver groceries and household items. As a Shipt Shopper, you can choose when you want to work and which jobs you want to complete as they become available.
Experienced shoppers earn an average of $22 per hour.
Amazon Personal Shopper – Amazon hires personal shoppers to shop for customer's orders at Whole Foods and then package them for 1-2 hour delivery. 
As an Amazon shopper, you can work as little as four hours per month and as much as 20 hours per week.
Pay is $15 – $22.50 per hour.
Get Paid in Cashback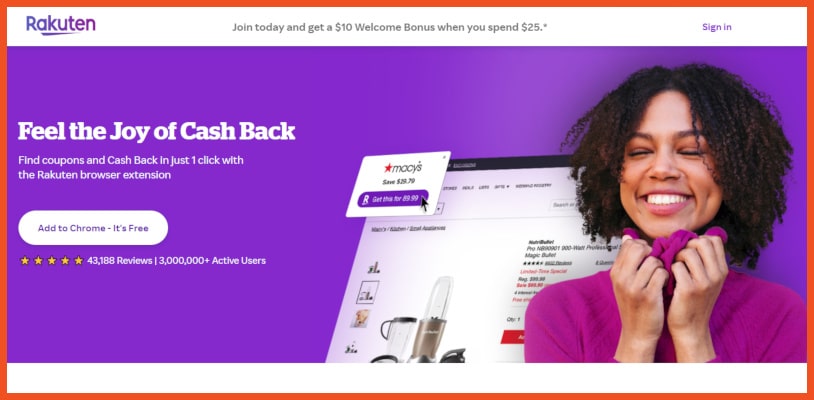 Another way to get paid to shop is through cashback apps.
If you aren't already using cashback apps, you should be. These apps are virtually effortless and can help you earn money on everyday purchases. 
You could even double up on the cashback by using multiple apps and a cashback credit card.
Here are some of the top apps to check out:
Top Cashback – Top Cashback gives its users cashback on purchases from major retailer websites. Since this company doesn't take any of the commissions earned, it almost always has the best offers.
Rakuten – Rakuten, formerly Ebates, is another excellent site that offers cashback at top retailers. They also offer a sign-on bonus to new users.
Ibotta – Ibotta's app allows you to earn money on everyday purchases like grocery shopping. All you do is find offers you're eligible for and then upload your receipts to the app.
Ibotta offers new users up to $20 in welcome bonuses.
Honey – While Honey doesn't technically give you cashback, it does save you money which is just as good. Honey is a browser extension that automatically searches for coupon codes when you check out and applies them for you.
Become a Personal Errand Runner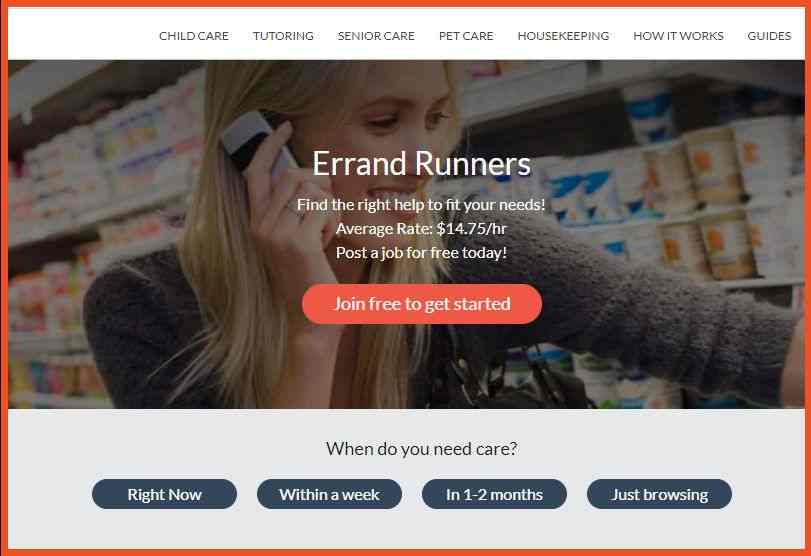 Another unique but increasingly common way to get paid to shop is to become an errand-runner. Errand runners do all kinds of things, like dropping mail off at the post office to picking up a loaf of bread.
Errand runners can start their own business offering their services, sign up with one of the companies below, or do a combination of the two.
TaskRabbit – TaskRabbit is a service where locals post tasks they need to be completed, and "taskers" can complete them. You can offer fifty different services on Task Rabbit, with one of them being errand running. 
The cool thing is that you can set your own rates and invoice clients directly through the TaskRabbit interface.
The only downside is that you may need to pay a $25 registration fee depending on where you live.
Care.com – You might think of Care.com as the place parents go to find babysitters or elder care, but it's so much more.
One of the services you'll find on Care.com is errand runners. The average rate errands runners receive is $14.75 per hour.
GigWalk – Gig Walk is an app with a job board where companies post gigs they want locals to complete. These gigs usually involve going into a store and taking a picture of how much a particular item is priced at or reporting on the display.
So Many Errands – So Many Errands is a site similar to TaskRabbit, connecting errand runners with people who need help. Errands posted on this site include shopping, mowing, laundry, and more. As a user, you can choose which errands you're interested in completing.
Bonus Idea: Get Paid to Shop with Credit Card Rewards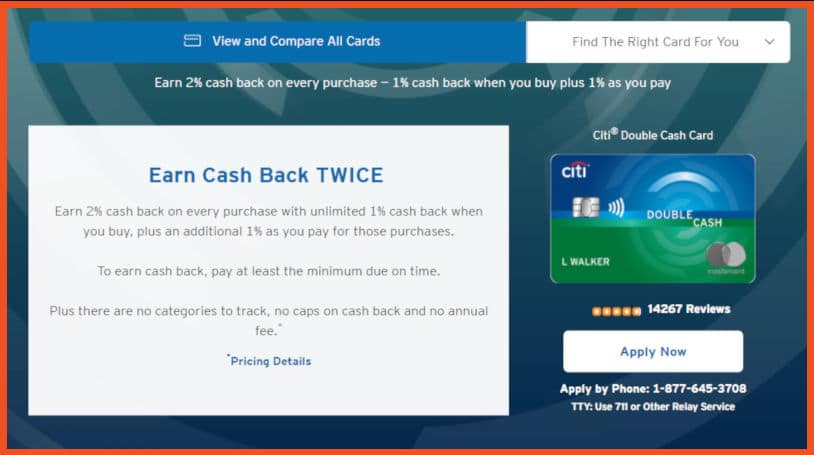 One last idea that can be wildly profitable if you do it right is credit card churning.
Credit card companies try to gain new customers by offering sign-on bonuses. These sign-on bonuses can be pretty significant, paying new users up to $500 in cash-back, points, or miles.
In the past few years, taking advantage of these sign-up offers has become increasingly popular and is now referred to as "credit card churning."
Here's how it works:
Find credit cards with sign-up bonuses you're interested in.

Apply for the cards, meet the minimum spending thresholds to earn the rewards.

Cash out on the rewards and cancel the credit card.

Repeat.
If you decide to do this, you need to be very careful. The golden rule to credit card churning is that you MUST pay off your credit card balance every month, and your credit card spending can only be for the things you normally purchase.
So, if you have zero control over credit cards, DO NOT DO THIS.
The other con is that this can adversely affect your credit score, so if you're planning on taking out a loan or mortgage in the next few years, this probably isn't for you.
If you're looking to get paid to shop with your credit card without taking on additional risk, just use a cashback card for your regular spending and forget about credit card churning.
P.S. If you're a blogger or affiliate marketer, check out these high-paying credit card affiliate programs.
There are Many Ways to Get Paid to Shop
Whether you're looking for some easy pocket money or want a full-time job, there are many ways you can get paid to shop.
At the bare minimum, using the cashback apps can help you earn a little spending cash. And if you're a super-shopper wanting to make some extra cash, grocery shopping gigs can be a great fit.
Looking for more ways to earn money?
Check out the video below to learn how I went from $0 to $3,000,000: