The 3-step system I used to make 7-figures of Affiliate Commissions in my first 3 years as an affiliate marketer.
ActiveCampaign and Mailchimp are two very well-known and well-respected autoresponders.  Unfortunately that just means that choosing the best email marketing software for your business is kind of a hard task. The best autoresponder for you will likely be very different if  you a solopreneur, a business owner, or a blogger.
Deciding which program to use requires evaluating which solution meets your specific business's needs best.
Both Mailchimp and ActiveCampaign are marketing automation solutions to help businesses of all sizes create personalized email marketing campaigns.
They both help businesses convert leads to customers and stay in touch with current customers. Let's compare and contrast each one to help you make an informed decision.
Feel free to jump to the summary for a quicker peek.
You can also see individual reviews of ActiveCampaign or Mailchimp.
ActiveCampaign vs Mailchimp Ease-of-Use
Mailchimp is known for its easy-to-use, intuitive, drag and drop email design dashboard shown below.
ActiveCampaign also has an easy-to-use design interface. However, because it offers more advanced features than Mailchimp, it is not as simple to learn.
See a screenshot of the ActiveCampaign design manager below.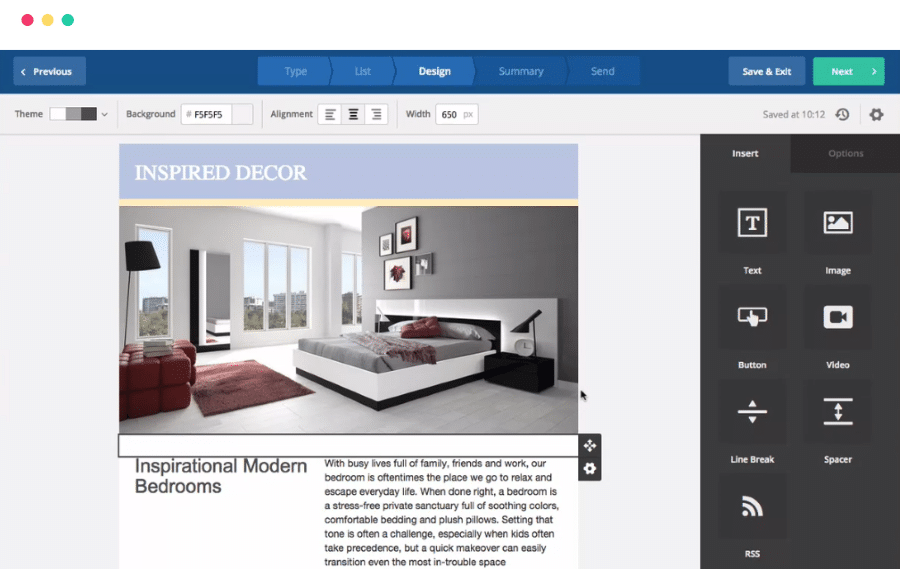 Mailchimp and ActiveCampaign are both known for their ease of use. ActiveCampaign, however, would require learning many more features than Mailchimp.
While that may seem a little daunting at first, it is worth it down the road as your business grows and develops to have more options.
ActiveCampaign Templates vs Mailchimp Templates
Both Mailchimp and ActiveCampaign have flexible and mobile-responsive email templates. However, Mailchimp has about 100 whereas ActiveCampaign only has about 30.
Most MailChimp users report liking Mailchimp's wide variety of templates for virtually any business.  They are mobile responsive, easy to use, and well-designed.
ActiveCampaign's templates are not quite as built out as MailChimp, nor is their selection nearly as large.
Both ActiveCampaign and MailChimp templates are fully customizable for variables such as contact name, company, and time zone. ActiveCampaign has many more variables than MailChimp, and as will be discussed later, there are more options with automations when it comes to these variables.
The important thing to remember about both email software programs is that both of them can build an email that looks exactly like your vision.
As you can see below, while ActiveCampaign's email builder and template library is not as robust, you can still do virtually anything you want.
Below are examples of ActiveCampaign's templates.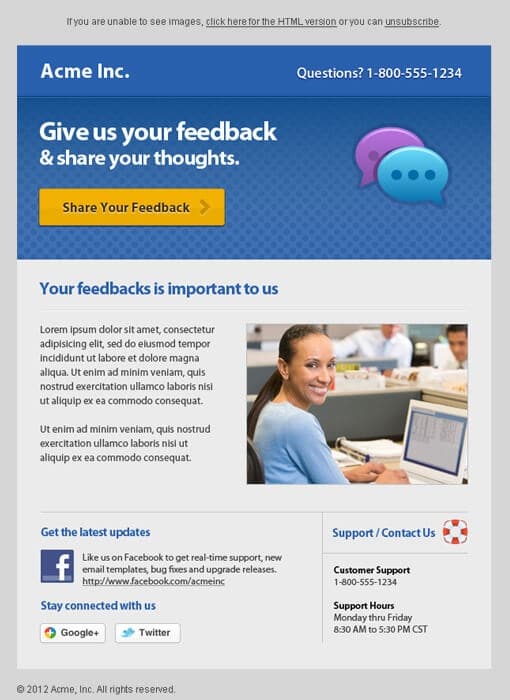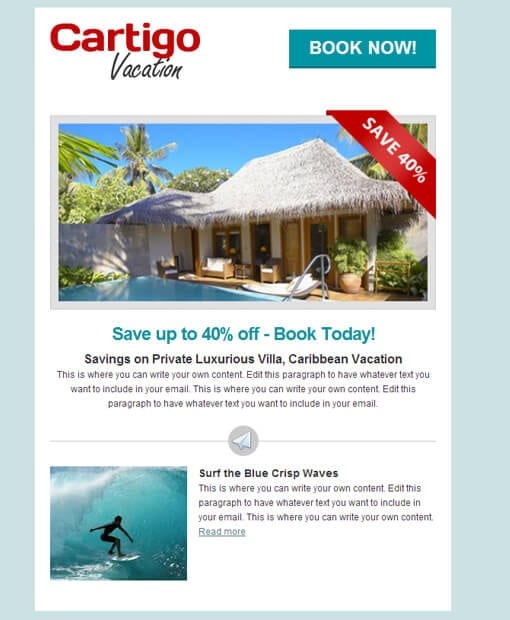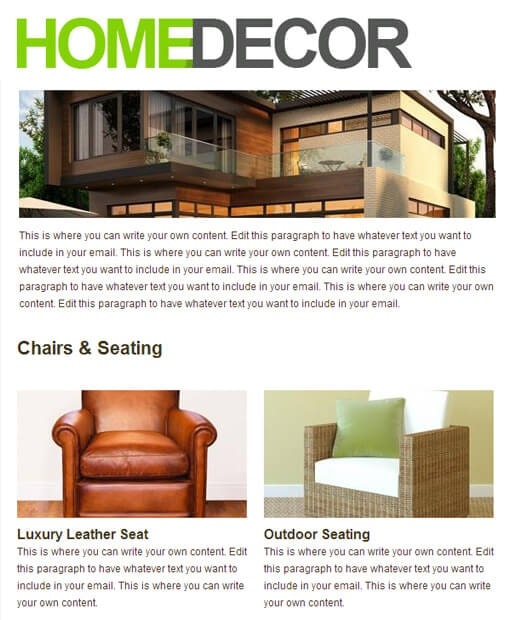 And now here are some email templates from Mailchimp.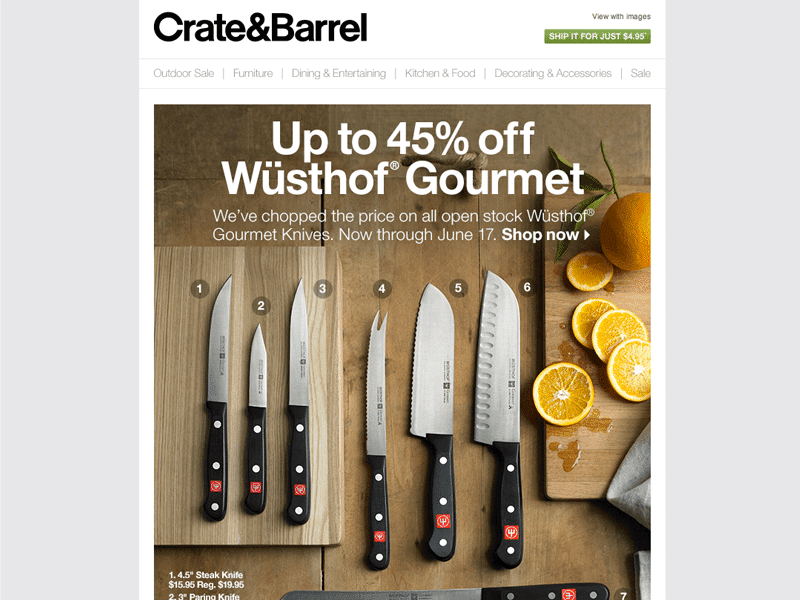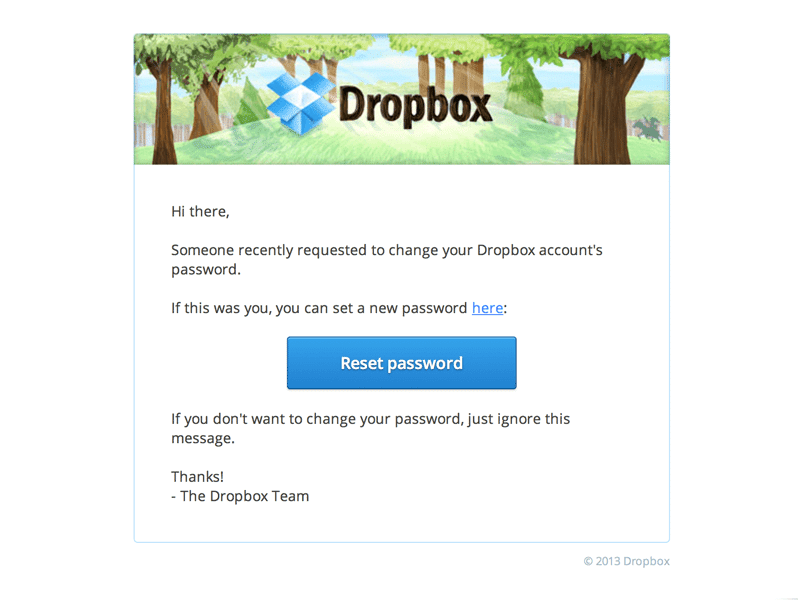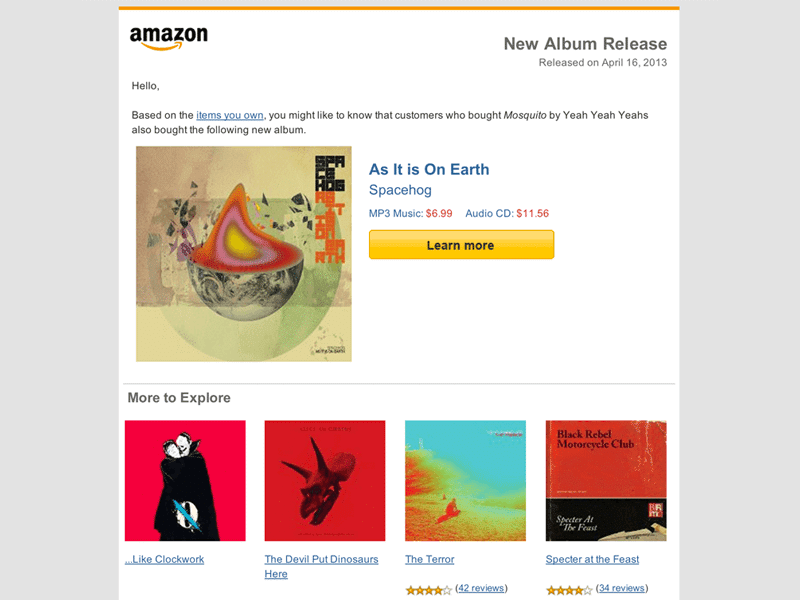 When you sign up with Mailchimp, they create a unique email address to your account. They have a feature called Email Beamer where you can send an email to your Mailchimp address.
The system will then convert the images and text from your message into a draft email. You can then schedule the email to go out to your desired audience at your preferred time.
Here is an example of an Email Beamer message.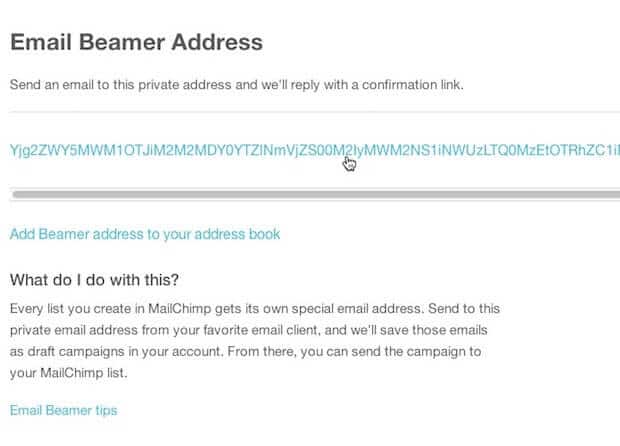 ActiveCampaign vs Mailchimp Sign-Up Forms
The first step in getting contacts on your list is your sign-up or registration form. Designing and setting up your forms is a necessary step, no matter which program you choose.
ActiveCampaign provides four different types of forms. They are:
Inline
Floating box
Modal popup
Floating bar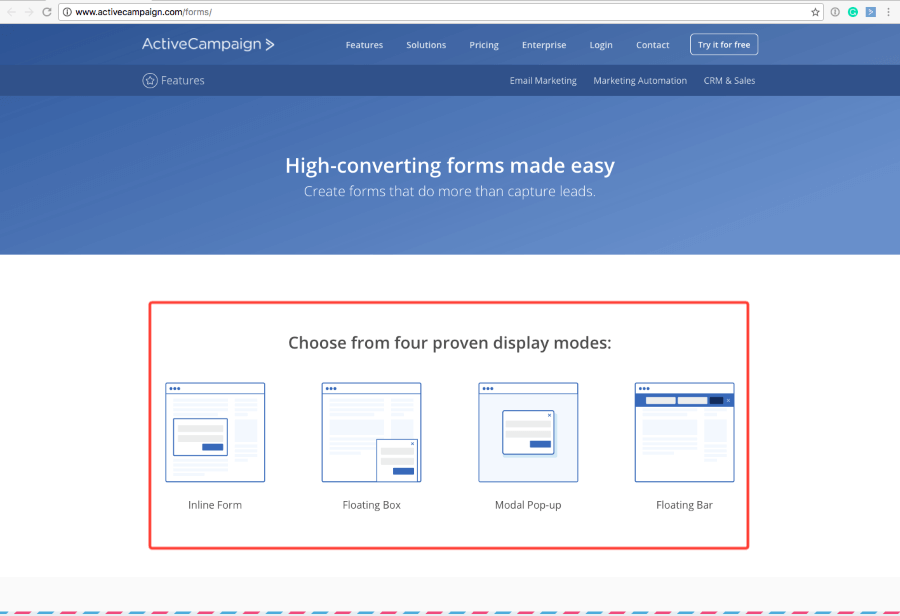 The forms you create are mobile-responsive, which is now a necessity. Also, you can link to, embed, or add your created forms directly to Facebook and WordPress by setting up integrations.
Your forms can be organized and filtered during the design stage according to the action you set up based on contact responses.
With Mailchimp, you can also create pop-up or embedded forms. They are not simple to create or use as ActiveCampaign, however.
You need to use one editor for embedded forms and a separate editor for pop-ups. It's strange and awkward and frankly really confusing. Below are the types of forms you can create with Mailchimp.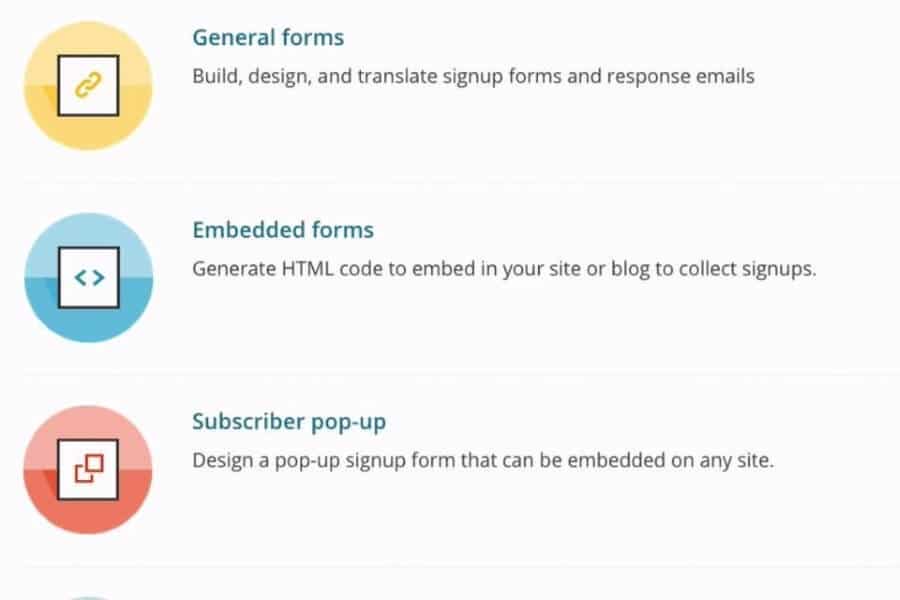 ActiveCampaign vs Mailchimp CRM Dashboard
With the Mailchimp CRM, you can:
Connect all the data for every contact
Organize your contacts based on segment creation and filter tags
Get an understanding of patterns in your dashboard
Use gained insights to create automatic messages that are triggered by specific actions
They have recently updated their dashboard to include four new sections. They are:
Mailchimp Tracking Revenue and Orders
When you connect your online store to Mailchimp, you will see aggregate data across all stores in your account.
The data shows you precisely which revenue came in as a result of your campaigns in Mailchimp. You can also see total revenue. See the screenshot of the Mailchimp revenue and orders dashboard below.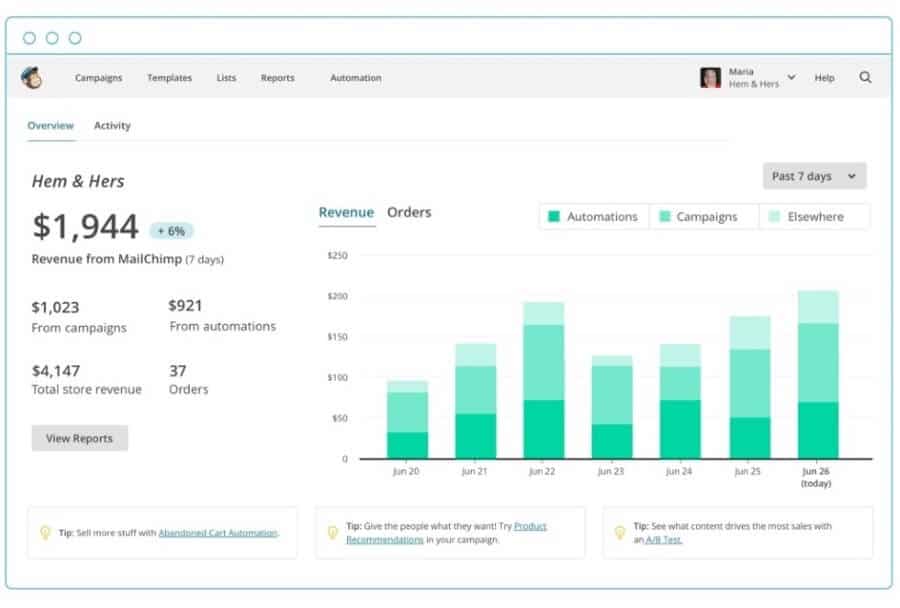 Mailchimp Audience Section
This section helps you see your total audience size as well as the rate of growth. From this data, you will be able to track contact trends over time. See Mailchimp's audience dashboard below.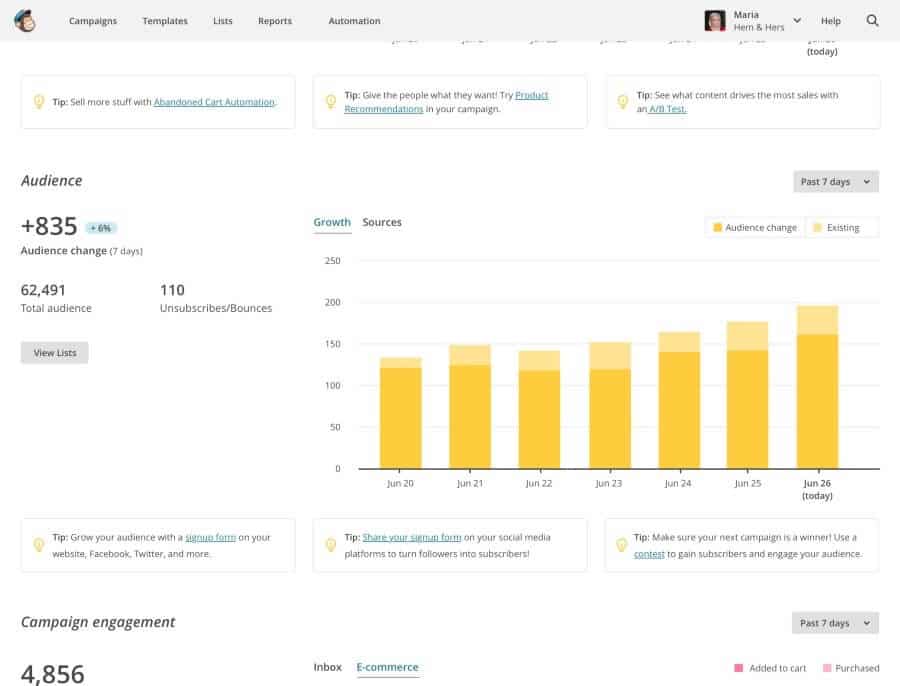 Mailchimp Sources
The "Sources" tab shows you where all your contacts and customers came from, be it your Facebook page or a form on your website. See screenshot below.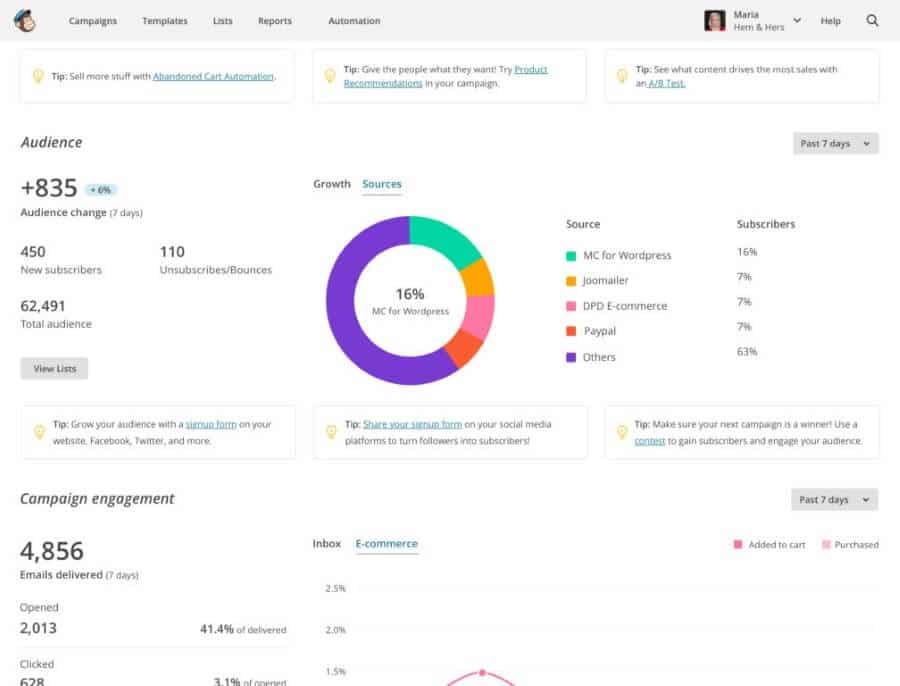 As you can see, with Mailchimp, you have access to a lot of important contact data, revenue reports, and eCommerce integrations.
However, there is no comparison to ActiveCampaign's CRM advanced functionality. Its primary focus is email marketing and a simple way to automate the interaction between sales and marketing.
ActiveCampaign's CRM tool makes the deal management process simple. The deals dashboard is very visual and laid out like a Kanban or Trello board.
It is comprised of cards that can be dragged and moved around from one stage to another. As a contact advances to the next step of a deal, their card is moved to the next column.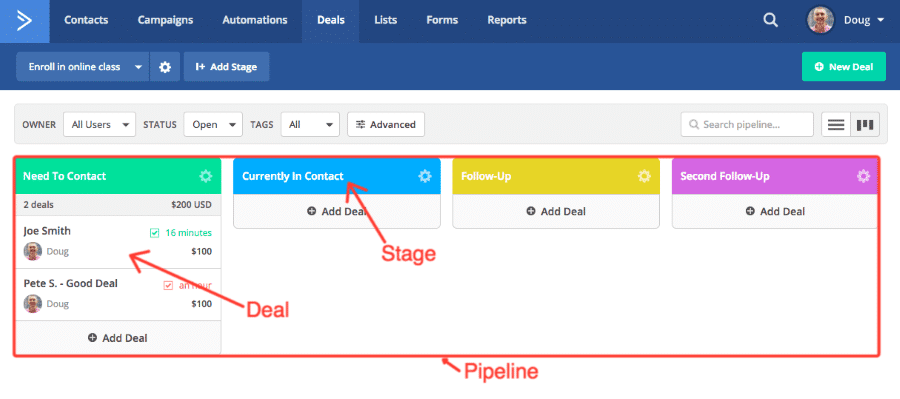 You can easily create deals and associate them with stages and pipelines as seen in the screenshot below.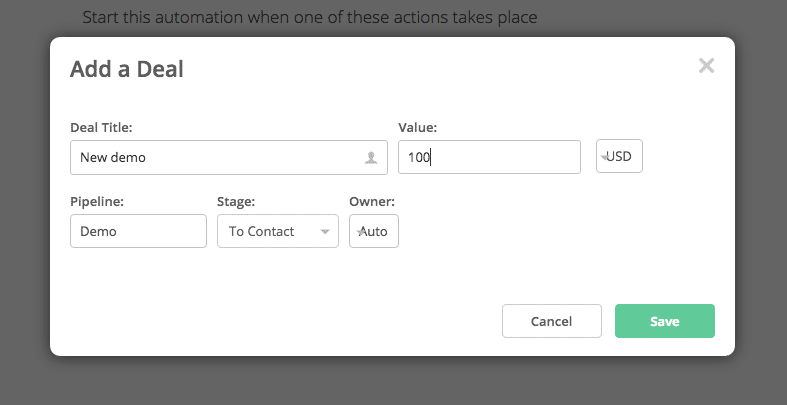 In ActiveCampaign, you can customize all stages to match your current sales process. If your business has a complicated sales process, you will need this deals management flexibility.
ActiveCampaign simplifies the CRM by not distinguishing between leads and contacts. Everyone in your system is considered a contact.
Any activity that contact is associated with can be managed from the contact record. This enables marketing and sales to work together to close more deals.
Email Deliverability ActiveCampaign vs Mailchimp
If your email does not reach the people on your list, it does not matter how much value you offer.
Email deliverability is the percentage of your emails that do reach your target audience. EmailToolTester did a study on deliverability rates for many email marketing campaigns.
ActiveCampaign came out in first place with a 96% deliverability rate whereas Mailchimp's was 82.6%.
In addition, Spencer Mecham, Founder of Buildapreneur, boasts 30-35% open rates using ActiveCampaign, even with sequences that are months long.
ActiveCampaign vs Mailchimp Affiliate Marketing Policy
Both Mailchimp and ActiveCampaign have strict rules about using affiliate links. Mailchimp prohibits affiliate marketing but says they do allow you to use affiliate links in your campaigns.
Their explanation of the difference between affiliate marketing and using affiliate links is unclear.
They clearly state that "links that direct to a third-party, but do not market on behalf of that third party" are allowed.
However, what is written on a page and what they do in practice can be two different things. Mailchimp disabled Dragon Blogger's account.
He had sent out 12 newsletters using the exact same template as the last one he sent. Without any warning, his account was banned, and the links in every email he had ever sent no longer worked.
ActiveCampaign also has rules for affiliate marketers. They don't allow you to send several affiliate offers to a single list or emails that are primarily only about promoting a particular affiliate link.
Affiliate links are acceptable if they are added to an email with high-quality content. Just be sure not to have the links as the primary focus of your emails or newsletters.
If ActiveCampaign feels there is an issue with your links, they will open a discussion with you about what you can do to be compliant with their terms of service, rather than just shut you down.
ActiveCampaign vs Mailchimp Support
Whether you are using Mailchimp automation or ActiveCampaign automation, there will be a learning curve when you first get started. Having access to a responsive support team is very important.
With ActiveCampaign, you have 24/7 live chat support and email support on all plans. This is an excellent feature for people who like to work odd hours or on weekends when most other people aren't.
This support has proven extremely useful and has resolved multiple issues for us in less than 5 minutes.
Only the ActiveCampaign Enterprise plan offers phone support.
Mailchimp's free version doesn't offer support at all. You only get phone support with the Premium plan. The two middle plans have a support ticket system, but nothing like ActiveCampaign's live chat feature. Many users report slow responses and multiple days to resolve tickets.
ActiveCampaign vs Mailchimp List Management and Automations
Most email programs charge you by the number of contacts on your list. With Mailchimp, your lists are not mutually exclusive.
This means that if one contact is on several different lists, you are paying for that same person many times and is a definite disadvantage.
To us that is gouging the customer. Contacts should only be paid for once no matter how many lists they are on.
For those who are using Mailchimp for different businesses, this separation of contacts on lists makes sense. However, it can get costly, confusing, and annoying if you are using it for the same company.
Mailchimp does have other ways to organize contacts with groups, segments, and tags. However, this is not intuitive and can be complicated
ActiveCampaign vs Mailchimp Automation Features
The Mailchimp automation editor is not very intuitive and not as robust as ActiveCampaign automation. This lack of flexibility gives you less control. ActiveCampaign has arguably the best automation software of any email software currently on the market.
Mailchimp lets you do basic things based on a users behavior, as shown below.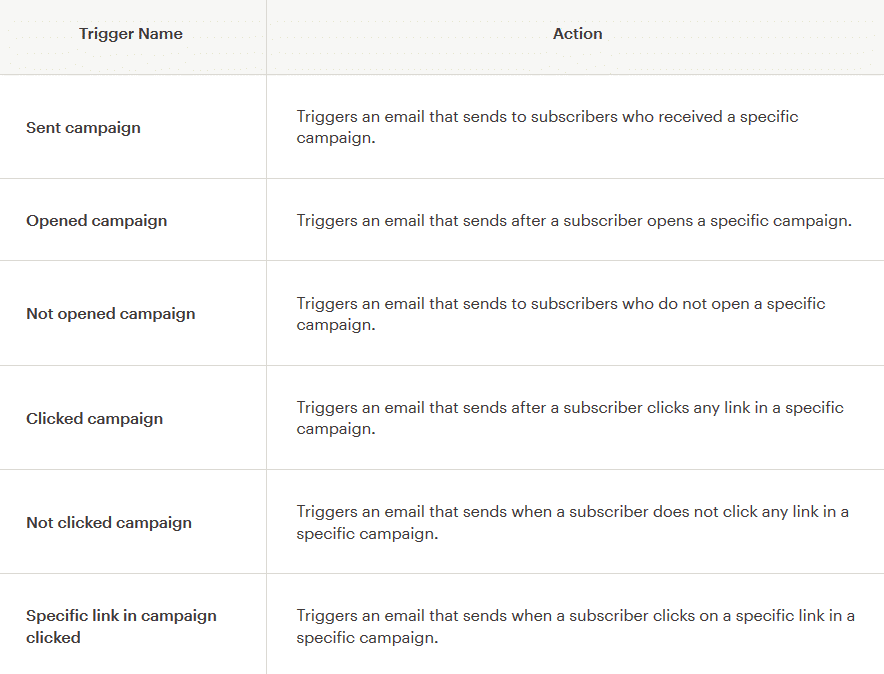 Most users find that once they get into building their email sequences and automations that they want more options.
Mailchimp's automations are simplistic. You are unable to send the same campaign to more than one list at a time. And you are not able to use "and"/ "or" or "if"/" then" criteria when building a segment and sending out campaigns.
Not being able to remove a contact from a sales automation after they make a purchase can be problematic.

ActiveCampaign on the other hand has consistently blown us away with the number of things their automations are capable of doing.
They have a robust, easy-to-use, and drag-and-drop automation feature to help you set up workflows based on triggers.
The visual workflow, as seen below, makes it easier to see what you are trying to accomplish.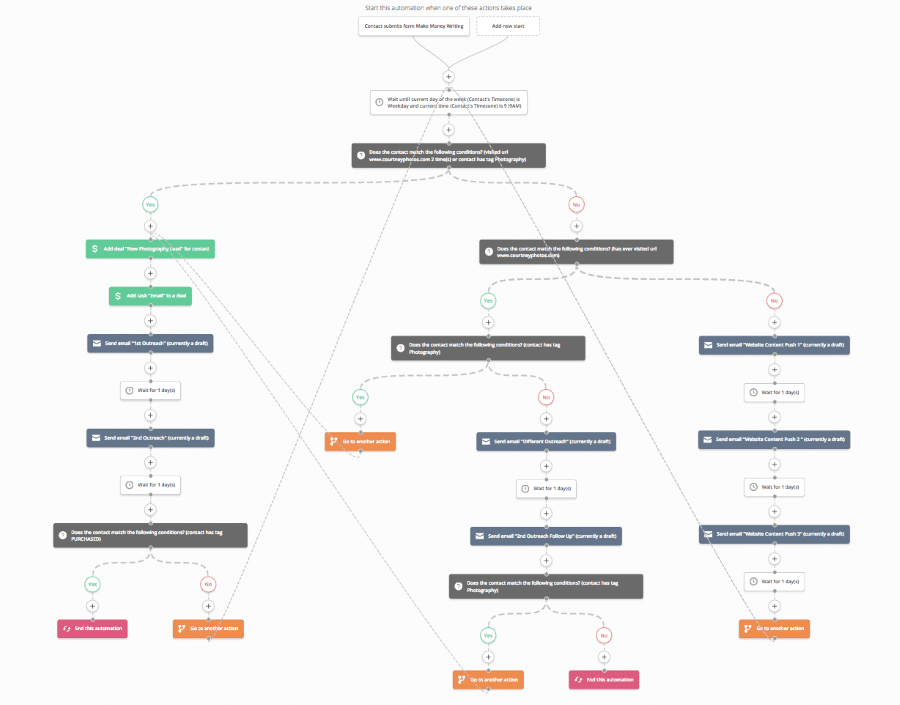 With ActiveCampaign, you can:
Send the same campaigns to contacts on different lists
Assign tags and custom fields for contacts
Add or remove tags and custom fields with ActiveCampaign automation
Assign lead scores based on actions taken by contacts
Automate your follow-up email campaigns
Trim your lists
Move contacts from one list to another
Assign steps based on contact behavior
These advanced features enable you to have more control over the contacts on your lists and segment them based on your selected criteria.
ActiveCampaign vs Mailchimp Pricing Plans
ActiveCampaign offers four pricing plans that vary depending upon the number of contacts. They are Lite, Plus, Professional, and Enterprise.
Click on the image below to see how the prices vary according to the number of contacts.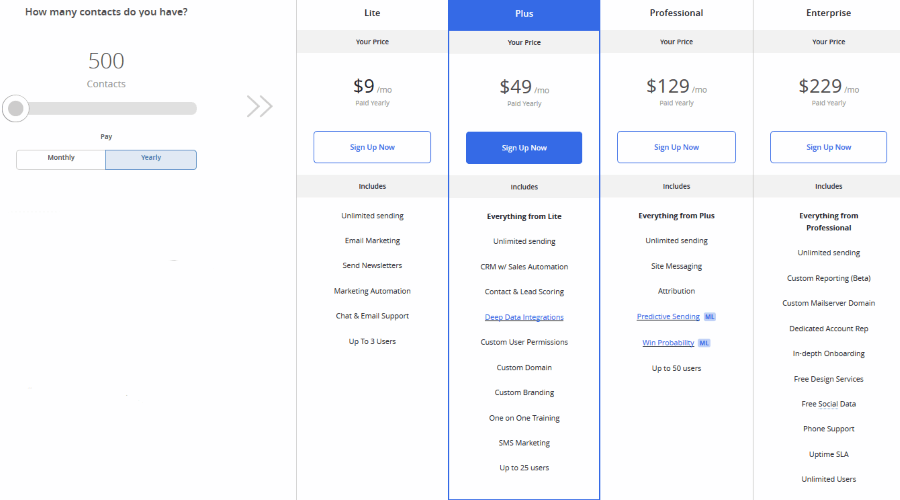 All plans include a free migration from any other platform you are using and no set-up fees. If you are on a limited budget, you can start with the Lite plan, which includes the following features:
Unlimited sending
Email marketing
Send Newsletter
Marketing Automation
Chat & Email support
Up to 3 Users
The Plus Plan adds these features:
One-on-One Training
Contact & Lead Scoring
Custom Domain & Branding
CRM w/ Sales Automation
Deep Data Integrations
SMS Marketing
Custom User Permissions
Up to 25 users
The Professional Plan provides these additional features:
Attribution
Site Messaging
Machine learning (ML)
Win Probability ML
Predictive Sending ML
Up to 50 users
The Enterprise Plan includes the following additional features:
Phone Support
In-depth Onboarding
Dedicated Account Rep
Free Design Services
Uptime SLA
Custom Reporting (Beta)
Free Social Data
Custom Mailserver Domain
Unlimited Users
One of the many benefits of ActiveCampaign is that you can start small with the Lite Plan, and upgrade to higher-priced plans with more advanced features as your business grows and your needs change.
Mailchimp also offers plans that allow you to upgrade as your business and needs grow. A difference in pricing is that they provide a free version. See their pricing plans below.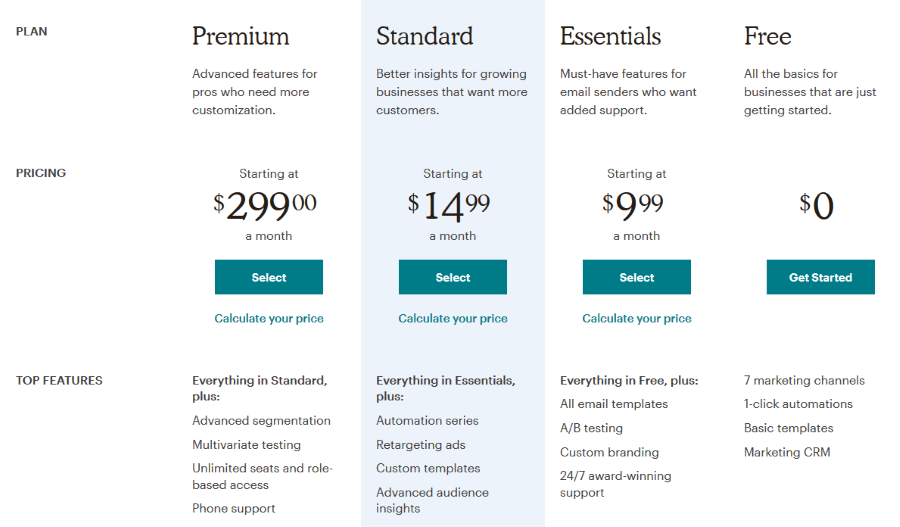 If you are just starting out, using a free email marketing program is very enticing. With Mailchimp's free option you get:
Seven marketing channels
1-click automations
Basic templates
Marketing CRM
Users can send up to 10,000 emails per month to 2,000 subscribers. Most of the templates and tools are offered in the free account, which is very helpful for SMBs and personal accounts.
However, the free version does not include email marketing automation. As your company grows, not being able to automate emails can hinder your marketing efforts.
You can upgrade to higher-cost options and get access to additional features at each tier such as:
All email templates
A/B testing
Custom branding
24/7 award-winning support
Automation series
Retargeting ads
Custom templates
Advanced audience insights
Advanced segmentation
Multivariate testing
Unlimited seats and role-based access
Phone support
As with almost all email marketing automation programs, the more contacts you have, the higher the cost.
For example, if you want to upgrade to the Essentials plan, the cost is $9.99 for 500 contacts. Click on the image below to see how Mailchimp's sliding fee scale works.

ActiveCampaign vs Mailchimp Reporting and Analytics
Being able to pull reports and look at analytics is a critical part of using email marketing automation programs.
If you don't know how effective what you are doing is, you can't make changes and tweaks to get better results.
With ActiveCampaign, you can set up goal campaigns where you can better track user aggregated data.
Goals are shown in reports as completed when a contact performs the action you have outlined in your goals for each campaign.
With this advanced reporting feature, conversion rates are automatically tracked. This way, you will know which contacts have completed the goals set.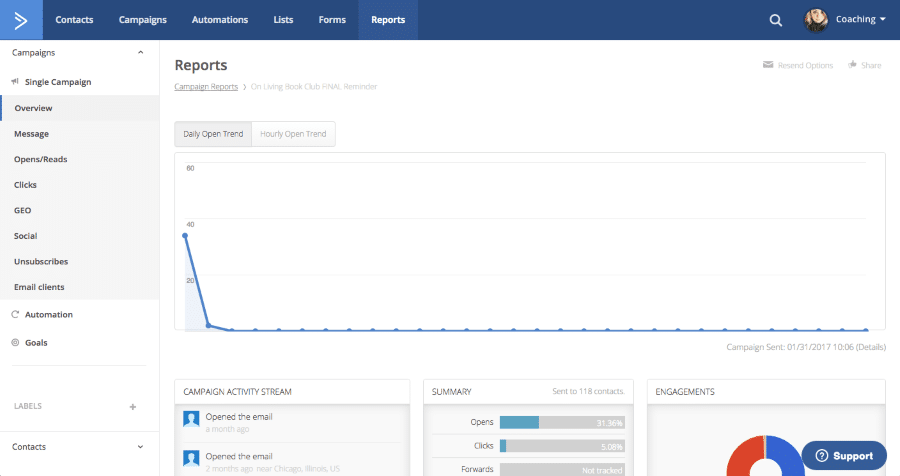 With Mailchimp, you can see an overview of each campaign with stats such as:
Open rate
Click rate
Engagement
Bounced
Unsubscribed
Clicks per unique opens
See Mailchimp campaign sample below.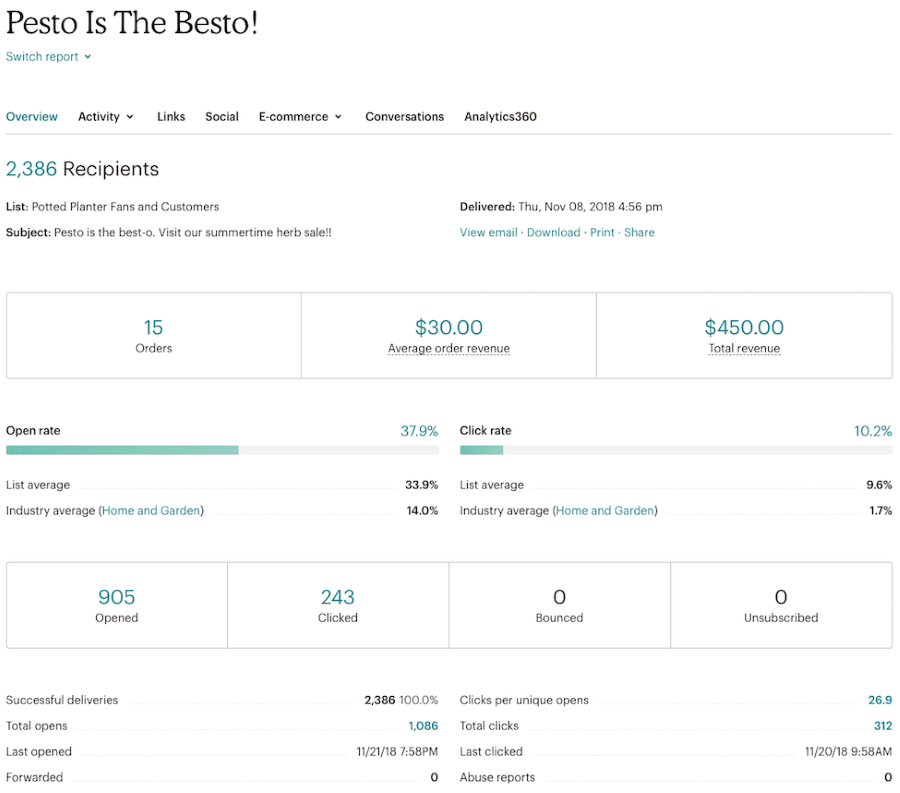 Mailchimp also has a drill down feature that helps you compare your campaigns to other Mailchimp users in your industry. This can help you see how effective your campaigns are to your competitors.
Mailchimp offers valuable reporting features as seen in the screenshot below for eCommerce stores to see online sales such as:
Pulling in statistics from other traffic tools
Tracking sales from click to purchase
Predicting future trends
Analyzing ROI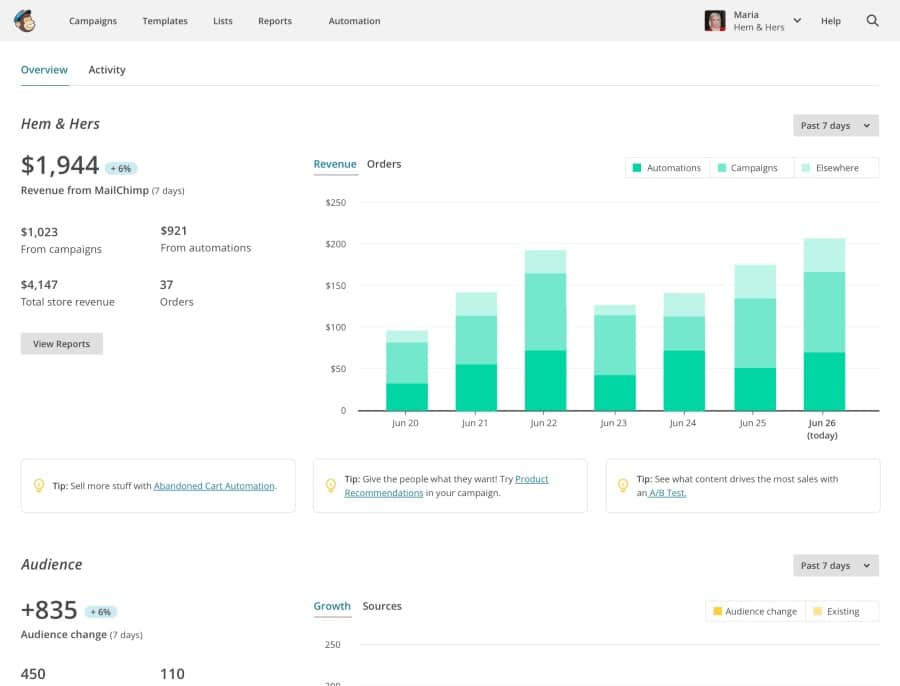 As you can see, both Mailchimp and ActiveCampaign have robust reporting and analytic features. However, ActiveCampaign also integrates behavioral and social data and allows lead scoring.
These additional data features give you the ability to fine-tune your campaigns to be more exact when it comes to your sales and marketing goals.
Summary
Email design: Mailchimp focuses on creating beautifully designed emails. They have hundreds of templates to choose from and a very robust email editor. ActiveCampaign's weakness is it's email editor, which has the ability to create anything, but can be a little harder to learn.
Automation: No question ActiveCampaign kills Mailchimp in this category. If you want powerful automation that gives each customer a more personalized experience, you want ActiveCampaign.
Deliverability: ActiveCampaign has been tested and proven to have better deliverability.
Support: ActiveCampaign wins this with live 24/7 chat support across all plans. Phone support is also available on higher plans.
Reports: A tie. Both have spent a lot of time to build out robust reporting platforms.
Pricing: While you can't beat free, once you get to paid plans they are fairly similar in pricing. We recommend you not  let pricing affect your decision in this case.
Overall winner: ActiveCampaign is a clear winner in our book. It's only weakness is in the actual email builder, which can be a little less easy to use. ActiveCampaign simply takes a few more hours to learn, but rewards those that take the time with hundreds of powerful features that Mailchimp cannot compete with.
Sign up for an ActiveCampaign trial here.
Looking for Mailchimp alternatives? Check out this article