3 Ways To Make Money Online
I've written this post to answer some of the most common questions I get as an entrepreneur and mentor in the sales funnels space:
What's the difference between a sales funnel and a website?

Do you need both?

Where do you put them?

How do they work?

Why are they two different things?
The list goes on. When you're first getting started as an online entrepreneur, these two key marketing elements can be confusing.
In the rest of this post, I plan on making the difference crystal clear for you.
Or if you prefer, I also recently made a YouTube video about the same topic: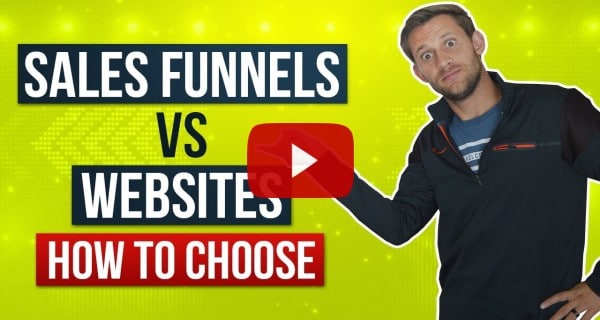 And on we go!
The Purpose of a Sales Funnel
In order to understand websites and sales funnels and why you need them, you first need to understand their purpose. A sales funnel has two main purposes:
Increasing customer value
Sales funnels include elements like upsells, downsells and special offers that help increase how much money you can earn from each individual customer. For example, if your main product costs $50, your sales funnel can help you sell additional products/services so you can earn $70-$80 from each customer.
Capturing email addresses
The other thing a sales funnel can help you do is collect your audience's contact information. By promoting special offers or even free content to users, sales funnels can capture email address. That way even if your leads don't convert into paying customers at this point, you can market to them through email down the road.
A sales funnel can help you do a lot of things, but those are the two main benefits that make it a distinct marketing tool. At least as told by Spencer.
The Purpose of a Website
Now a website inherently doesn't serve the same purpose as a sales funnel at all. A website is mainly used to:
Funnels aren't meant to bring in traffic, just process it. Traffic generation is your website's job. There are a lot of ways to attract traffic to your website, the most popular being search engine optimization (SEO). Businesses create website pages to appear in Google search results so people can discover and visit their website.
Having a website is also about establishing a place where people can go back and refer to things. Look at my site, for example. At the bottom of my site I have a list of pages for visitors: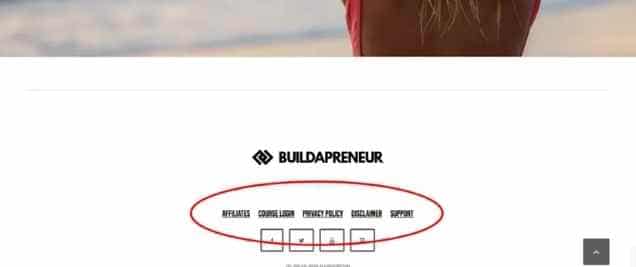 I have a lot of affiliates, so if one of them needs information, they can come and visit my affiliate page here. I also sell courses so my customers can log in here. If anyone needs to contact me for support, they can do so.
I also offer a variety of tools and free stuff that anybody can use. It's all hosted on my website so they're easy to find: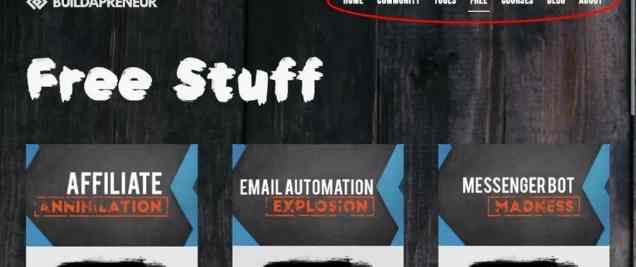 So your website is a place where people can go and find anything they need from you, your brand or your company, whether they're a customer, affiliate or whatever.
Sales Funnels and Websites — Yes, You Need Both
Websites are generalized, providing all sorts of things people need. Sales funnels, on the other hand, are extremely targeted and focused. They have a clear goal — capturing leads and driving conversions. Audiences will come across deals and special offers within a sales funnel that won't be available anywhere else on your website. That's what drives them to buy now.
A sales funnel isn't like a full website. You might not be able to access support, other products or other resources that you normally find on a website. Sales funnels are a separate thing that businesses send their site visitors to.
Look at my website again as an example. People visit Buildapreneur and see the link "Declare your corporate independence."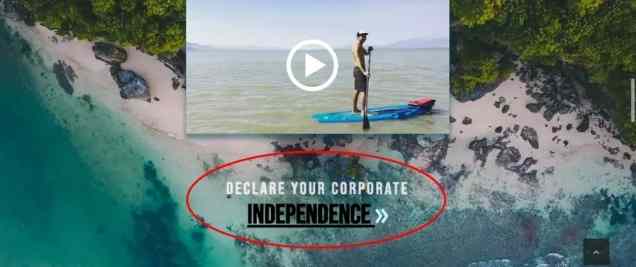 They click on that and it takes them to a sales funnel:
This is a special funnel designed to get people to sign up for my webinar. I created it with ClickFunnels, an amazing tool that can help you build powerful sales funnels that convert in a matter of minutes.
And you really do need both. At this point in the post, I know a lot of you are wondering:
Why can't I just build my website in ClickFunnels?
I don't think you should, for two very important reasons:
Sure, it is possible to use a tool like ClickFunnels to jerry rig a website, but that's not what it was designed for. They don't have a built-in menu option or other features you need on a website. The platform was built for sales funnels. And optimizing your website for SEO requires you to make lots of technical changes that ClickFunnels pages just weren't designed to do (like site structure, for example).
The other big reason is ownership. When you purchase your own domain and host a website on it, it belongs to you. The sales funnel pages you create on ClickFunnels don't. So if something happens to the company and you lose those pages, at least you still have your website.
So those are the two main reasons I think it's necessary to have a separate website and sales funnel. Some people like to tell me that I'm wrong, reminding me that ClickFunnels pages can rank in Google. I'm not saying they can't. But statistically, it's much more difficult to do so. And if you're serious about SEO, you can't make the majority of the necessary adjustments to your ClickFunnels pages that you need to optimize for search engines. So it's just not worth it.
Another problem a lot of people have is that they like the page template designs that are available in ClickFunnels and want to use them on their website. Well, there's a solution for that. ClickFunnels has a plugin you can use with WordPress: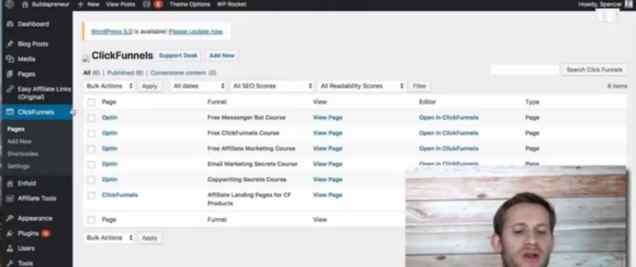 So if you want to, you can integrate any ClickFunnels page right into your website.
Choosing the Right Website and Funnel Builders
So, at this point you probably already know that I recommend WordPress for website building and ClickFunnels for funnel building. Each is a specialist in its area. Sure you can create sales funnels with WordPress, but it's harder, more complicated, takes longer, and doesn't work as well. Same goes with building websites with ClickFunnels.
Why Choose ClickFunnels?
If you use ClickFunnels for funnel building, I know you won't regret it. Today there are a lot of funnel building tools on the market but ClickFunnels was the first one. And because they've been around a long time, they've developed the most features entrepreneurs need to build powerful funnels. They've made more improvements and debugged their platform more than anyone else.
ClickFunnels also has a lot of proof to back up their value. Hundreds and hundreds of people have built million-dollar funnels using this tool. The case studies are out there for everyone to see.
Another reason I'm a huge fan of ClickFunnels is the training resources and community that comes with it. The platform walks you through everything you need to know to build powerful funnels. You can also field questions to their massive Facebook group community to get help with whatever you need. What you can learn about sales funnels and marketing in general from ClickFunnels makes it worth $100/month, even if you don't use the tool to build a thing.
Why Choose WordPress?
There are also a lot of website building platforms out there but WordPress is by far the best option. Realistically, a full ¼ of the internet runs on WordPress. So it's the most popular website platform out there and there's lots of resources that can help you learn how to use it.
The fact that WordPress is so popular means it comes with the most plugins as well. There are millions of things you can do with your website to optimize and market it, and there's a WordPress plugin for just about every task.
The other big benefit of WordPress' popularity is affordable web development. Tons of people all over the world know how to develop sites for WordPress. So you can hire affordable web developers for as little as $7-$10/hour. You can't do that with a more obscure platform.
Wrapping Up
Thanks for sticking it through to the end! At this point, hopefully you have a good idea of why you need both a website and a sales funnel. The next step is getting started building your first website and first sales funnel.
If you check out the free courses on my website, you'll find all the resources you need to run with either of these tasks:
FREE Courses and MORE: https://buildapreneur.com/free