Online Social Media Jobs That Pay $30/Hour
Availability to start this week
Make $25-$35 Testing New Apps
Just need access to phone/tablet
5+ hours per week available
If you are looking for baby affiliate programs you've chosen an awesome niche.
Here is why.
New moms.
They want the very best for their kids and they are willing to pay huge amounts to make sure they do.
That mindset allows affiliate marketers targeting keywords about new babies to not only provide great insights and help, but make killer commissions along the way.
Choosing the right affiliate program to suit your needs is no cakewalk, though so I've done the research for you here. 
Want to know which affiliate marketing method works best for you? Answer the short quiz below:
Choosing Baby Products Affiliate Programs
In order to choose the perfect affiliate programs for you to join, you'll have to first look at what makes an affiliate program perfect. Choose a brand that barely anyone knows and you'll need to be one killer marketer. 
I'd say neither of these factors actually matter if you choose a program that offers you a good commission rate. Some programs offer you a fixed commission rate and some offer you a percentage of their sales. 
Make sure you read up on the commission rates offered and you won't go wrong with your choice of program. 
Also, I'd advise you to go for a program that has a good conversion rate. What is a conversion rate, you ask? It's the rate at which visitors to a website actually purchase products. 
You can help convert clicks to sales if you add good descriptions and photos/ reviews of the products you're trying to sell on your social media channels/blog. 
I've reviewed a few of the best affiliate programs for baby products I could find on the internet.
Make sure you go through the pros and cons of each along with cookie duration, etc. as these can help you make an informed decision for your affiliate marketing efforts.
Top Baby Product Affiliate Programs
1. Urban Sitter
2. SnoofyBee Baby Products
3. Baby Bjorn
4. Hatch Collection
5. The Cute Kid
6. Organic Baby Foods
7. Baby Sleep Miracle
8. Cole And Coddle
9. Happiest Baby
10 . Bloom Baby
11. Curious World
1. Urban Sitter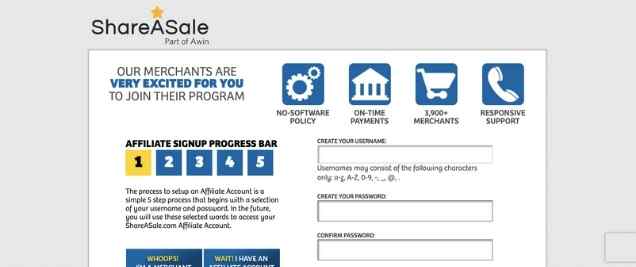 Urban Sitter is an app that allows parents to look for and connect with babysitters for their babies and toddlers. They have a long list of babysitters who are trusted across 60 cities in the United States.
What I found to be a great feature of this app is that you can even interview and pay your sitter through it. 
This popular app has a great affiliate program too. However, its services are so well-loved across the USA that you won't really have to market them all that much.
You can make an ample amount of commission on every new subscription so do make sure you use your social media following well.
URL- Urban Sitter
Cookie Duration- 45 days 
Commission Rate- $30 per subscription 
Pros:
It has a cookie duration that's longer than most similar programs 

It has a fixed commission rate which makes it a fairly steady source of income 

The app has many great features which you won't need to market 
Cons:
It does not provide for recurring income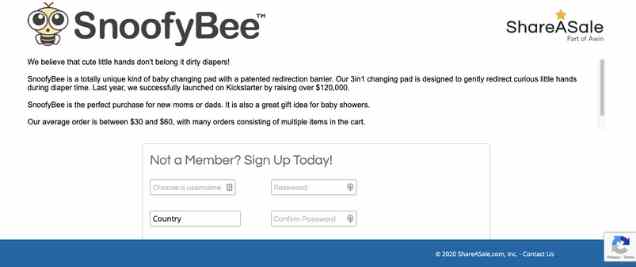 SnoofyBee is design to help new parents change diapers without making a mess. The product is basically a changing mat that turns into a cone to wrap around your toddler's waist when you're changing their diaper.
Sounds clever, right? I thought so too. 
Their affiliate program is quite clever too seeing as they offer you $8 on an average sale value of $42. However, since this product is so well-designed and in-demand, you won't really need to market it all that much. 
URL- SnoofyBee Baby
Cookie Duration- 45 days 
Commission Rate- 20% of sales  
Pros:
It's a fast-selling product with a good volume of sales 

It offers a decent amount of commission 

It has a cookie duration which is longer than most similar affiliate programs offer 
Cons:
It doesn't have a lot of informational resources for new affiliates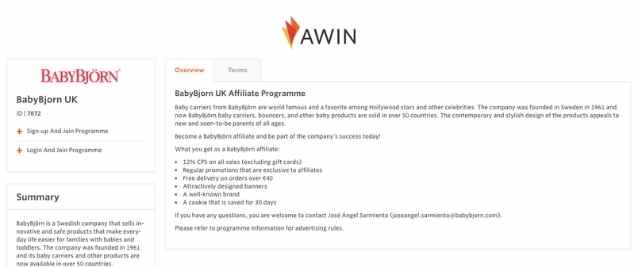 Baby Bjorn started out in Stockholm, Sweden and now has stores in about 50 countries across the globe. Their products focus on safety and practicality for mothers and babies.
I found their products to be extremely well-made, I'm sure you will too. They have a wide range of baby products from bouncers and carriers to chairs and cradles.
Since they're a family-owned company, their customer service feels warm and personal. One feature of their website that really stood out for me is the wealth of information they have for new and expectant mothers. 
Be sure to mention this as you're promoting their products while posting the links. 
URL- Baby Bjorn
Cookie Duration- 30 days 
Commission Rate- 12% of sales 
Pros:
Its commission rate is higher than most baby product affiliate programs 

It has good cookie duration 

It highlights a vast and attractive range of baby and maternity products 

The products are high quality and long-lasting 
Cons: 
Their website needs updating – it seems to have quite a few bugs 
4. Hatch Collection 
Hatch Collection is the ideal clothing line for expectant mothers who are tired of wearing traditional maternity wear. You'll find their clothes to be comfortable, affordable, and stylish. 
When promoting their links, make sure you mention that they have clothes for women through all stages of pregnancy. Their collections heavily feature dresses and jumpsuits with a wide range of fabrics and patterns. 
The Hatch Collection also has beauty products like belly oils and belly masks that help prevent the formation of stretch marks. You can be a part of their affiliate program not only if you're an expectant mother yourself but if you want to purchase gifts for one too.
Their program is relatively new so you'll be one of the first to jump on board and collaborate with them. This way you'll be able to grow your earnings as the brand name grows side by side. 
URL- Hatch Collection 
Cookie Duration- 30 days 
Commission Rate- 8% of sales 
Pros:
It has a large collection of products for expecting mothers 

It's a new program that's still gaining followers 

It's cookie duration is reasonably good 
Cons:
It's commission rate is quite less considering the low volume of sales 
5. The Cute Kid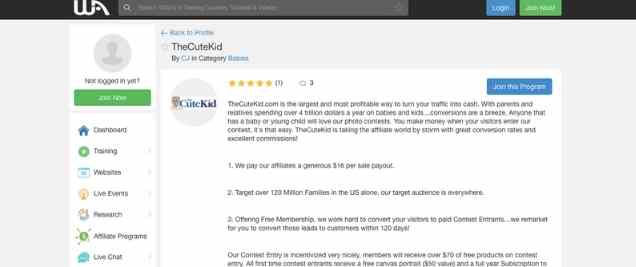 The Cute Kid caters to a global audience in addition to over 120 million families in the USA. You can see why their conversion rate would be high taking this figure into account.
Their affiliate program is one of the best ones on this list by miles as they have a solid remarketing strategy. This company will offer you several useful tools to help you promote their links and improve your earnings through their program.
They also have several contests for members with attractive prizes. A yearly contest of theirs actually offers $25,000 in college tuition fund. Their affiliate program is outsourced and handled by the reputed services of AffiliateTraction.
If you want to learn more about this program, you can approach them with your queries via phone call or email. They've answered many of mine too and to great avail.
URL- The Cute Kid 
Cookie Duration- Not mentioned 
Commission Rate- $16 per sale/ variable %
Pros:
It's free to sign up for 

Has some great contests and prizes 

It has great resources for affiliate marketing beginners 

Good customer support services 

The pay-out is good 
Cons:
It's a very selective program and admits few people 

It doesn't mention important details like cookie duration, etc. before approval 
6. Organic Baby Foods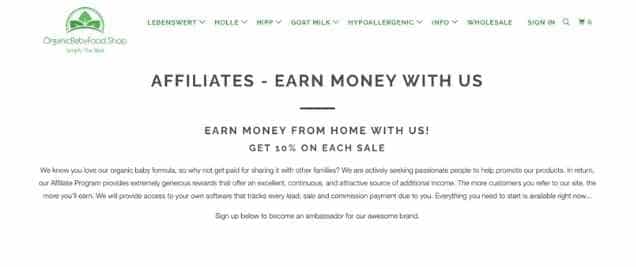 Established in Berlin, Germany, Organic Baby Foods is one of the leading suppliers of baby foods in the European market today. Their aim is to popularise organic and healthy baby food devoid of any artificial dyes and flavours. 
They use 100% natural, organic ingredients sourced from Germany – a great selling point. They mainly deal with the three brands Hipp, Lebenswert and Holle.
Since they're an established and popular brand, you won't need to put in a lot of effort promoting them. As for their affiliate program, it's very well designed.
As an affiliate here you can make a commission of 9% on sales totaling $1,500 and 12% on those totaling $1,500 to $4,500. Anything over $4,500 will earn you a commission of 15%.
URL– Organic Baby Foods 
Cookie Duration- 30 days 
Commission Rate- 9% of sales (for the initial $1,500)
Pros:
It has a competitive cookie duration 

It has variable commission rates which offer a good opportunity to increase earnings 

It's a reputed and trusted brand 

It has additional resources for new parents 
Cons:
It's not a very competitive program compared to many others on this list 
7. Baby Sleep Miracle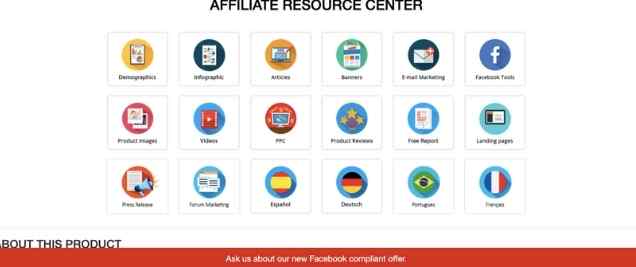 An ideal solution for groggy, sleep-deprived parents, Baby Sleep Miracle is a quality product with a top affiliate program. Their product is in eBook format which is why it's such a hit among young parents. 
I'd say this affiliate program is a safe bet because the product itself is quite popular and has been garnering rave reviews. Go ahead, read the reviews for yourself and you'll see what I mean. 
Through this program offers you a whopping 75% commission on sales. This is easily one of the highest commission rates you'll find in any affiliate program on the internet.
They also have an impressive conversion rate of about 15%.
URL- Baby Sleep Miracle 
Cookie Duration- 60 days
Commission Rate- 74% of sales  
Pros:
The commission rate is quite high 

The product is already quite popular 

The website has a good conversion rate 
Cons:
It's quite a selective program and not easy to get into 
8. Cole And Coddle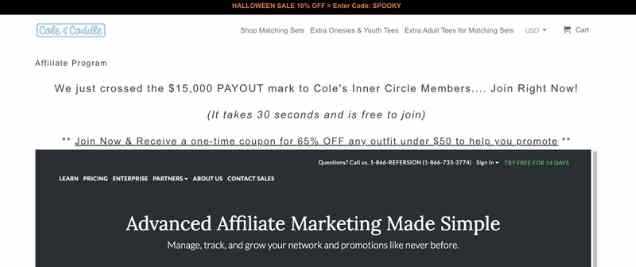 A fairly small online venture that caters to new moms, dads and of course, babies, Cole And Coddle sells affordable clothing. They make sure all their products are safe for use on and around babies.
Their products are appealing and comfortable and are sure to be a hit among expecting parents. You can repost their banners and links on your website or blog for a handsome commission on sales.
If you have a large social media following, put it to good use and promote their products there as well – it'll be worth it. 
All of their clothing is Consumer Product Safety Commission (CPSC) certified so you can mention this when you're promoting them as well. 
URL- Cole And Coddle 
Cookie Duration- 30 days 
Commission Rate- 15% of sales 
Pros:
Products are safely manufactured and hence easy to market

Has an easy and straightforward registration process 

It has a high amount of commission attached to each sale 

Includes products for dads as well – not a common feature among baby and parenting websites
Cons:
It doesn't have as wide a variety of products as other similar websites
9. Happiest Baby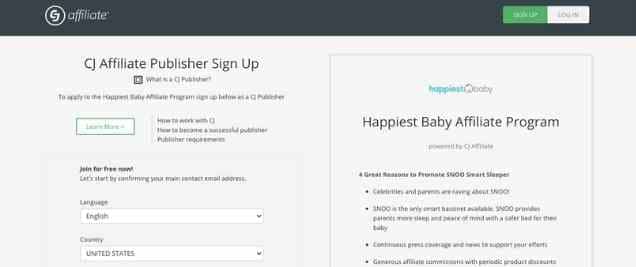 Happiest Baby is behind a very unique product named 'Snoo Smart Sleeper'. The Snoo Smart Sleeper is designed to help your baby go back to sleep if they keep waking up through the night.
Basically, it's a bassinet that plays a white noise track and creates a rocking motion whenever your baby wakes up.
I found one feature of this product particularly impressive: it generates sleep reports for your baby which help you track their sleep patterns and progress. It's a rather costly product though, with a price tag of nearly $1,000. This makes it challenging to market. 
As an affiliate, you can choose between receiving a $50 commission or 4% of sales. 
URL: Happiest Baby
Cookie Duration: 30 days 
Commission Rate: Flat $50 or 4% of sales 
Pros:
It's a well-designed program – just like the product 

Its cookie duration is reasonably long 
Cons:
It's a very expensive product and difficult to market

The volume of sales is quite low 
10. Bloom Baby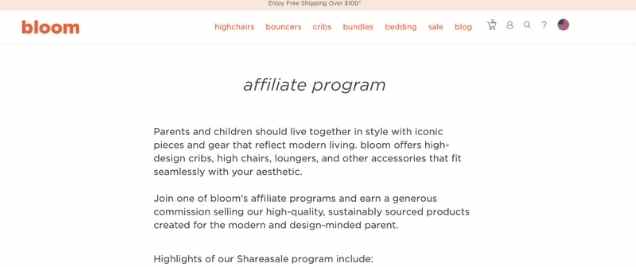 Created by four dads, Bloom Baby aims towards making baby products that are stylish while being functional. All of their products are environment friendly and made using the highest grade materials.
None of these materials contain any lead, BPA etc. making them completely safe for babies. 
Their affiliate program is sound and well-crafted. You get a good amount of commission and their average order value is quite high too.
Add this to a good conversion rate and you'll see why this is one of the best baby products affiliate programs. 
URL- Bloom Baby 
Cookie Duration- 90 days 
Commission Rate- 10% of sales 
Pros:
It offers a decent amount of commission 

Their volume of sales is quite high 

The website is modern and user-friendly 

They have a decent referral program 
Cons:
It's not as popular a brand as many others on this list 
11. Curious World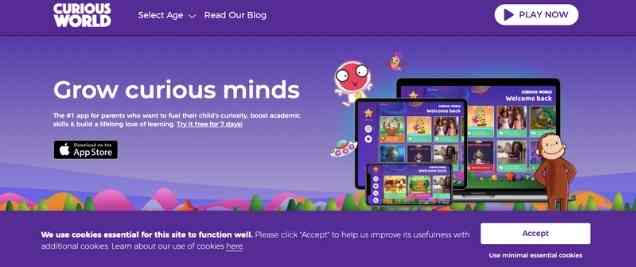 Curios World is an early learning app for parents who'd like to hone their children's academic skills. This app is designed for children aged 3 -7 years.
Their subscription includes unlimited access to a storehouse of games, videos, books and much more – a great bargain if you ask me. 
Their affiliate program is quite popular so don't be surprised if you see fellow influencers promoting their links online too. The commission rate may not be high but they do receive a good amount of orders, which makes up for it. 
URL- Curious World 
Cookie Duration- Not mentioned
Commission Rate- $2 on new subscriptions / variable %
Pros:
It's designed for an app with great features that more or less sells itself 

It's very easy to join 

It has a good amount of minimum payout 
Cons:
It has a very low commission rate 
Learn affiliate marketing secrets. Click here to get started