Not all marketers enjoy marketing digital products, as they have interests and passions beyond software and digital solutions.
 Music affiliate programs are one of the countless other niches that affiliate marketers are taking their passion and turning it into profit.
Affiliate marketers who are musically inclined can explore an abundance of music affiliate programs and will find ranking is much easier in this niche.
Note that most affiliate programs don't tend to be high ticket, but they are much easier to build an audience and rank for and that balances out the lower commissions.
So, how can an affiliate marketer make more money while helping musicians, composers, record companies, and music instructors ?
Find out for yourself! 
Here, take a look at some of the best music affiliate programs to explore in 2020.
Music Affiliate Programs
1. Thalia Capos Affiliate Program
2. Masterclass Affiliate Program
3. Legacy Learning Affiliate Program
4. Guitar Center Affiliate Program
5. The Music Stand Affiliate Program
6. Musician's Friend Affiliate Program
7. Apple iTunes Affiliates Program
| Sign Up Link | Category | Cookie Duration | Commission Rate |
| --- | --- | --- | --- |
| | | | |
| | | | |
| | | | |
| | | | |
| | | | |
| | | | |
| | | | |
1) Thalia Capos Affiliate Program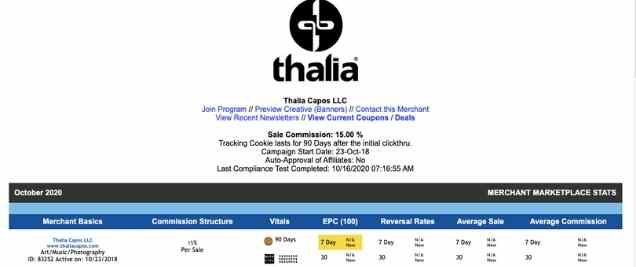 A fascinating music affiliate program that offers 15-20% commission, the Thalia Capos Affiliate Program is primarily based on guitars as opposed to general music. 
However, it is a lucrative program for a wide array of compelling niches. First and foremost, the beautifully engraved guitars and products are stunningly artistic and an absolute pleasure to promote as a marketer. 
The strength of the program is rooted in its spectacular products, which are quite functional and exude an irresistible artistic appeal. Thalias Capos has an incredible variety and a powerful backstory that is truly inspiring. 
Thalia Capos has inspired countless marketers and creatives to build intriguing content around the brand and its offerings. 
It's quite easy to get creative with such a brand, and as a marketer, you can feel comfortable and confident about your success and creativity. The commissions are highly lucrative, and for every purchase made through your affiliate link, you can bank 15% to 20% of the total sales price. 
This commission rate is quite unbeatable in the market for physical products. The experience is rather enjoyable as opposed to being mundane, uninspiring, and monotonous. 
What's more, the tracking cookie generation takes 90 days, which makes the program a perfect fit for the marketer who seeks creativity, stability, and flexibility while working in the music niche. 
Website URL: Thalia Capos Affiliate Program
Tracking Cookie: 90 days
Commission Rate: 15%-20%
2) Masterclass Affiliate Program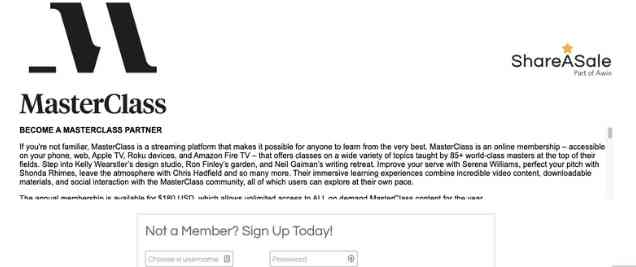 One of the most sought-after learning platforms that attract learners from all over the world, the Masterclass is an excellent affiliate vendor, particularly for those who seek to buffer up their portfolios. 
It offers a wide selection of highly accomplished music instructions, celebrities, and notable personalities, and each class is an enriching experience. 
As a marketer, this program allows a unique opportunity to work with a world-renowned brand and explore creativity by marketing numerous music classes and courses. 
You get to market music courses and workshops offered by iconic artists, including Usher, Christina Aguillera, Timbaland, and Carlos Santana, amongst others. 
Each course comes with a hefty fee, so naturally, the commission potential for affiliate marketers is also high. The Masterclass Affiliate Program offers a 25% commission for each sale through your affiliate link, with a cookie period of 30 days. 
Marketers and influencers can also win over a monthly bonus, calculated based on their performance. Typically the bonuses range between $300 to $12,000, depending on the sales target and lead generation. 
Website URL: Masterclass Affiliate Program
Tracking Cookie: 30 days
Commission Rate: 25%
3) Legacy Learning Affiliate Program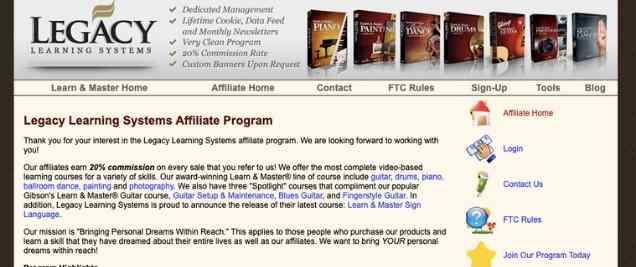 The Legacy Learning Affiliate Program enjoys immense popularity in the market, for it offers a 20% commission and the opportunity to work with a renowned artistic training company. 
Marketers can choose from a wide selection of training products and reach out to musicians who play a wide array of instruments. 
What's more, Legacy Learning offers training programs for a wide spectrum of arts. So, if you get tired of the music niche, you can dip your feet in a new experience to stir the creative juices. 
Since this article is based on music affiliate programs, we'll limit our discussion to Legacy Learning's music-based products. 
The platform offers high-quality training videos, and it collaborates with some of the leading brands in the music industry. Established and seasoned marketers do not have to worry about the quality and artistry of the training content or the instructors' expertise while sharing the products with their audience. 
The lifetime tracking cookie is one of the best offers in the music affiliate program niche. It allows you to earn your commission as long as that cookie stays with the app or web browser whenever a buyer clicks your affiliate link to book a training course from Legacy Learning. 
The commission is genuinely outstanding, and Legacy Learning is a great brand to work with. 
Working with Legacy Learning offers marketers an opportunity to build up their resume and portfolio and work with some of the top brands and industry partners in the music niche. 
It will help you cement yourself in the music industry and build yourself as a creative genius by gaining experience focused on musical training and teaching. 
Website URL: Legacy Learning Affiliate Program
Tracking Cookie: Lifetime
Commission Rate: 20%
4) Guitar Center Affiliate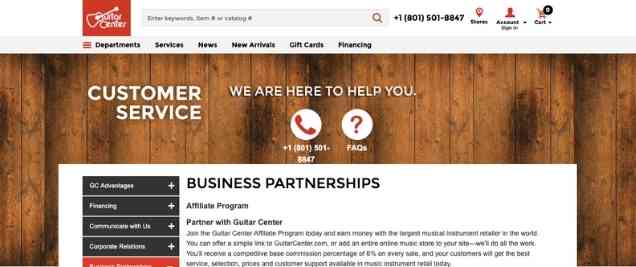 An excellent opportunity for beginners, the Guitar Center Affiliate is one of the leading music affiliate programs, and it offers a 6% commission with a cookie period of 2 weeks. The Guitar Center is a popular online store that sells musical instrumental and other products related to the music industry. 
The product range is quite extensive, and if you run a music blog related to instruments, this is the ideal program for you. The products include guitars, studio equipment, basses, drums, violins, flutes, DJ equipment, and music-related software, amongst much more. 
You can work with a wide range of products to avoid monotony, or focus on a specific product to align it with your content strategy. 
The Guitar Center allows its consumers to buy used vintage products, and this section attracts a lot of popularity. You can also work to promote the Center's online or at-home lessons through your blog and marketing efforts. 
The variety is certainly attractive, and you get to bank a 6% commission on each sale carried out from your affiliate link. 
The cookie period of two weeks may seem quite low, which is why many seasoned marketers are not attracted to this opportunity. A third-party vendor monitors the commissions after they exceed $25. 
Suppose your website or blog receives heavy traffic consisting of dedicated musicians and learners. In that case, this program can provide to be a lucrative source of passive income for you. 
Website URL: Guitar Center Affiliate Program 
Tracking Cookie: 2 weeks
Commission Rate: 6% on each sale
5) The Music Stand Affiliate Program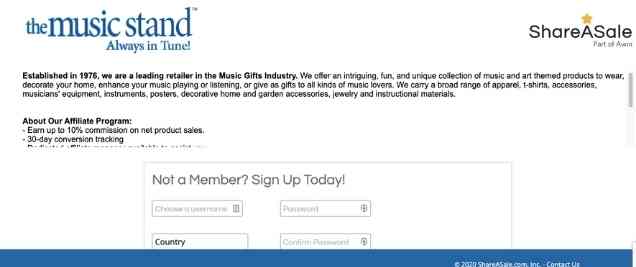 With a 30-day cookie tracking period and more than 12% commission on every sale, The Music Stand Affiliate Program has gained immense popularity amongst young and seasoned marketers.
The Music Stand doesn't have many products that could be characterized as actual, functional music instruments, but it does offer a wide selection of small instruments and music accessories. 
This brand inspires creativity and can give a blog focused on musical instruments and musicians an opportunity to get quirky and offer its audience something distinctive. 
For instance, The Music Stand offers incredibly rare music accessories and gift ideas for musicians and musically-inclined people. The experience is intensely unique and rewarding, but it is certainly not the right choice for everyone.
 The commission rate is attractive, but you will have to work your way up to a 12% share of the sales. 
If you have high website traffic, a knack for creativity and the products offered by The Music Stand is relevant to your audience; this could be a good fit for your passive income goals. 
This program can diversify your content strategy, allowing you to add more variety and take your audience by surprise. 
What's more, this music affiliate program provides auto-approval through ShareASale, allowing beginners with a new website to get quick approval and start their affiliate program immediately. 
However, you will have to focus on monetizing your website to bank your commission by driving web traffic. 
Website URL: The Music Stand Affiliate Program
Tracking Cookie: 30 days
Commission Rate: 12%
6) Musician's Friend Affiliate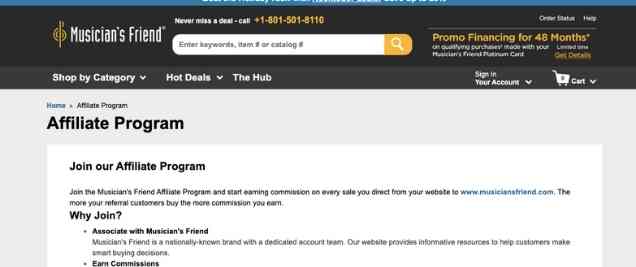 One of the best music affiliate programs to explore in 2020, the Musician's Friend Affiliate is an amazing online store. 
This store offers a vast selection of products, music gears, instruments, and music-related accessories to cater to the needs of musicians. If you have a blog focused on musicians in general or one particular music niche, this could prove to be a good fit for your website. 
This music affiliate program offers a 4% commission with a 14-day cookie tracking period, an offer that is not attractive for a seasoned marketer. 
However, beginners and side-hustlers have much to gain from this offer if they can maintain consistency and stir exceptional creativity. 
The website is brimming with an incredible variety of musical instruments and accessories, and state-of-the-art sound-mixing and playing tools. 
Musician's Friend has a user-friendly product section, and it provides exceptional customer support to guide customers in finding the perfect product for their needs. 
Working with such a considerate brand is always a pleasure. As a prominent brand in the music industry, this program would be a great addition to your affiliate marketing portfolio. 
Members of the program enjoy access to various exclusive deals and offers to motivate them to boost conversions. 
Website URL: Musician's Friend Affiliate Program
Tracking Cookie: 14 days
Commission Rate: 4%
7) Apple iTunes Affiliates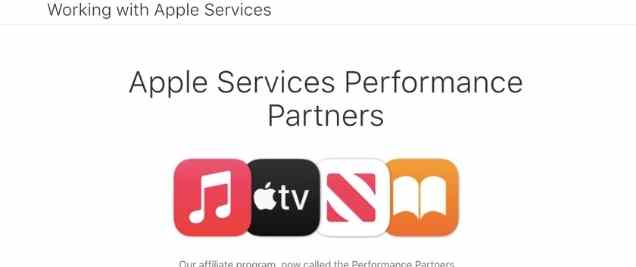 Last but most certainly not least, the Apple iTunes affiliates program is a terrific opportunity. I say this even though the commission rate and cooking tracking period are significantly low. 
However, since iTunes has a never-ending collection of TV shows, songs, albums, movies, and audiobooks, you will never run out of creativity and original ideas for your website as a marketer. 
iTunes is one of the most coveted and popular platforms to promote in the music niche, and the best part is, to promote this platform, you don't need a blog that is specific to the music niche. 
In fact, this is an excellent opportunity to add some fun variety to a blog that is focused on digital products or mundane physical products. 
While the commission rate is comparatively low at 7% and a disappointingly less cooking tracking period of 24 hours, the earning potential remains high enough for a profitable side-hustle. 
The iTunes affiliate program requires 7 days to approve your membership. Marketers can download the Blink app to their smartphones to generate links and reach out to their audience. They can collect their payments 90 days after the sale. 
If you're an influencer with a huge following of loyal readers, this program could prove to be a dynamic source of affiliate income. However, it requires an engagement potential of reaching out to hundreds of readers with one tweet or Instagram post. 
If you can boost conversion with a simple post or Instagram story, this program can be a powerful money-machine for you. 
Website URL: Apple iTunes Affiliates Program
Tracking Cookie: 24 hours
Commission Rate: https: 7%
Conclusion 
Choosing a music affiliate program requires a great deal of consideration and research. You must conduct your research on the brand, and its product to see how well its offerings resonate with your audience, your website, and your content strategy. 
Finding a good fit can be challenging, but it requires experimentation. 
As an affiliate marketer, it is crucial to define your passive and affiliate income goals and align your music affiliate program choices with your financial and creative goals. I sincerely hope this article offered you the inspiration you were looking for. Good Luck! 
Learn affiliate marketing secrets. Click here to get started.
Some Quick Ways To Make Money Online