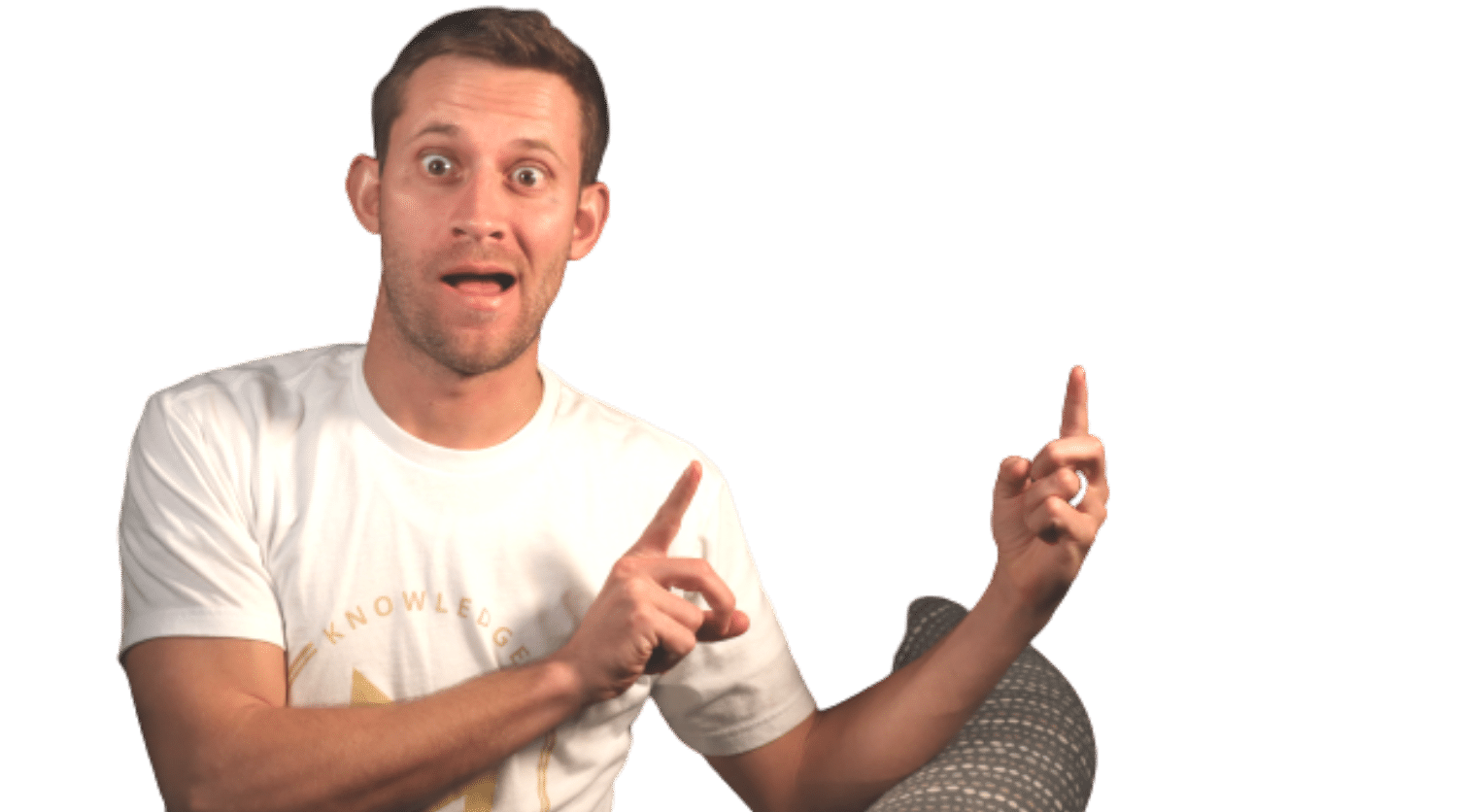 Looking To Start An Affiliate Marketing Blog?
Are you a blogger or influencer with an audience of travelers? Do you like to make extra cash? Then this article about cruise affiliate programs is for you.
The best time to join a cruise affiliate program is now.
I personally believe 2021 is going to be an insane year in sales for cruises.
People have been cooped up all of 2020 with no way to spend their travel budget.
And that is going to make for an extremely lucrative 2021 for travel affiliate marketers.
 All you need is a website where you can provide customers with the best recommendation and guidance.
Want to know which affiliate marketing method works best for you? Answer the short quiz below:
With that said, let's look at the top 10 cruise affiliate programs available today.
Top Cruise Affiliate Programs
1. Orbitz Cruise
2. CruiseDirect
3. Allianz Worldwide
4. Beach Tours Mexico
5. BookingBuddy
6. Virgin Holidays
7. CheapTickets
8. CheapCaribbean
9. Last Minute Travel
10. Polynesia Cultural Center
1. Orbitz Cruise Affiliate Program

Orbitz is among the best online travel site in America.  They provide clients with the chance to book flights, hotels, cruise, rental cars, vacation package, amusement park tickets, and even travel insurance.
Customers can book from over 150,000 different options of cruises, cars, airlines, and hotels. They will also find deals on cruises for all the popular destinations and routes.
Clients can save money when they book their cruises early. They can also receive free upgrades like a shore excursion, open bar, and others.
Orbitz has a well-established connection with popular brands, so affiliates will enjoy a world-class–class inventory.  This means that you can promote other amazing products/services, apart from cruises, to maximize your commissions.
In addition, they provide affiliates with exclusive rates to convert more customers from their websites. They also provide affiliates with an array of text links, banner ads, reporting tools, and frequent newsletters to help them increase their conversion rates.
URL: Orbitz Cruise Affiliate Program
Cookie Duration: 7 days
Commission Rate: 2-3% on hotels,2% on activities, 4%-5% on packages, $3 on car rental, and more.
2. CruiseDirect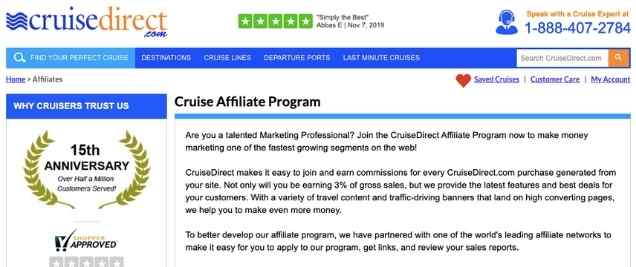 CruiseDirect comes with an extensive list of destinations from Alaska to Asia. They take advantage of the latest technology to make the planning of the cruise vacation easier.
Their website offers customers some of the lowest-priced packages, flexible payment plans, low price assurance, and more.  It also offers clients group cruise and last-minute cruises.
They only deal with cruise booking, meaning their support team will answer any queries you might have concerning the cruise experience.
CruiseDirect has one of the best cruise affiliate programs.  Not only will you enjoy a 3% commission on the gross sales, but you'll also receive the latest features and deals for your customers.
That includes a variety of traffic-driving banners and travel content that will convert your customers and increase your earnings.
Also, you'll get help from their proactive affiliate marketing teams and weekly newsletters that come with bonus commissions.
However, you need to become a Commission Junction affiliate first so you can promote CruiseDirect products.  CruiseDirect teamed up with Commission Junction to help them manage their affiliate program.
URL: CruiseDirect Affiliate Program 
Cookie Duration: 45 days
Commission: 3%
3. Allianz Worldwide Affiliate Program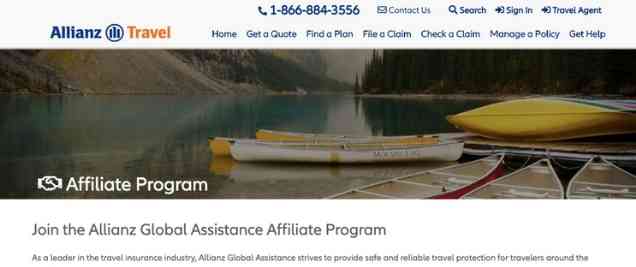 Allianz Insurance acquired Elvia Travel Insurance in 2000, which made them the top supplier of assistance insurance in the world.  Their insurance covers health, travel, breakdown, and more.
They provide international health insurance coverage to individuals who plan to spend several months overseas.
What this means is that you'll receive the best medical care possible when you need it, irrespective of where you're in the world.
As their affiliate, you'll earn a commission by selling Allianz insurance to people going on world cruises. The Allianz affiliate program provides you with the opportunity to monetize your site by connecting your audience with travel protection that can allow them to enjoy their travels to the fullest.
Joining and taking part in their cruise partner program is free. You receive pay for every valid sale you generate via your affiliate link.
Their affiliate program is tier-based and starts at $12. But you can even earn up to $25 per qualified sale.
Nevertheless, they don't accept remarketing solutions, coupon and voucher websites, non-U. S based sites and loyalty websites.
URL: Allianz Worldwide Affiliate Program
Cookie Duration: 45 days
Commission:  $12 to $25
4. Beach Tours Mexico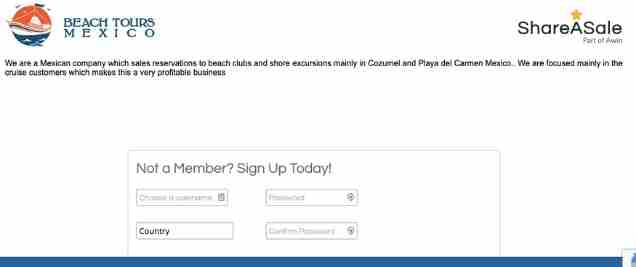 Beach Tours offers cruise passengers and beach tourists a wide selection of beach tours, excursions, watersports, and other activities at affordable prices.
Cancun, Playa del Carmen, Puerto Vallarta, and Cozumel are some few tours and activities they offer clients.
Customers can save about 60% on cruise prices for the same activities.  They provide customers with automatic volume discounts and offer them the best deals and attractions in the Mexican Caribbean.
Beach Tours Mexico affiliate program is arguably among the most popular cruise affiliate programs. It offers you a great selection of cruise and beach tour packages for your website.
Since its program is hosted on ShareASale, you receive real-time tracking of your sales, your commission, and analysis of your affiliate campaigns.
They have an endless list of beaches and travel destinations that customers can select from. You can market their services to individuals on your website looking for cruise and beach selections.
URL: Beach Tours Mexico Affiliate Program 
Cookie Duration: 90 days
Commission: 30%
5. BookingBuddy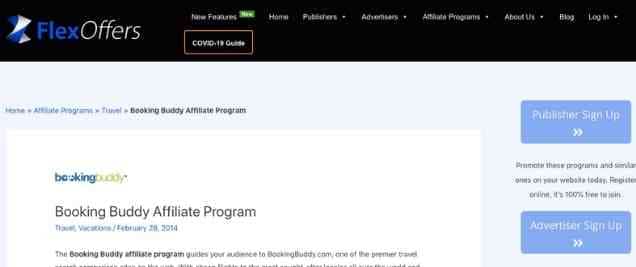 BookingBuddy is one of the best places individuals can go to get the reservations they want, whether its flights, hotels, cars, cruises and others.
They offer customers monthly and seasonal deals which get updated regularly, meaning customers can find what suits their needs.
Booking via their website is safe and secure. They use security systems that ensure the information customers provide is encrypted and safe from harm.
Customers can also save their expenses via BookingBuddy since they're provided with the capability to evaluate all rates offered by major travel websites.  They can save up to 75% off their cruise.
BookingBuddy cruise partnering program allows you to earn up to 50% commission and monetize your site traffic effectively.
They provide you with dynamic banners, affiliate tools, and text links in their dashboard.  They also save your time and money by providing you with all-inclusive vacation packages.
You also receive assistance from a team of professional marketers who want to help you succeed. BookingBuddy is owned by one of the most trusted sources for travel information: TripAdvisor.
URL: BookingBuddy Affiliate Program 
Cookie duration:  30 days
Commission: Up to 50%
6. Virgin Holidays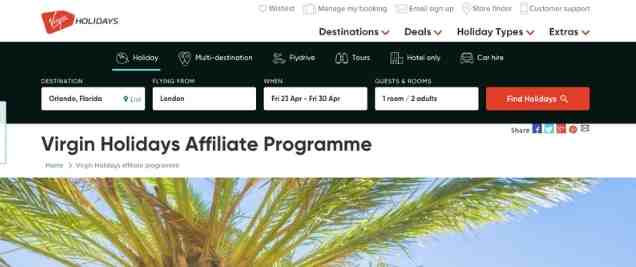 Owned by billionaire and philanthropist Richard Branson, Virgin Holidays is a vacation company like no other.  The company has many years of experience as well as a fantastic reputation.
Virgin Holidays is known for treating its customers exceptionally and providing them with experiences they can never forget.
Some services they offer customers include worldwide tours, safaris, beach holidays, adventures, and more.  They even provide multi-destination holidays than allows customers to visit several places around the world.
Their website allows you to search for cruise category by the cruise line or cruise type. Their special category, Virgin Voyages, is among the most luxurious, all-inclusive vacation customers can wish for.
Virgin holidays pays up to 2% commission, which may not seem much at first. But the reality is the cost adds up pretty well, considering the average cost of a Virgin Cruise is about $ 2,939, but people pay about $52,000 for a world cruise package.
URL: Virgin Holidays Affiliate Program
Cookie duration: 30 days
Commission: Up to 2% per sale
7. CheapTickets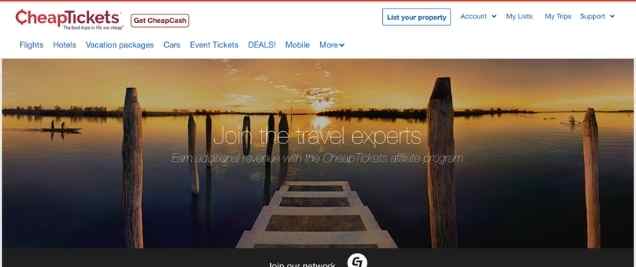 Since 1989, CheapTickets has allowed users to book tickets at an affordable price.  They offer customers discounted rates on flights, rental cars, cruises, hotels, etc.
The company allows customers to check out their deals and save on packages. Also, customers stand a chance to earn free updates.
From their site, customers can choose their destination, travel duration, and the number of members to receive the best cruise deals.
Being part of their affiliate program means you'll receive a commission of $30 per cruise.  Every qualifying transaction made via your affiliate link receives a share of the revenue.
CheapTickets affiliate program runs through Commission Junction. Cruise partnership program provides users with marketing material like banner ads, ad creative, and text links.
Affiliates have access to a superior inventory of hotel properties, cruise links, valuable promotions, and more. They also have access to CheapTickets affiliate tools, storefronts, and data feed.
Being a powerful brand, CheapTicket's affiliate programs guarantees you high conversion rates.
URL: CheapTickets Affiliate Program
Cookie Duration: 7 days
Commission: $30 per cruise
8. CheapCaribbean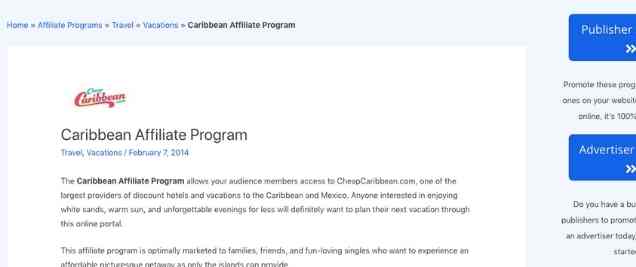 CheapCaribbean website allows customers to book beach vacations, hotels, and flights to the Caribbean and Mexico seamlessly and at affordable prices.
The company has an extensive inventory, including hotel chains and beach destinations. They cover several locations, including the United States, Africa, Europe, and others.
The advantages of booking a cruise with CheapCaribbean include exclusive offers, 110% best price guarantee, and 75% off fares. Customers can book flights and hotels together (Combo) or separately.
Just like many Cruise affiliate programs we've mentioned, the CheapCaribbean affiliate program also runs on Commission Junction. Their program grants you access to analytical reporting, creative ads, coupons, and marketing tools.
The company also provides its affiliates with promotional codes and coupons to help them boost their sales and earn more income. You only earn a commission when your visitor completes a booking successfully via the CheapCaribbean website.
You can market CheapCaribbean services to friends, families, and fun-loving individuals who want to experience affordable scenic gateways that only islands can provide.
Because of the company's 110% best price guarantee, you should not have any problem converting your audience into customers.
URL: CheapCaribbean Affilliate Program
Cookie Duration: 45 days
Commission: 2% per successful booking
9. Last Minute Travel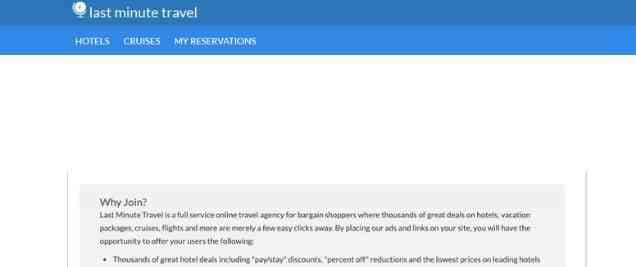 Last Minute Travel provides bargain shoppers travel deals ranging from vacation packages, cruises, hotels to flights worldwide. The brand works with about ten cruise lines to offer customers the best deals online.
The company makes sure that each traveler receives the best travel experience after booking with them.  Last Minute's cruise deals include shore excursions, upgrades, discounted rates, beverage packages, etc.
Furthermore, they provide customers with 24/7 support, meaning they can address any concerns or queries brought up by customers anytime.
Last Minute Affiliate program allows website owners to provide their readers with attractive offers and earn good income per sale at the same time.  They host their affiliate program on Rakuten, ShareASale, LinkShare, and TradeTracker.com.
Their programs provide you with text banner, updated deal, dedicated customer support, and ad creative to help you promote their services right away.
URL: Last Minute Travel
Cookie Duration: 30 days
Commission: 3%- cars, $2 Air, 4% -Hotels, 2%-Cruises, $5 Activities
10. Polynesia Cultural Center Affiliate Program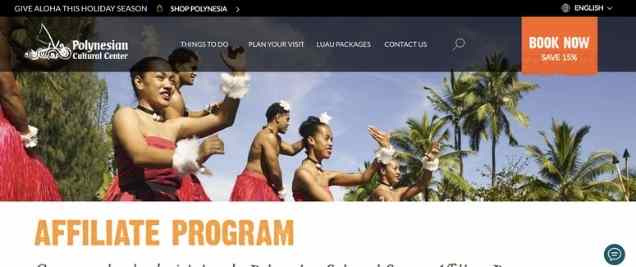 The Polynesian Cultural Center is the most popular tourist attraction on Oahu, with over 1. 5 million visitors per year.  Anyone who visits Hawaii is usually advised to visit the center.
The center was established as a way of celebrating and protecting Polynesian cultures, such as arts and crafts.  By 1963 students were already working in the center to earn themselves some extra cash as well as immerse themselves in the Polynesian native culture.
Their affiliate award program is undoubtedly the best on this list. As an affiliate, you receive 5% per sale on Polynesia.com.
Anyone can join the program. When you apply for their affiliate program, they review your application and approve it within three business days.
Their average order size of $400.  This means you can get over $27 per qualified sale.
The program provides creative help to affiliate with high converting banner, text links, and add-ons.
URL: Polynesia Cultural Center Affiliate Program
Cookie duration:  30 days
Commission: 5% on all qualified sales
Conclusion
The fact is, you can earn good money in the cruise niche as an affiliate marketer. Some travel companies even guide their affiliates through every step to help them generated massive incomes.
However, it's not as simple as it sounds. It's going to be tough trying to compete with already established cruise websites or companies.
If you're searching for an easier niche, which is soft towards challenges and competition, this option is not for you.
Looking for high ticket affiliate programs? Check out my video below:
Learn affiliate marketing secrets. Click here to get started