Online Social Media Jobs That Pay $30/Hour
Availability to start this week
Make $25-$35 Testing New Apps
Just need access to phone/tablet
5+ hours per week available
Hello everyone and welcome to our top lingerie affiliate program discussion! Let's start with a few things to look for when choosing a top lingerie affiliate program. 
Higher Commissions. More often than not 10% is common, and that's OK. The higher the better- and look for one that offers a fixed commission rate (or offers you more based on more exposure.
Easy to Convert. Remember, you only earn money as an affiliate if your customers purchase something from a link you have promoted. So, find a web hosting affiliate program that gets you high rates of conversion. 
Transparency about their program. You should know what's expected of you before you start!
That's the basics, let's get into the list.
Top Lingerie Affiliate Programs
1. Foxers
2. Eye Kandee
3. Pleasurements
4. Agent Provacateur
5. Anaya Lust
6. Simon Perele
7. Bendon Lingerie
8. Haute Flair
9. Journelle
10. Bluebella
1. Foxers Lingerie Affiliate Program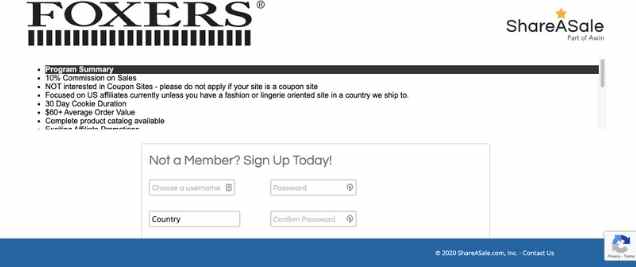 This company was created in the year 2007 by a woman named April Spring. She added the traditional men's boxer band to women's underwear and her business was born and with it came a top lingerie affiliate program. 
Now affiliates can earn 10% on these great undergarment sales, and there's a complete product catalog available for your perusal. It's only focused on US affiliates for now, but if you have a lingerie or fashion brand in a nation, they ship to you should still consider applying.
URL: Foxers Affiliate Program
Cookie Duration: 30 days
Commission: 10%
Pros:
ShareASale is used

$60 average order placed
Cons:
Program does not accept coupon sites
2. Eye Kandee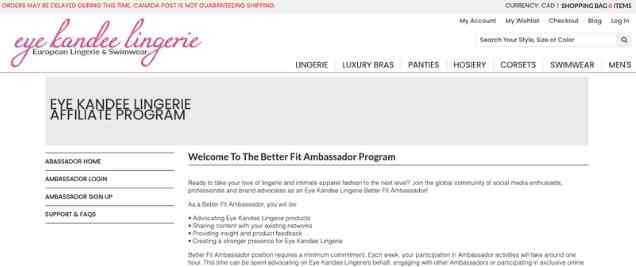 This is Canada's number one source for bras, panties, and corsets- and lots more spicy wear!
Your followers will love the selection and sizes for everyone.
This is a brand which is empowering to women and enables them to be as sexy or as professional as they desire making it one of the top affiliate programs. 
URL: Eye Kandee Affiliate Program
Cookie Duration: 120 days
Commission: 15% on first customer order and 10% for following orders
Pros:
Participation in activities takes just one hour per week

You can sign up immediately and begin earning commission quickly.
Cons:
3. Pleasurements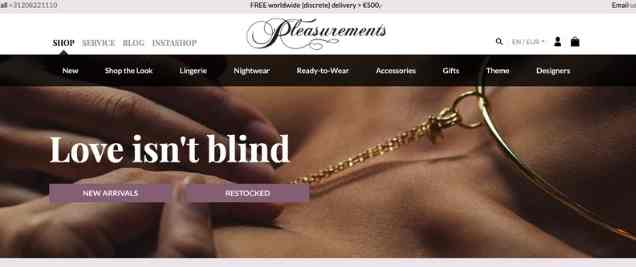 Situated in Amsterdam, this is an online shop and boutique catering to clientele that enjoy the finer things in life, such as wearing well-crafted and beautiful undergarments. 
These cater to those that fancy themselves a model, or simply want to feel their best. It really is one of the top programs for affiliate marketing.
URL: Pleasurements Affiliate Program
Cookie Duration: n/a
Commission: 10% 
Pros:
Offers a great selection of luxury lingerie

Offers ethically sourced lingerie
Cons:
Items offered are sold in Euro- can be confusing to non-EU clientele
4. Agent Provocateur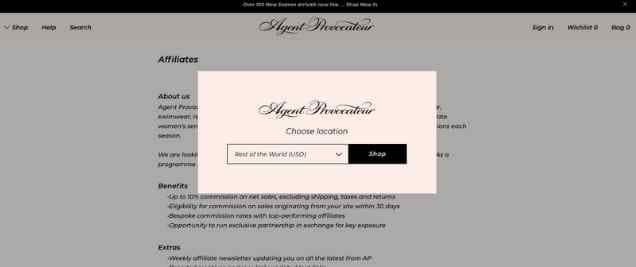 This is a brand well known in Britain for providing classic pieces and beautiful new undergarments. 
They always are on the lookout for first-class content creators and publishers to join their program. The commission rates show that this is one of the top lingerie affiliate programs.
URL: Agent Provocateur Affiliate Program
Cookie Duration: 30 Days
Commission: 10%
Pros:
Eligible for commission on sales that originate from your site in 30 days

Top commission rates with top-ranking affiliates
Cons:
Finding out the Eligibility for your site may take a while due to the high volume of requests.
5. Anaya Lust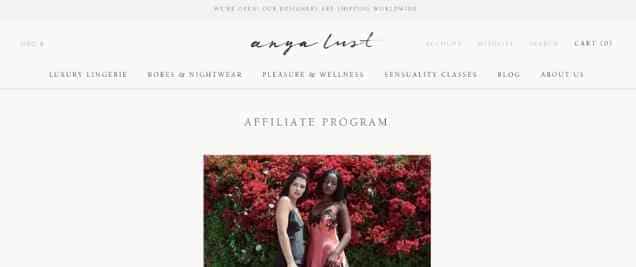 This is a site devoted to bringing women the most beautiful luxury lingerie. It also has a top lingerie affiliate program.
This brand focuses on high-end lounge clothing, bridal lingerie, and plus size lingerie. It's one of the top 20 boutiques online and commission is payable on all items.
URL: Anaya Lust Affiliate Program
Cookie Duration: 30 days
Commission: 10% 
Pros:
Commission can be negotiated for more exposure

Delivery is fast

Data feeds readily available
Cons:
6. Simon Perele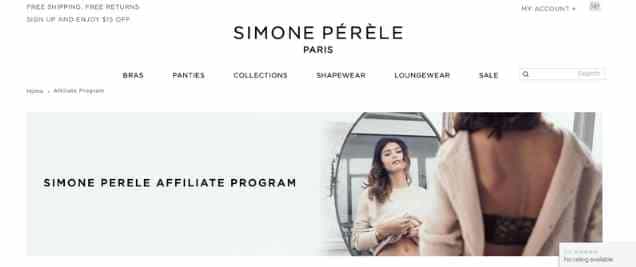 French lingerie manufacturer Simon Perele offers its affiliates 10% on commissions from each sale that comes from your Simon Perele affiliate account. 
It is easy. Click the link above to become an affiliate. Once that is complete, you will hear back in 5 business days if you are accepted. 
Then access your account and create your URL affiliate link. Share those links wherever you post, and make sure you post your link within 30 days of your approval. 
Each month on the 10th or earlier your commission earnings will be issued- must have a minimum of $25 in your account. 
URL: Simon Perele Affiliate Program
Cookie Duration: Unknown
Commission: 10% 
Pros:
New banners are created and sent via email each season

Super easy to create Affiliate URL links

Great for several niches: luxury living, women, etc.
Cons:
Cookie duration not listed on site
7. Bendon Lingerie
This is an affiliate program that surprisingly fits a lot of different niches. It works for those of you that deal in activewear, men's undergarments, or sports/fashion niches. 
It's great if you are selling budget-based items or your focus is on luxury goods. Their products are worldwide, reaching a total of 34 countries.
URL: Bendon Lingerie Affiliate Program
Cookie Duration: 30 days
Commission: 7.2%
Pros:
Offers big name brands like Heidi Klum and Stella McCartney

Offers men's' products, also

Text links and banners provided to you
Cons
Commission not as high as some others
8. Haute Flair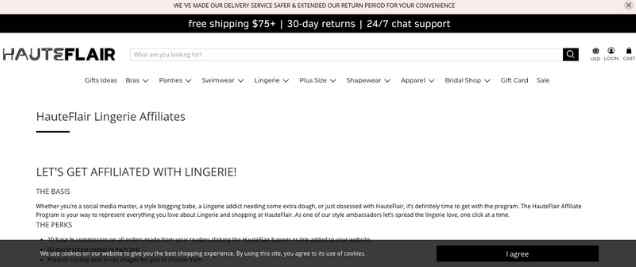 This is a luxury lingerie company that is perfect for influencers, style experts or any woman with a social media following that wants to earn extra money. As one of the style ambassadors you will enjoy 90-day cookie duration and a very fair commission of 10%. 
All you have to do is sign up using the link, add branded banners and links to your blog or site, and start spreading the word about this great lingerie. It's that easy!
URL: Haute Flair Affiliate Program
Cookie Duration: 90 days
Commission: 10% 
Pros:
Banners updated and added each month

Beautiful catalog with high-resolution photos

Exclusive offers for you and your followers
Cons:
Site did not advertise affiliate support
9. Journelle Lingerie Affiliate Program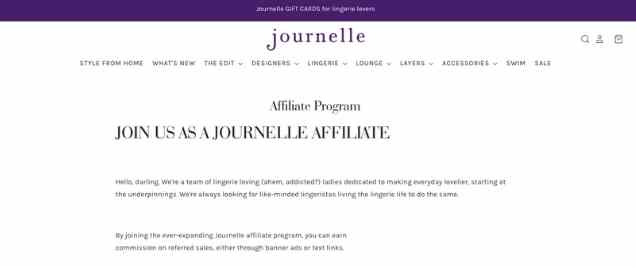 Journelle and Impact have teamed up to offer you an advertising campaign that will make those conversions come easy.
Their campaign is based all-around performance advertising, and if even if you're new to it, they can help you learn to become great at it so you can get the results they want and the money you deserve. 
The program offers an online sale tracker type, payout is 5% and there is a three-day referral period. Banners, catalogs and online tracking links are offered so you can keep watch over everything that's going on in your campaign. 
URL: Journelle Affiliate Program
Cookie Duration: 7 days
Commission: 5%
Pros:
Tons of helpful campaign creatives to keep you selling

Tutorials and support offered to help you learn the basics of performance-based advertising

Tracking is top-notch and controls are great- it ensures you get 100% referrals tracked and updated in real-time.
Cons
10. Bluebella Lingerie Affiliate Program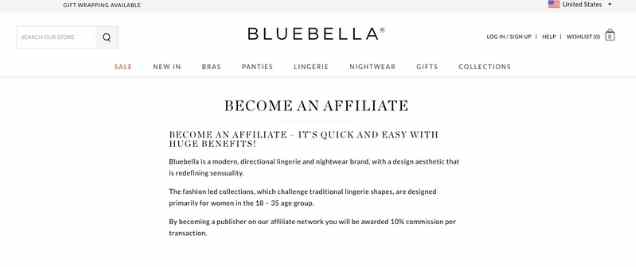 Upon joining the Affiliate network, you will be able to create links back to the Bluebella online store which your visitors can put to use. Once they follow the links any purchases they make will be recorded and paid out. 
You will be able to use Bluebella's own banners, product feed, links and other methods to drive traffic. 
Bluebella uses Rakuten (Linkshare) to create URLS that are just for you. It's a very beneficial program- there are new banners available all the time, feeds are updated regularly, and the commission is great.
URL: Bluebella Affiliate Program
Cookie Duration: 30 days 
Commission: 10% 
Pros:
Opportunities for exclusive Bluebella partnerships

Covers a wide range of women aged 18 to 35

Great Site conversion and AOV
Cons:
No direct affiliate support
Want to know which affiliate marketing method works best for you? Answer the short quiz below: