Online Social Media Jobs That Pay $30/Hour
Availability to start this week
Make $25-$35 Testing New Apps
Just need access to phone/tablet
5+ hours per week available
So, you've built up an audience in the spiritual market and are looking for the best affiliate programs to start monetizing with?
I spent about 5 hours going through different options to help make the decision easier.
I'm very picky about affiliate programs. And for good reason. I've promoted bad programs that treated me or my audience poorly, and it left a bad taste in my mouth.
Looking for high ticket affiliate programs? Check out my video below:
Since spirituality courses is a niche I care about, I made specific criteria to be met.
1. Good reviews from users. I don't want to promote something that my audience will hate. They will never buy from me again.
2. Generous commissions. Digital courses should not be paying 10% commissions. Their margins are too high for that.
3. Proven sales system. I've promoted affiliate products where I sent thousands of clicks for zero conversions. Not fun.
These affiliate programs are spiritually-niche specific and they fill the criteria above.
Here is the list.
Best Spiritual Course Affiliate Programs
1. MindValley
2. Live and Dare
3.The Secrets Of Deliberate Creation
4. Miracle Brain System
5. iAwake Technologies
6. Sounds True
1. MindValley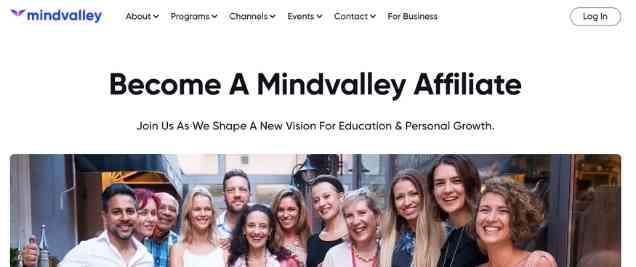 MindValley is essentially an educational platform that has a very important goal in mind with all of its offerings – to help in moving humanity forward into the future.
The platform's educational resources all focus on promoting personal growth – through the introduction of spiritual programs.
Over 12 million people have signed up for MindValley since its initiation – and the educational material offered by MindValley is available in 80 different countries throughout the world. This means you can promote to any audience, regardless of where you live.
The conversions on MindValley is quite high. Your referrals can browse the MindValley store or gain access to a premium subscription that gives them unlimited access to the platform.
Every teacher that produces educational content on the MindValley platform has been hand-picked. This ensures your audience gains access to only the best course material available on the internet.
When you send your visitors to a platform that really prioritizes value, it means the chances of landing sales are increased.
You get a 30-day lifespan for cookies placed in the visitor's browser. This ensures you do not miss out on commission if the referred client does not decide to take up the offer right away.
MindValley's affiliate program offers a baseline commission at a rate of 30% of the sale value. With the average order size being around $300, you can expect an average commission of $90 per sale.
URL: MindValley Affiliate Program
Cookie Duration: 30-day
Commission Rate:  30%
2. Live And Dare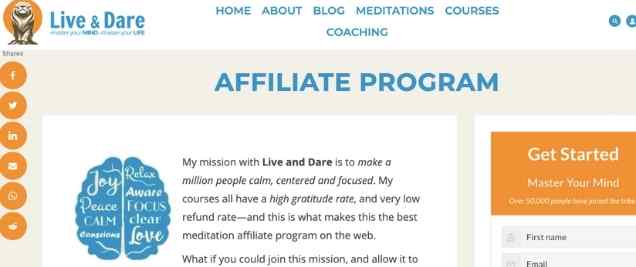 Live and Dare is another spiritual program that comes with an affiliate program. The purpose of the entire program is to equip the client with an education that helps them reach calmness in their mind.
It also helps people realize how they can be more centered in their own life while enhancing focus at the same time.
This is the essence of spiritual health for many people – which makes this another attractive course for your audience.
There is a variety of courses that you can offer your audience through the Live And Dare affiliate program. This includes both short and longer courses.
A subscription program is also available, which gives you access to recurring commissions. The Calm and Free program is one of the most popular options from the platform.
This is a short course that gives the client access to a few basic techniques they can get started with. It is also the more affordable option among the programs offered by the Live And Dare platform.
It is really quick to sign up for this affiliate program. There is a 40% commission rate that applies to every customer you refer to for an online course. Live And Dare also offer coaching services – you get paid 10% commission on sales referred to this service.
There is a 60-day cookie time for your affiliate links. You get access to a full analytic dashboard that shows you how many people have clicked on your links. You can also extract a report on your conversions.
URL: Live And Dare Affiliate Program
Cookie Duration: 60-day
Commission Rate: 40%
3. The Secrets Of Deliberate Creation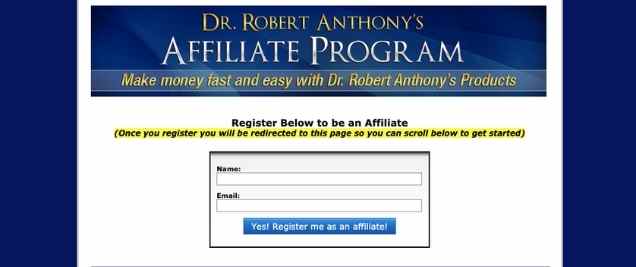 The Secrets Of Deliberate Creation is not just a single program. Instead, it is a collection of online courses that gives your audience access to resources that focuses on helping them – and the affiliate program was designed to help you make real money in the process.
All of the programs and courses that form part of this platform are authored by Dr. Robert Anthony. There is a total of five different programs that you are able to promote.
You can choose to promote all of the programs, or only one. A single one is great if you prefer to take a more targeted approach with your affiliate marketing efforts.
The programs that you can promote include:
The Secret Of Deliberate Creation (this is the original course)
Deliberate Creation Instant Self-Hypnosis
Self-Confidence Creator
Mastering Your Inner Game
Zero Resistance Weight Release
The Secrets of Deliberate Creation program is available on the Clickbank platform. It is generally easy to sign up and get approved here.
The program gives you a 50% commission on the sales that are referred through your affiliate link. Each product has its own price, so the commission will vary depending on the specific offer that you decide to promote.
URL: The Secrets Of Deliberate Creation Affiliate Program
Cookie Duration: n/a
Commission Rate:50%
4. Miracle Brain System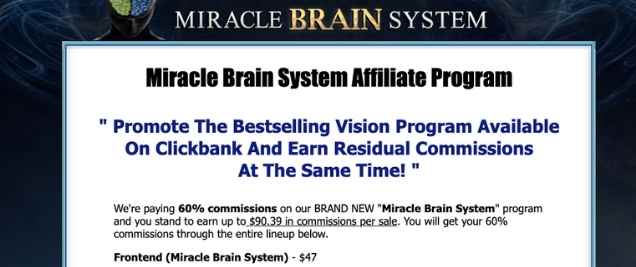 The Miracle Brain System is another digital course that pays a high commission while also giving your referrals real value. The program focuses on three particular goals: wealth, health, and youthfulness.
It is a spiritual program that comes with several educational resources included. There are three offers available that can help you amp up your commissions. This includes the main frontend offer, as well as two upsells.
The main program is called the Miracle Brain System and sells for $47. The first OTO is Mind Pinnacle, sold at $97. A third offer is promoted at $19.95 per month, called Absolute Success Coaching.
The third offer gives you a recurring commission – making it ideal for building up a passive income.
You get paid 60% in commission for every successful sale that you refer to. The average commission rate for this program is around $90.39 per sale made.
URL: Miracle Brain System Affiliate Program
Cookie Duration: n/a
Commission Rate:60%
5. iAwake Technologies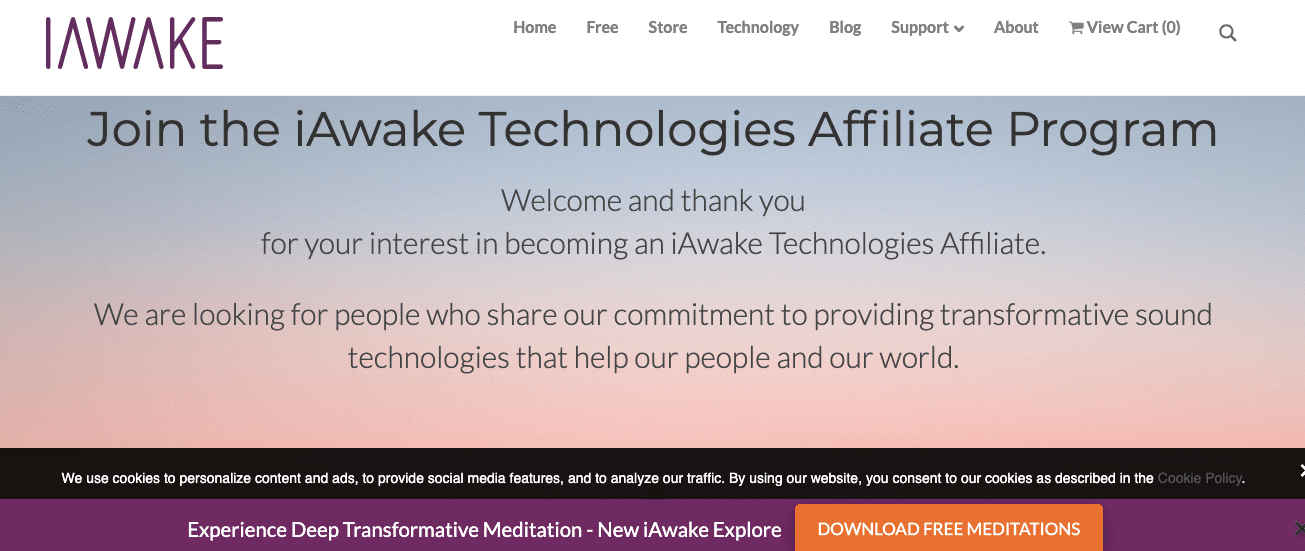 Technology is no longer considered a luxury to have at your disposal. It has become a critical part of human life. Companies are constantly seeking ways to use technology in such ways that it makes the lives of people better.
With iAwake Technologies, you get an opportunity to promote some of the latest advancements in technology related to meditation. Millions of people use meditation as a way to stay focused, calm themselves down, and become more spiritual.
Take this to your advantage by offering them access to products that help to enhance the benefits of meditation.
The average EPC for iAwake Technologies, when all current affiliates are taken into consideration, is $1.45.
The company has over 50 different products available on its platform already – and they are constantly expanding their selection of digital products to offer its customers access to the latest options.
Most spiritual course affiliate programs will give you a cookie life between 15 and 60 days. This program, however, gives you a cookie life of 365 days – that's an entire year.
You also get paid a commission rate of 40% of the sale value. This accounts for the first sale that a customer makes after clicking on your affiliate link.
URL: iAwake Technologies Affiliate Program
Cookie Duration: 365 days
Commission Rate: 40%
6. Sounds True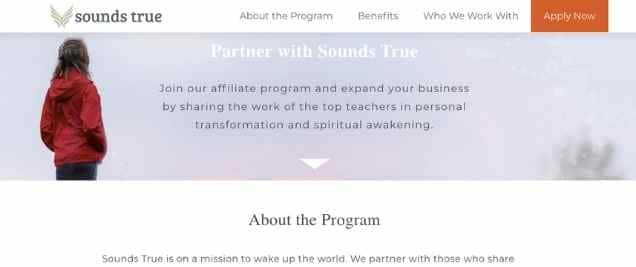 It is important that you do not only focus on promoting spiritual course affiliate programs that give the customer long books or articles to read. Many people find themselves short on time, yet they want to learn more about meditation and self-improvement strategies.
With Sounds True, you get to expand on the options you have for your readers and audience. Instead of books, Sounds True offers audio content. There is a large variety of course content available on the platform.
Personal transformation is the main focus among the content available on the platform, helping your audience reach spiritual awakening in the process.
A digital platform is offered to clients, with a large range of audio programs and courses to choose from. The Sounds True platform makes the process of signing up for the client easy – which ultimately helps your referrals convert better.
On the affiliate side, the dashboard is user-friendly and only gives you access to the functions and statistics you need. You are able to download a variety of creatives, including links and banners.
You can easily get in touch with this team to get help and answers to questions that you might have. You get access to a dashboard with full reporting and tracking capabilities.
This ensures you stay on top of your affiliate marketing statistics – see exactly how many clicks there are, how many of them converted, and more.
The Sounds True affiliate program gives you a 60-day cookie life and offers a 35% commission on the first sale among your referrals.
URL: Sounds True Affiliate Program
Cookie Duration:60-day
Commission Rate:35%
Want to know which affiliate marketing method works best for you? Answer the short quiz below:
How To Choose A Spiritual Course Affiliate Programs?
As the spiritual industry continues to grow, you will find that more-and-more content creators are developing programs in the niche.
The majority of these content creators will offer affiliates an opportunity to promote their programs – it ultimately helps them drive more traffic to their effort and get more sales without effort from their side.
With this said, not every spiritual course affiliate program is going to offer you the opportunity you seek in this industry.
Carefully consider all of your options before choosing which programs you truly want to promote.
Here are a few things you should take into consideration when choosing affiliate programs:
</h4 >

Always look at what the program or course offers the client. Make sure it provides them with value. It is a good idea to buy the product yourself – go through it to see what information it shares. Does it look like something you could use?

</h4 >

Make sure the information provided in a program you will be promoting cannot be found for free on the internet. There are programs that simply compiles free information from various sources into a single product.

</h4 >

Consider the price of the program – make sure it is not too expensive. It should also not be too cheap, as this means you need to work harder to refer sales in order to reach the income you are aiming toward.

</h4 >

Look at the affiliate commission too. Some programs pay more than 50% commission on the first sale – this is a great way to help amp up your income.
Conclusion
Spirituality is a major topic in the global population. Itself does not only relate to religious matters but consists of a much broader topic. With a rising trend in the industry, the niche also presents an opportunity for affiliate marketers to delve into a new subject.
There are various programs that can be promoted, with generous commission rates paid for referred sales. Some programs offer a commission rate of up to 60%, which gives you more money in your pocket, even with only a few sales.