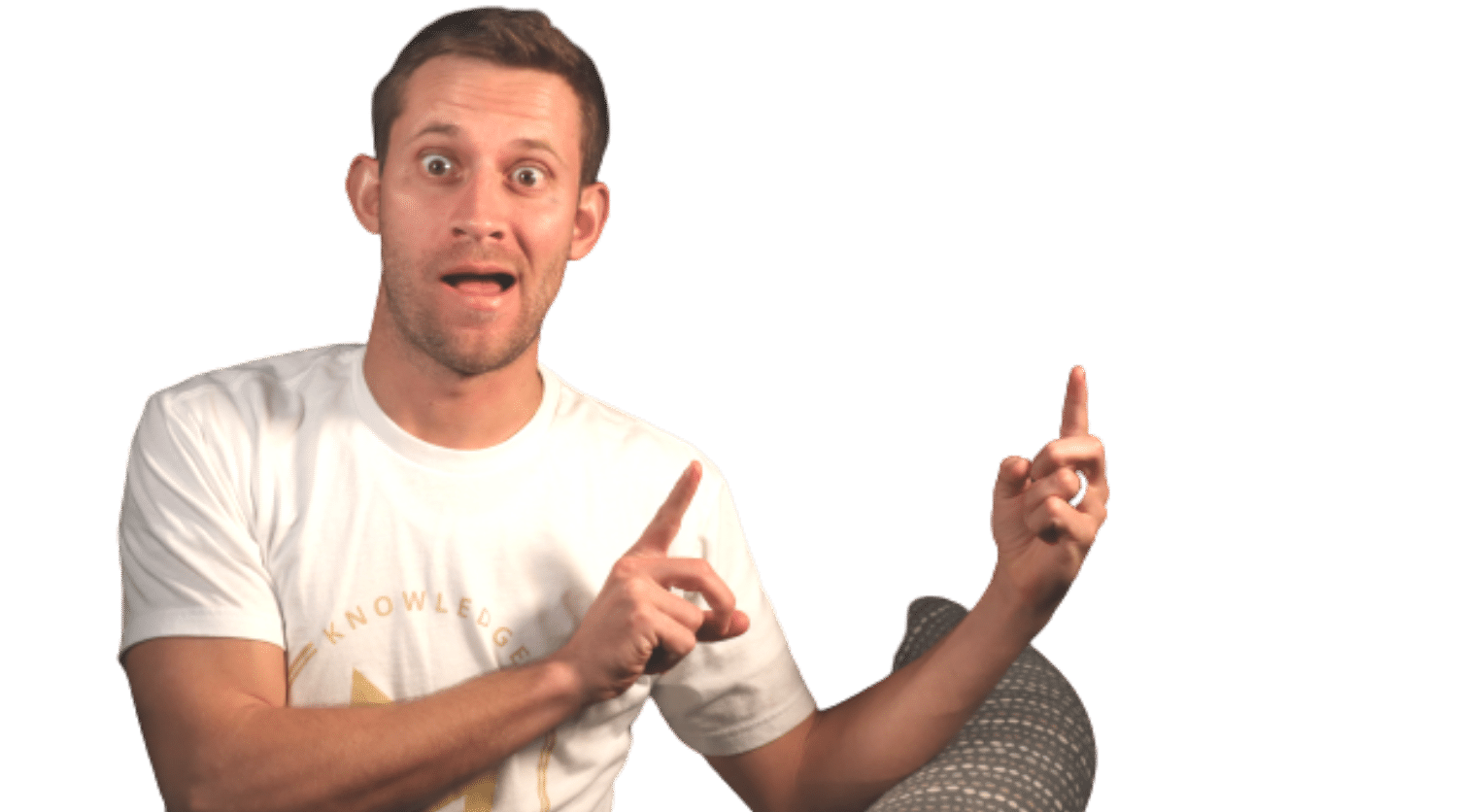 Looking To Start An Affiliate Marketing Blog?
The list of the best web hosting affiliate programs could quite literally go on forever. 
There are hundreds of web hosting sites and every one of them seems to email me every single week asking me to add them to this article.
But I've tried to focus on the ones that are best for the affiliates.
The ones with resources, good tracking, etc.
Because a lot of web hosting affiliate programs don't care a bit about their program and promoting them is frustrating.
I'll also only focus on web hosts that will give your referrals a good experience so they trust you in the future.
I've tried to be detailed and give information like cookie length, sign-up pages, and anything else I can think of.
If you're an affiliate marketing beginner, watch the step by step guide below:
Best Web Hosting Affiliate Programs
1. Bluehost
2. Hostinger
3. WP Engine
4. Kinsta
5. HostGator
6. DreamHost
7. Flywheel
8. FatCow
9. Namecheap
10. RoseHosting
11. GoDaddy
12. SiteGround
13. Scala Hosting
14. A2 Hosting
15. WebHostingPad
16. iPage
1. Bluehost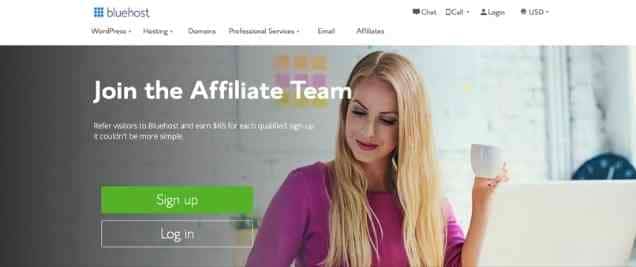 We'll start off our list with Bluehost. Founded in 2003, Bluehost is a well-known and successful web hosting service with a popular affiliate program.
According to Bluehost, they paid over $5 million in the previous year alone to affiliates in exchange for conversions, which is a pretty good indicator that Bluehost is a strong option for anyone looking to join an affiliate program. 
I absolutely love that Bluehost let's affiliates embed assets on their site. Meaning Bluehost creates things like domain generators that you can embed on your blog and when someone uses it and buys, you get paid.
Cookie Duration- 90 days
Commission Rate- $65 per sale
URL- Bluehost
Pros:
You can be eligible for a higher commission rate if you are able to generate a large number of conversions

Bluehost comes with highly sophisticated sales tracking software that can show you your engagement numbers with a high degree of accuracy 
Cons:
The only payment option is through PayPal

No option to use affiliate earnings to pay for hosting
2. Hostinger
With over 29 million users around the world, Hostinger is another long-lived and very popular web hosting affiliate program. 
They claim to offer one of the best affiliate control panels in the entire affiliate marketing industry, allowing you to easily track your engagement levels and optimize your campaigns for the most conversions. 
Cookie Duration- 30 days
Commission Rate- 60% commission on all sales
URL- Hostinger
Pros:
You can claim your earnings via PayPal or a bank transfer

Performance data showing your engagement and conversions are updated every few minutes

Payments are made monthly
Cons:
No recurring commissions

Bank transfers can only be completed if you have made $500 or more in commissions
3. WP Engine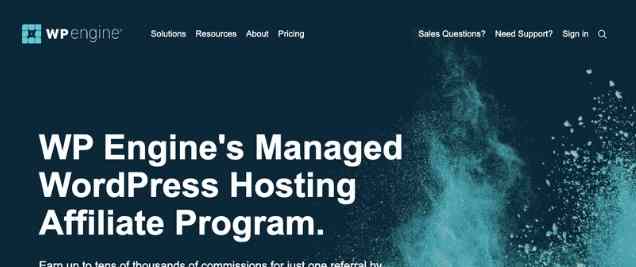 If your website tends to focus on stuff related to WordPress, then you should definitely check out the WP Engine affiliate program. Not only are they one of the highest-paying affiliate programs out there, but they make it easy to earn bonus commissions on top of your regular ones.
Cookie Duration- 180 days
Commission Rate- $200 per sale or equal to the first month's payment, whichever is more.
URL- WP Engine
Pros:
WP Engine offers some of the best commission rates of any affiliate program

You can earn scaling bonuses depending on how many monthly sales you generate

WP Engine cookie duration is much longer than what most other affiliate programs offer
Cons:
WordPress hosting plans are somewhat expensive, so it can sometimes be hard to generate high conversion rates
4. Kinsta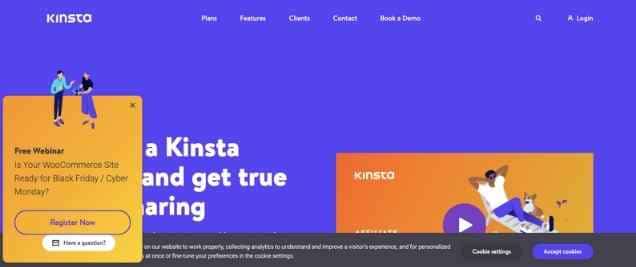 Kinsta is another affiliate program managed by WordPress. It offers some pretty hefty commissions depending on what hosting plans you manage to get people to buy, and they also offer a permanent 10% recurring commission. 
This means that if you refer someone to Kinsta and they remain a customer with the company, you earn a commission of 10% of everything that customer buys, forever.
And since Kinsta has a customer turnover rate of only about 4%, this means that most people who join up with Kinsta tend to stick with them for a long time. This means that your 10% recurring commission will actually hold a lot of value, especially over time. 
Cookie Duration- 60 days
Commission Rate- $50-500 based on what plan the customer buys, plus 10% monthly recurring commissions.
URL- Kinsta 
Pros:
Commission rates can potentially be very high depending on what plans you're able to sell

The recurring monthly commission means that conversions will still generate income for you even after the initial sale
Cons:
You can only claim your commissions through a PayPal account
5. HostGator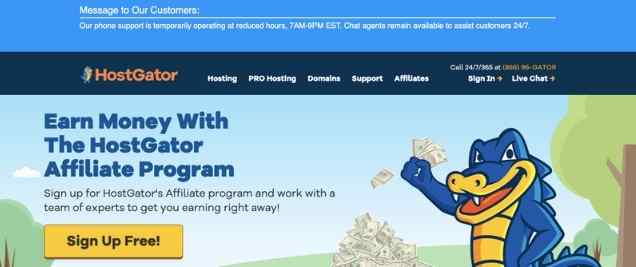 Another long-lived affiliate program, HostGator's origins lie all the way back in 2002. Today, they're a popular international web hosting service, with offices and customers located around the world.
This affiliate program uses a commission structure based on your monthly performance; the more sales you generate each month, the more money you earn per sale. 
Cookie Duration- 60 days
Commission Rate- $65-125 per month, depending on how many conversions you generate each month 
URL- HostGator
Pros:
HostGator can pay you via PayPal, BACS, or direct transfer
Cons:
You have to earn at least $100 for your commission to actually be released
6. DreamHost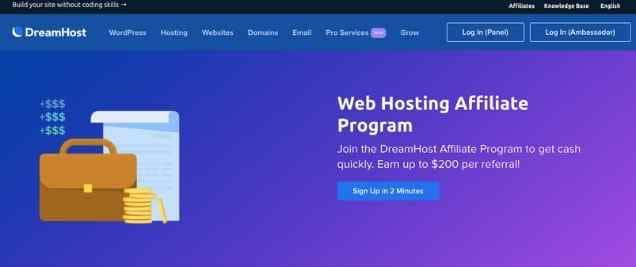 DreamHost is one of the longest-running web hosting services we're mentioned so far, being founded way back in 1997. It is another affiliate program that is partnered with WordPress.
With a great selection of pre-made banners and a comprehensive performance dashboard, It is designed to be easy to use and easy to make money with.
Cookie Duration- 60 days
Commission Rate- $15-200 per conversion, depending on what plans you sell
URL- DreamHost
Pros:
DreamHost has unlimited payouts; there's no cap on what you can earn each month
Cons:
Payments can only be received via a PayPal account

DreamHost has a long holding period for commissions (97 days)
7. Flywheel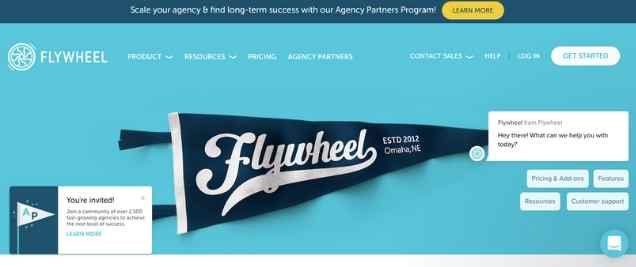 While Flywheel perhaps doesn't have the brand recognition of some of the other affiliate programs on this site, this program still offers several features that anyone should pay attention to, particularly if they're new when it comes to affiliate programs.
Most notably, there's no minimum amount you have to earn in order to receive your commission. While some affiliate programs won't let you collect your commission until you earn a certain amount, Flywheel will always pay you regardless of your monthly earnings.
You could even make just one sale, and you'll still be paid for it.
Cookie Duration- Not available
Commission Rate- 300% of the first month's payment on any plan, up to $500 per conversion
URL- Flywheel
Pros:
Flywheel has no minimum earned amount for payouts; you'll receive your earnings at the beginning of each month regardless of how much money you made

Flywheel doesn't require you to have a minimum amount of site traffic in order to sign up for the program
Cons:
Flywheel doesn't provide any information regarding their cookie duration
8. FatCow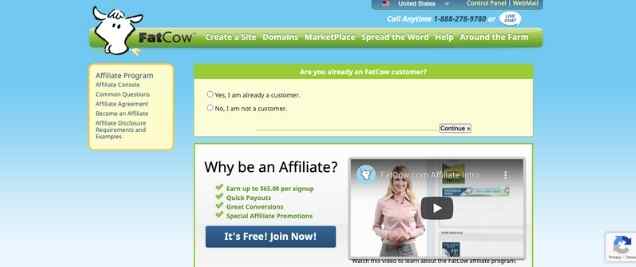 FatCow is a hosting company that actively tries to take a more customer-friendly approach when it comes to providing hosting services. 
Their practice is always to simplify things as much as possible for the end-user, and this also helps you as an affiliate, because a product that's easier to understand is also easier to market to other people.
Cookie Duration- Not available
Commission Rate- $25-65 per sale, depending on what plan is purchased
URL- FatCow
Pros:
Depending on where you live, you can collect your commissions via PayPal, cheque, or credit
Cons:
FatCow doesn't provide any information regarding their cookie duration
9. Namecheap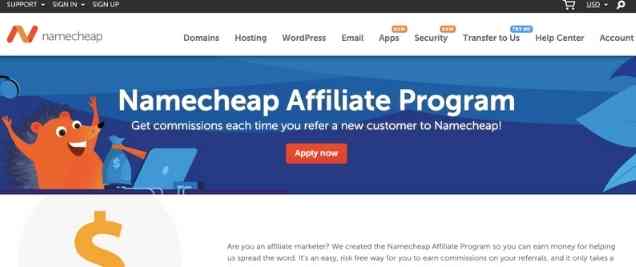 Namecheap is somewhat different from most of the other affiliate programs in that you access their services through a third-party affiliate platform.
This can make using Namecheap a little more daunting than some other affiliate programs. Additionally, the third-party platform you use affects what methods Namecheap can use to pay you your commissions, so choose your platform wisely.
Cookie Duration- 30 days
Commission Rate- Varies greatly depending on what product/service a user buys.
URL- Namecheap
Pros:
Through the third-party affiliate platforms, you can receive your commissions via PayPal, e-transfer, wire transfer, or cheque
Cons:
Namecheap's conversion rates are vastly different depending on what products you're able to sell, and as such they can be pretty confusing
10. RoseHosting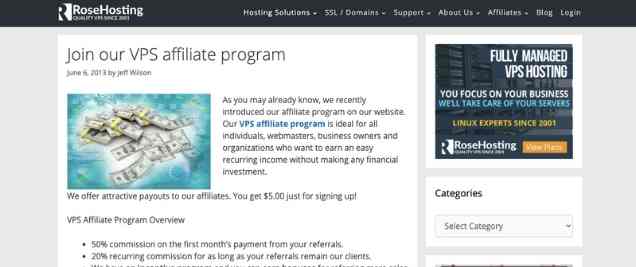 Like many of the other affiliate programs on this list, RoseHosting has a long history of doing business online, going back to 2001. They're one of the longest-running VPS (virtual private server) hosting services.
Cookie Duration- Not available
Commission Rate- 50% commission on your referral's first monthly payment, with a 20% recurring commission 
URL- RoseHosting
Pros:
A 20% recurring commission can earn you a lot of extra money if many of your referrals remain clients of RoseHosting

You get an instant $5 bonus just for joining this program
Cons:
RoseHosting does not provide information about their cookie duration
11. GoDaddy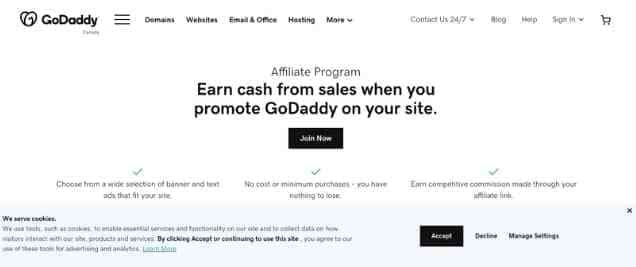 If you're worried about your affiliate program not having enough brand recognition to drive conversions, then perhaps you should go with GoDaddy as your affiliate program of choice.
Despite the fact that their commission rates aren't very high, especially when compared to other affiliate programs, GoDaddy's excellent brand recognition means that you'll probably be able to generate a large number of conversions, which can help you compensate a little for the low commission rates. 
Cookie Duration- 45 days
Commission Rate- 10-15% on most domain registrations, $25-100 for hosting plans
URL- GoDaddy
Pros:
Superior brand recognition means high conversion rates
Cons:
Commission rates are pretty low relative to other affiliate programs
12. SiteGround
SiteGround is another affiliate program that uses a performance-based commission structure.  The more conversions you generate each month, the more you earn for each conversion. 
Cookie Duration- 60 days
Commission Rate- $50-100 per sale, depending on how many monthly sales you make
URL- SiteGround
Pros:
If you make over 21 sales a month, you can become eligible for a custom commission rate

SiteGround has a very short commission holding period of only 30 days
Cons:
SiteGround doesn't have as much brand recognition as some of the longer-lived affiliate programs
13. Scala Hosting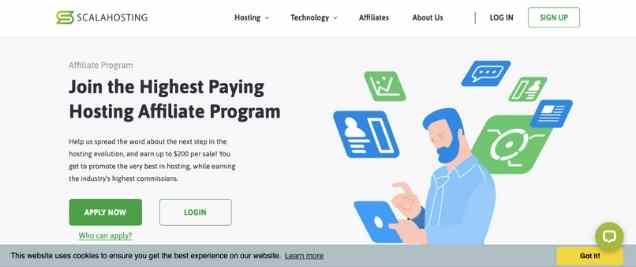 Scala Hosting offers two different payment scales depending on what type of hosting you refer customers to. They offer both shared web hosting and VPS hosting.
Cookie Duration- 60 days
Commission Rate– $50-200 per sale, depending on how many monthly sales you generate and what kind of hosting you're doing 
URL- Scala Hosting
Pros:
Custom commission rates are available for the most successful affiliates

They engagement tracking in real-time
Cons:
The minimum payout for commissions is $100; you cannot claim any commissions if you haven't earned at least this much
14. A2 Hosting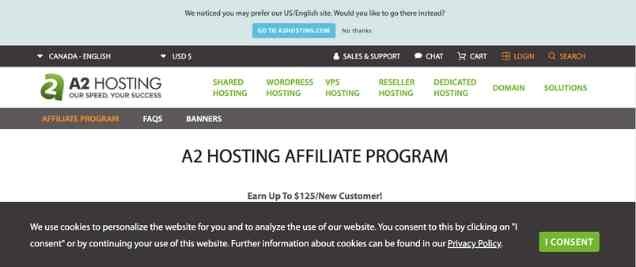 A2 Hosting is a very popular hosting service and another one with ties to WordPress. They offer a variety of hosting plans, which should make it easier for you as an affiliate to promote these products and generate more conversions.
Cookie Duration- 90 days
Commission Rate- $55-125 per sale, depending on how many sales you make in a month
URL- A2 Hosting
Pros:
Top affiliates get access to custom welcome emails and landing pages

A2 Hosting offers a minimum commission of $85, which is higher than what many other affiliate programs offer  
Cons:
Commissions can't be used to offset hosting costs
15. WebHostingPad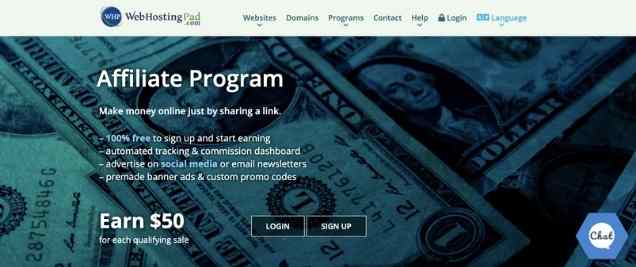 WebHostingPad's main selling point is its cookie duration.
Unlike most affiliate programs whose cookies last for maybe a month or two, WebHostingPad promises that their system will still reward you with a commission even if the customer takes an entire year to purchase a product after clicking on your referral link.
Cookie Duration- 365 days
Commission Rate- $50 per sale
URL- WebHostingPad
Pros:
Outstanding cookie duration; WebHostingPad's cookies last for an entire year
Cons:
The minimum balance you need to have in order to receive your commissions is $200
16. iPage
iPage is yet another well-known name in the hosting service industry. Formed in 1998, today iPage is a part of the Endurance International Group, of which a few other affiliate programs on this list are also a part of.
Cookie Duration- 120 days
Commission Rate- $65-150 per sale, depending on what kind of hosting account you have
URL- iPage
Pros:
You can receive your payment via cheque, PayPal, or credit

Being that iPage is a long-running, well-established service, they can guarantee a high conversion rate

Cookie duration is fairly long
Cons:
iPage doesn't offer a proprietary user interface to let you view performance info; you have to use a third-party program
What to Look for When Choosing a Web Hosting Affiliate Program
Before you start looking for the best web hosting affiliate program to go with, you should know what to look for in a program like this.
While most of these programs are largely the same in terms of the overall services they provide, there are a few details to look out for when choosing an affiliate program.
First, and probably foremost, is that you want to want to look for an affiliate program that offers you a high commission rate, and preferably one with a fixed commission rate. 
If you're not familiar with how commissions work in regard to affiliate programs, it's pretty simple; you promote a product or service on your blog, and if someone purchases that product or service through an ad or link that you're hosting, then you get paid with a commission.
This commission can either be a flat rate or a percentage of the total cost of the sale; it usually depends on what affiliate program you end up going with.
Another highly important detail about any affiliate program is how easy it is to generate conversions through it.
Put in more simple terms, you want to pick an affiliate program that is actually effective at getting people to click on links and buy products. 
Since you only make money as an affiliate if a customer buys something through a link you promoted, it's essential that you find a web hosting affiliate program that you know will offer you high conversion rates.
Ideally, as an affiliate, you should seek out merchants that are as transparent as possible regarding the terms and conditions of using their affiliate program.
Before joining any affiliate program, you should be aware of any expectations or requirements imposed by the merchant. 
An affiliate program should also provide you with a means of tracking your performance each month and see exactly how much engagement you're generating.
And last but not least, another important detail you should look out for when selecting an affiliate program is cookie duration.
Basically, cookies are small files that get stored on your computer by your browser. Cookies are used to help websites differentiate between individual users.
However, cookies are only stored on your computer temporarily, and they're automatically deleted after a specified amount of time. When it comes to affiliate programs, cookies are used to determine whether or not a user has clicked on an affiliate link. 
Now, for example, let's say that the merchant has set a duration of 30 days for their cookies. This means that after clicking an affiliate link, the user has 30 days to actually make a purchase.
If they take longer than 30 days, however, it means that you don't earn a commission.
That's why you should try and look for an affiliate marketing program that has a long cookie duration. The longer your cookie duration is, the better it is for you in general.  
I've selected 16 affiliate programs that we'll be taking a look at together. I'll be giving you a short overview of each program, along with the cookie duration, commission rate, and pros & cons of each.
Not all affiliate programs provide the same amount of information about their services; for example, some affiliate programs choose not to disclose the duration of their cookies. 
Conclusion
If you're looking to monetize your website or blog and make some easy income, then joining a web hosting affiliate program is one of the best things you can possibly do. 
And with all of the different programs available for you, you should have no trouble finding the one that suits your needs the best. I'm glad I could share my knowledge on affiliate programs with you today, and I hope that now you'll be able to get started making some easy money on your own!
Here are few more products you can promote:
Learn affiliate marketing secrets. Click here to get started