The 3-step system I used to make 7-figures of Affiliate Commissions in my first 3 years as an affiliate marketer.
If you're a Christian and you like blogging about faith and faith practices, then consider partnering with a Christian affiliate marketing program.
Some Christian bloggers are already doing this as a full-time ministry, and they're earning crazy sums of money that support them and their families.
I really love the model because it allows you to teach, spread the word, and help people for free. You only make money when you refer them to a product.
That's why this is one of the best niche to target online if you really want to help people.
Here is a list of top Christian affiliate programs that can help you earn extra cash.
Want to know which affiliate marketing method works best for you? Answer the short quiz below:
Top Christian Affiliate Programs
1. SacredMedals
2. DaySpring
3. Fontanini Store
4. ChurchSource
5. Judaica
6. Mazaico
7.ChristianCafe.com
8. S&S Worldwide
9.Christian Strong
10.Nest Learning
11. MyCounselor.Online
1. SacredMedals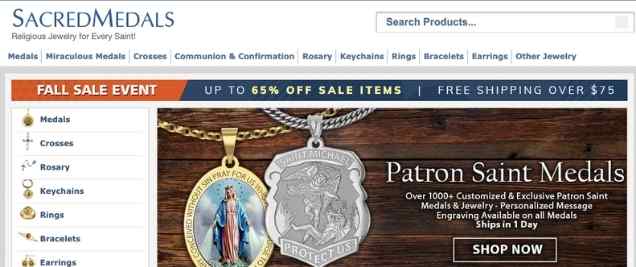 SacredMedals is a religious and spiritual store that creates quality religious jewelry, communion and confirmation jewelry, and patron saint medals.
Sometimes finding religious medals can be hard, but the ScaredMedals store makes it easier for Christian customers to find exactly what they're looking for in one place.
Their products come with a 30-day money-back guarantee. And since they manufacture their products, they can customize them to suit the needs of your customer.
They readily offer support in case of inquiries or concerns and have a social media presence.
Some of the products you'll market as their affiliate includes medals, crosses, rosaries, rings, key chains, earrings, bracelets, and others.
For each sale you refer, you'll receive a 5% commission. The only downside is that this Christian affiliate program offers you a 15-day cookie duration, which is quite short.
However, they offer customers an immense collection of products, so they can find what they're looking for regardless of their budget limit.  This will help you make more sales.
The program also provides you with monthly newsletters with creative banners, ads, text links, and updates.
URL: SacredMedals Affiliate Program
Cookie Duration: 15 Days
Commission: 5% per sale
2. DaySpring Affiliate Program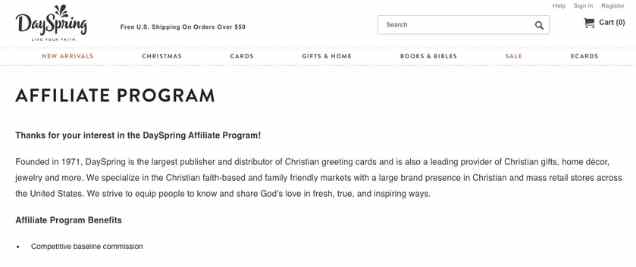 DaySpring was established with a single Christmas card printed in a small workshop in California in 1971. Today, it's the largest supplier of Christian greeting cards in North America.
The reception they received from that initial card sparked the development of the company. Over the years, they've supplied millions of products ranging from greeting cards, journaling bibles, occasion cards, E-cards, COVID-19 resources, and much more.
Besides Christian gifts, they sell jewelry, home décor, tableware, and clothing. Their delightful list of products will please your visitors.
Promoting products from this company is a wise idea not only because their products are amazing but also because the company will be around for the foreseeable future.
As their affiliate, you'll receive a 13% commission per sale.  DaySpring affiliate program runs on ShareASale, so you must apply for a ShareASale account first before applying for the DaySpring affiliate program.
The program gives you access to monthly newsletters with sales sneak peeks, offers, bonuses, incentives, and rewards (for top-performing affiliates).
URL: DaySpring Affiliate Program
Cookie Duration:  30 days
Commission: 13% per sale
3. Fontanini Store Affiliate Program
The Christmas season is closer than you think. Help your visitors secure finely crafted dioramas and figurines not only for Christmas but for any other religious holiday.
The figurines range from 3.5 inches to 70 inches tall. They're all handcrafted and hand-painted.
Also, they sell other hand-painted products, including crucifixes, glitter domes, nativity ornaments, etc.
You'll earn more by selling the upper-end products, but also the smaller sale will also earn you something worthwhile. Because of their large inventory, your audience will find something that suits their budget, with product prices ranging from $6 to $6000+.
If you promote Fontanini products, you'll earn a commission of 10% per sale. The company has an average order of $150, meaning you'll receive a $15 per typical sale.
URL: Fontanini Store Affiliate Program
Cookie Duration: 30 days
Commission: 10% per sale
4. ChurchSource Affiliate Program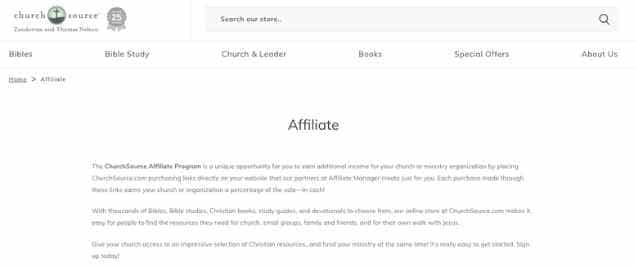 For years ChurchSource has been partnering with church leaders and authors. They're backed by two of the famous names in the Christian world, Zondervan and Thomas Nelson.
They come with a wide range of church resources, including books, DVDs, Bibles, Christian resources, guides, and others.
They stock products great for academics, pastors, church staff, and followers of Christ, including books from popular church leaders and Christian authors.
ChurchSource affiliates receive a 10% commission per sale.  The affiliate program runs on ShareASale, meaning affiliated can track their sales, commissions, and earnings.
They offer customers a 90-day money-back guarantee; therefore, your audience can shop risk-free. As an affiliate, you have access to banners, text links, and data feeds.
ChurchSource has an average order value of $100, so it's a worthwhile partnership program to join. Furthermore, its 60 days' cookie duration is generous compared to other Christian affiliate programs.
What even better, ChurchSource is well established with an enormous customer base. Payment is via check, direct deposit, and wire transfer.
URL: ChurchSource Affiliate Program
Cookie Duration: 60 Days
Commission Rate: 10%
5. Judaica Affiliate Program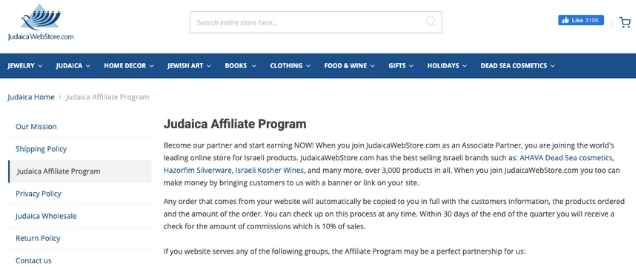 Judaica is unarguably the largest online store for Israeli products, including Hazorfim silverware, Dead Sea Cosmetics, Israeli Kosher, and others.  For decades, this store has served both the Jewish and Christian communities interested in holy land products.
If your website visitors are interested in Judaica or Israeli products, this is the store to sign up as an affiliate.  Through their affiliate program, you can bring a piece of the holy land to your prospective customers and help them improve their life.
With an inventory of over 20,000 products, you'll have the volume and variety you need to excel as an affiliate. You can market this company's products to Jewish families, Christian families, and even beauty salons.
Being part of the Judaica affiliate program means you'll receive a banner to display on your website.  It's among the top Christian affiliate programs since it provides its affiliates with great support, marketing tools, and even a personalized affiliate manager.
When you apply for the program, your application will get subject to a 2-3 days' review period, after which you'll receive access to their affiliate tools and resources.  You'll make a commission of 10% per referred sale.
Your application will get rejected if your website:
Promotes violence, defamatory or disparaging, illegal activities, and discrimination based on race, age, disability, or nationality
Contains little or no original contents and images considered obscene or sexually explicit
URL: Judaica Affiliate Program
Cookie Duration: 30 Days
Commission: 10% per sale referred
6. Mazaico Affiliate Program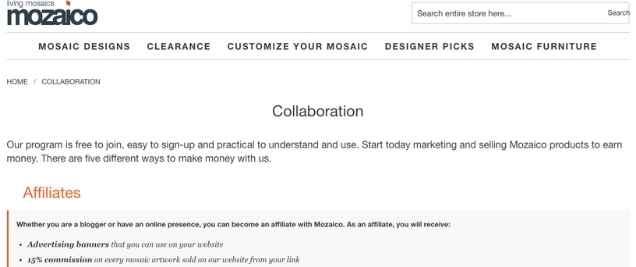 Mazaico sells a myriad of different religious-themed mosaics, including hand-crafted glass, marble, and tesserae.  These products are very authentic compared to what you would find in other stores, and they're well priced.
They're easy to install and come in different price ranges. Your visitors will enjoy these products since it's the best way to improve their homes without having to spend lots of money on designing and installing mosaics.
When you partner up with Mozaico, you'll receive a commission of 15% for every product sold via your website using your affiliate link.  Their program also provides you're with affiliate tools, support, and advertising banners.
Besides being their online affiliate, you can also promote their mosaics as an international entrepreneur, onsite designer, dealer, and as a direct online associate. You'll receive your payment at the end of the month via PayPal.
Mozaico product comes with a lifetime warranty; hence your visitors can shop with peace of mind.
URL: Mozaico Affiliate Program
Cookie Duration: 90 days
Commission: 15% per sale
7. ChristianCafe.com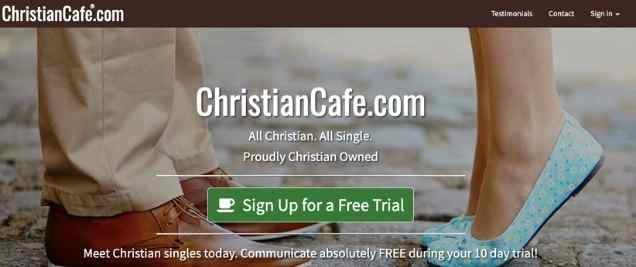 ChristianCafe is a Christian owned and operated dating site that has matched single Christians from 1999.  Over 25,000 couples are married today, all thanks to this amazing website.
ChristianCafe will help your visitors communicate with other Christian members.  It features a 10-day trial period, which allows members to enjoy the service for free.
During this period, members will read and post discussions on the forum, email other members, and converse using instant messaging for free.
It's among the best Christian affiliate programs because it offers affiliates a commission of 40% per sale and a 120-day cookie duration.
Just like many Christian partnership programs we've mentioned in this list, the ChristianCafe partnership program is managed by ShareASale.
The programs offer you banners, creative ads, and text links to monetize your website and increase your earnings.
URL: ChristianCafe Affiliate Program
Cookie Duration: 120 days
Commission Rate: 40% per sale
8. S&S Worldwide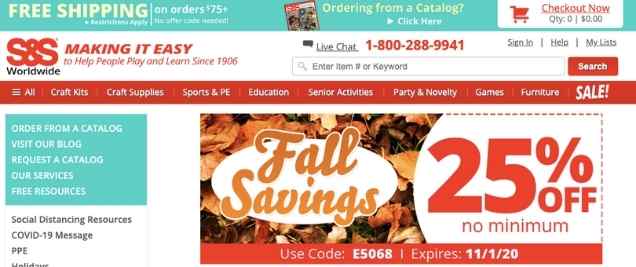 S&S Worldwide is the granddaddy of businesses. This family-owned has been meeting the needs of people since 1906. It has weathered World War I, World War II, the Cold War, and several recessions.
Today, it supplies schools, families, and kids with learning materials, sports equipment, art and craft supplies, and more.
Their wide inventory of products also comprises a dedicated Christian section where your visitors can find anything they're looking for.  There are over 10,000 different products you can work with.
They feature a commission rate of 7% and an average order value of $120. This means you receive nearly $8.54 per sale and about $178 for every 100 qualified sales you refer to the site.
However, you might not be pleased with their 14-day cookie. Thankfully, top-performing affiliates stand a chance of negotiating with the affiliate manager about this issue.
URL: S&S Worldwide Affiliate Program
Cookie Duration: 14 days
Commission Rate: 7%
9. Christian Strong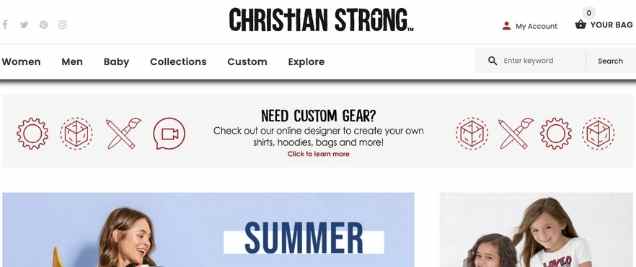 Christian Strong is a family-owned business that started with the goal of spreading the word of God through style and fashion.
This North Carolina business meets the need of customers within a short period, usually within 24 hours.
Some of their clothing products include:
Men: T-shirts, Hoodies, V-Neck T-shirts
Women and junior sizing: T-shirts, Hoodies, Tank Tops
Baby:  Toddler Ts, Baby Dresses, Onesies
Collection: Patriotic, Seasonal items, Pop Culture
Custom:  Church & Ministry, Customer preference
By promoting this company's products, you stand a chance of receiving 10% for every qualified sale. Your prospective customers will surely love Christian Strong T-shirts since it's their best-selling product.
Christian Strong has an average order of $400, and you don't have to pay anything to join their affiliate program. All you need is a website so you can place their ads.
Their affiliate program provides affiliates with professionally designed banners, ads, monthly newsletters with updates, and text links.
URL: Christian Strong Affiliate Program
Cookie Duration: 30 days
Commission Rate: 10%
10. Nest Learning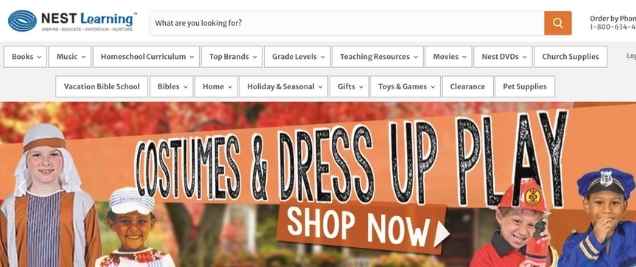 For over 20 years, Nest Learning has been a one-stop-shop for customers who desire Christian products and accessories.
Their initial product was the world's finest collection of 36 animates stories from both the Old Testament and the New Testament.
Today, their product line includes comprehensive award-winning products and accessories endorsed by both pastors, teachers, parents, and Christian celebrities like Max Lucado and Debby Boone.
Nest Learning products include Christian books, Christian music, Cards and gifts, games, movies, and bible school supplies. They also have non-Christian products, including home décor, pet supplies, and pet toys.
Nest Learning provides its affiliates with lots of support. The affiliates receive a dedicated affiliate manager to help them monetize their website to increase the conversion of leads into customers.
They have access to over 14,000 products to offer their customers. Also, they receive frequent incentives, banners, and text links.
URL: Nest Learning Affiliate Program
Cookie Duration: 30 Days
Commission: 11-15% per sale
12. MyCounselor.Online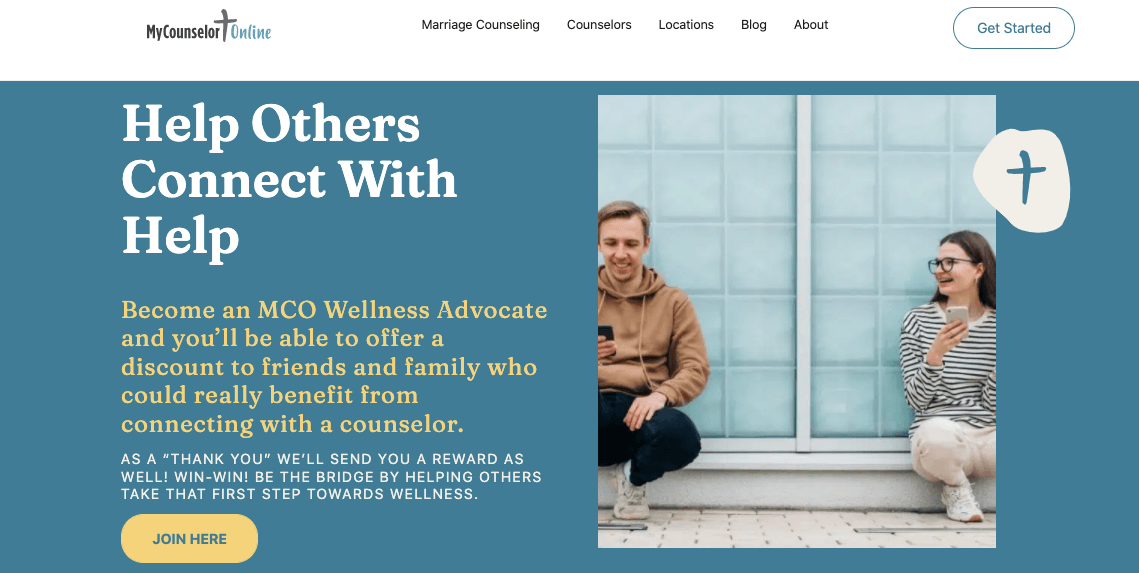 MyCounselor.Online offers Professional Christian Counseling, available worldwide through online video therapy, that is both biblically based and clinically informed. Our counselors love Jesus, know the Bible, and are trained in the very best, evidence-based counseling practices. They have Christian Therapists who specialize in anxiety, depression, trauma, marriage, family, infidelity, addiction, sex therapy, and more!
MCO Wellness Influencers can help connect their audiences with Christ centered and neuroscience informed Christian counseling, that is available worldwide online. They are able to offer a discount to their followers to start counseling, and also earn commission each time that one of their followers begins counseling.
If you want to give it a try for yourself before promoting, influencers with a qualified audience can receive 5 free counseling sessions with one of their Advanced Practice therapists, no strings attached.
URL: MyCounselor.Online
Cookie Duration: n/a
Commission: n/a
Conclusion
Christian Affiliate Marketing programs are worth it. The US alone has over 75% of Christians who're willing to spend money on their faith.
That's why It's no surprise that most Christian bloggers make tons of money by promoting Christian themed products and accessories.
Don't let the saying money is the root of evil prevents you from doing something positive for yourself. Furthermore, the bible says the love of money is the root of evil.
This means you can use the money to support your family as well as running a successful affiliate marketing business.
With that said, we hope you're now in a better position to select the right Christian affiliate program that will meet your customers' needs and your financial needs.
Looking for high ticket affiliate programs? Check out my video below:
Learn affiliate marketing secrets. Click here to get started.