The 3-step system I used to make 7-figures of Affiliate Commissions in my first 3 years as an affiliate marketer.
Looking to earn some big commissions from golf affiliate programs?
Golf ranks as the 8th most popular sport across the world and the value of the global market for golf apparel and equipment stand at over $12 billion.
When it comes to golfing, there is an extensive range of products and services that you can market on your golfing blog.
Plus let's just face it. Golfers have money.
Lots of money typically.
 In this article, I've compiled some of the best, high-paying golf affiliate programs to help you earn extra money.
Want to know which affiliate marketing method works best for you? Answer the short quiz below:
Best Golf Affiliate Programs
1.American Golf Affiliate Program
2.Golf Outlets USA
3.Callaway Golf Affiliate Program
4.Austad's Golf Affiliate Program
5.Fairway Golf
6.Global Golf Affiliate Program
7. Golf18Network
8.Rain or Shine Golf
9.The Golf Warehouse
1. American Golf Affiliate Program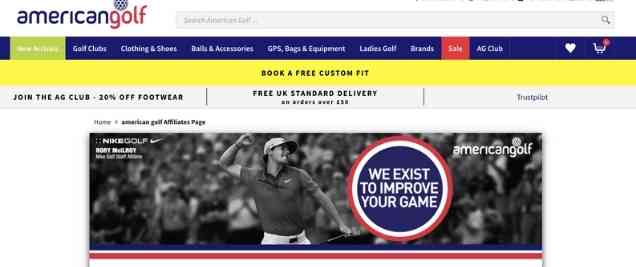 American Golf is one of the most popular and sought-after golf retailers in the United States and Europe, and it has a sizable market share of the global golf industry.
This iconic brand has a dynamic legacy, and it has carved a prestigious reputation for quality and excellence.
It sells a wide range of golfing products for men and women, including golf equipment, clubs, bags, accessories, apparel, shoes, etc.
Its collections are focused on premium quality products that maximize comfort and accuracy for avid golfers. The American Golf affiliate program offers an exclusive range of products that can be marketed to boost your website traffic.
The program provides a 3% commission for each sale with a 30-day affiliate cookie tracking period, which is substantial to obtain higher ROIs for your creativity and marketing efforts.
The program offers marketers creative banners, and high-converting digital add-ons incorporated into your website to enhance readability and infuse your content with immersive graphics.
This one of the most popular golf affiliate programs and it offers marketers the opportunity to land amazing deals, and recently updated product feeds.
With this affiliate program, you get the chance to market high-end sports brands, such as Nike Golf, Wilson Staff, Calaway, and Titleist, amongst others. The product and brand selection can add immense diversity to your website and marketing portfolio.
URL: American Golf Affiliate Program
Commission Rate: 3%
Cookie Duration: 30-day
2. Golf Outlets USA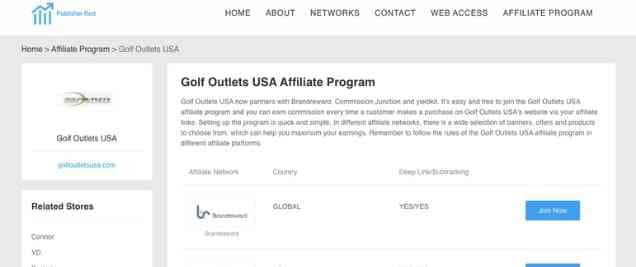 One of the highest-paying affiliate programs out there, Golf Outlets USA, offers a fabulous 10% commission rate with a 30-day cookie tracking period. The commission rate is comparatively higher, and the cookie tracking period allows affiliates to reap sizable ROIs for their advertising initiatives.
That's not all. Golf Outlets USA offers amazingly low prices and discounts on its golf equipment and products, which allows you to cement loyalty across your audience by introducing them to affordable and quality bargains.
This brand is the most affordable online vendor for premium quality golf equipment. It commands an extremely loyal consumer audience. This provides marketers, especially beginners, with an affiliate opportunity that is bound to offer high returns.
The conversion ratio is always in their favor, for their prices are genuinely unmatched in the global industry. In simpler words, your creative marketing efforts will never go unrewarded with the Golf Outlets USA affiliate program.
You can bank a 10% commission on each sale, and the brand will provide the links that you have to incorporate into your content.
You can sign up for this affiliate program through Affiliate Future or Commission Junction. If you're looking for a brand that offers a lucrative commission rate and fantastic discount prices and commands a loyal consumer audience, this is your best bet.
URL: Golf Outlets USA
Commission Rate: 10%
Cookie Duration: 30-day
3. Callaway Golf Affiliate Program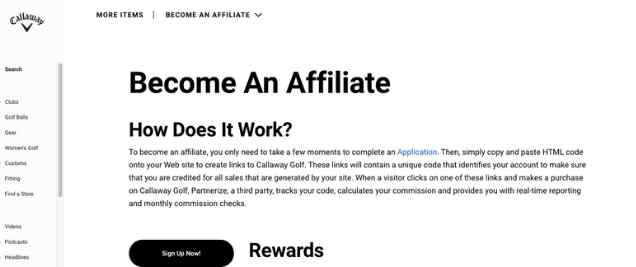 One of the leading golf affiliate programs to market premium quality products and bank higher ROIs, the Callaway Golf affiliate program is a very lucrative opportunity.
It is an iconic brand to buffer up your affiliate marketing portfolio. You can utilize their product selection to introduce your readers to the finest quality golf equipment and accessories.
In order to join this program, you will be required to submit your application through Parternize.com. Then, you have to upload an HTML code to your website to track all your sales and effectively adjust your commissions for each sale.
The Calaway Golf affiliate program relies on third-party tracking systems to analyze your advertising efforts, website traffic, and affiliate success.
The commission rates vary for certain products but typically range between 6 to 9%, with a 45-day cookie tracking period, which allows substantial time to make higher returns on your advertising efforts.
URL: Callaway Golf Affiliate Program
Commission Rate: 6 to 9%
Cookie Duration: 45-day
4. Austad's Golf Affiliate Program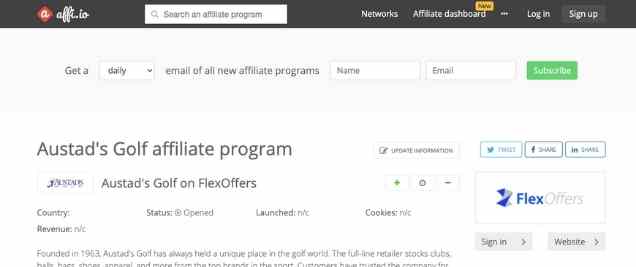 An iconic and prestigious brand in the global golf industry, Austad's has enjoyed immense fame in its 60-years of existence.
This brand is famous for its premium quality golfing tools and products, and its dedicated customer support service. The products include golf clubs, apparel, equipment, golf balls, bags, and other accessories.
Austad's golf affiliate program is a lucrative opportunity to work with a world-renowned brand and sell top-class golf products. The program offers a 7.5% commission on most of its products, while affiliates can also bank 9% commissions if their sales exceed $5000.
Selling products worth more than $5000 won't be as challenging as you might think, for this high-end golfing brand has a flourishing demand across the world.
Details of the program reveal that the average order value at Austad stands at $145. The 60-day cookie tracking period gives you plenty of time to convert your readers into buyers.
URL: Austad's Golf Affiliate Program
Commission Rate: 9%
Cookie Duration: 60-day
5. Fairway Golf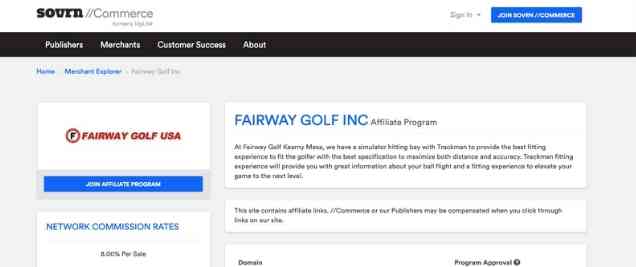 A high-end Californian golf store, Fairway Golf has gained immense popularity for its exciting range of products. It attracts golfing enthusiasts with its premium range of golf training tools, golf clubs, balls, apparel, bags, accessories, and much more.
The product range is quite extensive, and each product is a marvel in terms of quality and design. This is indeed one of the most enjoyable golf affiliate programs for creatives who run well-reputed golf websites and seek quality over quantity.
The commission rates are highly lucrative, ranging between 4 to 10%, depending on your performance as an affiliate. This affiliate program is quite distinctive and more lucrative than most other golf affiliate programs listed in this guide.
You see, during the first 60 days of your affiliate partnership with Fairway Golf, you make a 10% commission on every product sold through your advertising efforts. More amazingly, for every sale that exceeds $200, you bank a $5 bonus!
Fairway Golf offers more than 25,000 products. The 60-day cookie tracking period allows increased conversions and, therefore, higher returns for your creative efforts. You can sign up for this affiliate program via ShareASale.
URL: Fairway Golf
Commission Rate: 10%
Cookie Duration: 60-day
6. Global Golf Affiliate Program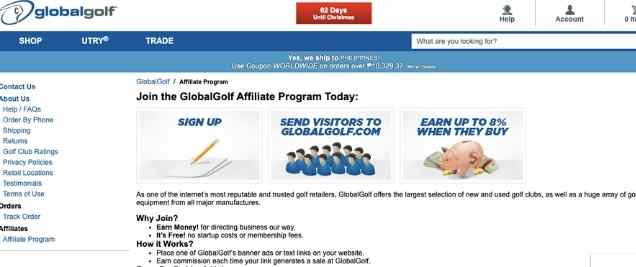 Global golf, much as the name applies, commands a global consumer audience. It is a one-stop online platform that offers everything a golfer could possibly need and more.
The product selection is endlessly extensive, ranging from training tools and golfing equipment such as balls and clubs to high-end apparel, bags, shoes, and other accessories.
The best part is, Global Golf offers incredibly affordable prices, which has allowed the brand to build solid brand loyalty across its consumer audience. It is one of the most viable golf affiliate programs for beginners who seek ease, higher returns, and greater success rates.
With this affiliate program, you can offer your readers an endless variety of attractive and affordable golfing products and effectively boost your website traffic. This program does not require any sign-up or hidden expenses; you simply need to submit an online application after registering at LinkConnector.
Once your application is approved, you will be provided with graphic banners and affiliate links to post on your website. Then, you can start your journey towards facilitating sales and banking commissions.
The commission rate is 8% for each sale and the 30-day cookie tracking period is substantial enough to reap significant returns.
Global golf offers dedicated support and a courteous team that will help you devise efficient strategies and effectively plan your advertising campaigns.
URL: Global Golf Affiliate Program
Commission Rate: 8%
Cookie Duration: 30-day
7. Golf18Network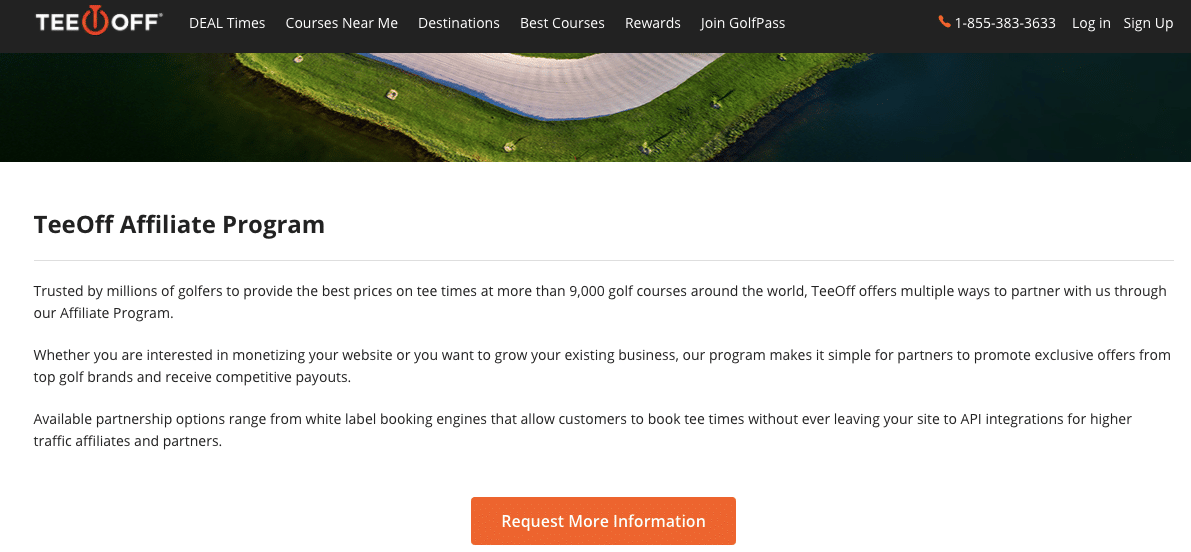 In recent years, virtual golf courses and even simulative experiences have risen in popularity across the world. This is primarily because golf is a lavish outdoor sport that requires an expansive setting and a well-manicured golf course.
This is not a game that you can play at home, and even the most avid golfer doesn't always have the time to drive to a golf course and indulge in his/her passion.
Brands like Golf18Network have an attractive solution for people who want to learn golf but don't find the time to do so. It offers players and enthusiasts the convenience of booking courses at home to perfect their golfing skills.
Typically, golfers are placed on extensive waiting lists when they attempt to sign up at their favorite course. It is very unusual to find a spot instantly at a new golf course.
Golf18Network allows golfers to find the right course by adding the course details, city name, or postal code.
Their in-house golf affiliate program allows you to bank a 6% commission for every booking made through your advertising efforts. It offers a 21-day cookie tracking period, and you have to promote their website instead of products.
To sign up for the program, you will have to submit an application and wait for approval. Once approved, you can start advertising their website right away.
URL: Golf18Network
Commission Rate: 6%
Cookie Duration: 21-day
8. Rain or Shine Golf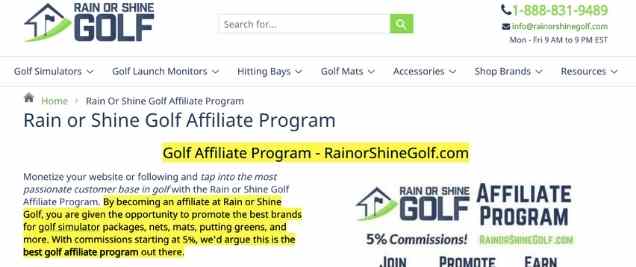 A popular online and indoor golf store, Rain or Shine Golf ranks amongst the most lucrative golf affiliate programs with opportunities to bank 5-10% commissions on each sale.
With a cookie tracking period of 30 days, this program offers an extensive selection of appealing products and higher ROIs for your creative efforts.
A leading golf store that offers online and in-store shopping, this brand offers an unrivaled selection of products, which includes golf simulators, golf nets, indoor putting greens, hitting mats, and much more.
Rain or Shine Golf enjoys strategic collaborations and retail relations with some of the leading golf brands in the industry, which allows it to provide the lowest prices in the market.
The brand stands behind its quality and low prices. Its loyal consumer audience allows affiliate marketers to tap into higher ROIs and consistent earnings. It is an excellent opportunity for beginners and seasoned affiliates.
The payments can be retrieved on the 1st of each month, provided you take out a minimum amount of $20.
URL: Rain or Shine Golf
Commission Rate: 5-10%
Cookie Duration: 30 days
9. The Golf Warehouse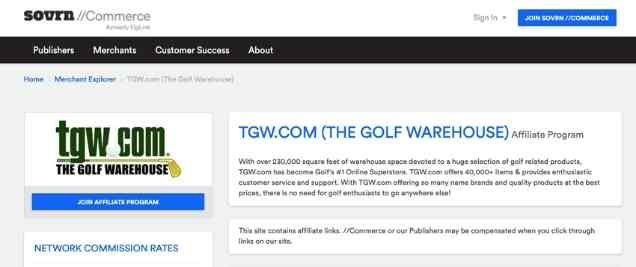 Immensely popular amongst golfing enthusiasts, The Golf Warehouse is a one-stop-shop for everything golfing enthusiasts could possibly desire. It offers one of the most attractive collections with over 40,000 product varieties.
Bloggers, YouTubers, and marketers can work with a wide variety to avoid monotony and enjoy their creativity without any compulsions.
You can market golf accessories and tools, electronic equipment, apparel, shoes, kits, and accessories. Customers have the opportunity to trade-in and enjoy the best-discounted deals on the market.
This golf affiliate program offers marketers a 6% commission on each sale made through their website. The cooking tracking period lasts for 30 days, which gives marketers substantial time to get creative, attract their readers, and encourage them to make purchases.
You can register for this program through Commission Junction.
URL: The Golf Warehouse
Commission Rate: 6%
Cookie Duration: 30 days
Conclusion
Choosing the right affiliate program from an exhaustive variety of high-paying golf affiliate programs can be overwhelming and stressful. It is ideal for conducting your research thoroughly and learning as much as you can about each program.
Consider reaching out to the affiliate marketing communities through Facebook groups to gain reviews so you can understand the practical pros and cons of each program.
Looking for high ticket affiliate programs? Check out my video below:
Learn affiliate marketing secrets. Click here to get started.