The 3-step system I used to make 7-figures of Affiliate Commissions in my first 3 years as an affiliate marketer.
If you have a blog or website concerned with general home improvements or specifically with home security, affiliate programs could be an excellent way for you to earn some killer recurring commissions.
Home security has become of the most crucial features for a house to have. Most people pay a significant amount for these systems.
So if you want to give home security affiliate programs a shot, then I've listed down the best ones in this article to help you earn the most amount of money while providing the most value!
Want to know which affiliate marketing method works best for you? Answer the short quiz below:
Home Security Affiliate Programs
1. Guardline Security Affiliate Program
2. Frontpoint Security System
3. Zmodo Affiliate Program
4. Armor Concepts
5. Revo Alarm & Security Affiliate Program
6. SmartHome Affiliate Program
1. Guardline Security Affiliate Program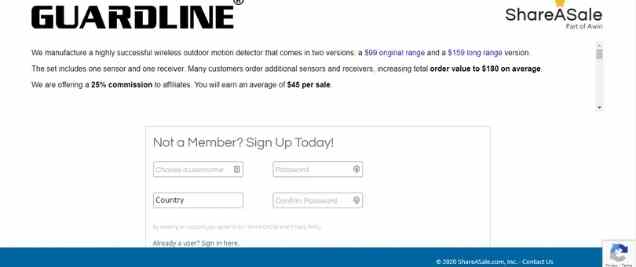 Guardline is one of the best home security companies in the market and offers excellent opportunities to its affiliate marketers. The company started promoting their movement alert security systems all the way back in 2001.
However, they have been manufacturing and selling their own range of motion-sensing wireless security systems since 2011! A good security system is bound to provide homeowners with numerous layers of protection and caution.
Guardline's sensitive motion detection products can help you figure out details. These include things such as when and if someone has opened your gate, entered your property without permission, or is in your driveway.
Its instant alerts give you ample time to decide what your next move should be to secure your house, including calling the cops. These activity sensing systems have impressive performance, and the company is not shy to admit so.
This is why they're paying their affiliate marketers large sums of money to get the word out and attract more customers.
The company advertises its products as "clever home" security units and includes motion sensing and CCTV camera-based security systems. As can be seen, Guardline Security is an excellent company to promote even on its own.
But what makes the company especially attractive for affiliate marketers are their brilliant home security affiliate programs. The company lets you make around 25% for every sale that you have completed!
This roughly translates to around $28 per customer that you have referred to. These rates are some of the highest in the market.
For this reason, Guardline Security is at the top of our list for the companies with the best home security affiliate programs.
URL: Guardline Security Affiliate Program
Tracking Cookie: 30 days
Commission Rate: 25%
2. Frontpoint Security System
The Frontpoint is another well-established home security system company that entered the market in 2007. The company was founded by the top guns of the home security system industry, namely Aaron Shumaker, Peter Rogers, and Chris Villar.
Ever since its inception, Frontpoint has swiftly gained fame for being one of the best security system companies in the market. The company prides itself on providing reliable and top quality home security solutions.
All the owners of the company have differing yet impressive competencies and backgrounds. Their main aim is to keep improving and providing newer and better products for their customers.
In this regard, the products they offer are all made with new technology that gives residence owners complete control over their house's security. Their products understand the house's layout and alert users immediately in case of break-ins or movement.
Not only do Frontpoint's products offer excellent security, but they are also easy to install and use, and are priced reasonably! Frontpoint lays down a lot of importance on making affordable and good quality products.
This company is one of the few home security firms that boasts a 5-star rating, so you know that it is worth promoting. Coming to the company's affiliate programs, it offers some of the best rates in the market.
Affiliates can earn a minimum of $300 in compensation per activation! This is why the Frontpoint home security system affiliate program is one of the most popular ones currently on the market.
The reason I love this is that it they charge their customers recurring charges, but they pay you your entire fee up front.
URL: Frontpoint Security System Affiliate Program
Tracking Cookie: n/a
Commission Rate: $300
3. Zmodo Affiliate Program
Zmodo started out with a small security system production factory in Shenzhen in 2011. The company's products were received well by the market, and they have since experienced steady and fast-paced growth in the industry.
In addition to its factory in Shenzhen, Zmodo now also has a sales office that is based in California. It also has a technical support center in Champaign, Illinois.
The company is well known for its innovative products and home security solutions. In fact, Zmodo has also received numerous awards for business excellence and innovation for its brilliant products and services.
Some of their most noteworthy products include their indoor/outdoor security system cameras such as the Sight 180 indoor, Sight 180 outdoor, and Snap PT security cameras.
They also have a vast range of 'Greet' video doorbell systems that are affordably priced at below $100.
However, an interesting thing to note here is that although Zmodo's product range is priced quite reasonably, most of their orders are for over $500!
This means that customers are so impressed by the company that they often purchase entire security systems or numerous individual residence safety systems.
As can be seen, the company has already paved its path to success. It has cemented itself as one of the fastest-growing, most reliable companies in the industry.
Zmodo already has a good client base. However, they're always on the lookout for new and effective ways to market themselves.
Their commission rate is around 5% for each sale, and their earning per click is approximately $35.77. The only downside is that their cookie period is a measly 7-days.
Although this is relatively less, affiliate marketers can use their promotion skills and the brand's popularity to their advantage to gain a hefty commission!
URL: Zmodo Affiliate Program
Tracking Cookie: 7 days
Commission Rate: 5%
4. Armor Concepts
Armor Concepts is indeed one of the largest international home security systems companies in the industry. The brand has installed its patented window and door security systems in over 3000 homes and apartments across the USA and Canada.
Armor Concepts has a wide range of products and offers a variety of security solutions. Regardless of a customer's budget, security needs, and skill levels, there is something in the company's catalog for everyone.
What's more, their proven and high-quality products are backed with a lifetime warranty! Not many security companies can claim to have this kind of confidence in their products.
However, looking at the range and quality of products, I am definitely not surprised.
The company has an excellent program in place at Commission Junction that affiliate marketers can sign up through. Their plans are quite popular with online affiliate marketers because of their high earnings per click.
An average order at Armor Concepts usually amounts to about $229. Still, total sales have also been known to be as high as $3000.
Affiliate marketers who can get customers to buy products above $3000 can enjoy higher commission rates of around 22%-30%.
Their program also has a good overall cookie life. Besides this, affiliate marketers have unlimited access to text links, updates banners, and product feed!
Armor concepts continuously provide its affiliates and customers with great deals, coupons, and incentives to help boost sales as well.
URL: Armor Concepts Affiliate Program
Tracking Cookie: 120 days
Commission Rate: 22%-30%
5. Revo Alarm & Security Affiliate Program
Revo America is one of the most popular brands for security systems. The company's products can be found in numerous homes and establishments such as banks, airports, and even casinos.
Revo America lives up to its promise by providing customers with professional, high-grade security systems at reasonable prices. The best part is that you can watch over your home from anywhere in the world with their one of a kind 'EZLink' software.
This software can be installed on your smartphone or computer and allows users to monitor their homes 24/7.
Their products are easy to use, easy to install, affordable, and, most importantly, reliable! Customers also enjoy free shipping of their products, a 90 day return period, and even a 2-years warranty!
This just goes to show how well established the company is! Another measure of success is their average order size, which can amount up to an impressive $755.79.
This is also great news for affiliate marketers associated with the company, as it means that they can earn a hefty revenue.
Even Though their commission is about 5%, their earnings per click are not too bad and come to around $45.42. The company also provides its affiliates with an extended cookie life of approximately 60 days.
URL: Revo Alarm & Security Affiliate Program
Tracking Cookie: 60 days
Commission Rate: 5%
6. SmartHome Affiliate Program
Smarthome provides its customers with a lot more than just security cameras. The company is focused on finding complete security solutions for your home.
For this reason, SmartHome produces a whole range of smart devices for your home that includes security systems, home entertainment, and event lighting.
Their products are relatively easy to use and don't require any prior technical knowledge for installation. SmartHome has been in business since 1992.
They were already up and running when most other home security companies that you see today were just starting out.
Their security products include motion sensors, cameras, automated lighting, alarm systems, door locks, and even doorbell video systems.
SmartHome's affiliate program offers a commission of around 4%, which isn't too high at first glance, but fairs decently well considering the average order value, which is about $220.
There are around 13000 different products that you can promote as an affiliate marketer and generate ample sales to earn a hefty income.
Besides this, top performers in their affiliate programs are rewarded with higher commissions as well. The program's earnings per click are around $22.45, and it has a decent cookie life of about 30 days.
URL: SmartHome Affiliate Program
Tracking Cookie: 30 days
Commission Rate: 4%
Conclusion
People all over the world spend a large chunk of their income trying to secure their homes from break-ins and theft. However, the best way to protect your house is through a good quality home security system.
There are numerous home security systems in the market currently, and choosing the perfect one might be more difficult than one expects. This is where affiliate marketing steps in.
By promoting a home security system company through their affiliate programs, affiliate marketers can earn a hefty commission from the comfort of their homes!
This is incredibly easy to do if you have a blog based on home security or home improvements in general.
I've included some of the best and most profitable programs on my list, but there are numerous other ones you can check out as well.
Choose one that suits your blog or online platform more so that marketing and promotion are seamless, and you can attract more customers.
Looking for high ticket affiliate programs? Check out my video below:
Learn affiliate marketing secrets. Click here to get started.