The 3-step system I used to make 7-figures of Affiliate Commissions in my first 3 years as an affiliate marketer.
If you are looking to make money, then dating affiliate programs might be just what you need.
The relationship space is one of the most lucrative and fast-growing niches on the internet, and it's also less competitive.
The global online dating market has made $1,754 million in revenue within the first two quarters of 2020. The dating app market alone reached a global worth of $3 billion by 2018.
Help people find love and become masters at dating, and get paid in return.  Win. Win.
Let's look at the best programs in the dating niche that you can start promoting.
Want to know which affiliate marketing method works best for you? Answer the short quiz below:
The Top Dating Affiliate Programs To Promote
1. Insparx Affiliates
2. Love Revenue
3. CupidMedia
4. David Wygant's Affiliate Program
1. Insparx Affiliate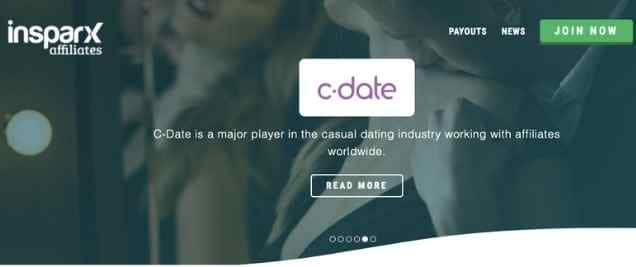 Insparx affiliates is a huge network that has several websites under their name. The company has developed an affiliate network that specifically targets the dating niche – creating multiple opportunities for you to promote.
The Insparx Affiliates Dating platform has multiple offers that you can choose to promote. Signup on the platform is quick and easy, and you get fast and friendly support following your registration.
The platform gives you access to a wide range of marketing tools and resources. This includes tools that help you attract more traffic to your landing pages.
You also get a full reporting system that helps you see the clicks and conversions that come from your affiliate marketing websites.
Commission rates for programs offered on the Insparx Affiliates platform are quite high compared to alternative options. The platform also targets a global audience – which means you can promote these offers to anyone, regardless of where they live.
Payments are processed through the Paxum payment gateway. The platform also gives you an option to receive direct payments to your local bank account – but support for this limited to selected countries only.
With Insparx Affiliates, you do get access to offers that target desktop and mobile users. Some offer to target both, while others are more specific.
This is great if you find that the majority of your audience comes from a mobile device, for example. There are three payment models available on the platform.
You can choose between the following:
Pay per order
Pay per lead
Revshare
With the Revshare model, you can get paid up to 100% of the first-order value that your referral makes. Some pay per lead offers gives you cash in your account even if the referral does not sign up for a paid account.
The branded dating platforms that form part of Insparx Affiliates include:
Singles50 – aimed at people over the age of 40
Academic singles – aimed at professionals older than 30
Be2 – scientific calculation to make matches
C-date – aimed at those who are looking for erotic encounters
New Honey – aimed at open-minded individuals older than 18
URL: Insparx Affiliate
Commission Rate: 250€ per Order
Cookie Duration: n/a
2. Love Revenue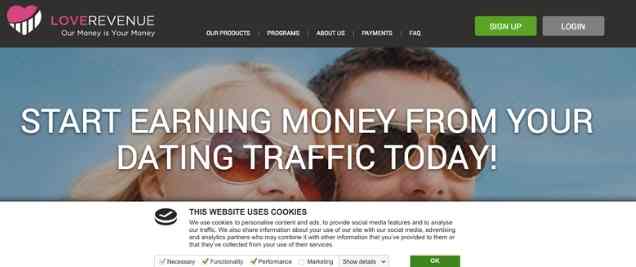 Love Revenue is another complete network of dating affiliate programs that give you maximum versatility when promoting offers in this niche.
The company works with several dating platforms to ensure there are multiple options to choose from – which also creates an opportunity for you to find a program that fits in with the niche your website or landing pages are targeting.
With Love Revenue, you get to promote content that is tailored for either desktop or mobile users. The mobile offers are compatible with iOS and Android devices, giving you access to an audience of millions.
One thing that makes Love Revenue so unique is the fact that it was built by a team of professional affiliates. This means careful planning and development went into the production of this system – as it focuses on increasing your chances of gaining more revenue.
The network of dating sites that are part of the Love Revenue system has over five million registered profiles, with a 12% monthly growth in revenue.
The dating sites on this platform are available in a variety of languages too, which means you have an opportunity to promote dating programs to different audiences.
There are three payout options available for commissions earned through the Love Revenue affiliate network. This includes a payout to PayPal or Paxum.
A variety of commission models are available when promoting dating offers from this network. You can choose between an initial commission per sale, or rather to be paid for every lead you refer.
There is also a revshare option available, which pays you up to 80% recurring commissions.
Some of the brands that are part of the Love Revenue network include:
RichMeetBeautiful
NextLove
Victoria Milan
URL: Love Revenue
Commission Rate: €70
Cookie Duration: 30 Days
3. CupidMedia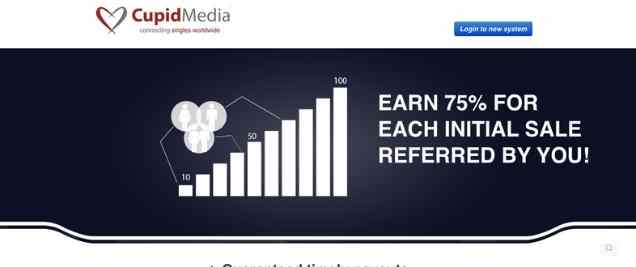 CupidMedia is the network company that owns Cupid.com – a platform that has become one of the most popular dating sites in the world. This is a legit option with a trustworthy record.
Cupid is the go-to dating platform for millions of people and provides an advanced matching system that has been highly rated among us.
The affiliate program gives you an opportunity to promote this platform to your audience – get people to sign up and get matched, while you get paid in the process.
Cupid.com is also not the only dating site operated by CupidMedia. The network has launched other dating platforms in recent years, all of which have also generated a lot of interest among people who are looking to find love online.
The affiliate programs offered by CupidMedia is available to marketers in these countries:
Latin America
Asia
Australia
Europe
Canada
USA
Africa
When you sign up to CupidMedia's affiliate network, you get access to promote all of the sites that form part of its platform.
There are no thresholds on commissions earned through CupidMedia, which is a major advantage if you are still new to the affiliate marketing game. Whether you only get to $10 for the month in commissions or earn $2,000 – you will still get your monthly payout.
With CupidMedia's affiliate programs, you can choose options that let you get paid for free signups. The commission per free registration goes up to $15.
Additionally, there are revenue share commission models that pay as much as 90% of the sale value. This accounts for offers where you promote paid memberships.
URL: CupidMedia
Commission Rate: 75%
Cookie Duration: n/a
4. David Wygant's Affiliate Program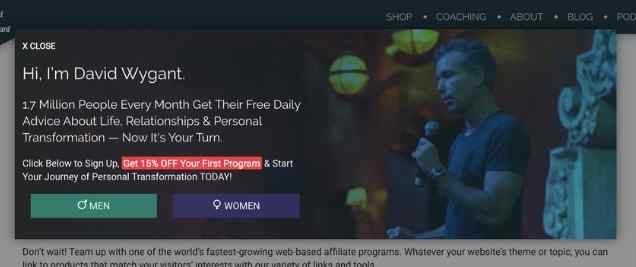 Not every person who lands on your funnel pages or website might be looking to get matched with a date right away.
Some people are too afraid to go on a date – what if they screw up? Or what if they do not know what to wear or what to say? There are many fears that can go through a person's mind when they are about to go on a big date.
This is why you should focus on promoting more than just dating platforms – and that should include offers that give your audience access to real, honest, and effective dating tips.
David Wygant has become somewhat of a dating celebrity. He is an expert in the field and has done extensive research over the past years. His program gets about 1.7 million visits every month – yes, he's huge in this industry.
Through his many years of experience, David has compiled programs that take his advice and compiles it into a collection of tips. He has multiple programs to choose from.
Many of the books and programs offered by David Wygant are affordable, making them more accessible to your audience. Of course, if you are looking for those big-ticket offers, there are consulting services that come with a higher price tag – and, of course, bigger commissions for you.
You can choose which programs you want to promote. This is an excellent opportunity to promote dating advice to your audience before pushing for registration on a dating platform.
You get paid a 50% commission on the sale value for every referral that comes through your affiliate link. This is quite generous, especially considering the higher prices of the consulting services offered by David Wygant.
There is a 30-day cookie length added to the affiliate links you get. This ensures sales are captured even if the person you refer, does not complete their purchase immediately. It helps to increase your conversions over time.
The platform gives you access to interviews, banners, videos, and several other programs that you can use to promote the program.
URL: David Wygant's Affiliate Program
Commission Rate: 50%
Cookie Duration:30 Days
What Type Of Dating Affiliate Programs Can You Promote?
The dating industry is big – and does not only consist of dating platforms. Many people think that promoting dating affiliate programs mean they have to send people to an app to download, which will match them to a potential partner.
Sure, this type of program exists and can pay you big money for paid referrals you send to the platform. You should, however, not limit your selection to dating platforms and apps.
There are other types of affiliate programs in this industry that can help you increase your earnings significantly.
Below is an overview of the dating affiliate program types that you might want to take a look at:
| Dating Platforms | These are the common types of programs where you refer people to a dating site. Sometimes, you are paid when the referral installs the dating app. In some cases, you get paid for every free signup. Some dating platforms only pays you when a referral subscribes to a premium plan. Commission structures vary between programs. When paid per free signup or app install, the commission will usually be low. |
| --- | --- |
| Dating Advice | These are programs and digital platforms that tell people how they can be better at dating. The programs are often written by experts on the topic of dating. They may provide tips on how the person can be more "date friendly," what type of conversions to have with their date, and what to wear. |
| --- | --- |
| Self Improvement | Improving on oneself can hold the secret to being better at dating. With this in mind, promoting self-improvement programs can be a great way to earn more through your dating website. These programs help people get to know themselves better and improve their spiritual well-being. There are some self-improvement programs that specifically focus on a dating point of view. |
| --- | --- |
There surely is not a lack of affiliate programs in the dating industry. When you decide to set up a blog or funnel that targets this industry, you have a diverse selection of offers, programs, and even networks to choose from.
Some dating affiliate programs are better than others, but when you are faced with such a significant variety to choose from, the choice becomes much harder.
Choose the wrong programs to promote, and you may be faced with a low conversion rate, and an ad spend that is higher than your earnings.
This is something you want to avoid at all costs. 
While the design and layout of your funnels, landing pages, and your blog affect click-through rates, the design of the affiliate program's landing page also affects the conversion rate.
After thorough research and a lot of testing, we are presenting you with the top dating affiliate program options that you are able to promote on your website.
Looking for high ticket affiliate programs? Check out my video below:
Conclusion
People are looking to find love online – and you can take advantage of this opportunity. Dating affiliate programs are becoming extremely popular.
Help people find matches by promoting dating apps or give them the advice they need to have the perfect date through the promotion of online programs.
Learn affiliate marketing secrets. Click here to get started.