3 Ways To Make Money Online
If you have a decent amount of traffic coming to your site, adding a solid pay per click affiliate programs is probably the easiest way to start making some good money off it.
I wouldn't suggest going crazy with these because I advocate a solid content marketing strategy  that doesn't usually lend itself to much of this stuff.
HOWEVER if you do it right and keep it minimal, it can be worth it.
How PPC Affiliate Programs Work
Instead of getting paid each time someone purchases a product like you do in traditional affiliate marketing, pay per click affiliate programs pay you when ads on your site get clicked.
That may sound awesome because it's certainly easier to get a click than it is to get a sale, but it's all relevant because the amount you get paid is much less than you would get for an affiliate sale.
Many supposed PPC networks are really CPA networks, which means you'll get paid per acquisition or action, such as each time a person signs up to receive a free e-book or coupon.
It's rare to come across true PPC affiliate programs because there is too much click fraud going on. The ones that do pay per click use advanced technology to ensure that they are paying only for the highest-quality clicks.
For this reason, you have to be able to send highly targeted traffic to your PPC ads.
Want to know which affiliate marketing method works best for you? Answer the short quiz below:
Three Important Tips to Start
Before we get into the best pay per click affiliate programs, let's first look at three tips that will help you understand how to make money from pay per click ads…
1. Traffic & Niche Matters
To know how to make money from pay per click ads, you need to understand that the amount of traffic you get and your niche are the keys to your success.
Obviously the more traffic you have, the more people will click on your pay per click affiliate programs, so you'll get the best results if you increase your traffic.
In addition, the money you can earn depends on your industry.
Fitness, real estate, and credit cards pay higher commissions than e-commerce sites do, for example. To view a comparison by industry, click here or check out the following chart.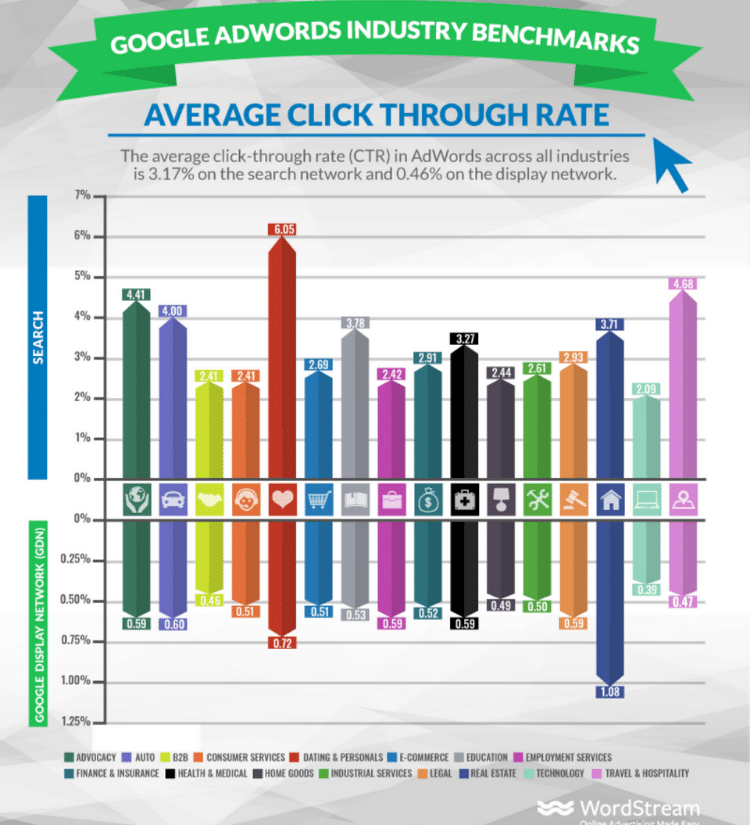 2. Be Relevant
When you add pay per click affiliate marketing programs to your website, you'll need to make sure the ads are relevant to your content. Your content and ads need to make sense together.
That means you need to focus on getting highly relevant traffic to your website.
Do keyword research to determine the best keywords to build content around, and develop a content strategy based on that research instead of just writing about what you feel like writing about in the moment.
3. Use Minimal Ads
The final tip I have for how to make money with pay per click is simple:
Don't plaster your site with ads!
I'm sure you get it. I doubt you like visiting sites that are swarming with ads, and neither does anyone else.
Remember, the user's experience should be your number one priority, so show one or two ads per page and that's it.
And now for the list! Here are my favorites, including the highest paying pay per click affiliate programs as well as those that are considered to be the best pay per click affiliate programs available today.
Best 5 Pay Per Click Programs
1. Bidvertiser
2. RevenueHits
3. Skimlinks
4. Adsterra
5. MintClicks
1. Bidvertiser
Bidvertiser is a direct advertising network that helps you monetize your website by placing ads for PPC affiliate programs on your website. But you can also take it a few steps further and monetize toolbars, extensions, mobile apps, search, and domains.
Bidvertiser Info
Minimum Payout Threshold: $10 for Paypal, $100 for Check, $500 for Bank Wire
Payment Terms: Net 30 days
Payment Options: PayPal, Bitcoin, wire, check
Minimum Traffic: None
Set Up Time: Instant account setup so you can start monetizing right away
Ability to Use With AdSense: Yes
Ad Formats:
Native ads
Push notifications
Direct navigation
Pop unders
Display banners
Sliders
Smartlinks
Programmatic
XML
All in all, Bidvertiser is one of the best pay per click affiliate programs out there. Even beginners can use it with some success.
[maxbutton id="13″ ]
Bidvertiser's Top Features
The following features are why I've chosen Bidvertiser as one of the best pay per click affiliate programs:
Data
Data is a huge and awesome part of  Bidvertiser.  They share the following with their publishers:
All the details of incoming bids
Winning bids
Revenue made
This is a really nice feature that can help you to best determine your ad strategy.
Targeting
Bidvertiser allows their publishers to segment their audience according to several different options, including:
Geography
Demography
Other cookie data
This allows you to show more targeted ads that will generate more clicks.
Conversions
This pay per click affiliate program has high eCPMs (effective cost per thousand impressions), which means that the ads are converting users. They also take revenue optimization seriously for their publishers.
Through programmatic and robust ad optimization powered by AI, they are able to maximize your conversions and your revenue.
2. RevenueHits

RevenueHits is a self-service ad platform for digital advertising optimization and website monetization. They have a nice intuitive platform that makes it easy to optimize earnings.
RevenueHits Info
Minimum Payout Threshold: $20 ($500 min for wire transfers)
Payment Terms: Net 30 days
Payment Options: PayPal, Payoneer, Bitcoin, Wire Transfer
Minimum Traffic: None
Set Up Time: Sign up is a snap and you can be up and running in minutes
Ability to Use With AdSense: No
Ad Formats:
Pop Ups
Pop Unders
Ad Block Pop Unders
Direct Links
Banners
Sliders
Footers
Shadowboxes
Site-Under Ads
Desktop Interstitials
RevenueHits also has a regular affiliate marketing program, which allows you to earn up to 10% commissions for a year for all publishers, affiliate marketers, and email marketers you sign up.
You'll receive 10% of the earnings when they earn more than $1500, and 5% for those who earn less than $1500.
[maxbutton id="14″ ]
RevenueHits' Top Features
Here are my favorite RevenueHits features:
Targeting
Through RevenueHits' geo targeted ad network, you can target your ads according to geography, culture, interest, and other key factors.
Desktop Interstitial
The fact that RevenueHits offers desktop interstitial ad formats is huge because they have high payouts since they are used by premium advertisers.
Earn No Matter How Much Traffic You Have
Since this is a performance-based network, your revenue share will be paid according to your traffic. That means you can start earning a little when you don't have a lot of traffic and it will grow as your audience grows.
Customer Support
RevenueHits gets brownie points as far as I'm concerned for their customer support. You'll get your own account manager, and I've found their customer service team to be friendly and responsive.
Monetization Coverage
They are able to claim 100% monetization coverage of your traffic because you can even monetize the traffic that uses ad blockers.
3. Skimlinks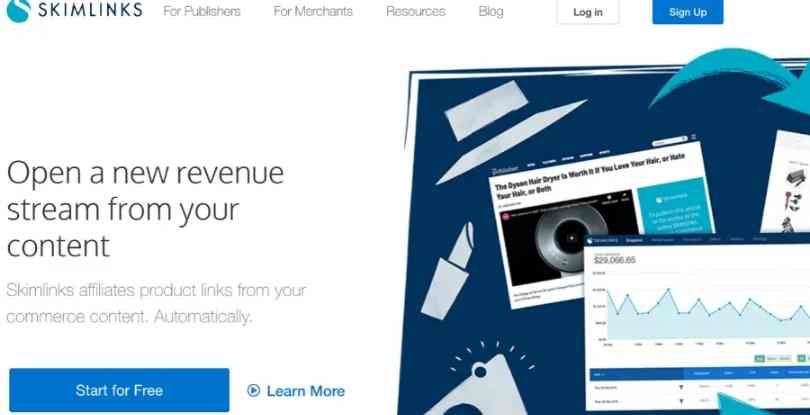 Skimlinks is a unique in-text and contextual advertising platform that allows you to automatically turn regular links into affiliate links on your website.
Skimlinks Info
Minimum Payout Threshold: $10
Payment Terms: Net 30 days
Payment Options: PayPal, Direct Deposit in US and UK
Minimum Traffic: None
Set Up Time: Skimlinks describes their approval process as "rigorous but speedy." You can learn more about their approval process here.
Ability to Use With AdSense: Yes
[maxbutton id="15″ ]
Skimlinks' Top Features
I consider this one of the best pay per click affiliate programs because of how easy it makes affiliate marketing. Here are some of its best features…
It's Automated
By installing a Javascript code on your website (or by using the Skimlinks WordPress plugin), existing links on your website will be turned into affiliate links.
All you need to do is add a regular link to a webpage without worrying about signing up for their affiliate program. Skimlinks will then automatically turn that link into an affiliate link.
It only re-writes unadulterated merchant links that you haven't already set up with an affiliate link, so you can still add other affiliate links into your site if you want to.
For this service, Skimlinks takes a 25% cut of the commission you would have earned if you signed up for the product's affiliate program on your own, but based on all the time it saves you, it's worth it.
It's important to note that not every link that is added from Skimlinks is a PPC link. While some are, others will be CPA or regular affiliate links that could earn you a portion of the sale of the product.
Improves the User Experience
When you use Skimlinks as a publisher, you don't add ads to your website. Instead, you add links within your content just like you would with affiliate marketing links.
Your content serves to educate your audience and your links within that content provide them with a seamless next step.
They Provide Tools to Help You Increase Revenues
Skimlinks also provides additional tools that can help you boost your revenues, such as a price comparison app and shopping galleries. These tools make monetizing your website very interactive, and it's all automatic.
4. Adsterra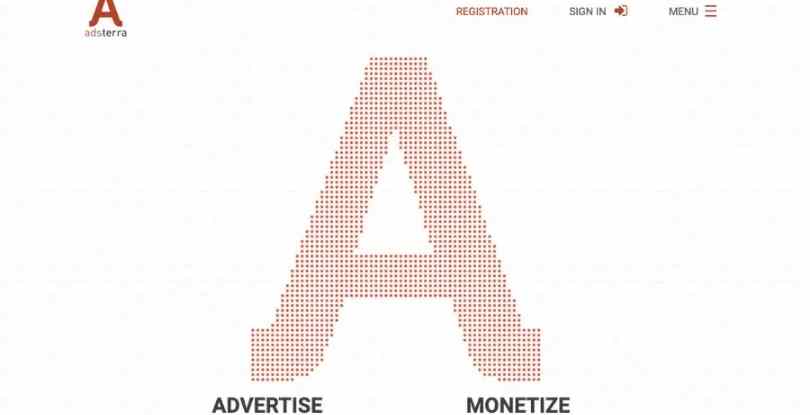 Adsterra is a managed premium advertising network with self-serve features. Rates depend on the niche, quality, and location of your site, your type of traffic, and the advertisers interested in your positions.
Adsterra Info
Minimum Payout Threshold: $100 min, $1000 for wire transfers
Payment Terms: Net 15 days
Payment Options: PayPal, Bitcoin, e-payments, WebMoney, wire transfers, Paxum,
Minimum Traffic: 5000 impressions per month for pop-unders, 50,000 impressions per month for display banners
Set Up Time: Set up is instant. You just place the code on your site to start earning right away
Ability to Use With AdSense: Can be used along with AdSense, Infolinks, and more without issues
Ad Formats:
Display banners
Leader board
Rectangle
Skyscraper
Popunders
Direct links
Pre-roll video
Push notifications
Interstitials
Adsterra also has a referral program, which is a really nice way to generate recurring commissions since you'll earn 5% of the revenue of the publishers you refer FOR LIFE. It may not be a high ticket affiliate program, but I love the passive aspect of it.
[maxbutton id="16″ ]
Adsterra's Top Features
Here's why I've chosen Adsterra as one of the best pay per click affiliate programs:
Customer Service
Each publisher gets a personal account manager, which allows you to easily tap into their knowledge of the network to get better results.
It's One of the Highest Paying Pay Per Click Affiliate Programs
Adsterra claims to have the highest CPM rates and a 100% fill rate for all ad formats. While I can't say if that's true, I can tell that they definitely have high fill rates.
Security
Adsterra's security and filtering features block malicious ads and malware from appearing on your site. They use double security that includes in-house fraud detection and third-party securities.
5. MintClicks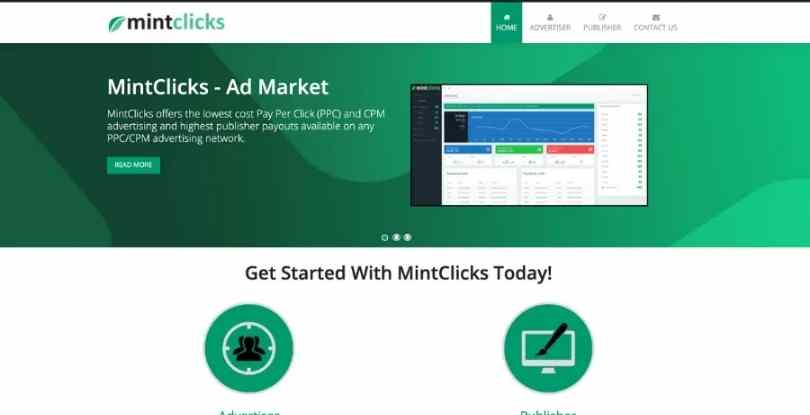 MintClicks is a pay per click marketplace where publishers sell their ads to advertisers and send traffic back to them.
MintClicks Info
Minimum Payout Threshold: $50
Payment Terms: Net 35 days
Payment Options: PayPal, bank deposit, check
Minimum Traffic: unknown
Set Up Time: Set up is instant. Just sign up and start right away
Ability to Use With AdSense: unknown
Ad Formats:
Text ads
Banner ads
Interstitial
POP ads
[maxbutton id="17″ ]
MintClicks' Top Features
Here's why I think MintClicks is one of the best pay per click affiliate programs:
High Payouts
This network claims to have the lowest cost pay per click and CPM advertising as well as the highest publisher payouts in the industry.
You'll get paid up to 95% of advertiser fees, and this is an actual PPC network, which means you'll earn money for every click, not per sign up.
Customize Ads for Your Website
What MintClicks does is it matches ad content to your site according to the keywords on your site. You can add filters within the ad code to further customize the ads and prevent competitor ads from being shown on your site.
By customizing the ad code and changing style attributes, you can also make the ad style match the look of your website so that the ads complement your site instead of standing out as ads.
Final Thoughts – PPC Affiliate Programs
While using the best pay per click affiliate programs on your website can help you make some extra money, most people who are making full time incomes through internet marketing are doing traditional affiliate marketing.
That's because knowing how to make money with ppc affiliate programs is much harder than it seems, while affiliate marketing is fairly straightforward.
Let me demonstrate how you can make money with affiliate marketing by taking you behind the scenes in my business and showing you what I do. Just sign up for my affiliate marketing course below – it's free!
[maxbutton id="11″ ]
Looking for high ticket affiliate programs? Check out my video below: