The 3-step system I used to make 7-figures of Affiliate Commissions in my first 3 years as an affiliate marketer.
If you have a blog related to real estate, properties, architecture, or even traveling, you can easily use it to generate a steady stream of income through one of the many real estate affiliate programs on the market.
Real estate affiliate programs are some of the highest paying affiliate programs available.
This is because of the large commission you can make on every single customer you refer to.
So if you have a social blog, vlog, or website, be sure to use it for affiliate marketing to gain maximum profit.
Want to know which affiliate marketing method works best for you? Answer the short quiz below:
I've listed down the best ones in this article to get you started on your real estate affiliate marketing journey.
Best Real Estate Affiliate Programs
1. Real Estate Express
2. Homeaway Affiliate Program
3. Real Estate Affiliates (Realestateaffiliates.Com)
4. BirdDog Bot
5. Foreclosure.com
1) Real Estate Express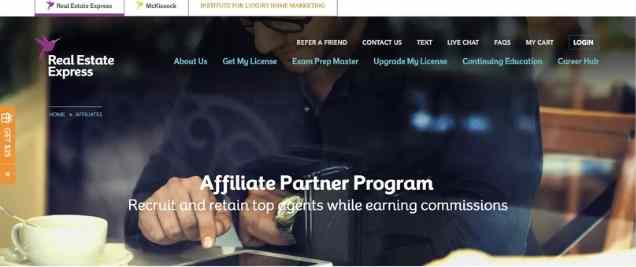 Real Estate Express is one of the leading real estate educational training companies in the market. This brilliant platform was launched in 1996 and has since led numerous brokers and real estate agents to success.
This platform offers a wide variety of pre-licensing and post-licensing courses for real estate agents to choose from. This way, Real Estate Express ensures the continuous training and education of young real estate professionals.
Since its inception, the company has successfully licensed more than 200,000 real estate agents in more than 30 states in the US. As can be seen, Real Estate Express has a wide reach and is quite popular among the real estate community.
This is because of the high quality of their training programs that continuously churns out some of the best professionals to enter the real estate market.
Despite its popularity, the company knows that to stay relevant and keep its track record of being the most famous real estate training company intact, it has to continue to market itself to the appropriate audience.
The company has a well-paying affiliate program that you can use to earn big bucks. Real Estate Express is a big company. It knows the importance of marketing, especially in today's overly competitive world.
For this reason, Real Estate Express has introduced one of the best paying affiliate programs on the market. All you have to do is promote the company through the referral link they provide, and you are well on your way to generating considerable revenue.
The process of becoming affiliated with the company is relatively simple. You can sign up for free, and once they approve your account and provide you with a custom link, you can immediately start promoting their blog.
This program isn't number 1 on my list for no reason. It is actually one of the best-paying programs currently available.
Real Estate Express offers its affiliate marketers a whopping 20% commission on every sale they make! The company also has an extended cookie life of 100 days.
All in all, Real Estate Express offers one of the best real estate affiliate programs on the market that you should definitely take advantage of.
Website URL: Real Estate Express Affiliate Program
Tracking Cookie: 100 Days
Commission Rate: 20%
2) Homeaway Affiliate Program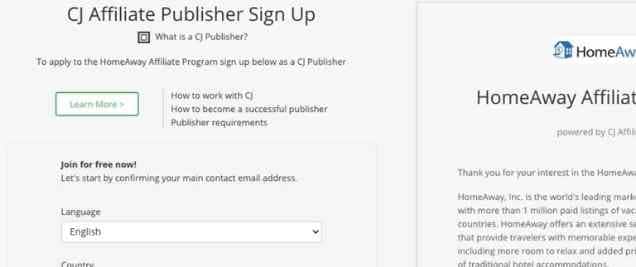 HomeAway is one of the most famous global vacation rental companies on the market! The company has over 2 million properties scattered across the world. HomeAway is a bit like AirBnB but much better.
Instead of listing down portions or shared accommodations, HomeAway targets individuals who are exclusively looking for entire properties to rent. Their website generates significant traffic, and they have a large client base.
As is expected, their business picks up quite a bit during the holiday season and experiences a dip in between. Despite this, they have ample customers from all over the world.
HomeAway has an excellent affiliate program that affiliate marketers can take advantage of and use for generating a steady stream of revenue. All you have to do is promote their vacation rental properties on your platform to your followers.
Every time someone visits their website and uses your referral link to rent a property, you will be paid a commission.
The company provides its affiliate marketers with real-time reporting, third-party tracking, and monthly commissions. Their timely and reliable program, combined with your online platform, will allow you to earn a hefty amount of money!
HomeAway has partnered with Commission Junction for its Affiliate Program. If you want to join their real estate affiliate program, you will have to log onto Commission Junction and create your own account.
Once you are approved, you will be provided with a unique referral link to promote on your website, blog, or vlog. Every time someone rents a property through your referral link, you will receive a commission.
The company's affiliate program offers a 3% commission for each property rented and $20 for each property listed through your link.
Although this may seem like a small number, the high volume of sales you can make through this company is sure to keep your pockets heavy. Affiliates are paid monthly through PayPal.
Website URL: Homeaway Affiliate Program
Tracking Cookie: Monthly
Commission Rate: 3%
3) Real Estate Affiliates (Realestateaffiliates.Com)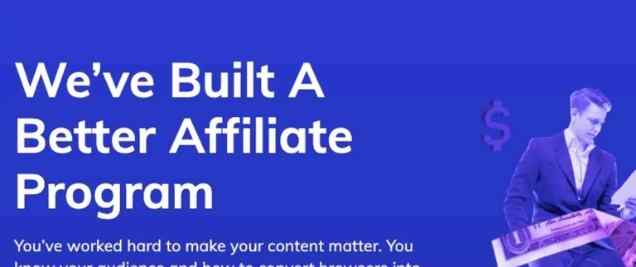 Real Estate Affiliates is one of the most used networks for the promotion of high-paying offers. The company's website is used by real estate brokers and marketers worldwide to earn a handsome income.
Real Estate Affiliates have everything property related present on their website and all types of users as well. Whether it is real estate agents, publishers, or marketers, everyone wants to profit from real estate crowdfunding.
To become an affiliate and start earning large commissions, all you have to do is sign up and promote the website through your platform!
Real Estate affiliates are not your regular affiliation website. The company goes above and beyond to ensure that all their affiliated marketers get the best deal and earn a good commission.
This is why affiliate marketers can use any of the three different types of affiliate programs:-
Cost Per Action – CPA: In CPA, you are paid whenever you send additional traffic to their partners. The customers you send to them need to do simple tasks such as becoming a lead themselves, signing up for their emails, or purchasing something from the website.
Cost Per Lead – CPL: This is the most efficient way for you to boost your commission. The company awards you a hefty commission every time you send referrals to a partner website on a CPL basis.
Revenue Share – RS: Revenue share is another steady source of generating revenue. Through this program, you will receive commissions for any transactions made by individuals you have referred to Real Estate affiliates' partner advertisers.
Depending on the products you sell and the types of referrals you send to the website, you can earn a good commission as an affiliate marketer. Commissions can go up to 25% and have a great cookie life of 60 days.
Website URL: Real Estate Affiliates (Realestateaffiliates.Com)
Tracking Cookie: 60 days
Commission Rate: 25%
4) BirdDog Bot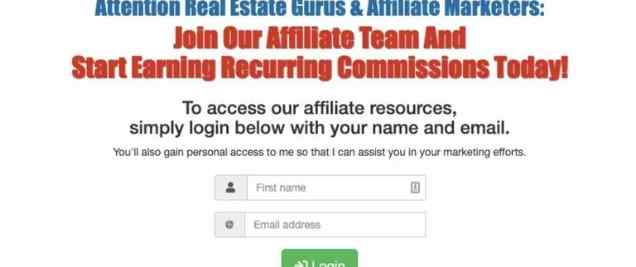 BirdDog Bot is modern software that has made real estate dealings simple and straightforward. With this software, you can easily find your dream property by filtering out all unwanted real estate deals.
You can use filters that include house type, course, and city. However, BirdDog Bot also allows users to use filters for price. In a nutshell, the software has been made to filter through large listings on websites to find property deals that would be more suitable to you, given the criteria.
This helps users to filter through thousands of listings in a short amount of time and make a sound investment without fear of missing out on a good deal. Pretty neat, isn't it?
With more and more large listing websites with low-interest rates gaining popularity, online property dealings have started gaining traction. This is a gold mine of an opportunity for an affiliate marketer!
All you have to do is use your influence to help spread the word, and you will be paid well for it. After all, why not promote such handy software that could help so many people?
Of course, every affiliate marketer is concerned about the program's commission rate, and rightly so.
The good news is that BirdDog Bot does not disappoint when it comes to payouts. The company offers its affiliate marketers a recurring commission at 50% per sale. It is also noteworthy that their average sale is around $328.40.
So even a few good customers can help you make a substantial profit. The company has partnered with Clickbank and other affiliate companies, so registering and getting started as an affiliate marketer with one of the best companies in town has never been easier.
Website URL: BirdDog Bot Affiliate Program
Tracking Cookie: n/a
Commission Rate: 50%
5) Foreclosure.com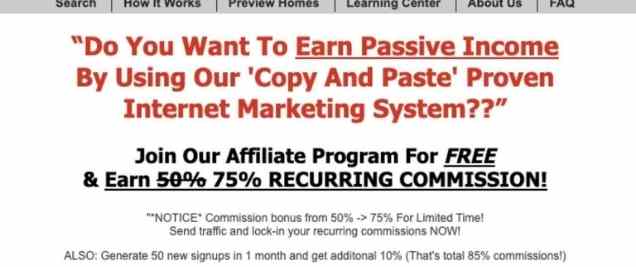 Foreclosure.com is a website that allows customers to look for properties that have been foreclosed on before they hit the market. Websites selling foreclosed properties are not new.
However, what sets this property apart from the rest is that it constantly updates all its deals. In fact, foreclosure.com is known to refresh its deals twitch daily.
This makes foreclosure the ideal place for people looking to get the best deal possible and as quickly as possible. The website has a simple interface and is relatively easy to navigate.
However, if you still need help, then there is a reliable and responsive live customer support service. The website is meticulously designed and managed and is frequented by both seasoned and first-time property buyers.
Foreclosure has great deals for all types of properties and for people of all incomes. Therefore, this appealing site can easily be promoted through affiliate marketing and is bound to generate ample traffic.
Allowing affiliate marketers to generate a steady, passive income through it. If your blog has an audience that is interested in real estate investment, then this affiliate program is definitely worth partnering with!
Foreclosure.com offers its associates a 25% commission on each sale made through their referral link and a recurring subscription commission of $39.80.
What's more, the program also offers an astounding 180 days of cookie life. Both the commission and cookie life are market competitive and will ensure a great revenue source for affiliate marketers.
Website URL: Foreclosure Affiliate Program
Tracking Cookie: 180 Days
Commission Rate: 25%
Conclusion
The real estate industry is fast-paced and highly profitable, especially in recent years. An increased income for many has directly translated into increased purchasing power. Property investment is seen as a great investment instead of a splurge.
For all these reasons, the real estate industry, despite being mammoth, is still expanding further.
This opens up new opportunities for many people. Especially for affiliate marketers. 
Depending on the type of platform you run, and the following you have amassed from it, you can earn a decent amount of passive income through affiliate programs.
Real estate affiliate programs have tons of potential, mostly because of the large payouts every customer can bring. If you're interested in real estate marketing and have a decent sized blog or website, it would be a great time to start joining affiliate programs.
You will find numerous real estate affiliate programs online. However, I've picked out all the ones that will result in the highest payouts for you!
Looking for high ticket affiliate programs? Check out my video below:
Learn affiliate marketing secrets. Click here to get started.