The 3-step system I used to make 7-figures of Affiliate Commissions in my first 3 years as an affiliate marketer.
Affiliate marketing is a brilliant way to generate steady revenue WHILE helping people. I seriously know of of no other business model that lets you provide free value and still get paid.
There are a lot of easy niches to be an affiliate in that still pay well. One of those is the vegan niche.
The benefits of signing up for a vegan affiliate program are numerous.
You can use these to your advantage to become a proponent of a great lifestyle while earning a decent amount of money on the side.
I've put together a list of some of the most well-paying vegan affiliate programs out there. If you have a blog, vlog, or any other platform based on food or veganism, these affiliate programs are definitely for you!
Looking for high ticket affiliate programs? Check out my video below:
Vegan Affiliate Programs
1. Vegin' Out
2. Sunburst Superfoods
3. Future Kind
4.Vessi Footwear
5. Veestro
1. Vegin' Out


Vegin' Out is a vegan, plant-based meals subscription service. The company delivers weekly meals to residents of the Los Angeles Area. However, they also ship nationwide.
This vegan meal delivery service has an extensive vegan and vegetarian client base all over the US and especially in Los Angeles. Their food is reported to be delicious and nutritious!
So, you can say goodbye to that uncomfortable bloatedness and lethargy you feel when consuming fast food. Vegin' Out will ensure your body gets the best nutrients without added preservatives and unhealthy additives.
Vegan out is immensely popular among its customers, and its client base is set on a trend to grow. This provides a wonderful opportunity for affiliate marketers with a food blog related to veganism.
Not only is this a great product to promote, but it also pays well! Vegin' Out offers commissions ranging from 15% to 20% and has a cookie life of about 15 days. The company's average sales go from $99 up to $619.99!
The brand has partnered with ShareASale to manage their affiliate programs, so if you want to become a Vegin' Out affiliate marketer, head on over to their website to register!
The company gives its affiliate marketers an excellent selection of marketing materials, such as banner advertisements, text links, and emails. Vegin' Out also provides various reporting tools so that affiliates can keep track of their commissions and sales.
Affiliates who have a good email subscription client base are definitely in for a treat considering their emails have a high opening rate of around 18% to 30%.
URL: Vegin' Out Affiliate Program
Cookie Duration: 15 Days
Commission: 20%
2. Sunburst Superfoods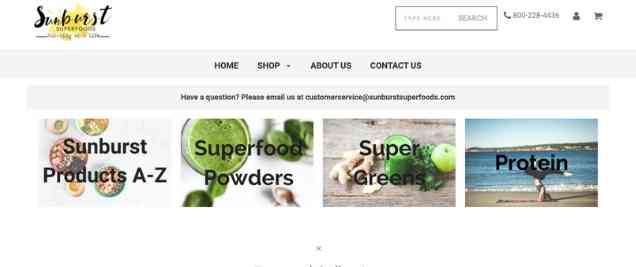 Individuals following veganism are always on the lookout for nutritiously dense foods to fulfill all their dietary requirements. This is where superfoods come in.
Sunburst Superfoods is a company that recognizes the need for premium blends of such superfoods made from all-natural plant products! Their foods typically contain specific types of nutrient-rich foods such as seeds, leafy green vegetables, and fruits.
The company produces affordable, accessible, and easily storable superfood products for their customers. Now customers can continue their vegan journey and remain healthy with ease.
Even replacing an unhealthy snack or soda with these healthy superfoods can make a massive difference to your health.
All of the ingredients are stored and dried at low temperatures to ensure that they keep their nutrients before being added to their products.
Sunburst Superfoods has a relatively large client base. Their average order amounts up to $90, and this number seems to continuously increase every year.
However, affiliate marketers associated with the company still earn a hefty amount through referrals currently. The commission rates are around 10%, with 5% commission on coupons, and their earnings per click are about $33.43.
The program has a cookie life of approximately 60 days, which is a decent amount of time considering affiliate marketing standards.
URL: Sunburst Affiliate Program
Cookie Duration: 60 Days
Commission: 10%
3. Future Kind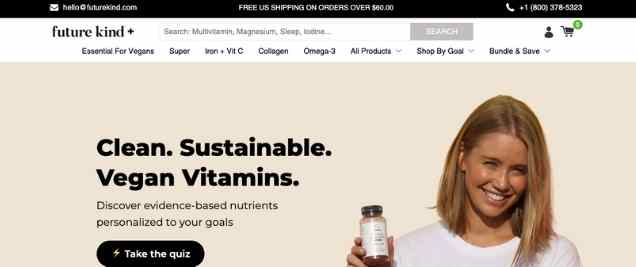 Future Kind is one of the most well-known vegan brands in the industry. The company sells a specific multivitamin containing three essential nutrients: Omega 3, Vitamin B12, and Vitamin D3.
The brand has quite the fan following and is endorsed by numerous celebrity health experts such as the famous dietician Whitney English, celebrity cardiologist Joel Kahn and professional athlete Natalie Mathews!
All their products are ethically sourced and plant-based. Even their packaging is eco-friendly! Another reason for the company's fame is its philanthropic approach to veganism.
Future Kind is known to give some of their profits to animal sanctuaries to promote their welfare. This is why the company has a large and loyal following and is relatively easy to promote.
The company has partnered with Refersion to create one of the best paying vegan affiliate programs on the market. To become an affiliate marketer with Future Kinds, all you have to do is register with them on Refersion and then wait for your account to be approved.
You can officially start your affiliate marketing journey with the company.
Now comes the best part, the commission! Future Kind offers a 40% commission to all of its affiliate marketers!
This vegan multivitamin brand offers an additional 10% discount for customers as well! So not only will you be earning a hefty revenue by promoting this brand, but you will also be helping out your vegan followers by getting them great discounts!
It's a win-win situation that you, as a vegan affiliate marketer, should definitely be a part of!
URL: Future Kind Affiliate Program
Cookie Duration: 30 Days
Commission: 40%
4. Vessi Footwear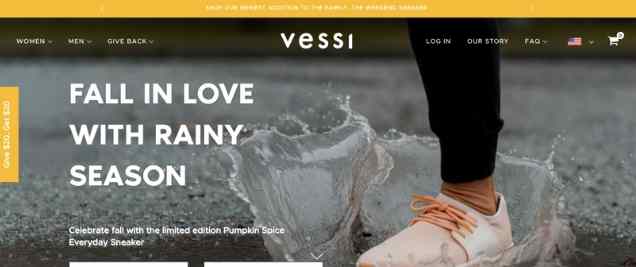 Another Innovative vegan band that just so happens to have hit the market is Vessi Footwear. Yup, you read that right, vegan footwear!
The company uses an innovative and revolutionary technology named flash knit to make one of a kind vegan sports shoes.
This technology allows the moisture to escape from within the shoe but is impervious to water from outside. This allows Vessi to keep your feet completely dry and odor-free!
Their flash knit technology allows Vessi shoes to remain light as a feather, weighing in at only 5.3 ounces!
Vessi's footwear, made from their patented technology, is the lightest, airiest, waterproof, and vegan-friendly shoes that you will find on the market.
The company is highly conscious of their carbon footprint. Vessi Footwear takes all possible precautions to ensure that its products are eco-friendly. Their facilities have as little an impact on the environment as possible.
Vessi has partnered with ShareASale for their affiliate programs. So, if you want to get in on the affiliate-action, you have to sign up through them first.
The entire process is pretty straightforward, and you should have no trouble getting your account verified.
The brand offers a 10% commission on each product sold through a referral link, and the cookie life they offer is around 30 days. On the surface, this may look too less for a big brand like Vessi.
However, considering their average order amounts up to $115, even a 10% commission can generate ample income.
Vessi's also has a lot of fame and popularity since it is the only knitted, vegan footwear brand. Because of this, affiliates should have no trouble boosting their volume of sales and earning large commissions.
This program also provides numerous marketing tools to its affiliate marketers. These also include reporting tools to track commissions and sales in real-time!
URL: Vessi Footwear Affiliate Program
Cookie Duration: 30 Days
Commission: 10%
5. Veestro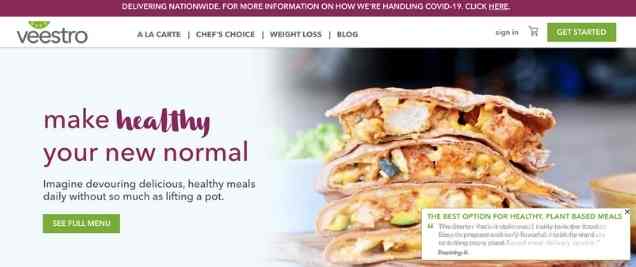 Veestro is the brainchild of ex-banker Mark, who had trouble devoting adequate time to his eating habits. As is the case with most corporate workers.
This, in turn, made it very hard to keep up with healthy veganism and resulted in some terrible dietary habits as well.
Growing up in Costa Rica, Mark knew the importance of the consumption of healthy fruits and vegetables. However, following the same eating pattern in America was proving to be difficult.
This is why Mark introduced Veestro. A premium, vegan gourmet meal company.
Instead of munching on unhealthy snacks, Veestro gives clients the option of a healthy, delicious, and nutritious meal. Their meals come in a variety of different categories that customers can choose from.
These include a la carte, weight loss products, juice cleanses, or their most popular gourmet meal packs. All of Veestro's meals are prepared in house by a certified chef to assure quality and hygiene.
The company uses fresh and all-natural ingredients to prepare their meals, which are then packed in environmentally friendly packaging and delivered to your doorstep.
Veestro's affiliate program is managed by ShareASale. It happens to be one of the most popular affiliate programs on there, with a power of rank above 1000!
Their commission percentage is only 5%, which admittedly is less. However, their average orders amount up to $215, and their earnings per click are $13.55! Affiliate marketers usually boost their revenue by increasing their volume of sales.
Considering their vast number of products and their popularity, this is relatively easy to do. Besides this, the affiliate dashboard on ShareASale has numerous marketing and reporting tools you can use to boost and keep track of your commissions!
URL: Veestro Affiliate Program
Cookie Duration: 15 Days
Commission: 5%
Want to know which affiliate marketing method works best for you? Answer the short quiz below:
Conclusion 
The vegan industry has slowly but surely picked up the pace. Practicing veganism may be a little difficult initially, but with a little time, patience and perseverance, anyone can get the hang of it.
The benefits and moral implications of veganism are many, and this debate is not within this article's scope. Veganism is a well-established lifestyle that is only set to grow in popularity in the coming years.
The vegan industry is rapidly expanding and has a large client base. Even non-vegans like to dabble in veganism once in a while for various health or environmental concerns. So even people who don't strictly call themselves vegans can be potential customers.
Affiliate marketers with food, vegan, or vegetarian themed platforms can take advantage of this opportunity. Most vegan brands offer a hefty commission to their affiliate marketers.
This means that you will generate a steady stream of revenue from the comfort of your own home and without any effort.
There are numerous vegan affiliate programs in the market and I've picked out the ones with the best pay. You can use these programs to start out your vegan affiliate marketing journey with a bang!
Learn affiliate marketing secrets. Click here to get started