Online Social Media Jobs That Pay $30/Hour
Availability to start this week
Make $25-$35 Testing New Apps
Just need access to phone/tablet
5+ hours per week available
Do you have a social media platform related to selling or buying houses? Then you can generate crazy high commissions  from mortgage affiliate programs.
At the moment, the US mortgage industry is worth a whopping 11 trillion USD! So, you can only imagine how much potential this industry has.
You can sign up for some of these mortgage affiliate program even without a blog related to real estate!
There are numerous mortgage affiliate programs and if you want to start making money as a mortgage affiliate marketer, here are a few mortgage affiliate programs that can help you achieve success in this field.
Want to know which affiliate marketing method works best for you? Answer the short quiz below:
Best Mortgage Affiliate Programs
1. Quicken Loans
2. Better.com
3. Lending Tree
4. Mortgage Training Centre
1. Quicken Loans Mortgage Affiliate Program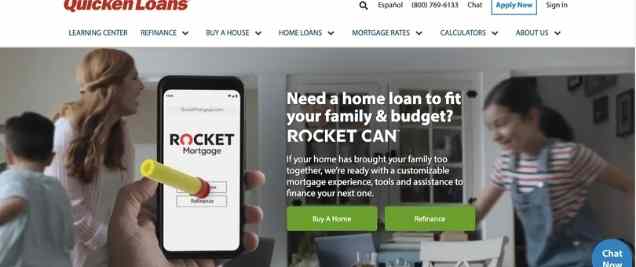 I have to start my list with one of the best companies for not only mortgage, but also mortgage refinancing in the United States. There's no company that fits the bill better than Quicken Loans.
A testament to their status as one of the leading companies in the USA is the fact that this company has won awards consistently for 10 years. The company allows visitors to apply for mortgages and then manage these mortgages online through their platform.
Other than this, customers also have the option of speaking with mortgage experts for advice and guidance if they wish to. Quicken Loans, as the name suggests, streamlines the process of taking out a mortgage for your home.
The company has simplified this process so that consumers can make the best decision for themselves with ease. In doing so, Quicken Loans has helped hundreds of people get the home of their dreams!
Coming to the mortgage affiliate program offered by the company, Quicken Loans offers its marketers up to $15 for every referral that they make. The cookie period is 90 days, which is more than sufficient and meets the industry's standards as well.
Affiliates can boost their commission by improving their volume of sales. Since the company is so renowned, affiliates will face no extra pressure in getting customers and convincing them to consider the company.
URL:  Quicken Loans Affiliate Program
Cookie Duration: 90 Days
Commission Rate: $5 – $15 per qualified lead
2. Better.Com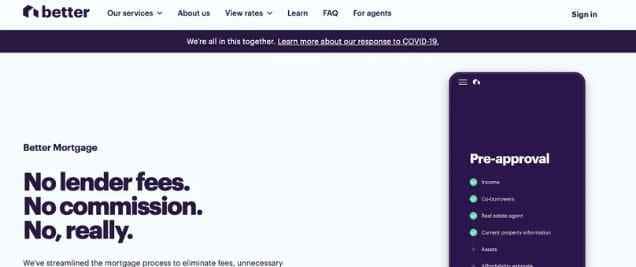 Better.Com is an innovative company that recognizes the need for change within the mortgage industry. As is evident by the financial crash of 2007-2008, the system is indeed flawed.
The founder and CEO of the company, Vishal Garg, envisioned a faster, simpler, and easier direct mortgaging process that will ensure customers get the best deals at the best prices. This vision became a reality with Better.Com.
This is a company that helps to streamline the process of mortgage and refinancing by simplifying issues and cutting away overhead costs. One such example of doing away with extra costs is by removing unnecessary meetings that lenders often charge customers for.
Along with fastening the process, Better.Com also aims to reduce the general costs of the mortgaging procedure. For this reason, Better.Com is one of the first companies to charge incredibly low rates, of 1%, on all of their home loans.
By being one of the fastest mortgages and refinancing companies on the market, with low costs, Better.Com has built a large customer base.
Affiliate marketers can take advantage of Better.Com's popularity and practices to promote the brand and generate a steady stream of revenue through their affiliate program.
Better.Com has one of the best paying, in-house mortgage affiliate programs currently available. The program pays its affiliate marketers up to $200 per customer on a lead! It is an absolute win-win situation for affiliate marketers.
You'll earn a good amount through this incredibly well-paying program. However, that's not all. By improving your promotion strategies, you can earn a handsome income by boosting your sales volume too.
URL: Better.com Affiliate Program
Cookie Duration: n/a
Commission Rate: $200 per lead
3. Lending Tree Mortgage Affiliate Program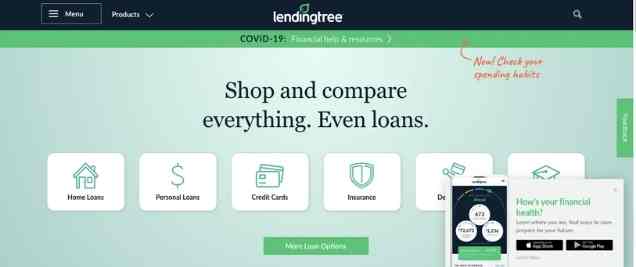 Lending Tree isn't your typical mortgage or refinancing website. In fact, it's a well connected and smart network that can help you figure out what the best mortgage deal is for you.
It has a simple interface and has made finding a good deal fast and easy! So now, instead of going to 40 different mortgage providers, you can access all the most suitable lenders on one network.
Users will be given a form to fill when they use Lending Tree. Once you've completed their form, the company will automatically match you with all the best mortgage and refinancing companies that match your criteria.
It doesn't matter whether you want a reverse mortgage, mortgage refinancing, or even just a standard mortgage. The company does all the hard work for you.
They'll try to find a deal that you will be satisfied with, based on the information they have collected from you.
Lending Tree has a well-paying and well-established mortgage affiliate program that affiliate marketers can take advantage of. For every closed sale done through your special affiliate link, you can earn up to $44.50 in commission!
Although their cookie life is relatively less, at only 14 days, deals go through quickly with this company, and customers are often more than satisfied with their proceedings.
This is why the Lending Tree has a high earning per click as well, which amounts to up to $176.85
URL: Lending Tree Affiliate Program
Cookie Duration: 14 Days
Commission Rate: $44.50
4. Mortgage Training Centre
As I've mentioned before, the mortgage industry is quite vast. It may have companies that are not directly related to the mortgaging process but do fall under the umbrella of the mortgage industry.
Mortgage Training Centre is one such company. This company is for anyone and everyone who sees potential in the mortgage industry and wants to get involved.
The Mortgage Training Centre has been training agents from as early on as 1994, and in doing so, has created quite the reputation for itself as a well-established agent training and licensing institute.
Although there are numerous broker training institutes, Mortgage Training Centre is by far the most well-reputed and successful one.
Having trained hundreds of brokers since its inception, Mortgage Training Centre has numerous examples of successful trainees that have been licensed by them.
The Mortgage Training Centre also offers broker courses centered around SAFE (Secure And Fair Enforcement of mortgaging licensing).
These programs are fully certified by the Nationwide Mortgaging License System and Registry and are recognized all over the United States. So, for anyone looking to enter the market as a mortgage broker, this is where you should be!
The Mortgage Training Centre also has an excellent affiliate program that is quite well-known. The company is generous with its payouts, and affiliate marketers can earn up to 50% in commission for every referral to their center!
However, affiliate marketers should keep in mind that the commission rates may vary depending on the service or product that they're promoting.
Overall, the rates offered by the company are market competitive. The cookie life offered by Management Training Centre's affiliate program may not be the longest, but it's adequate too.
URL: Mortgage Training Center Affiliate Program
Cookie Duration: 30 Days
Commission Rate: 50%
Conclusion
The mortgage industry is a rapidly expanding industry with numerous opportunities for not only mortgage brokers, but also for everyone in affiliate marketing. There is a large market of customers that are on the lookout for mortgage programs and deals.
Individuals with a blog, vlog, or channel related to housing can easily use their platforms to help spread the word about some of the most well established and reputable mortgaging services.
By doing so, affiliate marketers can generate a steady stream of income while sitting in the comfort of their own home.
I've listed some of the most well paying affiliate programs on the market. However, there are numerous more programs available, and you can select any that go well with your platform and are easy for you to promote.
Looking for high ticket affiliate programs? Check out my video below:
Learn affiliate marketing secrets. Click here to get started.