Online Social Media Jobs That Pay $30/Hour
Availability to start this week
Make $25-$35 Testing New Apps
Just need access to phone/tablet
5+ hours per week available
As a new affiliate marketer, it can feel daunting. You think you're going to light the world on fire, but you aren't gaining much traction. You're starting to realize it's not as easy as you thought it was going to be, and now you're starting to feel lost and/or overwhelmed. You want to know how to make $100 a day with affiliate marketing or you just might quit.
We know this feeling all too well. Every affiliate marketer has been there at one point or another. But all you need is a roadmap.
What if you had a simple step-by-step guide that could show you how to make $100 a day without making yourself crazy trying every technique out there?
That's what we've got for you here!
We're going to outline Spencer Mecham's no-fluff method with detailed, simple steps. It's the one he uses himself to earn an amazing full-time income that is much beyond $100 a day.
It's super simple, and it'll help you bust through your obstacles and start making $100 a day every day until you're ready to expand it.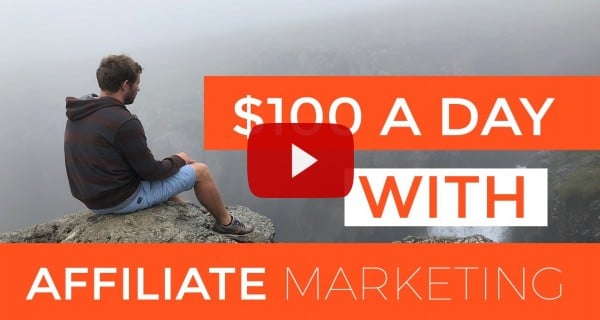 How Can I Make $100 a Day Online With Affiliate Marketing
This is Spencer's $100 a day strategy. It's only three simple steps:
Choose your affiliate products, but be specific about them.
Find related keywords that you can create content around.
Create content that offers a natural link to your affiliate product.
Below, we'll look at these steps in more detail. But first, it's important to point out that you can't just choose any old affiliate products. Here's what most people do wrong…
What You're Probably Doing Wrong
Most affiliate marketers aren't focusing on the numbers. They are just trying to promote a bunch of products that fall into their niche no matter what they'll earn from them.
But here's the thing: Amazon isn't going to earn you $100 a day, not unless you have a huge amount of traffic, which is highly unlikely if you are reading this article.
Think about it, is it easier to make 100 $1 sales every day or is it easier to make 10 $10 sales every day? Or would it be even easier to make one $100 sale every day?
You can find affiliate products that offer commissions from $100 to some really high-end products that go up to $5000 per sale (which would be great because you'd only have to make one sale a week). Spencer suggests staying in the $100-$500 range, at least at first.
If you want to know how to make $100 a day online, find a few affiliate products that will earn you $100 commissions on each sale. Then, focus only on promoting those products.
That way, you only need to make one sale a day to earn $100 a day. That is how you make $100 a day online without making yourself crazy!
How to Make $100 a Day With Affiliate Marketing: The Details
Now, let's take a more detailed look and give you a step-by-step solution for the question, how can I make $100 a day?…
Step 1: Choose Your Affiliate Products Carefully
As we've already established, in order for this strategy to work, we are going to be looking for high-ticket affiliate products that bring in $100-$500 in commissions on a single sale. But how do you find products like that?
It's pretty simple actually! Just type "high-paying affiliate programs" (without the quotation marks) into Google. Or you could search for something similar like "high-ticket affiliate products" or "recurring commission affiliate programs."
What you'll get is a lot of blogs that include lists of high-ticket affiliate programs. This is great because it means these bloggers have already done the hard work for you in researching and finding the products.
Plus, in most cases, they give you a little write up about each product/company and break it down by category so you can easily decide which ones you want to go with.
We've even created one of these lists for you as well:
17 High-Ticket Affiliate Programs to Dramatically Increase Your Profits
You can make $100 a day with these high-ticket affiliate programs! We've done the work for you and found the best of the best. Start here!

Check Out the List Now
As you go through these lists, start making your own list of the ones that make sense for you to promote. Then, narrow it down to a few products that you will promote.
Step 2: Find Keywords for Your Affiliate Products
The next step in our guide for how to make $100 a day is to find keywords that people are looking for on the internet that your affiliate product could help solve. Then, in the next step, we're going to build content around that.
Look for keywords that have a search volume of at least 150 per month. As you do this, you want to keep in mind that you'll be creating content around these keywords. Choose keyword phrases that will allow you to do that.
Make a spreadsheet of the keywords and the search volume of the keywords you find. Strive to build a big list of 10-20, and maybe even 50 pieces of content that you can batch out and build.
 Here's how you can do this step for free using Ubersuggest…
Do a Product Name Search
Go to Ubersuggest and type in the product name.
Let's say that our product is the One Funnel Away Challenge from ClickFunnels. It's the perfect example because it offers exactly $100 commissions on each sale. Not only that but it only costs $100, so it's a really cool gig because you get 100% commissions.
So, if you type in "one funnel away challenge" (without the quotation marks) into Ubersuggest, it will give us a bunch of phrases that people are searching for online involving the One Funnel Away Challenge.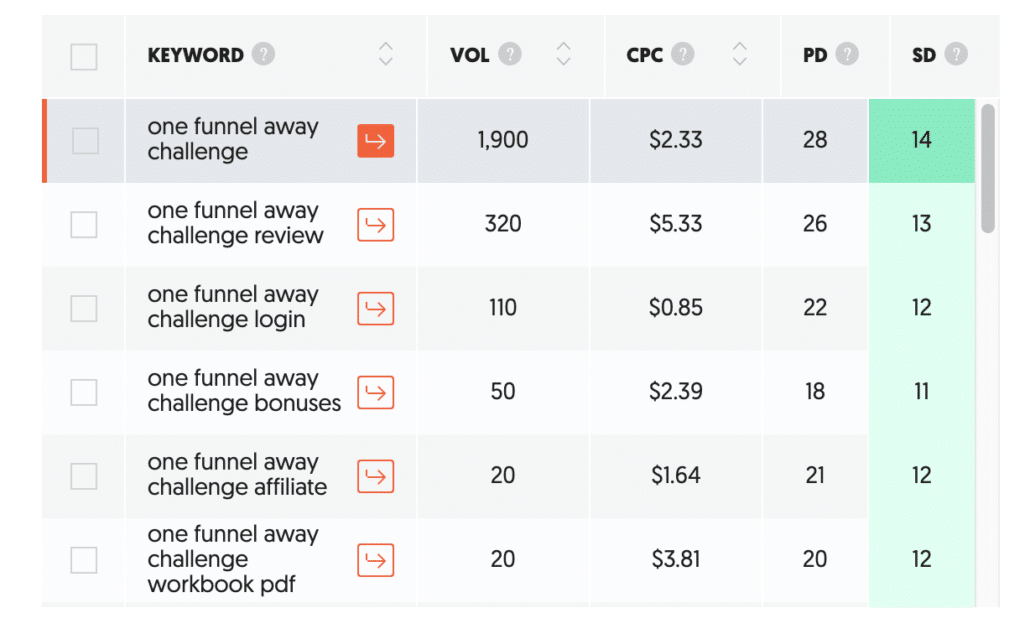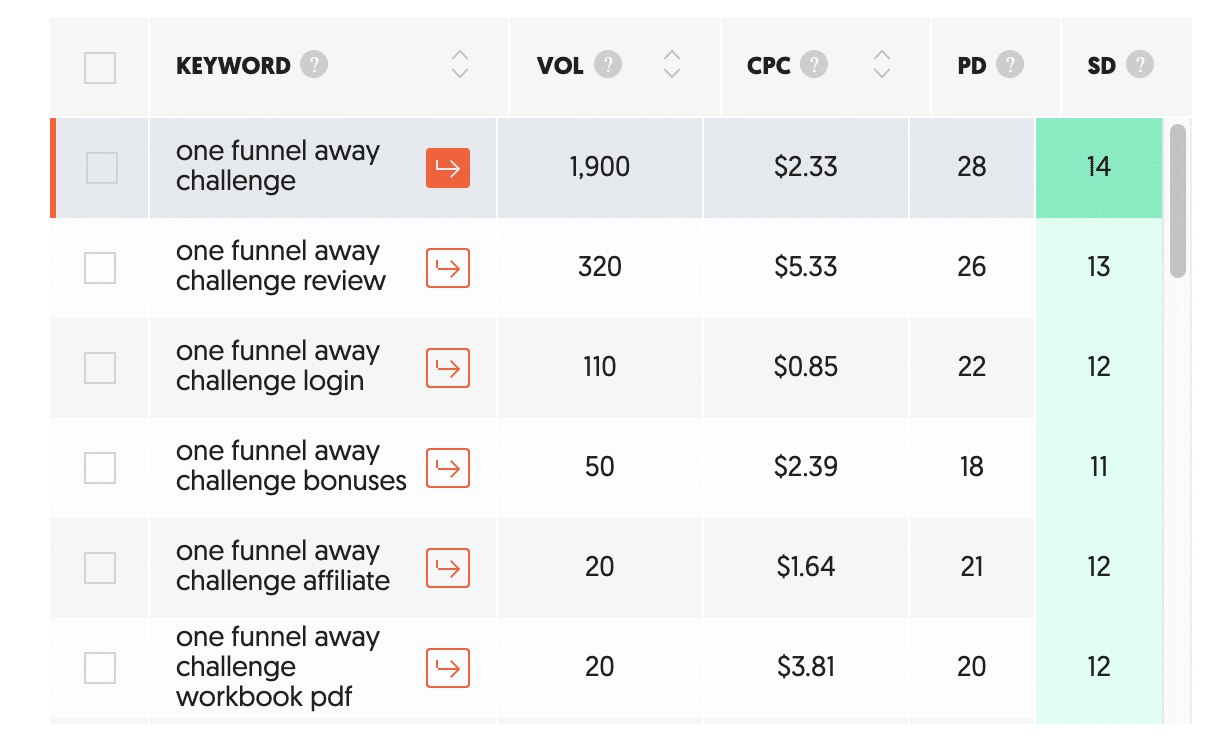 As you can see, there are tons of people searching for different versions of the One Funnel Away Challenge. Let's look at the many content opportunities that come out of these keywords:
One funnel away challenge – 1900 people are looking for the One Funnel Away Challenge, which means we can make content on that exact keyword. For example, we could do a piece called "What is the One Funnel Away Challenge?"
One funnel away challenge review – We can make a "One Funnel Away Challenge review." This is always one of the hottest pieces of content you can create because the only people who read reviews are people who are considering buying the product.
One funnel away challenge bonuses – This keyword shows that people are looking to buy it from an affiliate and they want to know which affiliate is giving away the best bonuses. So, that is a hot one as well!
Another idea is to compare your product to a competing product. You could do a piece of content on One Funnel Away Challenge verses a competing product, for example. For example, we've done an article that compared MailChimp vs Active Campaign.
Do a Problem Search
The next route to take is to do a keyword search based on the problem that your product solves. The One Funnel Away Challenge teaches people how to build sales funnels, so we would type in "how to build sales funnels." You can see that we now have more options based on that search.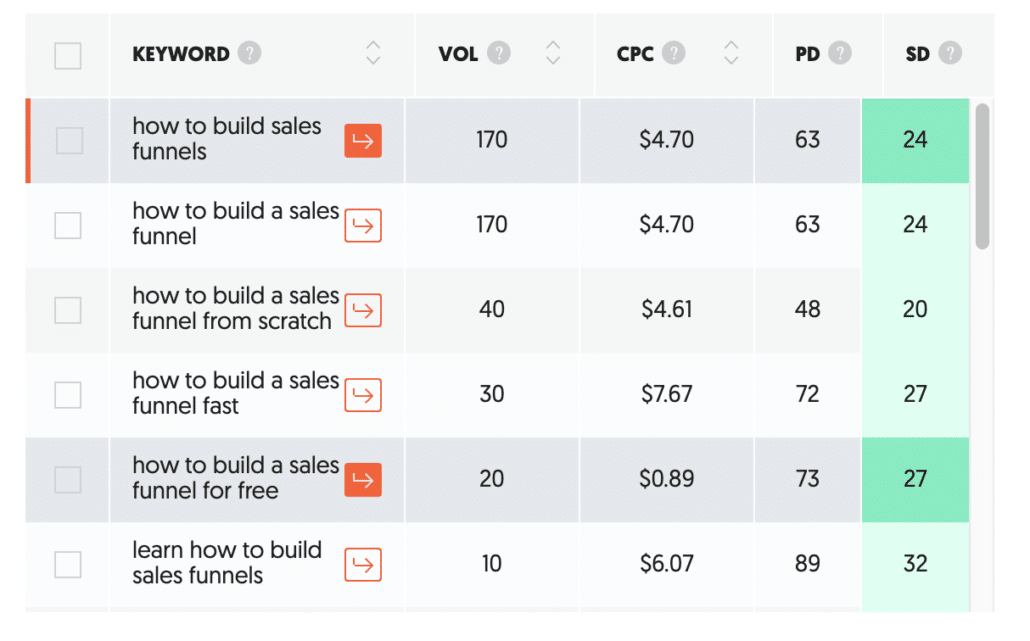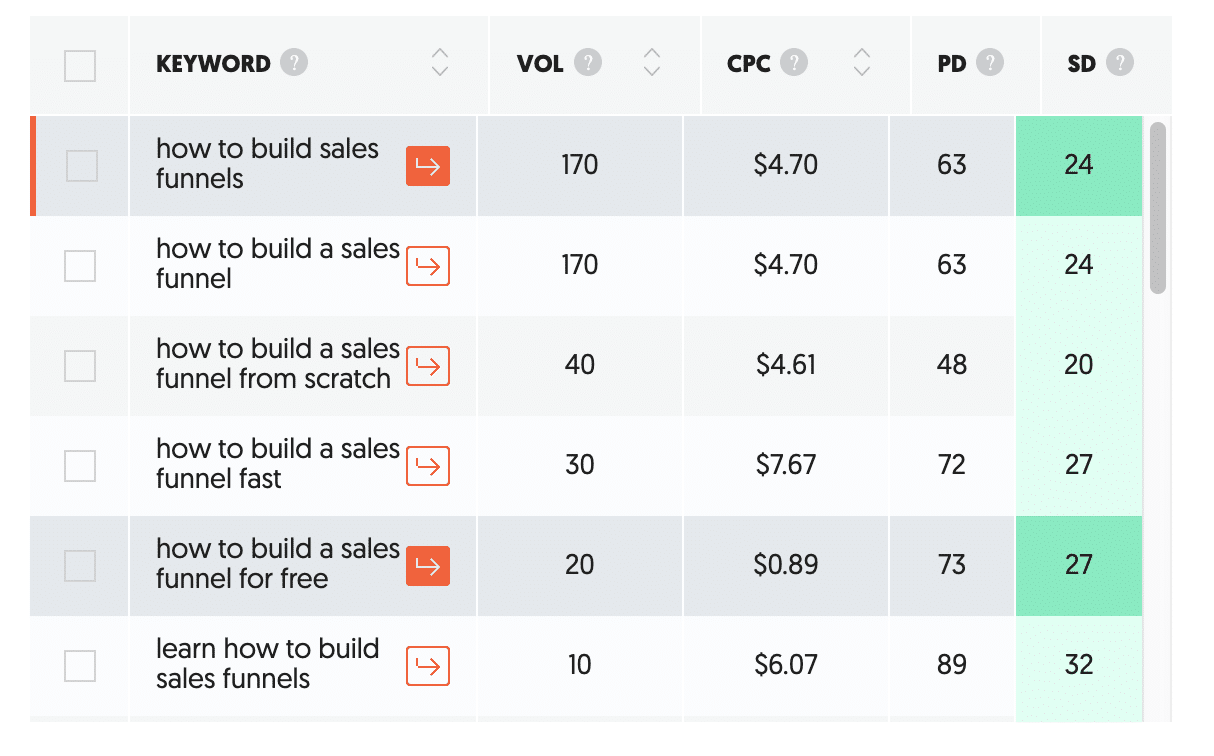 Here are some additional content ideas we can gain from that keyword search:
How to build sales funnels
How to build a sales funnel
How to build a sales funnel fast
We can also type in "how to use clickfunnels" because the One Funnel Away Challenge teaches you how to build sales funnels within ClickFunnels.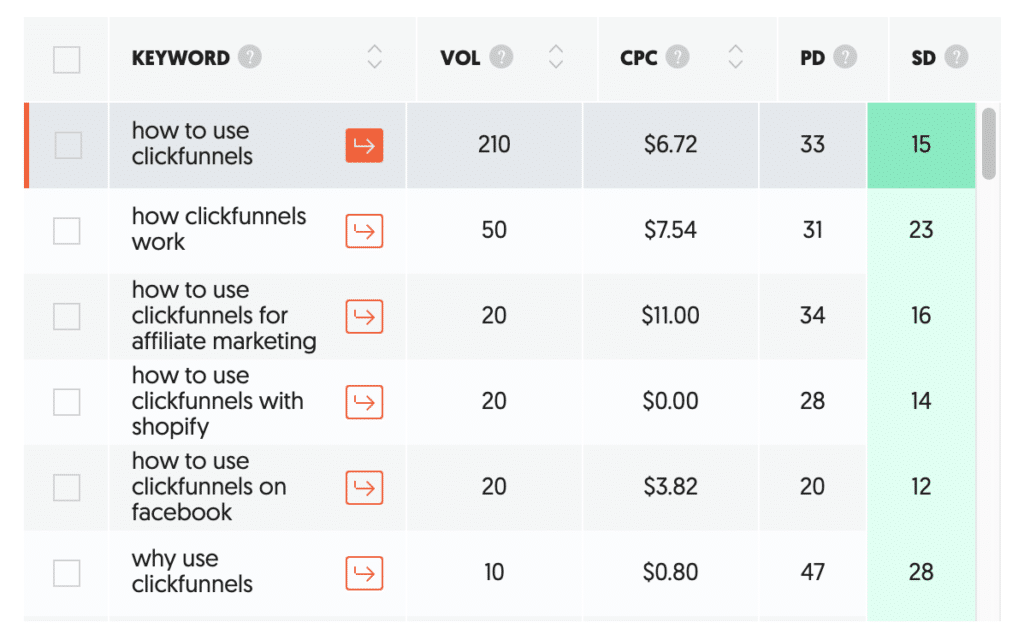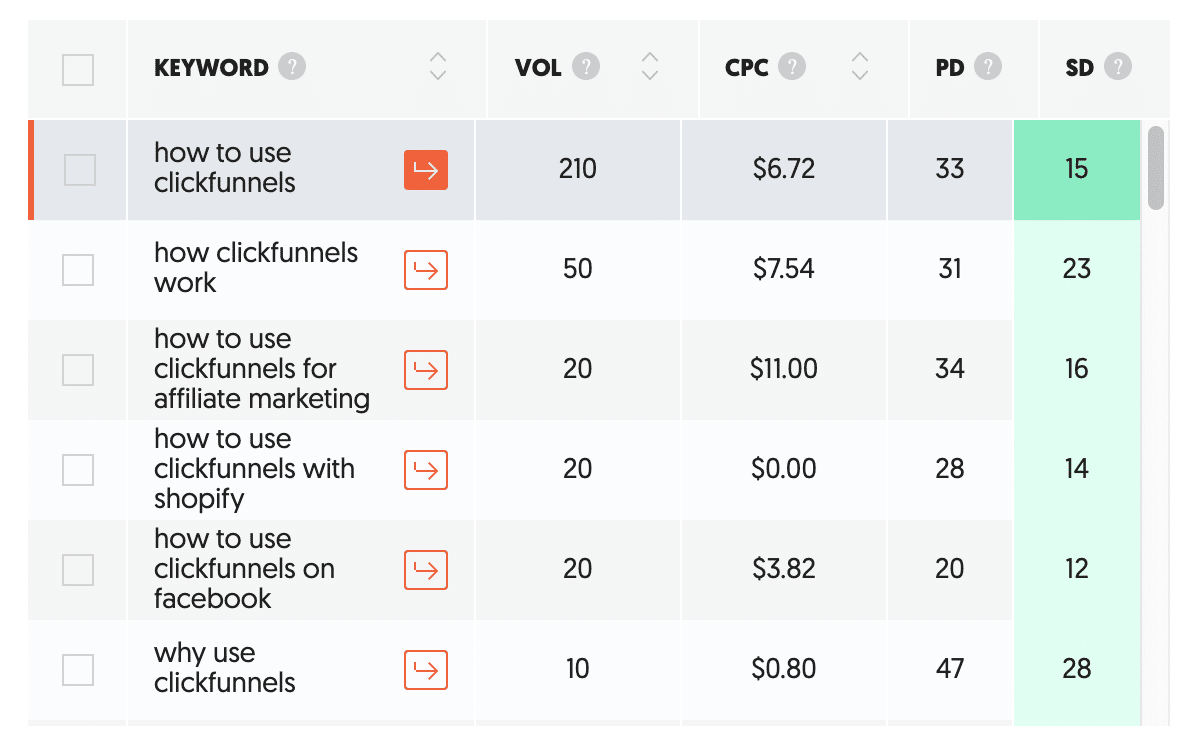 From that, we can gain the following content ideas:
How to use ClickFunnels
How ClickFunnels work
ClickFunnels training could be one as well, so let's look at that…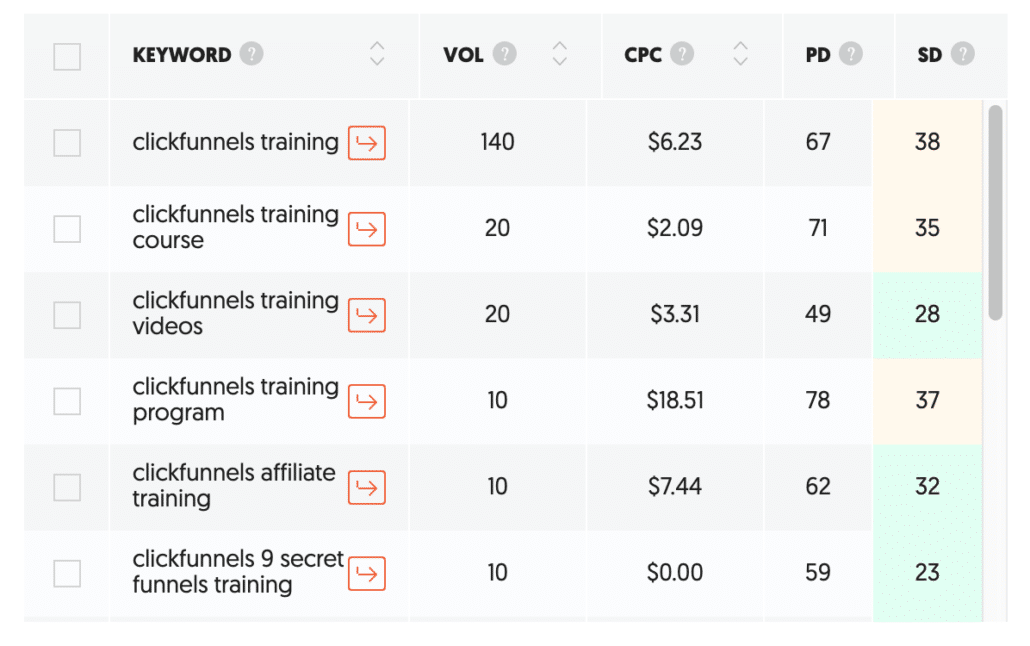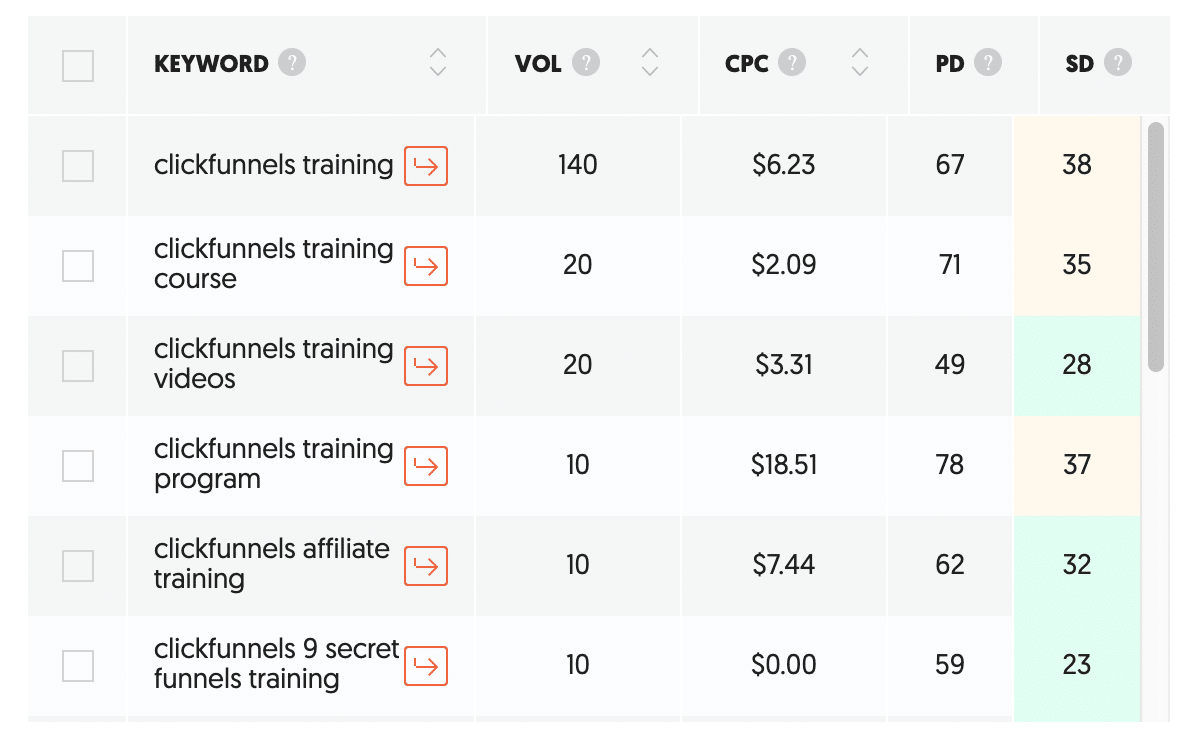 Here, we could create some training and then refer them to our One Funnel Away Challenge affiliate link from the training. You could say, "Hey, the best way for you to learn this is to take the One Funnel Away Challenge because it'll take you step-by-step through setting up a funnel in ClickFunnels."
We can also just type in clickfunnels get even more content ideas because that's the maker of the One Funnel Away Challenge…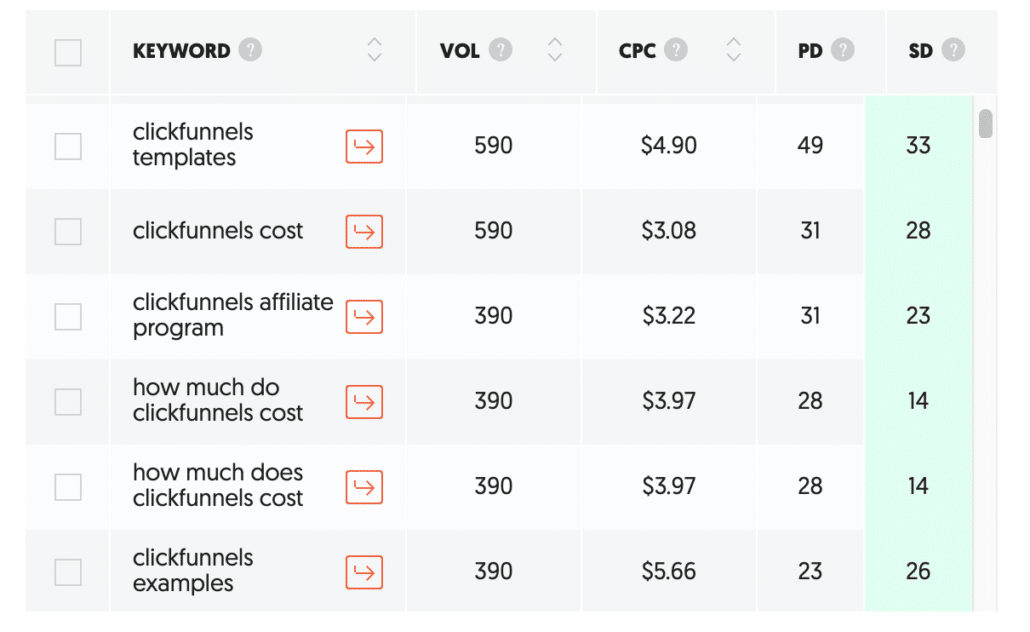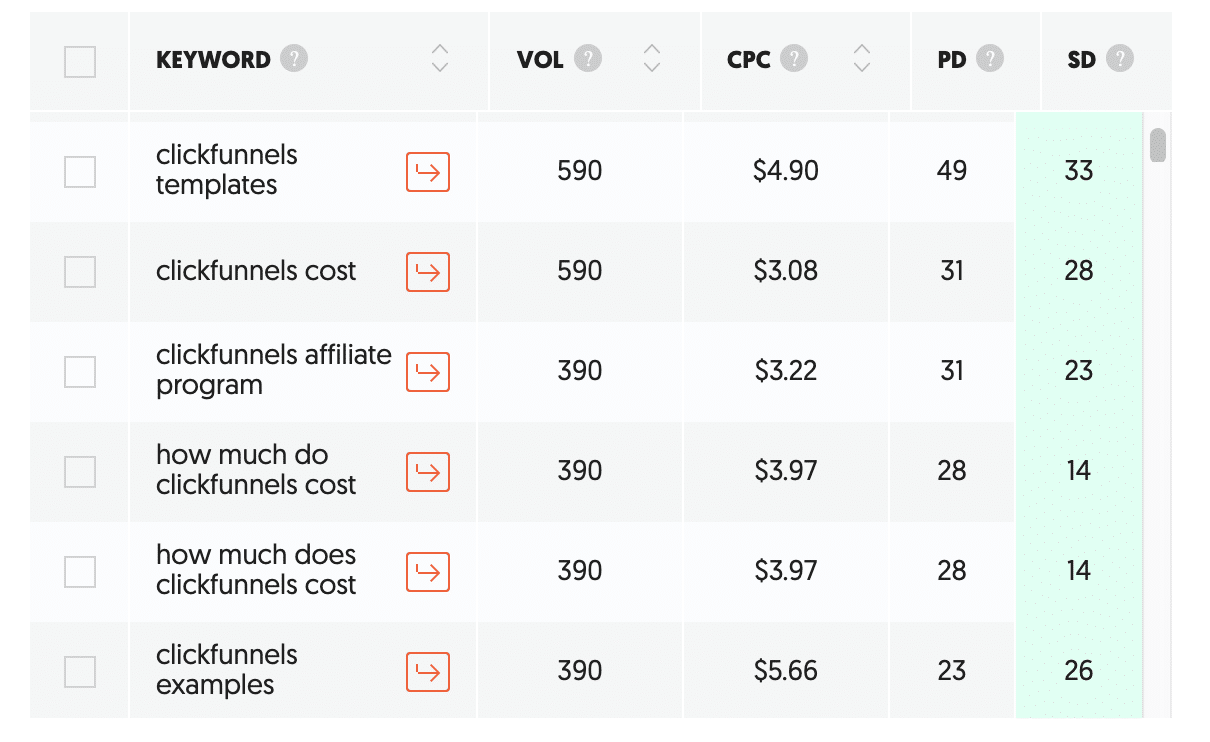 Here are two more ideas that came out of that search:
Clickfunnels templates – The One Funnel Away Challenge has a lot to do with that. If someone is looking for a template, it means they are brand new to ClickFunnels. You can say, "Hey, take your template and run it through the One Funnel Away Challenge and you'll have your funnel up and running."
Clickfunnels examples – The people who are searching for this are those who are brand new to Clickfunnels and would benefit from the One Funnel Away Challenge.
Another great example that we can use to show you how to make $100 a day with this strategy is Wix. It's a web builder and they pay a $100 flat commission to affiliates that refer people to them.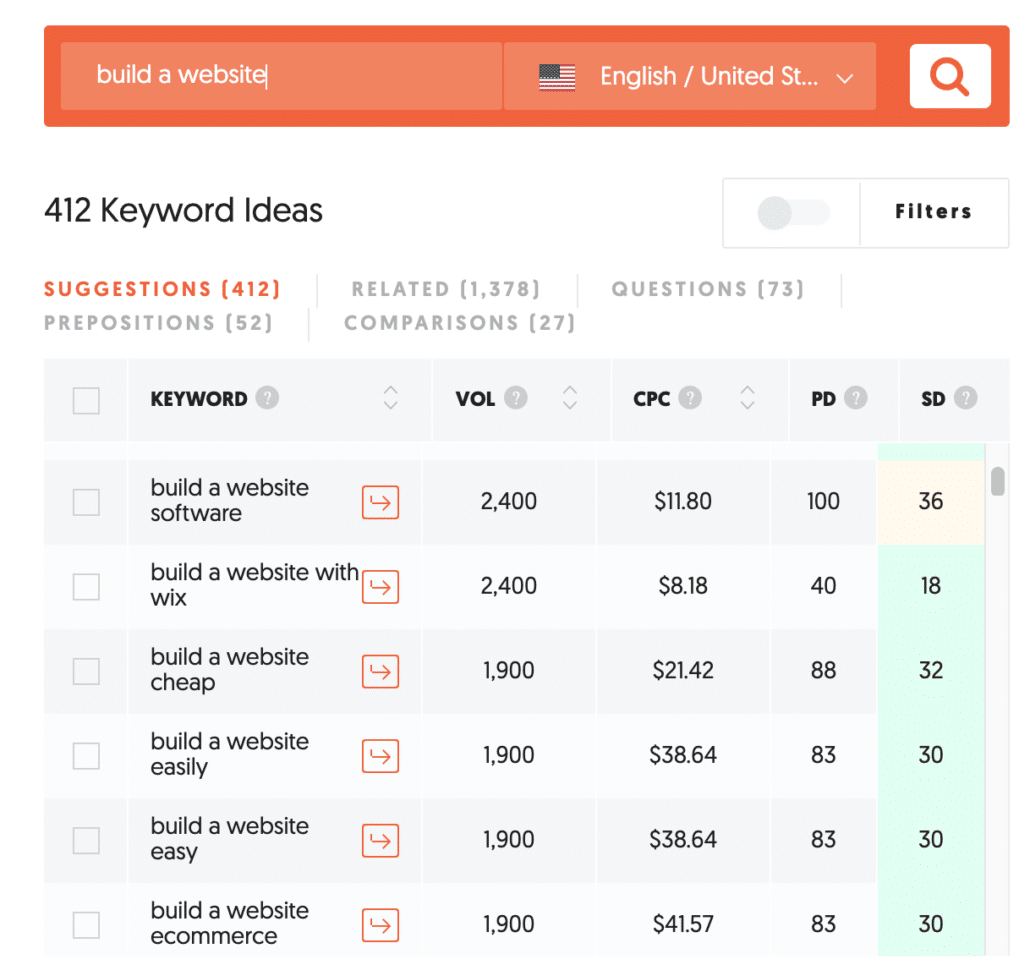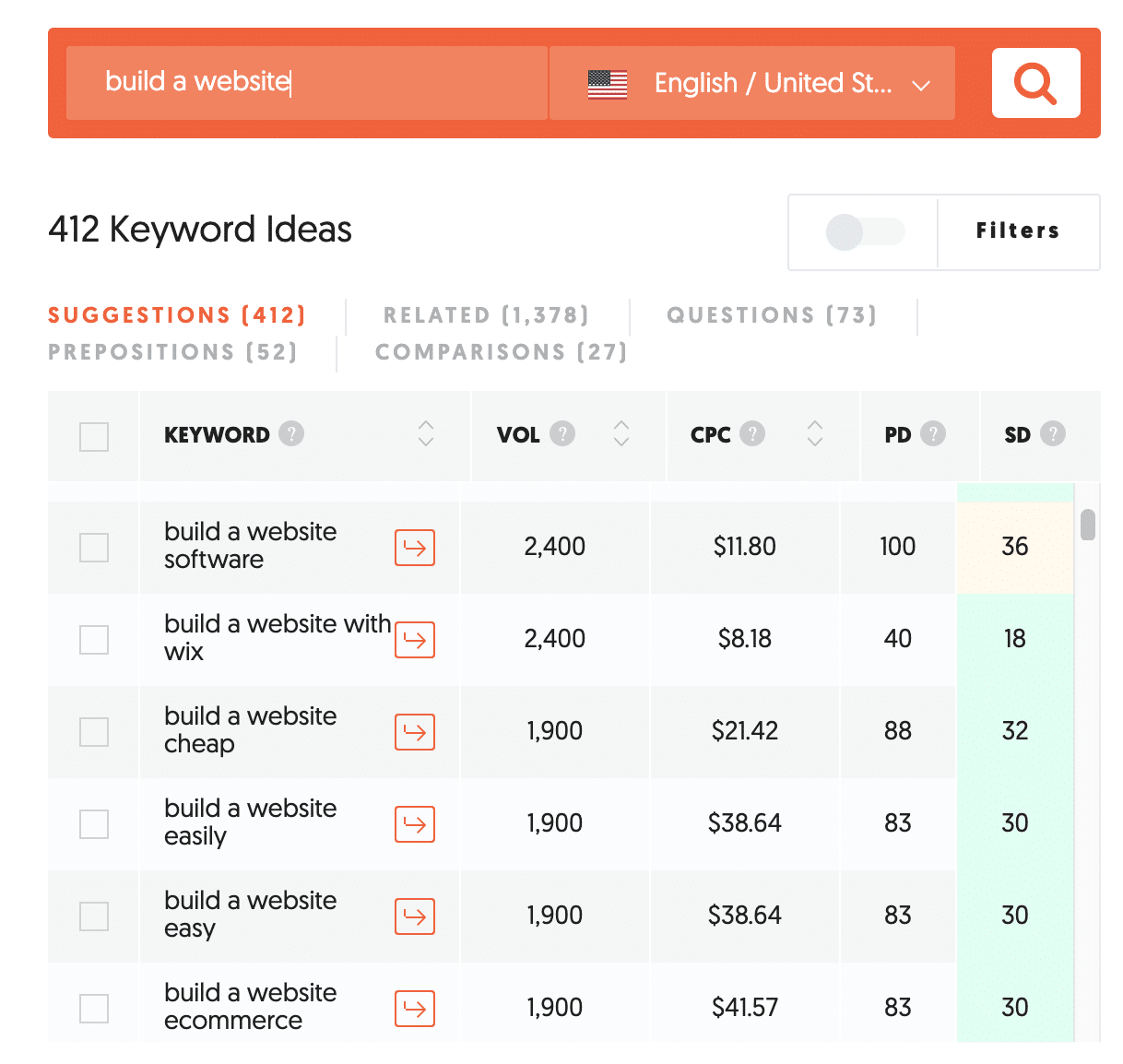 You can build all kinds of content for Wix around keywords like "build a website" because Wix is an easy website builder. So, let's look at some content ideas we get when we search for "build a website" on Ubersuggest:
Build a website software
Build a website with wix
Build a website easily
On Ubersuggest, the SD column tells you how easy each keyword is to rank for, and you can see that "build a website with wix" is one of the easiest ones to rank for. If I was in this niche, I'd be all over that one! It's really easy to rank for and there are 2400 people a month looking to build a website with Wix.
Remember, Wix gives you $100 every time someone signs up for it through your affiliate link. And many of the people who are searching for that term have not yet signed up for Wix.
So, all you've gotta do is say, "Hey, step one is sign up for Wix." Boom, you get a sale right there. That's a great keyword because it's hot traffic that is already looking to sign up for Wix.
Step 3: Create Content Around Your Affiliate Product
The next part of this $100 a day strategy is to create content for search engines based on the keywords you found. Then, you're going to put those pieces of content on the internet with links to your affiliate products.
The best pieces of content include blog posts, YouTube videos, and Pinterest pins because each of these platforms involve placing content on search engines.
The reasons we do this strategy on search engines and not on Facebook or Instagram is because it's easier. Would you rather try to sell Wix to someone who is googling "how to build a website with Wix" or to somebody that's just pulled open their phone and is planning on looking at Instagram for 20 minutes on their lunch break.
The one you want to sell to is the one that is ready to take action, and search engines will give you that.
Spencer loves YouTube, blogging and Pinterest, but you might just choose one of those.
You might say I'm really good at writing but I'm terrible at being on camera so I'm gonna do blogging.
Or you might love the idea of creating videos and then you can do YouTube.
Other people might be like, I suck at writing and being on video, but Pinterest is a fairly easy solution (which it is) so I'm gonna do my content on Pinterest.
Each of these platforms have a different amount of volume for each keyword, but in general, if someone is searching on one, they're probably searching on other platforms as well.
How to Get Your Content Seen to Make $100 a Day
Obviously, you need your content to be seen on these search engines, and we've got some other articles and videos to help you with that:
For the sake of this article, we want to talk about how to design the content so that your affiliate links get clicked. The best way to do that is to use clear CTA's (call to actions) in both your wording and your layout.
On blogs, you can do this with buttons and pop ups.
On YouTube, you can do it in the description and with end screens and cards.
On Pinterest, you can link to a post or directly to an affiliate product (the image you post on Pinterest is your CTA).
You're going to create content that answers their question, and you also want to build your content around getting people to take an action that pays you money.
CTA Buttons
When you are doing affiliate marketing in this way, you want to have CTA buttons that your audience can click on to sign up for your affiliate product. You can also add links into your content, but buttons are a lot more eye-catching and they easily direct your audience to take action.
If your article was about Wix, you might say: "Step 1 is to sign up for Wix" and then you have a button that is linked to your affiliate link. You need to make sure your button or link is big and bold because that's the call to action; it's where you actually make money.  When you look at the blog example below, what do you see? You see that button and you want to click that button. I want to click that button right now because it's big and orange and bold, right?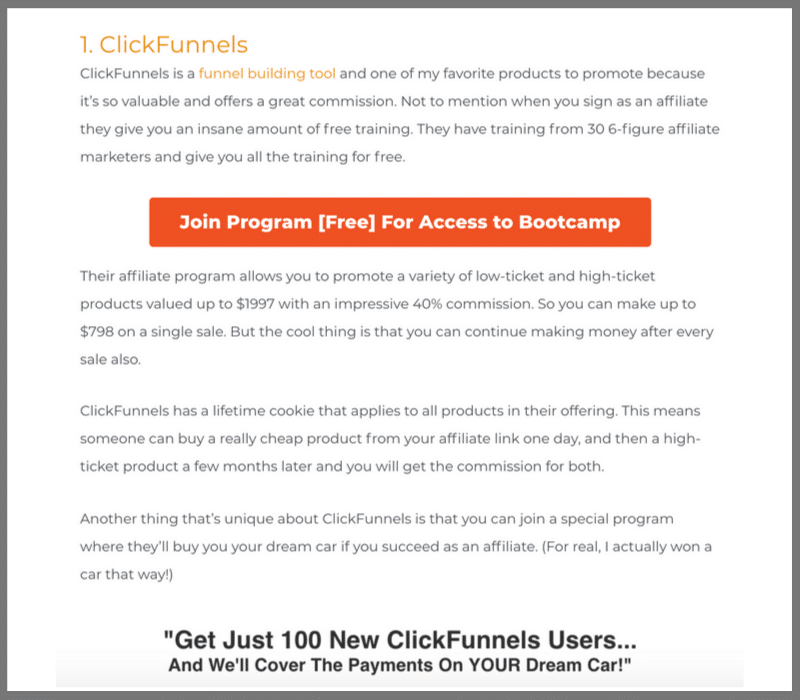 So, when you get to the spot in your content where you are adding your affiliate link, don't be shy about it. Make it big and bold and colorful and do everything you can to portray the value of signing up for it (because hopefully you've chosen a product that you actually believe in).
Pop Ups
The second way you can direct attention to your affiliate links is to use pop ups. You could have a pop up that says grab your free Wix trial right now.
Another way to use a pop up is to get their email address from the pop up and then email them things like Wix trainings, ClickFunnels trainings or One Funnel Away Challenge emails. I use Active Campaign to do this on automation.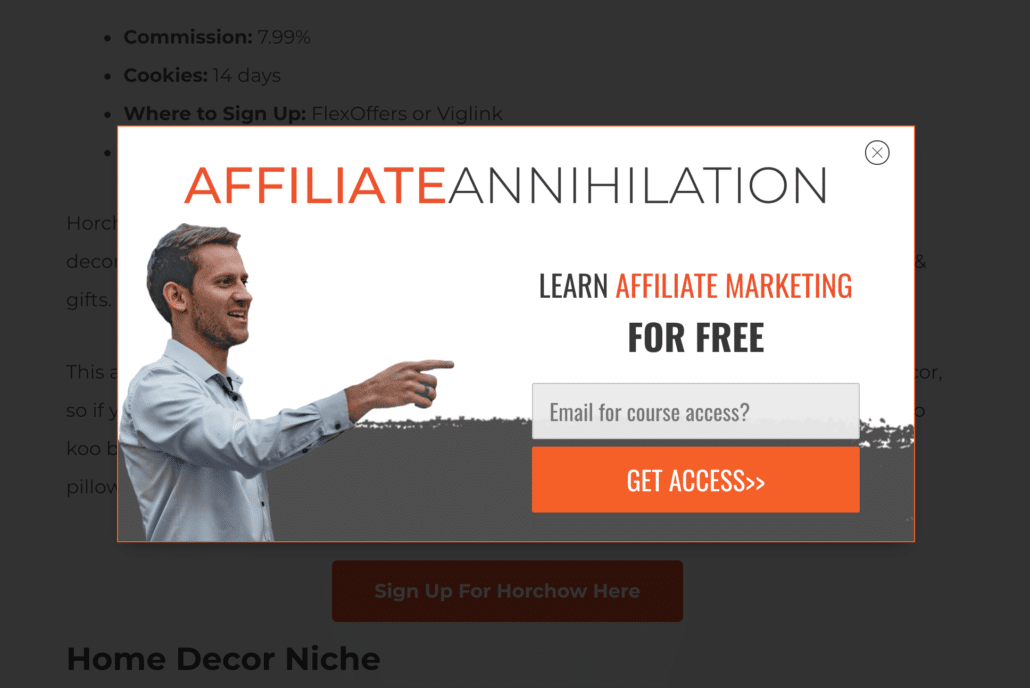 You can do this on YouTube by putting links in the description. YouTube will also let you actually pop up a link on the screen by using end screens and cards. So you can have it say, "Grab Your Wix Trial Right Now." In fact, you can plan the timing of your cards on YouTube so that right when you are talking about Wix, a pop up comes up for them to grab a free trial.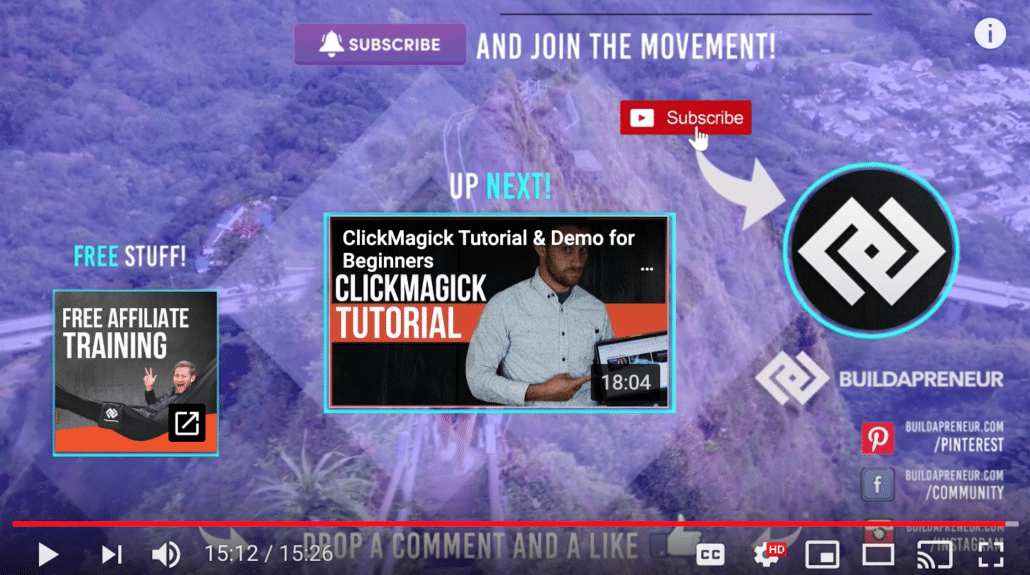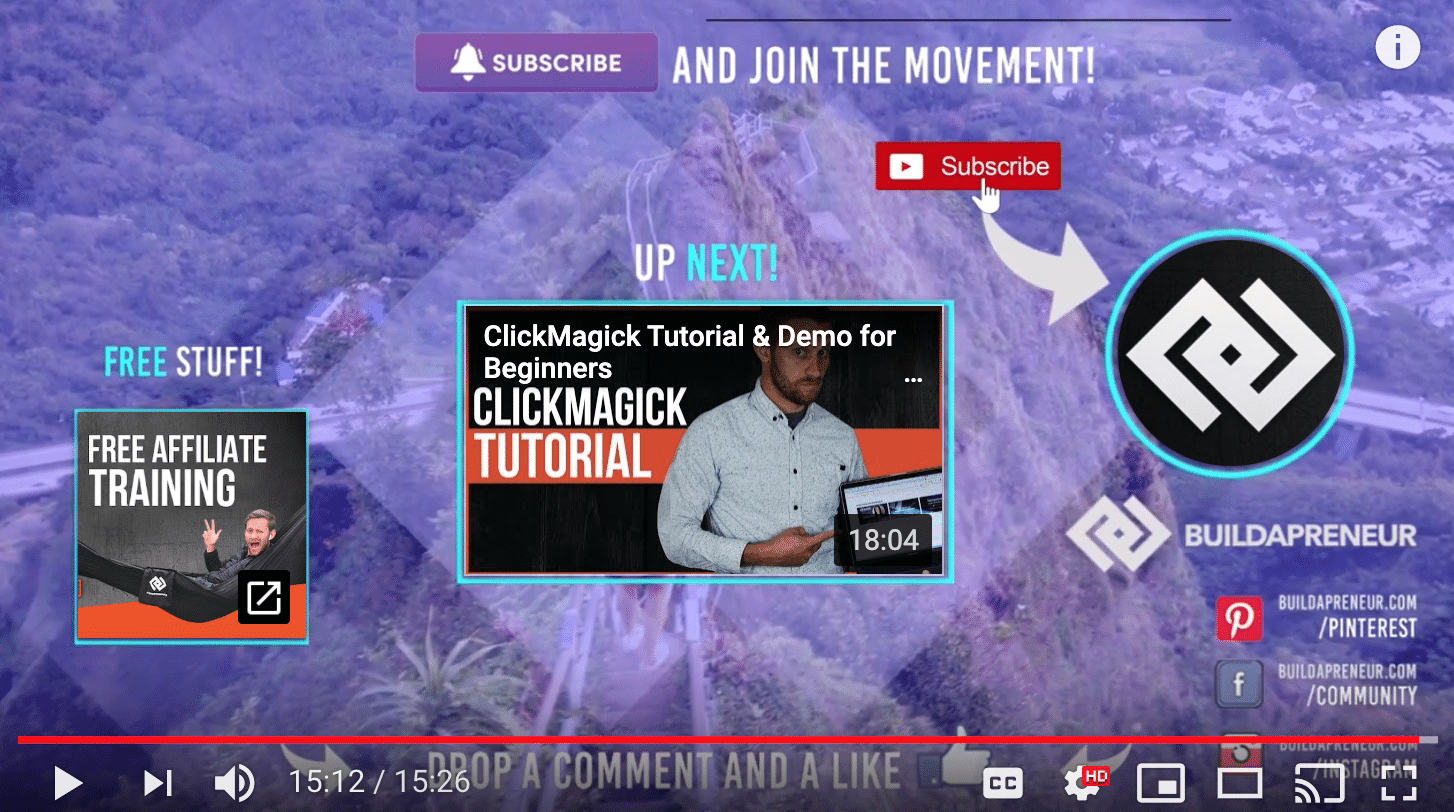 On Pinterest posts, you can either link to your blog posts or link directly to your affiliate product.
How to Make $100 a Day Online Passively
There are multiple ways to do this, but the point is you've got to have an affiliate link that is easily accessible. And then, you've got to be targeting the right keywords for that particular affiliate product. You need to find the people that will actually benefit from that product. The beauty of this strategy is that it's extremely scalable. This isn't how to make $100 a day some days. This is how to make $100 a day online by building up an affiliate business that brings in $100 a day every single day regardless of how you work. It's a truly passive affiliate business.Once your content it ranking, you'll start getting commissions for your affiliate products on autopilot. You could rank for 3, 4, 5 years in that top spot once you're there, which will continue to bring in signups every single day. So imagine if you were ranking for "how to build a website with Wix." Can you see how much money you would get if you were ranking in the top three for that and you were getting clicks every single day? The cool thing about search engines is they like old content, so you can have old content that still brings in money, and you can be growing your business (shooting for the next level of $200 a day or $300 a day). Or you can be living life with your family or traveling or whatever it is that you love doing and still be bringing in that original $100 a day. That's the beauty with this method as opposed to any other method out there. Search engines give you the ability to actually create passive income instead of that hard active income that you'll find on Facebook and Instagram.
Next Steps for How to Make $100 a Day Success
Not only did I show you how to make $100 a day with affiliate marketing, I showed you how to do it passively, and how to scale it bigger when you are ready. That's a beautiful thing!
If you are interested in affiliate marketing, I promise you'll want to subscribe to our YouTube channel and grab our free affiliate marketing training. Affiliate marketing is what we do and it's what we teach. Why stumble around and figure it out on your own when we've already done that for you?
And the following video is the perfect next step if you want to amp up your affiliate income:
4 $25K Affiliate Marketing Examples You Can Copy
In this video, you'll get to see some affiliate marketing campaigns that really crushed it for us. These are Spencer's best 4 affiliate marketing campaigns, each of which brought in $25,000+ in commissions. They were very successful and he takes you inside to see how they work.

Watch the Video
Looking for high ticket affiliate programs? Check out my video below: