When it comes to software as a service or SaaS, affiliate marketing commissions are usually MUCH higher than in any other category.
And not only that.
A lot of Saas products have affiliate programs with recurring commissions…
This means you can refer a customer once but get paid over and over again.
That's a pretty good strategy for building your business and your passive income streams.
Want to know which affiliate marketing method works best for you? Answer the short quiz below:
If you're ready to get started, here are the best SaaS affiliate programs that will make you money this year.
Best Saas Affiliate Programs to Promote
1. WP Engine
2. LastPass Affiliate Program
3. Hunter.io
4. ConvertKit
5. FreshBooks
6. Shopify
7. Iconosquare
8. InstaPage
9. ActiveCampaign
10. OSI
11. Woorise
12. Aweber
13. LeadPages
14. Unbounce
15. SEMRush
16. BigCommerce
17. Tribe
18. Moosend
19. Constant Contact
20. AnyTrack
21. PipeDrive
22. Sendinblue
23. GetResponse
24. Sucuri
1. WP Engine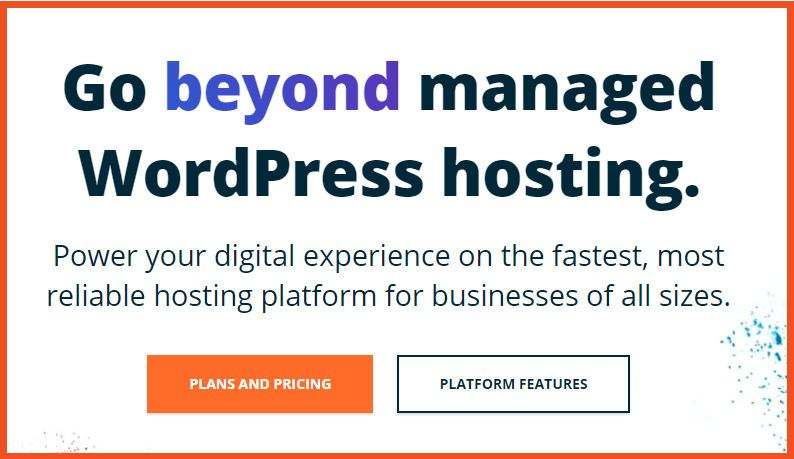 WP Engine is the top managed WordPress hosting company in the world. Their hosting prices are a little higher than you would find at their budget competitors, but they offer faster speeds and better security.
They also have an excellent affiliate program.
Affiliates earn $200 or 100% of their referrals' first month of hosting. Plus, as a WP Engine affiliate, you'll automatically become a Genesis and StudioPress affiliate.
WP Engine offers bonuses based on your number of referrals. Here's a look:

As you can see, even a small number of successful referrals can lead to an excellent affiliate payout.
2. LastPass Affiliate Program
LastPass is a software program that securely saves passwords on behalf of its customers.
And since everyone has a password for every place they shop and account they create, it's safe to say that LastPass has a broad customer base.
LastPass has a few different pricing levels. 
First, they have a free program that contains the browser extension only. Next, they have the premium level at $3 per month that works across all devices. Finally, a family plan that includes password sharing and six license keys for only $4/month.
They also have plans for businesses that range from $3-$8 per user per month.
3. Hunter.io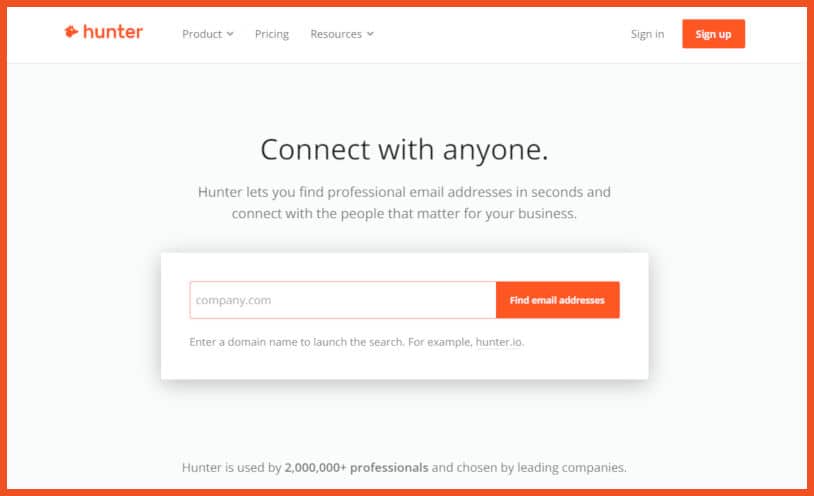 Hunter.io enables its users to find professional email addresses of anyone – it even verifies them. This is a great service for companies doing business outreach. 
You can market Hunter.io to freelancers, journalists, sales professionals, coaches, and more.
Prices range from $0 – $399 per month, depending on the number of searches needed. 
Users can take advantage of the free plan if they do less than 25 searches per month. Customers in the highest "Enterprise" plan are allowed up to 30,000 searches per month.
A great thing about the Hunter.io affiliate program is that you can earn recurring commissions during the first 12 months of your referral.
Here are the details:
4. ConvertKit
Have you ever wondered why you see so many bloggers recommend ConvertKit?
Besides being a super helpful email marketing software, it comes with a killer affiliate program. Affiliates promoting ConvertKit earn 30% of their referral's monthly subscription costs for as long as that customer is active.
As an affiliate, there's nothing better than referring a customer once and earning commissions for life.
Plus, their email marketing program has advanced features but is still easy to use. Users can create funnels, send weekly broadcasts, and use tags within their emails to segment users. 
The basic "Creator" plan pricing starts at $29 per month for up to 1,000 subscribers.
5. FreshBooks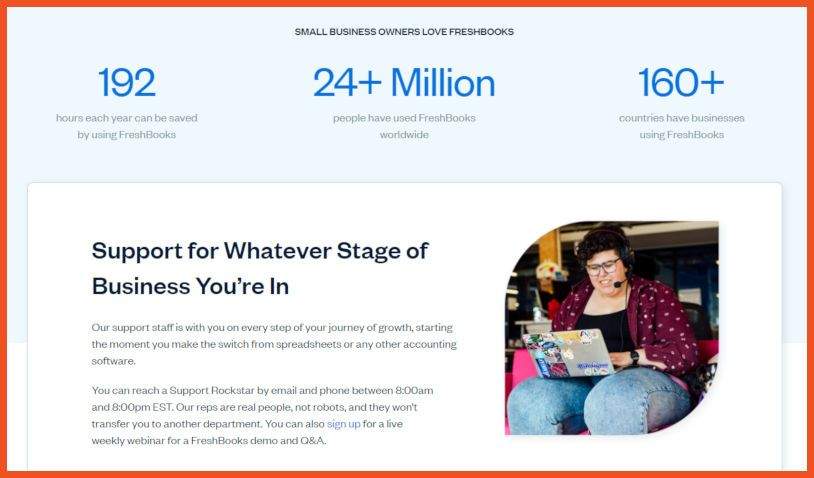 FreshBooks is a popular bookkeeping program for small businesses and freelancers. It has many great features, including invoicing, time tracking, accounting, reports, and payment tracking. It even has a mobile app business owners can use.
Almost everyone has heard of Freshbooks, and it has served over 24 million users.
FreshBooks has a great affiliate program paying affiliates up to $10 for free trial sign-ups and up to $200 when those free trial users convert to a paid plan.
6. Shopify
Shopify is an eCommerce platform that allows user to create their own online stores. Users can sell anything from physical to digital products.
Shopify has plans that range from basic and cost $29 per month to advanced plans that cost $299 per month.
While Shopify is pretty vague on their affiliate sign-up page, they claim that affiliates earn an average of $58 per referral. The actual terms are two times the monthly price of the plan your referral chooses, which gets paid two months after your referral has signed up.
7. Iconosquare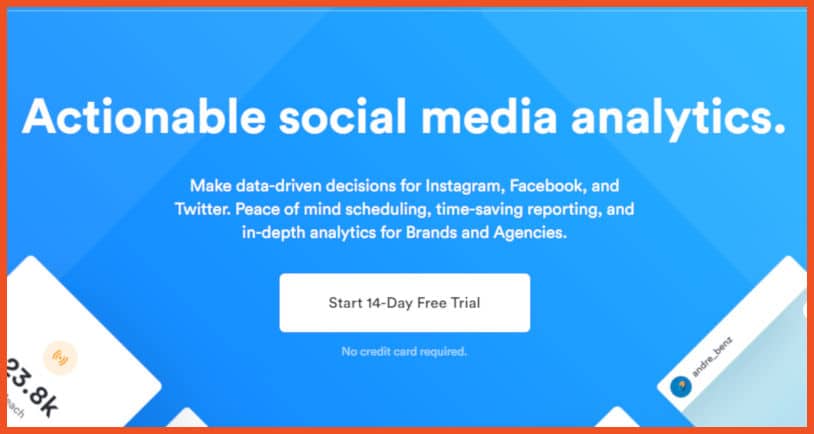 Iconosquare is a social media scheduling and analytic program that lets users schedule their social media content from one dashboard. It also has analytics and industry benchmarks to help you see how you stack up to your competition.
Iconosquare is ideal for business owners who want a better understanding of their social media, as well as bloggers, journalists, influencers, and online marketers.
There's a 14-day free trial users can sign up for. After that, customers have three plans to choose from. 
The "Pro" plan is for individuals or small businesses and costs $49 per month. The "Advanced" plan is for marketing teams and costs $79 per month. And finally, the "Enterprise" plan is for agencies and costs $139 per month.
Iconosquare offers recurring commissions, and its top affiliate earns $15,000 per year.
8. InstaPage
InstaPage is a landing page builder with a focus on conversions. With Instapage, you can personalize your landing pages, run experiments, sync your ads, and collaborate with your team.
The big downside of Instapage is that it's expensive. It's not a piece of Saas you'll be able to promote to a beginner audience.
The lowest-priced plan at Instapage starts at $399 per month when paid annually. Their most advanced plan will run customers over $2k per month.
Their affiliate program is very high-paying, giving affiliates 50% of each new sale. 
At the moment, it appears that they've taken down the affiliate sign-up page and instead added a contact form. So, if you want to join this program, you'll need to shoot them an email.
9. ActiveCampaign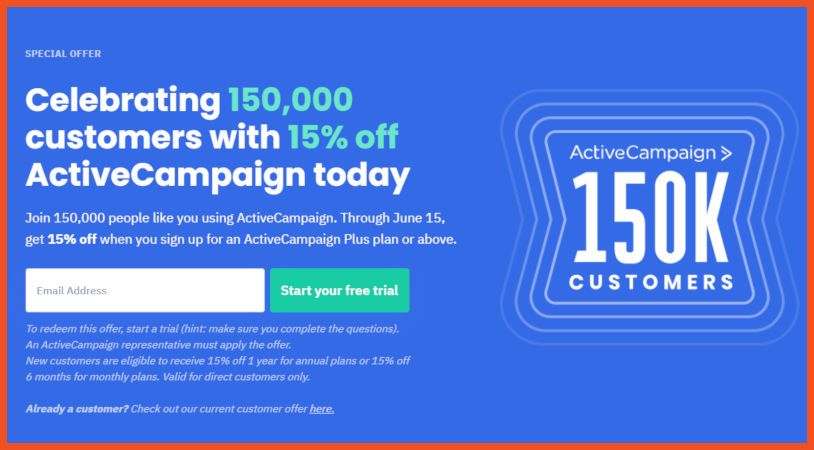 ActiveCampaign is a piece of software that combines email marketing, CRM tools, and marketing automation. This software comes with some very advanced features that can help businesses understand and market to their audience.
It also comes with a solid affiliate program. Affiliates who promote ActiveCampaign earn up to 30% in recurring commissions. And according to their website, the average referral brings an affiliate $1,350.
Some of their top affiliates earn over $100k per month.
10. OSI 
Ominstar, or OSI, is affiliate marketing software businesses can use to sign up and manage affiliates easily. The product features include auto signup, rewards, reporting, email templates, discount codes, coupons, and more.
The "Basic" package is $47 per month and comes with the ability to add 200 affiliates. The "Professional" plan is $97 per month and allows users to add 1,000 affiliates. The "Premium" plan is $247 and comes with the ability to add 5,000 affiliates, plus many advanced features.
They have an excellent affiliate program, giving their affiliates a 20% recurring monthly commission.
11. Woorise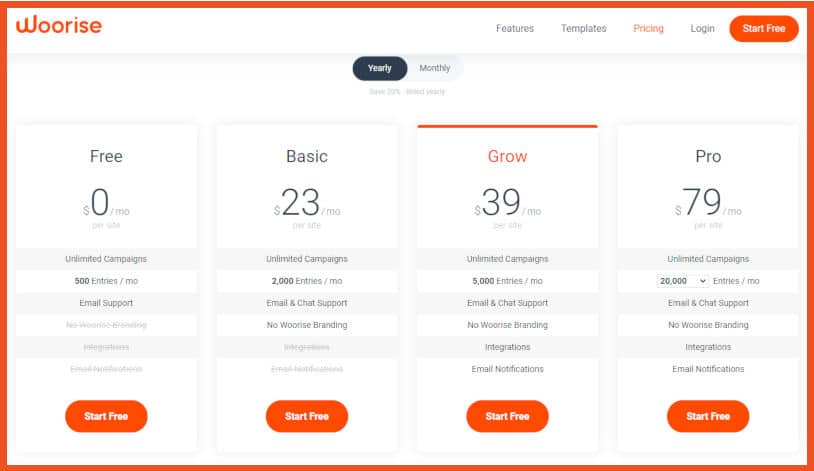 Woorise is an all-in-one lead generation and marketing platform. It comes with a bunch of features such as the ability to create contests, giveaways, quizzes, landing pages, checkout pages, and surveys.
Basically, all the things a marketer would need to explode their email list. 
Woorise has various plans that work with different budgets and needs – they even have a free starter plan that allows users to collect 500 entries per month. Their most popular plan is the "Grow" plan, priced at only $39 per month.
12. Aweber 
Aweber is email marketing software that's been around for a while. It's not as popular as it used to be, but it is still a solid and reliable service with plenty of helpful features.
With Aweber, users can segment their lists, create automation, and tag users based on their actions.
The starter plan of up to 500 subscribers costs $19.99 per month.
13. LeadPages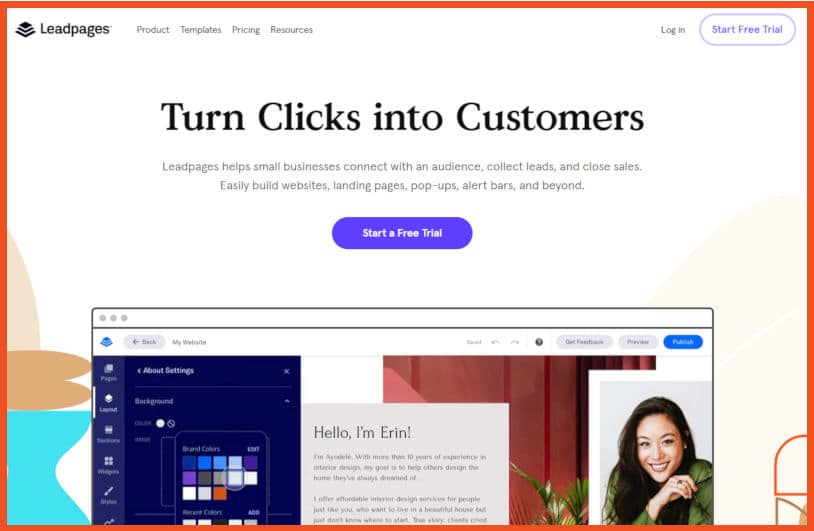 LeadPages is a landing page, and lead generation tool that comes equipped with over 200 templates, the ability to integrate payment processing software, and A/B split testing.
LeadPages is an excellent tool for business owners and marketers who aren't tech-savvy. The templates at LeadPages require no coding and are easy to customize.
LeadPage offers new users the chance to try out their software free for 14 days. After that, users can choose from one of their three plans that range from $27 to $239 per month.
Leadpages has a unique commission structure – all affiliates receive a base rate of 10% commissions. Then, depending on the amount of money in sales you bring in for the month, you'll have the ability to earn a higher rate.
This rate will apply to both new sales and past sales. Here's a look at the chart: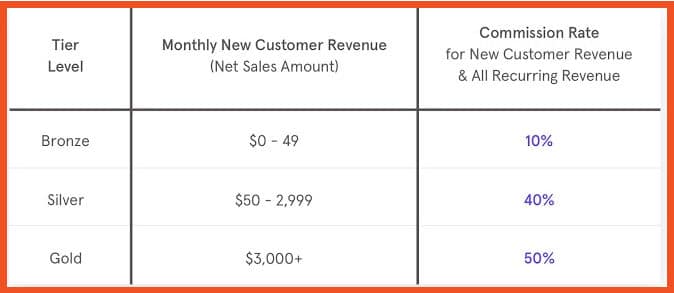 14. Unbounce
Unbounce is lead generation software specializing in landing pages, sticky bars, and pop-ups. They have templates that are easy to customize and don't require any coding.
Unbounce plans range from $80 to $300 per month. Their most popular plan is the "Optimize" plan that is $120 per month and allows for up to 30,000 visitors and 1,000 conversions.
15. SEMRush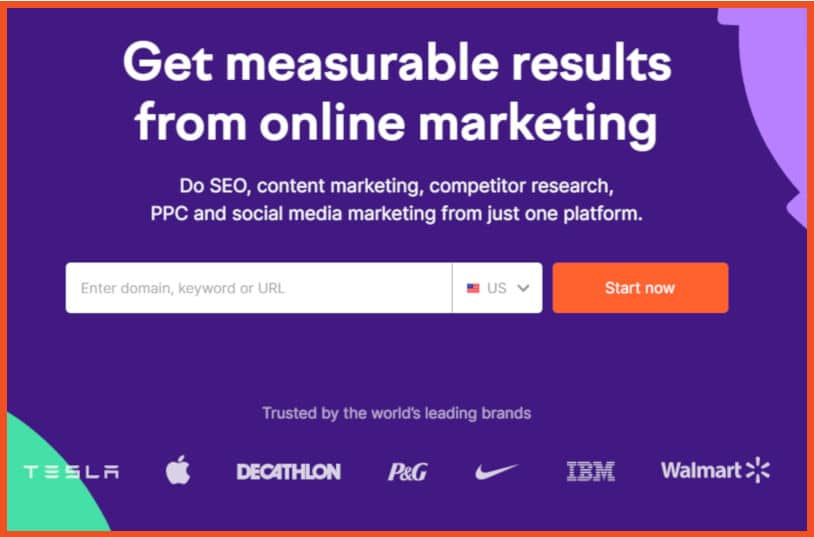 SEMRush is a search engine tool, content planner, and social media scheduler all-in-one. It's one of the most widely used tools for keyword research and competitor tracking.
It's such a good tool that over 30% of fortune 500 companies use it.
SEMRush has three plans that range in price from $120 per month to $450 per month. They also offer a 7-day free trial. 
The nice thing about the SEMRush affiliate program is that you can get paid per trial and not just for sales.
16. BigCommerce
BigCommerce is an eCommerce platform that enables its users to build their eCommerce websites easily. Some features include theme customization, digital wallets, coupons and codes, and enhanced site speed.
Pricing is tailored so potential customers will need to speak with a sales agent to receive a quote.
17. Tribe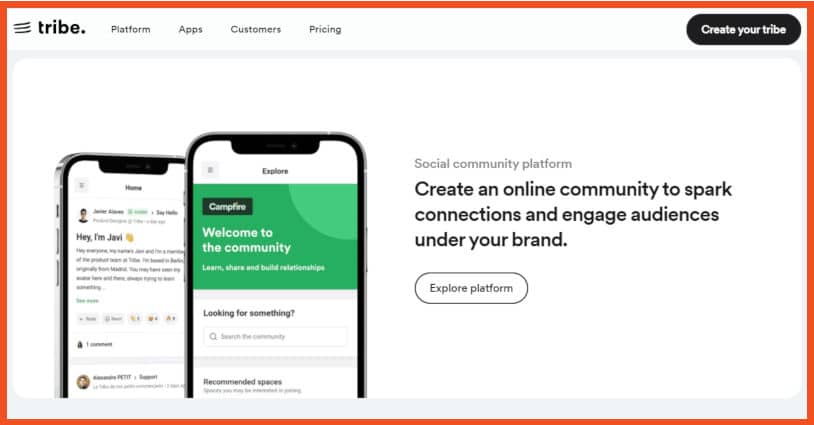 Tribe is a customer engagement platform. It allows businesses to create social media like communities. These communities are customizable and can be a way for companies to interact with customers and answer questions. These communities can also be centered around user content.
Tribe has a free plan that allows users to create basic apps and unlimited spaces. Their paid plans run from $49 to $199 per month.
The commissions you'll earn from Tribe will depend on the number of referrals you make. Up to 10 conversions will earn up 10%, over ten conversions will earn you 20%, and over 50 conversions will earn you 25%.
Commissions are credited when referrals renew their plan.
18. Moosend
Moosend is an email marketing platform that gives users the ability to create landing pages and opt-ins. The email software comes with advanced personalization and the ability to segment your list.
Moosend is very affordable, only charging $8 per month for up to 1,000 subscribers. They also have an "always free" plan that has basic functions.
19. Constant Contact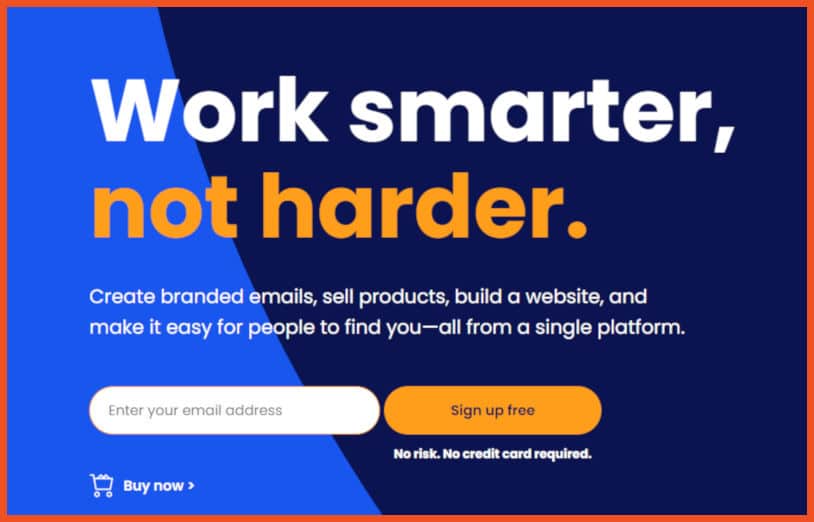 Constant Contact is a marketing software that enables users to create websites, run email marketing campaigns, and create social ads.
Their email software has segmenting features, eCommerce marketing, and automations. 
Constant Contact has several different plans. Their least expensive plan is for the website builder only and is $10 per month. Their most popular plan is their "Email Plus" plan which costs $45 per month.
20. AnyTrack
AnyTrack is software that connects all pieces of a marketing plan together for better tracking. This software is ideal for anyone who wants to focus on increasing conversions. It can connect to Facebook Pixel, Google Analytics, ad networks, and affiliate programs.
The "Basic" plan is good for one website and costs $50 per month. The next tier is the "Personal" plan which costs $150/month and works with up to 3 websites. The "Advanced" plan allows up to 10 websites and costs $300 per month.
21. PipeDrive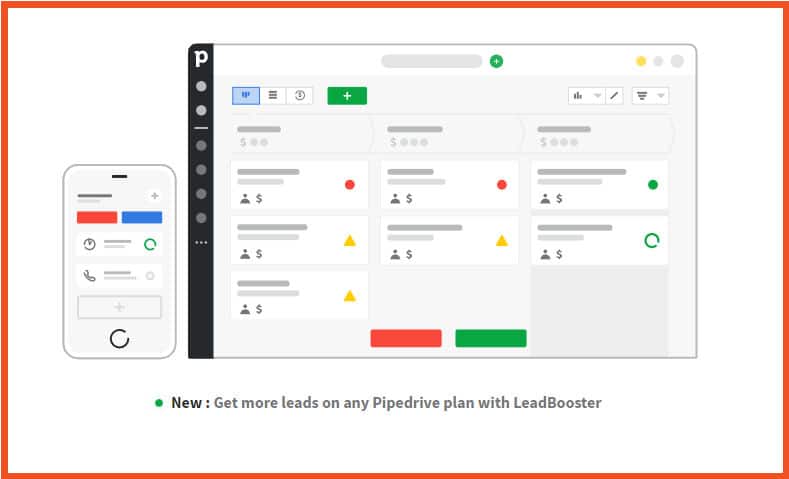 PipeDrive is a sales pipeline software. It allows you to create your own sales funnel processes and then fill them with the information you need to track. PipeDrive can help you get leads, track customers, and automate redundant admin tasks.
They allow new users to try the software for 14 days at no charge. After that, plans range from $12.50 to $99 per month.
22. Sendinblue
Sendinblue is CRM software that allows businesses to communicate with their customers via email, SMS, and chat. It also allows users to track customers, segment their email lists, and automate their messages.
Sendinblue has three different ways to partner with them, depending on who you are. There's a program for bloggers, agencies and consultants, or incubators and VCs. You can earn a small commission for free trial signups and again when your referrals convert to a paid plan for the blogger program.
The most popular plan at Sendinblue is $65/month and holds up to 20,000 email subscribers. Customers can pay more if their email list is larger than 20k.
23. GetResponse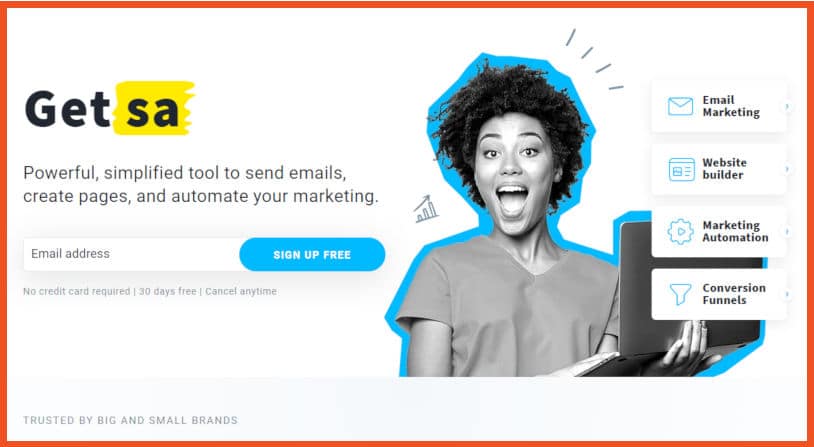 GetResponse helps its clients get leads, make sales, and engage with online customers. Some of the key features of GetResponse are email marketing and conversion funnels. 
However, that's not all this software does.
Users of GetResponse can also use it to host webinars, build landing pages, build websites, and more.
And what's cool about the GetResponse affiliate program is that you can choose what you want to sign up for – either $100 per sale or 33% of the recurring revenue.
The pricing at GetResponse starts at $15 per month and goes up substantially based on list size and features needed.
24. Sucuri
If you've ever run a website (and I'm assuming you do), you probably know what it's like to be hacked or, at the very least, try to be hacked.
Sucuri is a website security service that protects website owners. Their service can scan for and remove malware and respond to hacks. They also offer a firewall and other website protection services.
Sucuri has an array of plans depending on the size and needs of its customers. 
Conclusion
If you can work Saas affiliate marketing into your business strategy, you should. You'll be hard-pressed to find programs with better payment terms and longer cookie durations. 
With so many Saas programs offering recurring or high commissions, you can make a full-time living promoting these products even if you only have a small but highly engaged audience.
Looking for high ticket affiliate programs? Check out my video below: