Online Social Media Jobs That Pay $30/Hour
Availability to start this week
Make $25-$35 Testing New Apps
Just need access to phone/tablet
5+ hours per week available
The luxury boat and yacht industry doesn't just include the buying or renting of boats. You could well be dealing with boating parts, safety parts as well as other tools and accessories as an affiliate. 
If you are trying to decide between yachts and boats, bear in mind that yachts are a lot more costly to buy or rent than boats. So you'll likely earn lower commissions if you deal with boats.
Want to know which affiliate marketing method works best for you? Answer the short quiz below:

Boats, on the other hand, are more affordable and offer a higher volume of sales and consequentially, commissions. 
Also, quite a few programs I've reviewed here include equipment for other outdoor activities such as camping, mountaineering, etc. Keep an eye out for these if you want low commissions but a high number of orders.
Top 10 Boats and Yachts Affiliate Programs
1. West Marine
2. SONS OF SAILS
3. Boatbooking
4. Sea Eagle
5. SAILINGEUROPE
6. Outdoorplay
7. Marine Products
8. Cabela's
9. WaterOutfitters
10. Bass Pro Shops
1. West Marine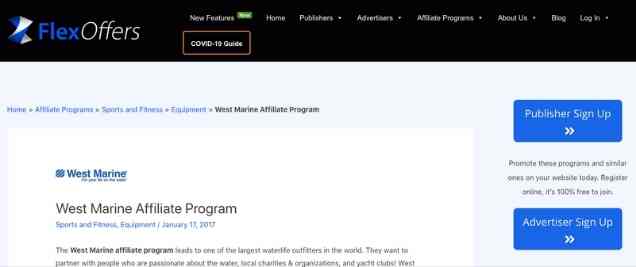 West Marine offers products and services to help you enjoy fishing, boating, kayaking, and a host of water sports. If you visit their websites, you'll see what I mean when I say they have one of the most boat/yacht affiliate programs out there.
They have over 120,000 products to sell!
As an affiliate, you'll have access to their product data feed and creative content. This will help you better understand how to promote their products.
Their affiliate program is run on both Commission Junction and FlexOffers.
You'll receive updates on promotions and exclusive offers too if you sign up with their program. 
URL- West Marine
Cookie Duration- 7 days 
Commission Rate- 2-10% of sales 
Pros:
Have a massive collection of products which enables a high conversion rate 

They provide a lot of promotional content to affiliates 

Have attractive offers for affiliates 
Cons:
Their cookie duration is disappointingly less 

The commission rate varies according to product category 
2. SONS OF SAILS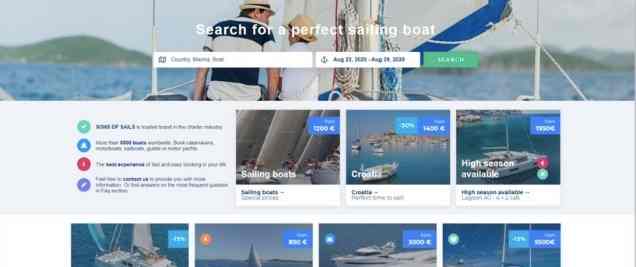 Based in Zagreb, Croatia, SONS OF SAILS have over 6,500 boats worldwide. These boats include everything from gullets and sailboats to motorboats and motor yachts.
After going through a number of luxury yacht affiliate programs, I can honestly say SONS OF SAILS has one of the best. 
Their sign-up process is fairly quick and simple making it the ideal program for novices in the world of affiliate marketing. All things considered; I found their commission rates quite generous. 
Initially, you'll earn a commission of 40% for each new booking. While this is already quite a competitive commission rate, it increases as you make more and more bookings. 
Once you make over 10 bookings per year, your commission rate increases to 50% per each new booking. You can receive your commission in either of these two ways: after the boat cancellation period or at the time of payment made by the guest. 
URL – Sons of Sails 
Cookie Duration- Not mentioned 
Commission Rate- 40% for the first 10 bookings, 50% thereafter 
Pros:
The commission rate is quite high 

The sign-up process is simple and quick 
Cons:
They don't specify the cookie duration unless you sign up 
3. Boatbooking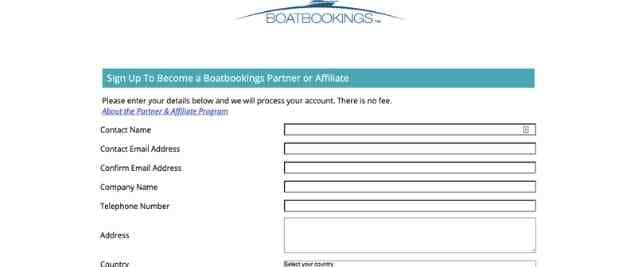 Boatbooking provides boats and yachts for corporate events, etc. all over the world. They have a sound affiliate program with which you can start earning simply by promoting their links via your website.
This is a good way to monetize your website or even your blog!
Once a visitor to your site follows the link and charters a boat, you'll earn a commission. 
I was quite impressed with how smooth their tracking process is as they report lead statuses in real-time – a valuable feature. Commission rates depend on the destination, boat type, etc.
They start with 20% commission as the base rate which increases as and when you provide them with more clients. 
Also, through this program,   you can earn 10% on all books for all clients who return to them. 
URL- Boat booking
Cookie Duration- 30 days 
Commission Rate- 20% on new and 10% on returning customers 
Pros:
The tracking process is convenient 

The commission rate is competitive 

Their cookie duration is reasonably long 

They usually have a good amount of return bookings 
Cons:
They only accept influencers with a great customer base 

The minimum net charter value to start earning commissions is 3,000 (USD/Euros/GBP/SGD)

They make payments through bank transfer only 
4. Sea Eagle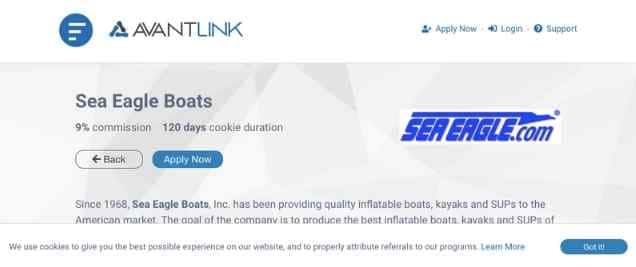 Sea Eagle is known to produce some of the best affordable boating alternatives to high-cost options in the industry. However, they have an average order of about $650, making your commissions worthwhile.
I found their customer support services to be excellent – prompt and responsive at all times. 
Sea Eagle has partnered with a reputed Affiliate Marketing Company, AvantLink to create one of the best luxury yacht affiliate programs available today. They also offer you tools and resources to help market their program and increase the conversion rate.
Furthermore, they fulfill orders very fast – only one business day. You can take advantage of the many promotions and creative content they offer to help market their products and earn your commission. 
URL- Sea Eagle 
Cookie Duration- 120 days 
Commission Rate- 9% on sales 
Pros:
They have one of the longest cookie durations in the industry 

They offer great tools to help influencers promote their links 

The average order value is profitable

Their customer service is high quality 
Cons:
The commission rate is not as high as many others on this list 
5. SAILINGEUROPE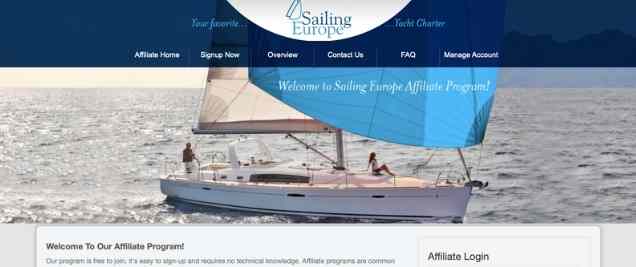 Much more than just a sailing company, SAILINGEUROPE promotes healthy living and ecology as well. Headquartered in Zagreb, Croatia, this company also promotes the Mediterranean lifestyle and has some great holiday packages to accommodate the same. 
They also have offices in Munich and Moscow. Their wide choice of vessels includes motor yachts, catamarans, gulets, and sailing yachts of varying sizes.
As for their affiliate program, you won't need any technical knowledge or expertise in order to join. 
I found their tracking services to be especially convenient, given you can login in anytime and see your banners' performance. All you need to do is promote their services and redirect your traffic towards their website.
The commissions they offer will make it worth your while, that's for certain.
URL- SAILINGEUROPE
Cookie Duration- Not mentioned 
Commission Rate- 50 EUR per sale 
Pros:
The tracking services are efficient 

The fixed commission rate makes for steady income 

They have a wide range of banners and other content to help you promote their services 
Cons:
The cookie duration is not specified prior to sign up 

There is a minimum payout balance of 100 EUR 
6. Outdoorplay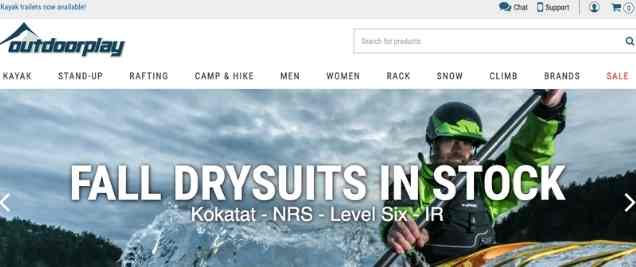 Outdoorplay delivers on its title – it offers all you'll need to enjoy the outdoors. This includes everything from tents and mountaineering gear to kayaks.
However, I must say their collection of boats is what takes the cake. The wide choice of inflatable kayaks, rafts, and boating equipment is one of the largest I've seen. 
Like many other reputed affiliate programs, they use AvantLink. Even though their commission rates start low, they increase with better performance of affiliates.
Even the initial low rates aren't that bad though, considering their average order value is quite high. 
Their conversion rate is impressive too since they have quite a loyal consumer base. Also, you may want to note that they don't differentiate between product categories – you earn the same rate of commission on anything you sell. 
URL- Outdoor play 
Cookie Duration- 120 days 
Commission Rate- 8% of sales 
Pros:
They have a large collection of outdoor use products that sell easily 

Their cookie duration is quite long 

They have award winning customer service 
Cons:
The commission offered is not very lucrative 
7. Marine Products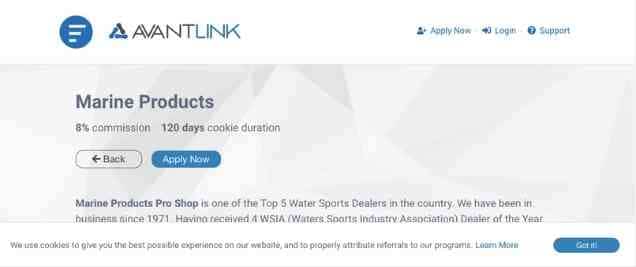 Marine Products have an impressive collection of boat parts, marine hardware, life vests, etc. The quality of their products is truly top-notch which is what makes them one of the top 5 water sports dealers in the US. 
This affiliate program is very well-designed and ensures it caters to beginners and experts alike. Marine Products uses AvantLink to manage its affiliate program, one of the top names in the affiliate marketing industry.
With an average minimum order value of only $250, it may seem like you're putting in a lot of effort for little reward. 
This is until you realize that their volume of sales is one the highest in the industry. As an affiliate with Marine Products, you'll also have exclusive access to their tracking tools, marketing materials, etc. 
URL- Marine Products 
Cookie Duration- 120 days 
Commission Rate- 8%-13% of sales 
Pros:
They have great quality products 

They have useful tools for affiliate marketers 

The cookie duration is quite long 
Cons:
The average minimum order value is quite low so it can take time to make a good amount of money 
8. Cabela's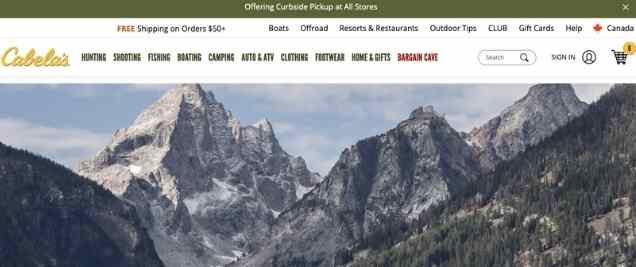 Cabela's has a top-notch selection of boats, boating supply, and boating equipment. They're the largest mail order and online retailer in the world which means they have an ever-expanding consumer base.
You can take advantage of this by signing up as an affiliate with them for free. 
They use both AvantLink and Impact Radius to handle their affiliate program. This luxury yacht affiliate program offers you access to their product catalog, widget tools, and other useful marketing materials.
They offer free shipping so do mention that when you're promoting their products. 
Affiliates will also have access to sales promotions so this will help you increase conversion rate too. Their pre-written content will help you save time while you market their products.
URL- Cabela's 
Cookie Duration- 14 days 
Commission Rate- 5% of sales 
Pros:
They have readymade tools which help you save time 

Sign up is free and easy 

It has a range of affordable products that sell quickly 
Cons:
The commission rate is relatively low 

The cookie duration is lesser than most similar products 
9. WaterOutfitters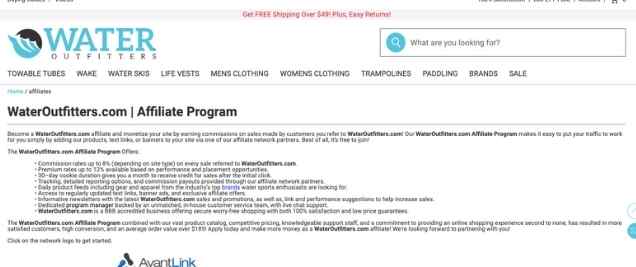 Water Outfitters has a large collection of all kinds of equipment you'll need for water sports. They have everything from wakeboards and water skis to kayaks and towable.
They have a well-crafted luxury yacht affiliate program that they've created via AvantLink. 
Once you join their program, you'll be able to gain access to product data feeds, tracking information, and creatives.
As an affiliate, you'll also receive promotional resources and tips on how you can market their products. In my opinion, these tips make this program truly standout among others I've reviewed here. 
URL- WaterOutfitters 
Cookie Duration- 30 days 
Commission Rate- 4%-8% of sales 
Pros:
The commission rate increases with better performance 

The cookie duration is reasonably long 

The newsletter contains offers and useful tips 

Sign up is free and easy 
Cons:
The commission rate is low initially so it can take time to make serious money with this program 

The average order value is lower than most 
10. Bass Pro Shops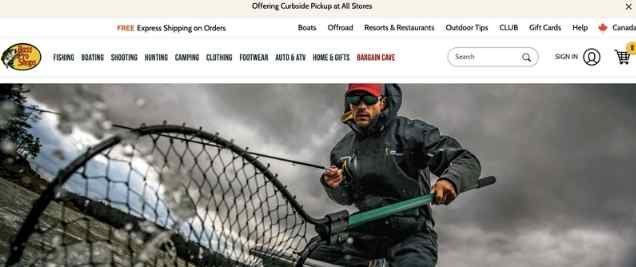 Bass Pro Shops has products sourced from both national and local brands alongside those manufactured by them in-house. They not only deal with boating equipment, but they also deal with camping, hunting, fishing, etc. as well.
They even have a good collection of life jackets, marine electronics, trolling motors, etc.
Make sure you highlight the range of products they have on offer while promoting them on your website. Their quality boat affiliate program operates via Commission Junction.
If you're a blogger/influencer who's not able to dedicate much time to their website, this program is for you.
This program includes access to product images, descriptions, and reviews that you can repost on your website. This will save you a lot of time spent creating all the content by yourself from scratch.
URL- Bass Pro Shops 
Cookie Duration- 14 days 
Commission Rate- 5% of sales 
Pros:
They have a reasonably long cookie duration 

Have pre-written content for affiliates 

They have attractive promotions and sales 
Cons:
The commission rate is quite low 
What to Look for When Choosing A Boats and Yachts Affiliate Program 
In order to choose a boat and yachts affiliate program that fits your expectations, you'll need to keep a few things in mind. The foremost of these is the commission rate you stand to make.
While promoting links on your website/blog may not be a herculean task, it requires effort all the same. 
After all, time is money so make sure you're investing yours well. Don't chase programs that offer you an impressively high amount of commission.
They may be those that have expensive products or services with a low volume of sales. I'd recommend you only opt for these if you're promoting more than one program.
The second most important thing to consider is conversion rates. Conversion rate is the rate at which visitors to a website actually make a purchase.
So, a website with a high conversion rate would be profitable and provide a fairly steady source of passive income.
As an affiliate, you'll have to help boost a website's conversion rate to ensure you make your commission. Adding personal touches such as your own experiences with the products should also help boost conversion rates. 
In this section, I've reviewed 10 boats and yachts affiliate programs and listed the pros and cons of each. 
Conclusion 
I hope you've taken a look at all the reviews above by now and have a pretty good idea of what to expect from a good affiliate program. In case you're still on the fence, I'd advise you to go look for more information on the programs using the links I've added above. 
I've only just grazed the surface here with these affiliate programs, there are many more out there. However, rest assured that I've included the best ones in this list.
Using affiliate programs is a good source of passive income and you'll find yourself appreciating the minimal effort that goes into it. 
Moreover, I've found it can be quite satisfying to sit back and watch your online following do the work for you.