The 3-step system I used to make 7-figures of Affiliate Commissions in my first 3 years as an affiliate marketer.
Are you on the hunt for high-paying and immersive dog affiliate programs?
Pet owners spend over $72 billion on the upkeep and nurturing of their pets in the US alone. 
That means there is a whole lot of money to be made in the niche.
Better yet, there are few niches as easy to rank content in Google in as the pet space.
I kind of wish I was a pet blogger sometimes.
This figure does not consider the spending of pet owners throughout the world. Instead of crunching numbers, think about the possibilities and opportunities you can explore as an affiliate marketer working in this billion-dollar industry!
Here is a quick take at the best companies with programs in 2020:
Want to know which affiliate marketing method works best for you? Answer the short quiz below:
Best Dog Affiliate Programs
1. Fitbark
2. Bark Potty
3. PetWellbeing
4. Fi Smart Dog Collar Affiliate Program
5. Brain Training for Dogs
6. PetCube
7. Furbo Affiliate Program
8. Best Bully Sticks
9. Ollie Affiliate Program
1. FitBark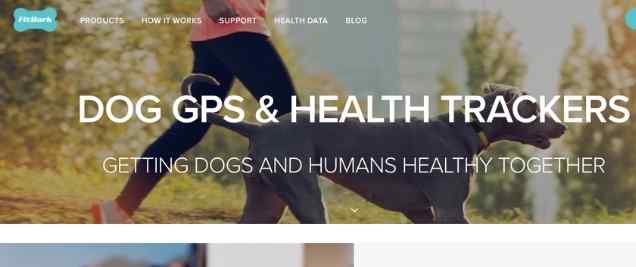 One of the best dog affiliate programs in the pet niche, FitBark is focused on helping pets get a nutritious, wholesome, and healthy lifestyle. It helps dog owners fight obesity, diabetes, and countless illnesses that plague dogs commonly across the world.
FitBark produces a sleek monitoring device that can be attached to the dog collar to monitor the physical activity levels of your dog. That's not all; this device can also monitor daily calorie counts, activity levels, travel distance, sleep quality, vital signs, behavioral cues, and overall health metrics.
It's like a stylish version of the Apple watch for dogs, and it helps dog owners improve their lifestyle and routines to bring about health improvements.
It is the ultimate device to market to devoted dog owners, and this dog affiliate program has much to offer. It offers a 12% commission on every product sold through your efforts, and it comes with a 60-day cookie tracking period, which allows ample time to turn your readers into buyers.
If you are an avid dog blogger, dog trainer, walker, veterinarian, or run a dog daycare, this is the ideal program for you.
The minimal withdrawal amount for this program is $50, and you can process your application through ShareASale.
URL: FitBark Affiliate Program
Cookie Duration: 60-day 
Commission Rate:12%
2. Bark Potty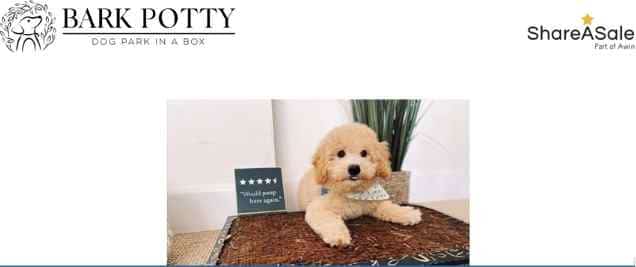 One of the most reputed dog affiliate programs in the pet niche, Bark Potty offers a unique product that will allow creatives and marketers to churn out exclusive content.
It provides a natural replacement to pee pads that help older and younger dogs relieve themselves without requiring human assistance.
It's an excellent product to train your dogs and puppies, and it makes the entire ordeal easy and straightforward. The tray is designed to prevent leakages, and this product is much more affordable than over 50 pee pads.
The convenience of the brand's product and popularity, not to forget the budget-friendly price, makes it an easy sell for novices and newcomers.
It offers a 30-day cookie tracking period and a 10% commission on every sale.
URL: Bark Potty Affiliate Program
Cookie Duration: 30-day
Commission Rate:  10% 
3. Pet Wellbeing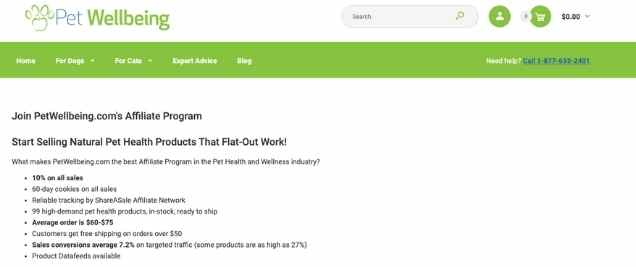 Focused on the health and wellbeing of dogs, Pet Wellbeing offers a wide range of nutritional supplements that treat more than 120 pet diseases and infections.
The health wellbeing of pets is of the utmost importance, not just to maintain healthy pets, but also to maintain a healthy and wholesome indoor environment for the entire family.
The product selection is quite extensive and fun. Besides natural supplements, Pet Wellbeing also offers eco-friendly products for pet owners. The affiliate experience is rewarding and enjoyable for creatives who want to present their audience with quality and immersive content.
At 10% per sale, the commission rate is quite lucrative, with a 60-day cookie tracking period. Pet Wellbeing's average order ranges between $60 to $75, providing affiliates a higher earning potential. This dog affiliate program is managed through ShareASale.
URL: Pet Wellbeing Affiliate Program
Cookie Duration: 60-day
Commission Rate: 10%
4. Fi Smart Dog Collar Affiliate Program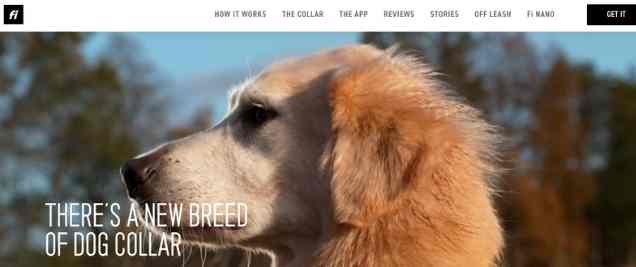 The anxiety and fear of losing one's dog can be devastating. Still, with the Fi Smart dog collar, a GPS tracking device, you can make sure your four-legged pal never ventures out of your sight.
In recent years, GPS tracking collars have become increasingly popular, and Fi has garnered a lot of attention for its sleek and charming collar designs.
Marketing these style-savvy GPS tracking collars is much more enjoyable than those ugly plastic collars that most brands sell. The Fi Smart dog collar allows dog owners to monitor the movements, location, and physical activity of your dog. It also prevents dog theft.
Besides, this is one of the highest-paying dog affiliate programs, with a commission rate of 20% on all sales. So, for every collar sold through your advertising efforts, you will earn a commission of $29.
The earning per click (EPC) stands at $179, which indicates that the earning potential is immensely vast, and it depends entirely on your creativity and marketing efforts.
More importantly, the cookie tracking period is 45 days, which gives you plenty of time to encourage your audience to invest in their products.
URL: Fi Smart Dog Collar Affiliate Program
Cookie Duration: 45 days
Commission Rate:20%
5. Brain Training For Dogs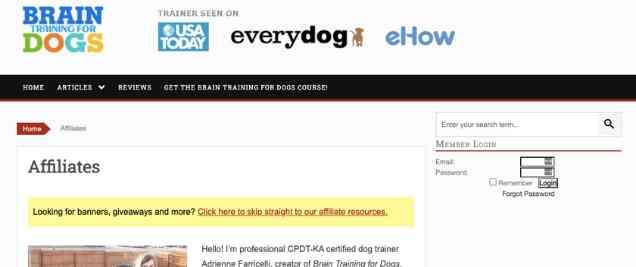 Dogs are fiercely loyal, and they adore their owners to such an extent that they would do whatever it takes to win over their affection and approval. Training allows dogs to gain confidence by learning more skills, which enable them to interact better and gain pleasure from being useful to their owners.
Brain Training for Dogs is the brainchild of Adrienne Farricelli, a renowned CCPDT certified dog trainer, and it has become increasingly popular for making dog training more straightforward and fun. This digital product consists of 21 games to teach a dog new tricks and skills, and dogs of all ages can benefit from this training.
It is an excellent product to correct Alpha-type behaviors in aggressive dog breeds and teach vital skills in a fun and engaging manner. As an affiliate marketer, advertising such a product is amazingly rewarding, and the commission rate for this program is truly outstanding.
This is one of the highest paying dog affiliate programs with a 75% commission rate on each sale. So with every sale, you can bank $31.75, which allows a tremendous earning potential to enjoy financial stability and steady wealth generation.
This program enjoys a 130 Gravity score on ClickBank, the highest among dog training products on the platform.
What's more, the cookie tracking period is 60 days, which further increases the earning potential, making it an excellent avenue to earn a truly passive income.
URL: Brain Training For Dogs Affiliate Program
Cookie Duration: 60 days
Commission Rate: 75%
6. PetCube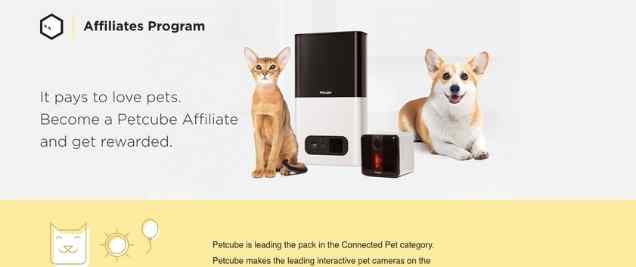 One of the most popular dog affiliate programs in the market, PetCube supports humans who feel anxious and guilty about leaving their furry friends alone. It offers innovative pet software that allows owners to monitor, talk, and even play with their pets, no matter the distance.
It offers a built-in laser light that allows owners to play with their pets. This product is available at more than 2500 retail stores across 18 countries worldwide.
So, it is a remarkable opportunity for affiliate marketers to broaden their readership and reach out to a global audience with creative advertising efforts.
The PetCube affiliate program offers a 60-day cookie tracking period, and affiliates can earn a 10% commission on every sale.
URL: PetCube Affiliate Program
Cookie Duration: 60-day 
Commission Rate:10%
7. Furbo Affiliate Program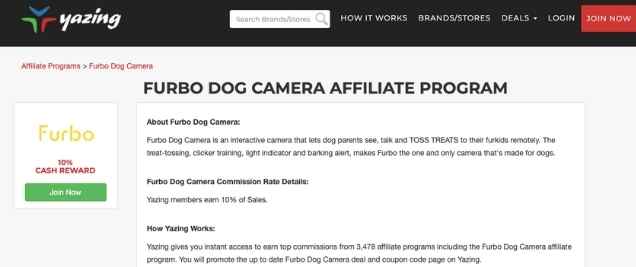 Furbo is the ultimate solution for dog owners who experience dog separation anxiety and overwhelming guilt for leaving their furry friends alone.
Furbo's dog camera and dog nanny offer a robust platform to keep a close eye on dogs, maintain 2-way interactions, and even dispense treats to reward them. Isn't that incredible?
Marketing such a remarkable product is fun and rewarding as you won't have to try too hard to get creative and engage your audience. The Furbo Affiliate Program offers a 5% commission on each referred sale, allowing affiliates to bank $7 for each sale.
Furbo also converts 16% traffic to sales, so the earning per click potential is relatively higher. The earning per click stands at $120.06, making this one of the most lucrative dog affiliate programs for a steady passive income.
Keep in mind that this is an add-on affiliate program that chooses worthy affiliates, so it is not a viable option for beginners. It requires a marketer with a flourishing website that commands authority and a loyal readership.
URL: Furbo Affiliate Program
Cookie Duration: n/a
Commission Rate: 5%
8. Best Bully Sticks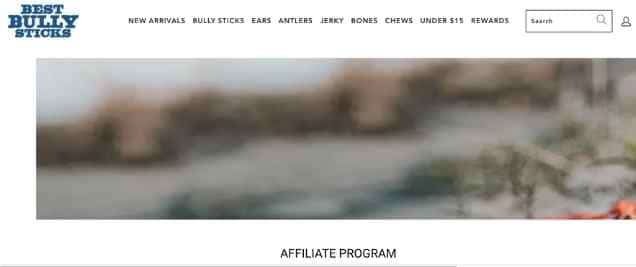 Do you fancy the idea of marketing 100% natural dog treats to nutrition-conscious owners, in exchange for an 8% commission for each sale? Best Bully Sticks offers readily digestible and nutritious dog snacks that are devoid of fat and sugar.
Their products are highly nutritious, definitely the healthiest chewable treats to support a healthy and wholesome lifestyle.
Affiliates can make an 8% commission on each referred sale, with a cookie tracking period of 30 days. The month-long tracking period allows creative marketers to make substantial earnings.
Come to think of it; healthy dog treats are a relatively unexplored niche, so the earning potential is higher because of the lack of competition. This is the perfect time for affiliates to look towards dog affiliate programs focused on healthy dog treats.
URL: Best Bully Sticks Affiliate Program
Cookie Duration: 30 days
Commission Rate: 8%
9. Ollie Affiliate Program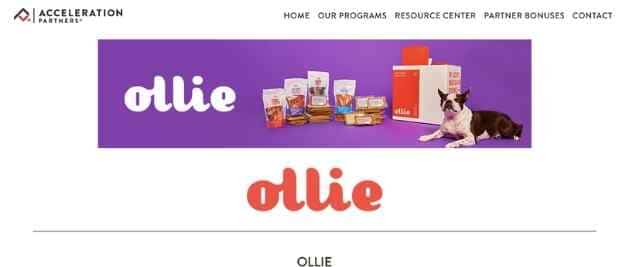 A brand dedicated to dog health and nutrition, Ollie offers one of the best dog affiliate programs in the pet niche, and the experience is enriching and rewarding.
Why do you ask? First off, Ollie donates 1% of its revenues to supporting dog rescue organizations, and it plays an uplifting role in dog awareness communities.
It offers highly nutritious and delicious dog meals and treats that are made with human-grade ingredients. Associating with such a conscious and responsible brand allows affiliates, especially young marketers, to build up a solid portfolio featuring well-reputed brands.
Ollie offers a subscription box service that ensures that pet owners never have to hit the grocery store at late hours of the night, just because they forgot about their dog's dinner.
Ollie can tailor the diet based on the dog's breed, weight, age, and specific health concerns, such as allergies or intolerances.
Marketing a socially and ethically responsible brand comes with scores of benefits, mostly that its products are an easy sell because modern-day consumers, particularly millennials, seek to associate with such brands.
It offers a commission of $60 per sale, so if you're a creative advertiser, you can bid goodbye to your dull day job and embark on a lucrative affiliate marketing career.
It offers a 30-day cookie tracking period, and that's not all. The earning per click is $160.05, making this program an excellent choice for those who want to leave the 9-to-5 grind and gain professional independence.
URL: Ollie Affiliate Program
Cookie Duration:30-day
Commission Rate: $60 
Conclusion
We sincerely hope this guide helped you explore dog affiliate programs that appeal to your creative talent and preferences as a marketer, dog owner, and dog blogger. The pet and dog affiliate marketing niche is rich with variety and opportunities.
From marketing high-quality dog food and wellness programs to training programs, monitoring software, and much more – there is an abundance of physical and digital products to market.
The commission rates, earning per clicks, and cookie tracking period are higher than most other niches. If you genuinely adore dogs, you'll never get bored blogging about their care and wellbeing.
Learn affiliate marketing secrets. Click here to get started
Looking for high ticket affiliate programs? Check out my video below: