If you enjoy seeing the world and you're looking to get involved with affiliate marketing, I can honestly think of no better niche than travel.
Here's why.
It's a nearly $600 billion/year industry.
People will spend literally $10,000 or more on a single purchase.
The space is growing extremely quickly.
You will actually have fun!
It's actually less competitive than many other lucrative niches.
And honestly, where else can you live the life most people dream of and get paid to talk about it?
I've spent a ton of time doing the research for you and found the best travel affiliate programs out there in lots of different categories.
Want to know which affiliate marketing method works best for you? Answer the short quiz below:
I've also weeded out a lot of bad programs that have bad reputations, or simply don't pay enough commissions to be worth it.
You should find multiple programs that will work best for your affiliate business no matter what it is though.
Let's dig in!
Best Travel Affiliate Programs
1. Booking.com
2. Tripadvisor
3. Expedia
4. Priceline
5. Cheapflights.com
6. Agoda
7. Skyscanner
8. airbnb
9. Cruise Direct
10. Sandals Resorts
11. Wego
12. G Adventures
13. STA Travel
14. Get Your Guide Tours
15. Viator
16. Route Perfect
17. Urban Adventures
18. Economy Bookings
19. Myrentacar.com
20. World Nomads
21. Claim Compass
22. Allianz Global Insurance
23. TravelInsurance.com
24. Travelex
25. Expedited Passports & Visas
26. Lonely Planet
27. Tep Wireless
28. Luggage Online
29. REI
30. Naughty Nomad ebooks
31. Wandering Earl
Accommodations & Flights
Probably the most popular affiliate programs to promote in the travel industry are hotel accommodations and flights, and there are plenty to choose from. Here are the ones I like the most.
1. Booking.com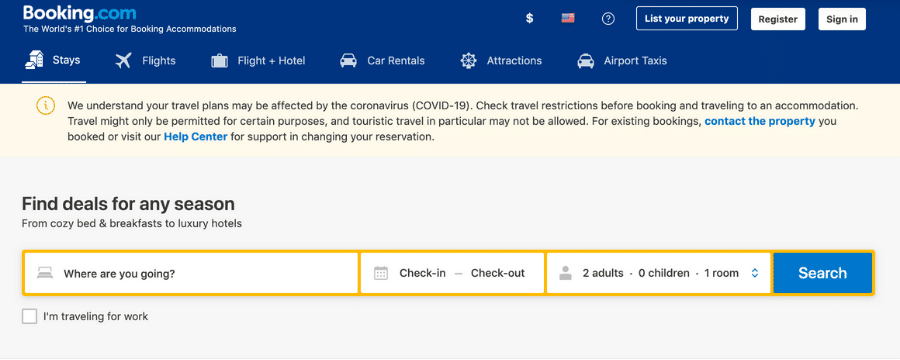 URL: Booking.com Affiliate Program
Commission: 25%-40%
Cookie Duration: TBC
Booking.com is a great all-in-one program to promote because they offer over 2.5 million accommodations, as well as flights, flight and hotel packages, car rentals, attractions, and airport taxis.
They make it easy to sign up as an affiliate, and you'll receive numerous tools to help you promote Booking.com, including a plugin to incorporate a Booking.com search box on their site, deep linking, and banners, as well as an affiliate support center.
You'll earn a percentage of the commission that Booking.com gets from each booking, and it works on a commission scale depending on how many bookings you get per month, ranging from 25%-40%.
You get paid only after your referral completes their stay, and there is a $100 min payout.
2. Tripadvisor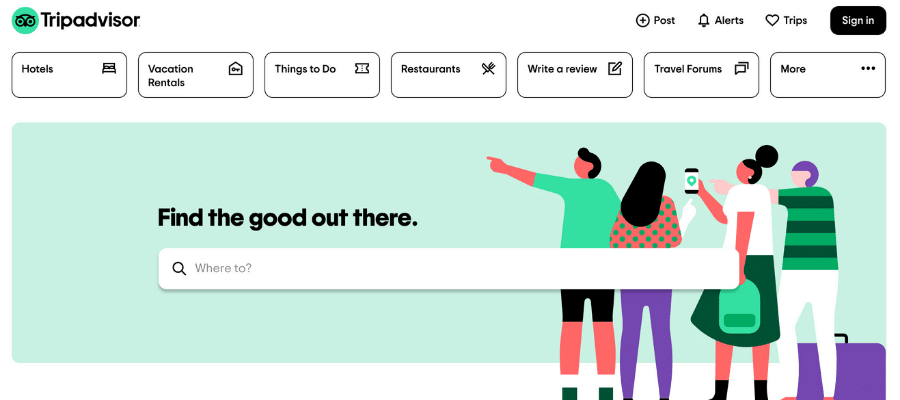 URL: Tripadvisor Affiliate Program
Commission: 50% of Tripadvisor's commission
Cookie Duration: 14 days
Tripadvisor offers reviews, recommendations, and bookings for hotels, tours, activities, restaurants, flights, vacation rentals, and cruises (over 500,000 cities and hotels in total).
It's pretty interesting as an affiliate, because Trip Advisor is actually an affiliate as well, and they are essentially sharing commissions with you.
Affiliates earn at least 50% of the commission Tripadvisor receives from hotel bookings. You'll get paid whether your referrals book a hotel or not since payment happens when they click out to Tripadvisor's hotel booking partners.
The commission earned depends on several factors, such as the booking partner, hotel, seasonality, and length of stay. It's also important to note that commissions are only earned on hotel stays, not on tours, activities, restaurants, flights, etc.
Tripadvisor has incentive programs for their affiliates, and they offer deep linking.
This means you can link directly to an exact offer, trip, hotel, etc. with an affiliate link.
You can sign up for their affiliate program through either CJ Affiliate or Awin.
*Hint: I hate Awin. Do CJ.
3. Expedia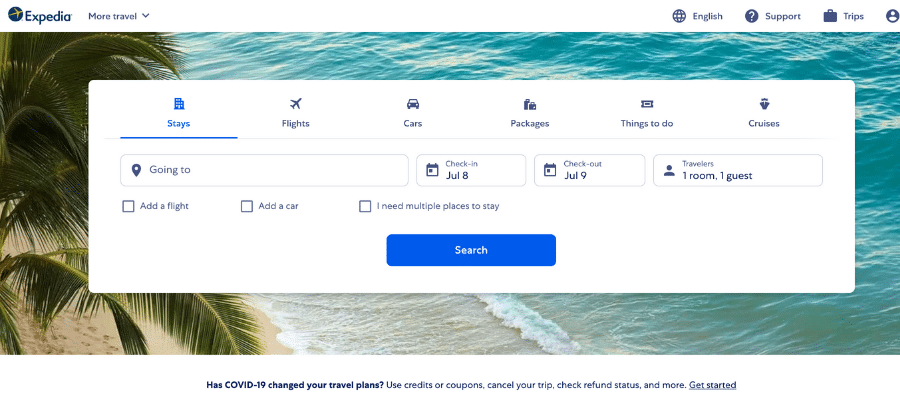 URL: Expedia Affiliate Program
Commission: 1% – 12% as outlined below
Cookie Duration: 30 days
Expedia offers bookings on flights, hotels, and activities with over 500,000 hotels across the world and 400 airlines.
Commissions are determined by the purchase:
1% per transaction on flights
3.5% per transaction on packages
5.5% per transaction on rental cars
6% per transaction on hotels
12% per transaction on activities
12% per transaction on ground transfers
Affiliates receive access to a dedicated affiliate call center for assistance. The minimum payout is $50.
These numbers are huge if you do the math. Six percent of a $2,000 hotel purchase is $120. And some people will spend up to $10,000 on their hotels!
4. Priceline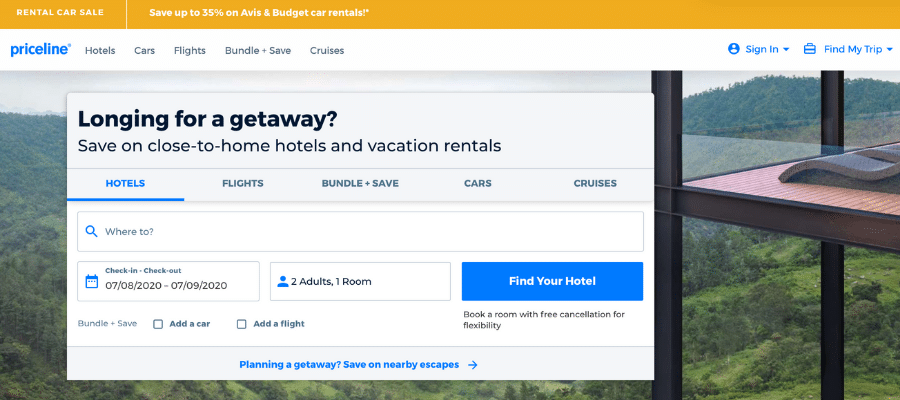 URL: Priceline Affiliate Program
Commission: 3%
Cookie Duration: TBC
Priceline offers hotel, rental car, flight, trip protection, and attractions. Their claim to fame is discounted travel that saves people up to 60% on over 70,000 properties and 263 airlines worldwide.
As an affiliate, you'll earn 3% commissions on hotels, flights, vacation packages, and car rentals.
You'll get to choose from an API integration to power your website or a private label eCommerce template, and of course, there is a dedicated support team for affiliates.
Priceline is a funny one because you will be offering better prices typically to your audience, but that means you make less commission.
I wouldn't use Priceline if I was referring to hotels because Expedia commissions are nearly double.
5. Cheapflights.com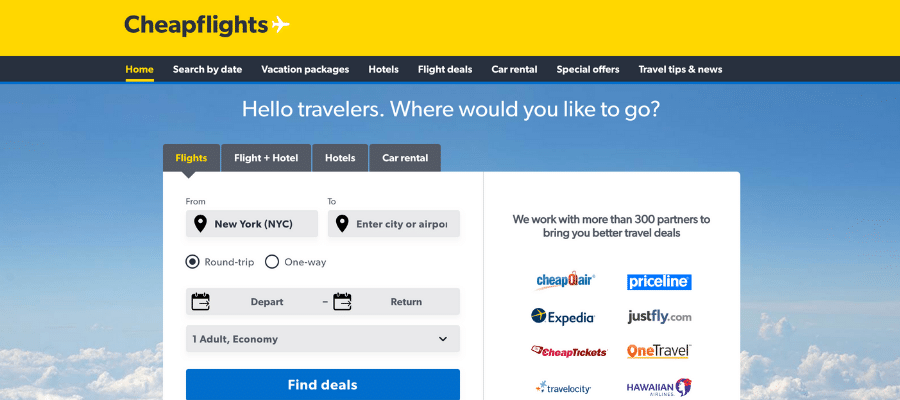 URL: Cheapflights Affiliate Program
Commission: 45¢ per click out (desktop and tablet), 25¢ per click out (mobile)
Cookie Duration: 90 days
Let me give a quick disclaimer here as a traveler and an affiliate.
I tried these guys and it was messy.
I tried to book with them and they kept claiming to have found a good price, but every time I went to book the price went away.
Could it have been a fluke? Maybe.
Cheapflights.com works with over 300 partners, and thousands of airlines and travel agents to find the best deals on flights, hotels, and rental cars.
One thing I LOVE is that Affiliates get to integrate their flight search functionality on their websites with booking engine widgets, search boxes, and banners.
This means you can have people searching for flights on your own website using their embed feature.
I don't need to tell you how great it is to keep someone on your website.
The Cheapflights affiliate program is a pay per click program. You'll receive fixed fee earnings when your referral clicks out to one of Priceline's partners (45¢ per click out on desktop and tablet, 25¢ per click out on mobile).
If your website is getting thousands of visitors a month this could easily turn into $4,500 a month.
CJ Affiliate manages their affiliate program.
6. Agoda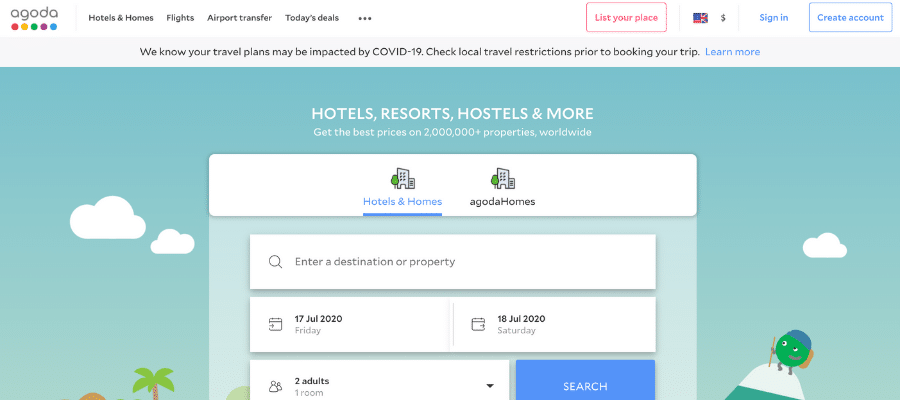 URL: Agoda Affiliate Program
Commission: 4% – 7%
Cookie Duration: TBC
Agoda has almost 2 million properties worldwide, including hotels, resorts, hostels, and private rentals.
This is definitely one of the best travel affiliate programs in my eyes because the commissions are pretty decent and they are based on the booking amount, not on a revenue share.
Commissions are tier-based, ranging from 4% to 7% depending on margin. They are based on completed bookings and you are paid after your referral has checked out of the property.
4% – less than 50 bookings
4.5% – 50-99 bookings
5% – 100-199 bookings
6% – 200-999 bookings
7% – more than 999 bookings
Agoda provides affiliates with a dedicated affiliate support team and promotional tools that include a search box, text links, data feeds, and hotel power ads (which allow you to increase your revenue by 300%).
Affiliates must have a website to join the affiliate program and it takes 48-72 hours to get approved. The minimum payout is $200 and is done through bank transfer.
You can sign up for the Agoda affiliate program through ShareASale or right on the Agoda website.
7. Skyscanner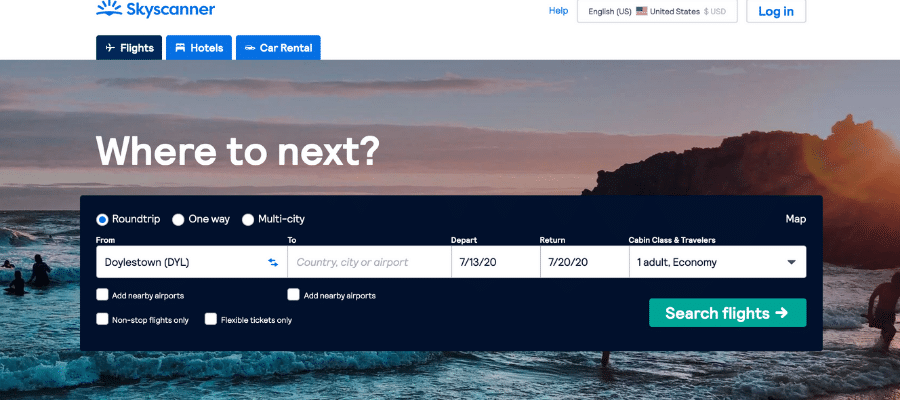 URL: Skycanner Affiliate Program
Commission: 20% and up
Cookie Duration: TBC
Skyscanner uses world-class travel search technology for checking flight prices, hotels, and rental cars, and they have a mobile app as well.
Affiliates have access to banners, travel widgets, flight booking widgets, and APIs that you can use to create your own search functionality on your site.
Commissions are on Skyscanner generated revenue, not on bookings or cart revenue. Skyscanner receives a commission from their partners when users click-out, and affiliates receive 20% of Skyscanner's commission to start.
That means, you can earn at each stage of travel, from planning to purchase.
8. airbnb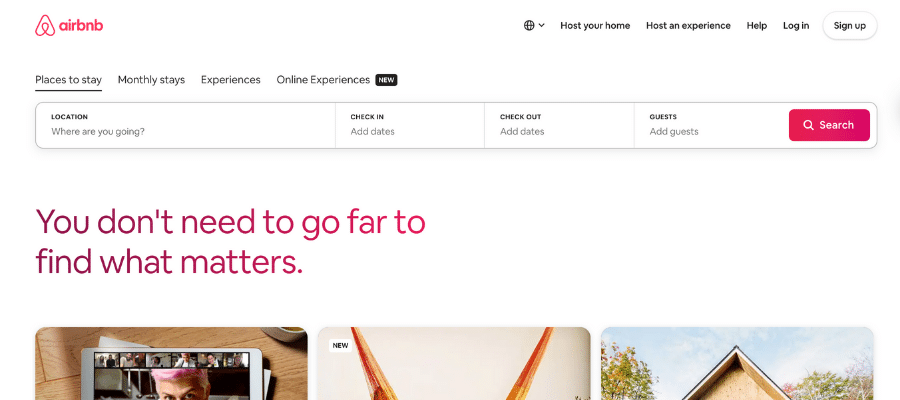 URL: airbnb Affiliate Program
Commission: $20 for accommodations, $10 for experiences
Cookie Duration: TBC
Airbnb offers home and apartment rentals, as well as unique experiences and online experiences.
They do have an affiliate program, but it isn't for most affiliates since they require you to have at least 1 million monthly visits. Instead, what I wanted to talk about is their referral program.
By sharing your referral link, your referrals save by receiving up to $35 off of their first trip, and you get $20 for every person who completes a qualifying stay and $10 for every person who books a qualifying experience.
Money earned is given in credit off of airbnb purchases, so it's a great opportunity to travel more often yourself without breaking the bank.
9. Cruise Direct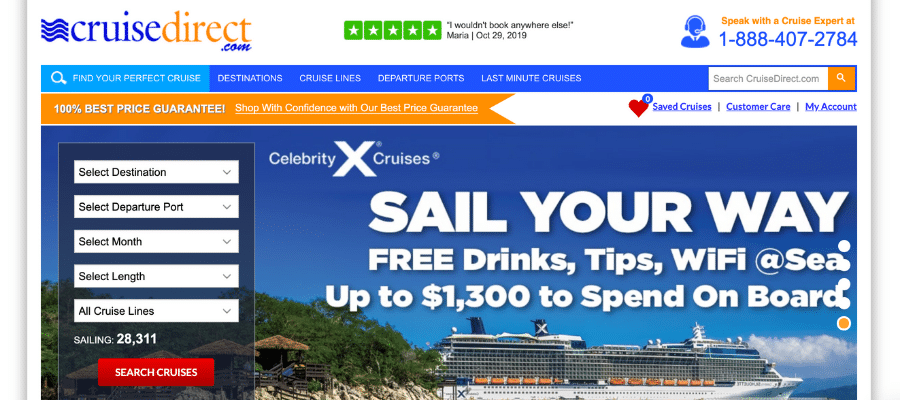 URL: Cruise Direct Affiliate Program
Commission: 3% of the gross sale
Cookie Duration: 45 days
Cruise Direct offers cruises around the world with a 100% best price guarantee.
The fact that Cruise Direct's commissions are based on gross sales definitely makes this one of the best travel affiliate programs.
For example, an average sale on this site is $2200, so a 3% commission would earn you $66.
Affiliates have access to links, banners, search boxes, personalized landing pages, and a dedicated affiliate team, as well as opportunities for extra commissions, deals, and bonus commission opportunities.
The minimum payout is $25, and the program is managed by CJ Affiliate.
10. Sandals Resorts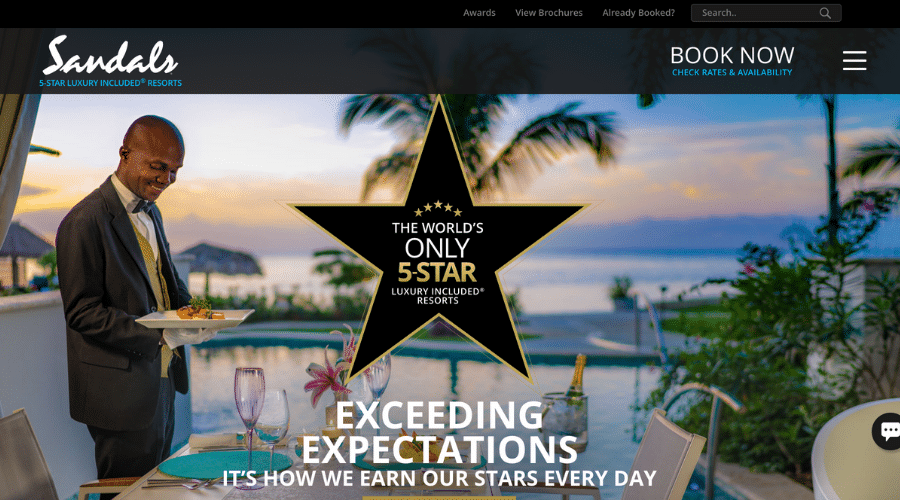 URL: Sandals Resorts Affiliate Program
Commission: 4% on bookings
Cookie Duration: 60 days
Sandals provides Caribbean vacations at 16 Sandals Resorts (for romantic vacations, honeymoons, and destination weddings) and 3 Beach Resorts (for families).
This is another one of the best affiliate programs for travel because affiliates earn 4% commissions on all travel products, including luxury, all-inclusive getaways, private candlelight dinners, and more.
With rates that range from $150-$2000 per person per night, that can certainly add up. Plus, Sandals has one of the best EPCs in the travel niche (3 month EPC = $137.99).
Affiliates are given incentives to earn free trips and performance bonuses. There are hundreds of banners to choose from, and you'll receive a dedicated affiliate manager.
You can sign up for the Sandals affiliate program on CJ Affiliate.
11. Wego
URL: Wego Affiliate Program
Commission: 5¢-80¢ per click
Cookie Duration: TBC
Wego is a "travel meta-search engine" that allows travelers to easily find the best-priced hotels and flights.
Affiliates earn on exit clicks, which means you get paid each time someone visits Wego with your referral link and then clicks a link on Wego to a partner site, such as Booking.com.
The value of each successful booking varies depending on the travel partner your referral books with and the commercial agreement between Wego and Travel suppliers, but it will look something like this:
5¢-40¢ per flight click
2¢-80¢ per hotel click
There are banners, links, and APIs to integrate their software into your site. Affiliates can choose to join as an API partner or as a non-API partner.
You'll get paid by PayPal or wire transfer with a $100 min payout for PayPal and $500 min for bank transfer.
Tours & Niched Travel
The next category I wanted to explore for travel affiliate programs has to do with booking tours and travel that is niched, such as adventure or student travel.
Promoting these programs is a great way to separate yourself from the masses.
1. G Adventures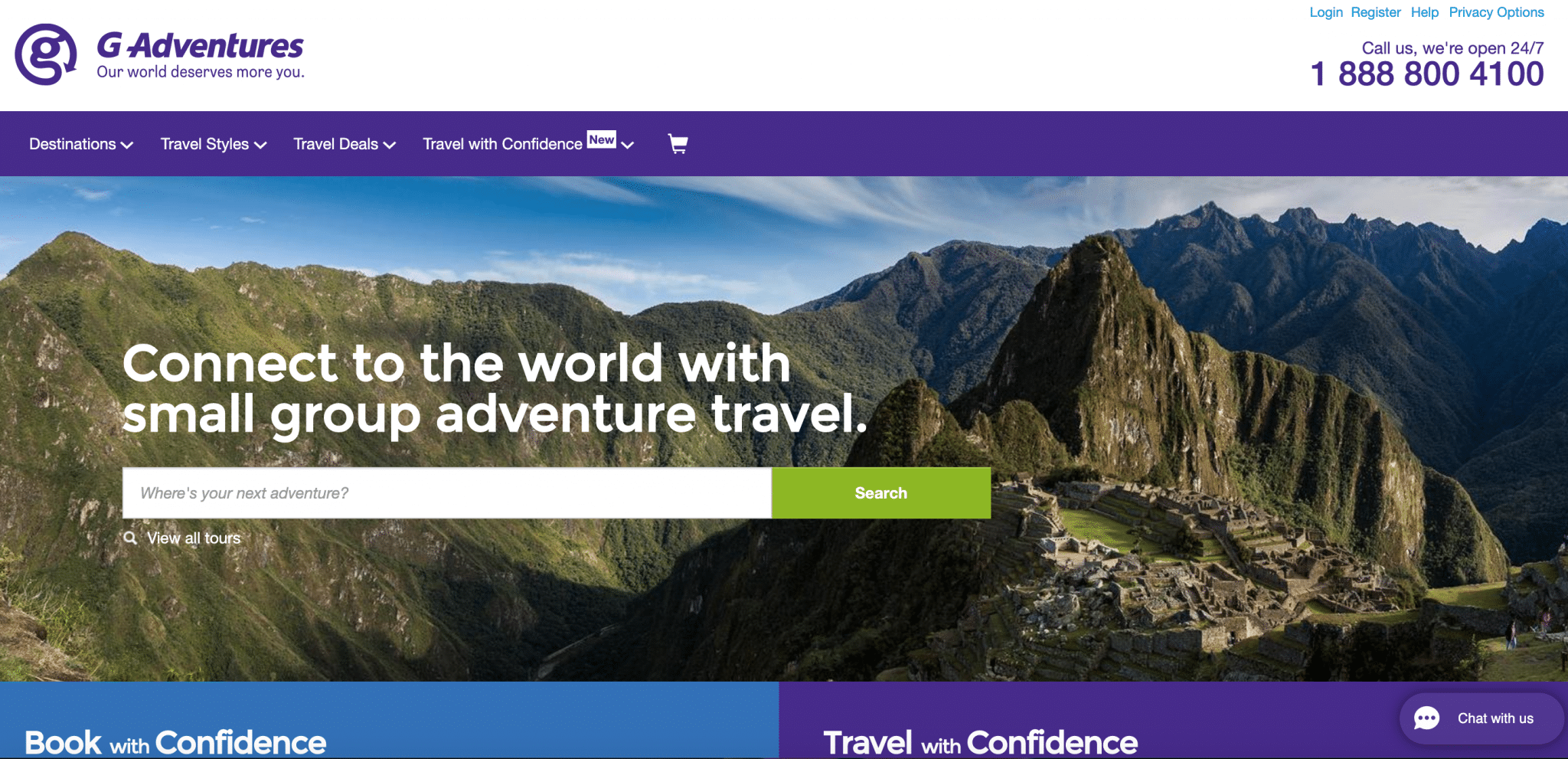 URL: G Adventures Affiliate Program
Commission: 5% on all confirmed sales
Cookie Duration: 90 day cookie
I love this travel affiliate program! G Adventures provides small group adventure travel through worldwide tours.
They offer different Travel Styles, including:
Classic Tours
National Geographic Journeys
National Geographic Family Journeys
18-to-Thirtysomethings Tours
Wellness Tours
Active Tours
Rail Tours
Marine Tours
Local Living Tours
Family Tours
Private Travel
Affiliates get to earn 5% on the booking price. The average order is $2600, which would provide you with a whopping $130!
They provide display ads, copy, XML feed, and special promotions for affiliates. Sign up is through CJ Affiliate.
2. STA Travel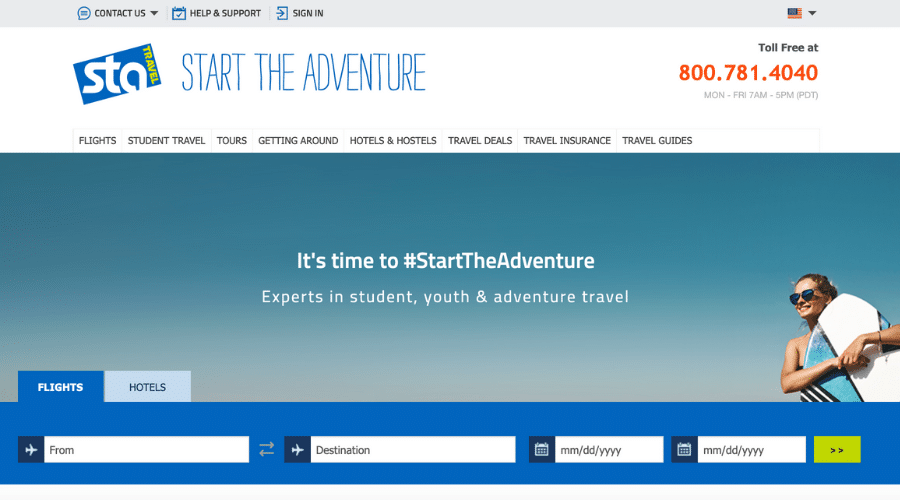 URL: STA Travel Affiliate Program
Commission: 10% commission on tours, ISIC cards, SIM cards; $4 per flight
Cookie Duration: TBC
STA Travel is the global leader in travel for students, teachers, and people under age 35. They offer a wide range of travel products, including:
Flights
Student Travel
Tours
Rail and bus passes
Hotels
Hostels
Travel deals
Insurance on travel
Guides for
Affiliates receive 10% commission on tours, ISIC cards, and SIM cards, as well as $4 on flights, which is nothing to write home about, but they do offer some nice incentives.
For example, there is a dedicated support team that sets up monthly promotions to help affiliates improve conversions with vanity promo codes and co-branded landing pages. There are also increased commissions for top performers.
Payments are through PayPal and sing up for the program is at CJ Affiliate.
3. Get Your Guide Tours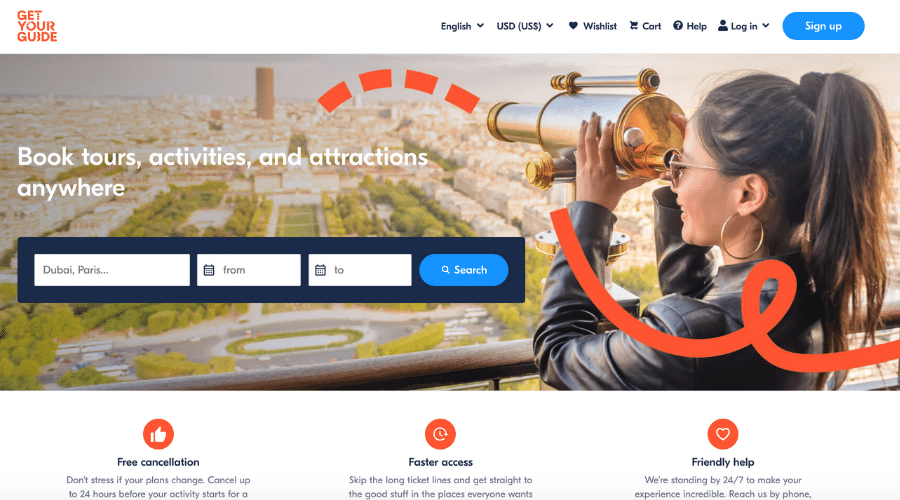 URL: Get Your Guide Tours
Commission: 8%
Cookie Duration: TBC
Get Your Guide Tours offers 34,000+ worldwide tours and activities that are personalized and guided. Offerings include:
Walking tours
Museum tickets
Cruises and boat tours
Hop-on hop-off tours
Ghost and vampire tours
Food and gourmet tours
City cards
Sightseeing tours
Day trips
Local culture
Nature and adventure
Attraction tickets
Food and drink
Commission is 8%, which is earned on each successful booking.
They offer their affiliates links and widgets as well as tips and tricks on best placement. Their dedicated affiliate support team also provides help with increasing conversion rates.
4. Viator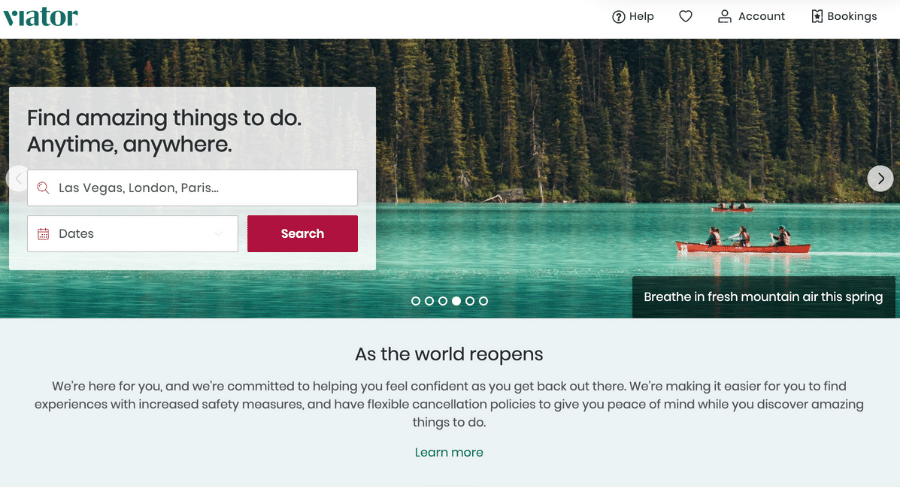 URL: Viator Affiliate Program
Commission: 8% on bookings
Cookie Duration: 30 days
Viator is a Tripadvisor company that offers tours and experiences that add up to 345,000+ things to do worldwide, including things like:
Helicopter tours
Day trips
Cruises
Food and wine
Private and VIP shows
They are loved by their customers for their lowest price guarantee and their Reserve Now & Pay Later service, which allows travelers to secure activities without being locked in.
They offer 24/7 global customer support and there are millions of reviews to read through.
Affiliates are given customized widgets through a widget builder and API solutions, as well as 24/7 affiliate support, performance-based campaigns, and deals and promotions.
Commission is 8% on bookings.
5. RoutePerfect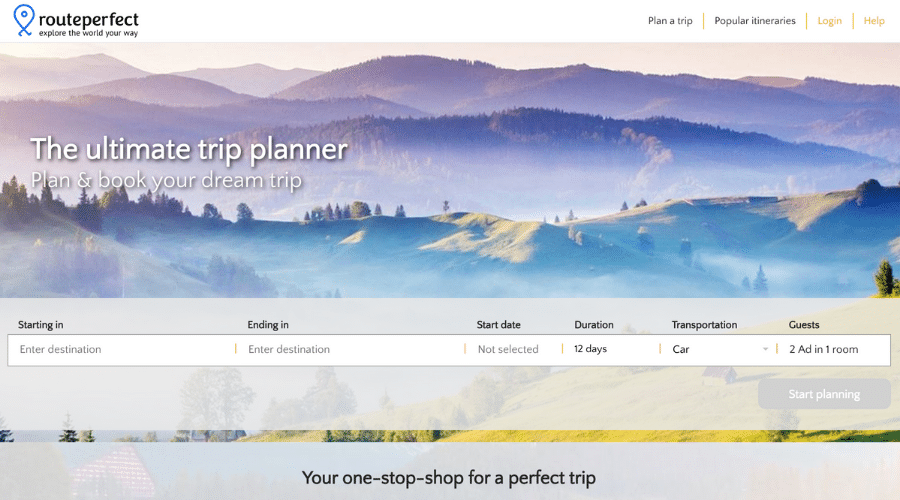 URL: Route Perfect Affiliate Program
Commission: $50 per sale
Cookie Duration: TBC
RoutePerfect provides custom trip itineraries through their online trip planning tool. Travelers can plan their trips according to budget, preferences, and personal style.
This is certainly one of the best travel affiliate programs because affiliates receive a $50 flat commission for each package booked (min total package of $300).
You can add their Trip Planner to your site, which is great because their conversion rates are high and bounce rates are low. They also offer embedded custom trips for maximum conversions and a dedicated affiliate manager.
Payments are through PayPal (or wire transfer for commissions of $500 and up).
6. Urban Adventures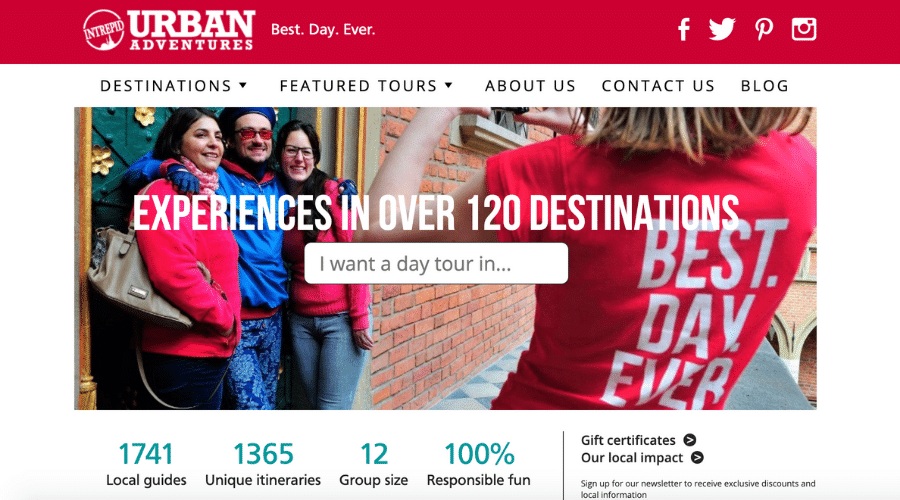 URL:Urban Adventures Affiliate Program
Commission: 10% on bookings
Cookie Duration: 6 months
Urban Adventures is a global day tour provider that is pretty unique because it is essentially a community of people who show travelers the secrets of their hometown.
It's a franchise-based business, and each one has a passion for the areas they promote.
This is the site to use if you really want to experience the culture of an area. Travelers can meet locals, enjoy local interaction, and get unique itineraries.
Trips range from a couple hours to a whole day. Travelers can visit major cities as well as off-the-beaten track areas.
Urban Adventure's travel affiliate program provides direct links, banners, embedded links, and white label options. Commissions are 10% on bookings and there is a $150 min payout.
Car Rentals
Next up is the car rental category, which is another way to supplement your travel affiliate business.
1. Economy Bookings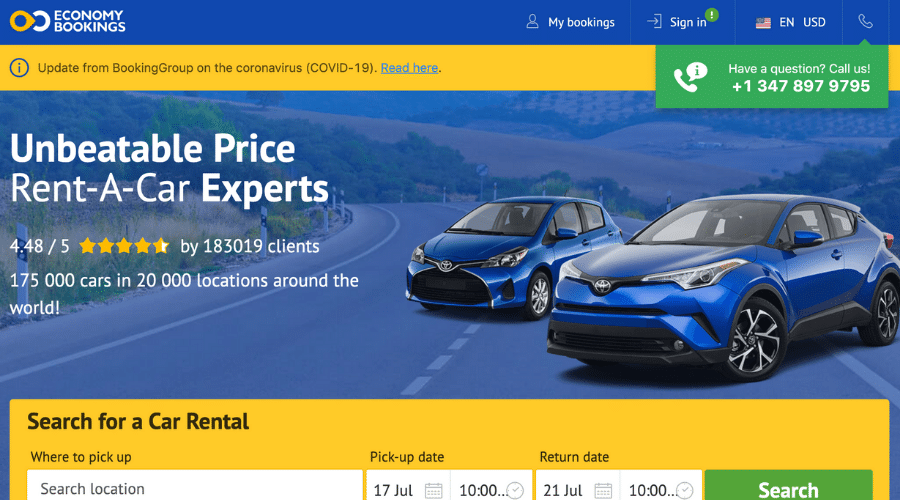 URL: Economy Bookings Affiliate Progam
Commission: up to 50% on each sale
Cookie Duration: 30 days
Economy Bookings is a website that allows you to compare car rental services and book car rentals. They have 175,000 cars in 20,000 locations worldwide.
Travelers will be able to view all of the major car rental brands on this one site so that they can find the best price.
Their affiliate program is managed through Travelpayouts and you'll receive 50% of each sale, making this one of the best travel affiliate programs out there.
2. Myrentacar.com
URL: Myrentacar.com Affiliate Program
Commission: 50% of Myrentacar's commission
Cookie Duration: 30 days
Myrentacar.com offers car rentals from 34 different rental companies.
They are known for having no hidden fees, low to no deposits, no charges after the car is returned, and prices are 2-3 times lower than international car rental companies.
Affiliates receive 50% commission on the Myrentacar's commission. The program is managed through Travelpayouts affiliate network.
Their conversion rates are 4-7.5% and they offer links and widgets, as well as white label widgets so that your branding is front and center.
Travel Insurance & Services
Another category that is certainly worth promoting in the travel niche is travel insurance and other services like expedited passports.
1. World Nomads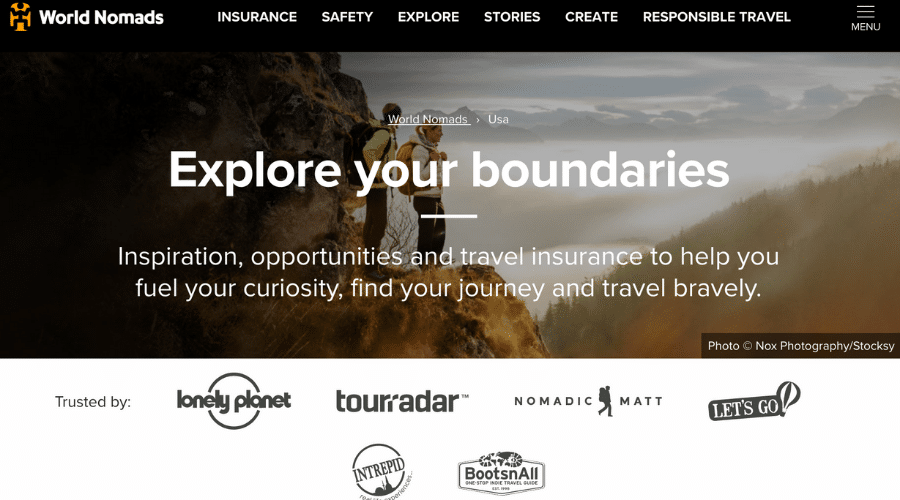 URL: World Nomads Affiliate Program
Commission: 10% on sales
Cookie Duration: 60 days
World Nomads is one of the fastest growing global travel insurance companies. They offer insurance that is designed by travelers who enjoy buying and claiming online, even while traveling.
Now, especially, we need peace of mind when traveling. World Nomad insurance covers things like:
Terrorist attacks
Assault
Death oversees
Medical repatriation
Delayed baggage
Digital tech coverage
Gear and baggage coverage
Trip cancellation
Overseas dental
Overseas medical
Affiliates receive 10% commission on sales, as well as ready-made content that they can promote. Payouts are made through PayPal.
2. ClaimCompass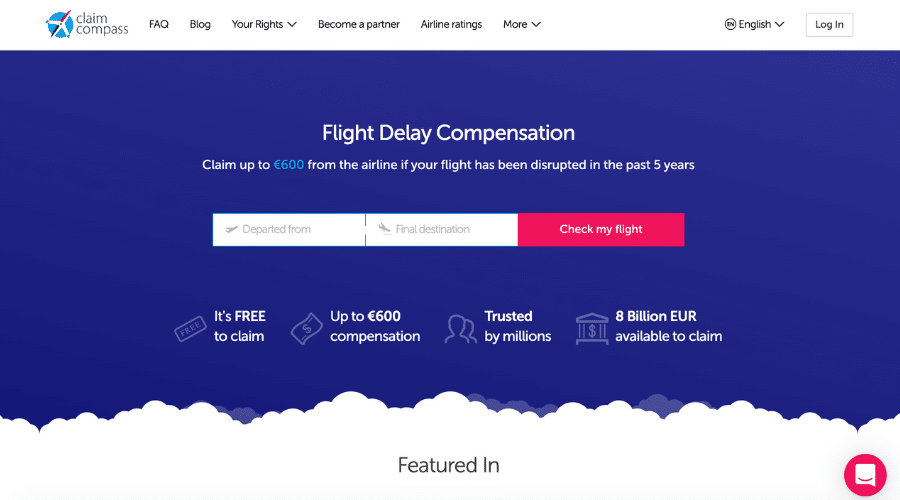 URL: Claim Compass Affiliate Program
Commission: €15 flat commission
Cookie Duration: 90 days
ClaimCompass offers refunds for canceled travel. Travelers can claim up to €600 from the airlines if their flight has been canceled or disrupted in the past 5 years (for flights delayed longer than 3 hours).
This site is rated 4.9 out of 5 stars and it is offered in 11 languages. There are no fees unless you get compensated.
Affiliates receive a €15 flat commission and affiliate support, as well as links and widgets.
3 Allianz Global Insurance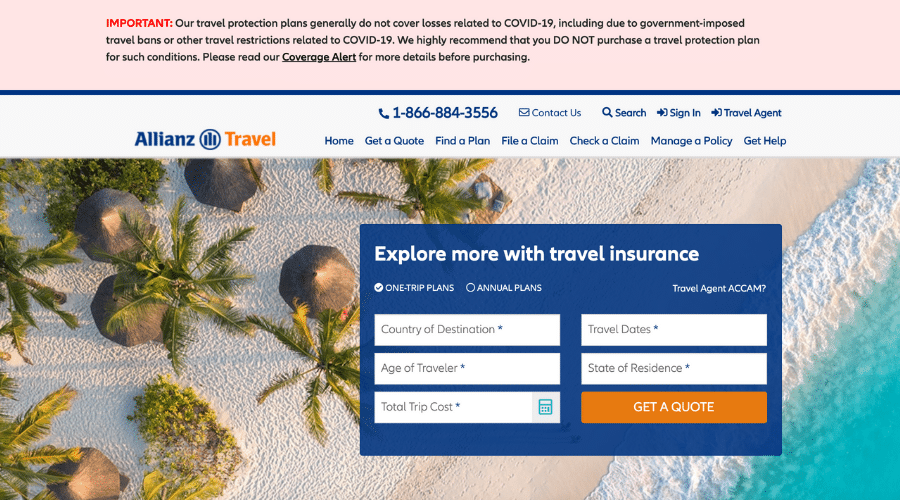 URL: Allianz Global Insurance
Commission: $12-$25 per sale
Cookie Duration: 45 days
Allianz Global Insurance is a worldwide travel insurance company that offers travel insurance, corporate assistance, and concierge services that help travelers to get the most out of their trips.
Since they are owned by Allianz SE, which is the world's largest diversified insurance company, they are able to provide innovative products, worldwide coverage, and competitive rates.
As far as Allianz travel insurance affiliate programs go, this is a good one since you'll earn $12-$25 tiered commissions per qualified sale.
Their program is managed through CJ Affiliate.
4. TravelInsurance.com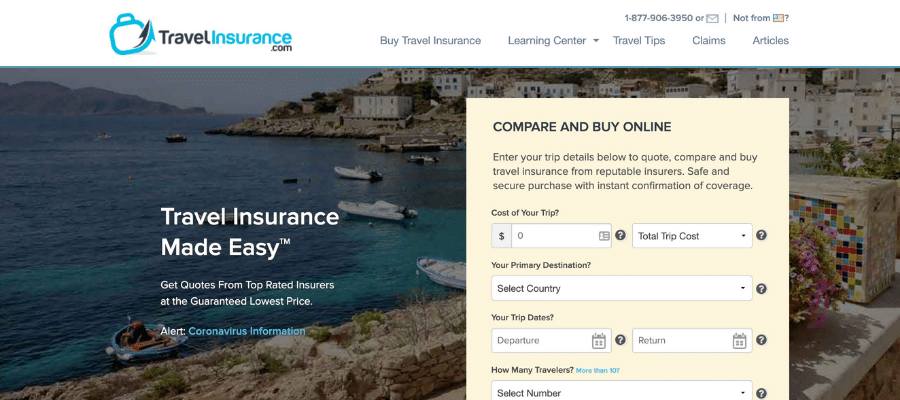 URL: TravelInsurance.com Affiliate Program
Commission: Varies depending on the insurance company chosen
Cookie Duration: TBC
TravelInsurance.com allows visitors to find and compare travel insurance so that they can travel worry-free. This is a simple way to find travel insurance since they provide a side-by-side comparison.
They have tens of thousands of positive reviews, and they claim that "You won't find a lower price anywhere else for a specific plan found here."
In addition to traditional travel insurance, they also cover things like trip cancellation, lost luggage, and medical emergencies.
Affiliates receive banners, text links, and real-time tracking. They have high conversion rates (quote to sale ratio) and they only work with top rated travel insurance companies (they remove the plan if their rating drops below 4 out of 5 stars).
5. Travelex Insurance Services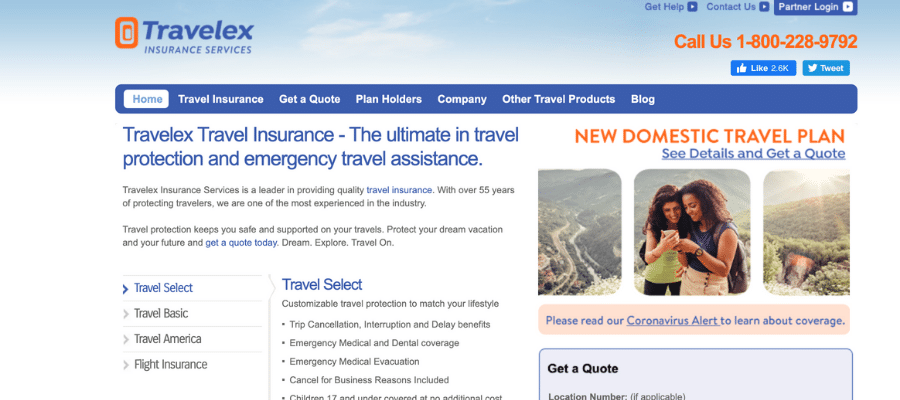 URL: Travelex Affiliate Program
Commission: $17-$25 per sale
Cookie Duration: 45 days
Travelex is one of the top names in travel insurance and they are certainly one of the most experienced with over 55 years of doing business.
In addition to travel insurance, they offer other travel services, including:
International travel
Cruises
Flights
Lost luggage
International driving licenses
Expedited passport services
Affiliates can earn between $17 and $25 per sale and they receive custom creatives, incentives, and rewards for premium placement. There is a dedicated affiliate team that provides support.
6. Expedited Passports & Visas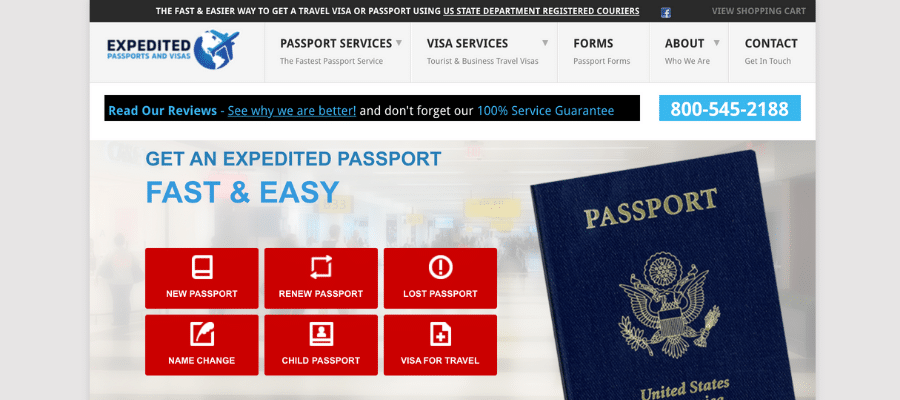 URL: Expedited Passports & Visas
Commission: 15% per sale
Expedited Passports & Visas is just what it sounds like. They are a third-party passport expediter, providing all of the following:
New passports
Renew passports
Lost passports
Passport name changes
Child passports
Visa for travel
All of their services come with a 100% money back guarantee, and depending on your location, they have the ability to get you your passport the same day you order it.
They claim their conversion rates are 10-40% higher than their competitors, and you'll receive 15% commissions on each completed order.
Affiliates can ask them for specific graphics, text, or other creatives to help them succeed. They certainly have a very responsive affiliate team.
Travel Accessories, Gadgets & Items
Let's not forget about all of the travel accessories and gadgets that travelers need, such as adapter plugs, converters, chargers, luggage, backpacks, computer bags, travel clothing, inflight comfort products, and more.
1. Lonely Planet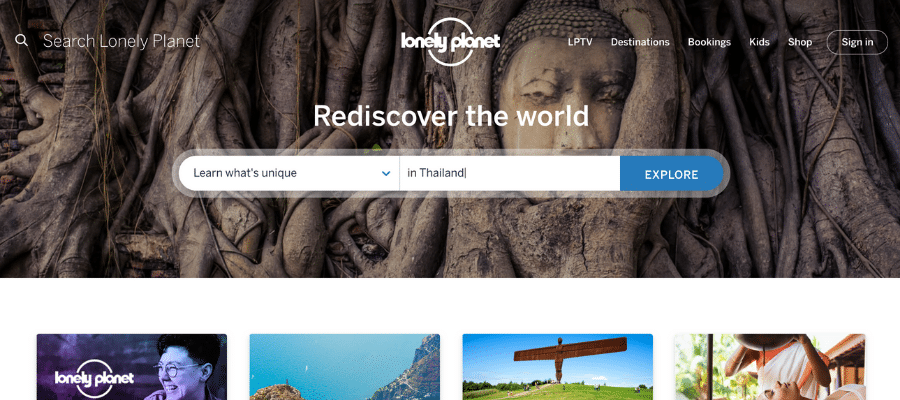 URL: LonelyPlanet Affiliate Program
Commission: 15% on books and ebooks, 12% on travel guides, plus a commission per click out
Cookie Duration: 30 days
Lonely Planet provides books, magazines, and travel guides. They are the largest travel guide book publisher, but you can also book flights, hotels, etc. on their site.
Affiliates earn 15% commission on books and ebooks and 12% on travel guides. Payments are through PayPal, and they offer dynamic banner ads and an affiliate support team.
I consider Lonely Planet to be one of the best travel affiliate programs because they are committed to providing commissions that are well above industry average on each sale, plus competitive rates on qualified leads.
Therefore, you'll earn commissions each time one of your referrals purchases a print travel guide or ebook as well as when you generate a click through to one of their travel service partner sites.
Their affiliate program is managed by Awin (Americas and UK) and Commission Junction (Asia Pacific).
2. Tep Wireless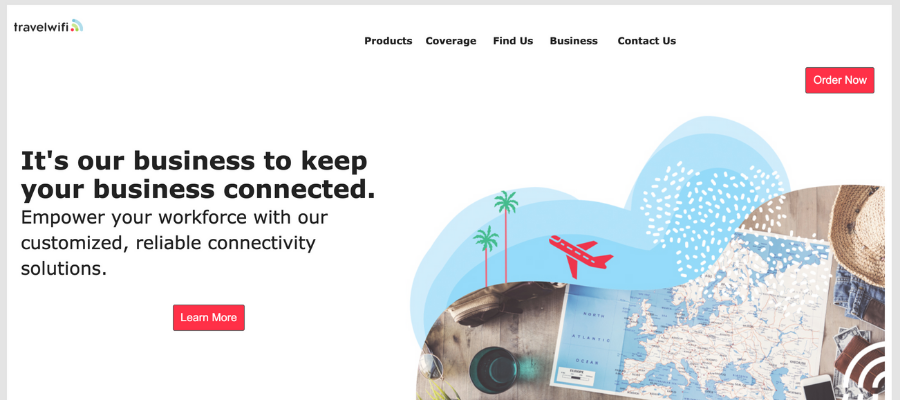 URL: Tep Wireless Affiliate Program 
Commission: $20 per sale
Tep Wireless provides portable WiFi gadgets known as Teppy that offer global, secure, unlimited 4G internet in numerous different countries, so that travelers can avoid roaming fees.
It's a hotspot with the guaranteed best signal and if you go over your daily data, you'll continue to have service at a lower speed.
Travelers can rent a Teppy Pocket Wi-Fi device for $6.95 per day or purchase one for $149 (includes 1GB with pay as you go internet, allowing them to add data on the go so they never run out).
With the Tep Referral program, you'll earn $20 for each completed order, which is a nice commission for this unique offering.
3. LuggageOnline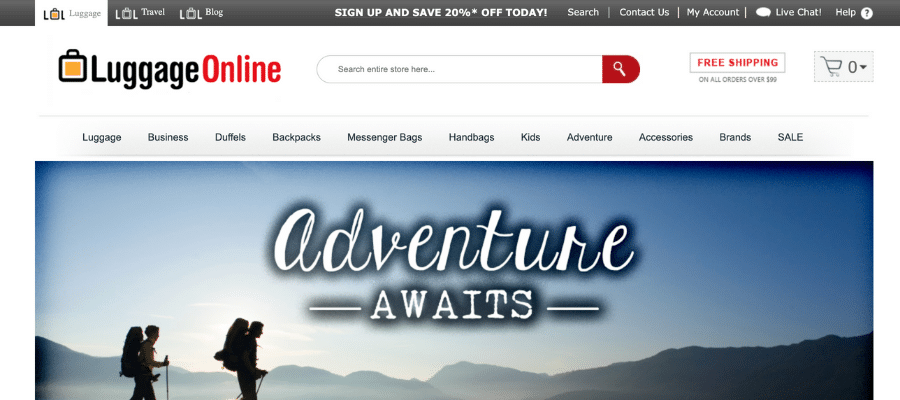 URL: LuggageOnline Affiliate Program
Commission: 5% revenue share
Cookie Duration: 90 days
LuggageOnline offers the largest luggage brand and merchandise selection, from briefcases to backpacks, luggage, and footlockers.
Their 110% low-price guarantee ensures travelers get the best deal online, and they can search for luggage based on style, function, quality, and price.
You'll find all of the best brand names here, including Tumi, Rimowa, Briggs & Riley, Samsonite, Travelpro, and much more.
Affiliates earn a 5% revenue share, as well as plenty of coupons and promotions to promote. There is also a dedicated affiliate management team.
4. REI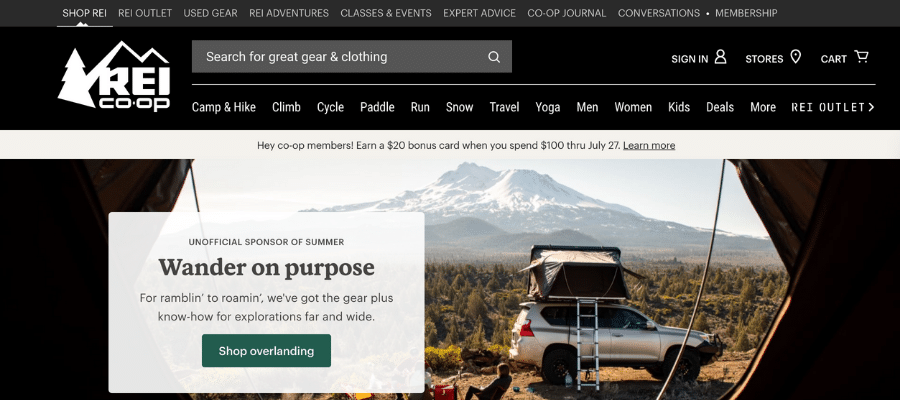 URL: REI Affiliate Program
Commission: 5% per sale
REI is a well-known and respected brand of backpacking gear and accessories. They are the largest online outdoor store and they also provide expert advice and in-depth info about each product.
Their loyal customers love their 100% satisfaction guarantee, and free shipping to local stores, both of which will help with your conversions.
Affiliates earn 5% per sale, and the program is managed through AvantLink.
Digital Products
If you know me, you know that my favorite type of products to promote as an affiliate marketer is digital products.
They tend to offer the best commissions every single time.
When it comes to travel affiliate programs, there are a couple digital products that stand out…
1. Naughty Nomad ebooks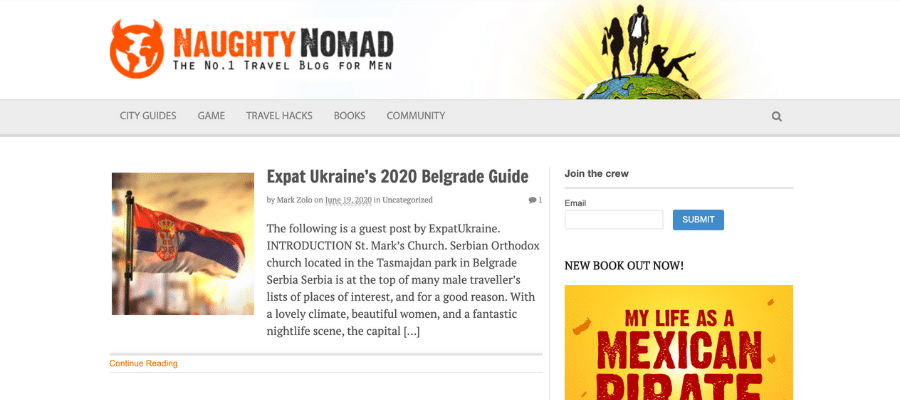 URL: Naughty Nomad Affiliate Program
Commission: 75% commission on ebook sales
Cookie Duration: 6 months
Mark Zolo is known as the Naughty Nomad and he offers several ebooks that you can earn a whopping 75% commission on!
He currently has 4 books, but seems to always be adding new ones. Here's what he has right now:
Naught Nomad: Not Your Typical Backpacker Story
Naughty Nomad's Guide to New York: The Bachelor's Handbook
Swagabond: Look Good. Pack Smart. Travel Light.
My Life as a Mexican Pirate: A True Story (this is his newest book)
These books are something different and fun that you can offer to your audience.
The program is managed through e-Junkie and payments are made through PayPal.
2. Wandering Earl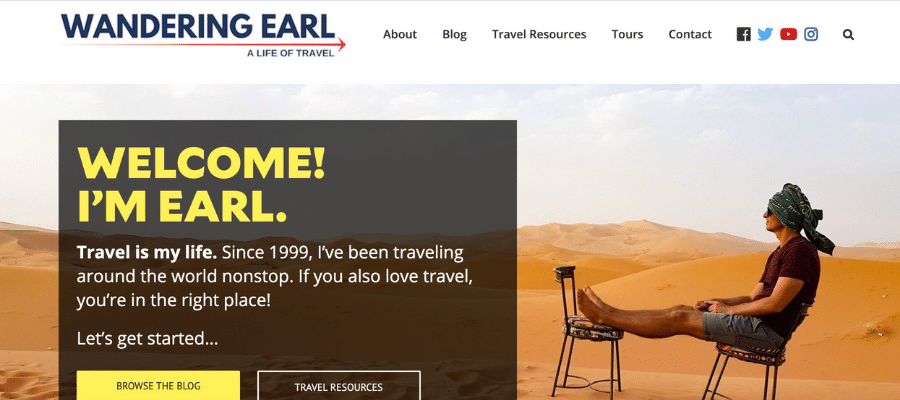 URL: Wandering Earl Affiliate Program
Commission: 50%
Cookie Duration: 6 months
Similar to Naughty Nomad, Wandering Earl also sells travel guides, known as the Live a Life of Travel guides. Currently, he offers two:
How to Live a Life of Travel
Work on a Cruise Ship
Affiliates earn 50% commission and receive assistance from Earl himself. He has banners and graphics available for you, and the program is managed through e-Junkie.
What Makes Affiliate Programs for Travel so Exciting?
There are many different ways you can promote travel with a blog or YouTube channel.
For example, you can offer a general travel site with tips and access to bookings and cheap flights.
You could also get more specific, such as seniors who want to travel across the U.S.
Then, there are travel bloggers who travel around the world and write about it.
There are also many segments you can get involved with when it comes to travel affiliate programs. For instance, you can target people based on:
Continent, country, region, and city
Tourist attractions
Age groups
Interests
Budget
Event travel (weddings, bachelor parties, business conference, etc)
There are also numerous different products and services to promote in the travel niche:
Accommodations
Flights
Activities
Finance & Legal Aspects (travel insurance, Visas, travel cards, etc)
Items Needed for Travel (travel accessories, luggage, sun protection, etc)
What Makes a Good Travel Affiliate Program?
Now that we know the travel industry is a good place to be as an affiliate marketer, let's look at what you should be looking for when it comes to travel affiliate programs.
Commission
First and foremost, of course, is commission because I'm a firm believer that there's no sense in promoting something that only earns pennies on the dollar.
The best travel affiliate programs provide a decent commission structure that will allow you to make real money, and that's what you'll find in the list I've provided.
While not all of these are high-ticket affiliate programs, they are the best in the industry as far as commission goes.
Cookie Duration
The next thing to look at is cookie duration. When one of your visitors clicks your affiliate link and visits one of the programs you are promoting, the clock starts ticking.
The cookie duration determines how long you will be able to earn a commission on that referral whether they purchase on that first click or not. 
I prefer affiliate programs that offer at least 60 day cookies. That's not always possible, but we can always strive for it, right?
Support
When you promote a product or service as an affiliate, you don't want to feel like you are on your own to figure out how best to promote it.
That's why I look for travel affiliate programs that offer dedicated support for their affiliates. You'll find that all of the programs in the list below have great affiliate support.
What is the Best Way to Promote Travel Affiliate Programs?
As you can see, there are a lot of different things to promote in this niche whether you are a seasoned or a beginner affiliate marketer, including:
Accommodations

Flights

Activities

Finance and Legal aspects of travel (travel insurance, Visas, travel cards, etc)

Items needed for travel (Travel accessories, luggage, sun protection, etc)
While I didn't find any affiliate programs that offer recurring commissions in this niche, there is a lot going for the travel niche.
But what is the best way to promote these travel affiliate programs?
My easiest guidance on this question is this:
If you travel the world yourself, consider starting a YouTube channel.

If you don't travel much but enjoy the niche, a blog is a great way to go.
Next Steps
Want to learn the secrets that earned me a full time income as an affiliate marketer? Sign up for my webinar!