Wondering if Netflix has an affiliate program? Or if not, perhaps the best competitors to promote?
Everyone knows Netflix, and it's been around longer than you think- 1998!   Yes, the world's favorite streaming service can drive its own car and have a drink at this point. 
With this upward trend and the success of Netflix's business program, many companies have begun to offer streaming services. You have likely heard of or subscribe to HBOGo, Disney+, or Hulu, to name a few. 
Let's get into how we can profit from these services.
Netflix Affiliate Program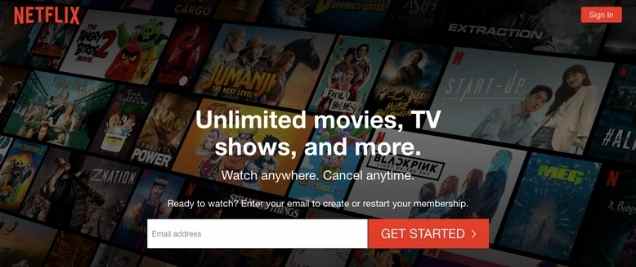 I want to begin by saying that Netflix itself does not have an affiliate program. The company at one time utilized affiliate marketing as a way to grow its company, and the commissions paid per lead were quite generous. 
However, the program has since been eliminated and it grows in other ways such as PPC advertising and general word of mouth. 
Want to know which affiliate marketing method works best for you? Answer the short quiz below:
The elimination of this program was horrible for people benefiting from it, as the earnings for each click was rumored to be amazing.  That being said, there are more ways you can earn than just with Netflix. 
And, compensation happens in one of two ways, mostly: you can generate recurring commissions or one-time sales commissions when you get users to subscribe. 
Some advertisers will pay for each lead via account signups or free trials, too. 
Let's talk about the top Netflix affiliate program alternatives. You can start earning money with these alternatives even if you're new to affiliate marketing!
Netflix Affiliate Program & Its Alternatives
1. Hulu
2. Sling TV
3. Philo TV
4. fuboTV
5. Amazon Prime Video
6. CBS All Access
7. Dish Network
8. Apple
1. Hulu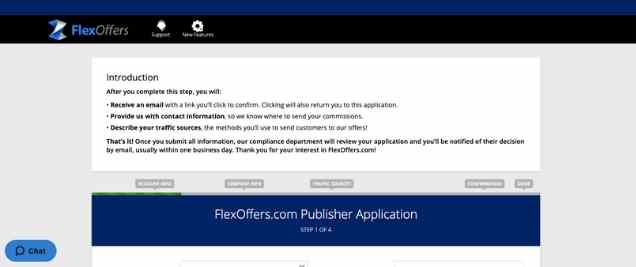 Hulu is probably one of Netflix's biggest competitors, so it makes for a top Netflix affiliate program replacement. It offers tons of popular TV shows, original programming and favorite movies in one convenient spot.
Streaming is unlimited. Hulu Plus is also a way for you to make money off your site's traffic.
 So long as you can get your site visitor to sign up for a free trial of Hulu Plus- which lasts 7 days- Hulu will pay you. It's all part of the FlexOffers affiliate network. 
These guys offer the greatest in data delivery, advanced payment solutions, and tons of marketing creatives. The reports, dashboard and links they offer will keep you on top of all that's going on with your advertising efforts.
URL – Hulu Affiliate Program
Cookie Duration- 14 Days
Commission Rate- $9.60 and under
Pros:
There is the option to donate your commission earnings to charity

Signup process is easy and quick, the longest part is waiting to be accepted.

Helpful support via FlexOffers team
Cons:
Commission rate varies

Cookie duration not as lengthy as some others
2. Sling TV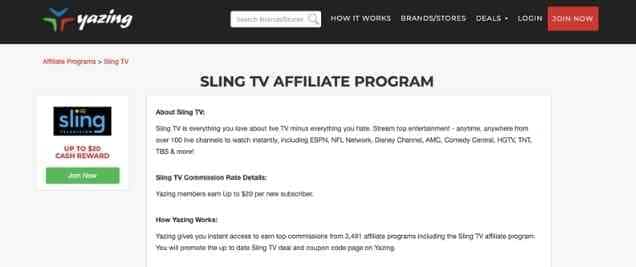 If you are on Sling, you can easily stream popular channels like AMC, HGTV, and ESPN plus lots more. There is even Sling International, which offers viewers 180 plus channels in over 12 languages.  
There are zero hidden fees, no channels you don't want and no long-term contracts, so it is a solid choice as a Netflix affiliate program alternative. You as the affiliate will be paid for each subscriber you refer.
URL- Sling TV Affiliate Program
Cookie Duration- 30 days
Commission Rate- $20 and under
Pros:
Offers varied programming that is diverse and inclusive

Can be watched on mobile devices and TVs alike

Extras are available for a nominal fee 
Cons:
Only available for Puerto Rico and the USA with all international traffic restricted
3. Philo TV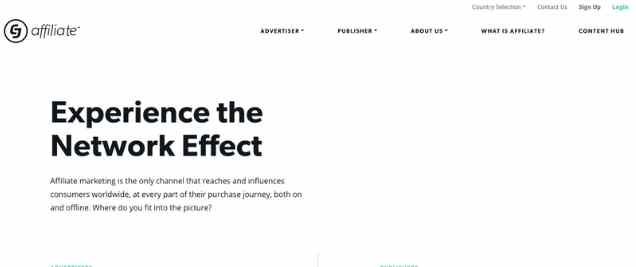 This is an Internet TV company that offers you more than 40 channels of on-demand and live television, plus channel apps.  
Readers can start with a 7-day free trial, and they can look forward to the low monthly cost of just $20 a month, far cheaper than cable but still providing the family with great entertainment.
URL- Philo TV Affiliate Program
Cookie Duration- 30 days
Commission Rate- $10
Pros:
Add ons like Epix and Starz available

Affiliate networking done via CJ networks

Works on all devices including tablets/mobile phones
Cons:
Information about marketing tools/creatives not readily available on affiliate site
4. fuboTV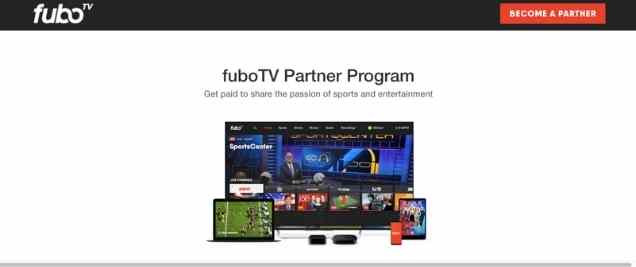 This is a live streaming platform and it features the biggest numbers of top-ranked sports, entertainment, and news channels for people who are ready to cut the cord- more than any other platform, in fact. 
The base package begins at under $60 and there are no contracts. You can get this great service on your mobile, tablets or Smart TV. It goes anywhere. 
It is the only virtual MVPD that offers 4K streaming. There is also a European Market through FuboTV Espana which launched only 2 years ago.
Fubo Sports Network is another great seller which features event coverage, behind the scenes footage, and more.
It is available in the US, Spain, and Canada at this time. The price and package vary with region. The program has DVR capability, and content streams in Spanish, English, and Portuguese.
URL- fuboTV Affiliate Program
Cookie Duration- 30 days
Commission Rate- $35 and under
Pros:
Available in three major countries

Streams in 4K

Available on many devices
Cons:
Local Networks and Regional sports networks only available for their specific markets.
5. Amazon Prime Video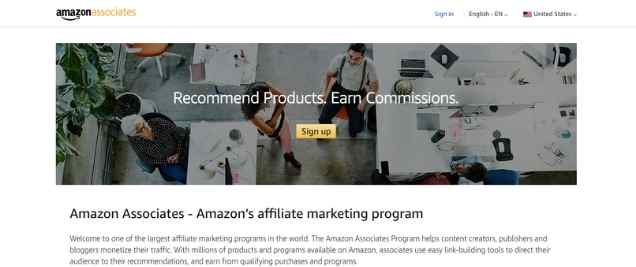 This is a program which helps publishers, bloggers and content creators make money off their traffic. Given that Amazon sells, well, EVERYTHING, including media, it becomes a cinch to use the link building tools provided by the retail giant as a means of directing audiences to stuff you think your readers will enjoy. 
Indeed, not enough good things can be said about Prime Video. They boast a huge library of mainstream and hard to find movies/TV that suit each and every genre out there. No matter your niche, this is an ideal choice.
URL- Amazon Prime Video Affiliate Program
Cookie Duration- 24h
Commission Rate- $3
Pros:
You get the great name of Amazon backing you

Customized linking tools available for you

Prime program is easy to promote
Cons:
Your website or app must qualify to participate.
6. CBS All Access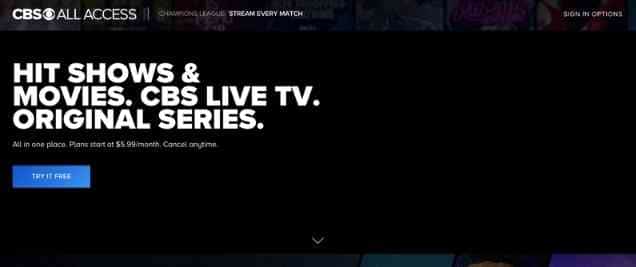 There are no minimum traffic requirements when you apply to become a CBS All Access affiliate! And once the application is accepted, you will be able to access the creatives and all code needed to create your custom links.  
They get a lot of requests each day, so it might take a while for you to hear back, but it's worth it to partner with this trusted name in news and entertainment.
URL- CBS All Access Affiliate Program
Cookie Duration- 10 days
Commission Rate- $9
Pros:
Tons of tools to monitor your progress available

Anyone with a website can apply

Creatives and tools to drive traffic are provided to you
Cons:
Email/Search marketing can only be used with permission granted by CBS
7. Dish Network
Your readers will love the value that Dish Network brings. It is a high ticket affiliate program and you get high quality programming that satisfies customers with their 2 Year Price Guarantee.
And best of all you can brag about the 24/7 customer service so entertainment can be enjoyed day or night.
It's totally free to join thanks to the CJ affiliate network. And it's a great way to boost sales and traffic- these guys have been around forever and are a trusted brand for anyone looking to enjoy top entertainment.
You will be compensated for both offline phone orders and your cart sales. 
URL- Dish Network Affiliate Program
Cookie Duration- 30 Days
Commission Rate- $100
Pros:
Highest commission rate in industry

Totally free to join

DISH is a trusted brand
Cons:
Customers can be unsatisfied after 2-year price guarantee runs out
8. Apple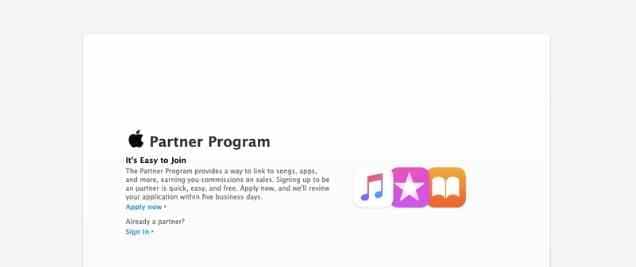 Apple News+, Apple Music and Apple Books all offer a commission. It is a great way for your website to bring your readers to the greatest content offered by the tech and media giant Apple. 
You can earn commissions on favorite products such as TV shows, movies, and even audiobooks. Great for those of you in the book and movie niches that want to sell both the book AND the movie!
Not only do you get the backing of the great Apple brand, but there is always a support staff ready to assist you should you need it. The commission rate is pretty good, too!
URL- Apple Affiliate Program
Cookie Duration- 30 days
Commission Rate- 7%
Pros:
You get the great Apple name to use

Can make money on various types of media

Great marketing tools available
Cons:
Only a limited number of partners accepted