Are you in two minds about taking the dive into a vaping affiliate program? A quick glance below might help.
Vape culture is here to stay despite the ban on specific flavors. 
Want to know which affiliate marketing method works best for you? Answer the short quiz below:
As an affiliate, you will probably have to be extremely careful with the legality of promoting in this shadier niche, but that makes it harder for other affiliates to join (less competition).
Nearly 9 million American's vape regularly according to the CDC.
That's a market, especially when it's something they buy every single day.
Best Vape Affiliate Programs
1. Atmos Affiliate Program
2. Vaporfi Affiliate Program
3. Central Vapors Affiliate Program
4. CSVAPE Affiliate Program
5. VaporDNA Affiliate Program
6. Verdict Vapors Affiliate Program
7. Breazy Affiliate Program
8. Blu Affiliate Program
9. Avail Vapor Affiliate Program
10. eJuices.co Affiliate Program
11. Vape Box affiliate program
12. Jac Vapour
1. Atmos Affiliate Program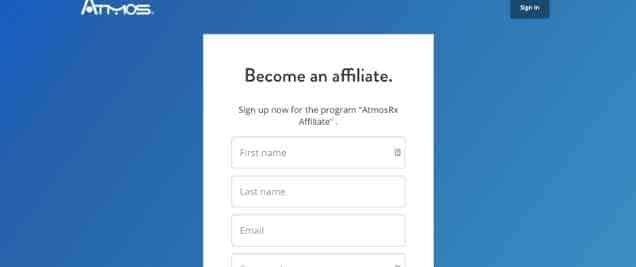 Atmos is leading company that offers a large selection of innovative products. They emphasize on quality control.
Their simple yet in house engineered unique products with efficient designs, specifically, the vaporizers come with a 5-year warranty. 
Their affiliate program is highly sought after for the good commission and supportive features. It lets you create your customized earning program.
There is access to user-friendly publisher tools and a vast library of links, banners, and social media content. 
Their website allows you to track clicks, sales, commissions, and payouts through their unique dashboard. Additionally, promotional material that is offline, such as banners can be custom ordered. 
URL: Atmos Affiliate Program
Commission: 35% on every order
Cookie Length: 45 days
Pros:
Innovative products with a 5-year warranty

A wide range of affiliate tools to walk you through the entire revenue-generating process with an attractive commission makes it a really good vaping affiliate program. 
Cons:
Cookie duration is not as high as some companies that are 90 days and in some rare instances as high as 365 days. 
2. Vaporfi Affiliate Program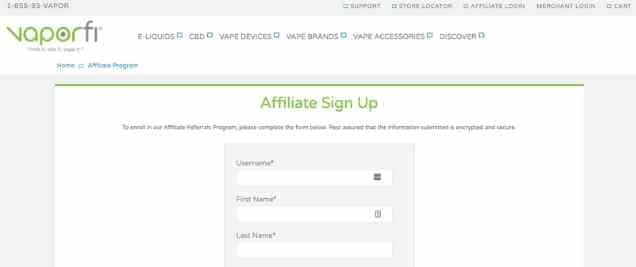 Vaporfi offers a broad spectrum of products to choose from – e-cigarettes, e-liquid flavors and vaporizers. There is enough variety for a newbie and seasoned vapers alike. 
Your visitors can find their favorite products here. Else, they can build a customized vaporizer choosing from the huge selection offered.
Not just shopping online, brick and mortar stores are located in some states to cater to the needs of the growing community.  Accessories including tanks, coils, chargers, and batteries are also available at Vaporfi.
They have a comprehensive affiliate program, managed in-house providing links and innovative management tools. They have exclusive direct linking technology (you can link to their website without your affiliate ID being displayed in the link)
URL: Vaporfi Affiliate Program
Commissions: 
20% on E-liquid sold (called lifetime residual, wherein, if the customer is enrolled in a home delivery plan, you by default earn a commission every month when a shipment is made) 

15% on cartridges, starter kits, and accessories, 

10% on other branded devices and 

5% on sales from affiliates you refer (a cool 2 tier program)
Cookie Length: 365 days
Pros:
Commission offered is impressive. 

Product portfolio is vast, not to mention products from top brands. 

They offer customizable flavors and quality hardware. 

The affiliate program is extensive with cutting edge tools and a friendly team.

The website is easy to navigate. If your visitor is on the look out for a one-stop shop, it fits the bill.
Cons:
The commission is not as high as some other companies that go up to 35%. 
3. Central Vapors Affiliate Program
Central Vapors sells popular e-juice liquids manufactured in the US. The company claims that they are vapers themselves stress on flavor and quality.
Their team comprises passionate professionals that can blend up the right vaping flavors. 
Website is straight forward hosting e-juices, tanks, coils, e-cigarettes, mods, and also DIY kits – everything at a reasonable price. 
Their 100% satisfaction guarantee policy permits you to return any e-juice or electronic cigarette product or exchange for another within 14 days of receiving the order provided 75% of e-juice is remaining. 
Central Vapors has roped in ShareASale for their affiliate program. They have high conversion rates for their products that are of high quality, yet fairly priced. 
URL: Central Vapors Affiliate Program
Commission: 30% on first order, 25% on all orders after that
Cookie Length: 60 days
Pros:
Premium e-juice liquids are available at competitive prices. 

The affiliate program has 60-day recurring cookie scheme which ensures you can earn more than one commission from the same customer within that time. 

A simple website with 100% satisfaction guarantee helping customers make informed purchases. 

Affiliates keep the commission even if the product is returned
Cons:
Not many user-friendly publishing tools to enhance sales. 

Also does not offer customized earning programs for affiliates like some companies do.
4. CSVAPE Affiliate Program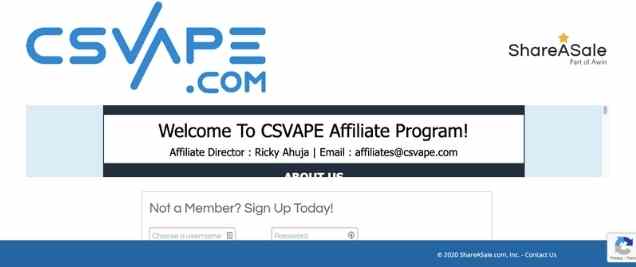 CSVAPE sells vape devices, premium e-liquids and accessories at competitive prices. They can be purchased from their easy to use and secure website.
They also offer international delivery, while delivery within the US is free. The website highlights on the advantages of vaping over smoking and assists buyers in picking a personal vaporizer that fits the buyer's requirement.
With a motto of 100% satisfaction guarantee, they ensure being accessible through dedicated phone lines, chats and even social media channels to address any concern and to cater to every personalized need.
CSVAPE offers a simple affiliate sign up procedure by teaming up with ShareASale. You can start earning commissions right away from your website.
The vape affiliate program they offer is robust with a dedicated program manager. Text links and banners are available for promotional purposes. 
URL: CSVAPE Affiliate Program
Commission: 20% on every sale
Cookie Length: 90 days
Pros
An excellent support team offering material for promotion makes it easy to work while enrolled in their affiliate program. 

Prices are competitive and there are always ongoing offers and deals that will help you make money while they do in this niche vaping business.
Cons:
Smaller selection of products compared to some other companies.
5. VaporDNA Affiliate Program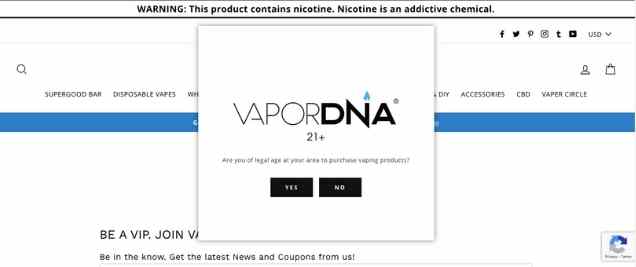 VaporDNA has a great online presence coupled with excellent customer service. They have an expansive product range, specifically suited for experienced vapors eager to try newer products. 
In the vaping or e-cigarette world, VaporDNA is one of the trusted retailers. They seem to have a loyal customer base that looks forward to the expanding portfolio of products.
Intricate details on their website are taken care of, by the website design team that is reflected in their success. Their vape affiliate program is managed by a professional team dedicated to it.
The leading affiliate networks they offer are Share-a-sale and CJ. You get to choose based on your need.
They claim to be one of the best-paid programs catering to partners and affiliates with a strong conversion rate. 
Depending on the season, the average order price is between $65 and $85 USD.  There is automatic pay-out monthly through Share-a-sale or the CJ platform. 
URL: VaporDNA Affiliate Program
Commission: 10 to 20% on every order
Cookie Length: 30 days
Pros:
VaporDNA hosts prestigious brands and a wide variety of products encompassing liquids, vaping mods, and other equipment. 

The premium quality with affordable pricing is the reason for return customers.

The offering of two affiliate networks helps you choose a preferred program in addition to an automatic monthly pay-out through these platforms. 
Cons:
Do not have videos and other advanced tools to enhance sales of affiliates.
6. Verdict Vapors Affiliate Program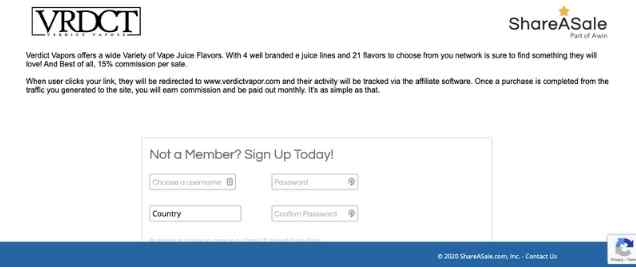 Verdict vapors sells e-juices they claim are made using the finest ingredients procured from around the world. They boast of their attention to detail which reflects in the flavors they have to offer and the awards they won.
They offer a 'try before you buy' plan wherein, 5 samples from distinct flavors are shipped to you in 10ml sizes. 
Their website is simple and easy to navigate. Verdict vapors affiliate program is easy to sign up.
You are provided a custom URL upon signing up and all set to make a commission of 15% each month. 
URL: Verdict Vapors Affiliate Program
Commission: 15% monthly commission
Cookie Length: 30 days
Pros:
It is an award-winning company for its fine crafted vape juice. 

They have an interesting offer to taste samples before making bigger orders.

They send out regular discount emails with good deals once you sign up with the company. 

Affiliates can get discounts to aid in directing traffic, which helps both the company and the affiliates. Overall a good deal 
Cons:
Customized banners and other material are unavailable for promotional purposes for the affiliates
7. Breazy Affiliate Program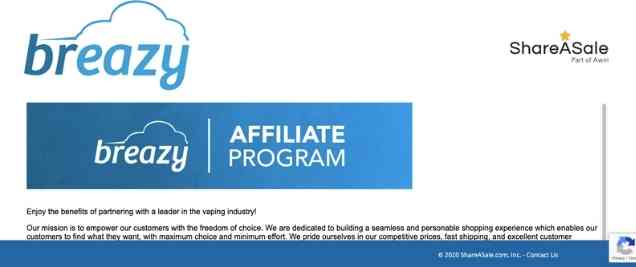 Breazy is like the online destination for a wide variety of vape products, be it electronic cigarettes, starter kits, juices, hardware, vape mods, and accessories.
The website carries products from numerous other brands in addition to Breazy's own products, all at the best prices. The look and feel of the website are approachable and professional. 
Breazy strives to empower its affiliates by providing access to links, banners, and letting you track sales. 
The affiliate program they offer has advanced tracking and reporting and also has a dedicated account manager for troubleshooting any issues, just in case. Affiliates can sign up with ShareASale and start earning commissions.
All the tools, resources, including newsletters they provide, will come in handy.
URL: Breazy Affiliate Program
Commission: Up to 10%
Cookie Length: 30 days
Pros:
Have a huge selection of varied products. 

They support charitable organizations. T

The dedicated team assists affiliates promptly with any tools and optimizations.

Their customer care is also friendly, making the shopping experience of buyers directed to their website a good one. 
Cons:
The commission is a maximum of 10% 
8. Blu Affiliate Program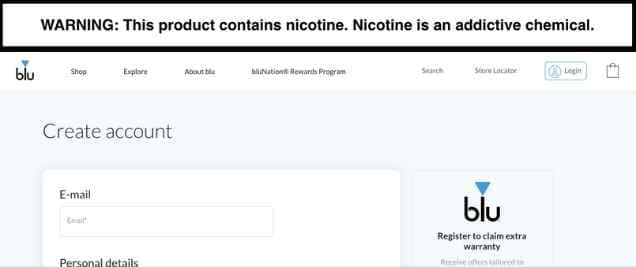 A popular vaping products company with an inventory of vaping devices and e-liquid flavors, Blu partners with CJ Affiliate for trusted third-party tracking and real-time reporting.
Payout is through monthly commission checks. The affiliate program has a dedicated affiliate team.
You, as an affiliate have access to a promotional marketing calendar, exclusive coupon codes, monthly newsletters, and other tools. The average order value is $65. 
URL: Blu Affiliate Program
Commission: 15% 
Cookie Length: 30 days
Pros:
Company has huge inventory of e-cigarettes and vaping devices. 

They offer exclusive coupon codes and other promotional material to affiliates. 

A dedicated team that is friendly and ready to guide in the process of improving conversion rates. 
Cons:
Promotional material is limited to coupon codes. 

Elaborate reports on sales and tracking is not available. 

Also, commission is limited to 15%
9. Avail Vapor Affiliate Program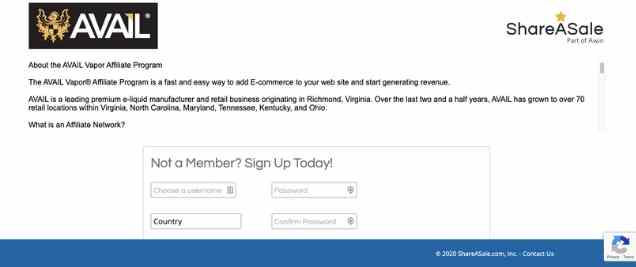 Avail is a premium e-liquid manufacturer originating in Richmond, Virginia. They have over 70 stores in various states in the US.
Their product list includes over 200 items including many of their own exclusive e-liquids. They offer monthly newsletters with shipping offers and promotional codes to affiliates.
And also access to product links that are updated daily. They tied up with eBay affiliate network to track the purchased made through affiliates and partners.
Monthly pay outs are also managed by this organization. 
URL: Avail Vapor Affiliate Program
Commission: 2 – 15% 
Cookie Length: 30 days
Pros:
It is a relatively new company with an impressive affiliate program with access to promotional resources. 
Cons:
Current offering of products is limited. 

And commission is also in the range of 2%-15% only
10. eJuices.co Affiliate Program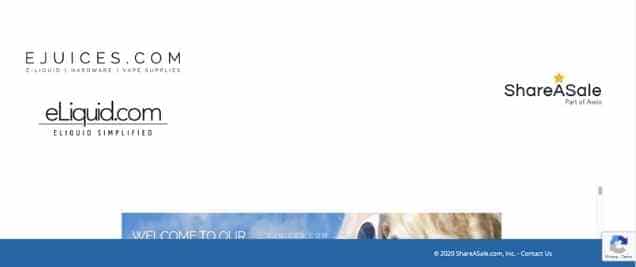 eJuices is a leading company in the vape world for wholesale transactions in addition to business on all levels. Their wide-ranging products comprise accessories, hardware and juice.
The affiliate program offers significant earning potential as the industry is growing exponentially. They partnered with ShareASale for real time reporting, tracking, and generating monthly commission checks.
URL: eJuices.co Affiliate Program
Commission: 10% on every sale
Cookie Length: 45 days
Pros:
A huge opportunity to earn with myriad options and easy to navigate website
Cons:
Ejuices does not offer resources like banners to maximize sales. 

Commission is not greater than 10%.
11. Vape Box affiliate program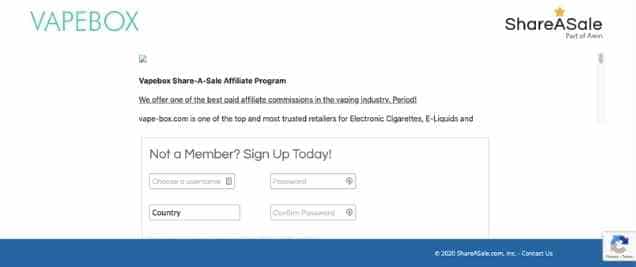 Vape box offers premium e-juice and hardware that suits your needs. They offer personalized vape subscription plans wherein; the buyer receives a box with vape items every month. 
There are numerous plans you can choose from. It is more of a surprise package with different kinds of items in it.
You can do your own shopping too, without the plans. What makes the plans attractive is that they start at $18/month.  
URL: Vape Box Affiliate Program
Commission: 10% – 15% on every order
Cookie Length: 30 days
Pros:
The personalized subscription plans vape box offers along with the many products and high-frequency newsletters that assist with information that can help affiliates. 
Cons:
Unlike some other brands, no detailed reports and tracking details as guidance to improve clicks. 

And commission, not more than 15%.
12. Jac Vapour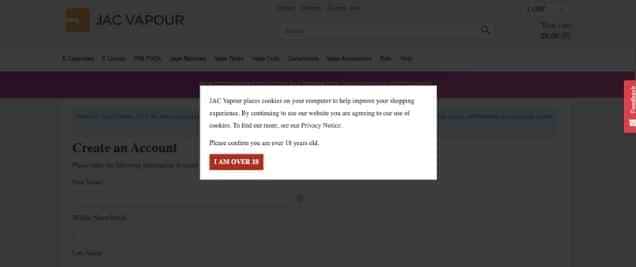 Jac Vapour sells high-quality vaping products including electronic cigarettes. They design and create their own hardware and e-liquids. 
They are a well-known brand, popular for the quality and reliability of the products. The company offers vape kits, coils, tanks, e-liquid, and batteries. 
URL: Jac Vapour
Commission: 15% 
Cookie Length: 90 days
Pros:
Made in-house with good quality control, products are known for their reliability. 
Cons:
Do not have options of customized earning plans, that are offered by some companies. 

And the commission is about 15% only.
What to Look for When Choosing the Best Vape Affiliate Program
Vape affiliate program, for that matter any affiliate program is as strong as the products being offered, implying the quality and popularity of the product. Having said that, it does not suffice if the commissions per sale and conversion rates are not reasonably high.  
The Vaping world is witnessing lucrative opportunities. In general, the programs have higher commissions ranging between 20% and 50%. However, marketing strategies and the traffic you draw to your site factor in significantly when promoting.
Affiliate teams within companies are great partners and will assist in achieving your goal. In the end, it is a win-win situation.
In a nutshell, product quality and popularity, look and feel of the website and supportive affiliate teams are aspects that matter when choosing a vape affiliate program. Of course, it is a commission that tops the list. 
We reviewed a ton of programs to give you the best choice. Though not an exhaustive list of great vape affiliate programs, check out some of the outstanding programs below. 
Conclusion
If you are looking to boost your affiliate earnings, associating with vape affiliate programs is a good move. With a multitude of programs to choose from, boiling it down to a select few is tedious. 
This list of 12 programs can be a good start. Exploring these vape affiliate programs and the specific positives each has to offer will help you pick one that suits your requirement. 
To summarize, if it is e-cigarettes that you are focusing on, Blu is the way to go. If you are inclined to e-juice, central vapors seem like a good option with a starting commission rate of 30%, followed by 25% on every other order. 
Atmos, with its high commission rate of 35%, user-friendly publishing tools, customized earnings program, and real-time statistics and reporting, seems like a really cool program.
Learn affiliate marketing secrets. Click here to get started