The 3-step system I used to make 7-figures of Affiliate Commissions in my first 3 years as an affiliate marketer.
So you've got an audience of fitness folks and are looking to make some money through affiliate marketing? These 7  affiliate programs will help you do that. 
Even better though, these are quality companies that will make your audience glad that you referred them.
Honestly I kind of wish I was an affiliate in the fitness industry. It's fairly easy to rank for on search engines and is extremely lucrative with some programs offering thousands of dollars in commissions.
Fitness is a growing affiliate industry and the trend is only going up.
There are low-ticket items like weights that you can promote, but there are also extremely lucrative programs like coaching that charge thousands of dollars.
Of course, as an affiliate, you tend to make a pretty penny off of those high-ticket programs as well.
Fitness Affiliate Programs
1. Fitbit
2. WorkoutWarehouse
3. Lifefitness
4. Vegetarian Body Building
5. Workout anywhere
6. Bodybuilding.com
7. Crazy Mass
8. Six Pack Shortcut
1. Fitbit Affiliate Program

Fitbit is one of the most established fitness brands, with its exclusive combination of highly advanced fitness tracking and app support system. It is transforming the entire fitness industry with its adaptive and robust fitness programs. The Fitbit sells millions every year globally.
You can earn a 12% commission on direct sales of Fitbit products on your website. Fitbit owns around 72% of the world's connected fitness market. One of the most significant benefits of this affiliate program is that Fitbit monitors and tracks the fitness campaigns and periodically optimizes the commission. 
You don't need to worry about the Fitbit affiliate program's online trends because Fitbit takes the entire responsibility of tracking fitness trends. Fitbit offers attractive incentives for its regular affiliate partners and introduces regular promotions.
However, there are two drawbacks to this affiliate program. First, it is applicable in the US and Canada only. Secondly, even though Fitbit is a pioneer in manufacturing wearable fitness trackers, but the market is over-crowded with cheap wearables. 
So, the competition for the Fitbit's fitness affiliate program is increasing every passing second. Having said that, some people only rely on good-quality products, and they will always go for well-established fitness programs offered by Fitbit.  
URL: Fitbit Affiliate Program
Cookie Duration: n/a
Commission Rate: 12%
2. WorkoutWarehouse Affiliate program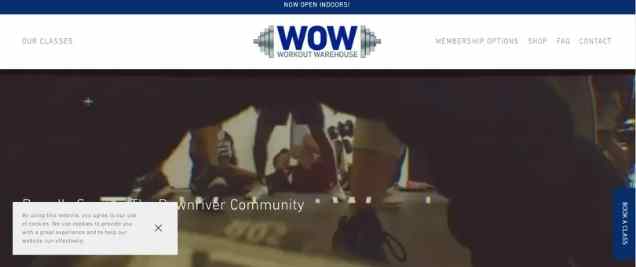 As the name indicates, WorkoutWarehouse is an online retailer that provides an extensive catalog of home gym equipment and other accessories. It may not be a significant gym equipment brand like FreeMotion, Gold's Gym, NordicTrack, and HealthRider, but it provides affordable home gym equipment at an incredible discounted price.
The general market trends show that people tend to buy cheap home gym equipment rather than going for ultra-expensive and heavyweight equipment. This gives an edge to the WorkoutWarehouse affiliate program, which comes with four different tiers of commissions. These are:
8% – Less than $10,000 

9% – $10,001 – $20,000 

10% – $20,001 – $30,000

11% – Greater than $30,000
This is quite a rewarding fitness affiliate program. There is no partnership fee, and you can join the affiliate program for free. You can access all the products' data feed, partner support, and creative assets. The WorkoutWarehouse website is quite neat and informative and helps you market their infinite range of home gym equipment.
If you ask me, WorkoutWarehouse is a lucrative affiliate program that can easily be promoted on websites under the health and wellness niche. It offers attractive commission tiers with access to the full product catalog.
URL: WorkoutWarehouse Affiliate program
Cookie Duration: Monthly
Commission Rate: 8% – 11%
3. LifeFitness Affiliate Program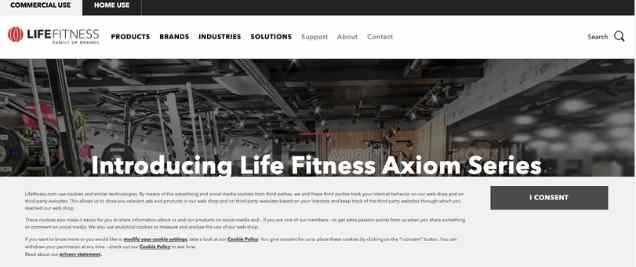 LifeFitness is another exercise equipment brand that offers personal and home gym products. It has incorporated innovation in their products with software services and online customer support. The brand not only manufactures exercise equipment but develops efficient layouts and facility operations. LifeFitness has up-to-date social media platforms, which promote a healthy lifestyle.
It offers an average  8% commission on every sale after the first $3000 orders (on average). This affiliate program also provides incentives and performance-based bonuses. Another benefit is its 30-day affiliate cookie window, which allows you to convert online promotions into real sales by using the LifeFitness dedicated affiliate management and the AvantLink tracking system.
The LifeFitness affiliate program is an all-rounder fitness equipment brand, including end-to-end equipment manufacturing, online customer support, and a great social media presence. The products offered by the LifeFitness are of premium quality with software and operational solutions. 
You can earn a handsome commission on all the sales by utilizing this fitness affiliate program's resources and support. In addition to the regular commission, you can also be eligible for other incentives and benefits based on your performance.
URL: LifeFitness Affiliate Program
Cookie Duration: 30-day
Commission Rate: 8%
4. Vegetarian Body Building
As this affiliate program's name implies, this bodybuilding program is a practical implementation of the science used to develop mass with a plant-based diet. This program is for those people who want to build their bodies with vegan and semi-vegetarian diets only.  
This fitness affiliate program offers a hefty 50% commission on a sale of a $97 product. You can avail of this fitness program through Clickbank, where you can find all the relevant hoplink, management support resources, and creative assets.
The plant-based organic diet is new in the fitness market and promotes clean, healthy, sustainable habits to reduce inorganic waste on the planet. The health and fitness market is already flooded with the low-carb and keto diet plans. So, it's an excellent opportunity for you guys to earn a massive commission by targeting the relevant section of the community with the new plant-based diet.
With this fitness affiliate program, you can earn commission on even a single product sale. Some bloggers consider this a disadvantage as it may not necessarily create a higher commission sales funnel. However, some bloggers consider it a motivating reward.
URL: Vegetarian Body Building
Cookie Duration: n/a
Commission Rate: 50%
5. Workout Anywhere Affiliate program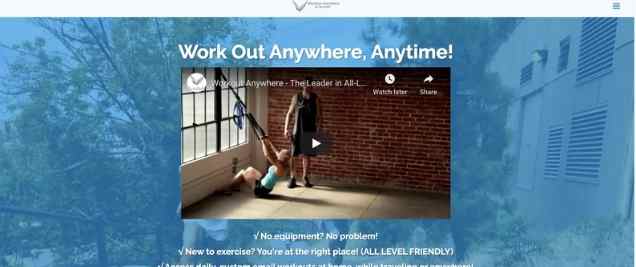 Workout Anywhere is an extensive fitness program designed to target those people who don't want to pay a high gym membership cost. It offers online fitness training services with collaborative challenges, meal plans, videos, goal tracking, and fitness rewards. The goal is to create an online community of fitness enthusiasts to interact with through an everyday Workout Anywhere platform.
The Workout Anywhere fitness affiliate program offers a 30-50% commission on online referrals through which individuals subscribe to the application and buy the customized diet plans. More than 3000 people have already signed up for this fitness program with a 0% refund rate.
URL: Workout Anywhere Affiliate program
Cookie Duration: n/a
Commission Rate: 30-50%
6. Bodybuilding.com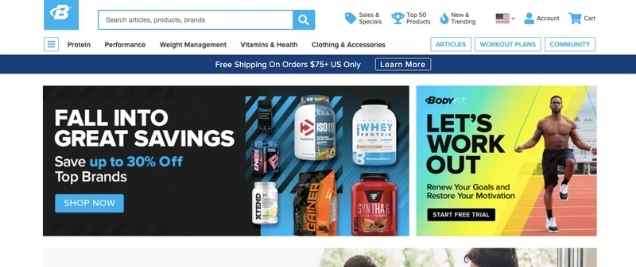 Bodybuilding.com is another multi-dimensional fitness affiliate program, which is a combination of an e-commerce shop, multiple training resources, and an online community. An interesting fact about this affiliate program is that you can generate two types of income streams.
You can promote either the company's products or the bodybuilding program. If you promote both, you'll get separate commissions.
As an affiliate marketer, you can access the program free of cost, but you need to wait for 72 hours before getting the access approval. You can get a 15% commission on confirmed sales by new customers and 5% on existing customers' orders.
Bodybuilding.com offers a flat 2% commission on the purchase of the fitness program. You can withdraw tour first income once you achieve a minimum of 25$ threshold.
URL: Bodybuilding.com
Cookie Duration: Monthly
Commission Rate: 15%
7. CrazyMass Affiliate Program
CrazyMass provides legal steroids on their e-store to boost the bodybuilding process. They have various products that cater to needs such as cutting, strength building, stamina, and bulking. These steroids are 100% legal and boost nitrogen retention and testosterone. 
You can earn a 40% commission on the sales of CrazyMass products via your website. Not only that, but you can also earn bonuses and incentives based on your performance. 
The CrazyMass Affiliate program offers a lucrative commission, but you need to understand that these aren't traditional fitness products. These steroids, presented by the CrazyMass, are intended for a limited audience interested in building body mass using supplements.
So, it is crucial that you understand your audience before promoting CrazyMass products online. 
The CrazyMass' fitness affiliate program is a unique fitness niche, which can increase your income if you market it to the relevant people.
URL: CrazyMass Affiliate Program
Cookie Duration: Monthly
Commission Rate: 40%
8. Six Pack Shortcuts
The Six Pack Shortcuts fitness program is all about fat burning techniques focusing on body shaping and building techniques. This program promotes the "after fat burn" effect on the body shape. It offers more than 24 workout routines, yearly membership, and digital workout programs, including Abs After 40, Monster Mass, and Insane Home Fat Loss. 
You can apply for the Six Pack Shortcuts affiliate program via email. Once your application is approved, you will be assigned a primary tracking ID, which can be sent to your visitors. If they use this ID or URL, they'll land on an optimized affiliate web page. You can access all their affiliate tracking tools to help promote their plans and packages. Six Pack Shortcuts assist their partners in reviewing their blog and promotional material.
The program pays $1.72 EPC to its affiliate marketers. It is quite a popular and well-established affiliate program with countless workout videos on YouTube.  
One of the advantages of promoting Six Pack Shortcuts is its in-person assistance. It is one of a kind bodybuilding program that focusses purely on fat burning, which is great since people these days are quite concerned about burning body fat to get into proper shape. This also makes it easy to market this affiliate program among your visitors and thus increase your income. 
The Six Pack Shortcuts' fitness affiliate program provides a high EPC and empowers affiliate marketers to earn a handsome commission.
URL: Six Pack Shortcuts
Cookie Duration: Monthly
Commission Rate: $1.72 EPC
Want to know which affiliate marketing method works best for you? Answer the short quiz below:
Your Role as Fitness Affiliate Marketer
You may feel tempted to join the fitness industry after hearing about its success. So, it's time to jump into the online fitness industry by playing your part as an affiliate marketer.
Your visitors trust your website and will be interested in the fitness programs promoted on your website, making you a perfect affiliate marketer. 
This is a tremendous opportunity for bloggers to identify and promote new fitness products, services, and memberships. Not only that, but you can cater to different fitness levels. For example, some people are at the beginner level and want basic workouts, while some are experts looking for serious cardio exercises.
A fitness blog can inspire thousands of people to join fitness programs.
You can promote bodyweight workouts that require less or no equipment. In addition to the exercises, you can encourage your followers to follow meal kits, diet plans, energy drinks, and other supplements that come with fitness programs.
Another side kind of fitness program concerns people looking to pay for an online instructor and buy training equipment. So, this opens another domain of affiliate programs that you can promote, i.e., fitness resources and equipment.
I have compiled a list of fitness affiliate programs that you can promote on your website to increase your online income. I'm super-thrilled to share this knowledge with you and will be looking forward to hearing your feedback on them.
Conclusion
The fitness niche is no longer about traditional gym workouts. People don't have the time to go to the gym and commit to a workout every day. Hence, the online fitness industry is growing at a rapid rate, with more people joining every day.
This fitness niche gives people the freedom to select suitable fitness and health programs according to their specific needs.
If you have affiliate programs running on your online blog, you can diversify your online sales by promoting fitness programs through affiliate marketing.
I bet that many of your regular visitors are probably looking for a reliable fitness program.
So, if you promote and market fitness affiliate programs on your website, the chances that you will start earning more commission in a short period are high.
I've shared everything that I know about the top 8 fitness affiliate programs, their types, and commissions. You're welcome to give them a try, and if you do, let me know how they worked out for you.
Learn affiliate marketing secrets. Click here to get started.