Online Social Media Jobs That Pay $30/Hour
Availability to start this week
Make $25-$35 Testing New Apps
Just need access to phone/tablet
5+ hours per week available
Promoting solar energy affiliate programs can help you earn a decent income.
Why?
Solar-powered products are everywhere today, not only in residential but in government buildings too.
Furthermore, solar products are not what they used to be decades ago; they've evolved so much.
Their popularity won't dwindle anytime soon, considering the increasing costs of electricity and increasing concerns of the carbon footprint left behind by fossil fuels.
Want to know which affiliate marketing method works best for you? Answer the short quiz below:
Solar power has also presented affiliates with an opportunity to increase their passive income.
So if you have a social media or blog audience, you can partner with companies via solar energy affiliate programs and increase your income.
Below, we've listed 8 of the best solar energy affiliate programs in the market. Remember that high ticket affiliate programs can make you earn more compared to low-ticket ones. Let's look at them!
Best Solar Energy Affiliate Programs
1. Solgaard Affiliate Program
2. GoGreenSolar
3. Inergy Affiliate Program
4. Tesla Affiliate Program
5. Goal Zero
6. Biolite
7. SunJack
8. Overland Solar
1. Solgaard Affilate Program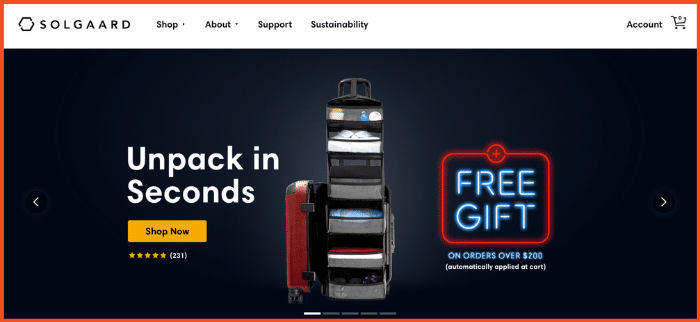 The first company in our list of the best solar energy affiliate programs is Solgaard. They build solar-powered and anti-theft backpacks. 
The backpacks feature a Solarbank with Bluetooth speaker, drop-proof laptop storage, retractable cable lock, and other amazing features. Their backpacks are designed to accompany you on every journey so you can be prepared for anything.
As someone who's done a lot of backpacking, I can tell you this would have been a lifesaver!
They also manufacture closet-like suitcases. For every product this company sells, it retrieves 5 pounds of plastic from the ocean. By the end of 2020, they aim to retrieve about 1 million pounds of plastic.
As Solgaard affiliate, you'll receive a commission of 10%.  Their Lifepack goes for $165, meaning you'll receive $17.14 for every sale referred by you. 
The products might be high-end products, but an individual with disposable income and a desire to see a greener environment won't mind paying for it.
Their affiliate program is managed by FlexOffers. The program comes with a 90-day cookie duration.
Cookie Duration: 90 days
Commission Rate: 10%
[maxbutton id="71″ url="https://buildapreneur.com/recommends/flex-offers/blog/8-Best-Solar-Energy-Affiliate-Programs-To-Help-You-Earn-Some-Green" ]
2. GoGreenSolar
GoGreenSolar supplies solar panels and kits manufactured by GigaWatt Inc.- their parent company. 
They help both government and residential customers generate their green energy, as a result of reducing electricity bills. 
SunJack portable charger and SunPole, a grid-tied solar module are an example of GoGreen custom design.
GoGreen customers enjoy free shipping on orders above $150, financing options, renewable tax credits, and a price match guarantee.
GoGreenSolar program is managed by ShareASale. By selling GoGreen products, you'll receive 3% commission and access to creatives, data feeds, and reporting tools. 
The company also provides affiliates with dedicated affiliate managers to help them in case they have any queries or concerns.
And the best part?
GoGreenSolar's average order value is $890! Even a small commission of 3% can earn pretty decently.
Their website is also the one-stop-shop for most people searching for solar products. So you can take advantage of the brand of popularity to increase your income.
Cookie Duration: 30 Days.
Commission: 3% per verified sale
[maxbutton id="71″ url="https://buildapreneur.com/recommends/share-a-sale/blog/8-Best-Solar-Energy-Affiliate-Programs-To-Help-You-Earn-Some-Green" ]
3. Inergy Affilate Program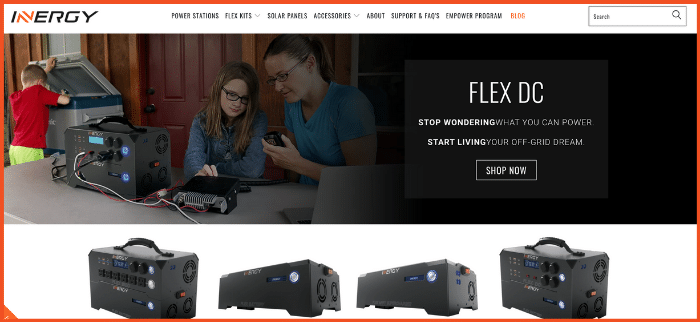 Inergy Solar is among the leading manufacturer of solar energy power generators worldwide. They manufacture ultramodern generators that harness and convert sunlight into powerful and efficient energy.
Kodiak Solar Generator is one of their most popular products. It's a portable and lightweight unit, which Campers, Survivalists, and RVers can take advantage of.
The company aims to democratize renewable energy by manufacturing award-winning technology well suited for average tasks. Inergy products can be used anywhere, anytime.
Just like their products, the Inergy affiliate program is impressive in terms of what is offered in this industry. Affiliates can earn a commission of 10% for every sale.
Affiliated also receive free marketing material and tools to help them get started.
Cookie Duration: 30 days
Commission: 10%
[maxbutton id="71″ url="https://inergy.grin.live/" ]
4. Tesla Affiliate Program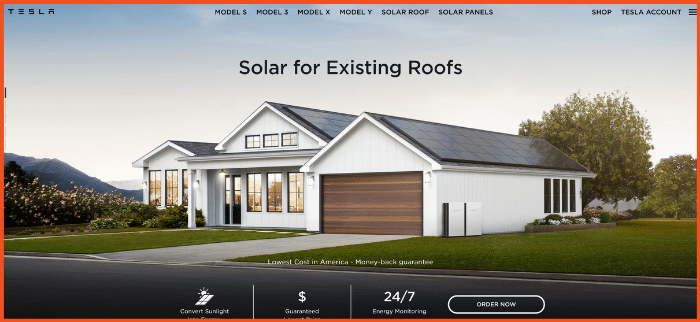 No solar energy affiliate programs list would be complete without mentioning Tesla.  Elon Musk truly revolutionized the company. 
Tesla's huge array of products in the market are proof of that.
Apart from solar panels, Tesla sells solar roof tiles, Powerwall storage batteries, and electric cars. Each product supports the other.
Tesla's partnership program is very simple. If someone you referred buys a Tesla, then you receive a chance to get 1,000 miles worth of supercharging your Tesla car.   
If your customer buys a Tesla Solar Panel, you earn $400. Anyone who uses your referral link can also earn a $100 reward after system activation of their solar panels or solar roof.
Any product returned under Tesla's Return Policy will get excluded from the Referral Program. You can share the Tesla referral link and track the status of your rewards via the Tesla App.
Cookie Duration: Unknown
Commission:  $400 after system activation for solar roof and solar panels. 1000 miles
[maxbutton id="71″ url="https://www.tesla.com/support/referral-program" ]
5. Goal Zero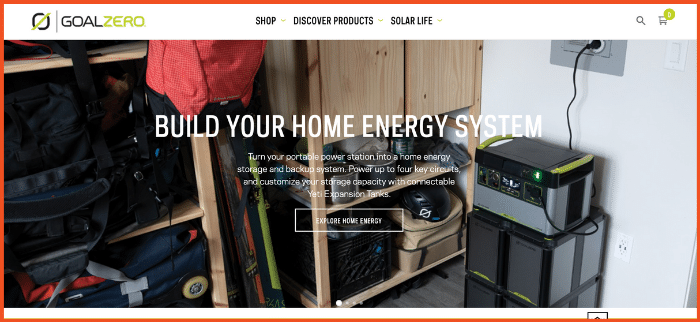 Goal Zero is a portable solar power company that designs products that can work anywhere without having to worry about battery life. Their products get tested in harsh climates all over the world to ensure they can work in any situation.
Goal Zero's referral program is powered by Pepperjam, which provides affiliates with effective support to promote their products. You can market Goal Zero's products to Adventurers, RVers, and Campers – they'll love these products.
Their affiliate program also provides affiliates with tracking codes, dedicated affiliate support, product fee, and display track.
With a total sale of about $350, affiliates stand a chance of receiving a 5% commission. Also, they'll receive other exclusive deals and increased commission based on selected placements.
While their commission might seem lower than the average, Goal Zero high-value products can yield a high payout.
Cookie Duration: 14 days
Commission: 5%
[maxbutton id="71″ url="https://goalzero.affiliatetechnology.com/index.php" ]
6. BioLite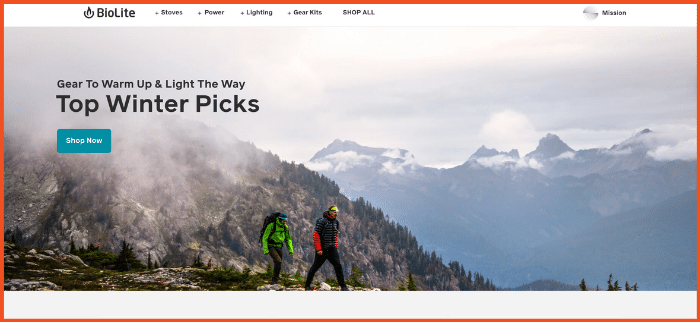 BioLite solar company is famous for creating award-winning solar energy products that can charge your gadgets, light your off-grid house, and even cook. The products include solar panels, solar stoves, solar lamps, and more.
The company has a vast customer base that relies on its products for everything from backpacking trips, sudden power outages, and even backyard barbecues.
They have an amazing affiliate program that helps them promote their product to a larger audience.
BioLite affiliate program operates on AvantLink, which provides affiliates with access to powerful marketing tools, the best type of tacking tools, and a plethora of information via a content support library.
BioLite has an average order value of over $175. Affiliates receive a 7% commission for every confirmed sale. Their 30-day cookie duration allows affiliates to make more income with no further work. 
Also, BioLite comes with a responsive and highly agile support team that provides outstanding support.

Cookie Duration: 30 Days
Commission: 7%
[maxbutton id="71″ url="https://www.avantlink.com/programs/13526/biolite-affiliate-program/" ]
7. SunJack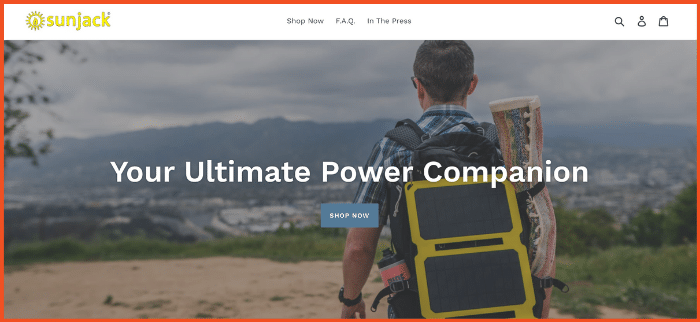 SunJack focuses on developing portable solar-powered technologies like the most powerful solar charger available on the planet.  
Everything about the charger is twice the speed of standard components, from high-efficiency solar panels with 2 Amps USB outputs to batteries that can charge in half the time. SunJack charger allows you to charge all your portable gadgets anywhere, anytime.
The Company sells its product to the U.S. Army, U. S Marine Corps, Grid Alternative, the Federal Aviation Administration, and the CBS.
Its affiliate program is among the best solar energy affiliate programs in the market. You can join the company's partnership program and earn a decent income.
Through the SunJack affiliate program, you'll receive a commission of 10%, and a 20% bonus if you drive a large amount of traffic.
Besides, it has a 30-day cookie duration to ensure that no omissions and mistakes take place when calculating your due commission.
To help you convert more leads, SunJack has several promotional activities, including monthly giveaways and coupon offers. 
They even have a dedicated affiliate management team that's always ready to help you.
Cookie Duration: 30 Days
Commission: 10% – 20%
[maxbutton id="71″ url="https://www.sunjack.com/pages/affiliate-program#:~:text=If%2520you%2520are%2520ready%2520to,the%2520United%2520States%2520Marine%2520Corps." ]
8. Overland Solar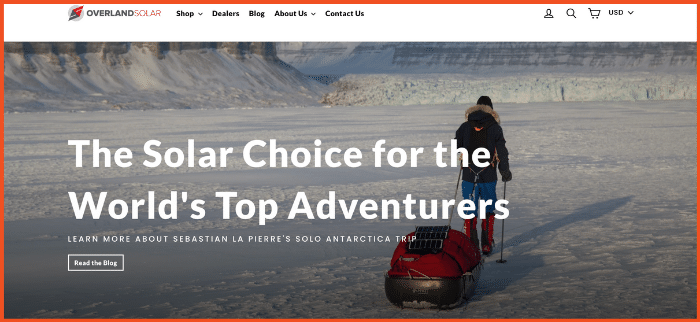 Overland is the brainchild of hundreds of like-minded travelers who kept on experiencing the same challenge: inefficient and unreliable power supply.
The company manufactures portable solar panels and other products for outdoor use and the military.  Land Rover, Mt. Everest Climbers, and South Pole Expeditions are a few of the many customers that put their trust in this company.
Overland solar products are reliable and feature a 100% satisfaction guarantee and a 7/20-year warranty.  Their affiliate program is also great and runs on AvantLink. 
With an average order of $300, affiliates receive a commission of 10% –15% for every verified sale from their wide range of products.
To help affiliates drive more traffic and make income, they provide them with regular promotions. Overland customer base is well established, too, so you won't have any problem increasing your conversion rate.
Cookie Duration:  30 Days
Commission:  10% – 15%
[maxbutton id="71″ url="https://www.overlandsolar.com/pages/affiliate-program" ]
Final Thoughts About Solar Energy Affiliate Programs
The solar power industry will continue to grow since many people are searching for a way to reduce their electricity bills, while others just desire to go green to reduce the carbon footprint in the world.
If you are new to affiliate marketing or even consider yourself an affiliate marketing dummy, now is the best time to take advantage of this amazing opportunity, especially if you have a large audience.
This is a great niche because you can promote everything from small to large, expensive to inexpensive, and from solar chargers to full solar power kits.
Even though we've only discussed the 8 best solar energy affiliate programs, they're still other programs out there, so always be on the lookout. If you find any that offer recurring commissions, please add it in the comments below!
Which solar panel referral program sounds the best to you?
Select the one that best meets your needs and start earning yourself some green while helping others go green.