Online Social Media Jobs That Pay $30/Hour
Availability to start this week
Make $25-$35 Testing New Apps
Just need access to phone/tablet
5+ hours per week available
In today's day and age, pets are considered nothing less than family. The love we have for our pets grows every day, and you'll see that people who have absolutely nothing are still willing to go above and beyond their limits for their pets. 
There are tons of opportunities that lie in the pet business as well.
Especially if you're an affiliate marketer with a love for animals. Combining your passion for animals with making money from the pet industry is the very definition of having the best of both worlds. 
Want to know which affiliate marketing method works best for you? Answer the short quiz below:
If you're relatively new to the world of affiliate programs, I can help you start on your path to success. I've listed down all of the absolute best pet affiliate programs with the best payouts for you to choose from!
So, don't wait any longer and become affiliated with one of these top pet affiliate programs now to earn some extra cash. 
New to affiliate marketing? Watch the video below to help you get started.
Top Pet Affiliate Programs
1. Pet Plate
2. Zooplus UK Pet Affiliate Program
3. Brain Training For Dogs Affiliate Program
4. Petco Supplies Affiliate Program
5. FitBark
6. PetCube
7. Pet Wellbeing
8. Paw.com
1) Pet Plate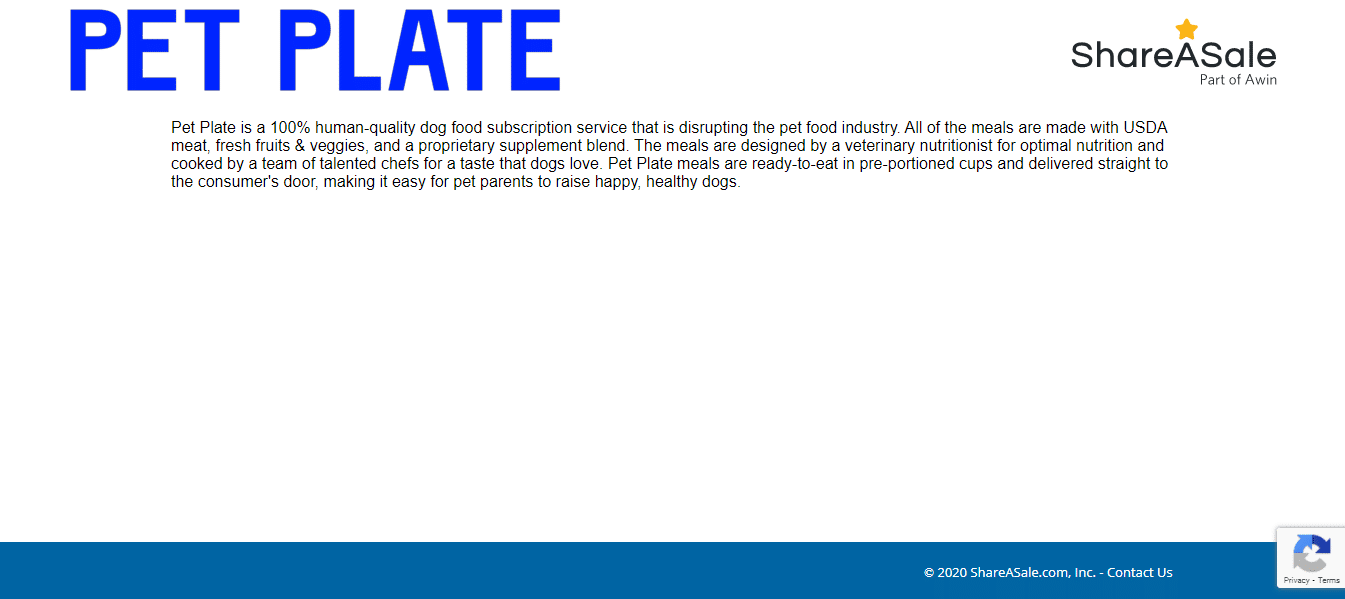 As mentioned previously, pet health is of rising concern amongst pet owners these days. One of the largest proponents of health for both humans and animals is nutrition. Hence, good quality food can do wonders for your precious pet's overall health. 
This is why Pet Plate offers 100% top human-grade dog food prepared while keeping a dog's nutritional needs in mind. All foods are made using farm-fresh fruits and vegetables. Pet Plate uses USDA meat and adds important supplements to their food to ensure your dog does not suffer from any deficiencies. 
The meals go through strict quality control and are put together with the help of highly qualified veterinarians specializing in pet nutrition. Meals are packaged and delivered to your door. All you have to do is open the package and serve your dog some fresh meals. 
Pet Plate's affiliate program offers market-competitive commission rates to its affiliates and can be accessed through ShareASale. The company offers a $50 commission for each sale and a 30-days cookie period. This is a pretty decent offer considering you can generate up to $100 with just two sales in a month! 
Website URL: Pet Plate Affiliate Program
Tracking Cookie: 30 days
Commission Rate: $50
2) Zooplus UK Pet Affiliate Program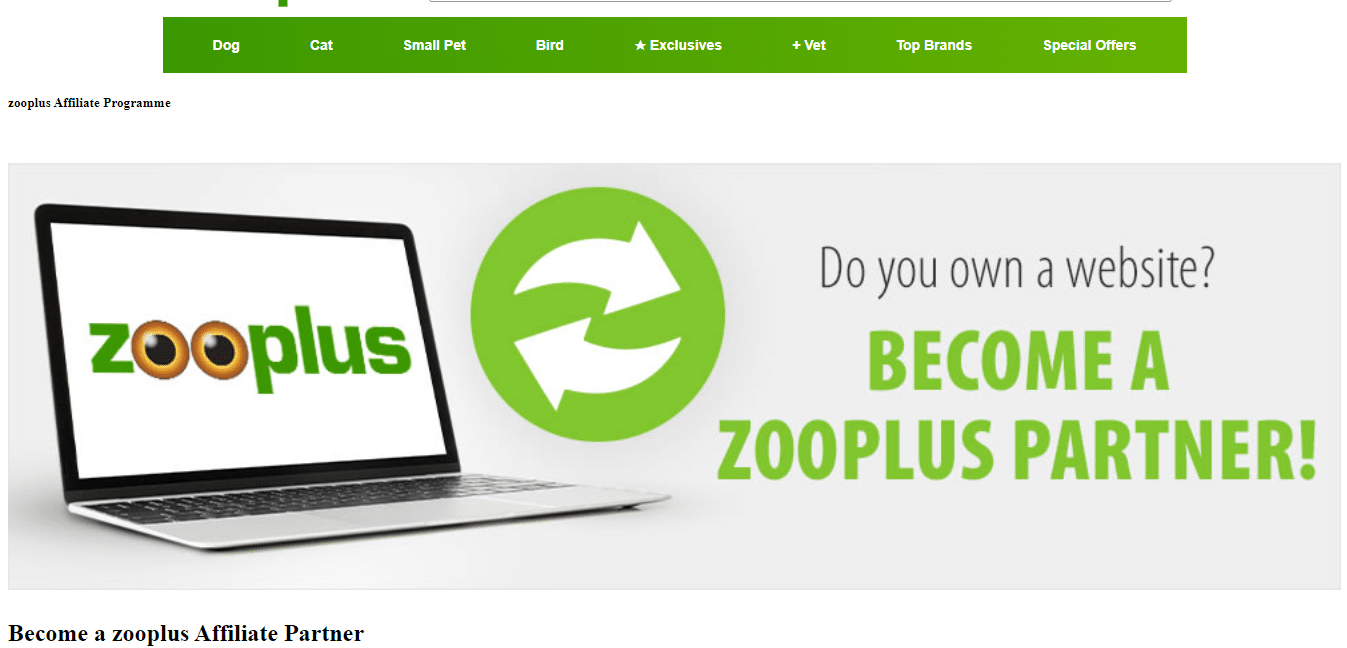 Zooplus is an old and well-established pet brand in Europe. They've been running the show since 1999 and have now successfully transitioned into digital marketing and retail as well. 
At any given time, the company has a whopping 8000 products in its inventory that are ready to be shipped to customers all across Europe. Whether you have a dog, cat, bird, or a smaller pet like a fish, mouse, hamster, guinea pig, or hamster, Zooplus UK is sure to have something for everyone. 
Their products include accessories, various pet food items, and even pet herbal treatments. The company has glowing reviews so far, and customers even submit pictures of their Zooplus UK products with their pets regularly! 
If you're in Europe and want to sign up for their affiliate program, you can do so through the commission junction. The company's rating on the website for "network earnings" is four out of five stars! So, as you can see, all their affiliates seem to be quite satisfied. 
Specific commission rates are about 2%-3%, which might be considered low, but you can easily make up for this through the volume of sales. The cookie period is about 30 days, which is also decent enough. 
Website URL: Zooplus Affiliate Program
Tracking Cookie: 30 days
Commission Rate: 2%-3%
3) Brain Training For Dogs Affiliate Program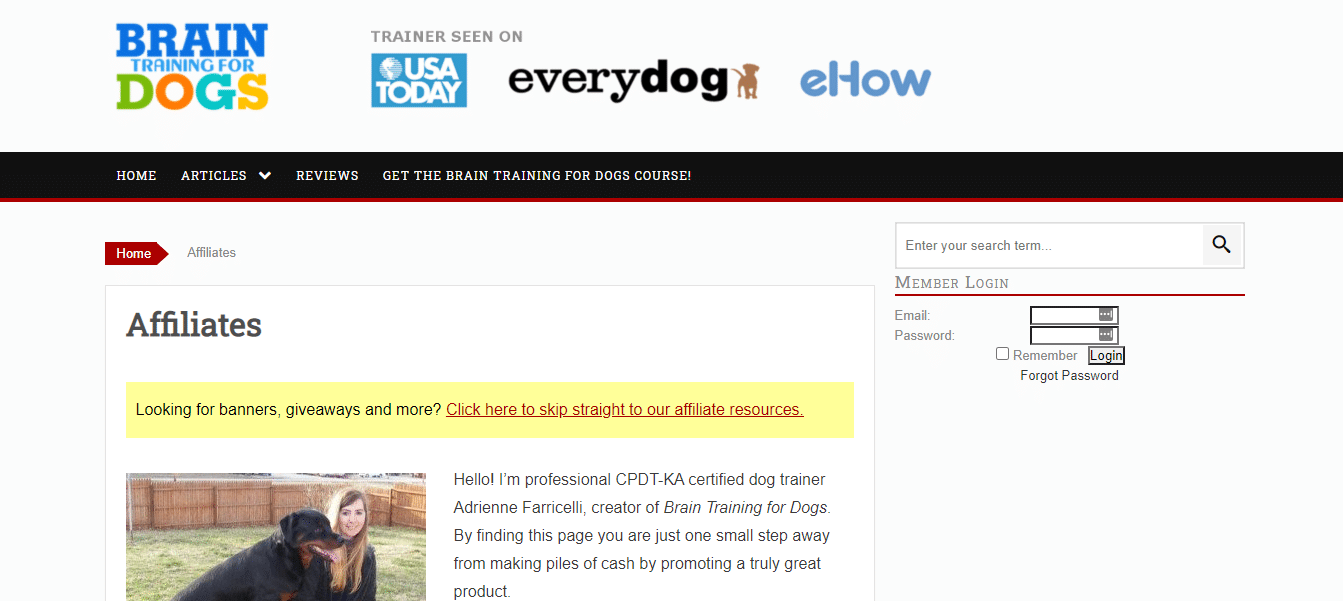 Dogs are some of the most loyal, loving, and fun animals to have as pets. Everyone loves their pet dogs, but aggressive or ill-mannered pet dogs can be a problem. Their bad behavior can range from exhibiting excessive aggression to soiling things on purpose or fighting with other dogs or neighbors.
This bad dog behavior can be very stressful for both the pet and the pet parent. This is where Brain Training For Dogs steps in.
This program is a video training course with 7 modules created by a certified professional dog trainer, Adrienne Faricelli. In her videos, Adrienne explains how dog behavior can be fixed by neuroplasticity, which is the science behind how older dogs can be taught new tricks. 
The program is fun for both pets and their parents as it doesn't contain any stressful or challenging activities. The whole program has numerous fun games and fun training exercises that people will love to try out with their dogs! 
You can sign up for their affiliate program through Clickbank. Unlike most affiliate programs, the rate of commission is more than satisfactory for this brand. It pays around 75% commission per sale, which roughly translates to approximately $31. Their cookies are stored for 60 days, which is the usual average time most affiliate programs give. 
Website URL: https: Brain Training For Dogs Affiliate Program
Tracking Cookie: 60 days
Commission Rate: 75%
4) Petco Supplies Affiliate Program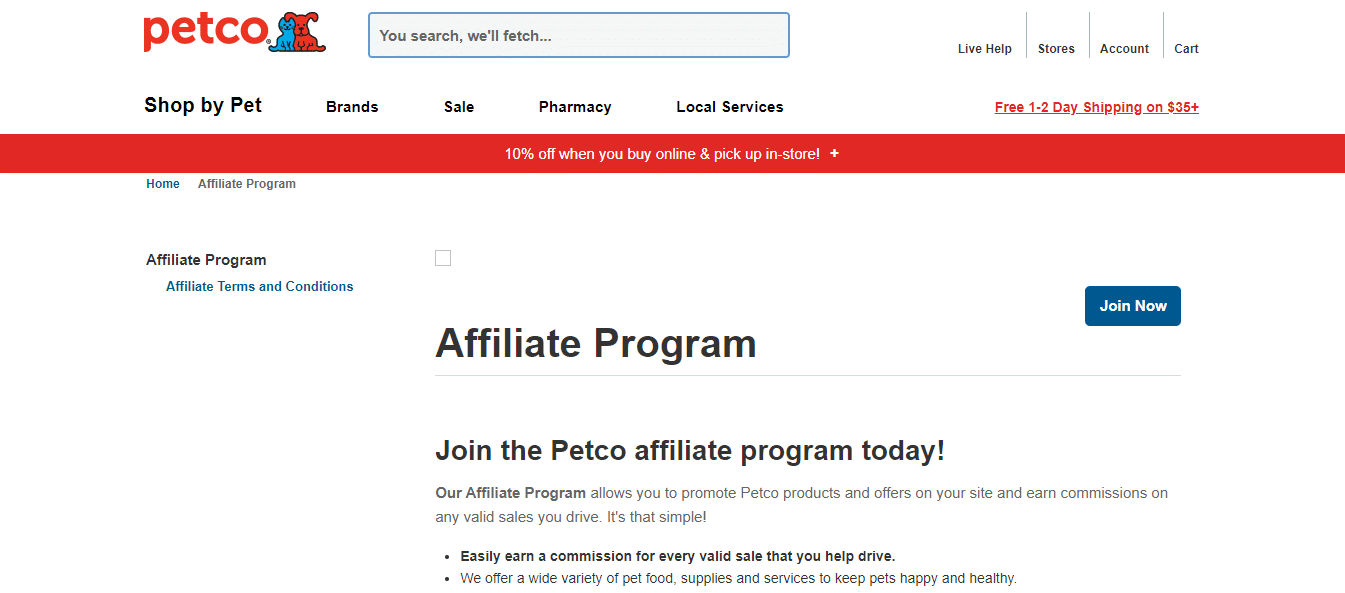 Petco is a company that has been in business in America, Puerto Rico, and Mexico since the 1960s! In fact, it is one of the oldest and most successful pet brands ever.
The company has more than 1500 locations in the three countries mentioned above. Besides this, they have a strong online presence as well. However, they've been in the business of serving mail-orders since before the advent and popularity of online retail. 
At the Petco Supplies official website and online store, you can find anything and everything that is pet related, whether that's food, accessories, bedding, or any other items for your cat, dog, fish, bird, or reptile. They even provide various pet services such as vet-care, grooming facilities, pet-sitting, adoption events, and dog obedience training classes. 
Besides this, they also have excellent goodwill in the market because of their immense contributions to animal welfare. Over the years, Petco supplies have donated about $250 million for animal welfare. 
The brand has a well-established affiliate program. However, the one drawback is their low commission rates, which are 5%-8%. But, their earnings per click are pretty high, and affiliates can make a good amount of money overall because of this. 
Website URL: Petco Supplies Affiliate Program
Tracking Cookie: Monthly
Commission Rate: 5%-8%
5) FitBark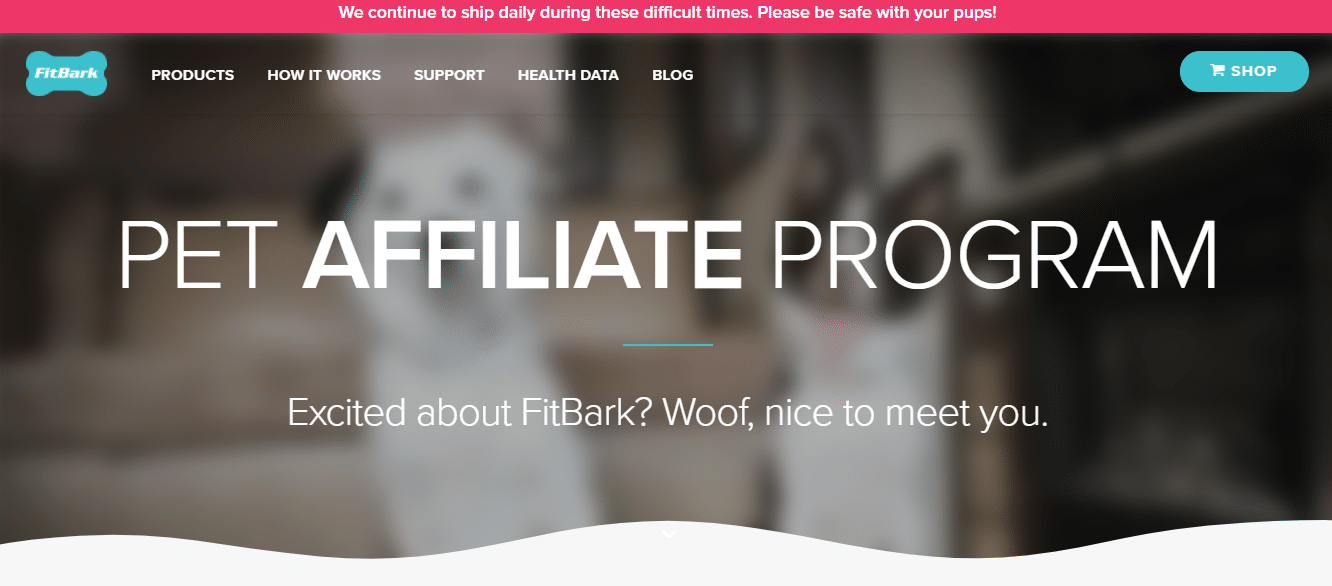 As the name probably gives away, FitBark is related to pet health and fitness! Just like humans, a sedentary lifestyle and bad diet can lead to obesity in pets as well. This, in turn, can lead to a plethora of health issues. 
FitBark helps to counter and prevent this issue in the best way possible. By tracking your pet's daily routine! The company has introduced a small device that needs to be attached to your pet's collar to monitor their activity levels.
This powerful device is small but has numerous functions that help ensure your pet's good health. This is why it has been dubbed as the "smartwatch for dogs." It monitors your pet's distance traveled, activity level, heart rate, sleep, calories consumed, and overall behavior and health.
So, if anyone has a pet leaning on the heavier side, they can get FitBark and help improve their pet's health and quality of life! 
FitBark offers one of the best pet affiliate programs that you can access through ShareASale. Their program has a 12% commission per sale and a period of 60 days for cookies. The minimum amount that can be withdrawn is $50. All in all, the affiliate program offers a reasonably decent deal to anyone who can help get the word around. 
Website URL: FitBark Affiliate Program 
Tracking Cookie: 60 days
Commission Rate: 12% 
6) PetCube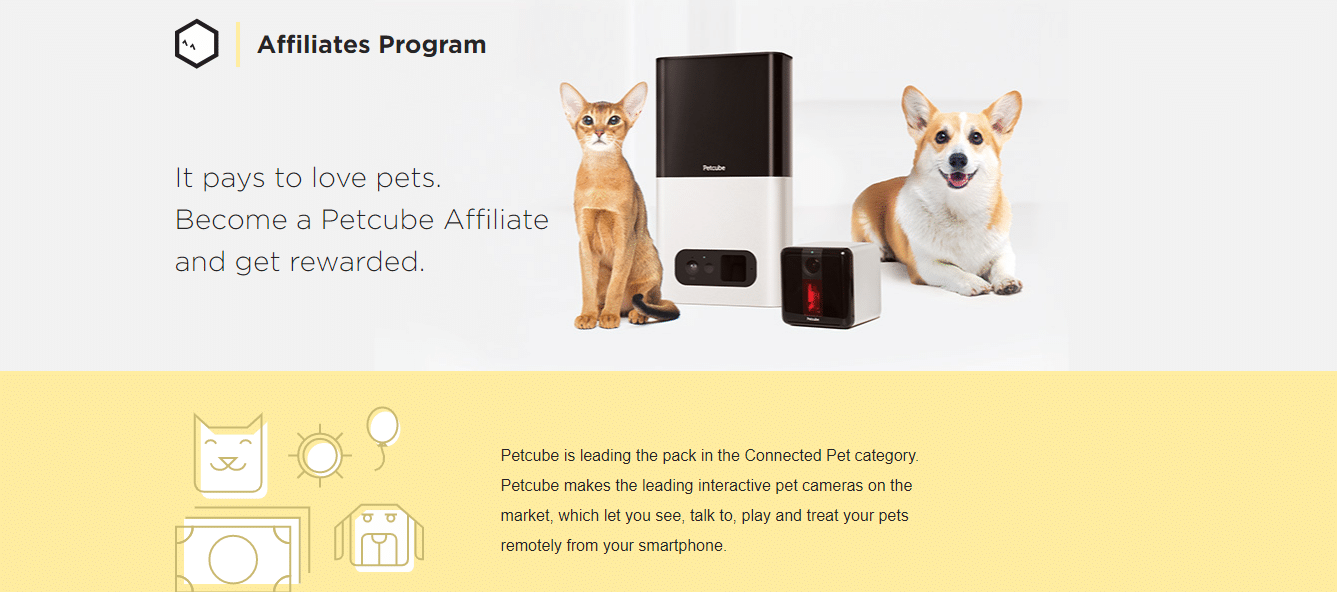 PetCube is another company that uses pet-related technology. This company is a pet owner's dream come true. It helps to keep any pet-related anxiety at bay, especially when it comes to leaving them alone at home, even if it's for just a little while. 
With PetCube's smart cameras and customized software, pet owners can not only see but talk and play with their pets from remote locations. The pet camera devices introduced by PetCube also have built-in features such as lasers. These help pet-owners effectively capture their pet's attention, engage, and interact with them. 
The product can be purchased from around 2500 locations and is available in over 18 countries, so it has quite a wide reach. This broad customer base and their general recognition is excellent for affiliates to take advantage of. 
PetCube's pet affiliate program has a 10% commission rate per sale and a cookie period of 60 days. This is a fairly decent amount for affiliate marketers to capitalize on. 
Website URL: PetCube Affiliate Program
Tracking Cookie: 60 days
Commission Rate: 10% 
7) Pet Wellbeing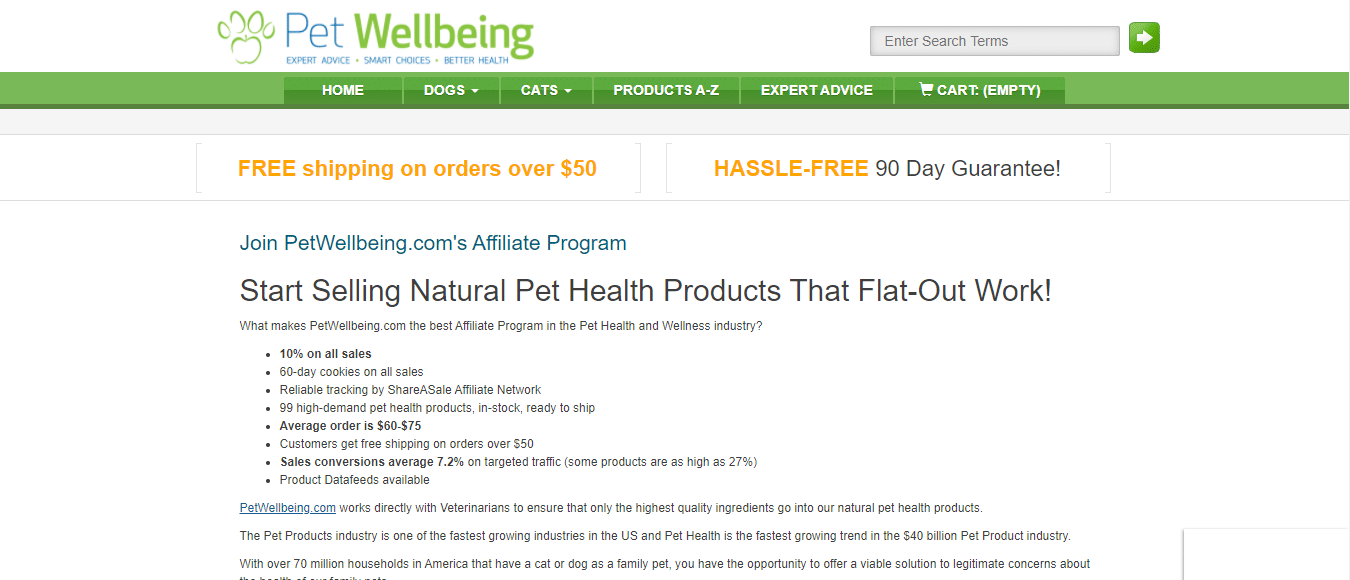 Pet Wellbeing is well, all about your pet's wellbeing. People take the health of their pets as seriously as their own. Quite a few people also believe that homeopathic and herbal treatments are far better compared to allopathic medicines. 
Pet Wellbeing is a large proponent of using natural herbal products for the treatment of various pet ailments. Since all of their products are made from natural ingredients, they're virtually free from any side-effects. However, you should always start by giving your pet a small amount and monitoring their health to see how they respond to specific treatments. 
Pet Wellbeing has treatments and supplements for more than 120 diseases that are made entirely from natural ingredients. The company also has numerous eco-friendly products for pet owners to purchase. 
The average price of their orders ranges from $60 to $75, and there's free shipping with orders above $50! This is a huge opportunity for affiliates marketers to take advantage of, especially with the renewed global interest in natural remedies. 
The company also offers attractive affiliate programs for people in the pet industry. Their pet affiliate programs can be accessed through ShareASale. Pet Wellbeing offers its affiliates a 10% commission with each sale and has a 60 days cookie period. 
Affiliate marketers can take advantage of the immensely popular and distinct niche that the brand offers to get more customers and earn more revenue. 
Website URL: Pet Wellbeing Affiliate Program
Tracking Cookie: 60 days
Commission Rate: 10%
8) Paw.com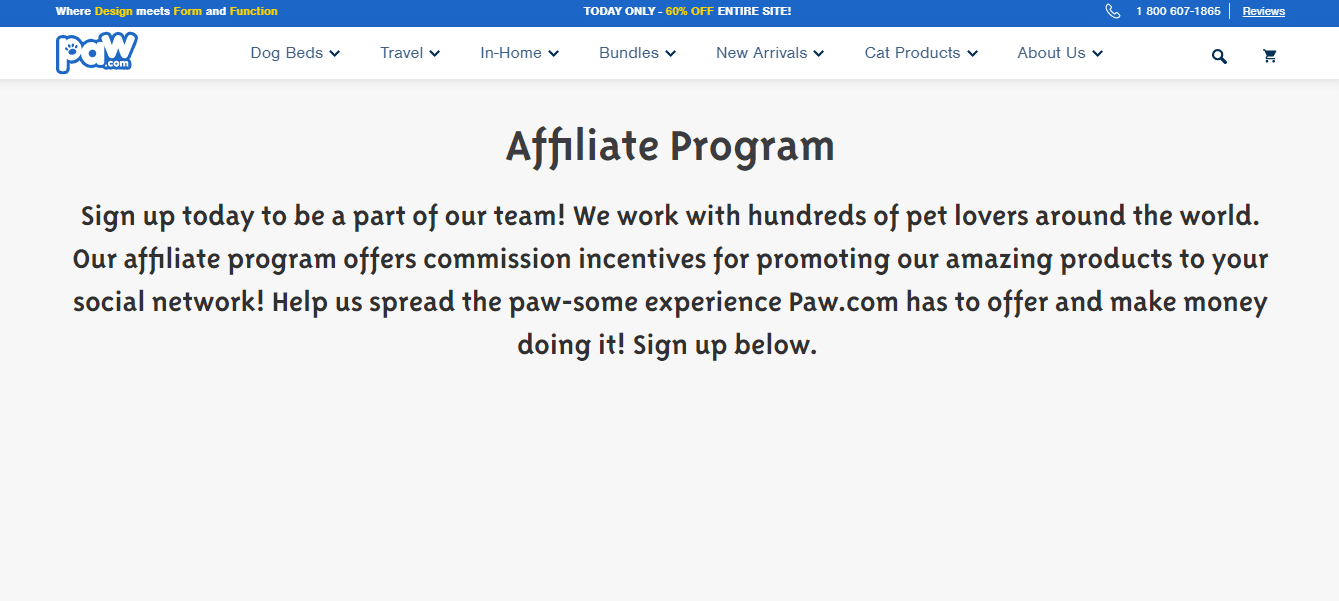 When you love someone, you want them to have the best of everything. The same rings true for pets as well. In most cases, money is no issue when it comes to the comfort of pets. 
This is why pet luxury items are real and selling out hot! Paw.com is one such brand that offers the most comfortable and stylish beds for your pet dogs. These beds are made from the finest quality material to ensure your dog sleeps like a king.
Paw.com's dog beds are made from odor-resistant soft materials and come with replaceable covers. These beds look good and feel good! 
They also come with a 10-year guarantee for maintaining their shape, which is honestly better than what we expect from human beds, let alone dog beds. The product itself is of the highest quality, and that is something the company absolutely believes in. This makes it much easier to market since there already exists such a great demand for good-quality pet beds. 
The Paw.com affiliate program offers some of the best rates in the market. The company has a slightly less than desirable cookie period of 20 days. However, the product's high demand and a commission rate of 20% per sale are more than enough to make up for it. 
Website URL: Paw.com Affiliate Program
Tracking Cookie: 20 days
Commission Rate: 20%
Looking For More Products To Promote? 
Here are a few of my favorite affiliate programs:
Conclusion 
The pet industry is a booming industry with numerous opportunities that can be capitalized on. Over the years, the enthusiasm and dedication towards our pets only seem to be rising. There is a large market for pet-related products, and many companies are entering this industry. 
This gives affiliate marketers an excellent opportunity to earn a good income. By using well-paying pet affiliate programs, affiliate marketers can earn a hefty sum by simply spreading the word and promoting new brands!
Learn affiliate marketing secrets. Click here to get started.