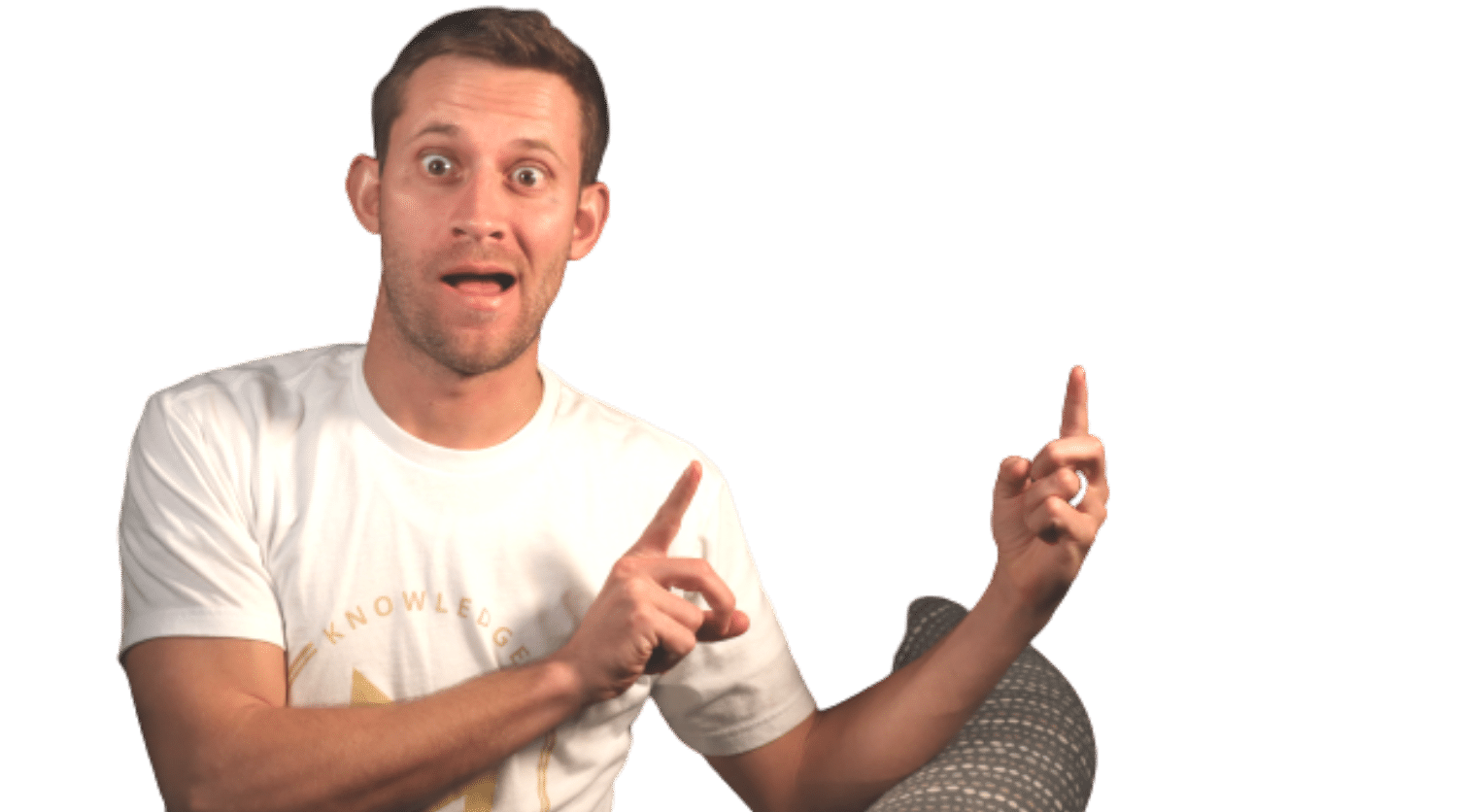 Looking To Start An Affiliate Marketing Blog?
Let me start by saying I love affiliate marketing in the health niche. You can help people get healthy for free AND still make money.
These are the affiliate programs that will help you do so. They are programs that not only can make you money – but will help you build trust with your audience because of their quality.
Want to know which affiliate marketing method works best for you? Answer the short quiz below:
Choosing A Health/Wellness Affiliate Program
Before you jump in and start promoting affiliate programs in this niche, it is a good idea to learn more about what makes a good offer as an affiliate.
 There are a lot of affiliate programs in the health and wellness niche. Some offer your visitors access to physical products, such as supplements or equipment.
Others rather focus on providing information on a digital platform, such as a backend or an eBook. This makes delivery easier and faster and ensures restrictions in terms of shipping options do not stand in your way of making a sale.
With this in mind, here are a few things to look at when choosing a health-related affiliate program:
Audience
Always start by considering the audience you are already catering toward.
This will give you an idea of the programs that might have a better conversion rate on your website.
If your audience includes people looking to lose weight, then weight loss supplements and programs might be the ideal type of program to look for.
Commission
Do not choose a random offer to promote without even looking at how much commission you are paid.
If your goal is to reach $1,000 per month, it is much easier to do so by promoting an offer that pays you $100 per referred sale, compared to one that only pays you $5.
Consider how much commission you get from every sale.
Quality
The product that is delivered to the customer, be it physical or digital, should be of top quality.
Many affiliates in this industry find it useful to order the product themselves. Give it a try and see if it helps you.
Then you can always write a more honest review of it.
Your visitor should be provided maximum value for every dollar they spend should they decide to click on your affiliate link and proceed with the purchase.
Pricing
A lot of affiliates target low priced products with the thought that these will convert better.
The truth is, many see similar conversions between low priced and high priced affiliate products. Your earnings, however, will suffer if you decide to only promote the cheaper products to your audience.
At the same time, make sure the product or program you promote is not overpriced.
Find a good balance and promote products within different price ranges.
When you take all of these matters into account, choosing the right affiliate program for your health and wellness website should be easier.  The program you end up choosing should also give you better results, with a good commission rate per sale referred to.
You have quite a large variety of options to choose from when you decide to promote health and wellness affiliate programs.
You can choose to promote privately managed programs or join up with an affiliate network to increase the program options you have to promote.
With research and planning, you can set up a campaign that earns high amounts of commission for every sale that is referred.
Looking for high ticket affiliate programs? Check out my video below:
To do that you need access to the right offers. We take a look at the best affiliate programs in the industry that you can use.
Best Health And Wellness Affiliate Programs To Promote
1. My Green Mattress
2. Nutrifits
3. AdCombo
4. Thrive Market
5. Phen375
1. My Green Mattress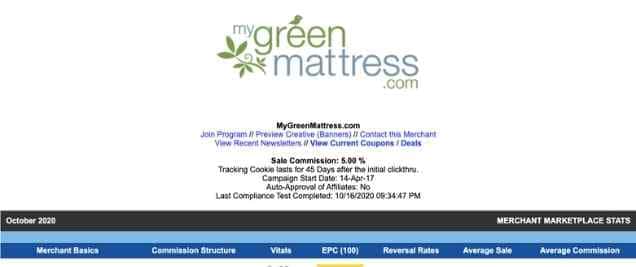 Sleep is important and forms part of a healthy lifestyle. Too many people are suffering from sleep deprivation, causing poor mental focus and other health problems.
With this in mind, why not promote a healthier, more peaceful sleep? If that's something your audience might be interested in, take a look at the My Green Mattress affiliate program.
This program has quite a generous commission rate, considering the higher prices of the products sold on the website. The program pays you a 5% commission on every sale that you refer to. There is a 45-day cookie life on your referral links.
The My Green Mattress range of products are all made from organic and natural ingredients.
The mattress focuses on providing your audience with a superior sleeping experience. It contours to their body relieves pain and discomfort, and does not have any off-gassing.
The materials used also gives your audience a much softer surface to sleep on.
URL: My Green Mattress Affiliate Program
Cookie Duration: 45-day
Commission Rate: 5%
2. NutriProfits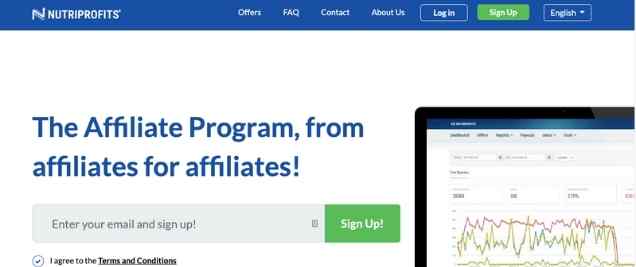 NutriProfits is a relatively new player in the industry, but it has already made quite a name for itself. This is not a single affiliate offer, but rather a network of different programs that you can promote.
With the network design of this platform, you get multiple opportunities to help monetize your website – plus you track and manage all of these programs on a single dashboard.
It's really easy to get started with NutriProfits. The process starts with your email address – once entered, the system will ask you a few additional questions.
This includes your personal contact details, as well as information about the website where these offers will be promoted.
One of the main benefits that come with the NutriProfits platform is the fact that you can get recurring commissions on the offers you promote. There is an initial commission applied to sales made from your affiliate links as well.
The initial commission can go up to 40% of the sale value. Following the initial order, many customers return for more products from the programs.
If the customer returns, you continue to get up to 20% commission on every recurring sale made.
This gives you an excellent opportunity for a passive income. You also get lifetime cookies, which is a major advantage compared to some of the other affiliate programs out there.
This means there is no need to worry about losing the customer if they only decide to make a purchase after a month or two – as the website will still be able to attach the sale to your affiliate account.
Also, note that NutriProfits does not limit your reach to only the United States. You get to promote products to people in 100 different countries.
This gives you a global audience to target with your affiliate marketing efforts. The programs offer customers access to different payment options, ensuring they can pay with a method they are familiar with within their local area.
There are also worldwide shipping options available.
URL: NutriProfits Affiliate Program
Cookie Duration: Lifetime
Commission Rate: 40%
3. AdCombo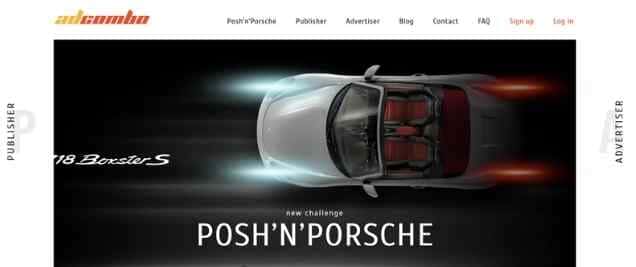 If you target an international audience through your affiliate marketing campaigns, then AdCombo is a good network to sign up with. AdCombo is quite a unique option due to the fact that there are several exclusive offers on the platform.
These offers cannot be found anywhere else.
A major focus point of AdCombo is to help you monetize traffic that comes from multiple countries.
A lot of affiliate programs in these industries are very limited in terms of the traffic sources that are allowed and the countries that are being targeted.
With AdCombo, you have much more freedom. This ultimately means you have the ability to convert more of your website visitors into paying customers, leads, and sales.
AdCombo uses pre-sale pages, as well as landing pages, to help you convert clients more effectively.
The offers available on the platform are available in over 40 different languages, which further helps to ensure international traffic can be effectively monetized.
The use of an in-house platform also provides a significant improvement in the support offered by the network. You get weekly payments, which means there is no holding of your profits prior to payout.
Various payment options are available to ensure you can get paid regardless of where you live.
You have the opportunity to select between different commission schemes too. AdCombo has offers that pay you per lead or per sale, as well as a couple of revenue share options.
URL: AdCombo Affiliate Program
Cookie Duration: n/a
Commission Rate: n/a
4. Thrive Market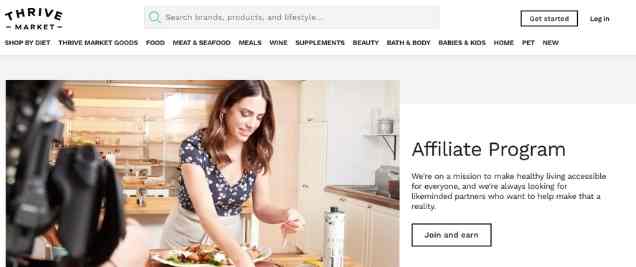 Healthy living can be costly. Choosing to opt for organic foods, for example, can add hundreds to your monthly grocery bill. This is where Thrive Market comes into the picture.
This company was established to help people in the US find affordable organic foods and healthy products.
The company does not only focus on food, but also beauty products, cleaning products, and more.
Everything on Thrive Market gives you a safer product to have in the home – it is free of any toxins and made from organic materials wherever possible.
Thrive Market also has a generous affiliate program that you can use to promote the platform's membership.
Your referral will get their first month's membership for free, allowing them to discover what the platform is about and how they can use Thrive Market to save money when buying organic and non-toxic products.
There are currently more than 6,000 different organic products on the Thrive Market website.
Products can be easily filtered according to specific values, including diets. This is great when promoting affiliate programs on a website related to gluten-free meal plans, as well as the keto or paleo diet.
Affiliates get paid up to $40 every time a referral signs up for a paid subscription. There is a 14-day cookie life.
URL: Thrive Market Affiliate Program
Cookie Duration:14-day
Commission Rate: $40
5. Phen375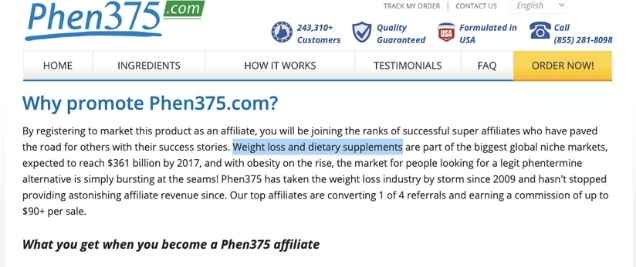 Millions of people are trying to lose weight without any success using their current strategies. There are a lot of different weight loss supplements and programs on the market – yet many of these just end up wasting the person's money.
Phen375 is a highly rated product that has made a name for itself as being effective. With the affiliate program, you get to promote this popular weight loss supplement.
The Phen375 affiliate program is based on a pay per sale commission structure. You get paid a commission value every time someone buys through your affiliate link.
There is a lifetime cookie that is placed in the visitor's browser. This means no need to be concerned about losing the sale if the visitor does not buy the supplement immediately.
You get paid between 30% and 40% commission on the sale value. Payments are made on a monthly basis. The average EPC of the Phen375 program is $7.96, which is quite impressive compared to other weight loss affiliate offers.
URL: Phen375 Affiliate Program
Cookie Duration: Lifetime
Commission Rate:  between 30%-40%
Conclusion
Health and wellness present a major industry with many opportunities for affiliate marketers.
Whether you have a blog about weight loss, a website that offers healthy recipes, or something in between – there is a wide range of affiliate programs that can be used to monetize your online properties.
When promoting health and wellness affiliate programs, be careful about the specific offers you use. You want programs that have high commission rates, but also ensure your audience are given real value for their money.
Learn affiliate marketing secrets. Click here to get started.