3 Ways To Make Money Online
The CBD industry is considered a billion-dollar industry, and by 2026 it will gross over $80 billion. The industry took the health industry by storm because of the perceived health benefits of CBD.
Want to know which affiliate marketing method works best for you? Answer the short quiz below:
The increasing demand for cannabinol products in retail stores and growing medical applications of CBD are two major factors boosting the growth of the CBD market.
The fact is their significant demand for CBD products across the globe, especially in developing countries like France, Canada, Netherlands, among others.
Seeing all these facts, it's only wise to find a way to get a portion of the financial pie.  And we know exactly how you can do that – CBD Affiliate programs!
Affiliate marketing is the fastest way to monetize an audience and the least stressful.
NO customer support. NO credit card processors. Just pure marketing.
Here is the list.
Best CBD Affiliate Programs
1. Savage CBD
2. CBD Medic
3. CBD FX
4. cbdMD
5. CBDPure
6. Pure Hemp CBD
7. FOCL
8. Joy Organics
9. CBD Essence
1. Savage CBD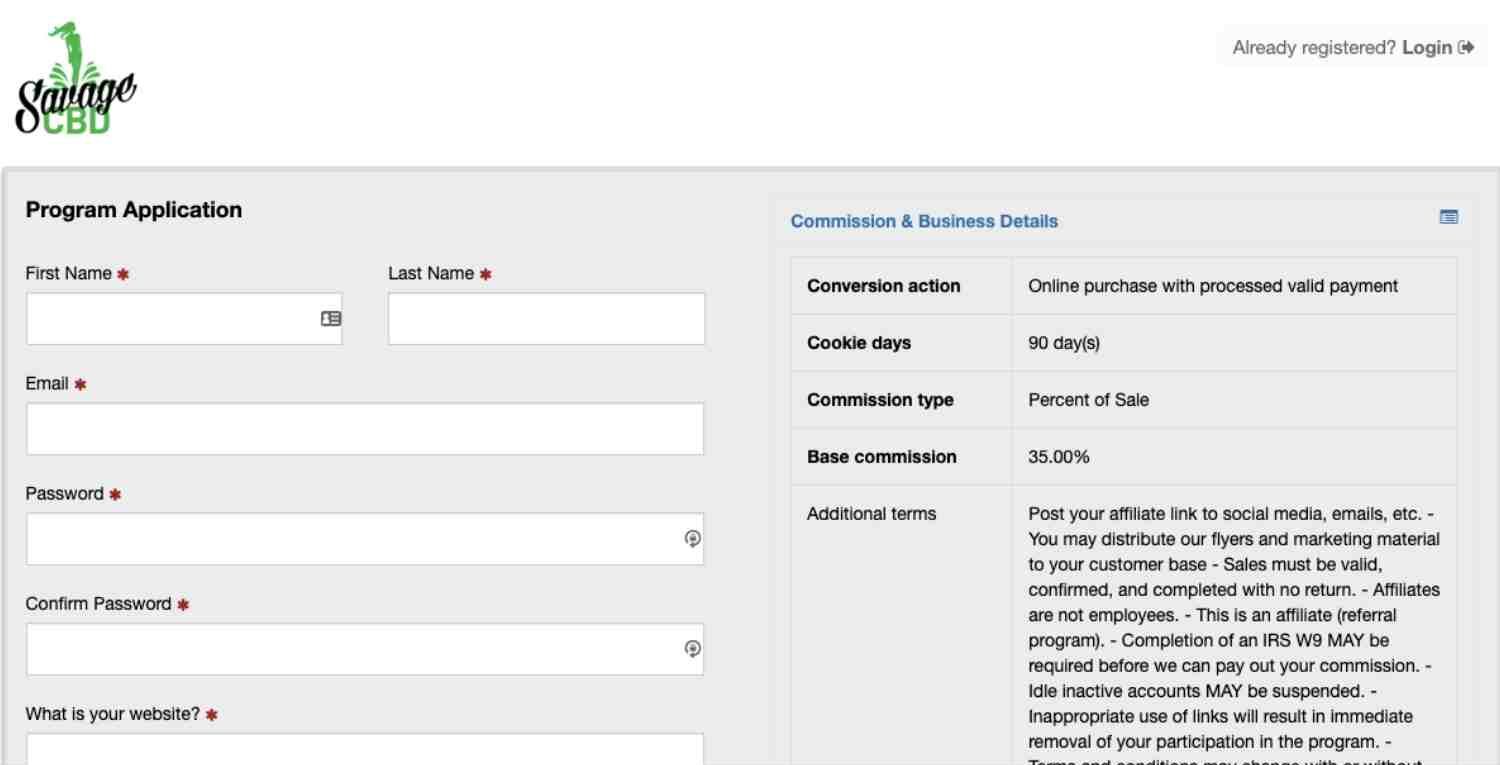 URL: Savage CBD Affiliate Program
Tracking cookie: 90 days
Commission rate: 35%
Started in 2014 by Chris Wheeler, Savage Enterprise expanded into a manufacturing and distribution company from a mere vape shop.
It was later rebranded into Savage CBD to take advantage of the growing market for Cannabinoid, Vapes, e-liquids, and other products.
Today Savage CBD site sells everything from CBD lotions, disposable vapes, tinctures, and even clothing.
This brand offers its customers natural alternatives, lab-tested, and top-quality CBD products at affordable prices.
 Savage CBD also offers white label and private products.   So affiliates who can move volume can be able to get their brand of CBD products to sell instead.
Savage CBD has one of the best CBD affiliate programs on the Refersion affiliate market.  Once you join their affiliate program, you can earn a commission rate of 35% on each sale. 
Savage CBD will also provide you with a free sample to review and share on blogs, websites, social media, and other platforms.   It also has a high Earning Per Click(EPC) of $57.44.
2. CBD Medic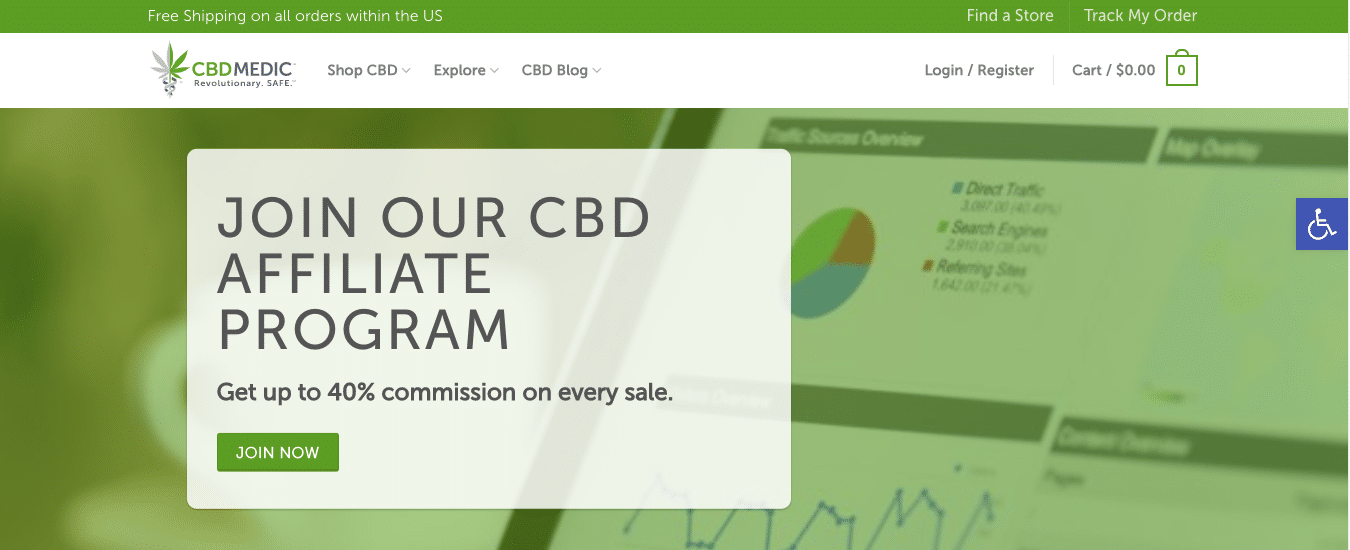 URL: CBD Medic Affiliate Program
Tracking cookie: 90 days
Commission rate: 40%
CBD Medic is among the most recognizable CBD brands.  The brand focuses on several areas, but the main one is pain management.
They sell a wide range of topical CBD products that provide temporary relief to pain.  These pain management products target specific issues, including arthritis, neck issues, back issues, and foot and ankle problems. 
They also sell a variety of ointments and skin care products to address skin issues like eczema, various rashes, and more.
However, most of their products are not yet FDA approved, meaning they might help to alleviate pain and skin problems, but they don't cure.
Just like Savage, the CDB Medic affiliate marketing program is run by Refersion, but instead of 35% commission, you receive a 30%. You also receive a link to your affiliate dashboard, so you can download the brand's marketing materials.
You can create a unique banner and share it on your social media platform or any other digital platform.  The company pays you bi-monthly. Its affiliate program has a 90-days cookie duration.  
3. CBD FX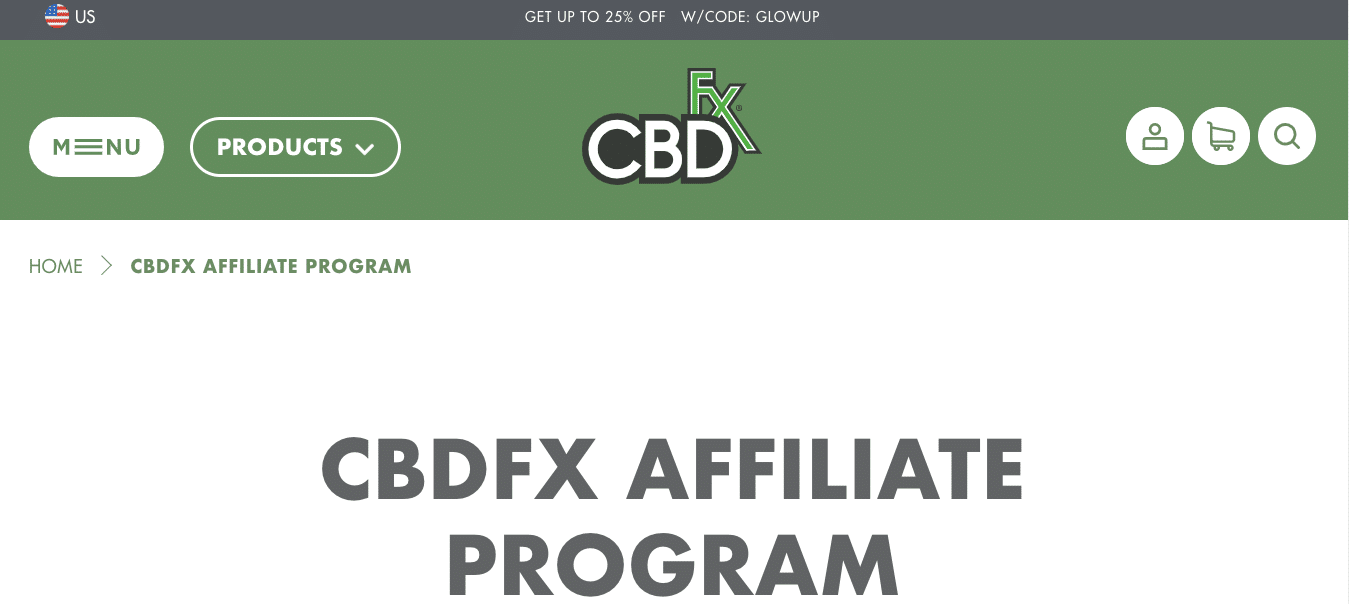 URL: CBD FX Affiliate Program
Tracking cookie: 90 days
Commission rate: 20%
What sets CBDFX apart from the mentioned CBD brands is the sheer inventory size it has. This brand has a wide collection of several products for all types of people and problems.  
Another thing that makes them unique is that their products contain CBD terpenes that have additional health benefits.
The product includes gummies, CBD Chile shots, CBD capsules, CBD oil, tinctures, and others. For all the orders within the US, the company provides free shipping. The brand also boasts some amazing, positive customer reviews and high conversion rates.
CBDFX claims they offer the purest CBD oil products in the market.  They source their hemp plant from 100% organic, GMO-free farms in Kentucky and Europe.
What about their affiliate program?
As a CBDFX affiliate marketer, you'll earn a 25% commission on every sale you refer to CBDFX.  CBDFX affiliate program is run by RevOffers, a leading affiliate network powerhouse.  You also receive a 10% coupon to incentivize your traffic and double conversion.
They pay you once you attain the minimum payment for each payment method. The payment methods include PayPal, check, or bank transfer.
4. cbdMD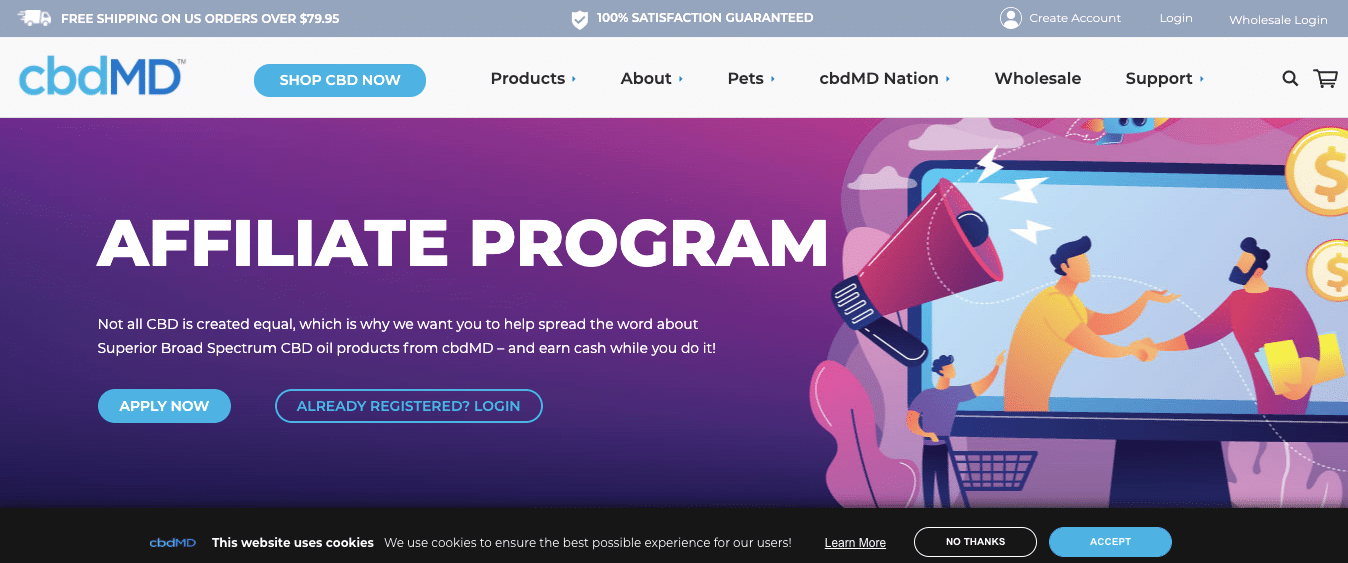 URL: cbdMD Affiliate Program
Tracking cookie: 90 days
Commission rate: 20%
cbdMD is a popular name in the CBD market. Several athletes and celebrities have endorsed this brand.  Most influencers find it easy to promote this company since the brand is already trendy among CBD users.
This brand comes with a wide inventory of products, including capsules, bath balms, topical, oils, and pet products.  All their products are gluten-free, THC-free, vegan, and non-GMO. Also, their products are well priced, meaning it's a go-to brand for most users.
cbdMD is a very transparent company and provides customers with clear information regarding the ingredients and lab-test of its products, ensuring that users know what exactly they're getting.
As a cbdMD affiliate, you receive a commission starting from 20%.  The brand provides you with an affiliate link, images, and creative banners, which you can include in your content, and you can share it across your various platforms. 
cbdMD pays earning on a regular schedule and provides affiliates with CBD education and tips to sell products faster. cbdMD quality products, high brand value, and good commissions make CBDFx an excellent choice for health bloggers, CBD bloggers, and others.
5. CBDPure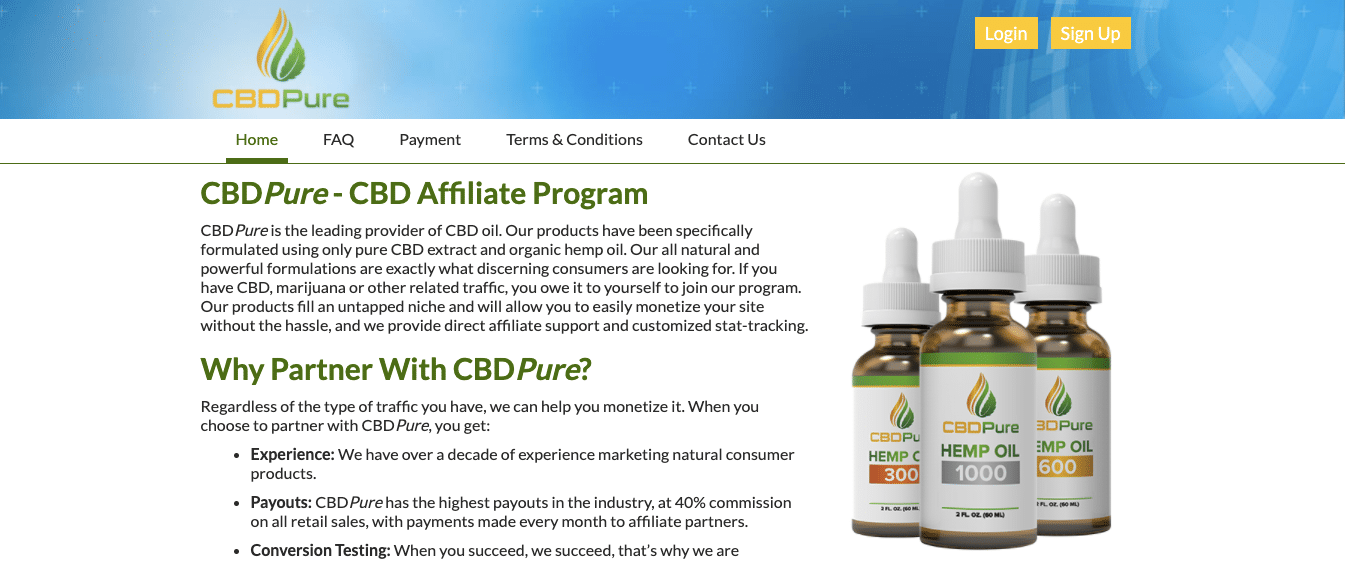 URL:  CBDPure Affiliate Program
Tracking cookie: 90 days
Commission rate: 40%
When talking about the top CBD affiliate programs, we can't fail to mention the CBDPure Affiliate program.
CBD pure is among the leading provider of CBD oil.  The company derives its cannabidiol oil from organically grown industrial hemp in Colorado, meaning they're free from contaminants and additives.
Some products it offers include CBD oil, creams, liquid soft gels, pet products, and many others. All the products are legal and don't contain psychoactive ingredients. The products are also tested by independent third-party labs to ensure customers receive the best results as possible.
CBDPure affiliate program is over a decade long- it allows affiliates to earn a 40% percent commission.  The company understands that when an affiliate succeeds, they succeed too.  That's why they're continuously designing and testing their messaging to maximize the commission affiliates earn.
All you need to succeed as a CBDPure affiliate is a website or social media presence. And since the company provides customers with a 90-day money-back guarantee, you'll have no difficulty converting visitors into customers. 
You'll receive your payment via PayPal by the 7th of the following month. You don't have to request to receive your payment-it's automatic.
6. Pure Hemp CBD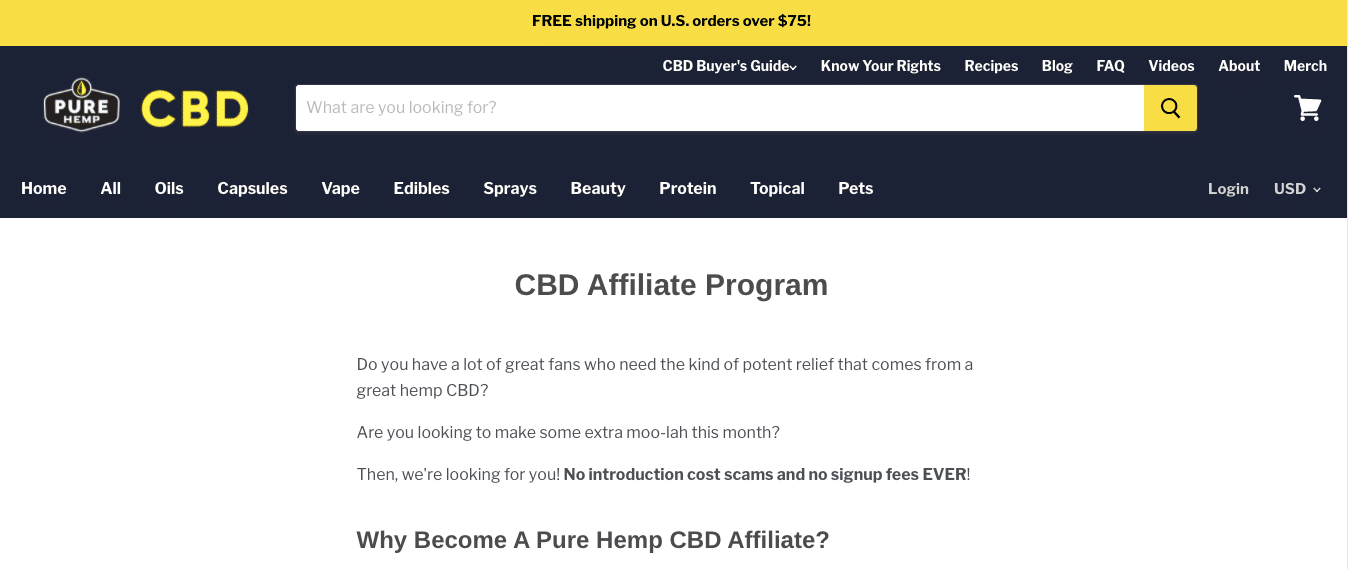 URL:  Pure Hemp CBD Affiliate Program
Tracking cookie: 30 days
Commission rate: 40%
Pure Hemp company focuses on providing potent, safe, high-quality CBD products that are affordable. The company makes all its products in the USA from non-GMO hemp.
Pure Hemp CBD stands out because of its huge product selection, ranging from traditional CBD products like capsules, tinctures, hair shampoos, sunscreen, and protein powders.
All the products are third-party tested to ensure potency and safety.  Also, the majority of them are THC-free, but there's also the availability of full-spectrum products.
When you partner with Pure Hemp as an affiliate, you stand to receive the best commission payout at 40%. 
They make all payments on the 5th of each month via PayPal, and the minimum payout is $50.  Once you sign up, they'll get back to you within 24 hours, and you won't be charged any sign-up fee.
Free shipping, award-winning customer service teams, and quality CBD products make the Pure Hemp CBD Affiliates program the perfect option.
7. FOCL

URL:  FOCL Affiliate Program
Tracking cookie: 45 days
Commission rate: 40%
Admittedly, FOCL is a lesser-known CDB brand. However, this hasn't prevented them from establishing a reputation of delivering quality CBD products.
This plant-powered wellness company offers customers innovative formulas and products that promote exceptional health.
FOCL products are natural, vegan, and GMO-free. They are manufactured in GMP compliant labs, which are TRU-ID certified. All the ingredients are third-party tested to ensure customers receive what they're paying for.
FOCL took a fresh approach to their products by infusing them with adaptogens and botanicals to increase their health benefits.
FOCL CBD partner program comes with generous commissions, timely payouts, excellent services, and accurate reporting.
By generous commission, we mean that you'll earn a commission of 40%, which is high compared to what other renowned CBD brands offer. Their unique product mix and competitive pricing ensure you receive exceptional conversion rates.
To help you increase your earning, the company provides you with a dedicated affiliate manager to address all the questions you might have and facilitate your growth.
You also receive credit for the sale even when a potential customer doesn't purchase on their first visit.
8. Joy Organics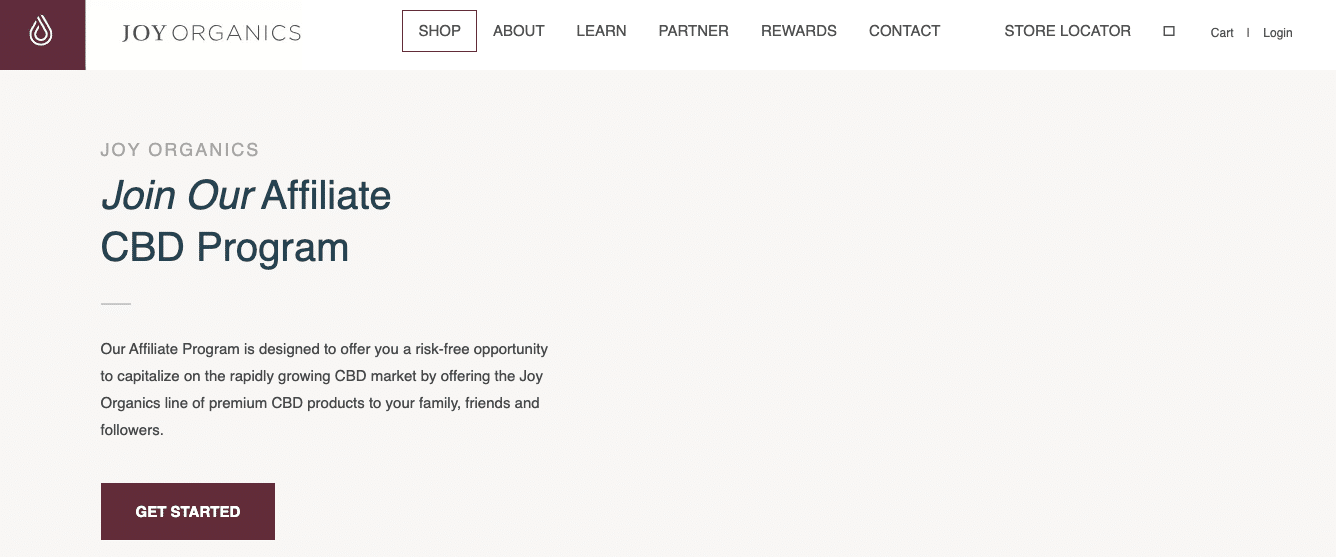 URL:  Joy Organics Affiliate Program
Tracking cookie: 180 days
Commission rate: 60 %
Joy organics is an accidental business of sorts. It started when Joy Smith ventured into the CBD world to find a solution to her chronic pains and sleep problems.
She later developed Joy Organics to help people access pure, organic, and bioavailable full-spectrum CBD products at an affordable price.
Today, Joy Organics boost a wide range of CBD products ranging from soft gels, energy drink, slaves, creams, tinctures, gummies, and even pet foods.
All their products are pharmaceutical grade, meaning they're manufactured in a GMP certified facility approved by the FDA. It also means it organic and non-GMO.
To ensure radical transparency and high-quality, they provide customers with lab results of each batch tested.  They also offer free shipping in the US.
Joy organics associate program is designed to offer affiliates risk- free opportunities to grow their income by taking advantage of the ever-growing CBD market.
With a 25% commission on sales refers and an aggressive bonus, the Joy Organics affiliate program will offer you an opportunity to earn an exceptional income.
They require no initial investment.  Through ShareAsale, you'll receive access to third-party tracking software to help you track your sale and view your commission anytime.
9. CBD Essence

URL: CBD Essence Affiliate Program
Tracking cookie: 6 months
Commission rate: 20% to 40 %
CBD Essence puts a lot of effort into manufacturing high-quality CBD products. The company oversees all aspects of the production-from research to lab testing- to make sure that customers receive exactly what they were promised.
CBD Essence makes small batches every day to ensure the consistency and quality of their products.  This brand is part of a bigger company known as Natural Hemp Group.
They produce different CBD products, including oil tincture, CBD Pet treats, edible capsules, vapes liquids, pastes, and others.
The uniqueness of this company products lies in its liposome formula, which combines several natural sweeteners allowing the product to come in several flavors.
Once you've partnered with them, you will receive a base commission of 20%, but you also stand a chance of making up to 40% on all sales you refer to CBD Essence. Because of high-quality products, the CBD Essence conversion rate is higher, and it receives great customer reviews.
CBD Essence Cannabinoid Affiliate program also provides affiliates with long cookie duration. For example, if a customer comes to purchase after six months, you still receive credit.
Conclusion
CBD is a great niche for both new and expert affiliate marketers.  It promises a high potential of returns since it has attracted the attention of users and investors worldwide.
Our list of the best CBD affiliate programs will help you become part of this growing CBD market. That's if you're going to register for the programs.
Don't be left behind as others take advantage of this opportunity.  Capitalize on the high commissions and see your earnings grow significantly.
Thank you for your time!
Learn affiliate marketing secrets. Click here to get started.