The 3-step system I used to make 7-figures of Affiliate Commissions in my first 3 years as an affiliate marketer.
If you're an affiliate marketer you might not realize the worth the worth of the insurance market.
It's a competitive industry that is valued at approximately $1.2 trillion per year.
Yep that's with a "T".
Luckily, you don't need to own an insurance business to be a part of this industry. 
If you're an online business or a blog site owner, you can enjoy the lucrative benefits of promoting an insurance policy by joining affiliate programs.
It's so much easier than having to deal with the regulation and nonsense of being an actual policy salesman.
This guide will help you find some insurance affiliate programs that will guarantee an increase in your online sales within no time.
Want to know which affiliate marketing method works best for you? Answer the short quiz below:
Best Insurance Affiliate Programs
1. Newplanoptions.com Insurance
2. Allstate Insurance
3. United Plumbing Shield
4. Price Shop Insurance
5. Eusoh – Pet Insurance
6. My CoPay is Too High
1. Newplanoptions.com Insurance Affiliate Program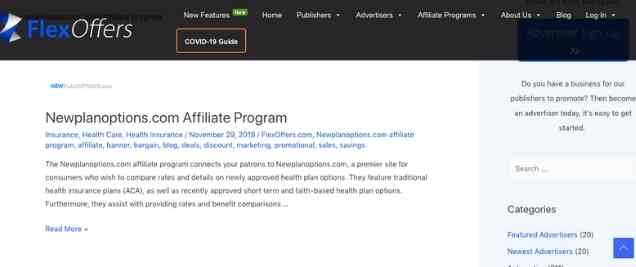 Newplanoptions has an insurance affiliate program through which you can promote the platform on your website and earn lucrative commissions of up to $10 on a successful online sale. These health plans are available for both individuals and families.
With Newplanoptions, buying collective family insurance helps buyers to save hundreds of dollars. Additionally, as the name represents, Newplanoptions focuses on providing buyers with improved health plans that have premium health insurance features.
You can be a part of this affiliate program to avail the following benefits:
Commission-based Healthcare – You can earn a custom commission of more than $10 for every application submitted through your affiliate link.
Healthcare Awareness – Newplanoptions creates healthcare insurance awareness by offering a quick healthcare knowledge survey. The questionnaire, filled by potential buyers, enables Newplanoptions to present suitable health insurance policy options.
Health insurance policies are the priciest among the rest of the insurance policies. Luckily, Newplanoptions can help you find one within your budget. It's a common platform integrated with renowned carriers that include UnitedHealthcare, Humana, and BlueCross BlueShield.
Buyers can input their personal information and preferences to obtain an insurance quotation that fits their healthcare needs.
Another advantage of buying an insurance plan from Newplanoptions is its 24/7 online customer support, which assists buyers with any health insurance queries they may have.
URL: Newplanoptions.com Insurance Affiliate Program
Commission Rate: $10
2. Allstate Insurance Affiliate Program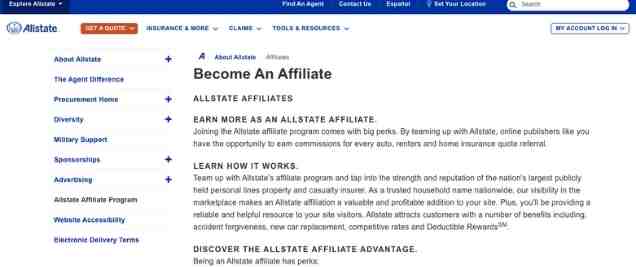 Allstate is a reliable well-rounded insurance provider for all types of basic insurance, such as auto, home, renter, life, condo, and roadside. It's one of the most established publicly-owned insurance companies in the US.
Signing up for their affiliate program is not only beneficial for your online sales but also helps you build a good reputation.
Did you know that you can earn up to $28 per insurance quote by promoting the Allstate affiliate program on your website? Not only that, but you can also select from a variety of insurance affiliate programs offered by Allstate:
Auto Insurance – Allows you to earn $10 per lead.
Renter's Insurance – Allows you to earn $5 per lead.
Home Insurance – Allows you to earn $20 per lead.
Other than diversity in insurance affiliate programs, Allstate affiliate programs are well-known for the perks they give their affiliate marketers. These include:
Online promotion of Allstate auto, renter, and home insurance plans and policies
A wide selection of advertisements banners as well as text hyperlinks
A professional and well-informed team of experts to assist with affiliate marketing programs
Third-party monitoring, real-time reporting, and monthly commission deposits
Being an active promoter of the Allstate insurance affiliate program allows you to establish your online business and brand by increasing your income streams and your customer base.
Applying for an Allstate affiliate program is very easy and comprises of the following simple steps:
Online submission of the Impact Media Partner Application
Successful completion of the partnership screening process, verified by Impact
Selecting a relevant Allstate affiliate program within the Impact Marketplace
Application review by the Allstate affiliate team (this process can take 2 – 5 business working days)
After successful acceptance, select the relevant text links and banners from the online archive.
The final step involves the addition of affiliate links on your website.
Once you've completed the above steps, you can instantly start earning commissions.
URL: Allstate Insurance Affiliate Program
Commission Rate: $28
3. United Plumbing Shield Affiliate Program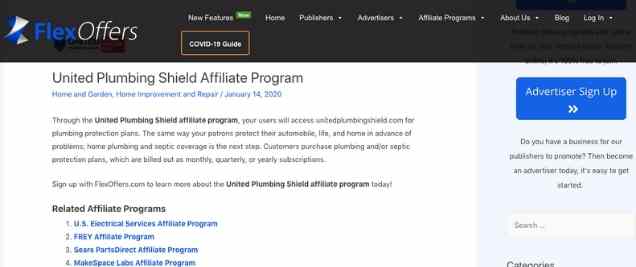 United Plumbing Shield provides access to affordable plumbing and festering protection insurance plans. Homeowners can opt for suitable monthly, quarterly, and annual insurance plans for regular or ad-hoc house maintenance and plumbing requirements.
Having an insurance plan for plumbing services is essential because plumbing services may cost more than $1000 at a time. Additionally, these plans cater to different needs, such as repairs, replacements, and other claims related to septic protection.
You can generate $6 for every lead you create online through your affiliate link. The commission rate increases exponentially with the total number of referrals.
As an affiliate marketer, you can earn many benefits on top of online sales commissions, such as:
Commissions per subscription – You can make a commission on every sale
Advertisement Banners – You can use different banners to increase your page viewers
New home insurance plans – You can earn a commission per sale of subsidized insurance plans for existing customers shifting to new homes.
United Plumbing Shield provides 24/7 customer care with low-cost call charges. Another benefit of purchasing insurance plans from the United plumbing shield is its reward program, which offers massive discounts on dining, retail, travel, and gift vouchers.
URL: United Plumbing Shield Affiliate Program
Commission Rate: $6
4. Price Shop Insurance Affiliate Program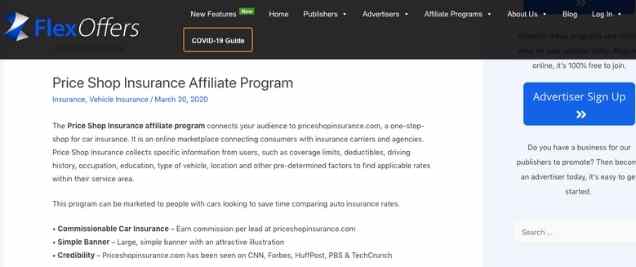 Price Shop insurance enables buyers to compare and then buy the best-priced insurance from a unified platform. It's an online community that connects consumers with insurance carriers and agencies.
As the name of the insurance platform depicts, it's an online shop providing access to relevant insurance policies according to the buyer's requirements.
Based on information such as deductibles, driving history, coverage limit, occupation, location, and type of vehicle, Price Shop presents the most suitable insurance plans. Buyers can also compare the pricing and features of multiple car insurance schemes to select an apt match.
The Price Shop affiliate program provides a variety of promotional campaigns to help generate successful leads. These include:
Insurance policy sale commission – This allows you to earn a commission per sale of a car insurance policy through your affiliate link. The commissions are variable depending upon the insurance plan and the total number of referrals.
Promotional banner – You can display a large advertisement banner on your website to promote a car insurance policy.
The Price Shop insurance banners are on display on credible websites such as CNN, TechCrunch, HuffPost, and Forbes.
The owner of the Price Shop Insurance is a well-established company by the name of Avenge Digital LLC. This guarantees that strict ethical policies are in place to keep user information safe and private.
All the insurance policies listed on the Price Shop website are verified after meticulous scrutiny. After the verification process, Price Shop Insurance compares auto insurance rates and then provides a best-fit insurance rate.
Buyers can save $300 to $3,000 depending upon their location, as insurance policy rates vary from one state to another.
As an online business owner, you can guide your audience by creating awareness about different auto insurance policies, benefits, features, and other related insurance aspects.
URL: Price Shop Insurance Affiliate Program
Commission Rate: n/a
5. Eusoh – Pet Insurance Affiliate Program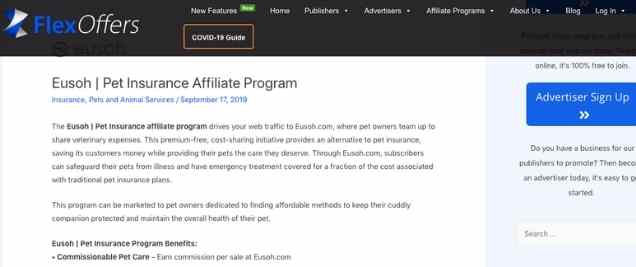 Pets are an integral part of your family. You need pet insurance to cover your pet's medical expenses, including any emergency care they may need. By promoting the Eusoh pet insurance affiliate program, you can help pet owners avail medical treatments without stressing about the high cost.
You can earn up to $4000 for referring 100 people to the program. Hence, the lowest you can earn is $40 for one successful lead, which grows exponentially with the total number of referrals.
This insurance affiliate program is designed especially for pet owners to ensure their pet's safety and well-being. As an affiliate marketer, you can promote insurance aspects and features, including:
Commission-based pet care – You can earn a commission on every sale you make via online referrals.
Pet Insurance Cool – This allows you to engage the audience with attractive large banners featuring a French bulldog or white Persian cat. Such advertisement banners can also increase your page views by attracting interested buyers to your site.
Unified pet community – This ensures a transparent cash flow between the affiliate program members with regular reimbursements.
Eusoh Pet Insurance provides for hassle-free medical procedures. You can get reimbursement for your pet's medical expenses even after the entire medical procedure is done.
In addition to conventional pet insurance, Eusoh also offers a diverse wellness plan, including coverage for genetic diseases and subsidized medicine prices.
You can become an online ambassador for the Eusoh Pet Insurance program by providing your blog information and email address on the Eusoh Online Affiliate Program application form.
After the account verification process is successfully completed, you can market Eusoh insurance plans through social media, your blog, affiliate links, banners, and get paid for your online efforts. It's as simple as described above.
URL: Eusoh – Pet Insurance Affiliate Program
Commission Rate: $40
6. My CoPay is Too High Affiliate Program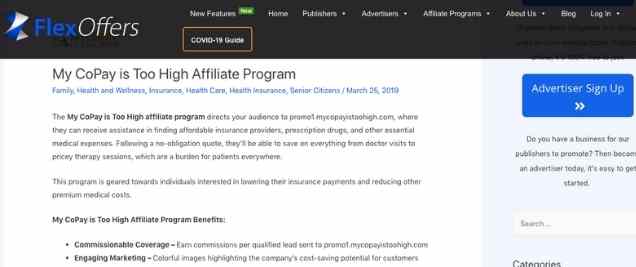 The My CoPay is Too High insurance program is one of the leading online health assistance platforms providing affordable insurance for medical expenses and prescribed medicines.
It allows buyers to save costs, including doctor consultation fees, repeat visits, therapy sessions, medicine costs, and much more.
This insurance program provides robust insurance plans at an affordable price. It also allows buyers to avail discounts for other medical costs.
You can be a part of My CoPay is Too High affiliate program and enjoy multiple benefits such as:
Commission based medical coverage – You can earn a commission on every successful lead you are able to generate.
Online engagement – You can attract potential customers by using vibrant images detailing the cost-saving insurance plans.
Zero upfront fee – This builds trust among customers, and they'll be more likely to use the service you're advertising.
Many people avail health insurance, but these insurance schemes have many hidden clauses that restrict the scope of their coverage. This isn't the case with My CoPay is Too High.
This is a transparent insurance program that maximizes the medical coverage available to buyers after a comprehensive review of their information and history.
An advantage of this insurance plan is that it's customizable and can be tweaked to suit the customer's needs.
The My CoPay is Too High insurance program is not just for individuals but for families as well. It provides a collective insurance plan for the entire household.
The insurance plan roughly pays for 80% of the total medical treatment cost, while the buyer pays just the remaining 20%.
URL: My CoPay is Too High Affiliate Program
Commission Rate: n/a
Learn affiliate marketing secrets. Click here to get started.
Looking for high ticket affiliate programs? Check out my video below: