Quit Your 9-5. Work From Anywhere.
THE 3-STEP SYSTEM I USED TO MAKE 7-FIGURES MY FIRST 3 YEARS AS AN AFFILIATE MARKETER.

*Includes Bonus 8-Day Affiliate Marketing Training Course and list of the programs I promote.
Where To Focus Your Efforts As A Poor Beginner With No Money & No Time
Step-by-step Training on How To Scale Your New Affiliate Marketing Business Exponentially.
How To Automate Your Entire Business So It Truly Does Run on Autopilot Day And Night.
Have you thought of becoming a virtual assistant?
If so, you should give it a go.
According to Zip Recruiter, virtual assistants make upwards of $67k per year or $32.27 per hour. 
While you likely won't earn near that much as a brand new virtual assistant, with time and experience, you certainly can.
Ready to get started?
Here are the best virtual assistant jobs for beginners.
Skills You'll Need To Become A Virtual Assistant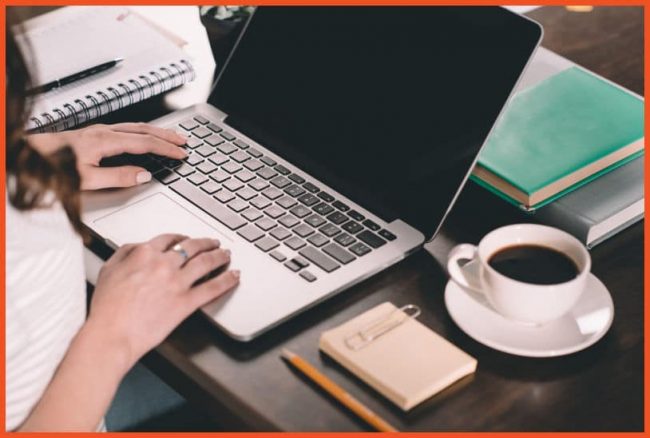 Doing virtual assistant work isn't for everyone. At bare a minimum, you'll need to have these skills:
Organizational Skills – As a virtual assistant, you'll be responsible for many different tasks. You'll need to be organized and have the ability to multi-task.
Interpersonal Skills – Virtual assistants are sometimes responsible for handling customer service, so having interpersonal skills is crucial. 
Even if you don't have to answer customer service phone calls or emails, your virtual assistant job will involve interacting with other people.
Technological Skills – You have to be comfortable using a computer and have the ability to learn new programs quickly. If you're not comfortable learning new programs, virtual assistant jobs are not for you.
There's no set list of programs you need to have experience with. However, having familiarity with some of the following can be very helpful for finding a job:
Slack

Asana

WordPress

Microsoft Office

Quickbooks
Social Media Experience – It's very common for businesses to use virtual assistants to create and schedule social media posts.
At the bare minimum, you should have personal accounts on Facebook, Twitter, Instagram, and Pinterest to understand how they work.
Sites To Start Your Virtual Assistance Journey
1. 99 Dollar Social
2. Zirtual
3. Belay Solutions
4. Task Virtual
5. 247 Virtual Assistants
6. Zip Recruiter
7. Upwork
8. Fiverr
9. Fancy Hands
10. VaVa Virtual Assistants
11. VaSumo
12. Vicky Virtual
13. 33Vincent
14. Boldly
15. Time Etc.
16. Viratalent
17. Byron
18. Delegated
19. Virtual Gal Friday
1. 99 Dollar Social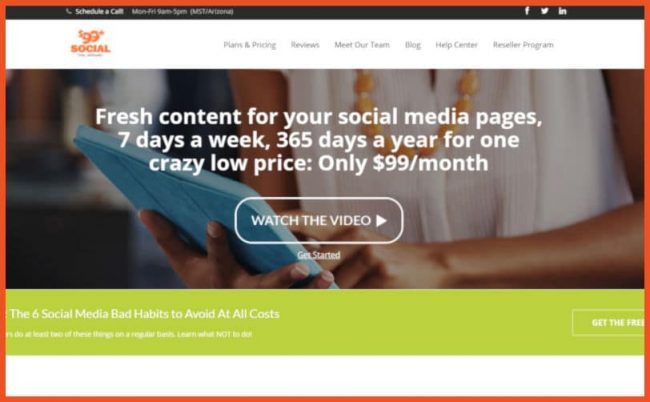 99 Dollar Social is a company that hires virtual assistants to manage social media pages for their clients. Job duties include creating short social media posts as well as curating photos and articles to share.
To be hired as a virtual assistant at 99 Dollar Social, you'll need to have excellent spelling and grammar skills, be available to work Monday through Friday, and have a computer with reliable internet.
Payment is a flat rate per account – the more accounts you take on, the more money you'll make.
If you're interested in working for 99 Dollar Social, you can start the application process here.
2. Zirtual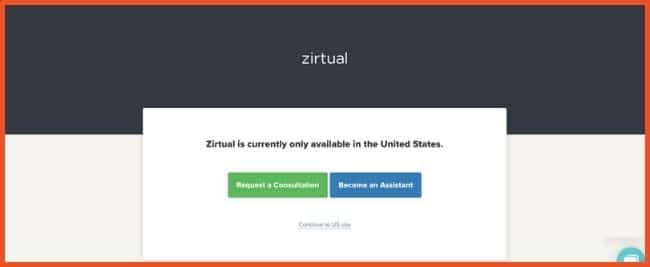 Zirtual hires virtual assistants to work with clients on an ongoing basis.
Some of the tasks the assistants at Zirtual perform include calendar management, research, email management, admin work, and more.
To qualify for a job, you need a minimum of an associate's degree or seven years of experience as an administrative assistant. You'll also need to be available Monday through Friday from 9 am to 6 pm.
Zirtual starts their virtual assistants at $14-$20 per hour. You can view their current job openings here. 
3. Belay Solutions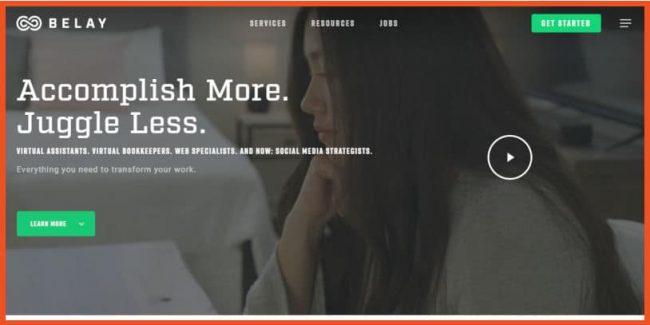 Belay solutions connect virtual assistants with business owners who need help with tasks such as calendar management, project assistance, event planning, and more.
To qualify, you must have a bachelor's degree and previous experience, be available Monday through Friday and work at least 20 hours per week.
You can check Belay Solution's open positions here.
4. Task Virtual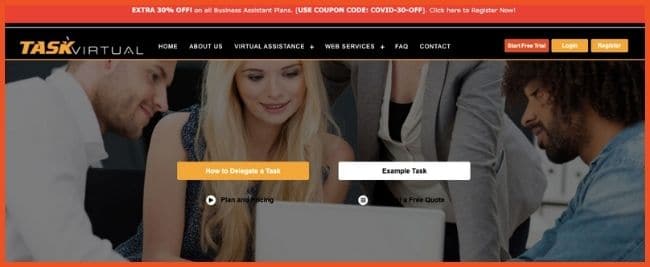 Task Virtual connects business owners with virtual assistants who help with things like data entry, email management, content creation, and more.
Unfortunately, they don't list payment information or an application link on their website.
To learn how to apply, you'll need to send an email to [email protected]. 
5. 247 Virtual Assistants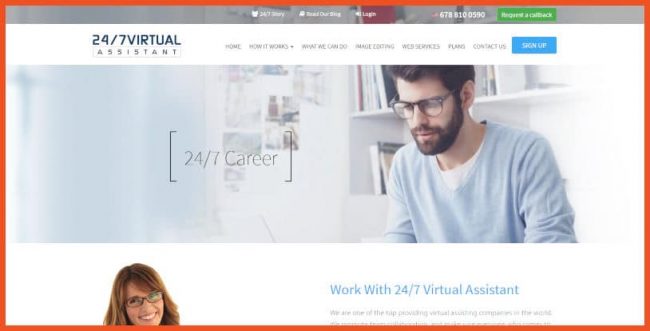 247 hires virtual assistants to perform a wide variety of tasks for their clients.
Some of these tasks include:
Admin work

Bookkeeping

Customer service support

Live chat
They pay $10-$12 per hour and generally hire on a part-time basis. You can learn more about applying with this company here.
6. Zip Recruiter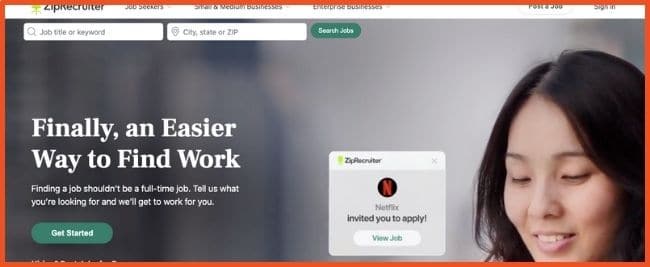 Zip Recruiter is a job search website that often has virtual assistant positions listed. Using this site can help you land jobs for individual business owners rather than the agency-type positions we have listed above.
For the best success try searching for VA jobs both remotely and in your area.
7. Upwork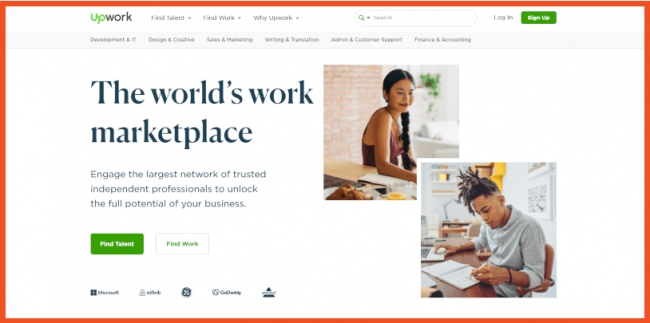 Upwork is a site that allows freelancers to create profiles and bid on jobs that are posted by business owners.
The biggest advantage to using UpWork is that you'll have the ability to bid on multiple types of jobs you're interested.
However, there is a downside to using Upwork – it's often a race to the bottom. This means you may have to bid much lower than you'd like to win a job. 
Upwork can be a good beginning start for finding jobs but it definitely shouldn't be your main focus.
8. Fiverr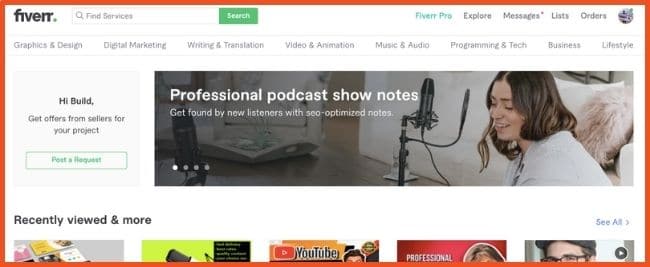 Fiverr is a gig marketplace where users can offer services, starting at $5.
If you scroll through Fiverr, you'll see that many users offer virtual assistant services. You can try to stand out by offering a variety of packages.
9. Fancy Hands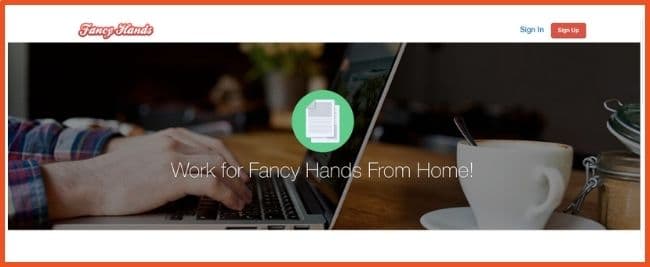 Fancy Hands hires contractors to work as virtual admin assistants. They pay their virtual assistants per task, and each task is usually worth $3-$7.
Some of the work you can find on Fancy Hands includes making phone calls, scheduling appointments, doing price checks, and data entry.
If you work with Fancy Hands, you'll be able to choose the work you want to do based on what's available. You can also work as much or as little as you want when you want. 
You can apply to be an assistant at Fancy Hands here.
10. VaVa Virtual Assistants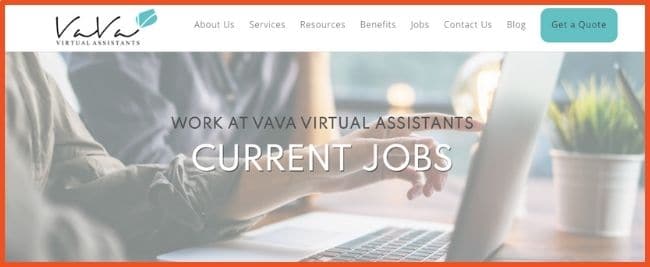 VaVa Virtual Assistants hires virtual contractors to perform admin assistant work, bookkeeping, social media management, and more.
They don't list specific job duties in the virtual executive assistant job description. However, they do note that you need at least one year of previous experience to apply. To qualify, you also need calendar management skills and excellent grammar.
You can find a list of their current job openings here.
11. VaSumo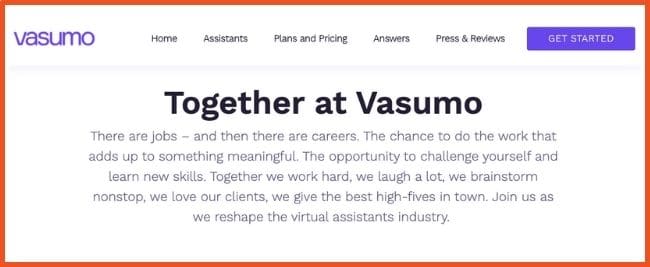 VaSumo looks for the best virtual assistants. They want applicants with at least three years' experience, and even then, those applicants will be required to complete three months' worth of paid training.
You can view job openings at VaSumo here.
12. Vicky Virtual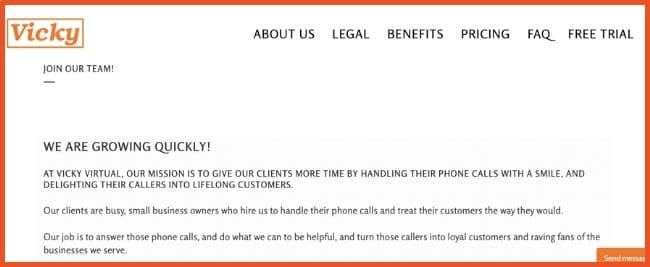 Vicky Virtual specializes in customer service and hires virtual assistants to answer phone calls on behalf of business owners. Other tasks may include handling instant messaging and customer service emails.
For this job, you must be pleasant, organized, and enjoy talking on the phone.
You can apply for a job at Vicky Virtual here.
13. 33Vincent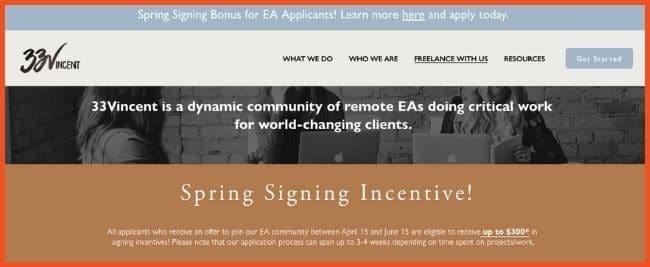 33Vincent hires experienced virtual admin assistants who want to work at least 15 hours per week. They start their VA's at around $20 per hour.
To qualify for a position, you must have:
Bachelor's Degree (Preferred)

5+ Years' experience in admin services

Exceptional communication skills
You can apply to work at 33Vincent here.
14. Boldly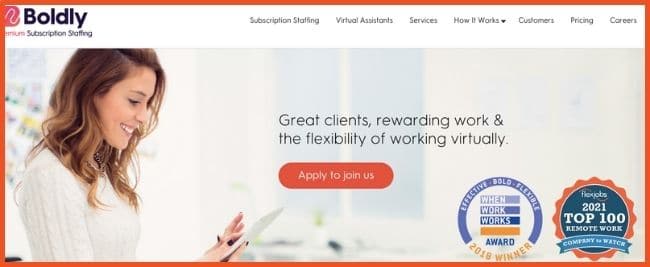 Boldly works a bit differently than the other companies listed. Instead of hiring assistants to work as contractors, Boldly hires virtual admin assistants as long-term W-2 employees.
To be considered for this position, you must have at least seven years of experience in a similar role. You'll also need strong organizational, writing, and time management skills.
If you're hired, you'll be able to work as an assistant for a high-level executive.
You can submit your application to Boldly here.
15. Time Etc.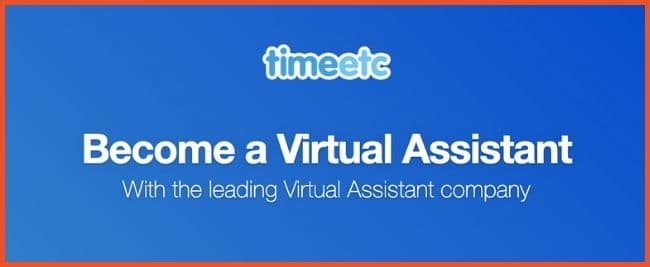 Time Etc. hires virtual assistants with previous experience to work part-time, flexible hours. Job duties vary per client but can include editing, calendar management, or data entry.
Starting pay is $11 per hour.
You can apply for a position with Time, Etc. here.
16. Viratalent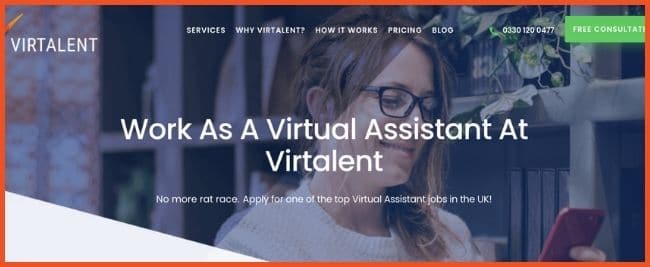 Viratalent is a virtual assistant agency based out of the UK. They hire English speakers with previous admin experience and impeccable time management skills to perform virtual assistant services for their clients.
They start all new assistants with one client, which equates to 10-60 hours per month. If things go well, more work is given to the new assistants.
If you're interested in applying, you can check out all the details here.
17. Byron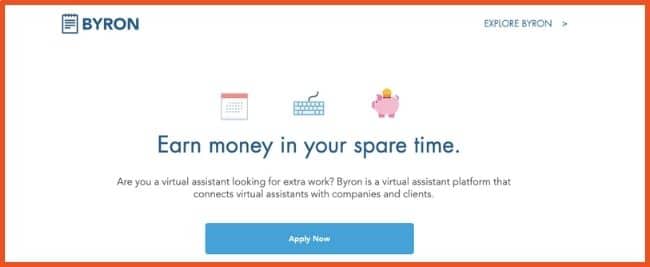 Byron is a company that connects business owners with virtual assistants. Business owners can post jobs that need to be completed and Byron virtual assistants pick and choose which of these jobs they want to complete.
These jobs are tasks like data entry, sales support, customer service, and more. 
To become an assistant with Byron, you'll need to fill out an application, make it through the interview process, and then go through training.
You can learn more about becoming a virtual assistant with Byron here.
18. Delegated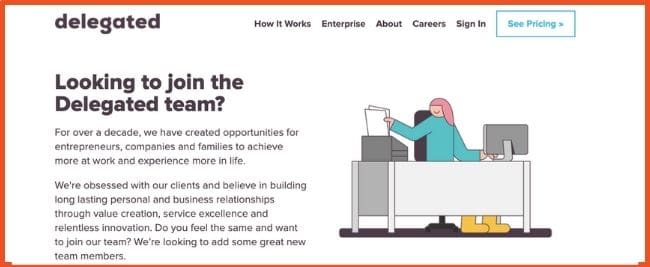 Delegated is a company that connects business executives with college-educated, US-born virtual personal assistants. 
To become a virtual assistant through Delegated, you must have 5+ years' relevant experience, a high school diploma, at least some college education, and computer skills.
You can apply for a position with Delegated here.
19. Virtual Gal Friday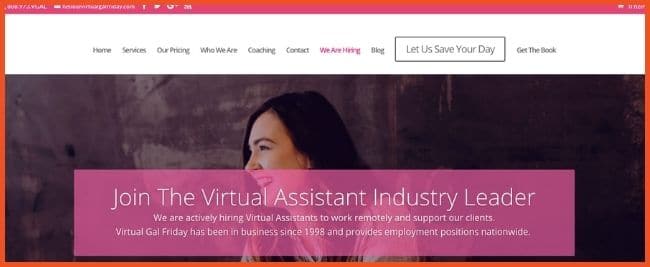 Virtual Gal Friday is a company that offers business professionals specialized virtual assistant services. For instance, instead of hiring general virtual assistants, Virtual Gal Friday hires for positions like virtual medical assistant, virtual paralegal, and virtual receptionist.
They are currently hiring for part-time positions. You can view a list of job openings here.
The Tools You Need to Be a Virtual Assistant
If you're brand new to virtual assisting, let's start with the basics. You'll need a high-speed internet connection, a computer, and a phone.
Other helpful computer programs to have or be proficient in are Microsoft Word and Quickbooks.
If you want to get a step ahead of the competition, you should become familiar with at least a few of these programs:
Asana

Slack

Google Analytics

Pinterest/Facebook/Instagram/Twitter

WordPress
In reality, you don't need to be an expert at every program – you just need to have the capability to learn new programs quickly.
Frequently Asked Questions
How Do I Become a Virtual Assistant if I Don't Have Any Experience?
There are two ways to become a virtual assistant if you don't have any experience. The first way is to decide what services you want to offer and then find relevant businesses and pitch them your services. It may take quite a few pitches, but if you position your offer in an appealing way, you should find your first clients.
The second method for finding beginner jobs is to apply to virtual assistant agencies that don't require previous experience. You can find many on the list above.
Do I Need a College Degree to Become a Virtual Assistant?
No. Certain companies only hire virtual assistants with college degrees, but most don't require any formal education.  
How Much Do Virtual Assistants Make?
Beginner virtual assistants who work through an agency typically start at around $11-$16 per hour. The national average for virtual assistants is about $34 per hour, according to Zip Recruiter.
Conclusion
If you want to make a career out of offering virtual assistant services, you definitely can. Start by applying to some of these companies and gaining experience.
You can then branch out, find your clients, and earn a higher hourly rate.
Looking for more ways to earn money?
Check out the video below to learn how I went from $0 to $3,000,000: