When I first came across Legendary Marketer, it sounded too good to be true. So, I did what anyone would do – I wrote it off as a scam.
Then, about a year later, I met the founder and decided to give the program another look. 
To my surprise, I liked what I found. 
Legendary Marketer isn't a scam – it's an education platform with some decent products at reasonable prices. (And then a few overpriced products.)
But, at the end of the day, you can only get results from any of their programs if you put in the work.
If you're considering Legendary Marketer and want a rundown of products, here's a look at pricing.
How Much Does Legendary Marketer Cost: Pricing Guide for ALL Products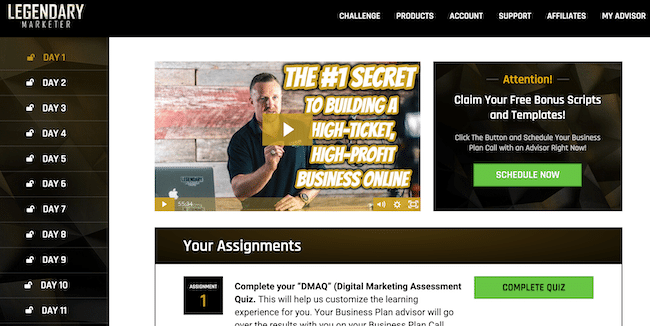 There are six main products within Legendary Marketer. They start at $7 and gradually increase to thousands. 
Here's a look at their products from lowest to highest price.
15-Day Business Builder Challenge – $7
The entry product from Legendary Marketer is seven dollars. But just because it's low cost doesn't mean there's no value.
This challenge is one of the best low-cost products I've seen in the marketing space.
It offers a step-by-step plan for beginners. As long as you follow all the steps, you'll be able to get your business off the ground after the first fifteen days.
The challenge contains video lessons, assignments, quizzes, and coaching. (And let's be honest, it's insane to receive any coaching with a basically free product.)
I always recommend starting with this challenge since it will let you test the Legendary Marketer style without spending much money.
The Legendary Marketers Club – $30/Month
The Legendary Marketers Club is the next logical step if you completed the 15-day challenge and loved it.
This club is a subscription. It contains individual video training and mini-courses to help you grow your business.
Since all the information is in a hub, it's a choose-what-you-want-to-learn, self-paced program. 
Some of the courses inside the Legendary Marketers Club include:
The Journey to 250,000 YouTube Subscribers

Sales Secrets from the 5 Billion Dollar Man
In addition to all the training, you'll also receive access to weekly live Q & A sessions where you can get feedback from 6 and 7-figure marketers. 
For $30 a month, this program is a great deal. At the very least, you could try it out for a month and then cancel if you don't like it.
Affiliate Marketing Business Blueprint – $2,500
And here is where we go from very affordable to high-ticket products.
The next Legendary Marketer product is the Affiliate Marketing Business Blueprint which will run you $2,500.
In this program, you'll learn the basics of affiliate marketing and how to make your first sale. 
A lot of the training revolves around promoting Legendary Marketer as an affiliate. (Although you can apply the info to any product.)
Honestly, I don't think this program is worth the money – you can learn more for less money elsewhere.
Digital Products Business Blueprint – $2,500
If you're more interested in creating and selling your own digital product like ebooks, courses, or printables, this would be the Legendary Marketer course for you.
However, at $2,500, the information comes at a hefty cost.
This course will teach you:
Deciding what kind of info product to create and which medium to use

Finding the perfect customers, building traffic, and setting pricing
While this course will teach you the basics of creating a digital product business, I think you can find similar courses at a small fraction of the cost.
Coaching and Consulting Business Blueprint – $2,500
If you want to start an online business but have zero interest in affiliate marketing or digital products, coaching is a viable option.
While a coaching business isn't as scalable as affiliate marketing (trading your time for money), you can demand a high salary if you do it correctly.
This program will teach you how to identify your niche, find leads, pitch yourself, and deliver excellent services.
Events and Masterminds Business Blueprint – $2,500
The last business blueprint is the one worth the high price tag. 
In the Events and Masterminds Business Blueprint, you'll learn everything you need to know to organize in-person events.
Lessons include:
How to plan, host, and profit from live events or masterminds

How to save on costs, how to hire, and where to host events
This program also comes with coaching, which to me, is what makes it worth the price. 
Are There Any Discounts?
If you're seriously interested in these programs and are looking for a great discount, you'll want to take advantage of the upsells presented during the 15-Day Business Builder.
 At the end of the 15-day challenge, you may (if still available) have an opportunity to purchase ALL of the business blueprint programs for $2,500. (Versus paying $2,500 for each program.)
Final Thoughts
If you're interested in Legendary Marketer, start with the 15-day business builder. This challenge gives you a taste of their teaching style and content, which can help you decide if you'd like to invest in any of the other programs.
In addition to their six main programs, Legendary Marketer also has private mastermind groups and coaching you can apply for. But again, I don't recommend starting with a high-cost product, start low and work your way up.