Are you interested in building a high-ticket affiliate business?
The 15-Day Business Builder Challenge is the best place to start if you've ever considered a Legendary Marketer program.
The challenge will give you a taste of the Legendary Marketer teaching style without the significant investment. Plus, it even comes with coaching.
And if you are a complete beginner, you will learn the ins and outs of setting up a successful affiliate marketing business in just a little over two weeks.
Here's what you'll find in the Legendary Marketer 15-day challenge.
What Will You Learn in the Legendary Marketer 15-Day Challenge?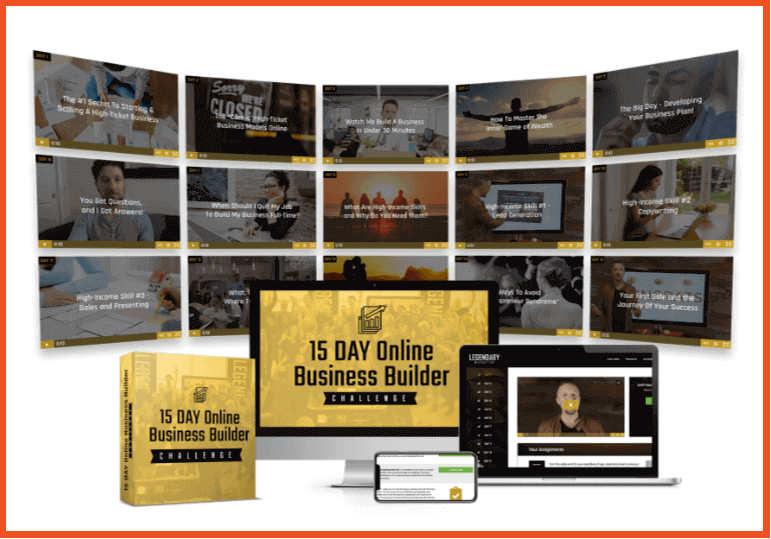 When I first came across Legendary Marketer, I thought it was a scam. It was so over-promoted and hyped up that in my mind, it couldn't be legit. 
Fast forward several months later, I met the founder, David Sharpe.
He was a genuinely good guy, so after meeting him, I gave the programs a second look. And I was surprised.
While one or two of the programs may be a little overpriced, they aren't scams, and the 15-Day Challenge is an insane value.
When you sign up for the Legendary Marker 15-Day Challenge, it looks free. But instead, you'll get a video about what the program covers and an opportunity to purchase for $7.
At $7, it's a no-brainer.
Here's what you get.
15-Day Business Builder Overview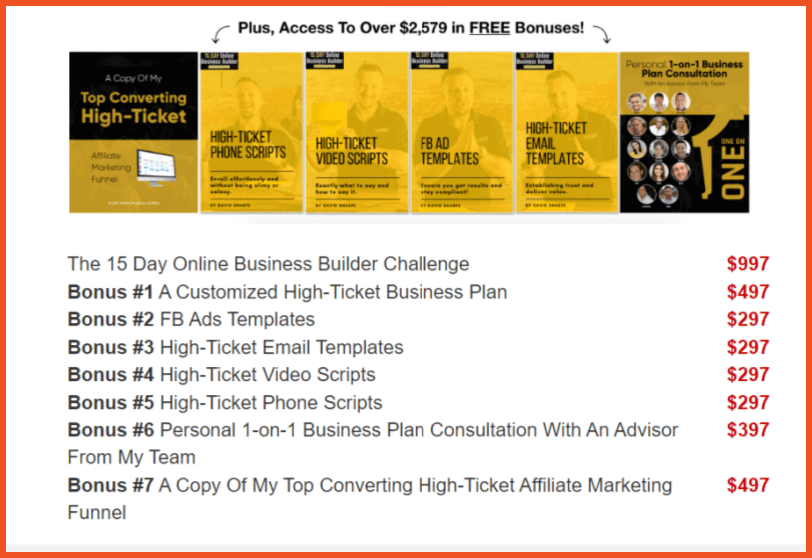 The 15-day business builder challenge covers finding high-ticket affiliate offers and the best marketing strategies for making sales.
The challenge has videos and assignments spread across fifteen days. 
Here's what's covered each day:
Starting and Scaling A High-Ticket Affiliate Business

Core 4 High-Ticket Business Models

Watch Me Build a Business in Less than 30 Minutes

Mastering Wealth

Developing a Business Plan

Q & A Video

When to Quit Your Job

High-Income Skills Overview

High-Income Skills – Lead Generation

High-Income Skills – Copywriting

High-Income Skills – Sales and Presenting

All About Outsourcing

Using OPM (Other People's Money)

How to Avoid Being a Wantrepreneur

Your First Sale
The material in the 15-day challenge combines practical strategy and mindset. Because let's face it, most of us know what to do but struggle with execution.
15-Day Business Builder Bonuses
The course material in the 15-Day Business Builder challenge is top-notch.
 Even if you don't have your affiliate marketing business off the ground at the end of the challenge, you'll have picked up at least some valuable information to help you earn more.
But, in addition, to the 15 days' worth of videos and assignments, you'll also get multiple pieces of bonus content, including:
Customized High-Ticket Business Plan – This guide will give you step-by-step instructions on creating your high-ticket business plan.
FB Ads Templates – Includes examples of top-performing Facebook ads with images and text.
High-Ticket Email Templates – If you've run any online business with an email list, you know how daunting coming up with and writing sales emails is. You can use these templates to help establish trust with your readers.
High-Ticket video Scripts – If part of your business plan includes creating videos, these scripts will tell you what to say.
High-Ticket Phone Scripts – While most people use only the internet to drum up business for their high-ticket business, you can stand out from the crowd by jumping on the phone with prospects. And luckily, you can use these scripts.
 One-on-One Business Plan Consultation – If you need to ask questions about business plans, you can jump on a call with a member of the Legendary Marketer team.
Affiliate Marketing Funnel – A copy of Clickfunnel affiliate marketing pages.
What's the Next Step After the 15-Day Challenge
If you've completed the 15-day challenge, the next logical step is the Legendary Marketer's Club. 
The Legendary Marketer's Club is subscription-based and only $30 per month. It contains dozens of video training sessions and mini-courses. It's self-paced, so you can pick and choose what you want to learn.
But really, the best thing about this club is the weekly live Q & A sessions with six and seven-figure marketers.
After the Legendary Marketers Club, the products start to escalate in price, starting at about $2,500 each.
The other courses include Affiliate Marketing Blueprint, Digital Products Blueprint, Consulting and Coaching Blueprint, and Events and Masterminds Blueprint. While these programs all have great information, they may not all be worth the high price tag.
The one most likely worth the price is the Events and Mastermind Blueprint. For others, you can find courses for far less money.
Aside from the courses, you can also apply for private coaching or to be in a private mastermind group.
Final Thoughts
The Legendary Marketer 15-Day Challenge is only $7. It's packed full of video lessons, assignments, and quizzes. It even comes with amazing bonuses worth thousands of dollars.
While you might think the 15-day challenge is too good to be true, it's not a scam. 
It's an entry-level course that gives you an idea of the Legendary Marketer teaching style and value. And even if you never purchase another Legendary Marketer product, this challenge will help you develop a high-ticket business plan and create the right mindset for success.